I sometimes like to think of myself as the Pierogi Queen. This is a 100% self-deemed title, but a title I take seriously in the kitchen.
Back, long before I went to culinary school, the Pierogi was one of the first dishes I truly perfected including coming up with my recipe for the perfect pierogi dough.
While this may not seem like some incredible accomplishment, it truly was/is for me. No I didn't cure cancer, but I did cure the epidemic of the dense, tasteless Pierogi and for that, I feel I deserve some kind of recognition. Seriously though, last year, I went about buying all of the various store bought pierogies out there for a taste tasting and after trying 6 different Pierogi brands, not one of them had a light, flakey, fluffy dough. So because I invented a dough that is a work of art, I have since been filling it with all kinds of yummies….we have the original Pierogi with Potato and Cheese, the Lobster Pierogi, the Buffalo Chicken Pierogi and the Bacon and Cheddar Pierogi. I have made a few other Pierogies in the past but they were not worthy of blogging….
Last night I decided in honor of the NFL Playoffs and the fact that we live somewhat close to Philadelphia, that I would make a Philly Cheesteak Pierogi, complete with Cheese Whiz Dipping Sauce.
The result was epic. Full of flavor, festive (go Eagles? Ugh.) and a great addition to my lineup of assorted Artisan Pierogies (can I call them Artisan? Sure, it's my blog I can do whatever I want….)
I am always open to making new Pierogi creations so if you ever have an idea or suggestion please contact me via email and let me know!
Enjoy!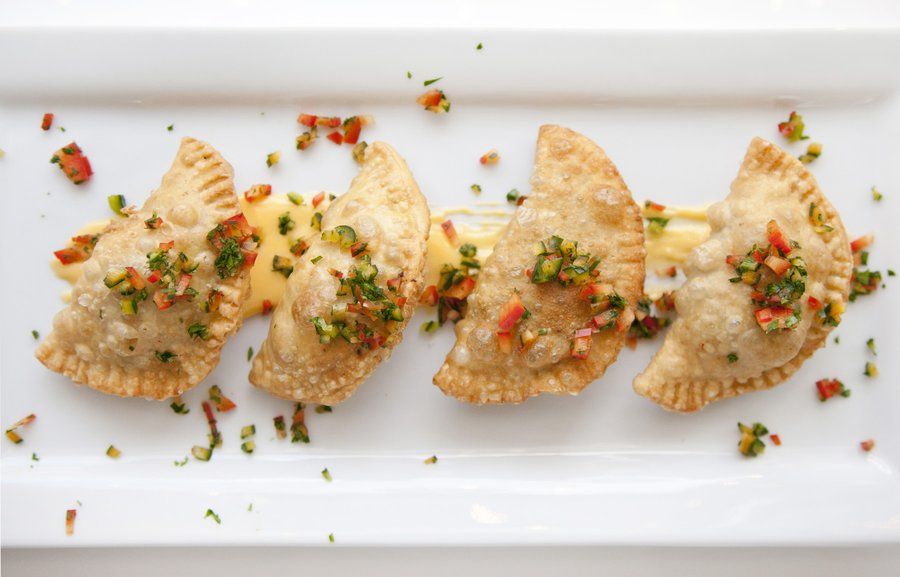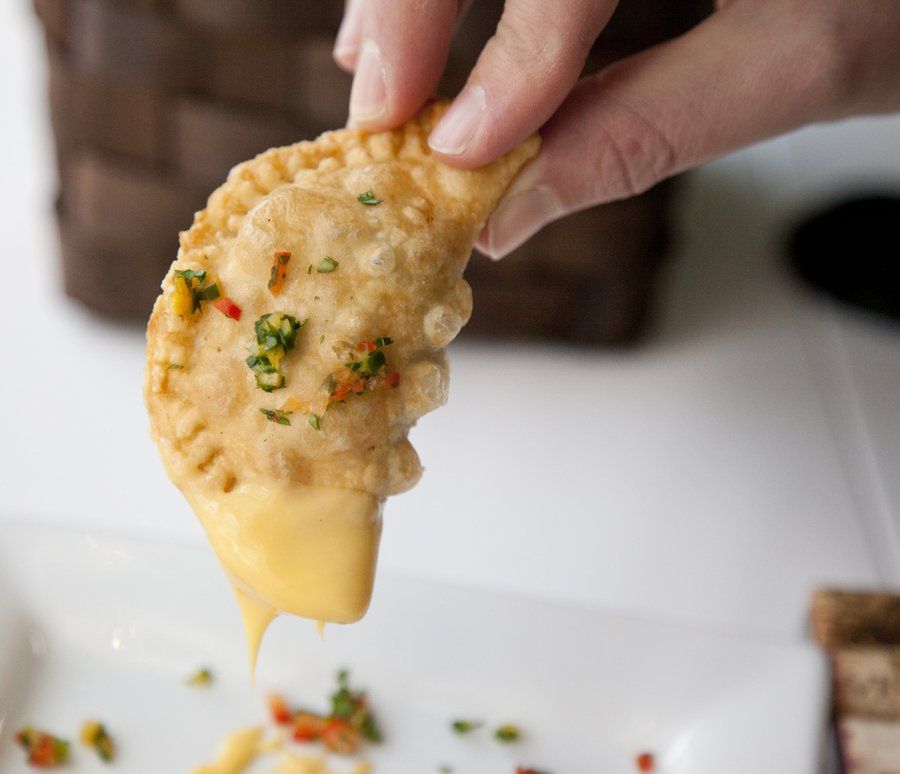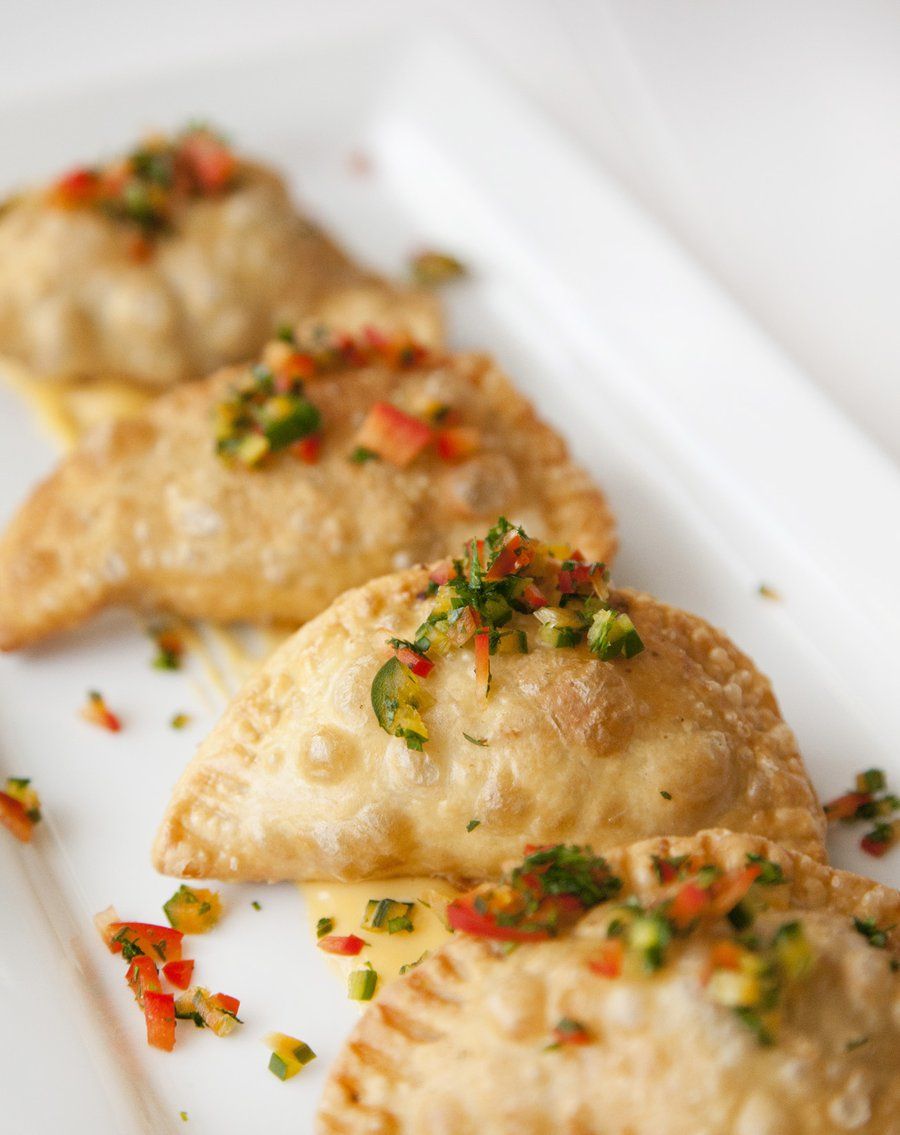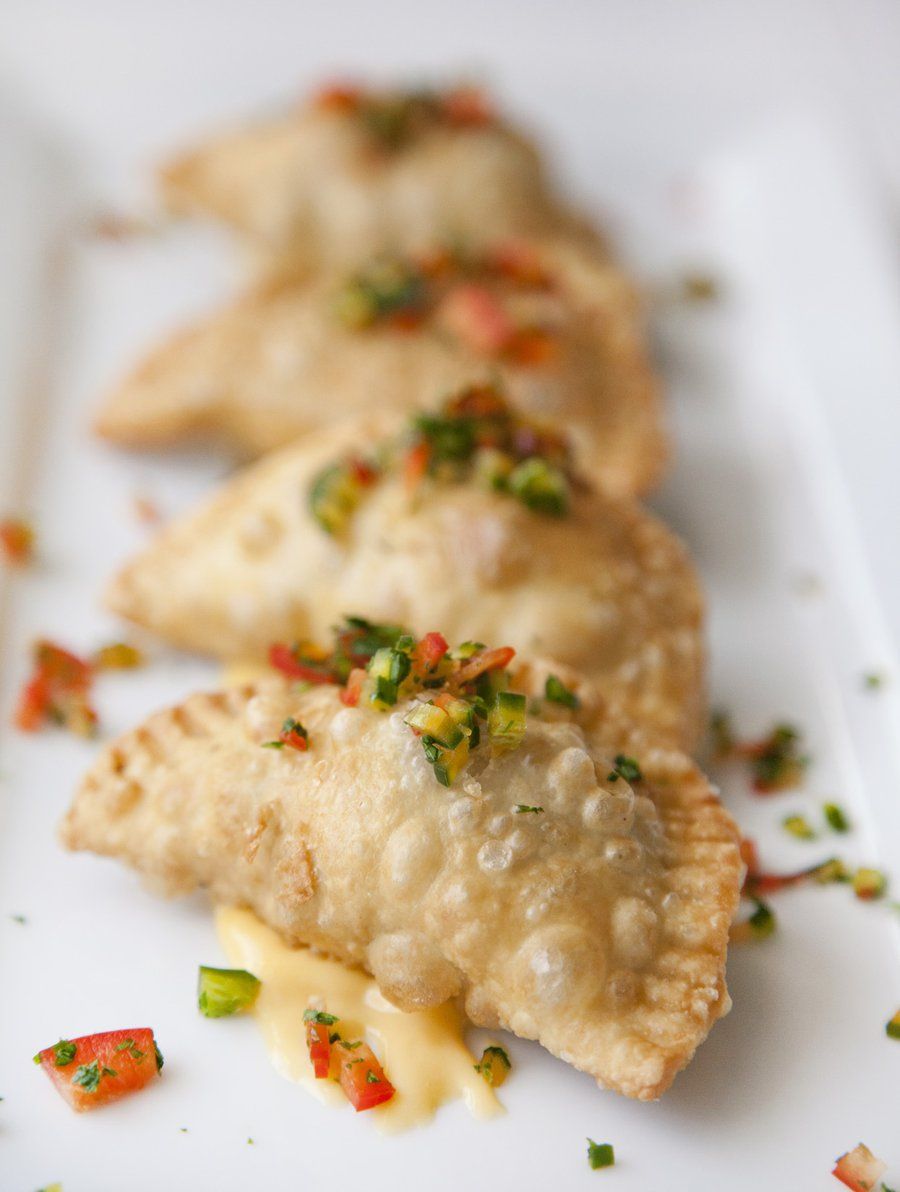 For my filling I was able to find "Shaved Beef" which is made specifically for Cheesesteaks. If you can't find this, you can use a Rib Eye Steak sliced super super thin.
I was also able to find Cheez Whiz which is what is classically used in a Philly Cheesesteak. If you can't find this, you can substitute Velveeta or even make your own Cheddar Cheese sauce (in the style of a Mornay Sauce).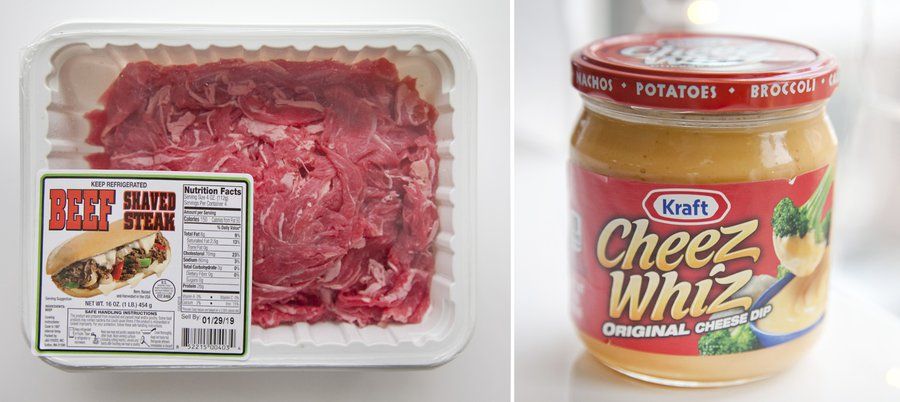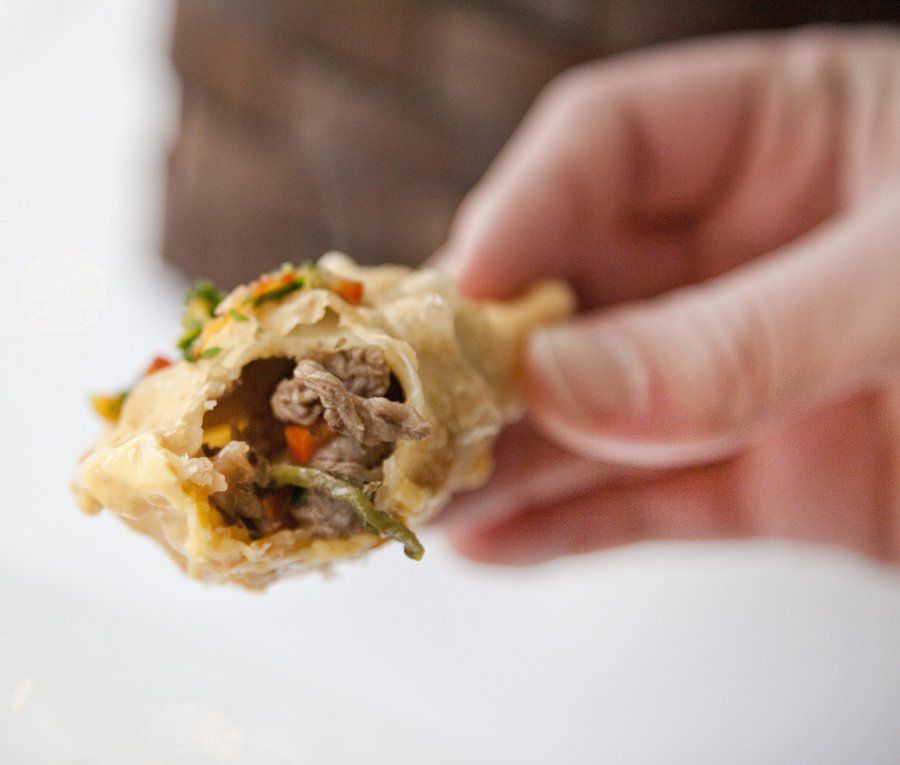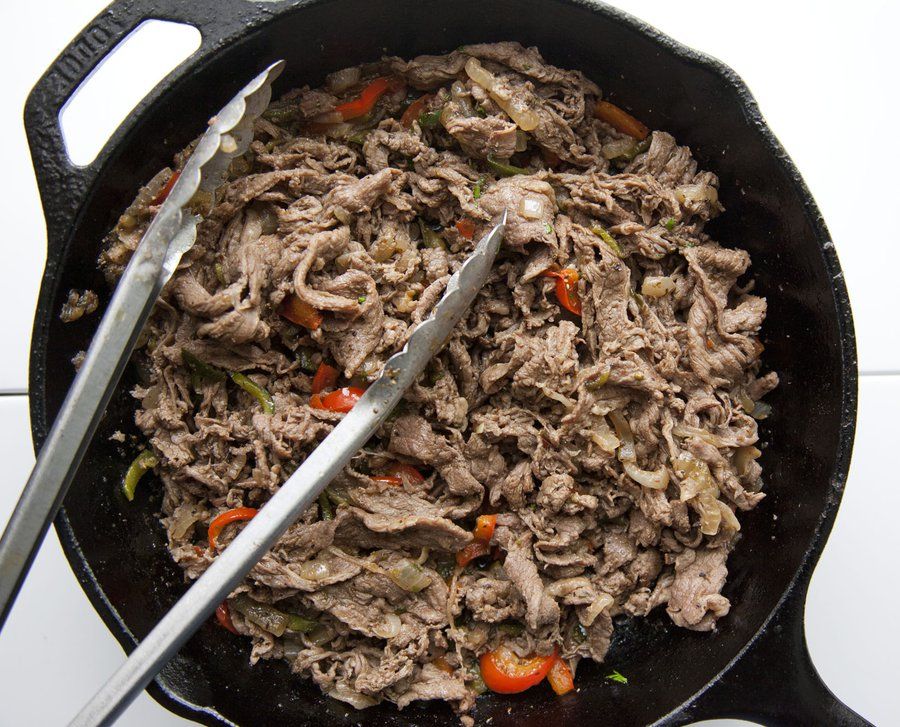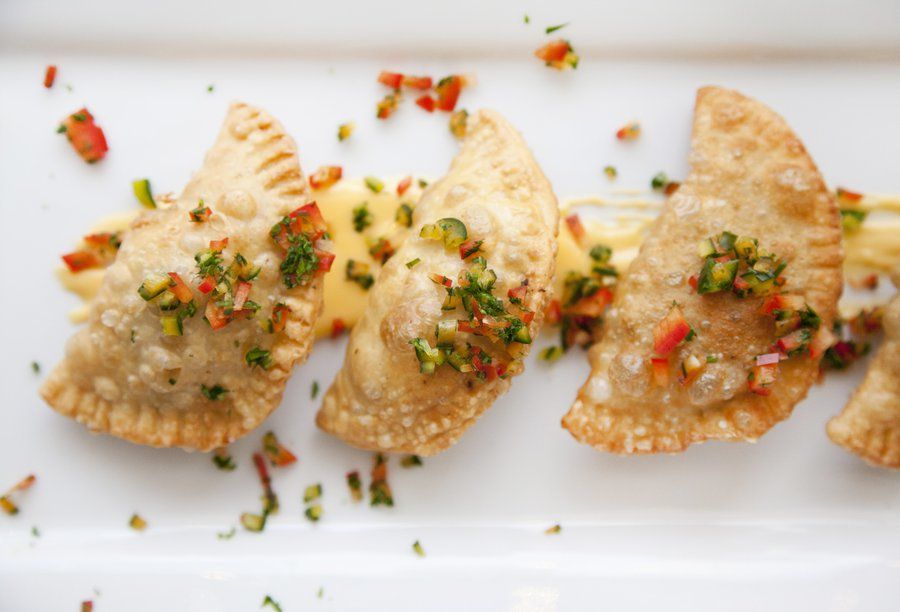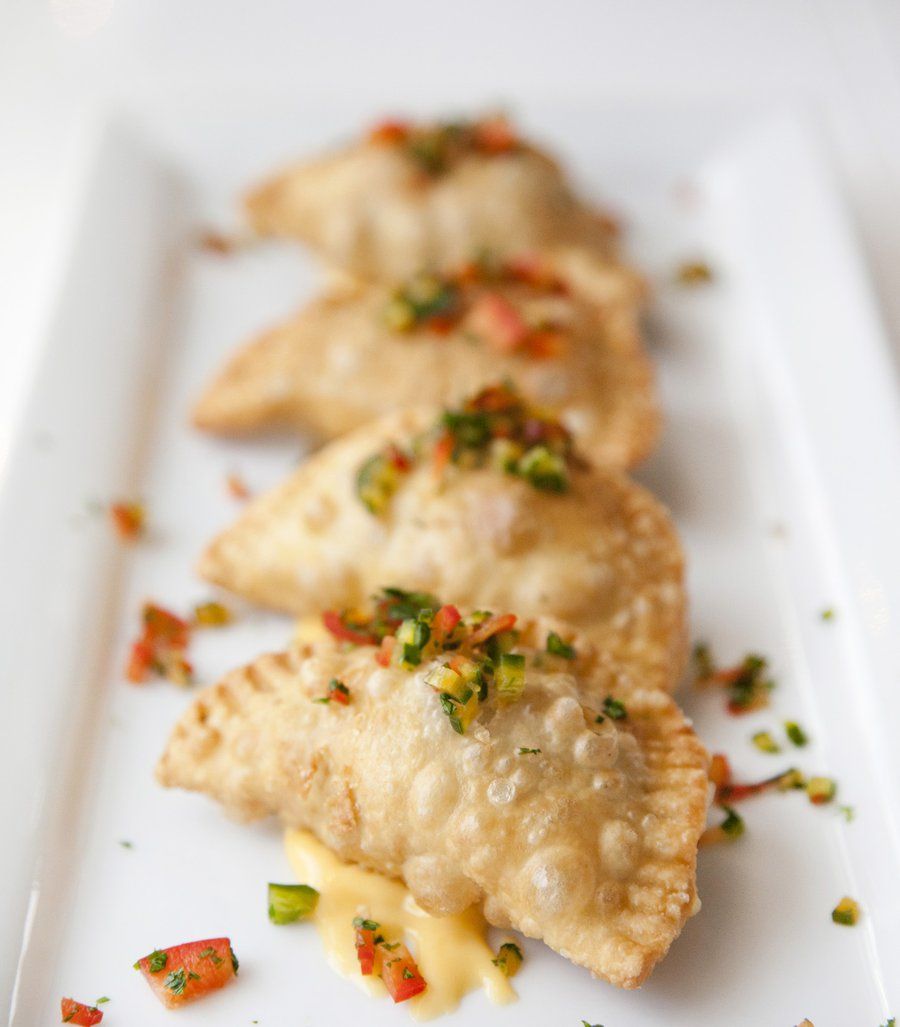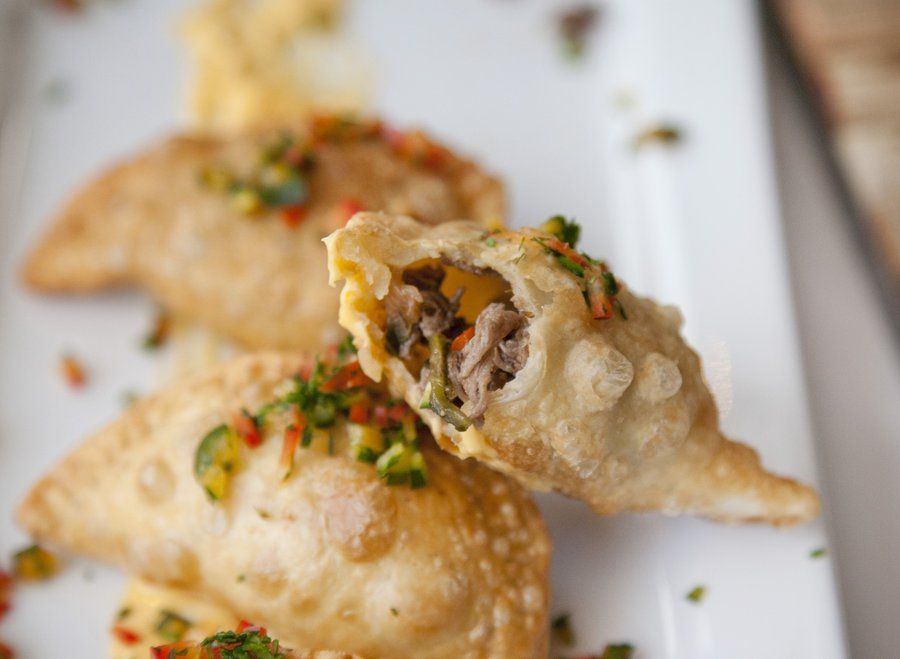 Sara's Favorite Dough
Prep Time
---
10 Minutes

Total Time
---
10 Minutes

Yield
---
1 Sheet Dough

Ingredients
2 Cups Flour
1/4 Cups cubed Butter
3/4 Cups Sour Cream
1/2 tsps Salt
---
Directions
Mix all ingredients in a food processor fitted with a dough blade. Turn out onto a non-stick, lightly floured surface & then kneed.
Roll out to a 1/4 inch thickness
Philly Cheesesteak Pierogies
Prep Time
---
45 Minutes

Cook Time
---
30 Minutes

Total Time
---
1 Hour 15 Minutes

Yield
---
Makes about 20 Pierogies

Ingredients
1 Cup Onion (Sliced thin)
1/2 Cup Poblano Pepper (sliced very thin)
1/2 Cup Red Bell Pepper (sliced very thin)
1 Teaspoon Salt
1 Teaspoon Black Pepper
1/2 Teaspoon Garlic Powder
1/2 Teaspoon Chili Powder
1 Teaspoon Dried Oregano
1 Pound "Shaved" Beef Steak (you can use super thin sliced rib eye)
1 Recipe Sara's Favorite Dough (recipe above)
1/2 Cup Cheez Whiz (melted)
---
Directions
Heat up a 10" cast iron pan over a medium high heat on your stove. Add in a Tablespoon of Canola Oil and once the oil is hot, add in your Onion, Poblano and Red Bell Pepper. Season with a pinch of salt and pepper. Turn the heat down to low/medium and cook your onions and peppers for about 15 minutes, stirring constantly so as not to burn them. You want the onions and peppers to be soft. Remove the onion and peppers from the pan and place in a bowl for later.
Mix your salt, pepper, garlic powder, chili powder and dried oregano together in a small bowl. Save for later.
Return your cast iron pan to the stove and add a little more oil to the pan. Over a high heat, add in your meat and sprinkle the spice mixture from step 1 all over it. Cook the meat over a high heat, turning constantly for about 2 minutes. At this point, add back your onion/pepper mix to the skillet, stir together and cook for about another minute, or until the steak is no longer pink. Remove from heat.
For assembly: Roll out your dough (recipe above) on a non-stick surface, and with a 4 inch diameter circle cookie cutter, cut out pierogi circles. Have a bowl of water on the side. To your dough, with your finger, add some water to the edges. Put about 1-2 tablespoons of your steak/onion/pepper filling into the center of your dough. Fold one edge over to the other to form a half circle and press the edges together. The water is necessary to help seal the dough together. Use a fork around the edges to crimp the dough together for an extra reinforced seal. Repeat this process until all the dough is used up.
To Cook: In a large pot, bring 2-3 quarts of water to a boil (you want enough water in your pot so that you have about a 3-4 inch depth of water in your pot). Add in your pierogies to the boiling pot. You may need to do this in a couple of shifts depending on how large your pot is. Once the pierogies start rising to the surface of the water, they're done cooking and can be removed with a slotted spoon, and placed on a plate. Cook all the pierogies like this and set aside on a plate.
In a large pot - add enough canola oil so there's 3-4" of depth. Heat the oil to 360 degrees, and in batches, deep fry your pierogies until golden brown. Remove from the oil with a slotted spoon and place on a plate lined with a paper towel to sop up the excess oil.
Serve hot with warmed up Cheese Whiz. Optional: Add in some extra minced poblano and red bell pepper to the Cheese Whiz for extra flavor!