While I was pregnant, the thing I missed the most was sushi/raw fish. Due to the possible contamination raw fish can have, they highly suggest preggos don't indulge in the raw amazingness…so for nine months, I had to sit and watch everyone enjoy their Sashimi and Sushi platters while I got an Avocado Roll or something boring like that.
Well, the day my daughter arrived, my husband brought in the most incredible sushi spread to the hospital so that I could finally get my fix!
In the past few months, a wave of Poke obsession has hit New York City. Poke is basically a deconstructed sushi roll, usually served in a bowl. This is MY version of poke! My version of poke does not involve sushi rice, but instead uses Basmati Rice. I know, Basmati hails from the wrong part of the Asian continent, but when you're cooking you can break the rules and go with whatever you like best. That's what I love so much about cooking…you do what you want and no one needs to explain why they chose what they did. You can use sushi rice, white rice or brown rice for this recipe, whatever floats your sushi boat.
I also topped my poke with a drizzle of Kewpie Mayonnaise, which is simply, Japanese Mayo. You can find it in any Asian market, or you can just use regular Mayo and mix it with a tiny bit of water to make it drizzle-able (is that a word?).
Not a fan of Yellowfin Tuna? Switch it out for Salmon! Just remember to always get sushi grade fish when eating it raw! Like both tuna AND salmon, go half and half and put them together (it will look pretty and taste delicious!)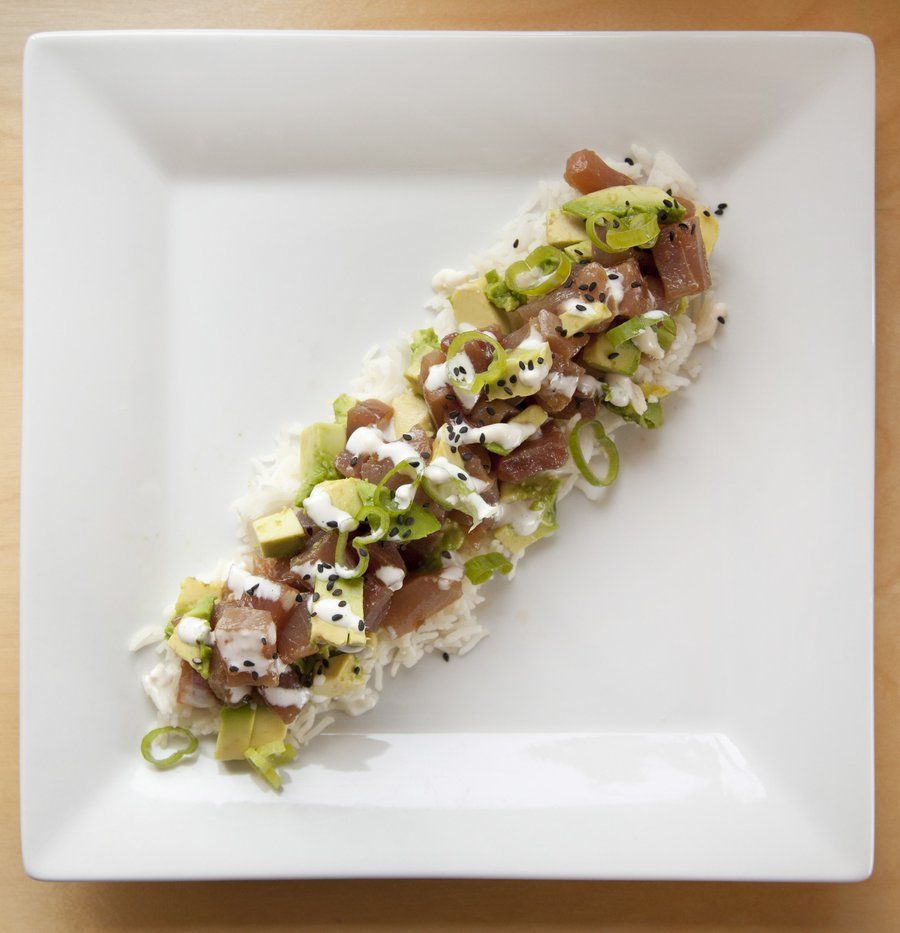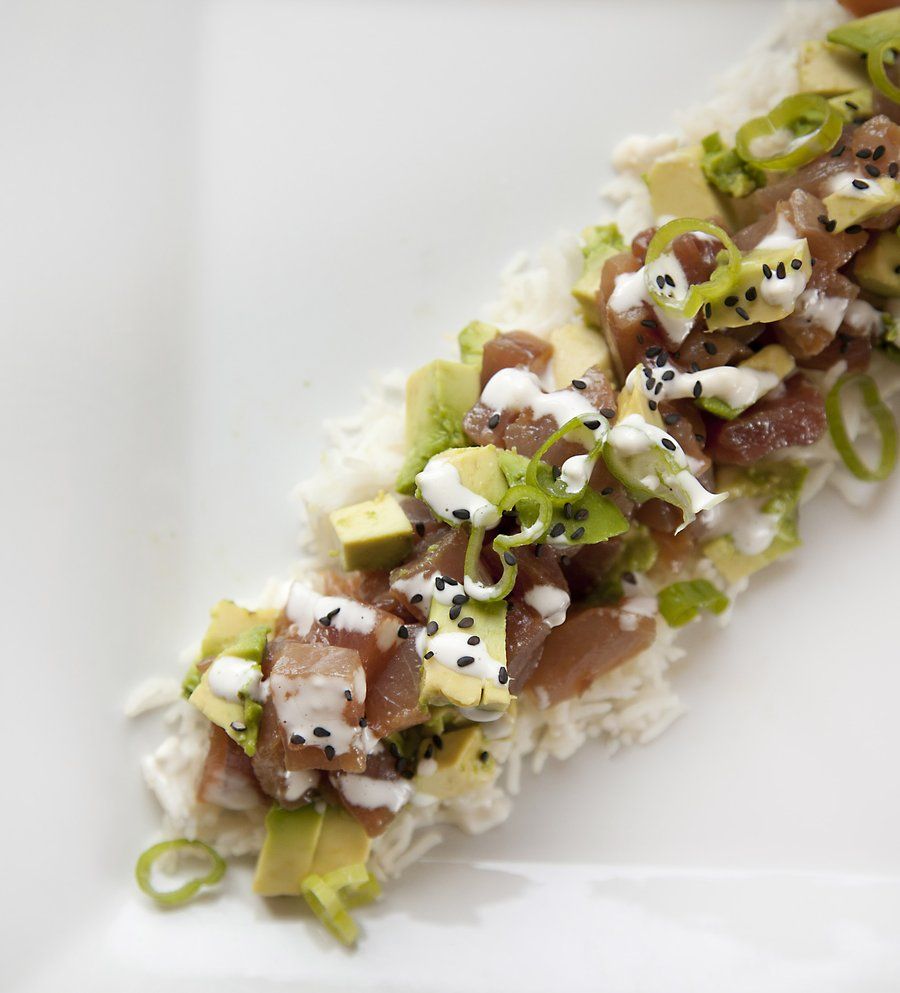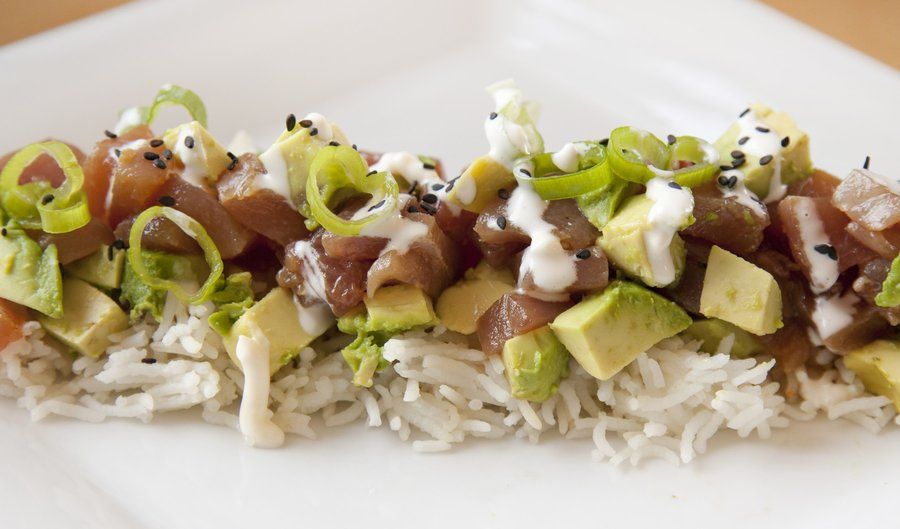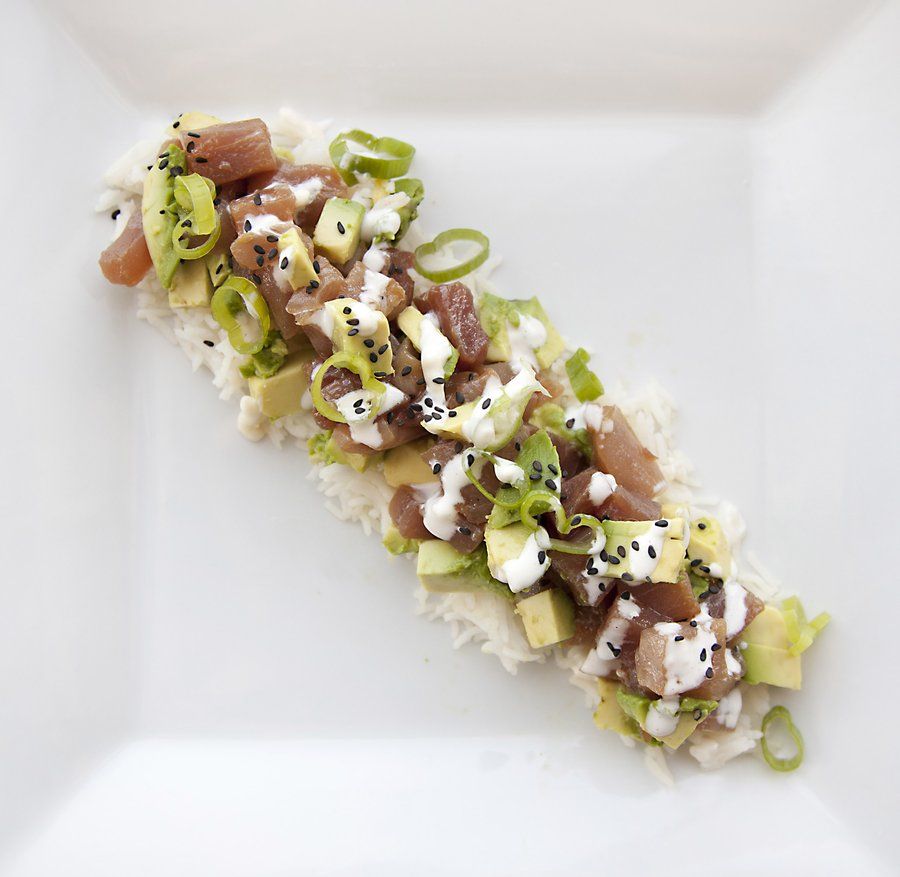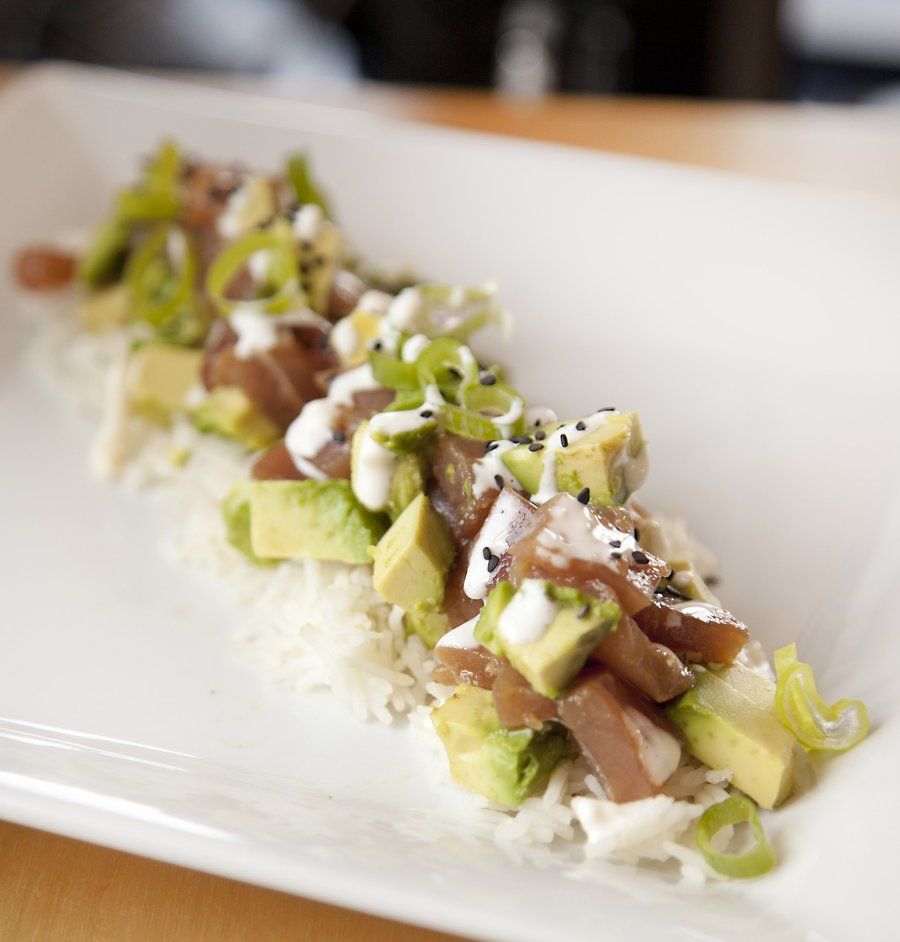 Yellowfin Tuna Poke
Prep Time
---
20 Minutes

Total Time
---
20 Minutes

Yield
---
Serves 2

Ingredients
3/4 lbs Sushi Grade Yellowfin Tuna (diced small)
1 Tablespoon + 1/2 teaspoon Soy Sauce
1/2 Tablespoon Sesame Oil
1/2 Teaspoon Sugar
1/2 Teaspoon Lemon Juice (fresh)
1/2 Teaspoon Rice Vinegar
1/4 Teaspoon Hot Sauce (Sriracha is a great choice)
1 1/2 Cups Basmati Rice (cooked)
1 Avocado (peeled, seeded and diced small)
Kewpie Mayonnaise (or regular mayonnaise)
Scallions (sliced thin)
Black Sesame Seeds (for garnish)
---
Directions
Combine your tuna, soy sauce, sesame oil, sugar, lemon juice, rice vinegar and hot sauce in a bowl and toss to coat. Allow to sit for at least 10 minutes.
To assemble first lay down your rice, top with avocado and tuna. Drizzle with the kewpie mayonnaise, then sprinkle on scallions and black sesame seeds. Serve immediately.
**NOTE: I used Basmati Rice for my rice choice, but you can use sushi, white or brown rice -- season with a little Mirin to give it extra flavor!