When my husband and I first started dating, we'd do cook-offs almost every Friday night. The cook-offs were when each of us would create a dish and then present it to the other person and enjoy them both over a great bottle of wine. Our dishes would remain a secret until the final unveiling.
We haven't done this in YEARS…..in fact, we haven't done this since I have attended culinary school, so I felt the pressure was on for this particular cook off.
My inspiration this weekend came from three of my favorite Japanese restaurants in New York City, Morimoto, Nobu and Sushi Samba. Each restaurant has it's own unique take on Japanese cuisine – different flavors, different fusions of other cuisines, etc. I utilized my favorite elements from all 3 restaurants to create probably one of my new favorite dishes: Yellowfin Tuna Ceviche Tacos.
I made my own mini taco shells, and filled them with fresh Tuna Ceviche, Jalapeno, Red Onion, Guacamole and topped them with the always-photogenic element of micro greenery on top.
Originally I had planned to make the Ceviche with Hamachi, but I realized that is incredibly hard to find down her in New Jersey – when we lived in NYC, I would always procure my fish from Eataly, which had the most delicious and fresh Hamachi. But a good chef knows how to make anything work, and Yellowfin Tuna is a delicious substitute!
I don't usually pride myself on excellent plating – I don't make my plates look like a small sculpture or a modern piece of art, instead I am usually into large plating (family style, buffet style) – but for this dish, I decided to get pretty.
These tacos look WAY harder to make then they are (which makes them super impressive to look at, but secretly simple to put together). The main part of this is really in the knife skills – mincing the perfect jalapeno and red onion, dicing up the fish perfectly, etc.
Try these as an appetizer at your next party, or make for dinner like I did!
They pair fantastically with a crisp Sauvignon Blanc like my favorite from Napa, St. Supery.
Enjoy!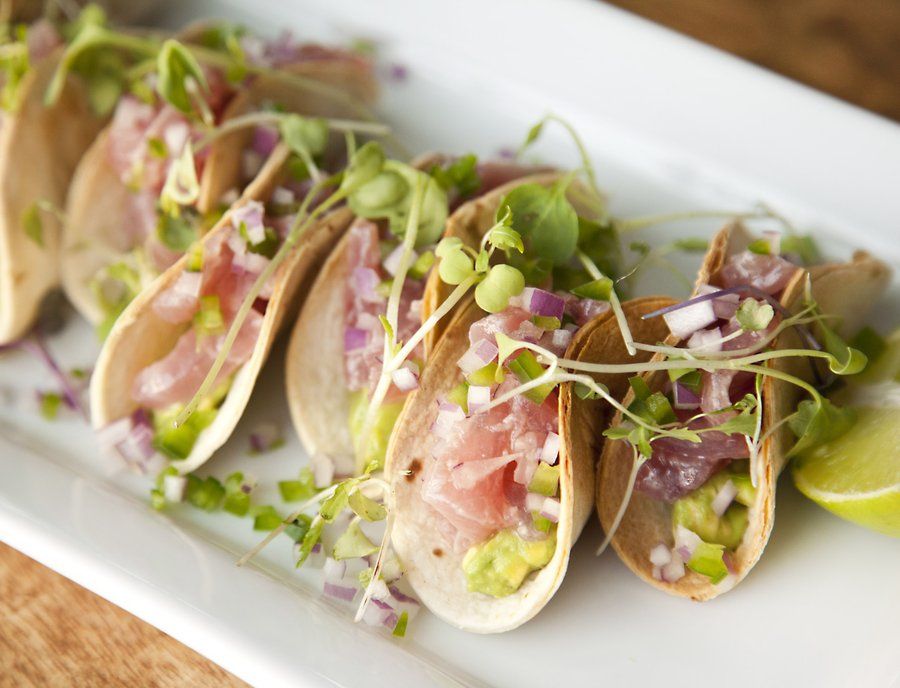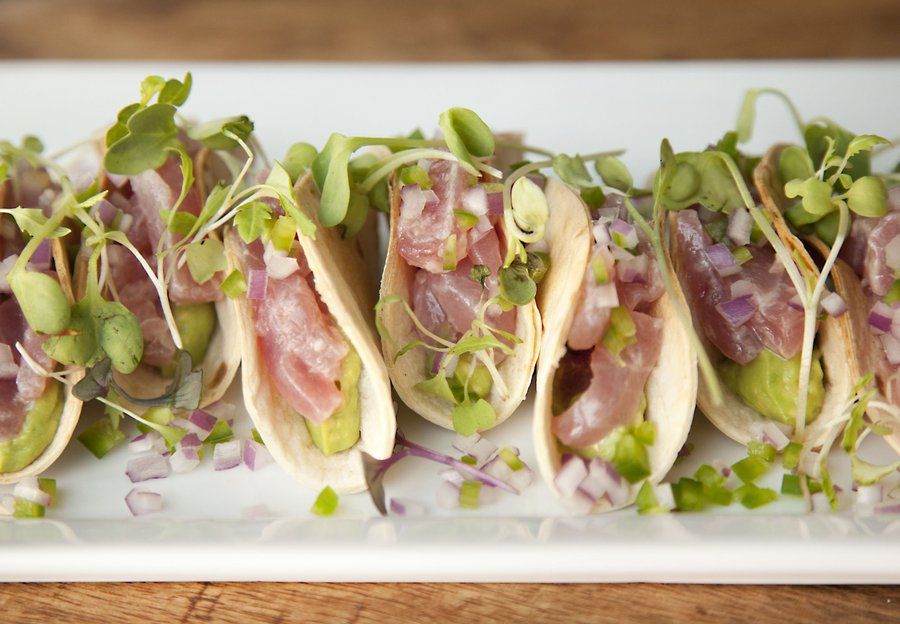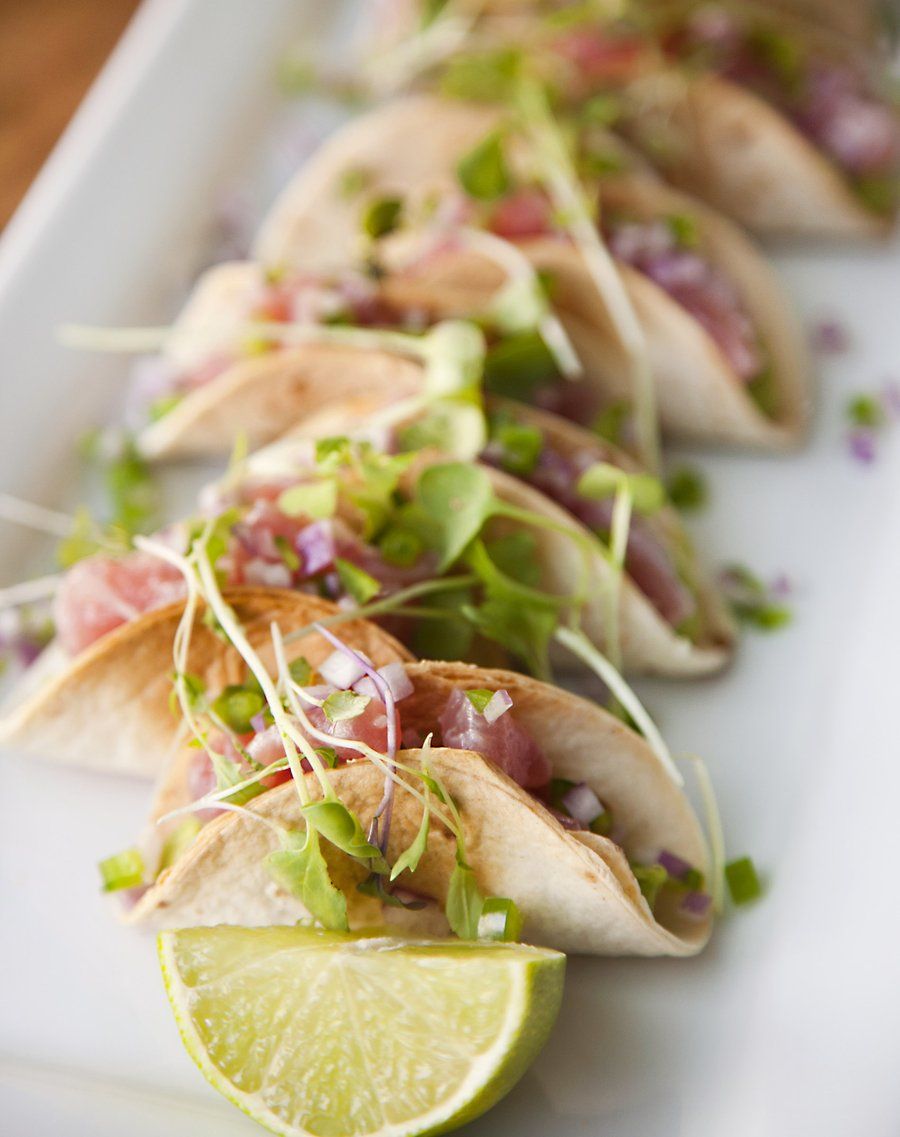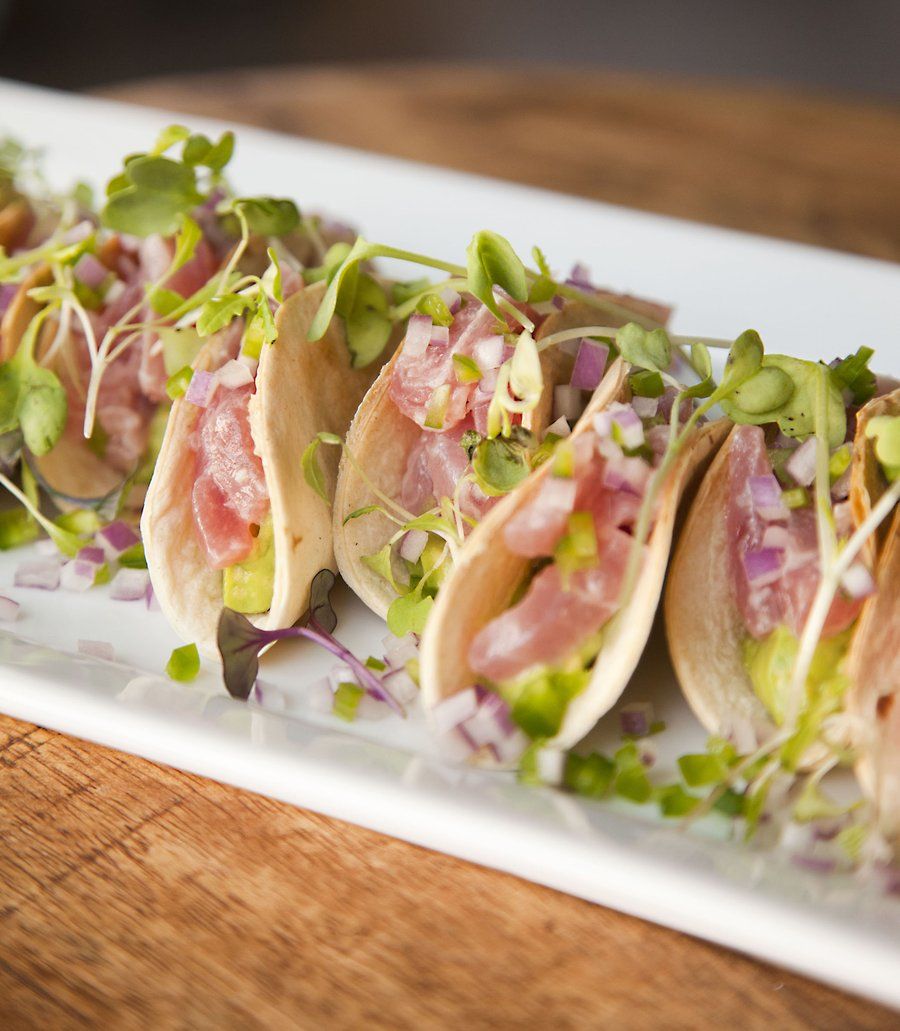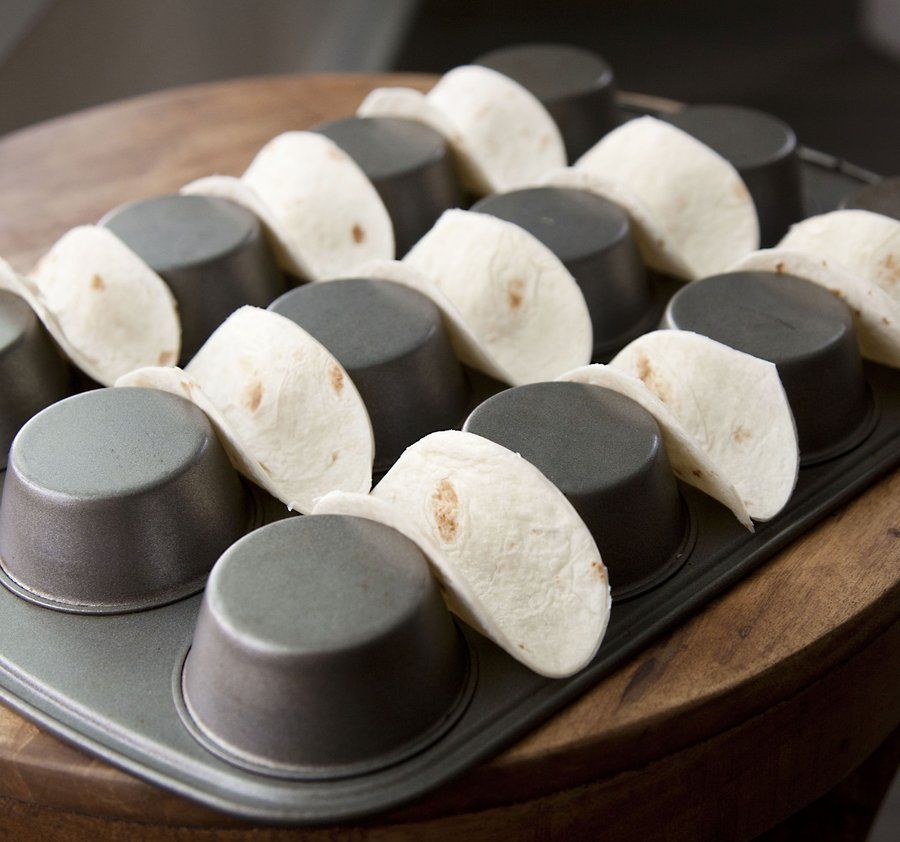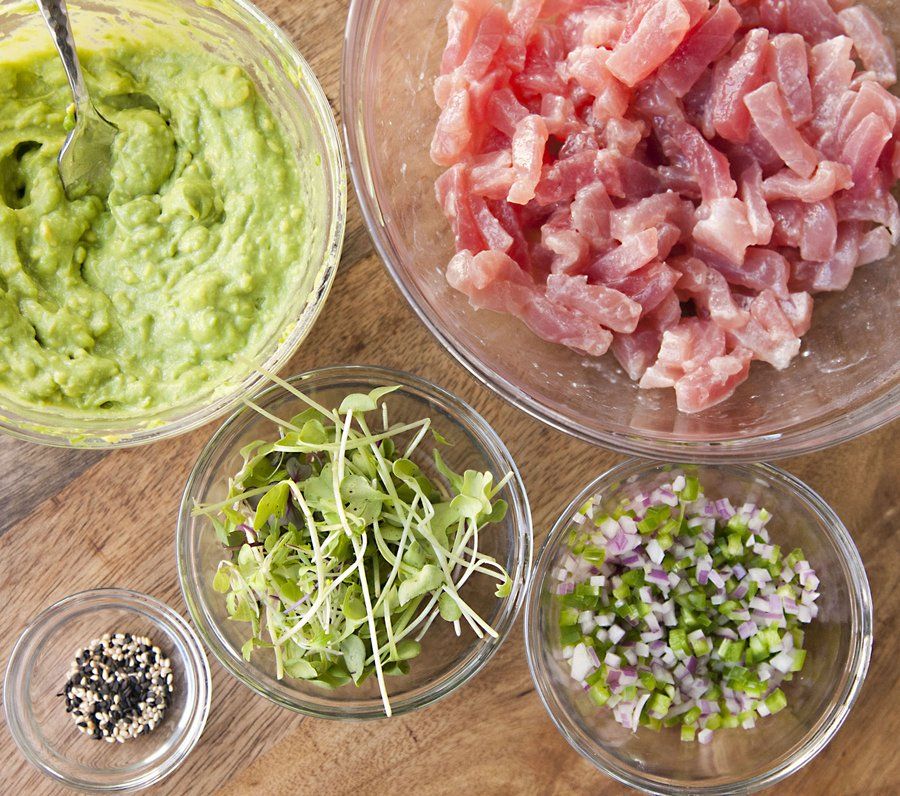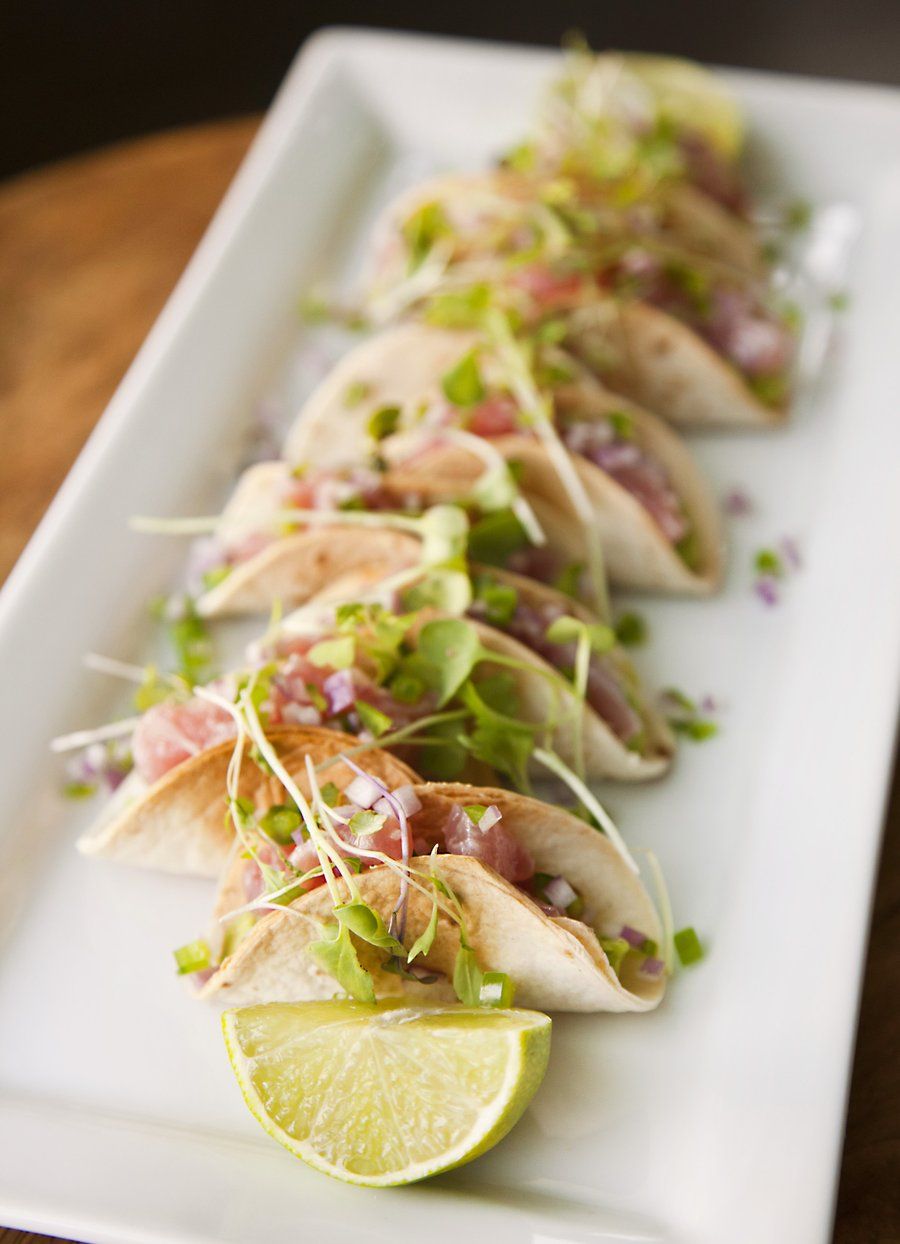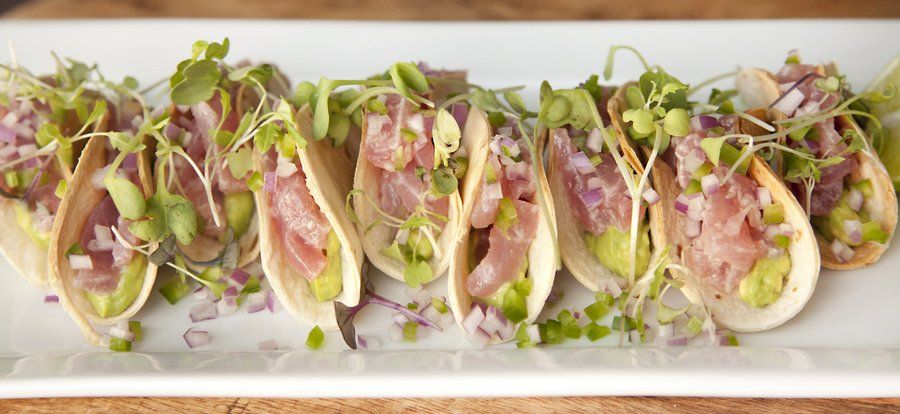 Yellowfin Tuna Ceviche Tacos
Prep Time
---
30 Minutes

Cook Time
---
8 Minutes

Total Time
---
38 Minutes

Yield
---
Makes 12 mini Tacos

Ingredients
4 8" Flour Tortillas
1/2 lbs Sushi Grade Yellowfin Tuna (cut into 1/4" chunks)
1 Teaspoon Canola Oil
1 Teaspoon Sesame Oil
2 Limes (divided)
1 Tablespoon Juice from an Orange (I used a Naval Orange)
1 Avocado
2 T Red Onion (minced)
2 T Jalapeno (ribs and seeds removed, minced)
Micro greens (for garnish)
---
Directions
For the Taco Shells: Preheat your oven to 350 and flip a muffin tin upside down. Using a 3" circular cut out, cut out as many circles from your tortillas as possible (usually 3 per 8" tortilla). Arrange in a "taco" shape in between the muffin tin's edges (see photo below). Bake for 7-9 minutes until lightly golden brown and hard. Remove from tin and allow to cool.
For the Ceviche: Mix together your tuna, Canola Oil, Sesame Oil, Juice from 1 lime, Orange Juice and salt to taste. Set aside.
For the Guacamole: Combine your avocado, juice from 1/2 a lime, and salt to taste, in a bowl. Mix with a fork (or immersion blender) until it's very smooth. Put into a pastry piping bag for easy application to the tacos.
For the garnishes: Mix together your red onion and jalapeno, and have your micro greens ready on the side.
To Assemble: Place your taco shells on a plate, and squeeze out some of the guacamole into each shell. Top with tuna, then the red onion/jalapeno mixture. Garnish with microgreens. Serve with lime wedges and eat immediately.