One of the MANY things I miss most about living in New York City are those super nice spring days, where the weather is perfect for doing absolutely everything outdoors. All the cafes put their tables and chairs outside for al fresco dining, people are walking around doing errands, walking their dogs, sitting in the park, and the city is alive with excitement over the first few warm days of the year.
When I was single, I used to love to take long walks during the day with my dog Yoshi. We would meander through our favorite neighborhoods, go to dog parks, stop in stores, and inevitably meet fellow New Yorker's on the street for casual conversations. As the sun was going down, I would find a cute place with outdoor seating (where Yoshi was allowed as well)....we'd sit down, order a glass of wine, and people watch. I found going out by myself in such a manner, so relaxing...sometimes I'd bring a book to enjoy, other times I would sit and just watch the city excitements...either way it was always something I looked forward to.
One particular spring day, my mom was in the city visiting me and we did a classic Sara walk, and found ourselves in our favorite area, the West Village. The sun was starting to set, and my mom suggested we find a place to get a drink and some food. She found this cute little cafe on the corner of Bleeker and MacDougal, where they had White Sangria on the menu, and thus she declared, that this was the place we were going. I had never had White Sangria before, but apparently, it's presence on the menu was the sole reason my mom had chosen this particular place.
We both ordered the sangria and it came in this gorgeous glass goblet, filled with fruits or various colors and a beautiful yellow/peach liquid that looked so incredibly refreshing after a long day's walk. I took one sip and was sold. It was everything you could want in a drink - refreshing, crisp, fruity (but not too sweet), and not heavy. It paired incredibly with a cheese plate appetizer and pasta entree. Since then, I have never been able to find a place who made their White Sangria quite like this place...and unfortunately the place my mom and I had gone to, no longer exists, so stalking their cocktail menu wasn't an option. So I referenced my dear friend, Google....
When you look up White Sangria online there are literally 7 million variations (which I found out after I went down a rabbit hole of Sangria recipes at 10pm sitting in bed). The one constant in these recipes is that the base is a white wine (usually Pinot Grigio, sometimes a Moscato). From there, all hell breaks loose. Some sangrias have hard liquor like Triple Sec, Grand Marnier or the likes....others believe in adding fruit juice....others add in seltzer... some even add in prosecco....and then there are those that believe in adding fresh lime, grapefruit or lemon juice.... honestly, I went nuts trying to come up with a list of recipes that were remotely similar. So I scrapped what I read on Google, and decided to do a little mixology in my kitchen until I was satisfied with that perfect crisp, fruity, well balanced drink I had over 10 years ago.
Before starting my at home bartending experiment, I decided I wanted my drink to have the beautiful cornucopia of fruits that my NYC Sangria had. I knew I wanted to add in some beautiful fresh fruit of various flavors and colors and an herb/organic element like the rosemary just to amp up it's garden theme appeal.
This experiment came out almost as perfect as I can remember.....I think I may start to experiment with different juices just to see how that effects the taste, but I absolutely loved what I came up with. I could see this pairing beautifully with a nice cheeseboard, a fish dinner, pasta, or chicken. It's light, refreshing, and subtle.
Enjoy!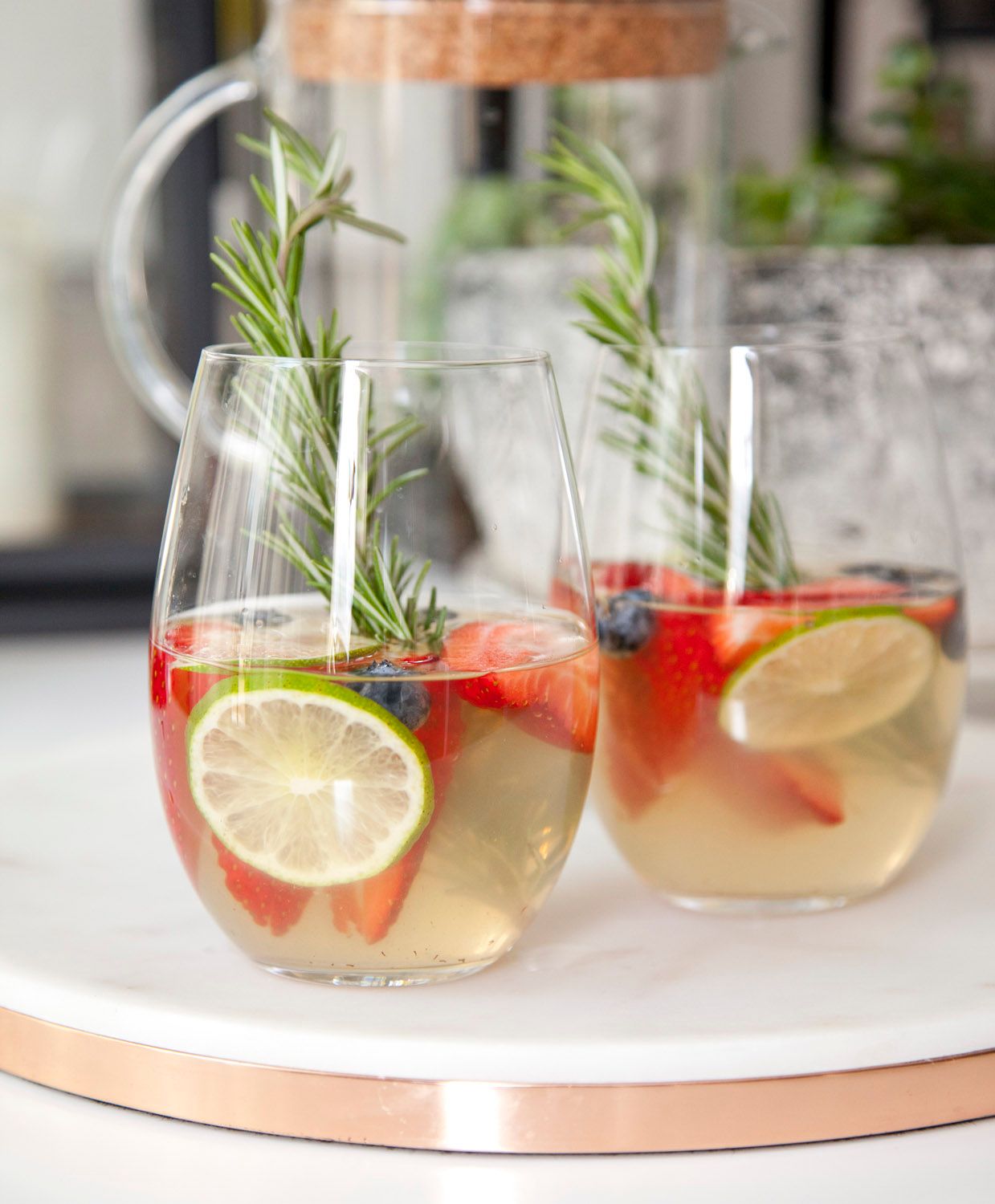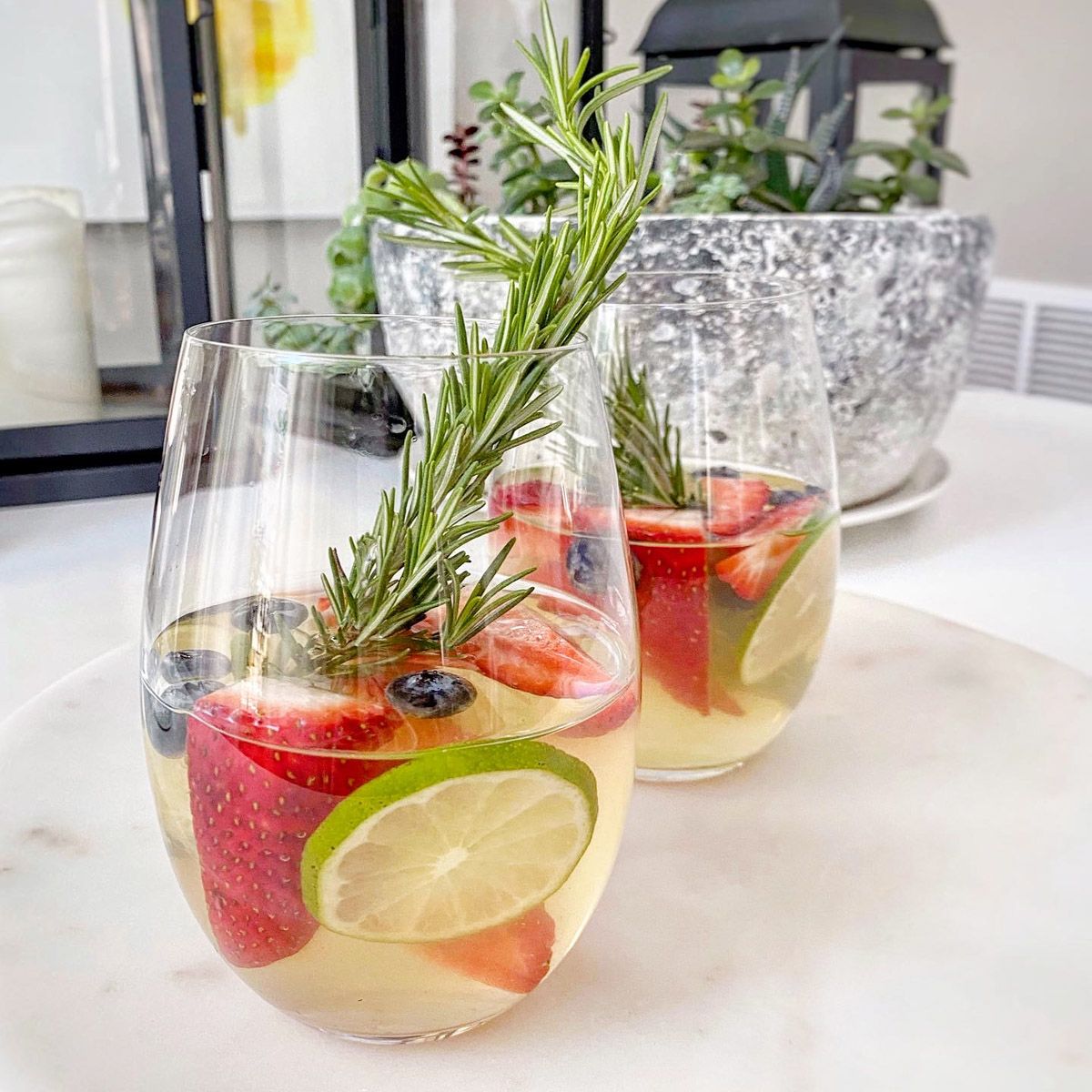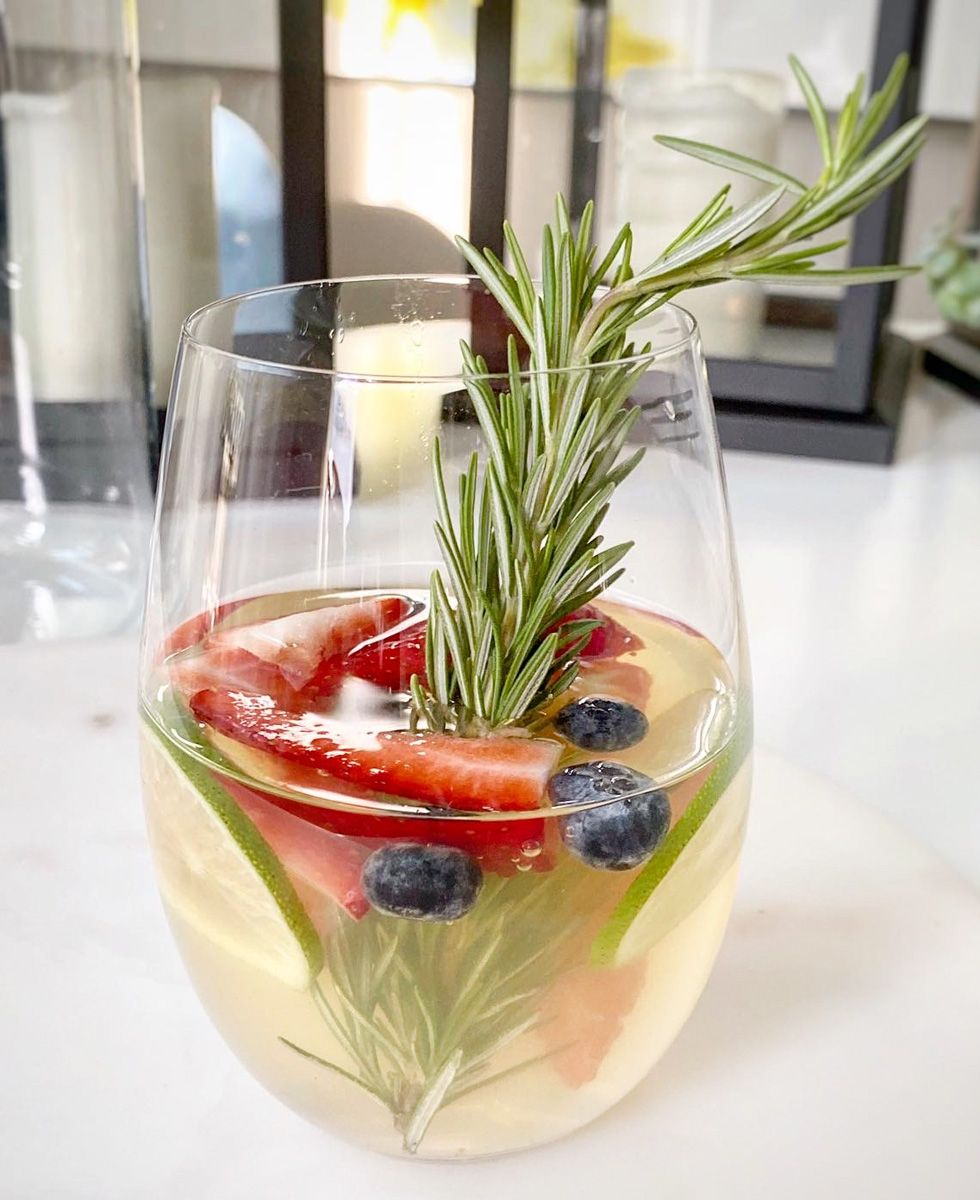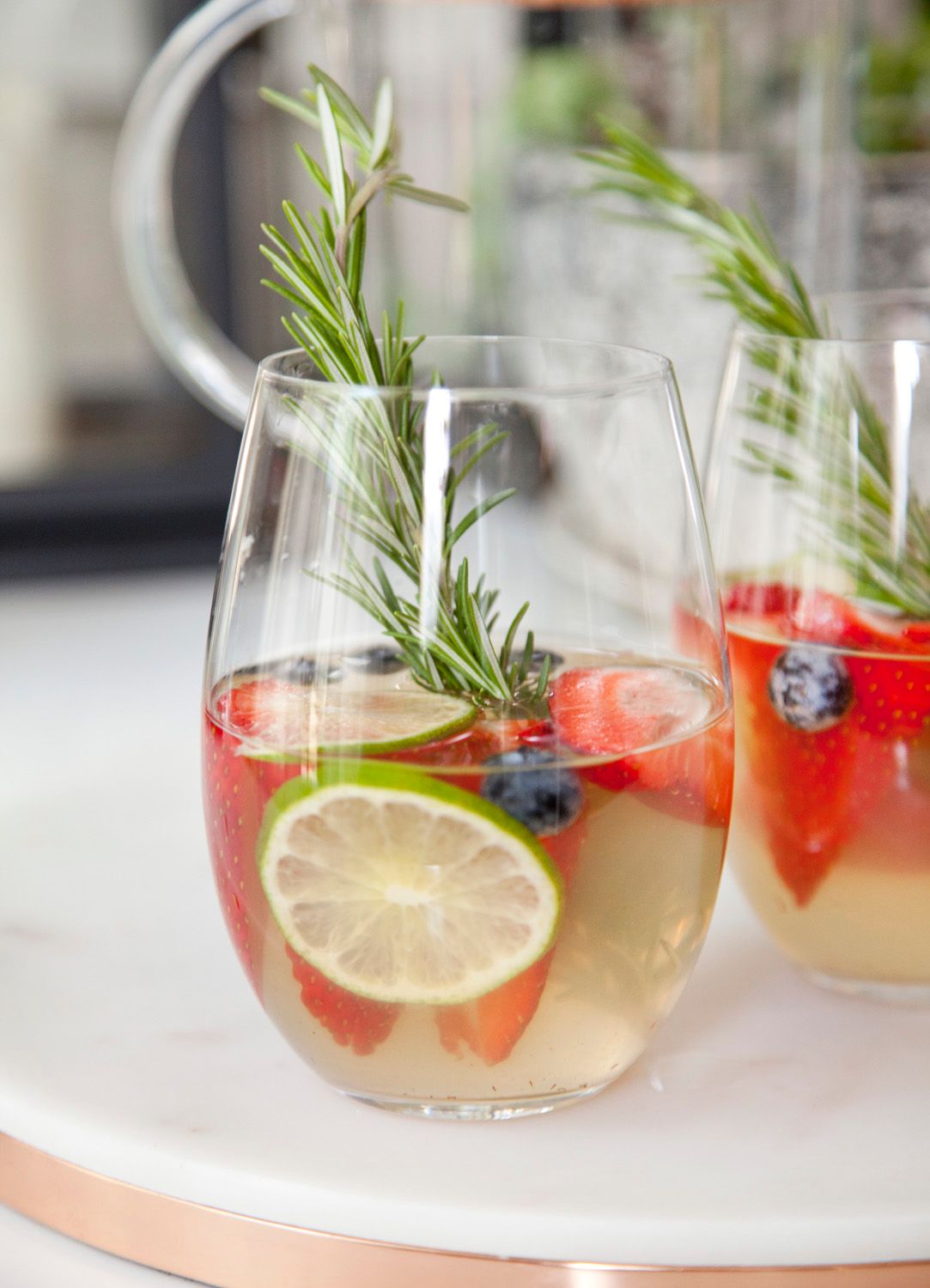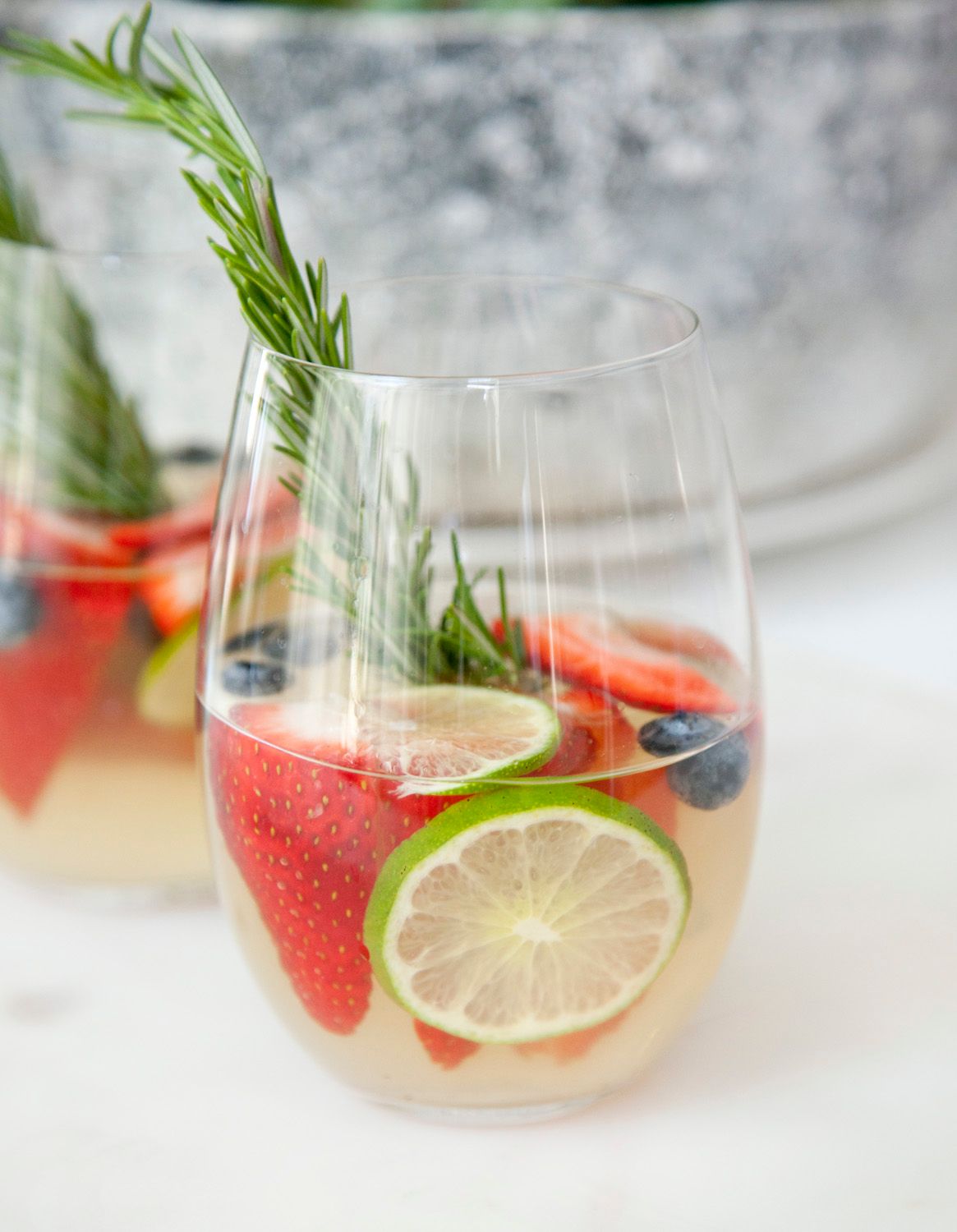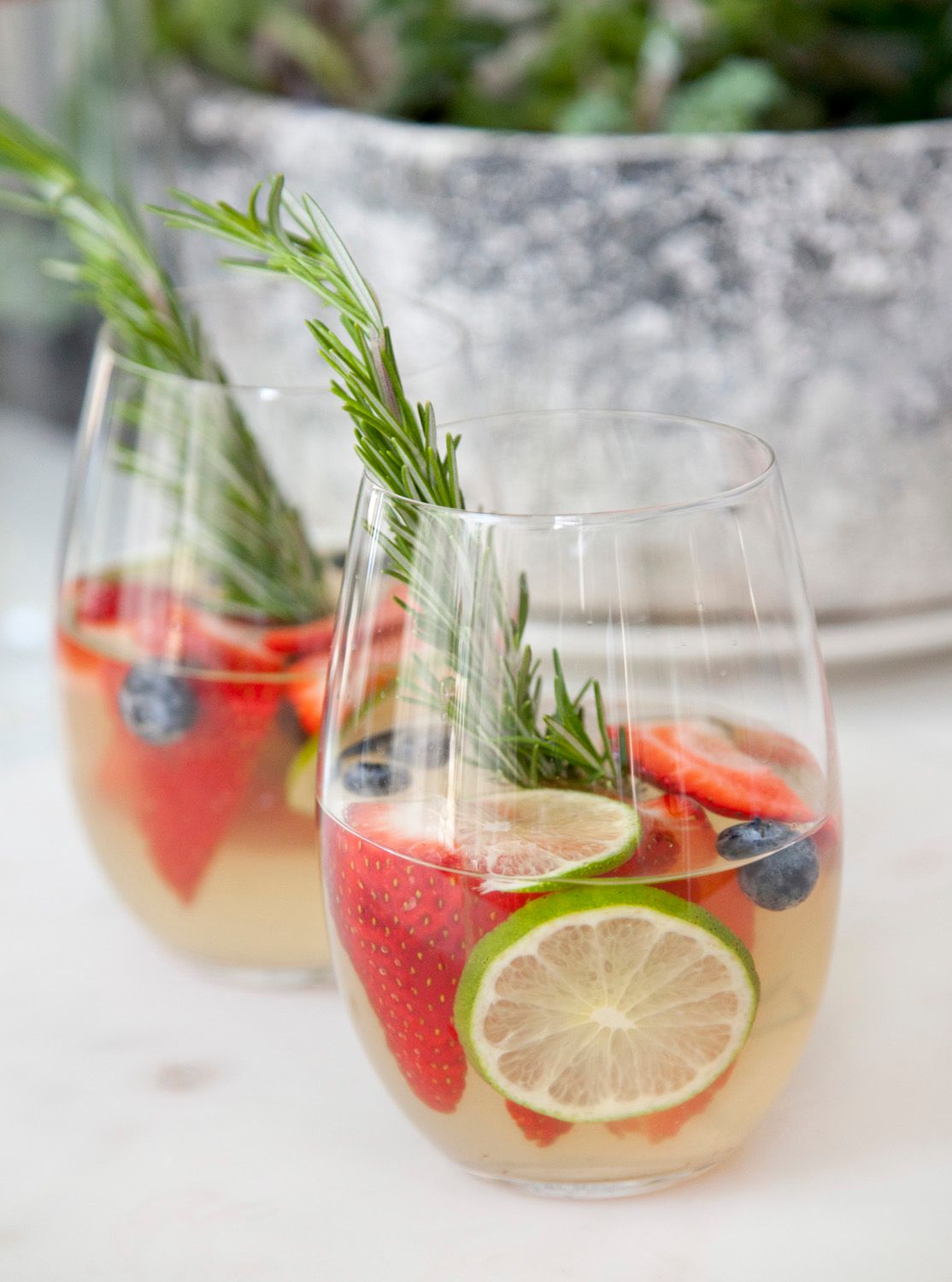 White Sangria
Prep Time
---
5 Minutes

Cook Time
---
0 Minutes

Total Time
---
5 Minutes

Yield
---
Makes 4 drinks

Ingredients
750 ml bottle of Pinot Grigio
1/2 cup Triple Sec
1/2 cup Peach Juice
Juice from 1 Lime
Fruits: Strawberries, Blueberries, Blackberries, etc.
Rosemary, for garnish
Lime slices, for garnish
---
Directions
Mix the wine, triple sec, peach juice and lime juice together in a large pitcher.
Add in the fruit and lime wedges. Let it cool in the fridge for a few hours before serving.
Garnish with rosemary sprigs.