If someone were to ask me what my signature dish was, the answer would undoubtedly be, Pierogies. Before I even attended culinary school, I created this Pierogi Dough that could literally be stuffed with garbage and it would taste incredible. The dough is stuffed, boiled for a few minutes and then deep fried to golden, crispy perfection, giving whatever it contains, the perfect crunchy outer shell that melts in your mouth.
Fast forward 10 years, and we're in the middle of a pandemic, not going to grocery stores, and sometimes not having all the ingredients we may want for a dish. So last night, when I was already planning what we'd eat for lunch the next day I decided I wanted to utilize my Pierogi dough but with an Empanada-style filling, since I had all the basic ingredients on hand.
During this quarantine, instead of hoarding toilet paper, or hand sanitizer, my husband took it upon himself to hoard Wagyu Beef. If you know either of us, this makes perfect sense, because who cares about wiping your ass if you don't have good food to eat (did that have any logic to it?)...so anyway, with MANY pounds of ground Wagyu in our deep freezer, I decided, let's upgrade the typical Beef Empanada to a Ground Wagyu Empanada and create something new (at least something I have never encountered).
Utilizing only a few other ingredients so as to let the Wagyu shine, we created these Empanogies? Pieradas? I guess it's just an Empanada with Pierogi dough.... whatever you want to call it, it was delicious and I ate 9.
For the Ground Wagyu, we get ours from Crowd Cow and love the Mishima Reserve Ground Wagyu Beef.
Enjoy!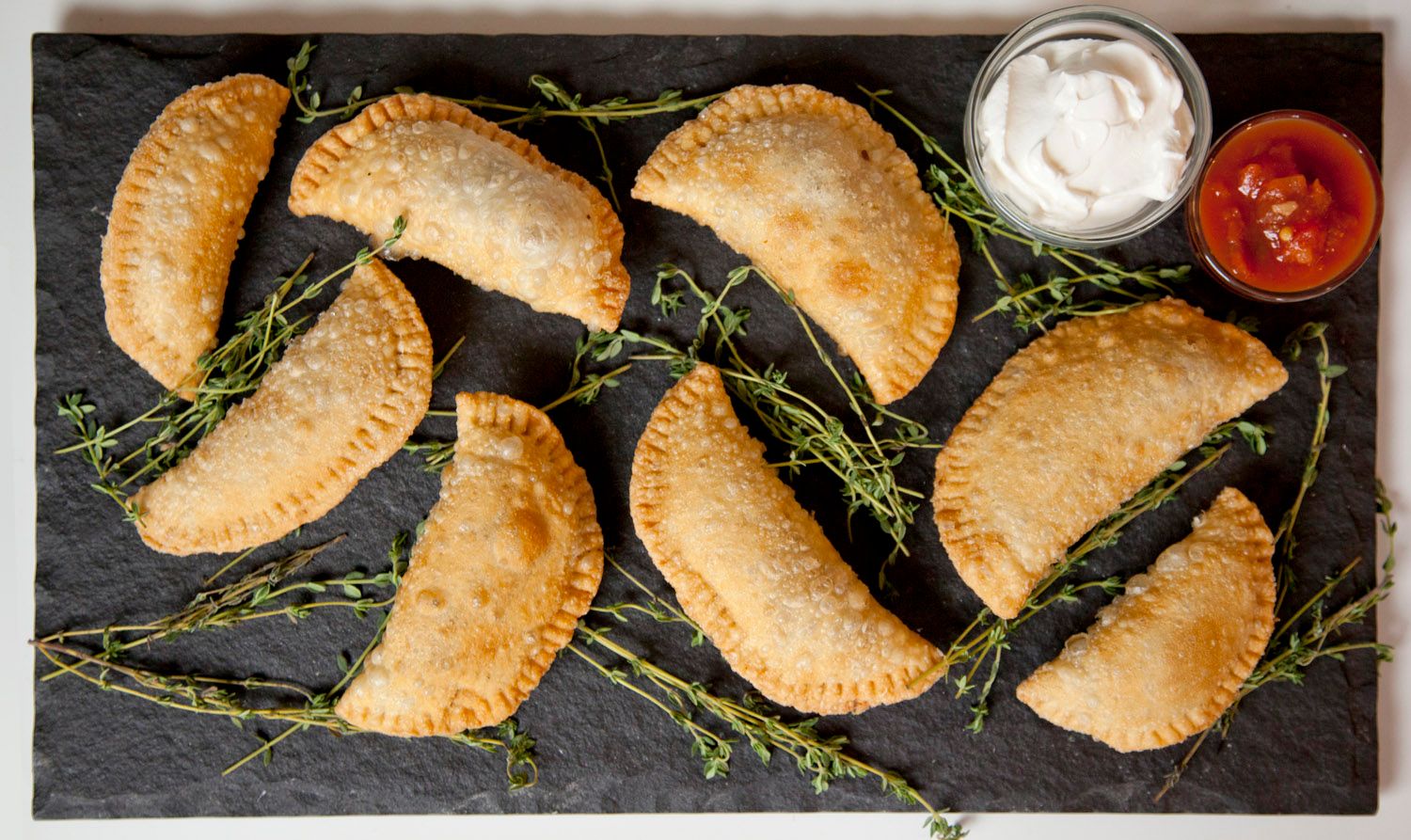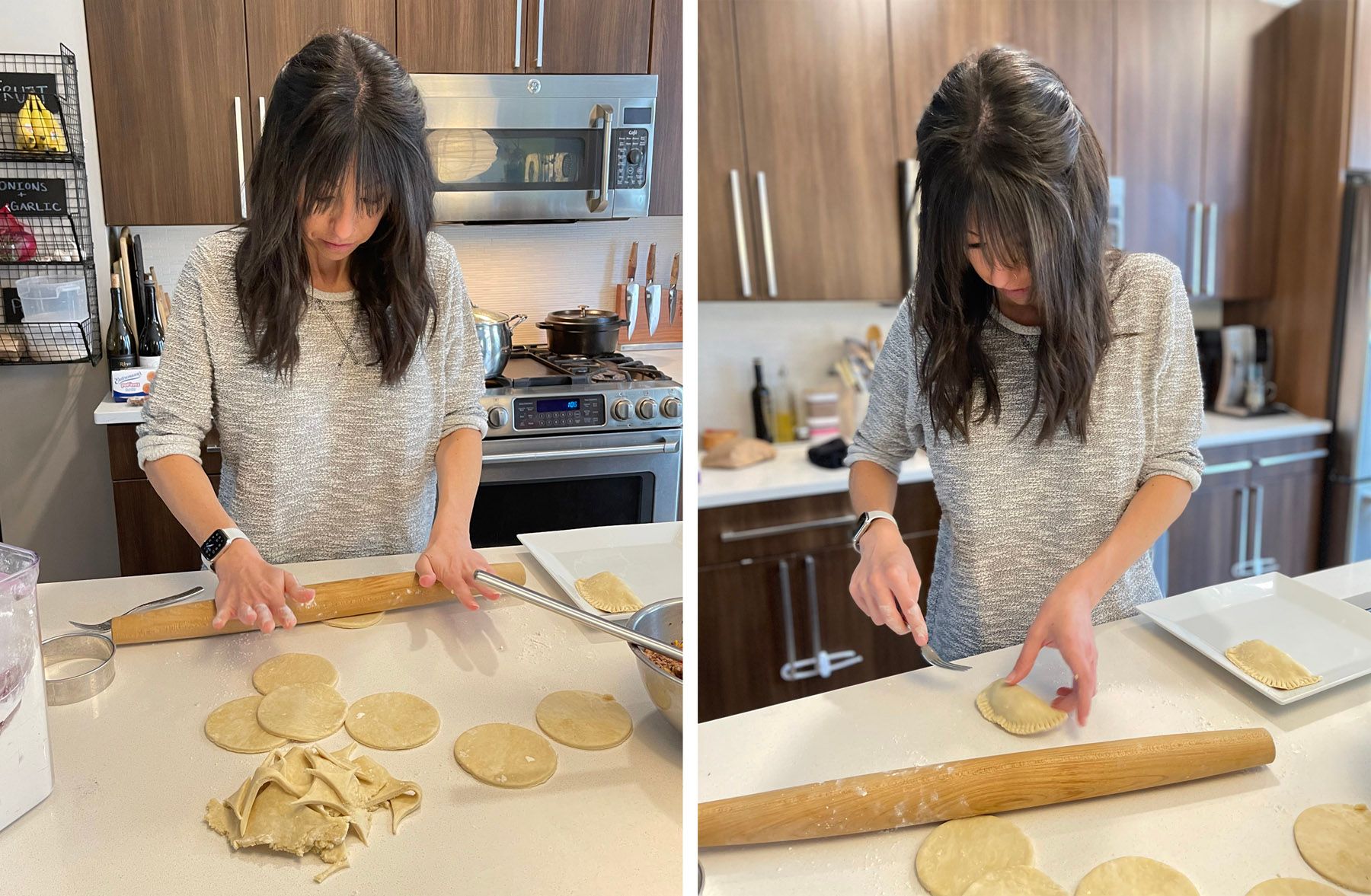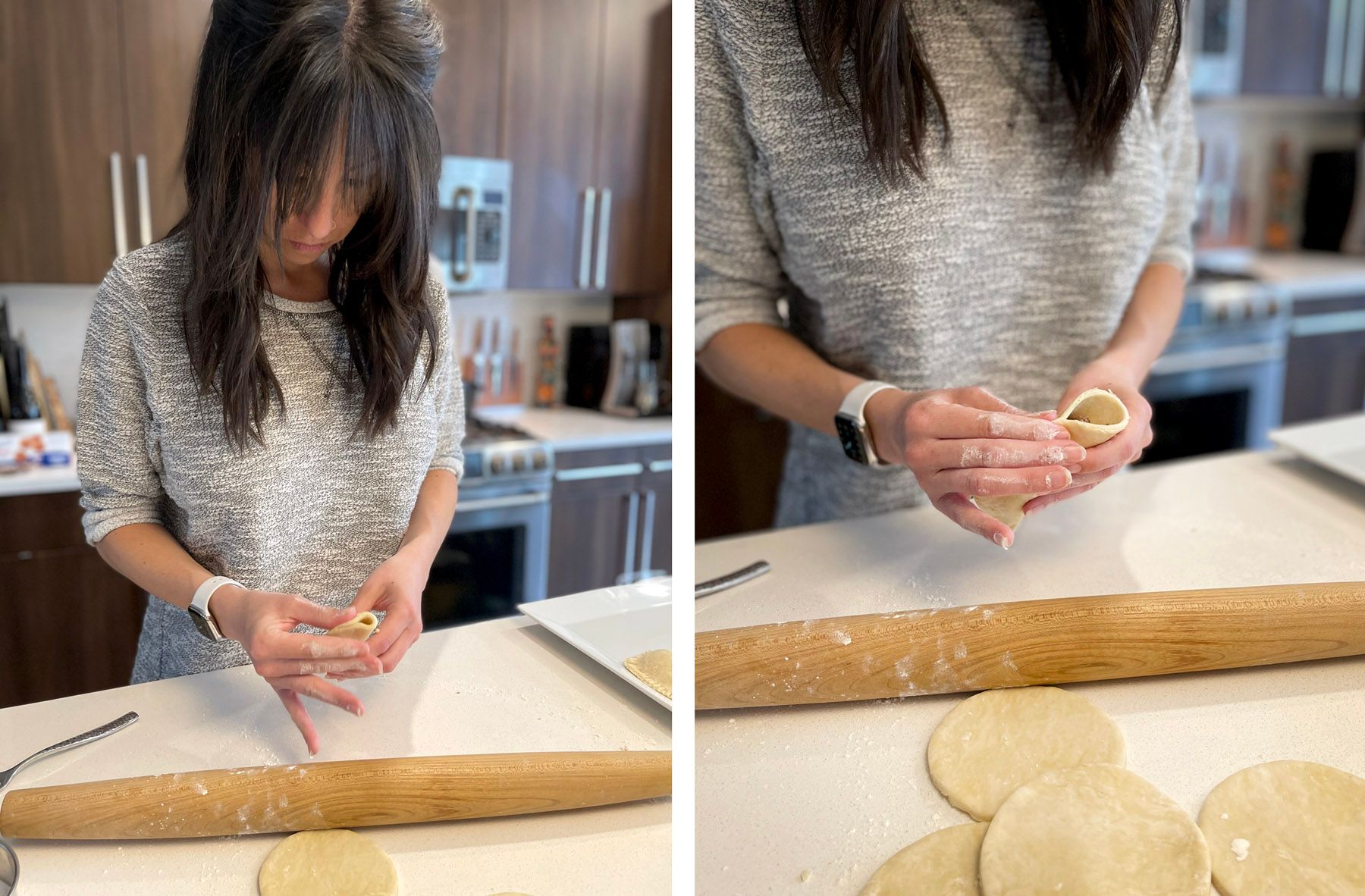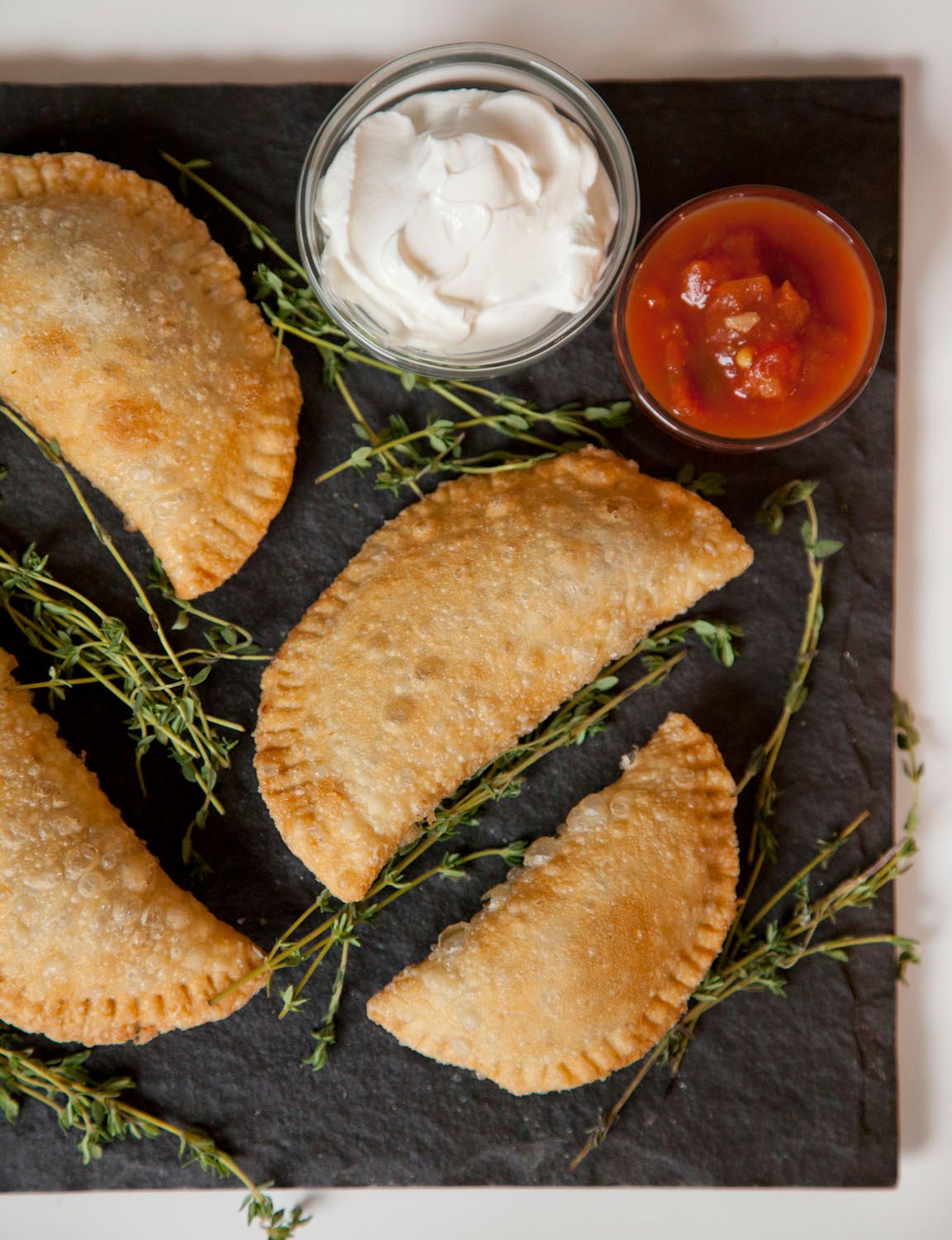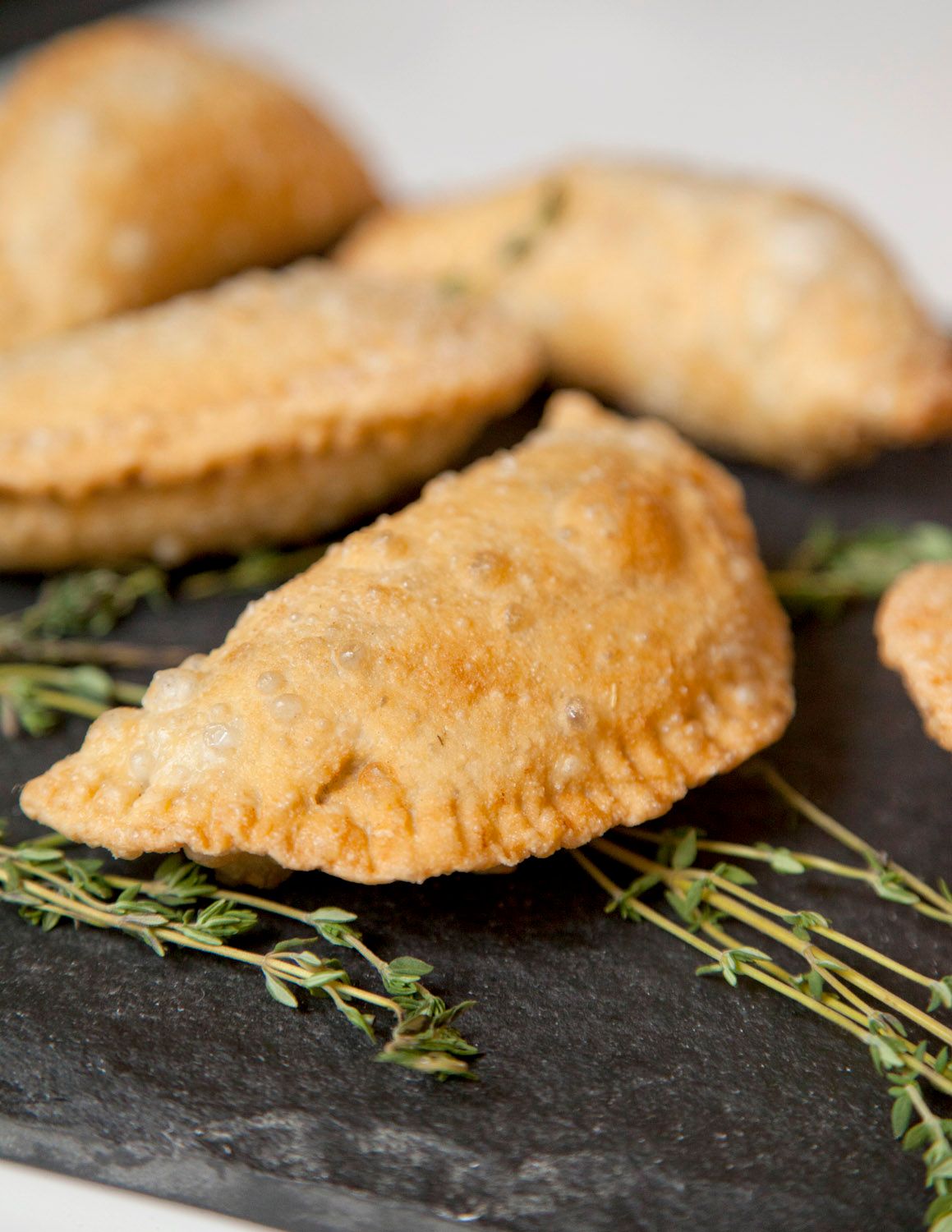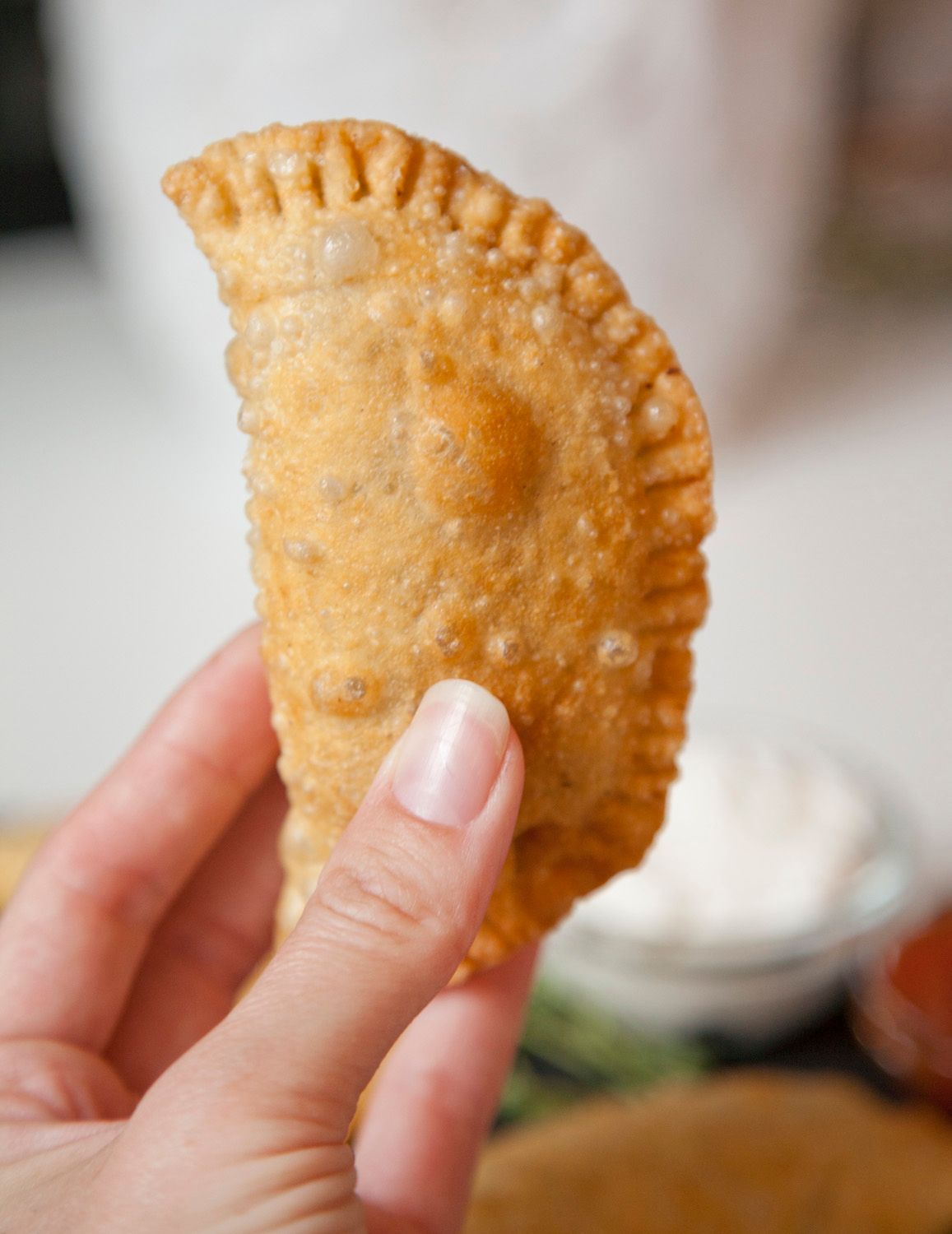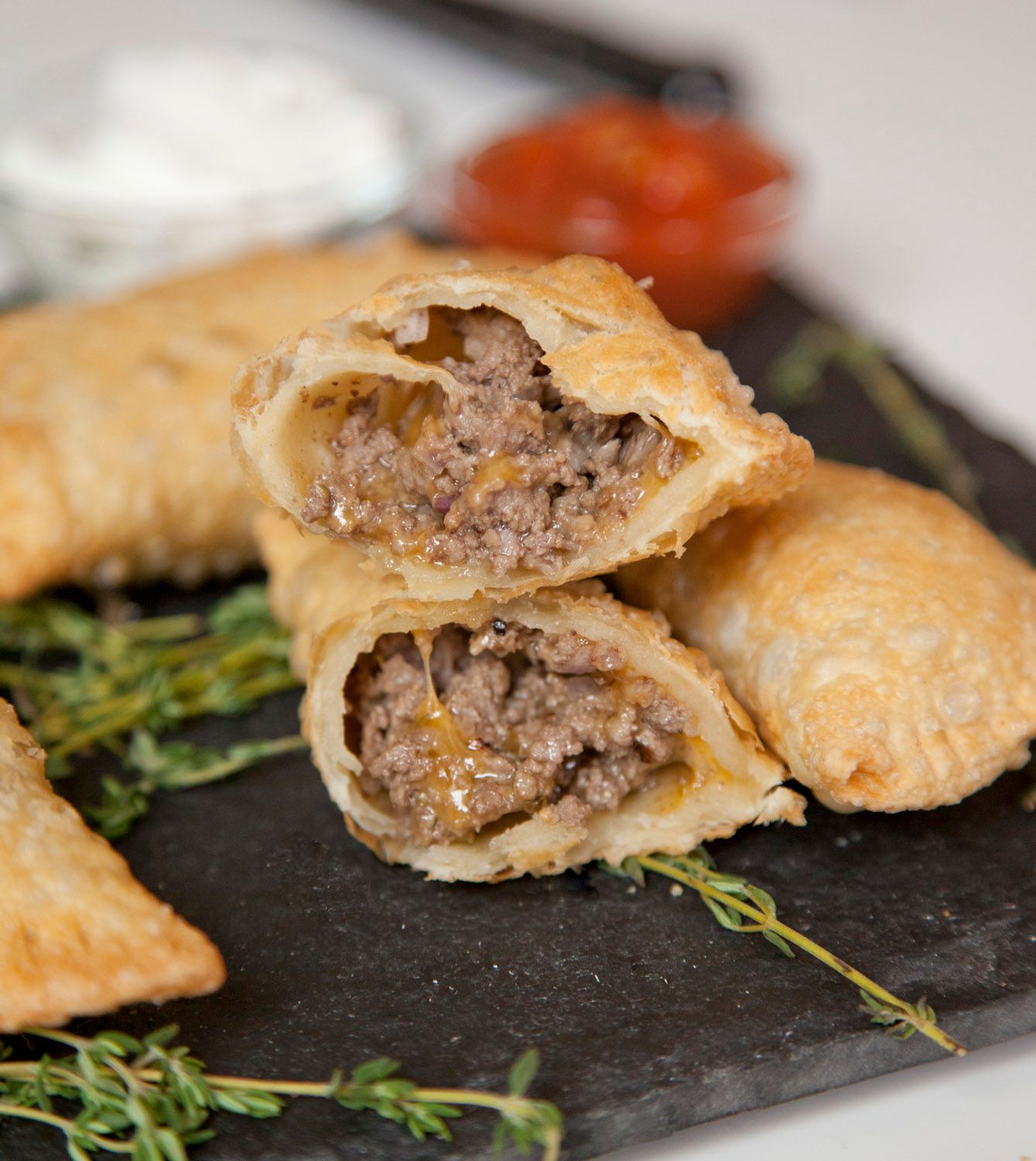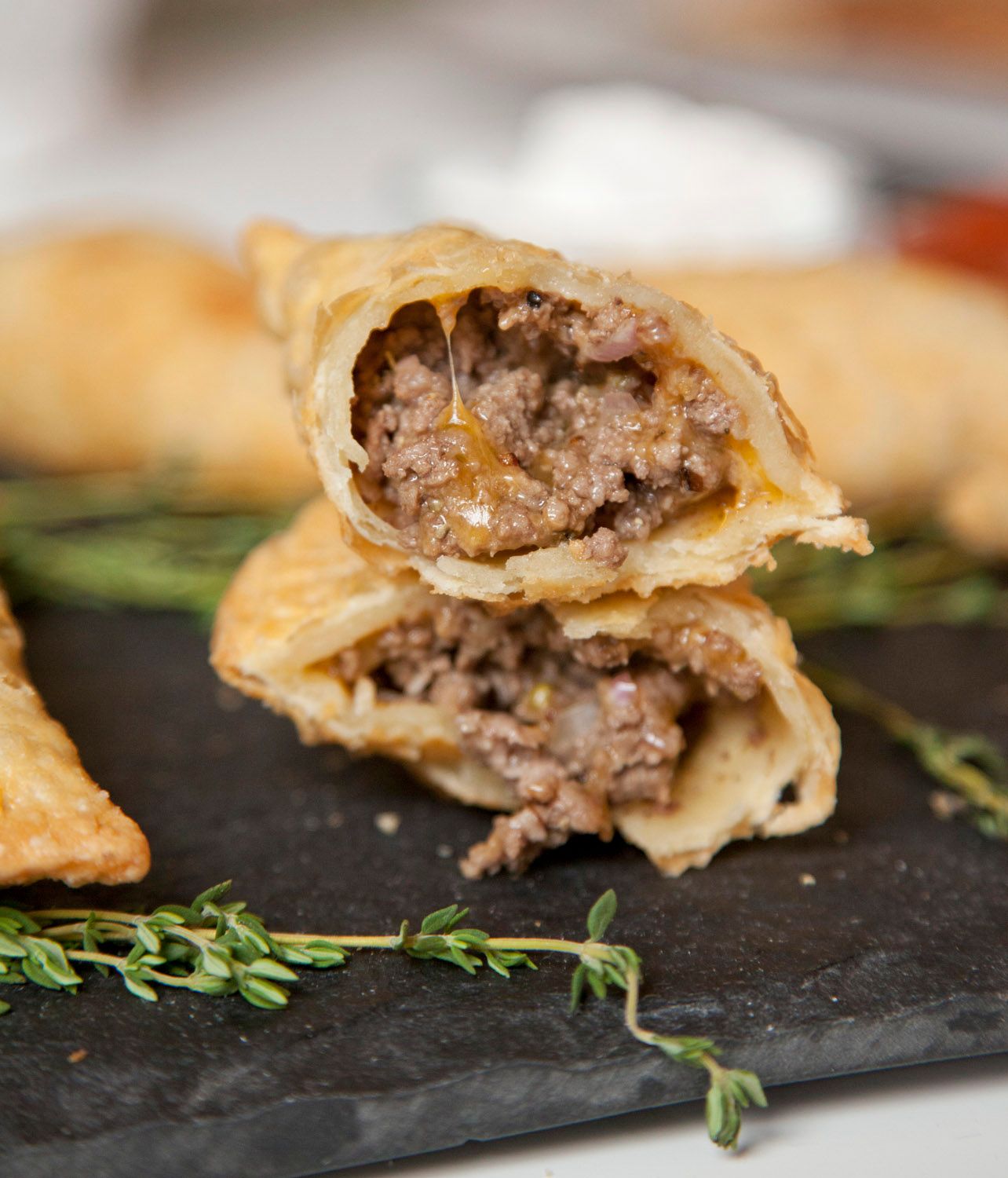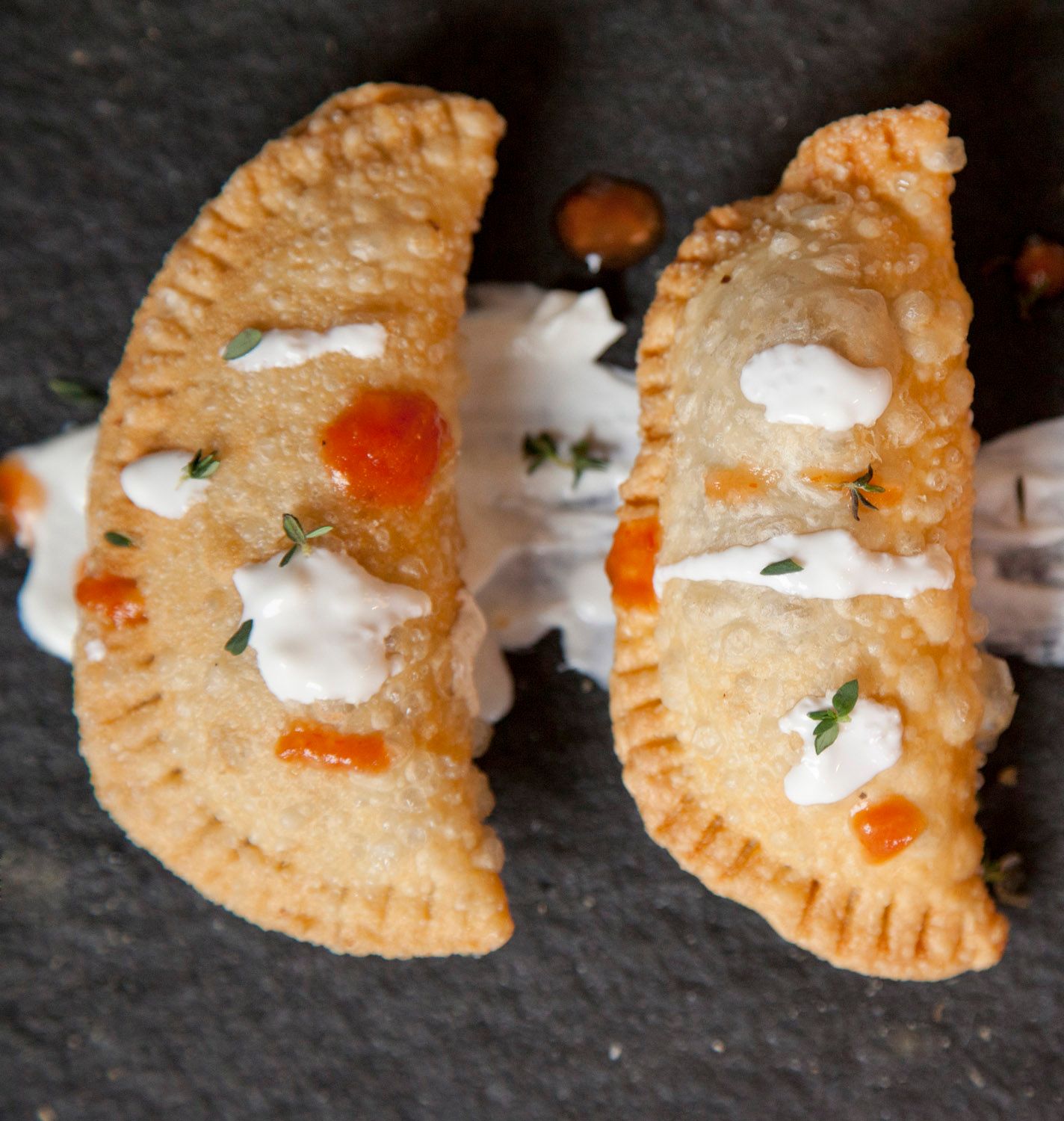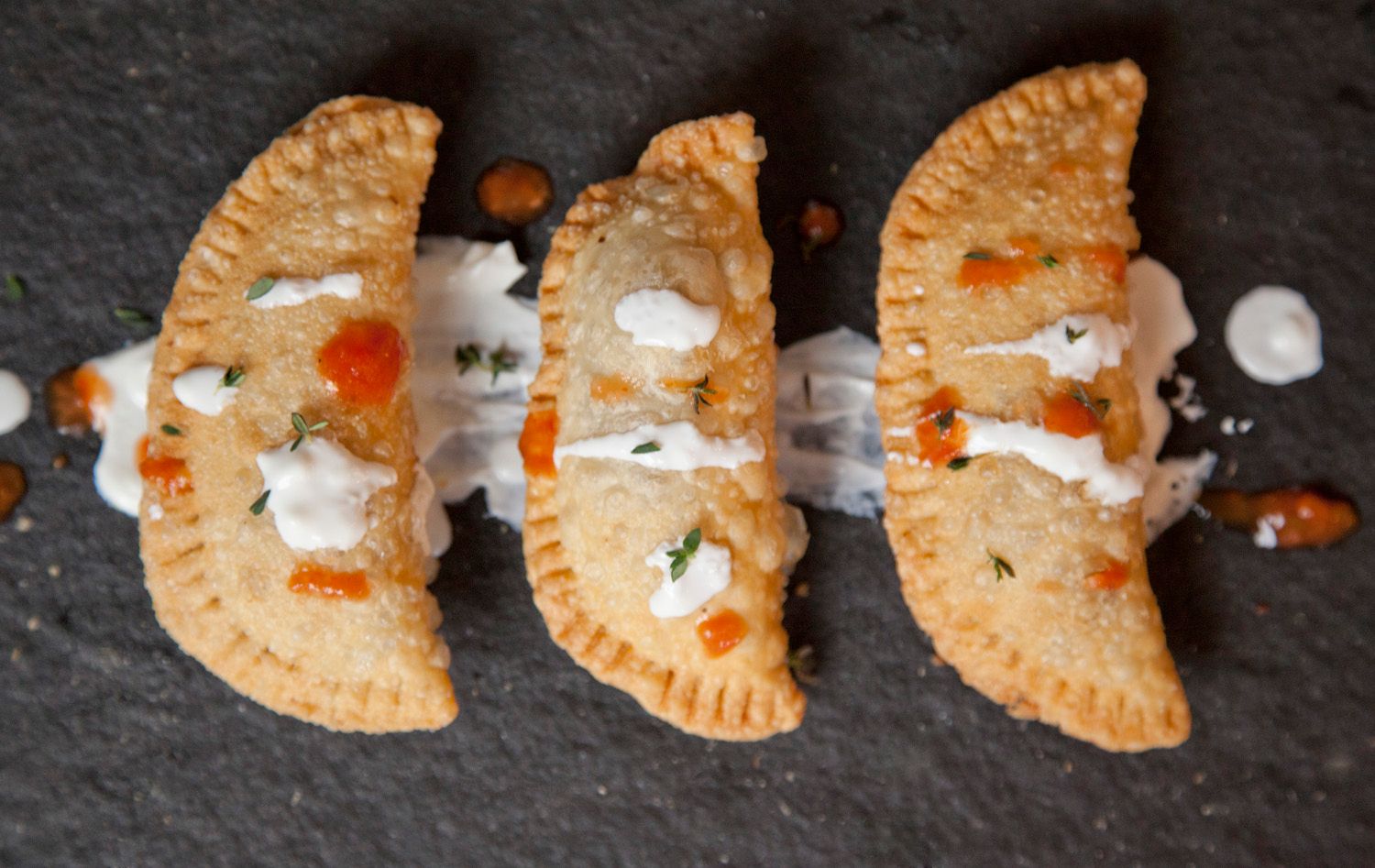 Sara's Favorite Dough
Prep Time
---
10 Minutes

Total Time
---
10 Minutes

Yield
---
1 Sheet Dough

Ingredients
2 Cups Flour
1/4 Cups cubed Butter
3/4 Cups Sour Cream
1/2 tsps Salt
---
Directions
Mix all ingredients in a food processor fitted with a dough blade. Turn out onto a non-stick, lightly floured surface & then kneed.
Roll out to a 1/4 inch thickness
Wagyu Empanadas
Prep Time
---
45 Minutes

Cook Time
---
20 Minutes

Total Time
---
1 Hour 5 Minutes

Yield
---
Makes about 20 Pierogies

Ingredients
1 Pound Ground Wagyu
2 cups Shredded Cheddar
1/2 cup minced Shallot
1 Teaspoon Garlic Powder
1 Teaspoon Dried Oregano
3/4 teaspoon Salt
3/4 teaspoon Black Pepper
---
Directions
In a saute pan, cook your ground wagyu until there's no pink. Drain the beef through a sieve, discarding the liquid, and place the beef in a large bowl.
To the bowl, add in all your other ingredients and mix together.
For assembly: Roll out your dough (recipe above) on a non-stick surface, and with a 4 inch diameter circle cookie cutter, cut out pierogi circles. Have a bowl of water on the side. To your dough, with your finger, add some water to the edges. Put about 2 tablespoons of your beef filling into the center of your dough. Fold one edge over to the other to form a half circle and press the edges together. The water is necessary to help seal the dough together. Use a fork around the edges to crimp the dough together for an extra reinforced seal. Repeat this process until all the dough is used up.
To Cook: In a large pot, bring 2-3 quarts of water to a boil (you want enough water in your pot so that you have about a 3-4 inch depth of water in your pot). Add in your pierogies to the boiling pot. You may need to do this in a couple of shifts depending on how large your pot is. Once the pierogies start rising to the surface of the water, they're done cooking and can be removed with a slotted spoon, and placed on a plate. Cook all the pierogies like this and set aside on a plate.
In a large pot - add enough canola oil so there's 3-4" of depth. Heat the oil to 360 degrees, and in batches, deep fry your pierogies until golden brown. Remove from the oil with a slotted spoon and place on a plate lined with a paper towel to sop up the excess oil.
Serve hot with sour cream, salsa, guacamole, or whatever you like! Sour Cream is our favorite!