This week my husband is away on vacation with his dad and brother, so I have made a list of all the things I want to cook this week that he doesn't usually like to eat.
First on the list: Chili.
I won't even comment on the fact that my husband doesn't like chili….a little part of me dies inside saying that… so being that yesterday was Sunday, and I love watching football, I figured Chili was the perfect dish to make.
To keep it a tad healthier, I used ground Turkey instead of Ground Beef – however you can find another version of my Ground Beef Chili here.
I topped my chili with a Cilantro Lime Yogurt instead of my usual Sour Cream, just to change it up!
In addition, I had some small flour tortillas lying around, so I quickly pan-fried them up so they got all puffy and crispy and I ate those with the chili (so yummy!)
For the tortillas: I used 6" Flour Tortillas – I heated up a medium sized skillet with about ¼" of canola oil. Once the oil was hot, I tossed in the tortilla, and it will immediately start to puff up. Once the bottom side gets golden brown (about 30 seconds), use tongs to flip it over and brown the other side (another 20 seconds). Remove from the oil and let drain on a paper towel lined plate.
I topped my chili with some shredded Cheddar Cheese and Diced Tomato – along with some shredded lettuce (I always love having some element of crunch!)
Some other topping ideas: Scallions, Guacamole, Tomatillo Salsa……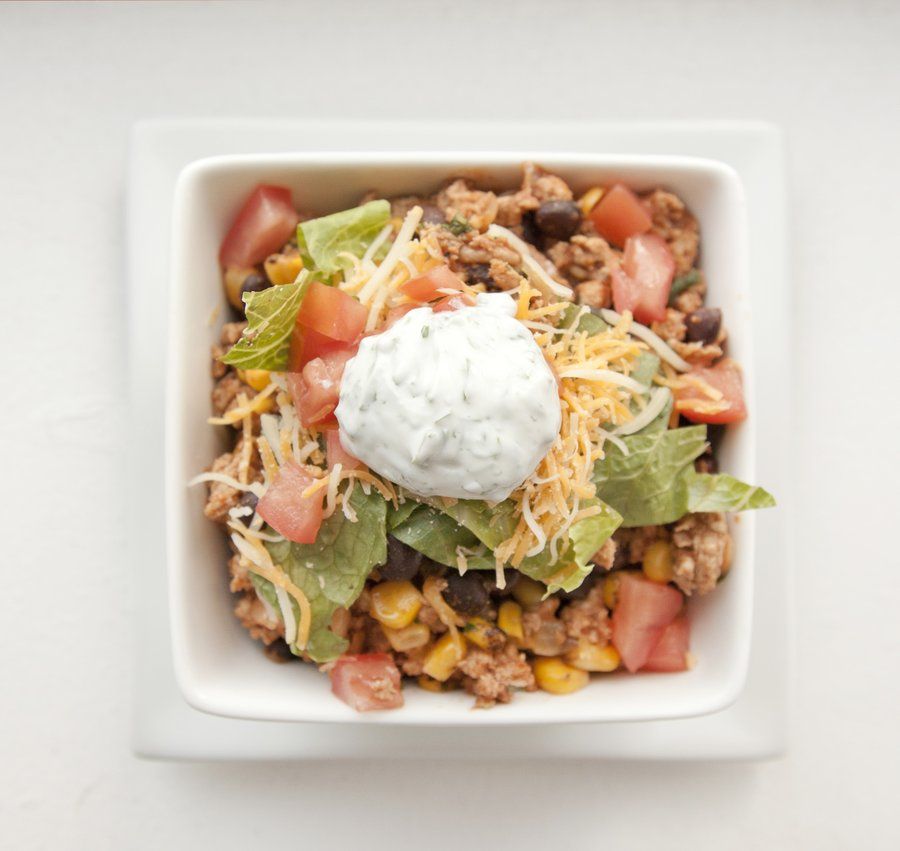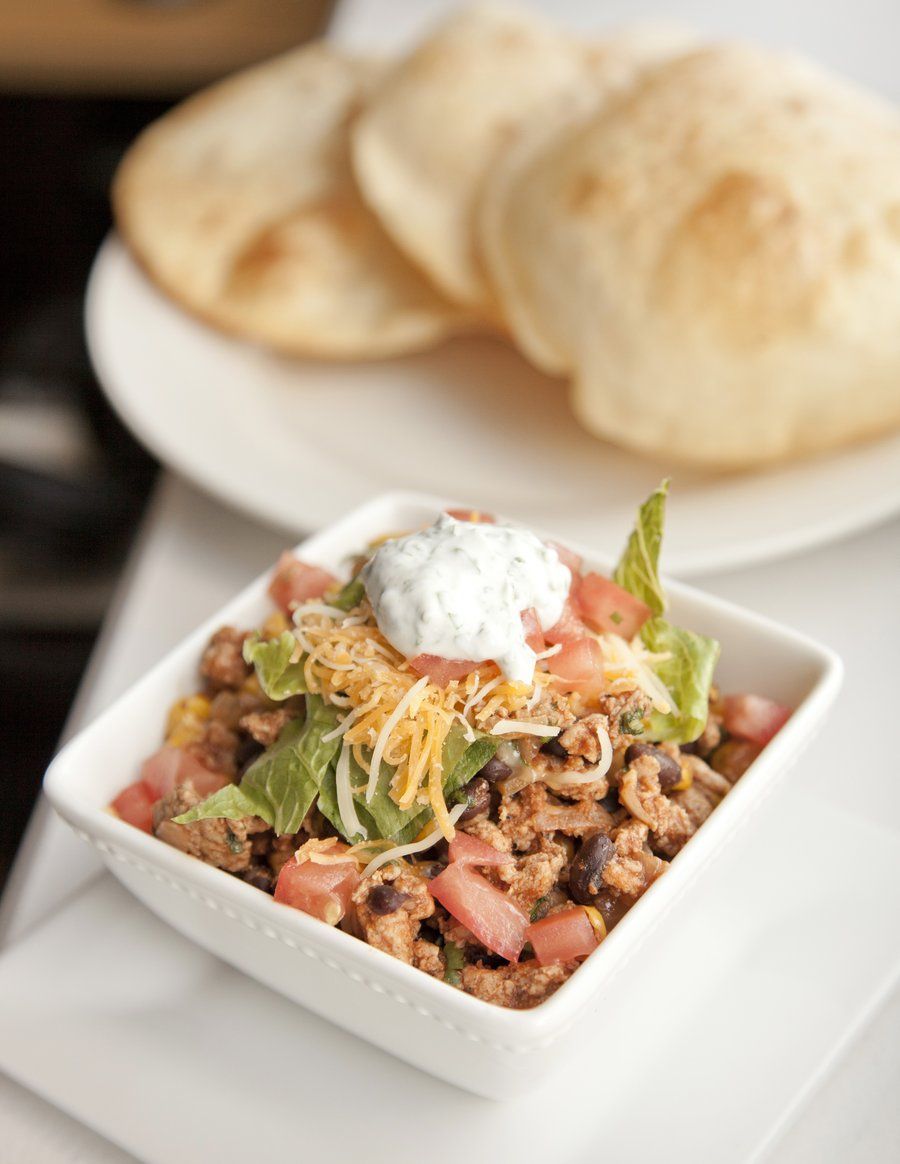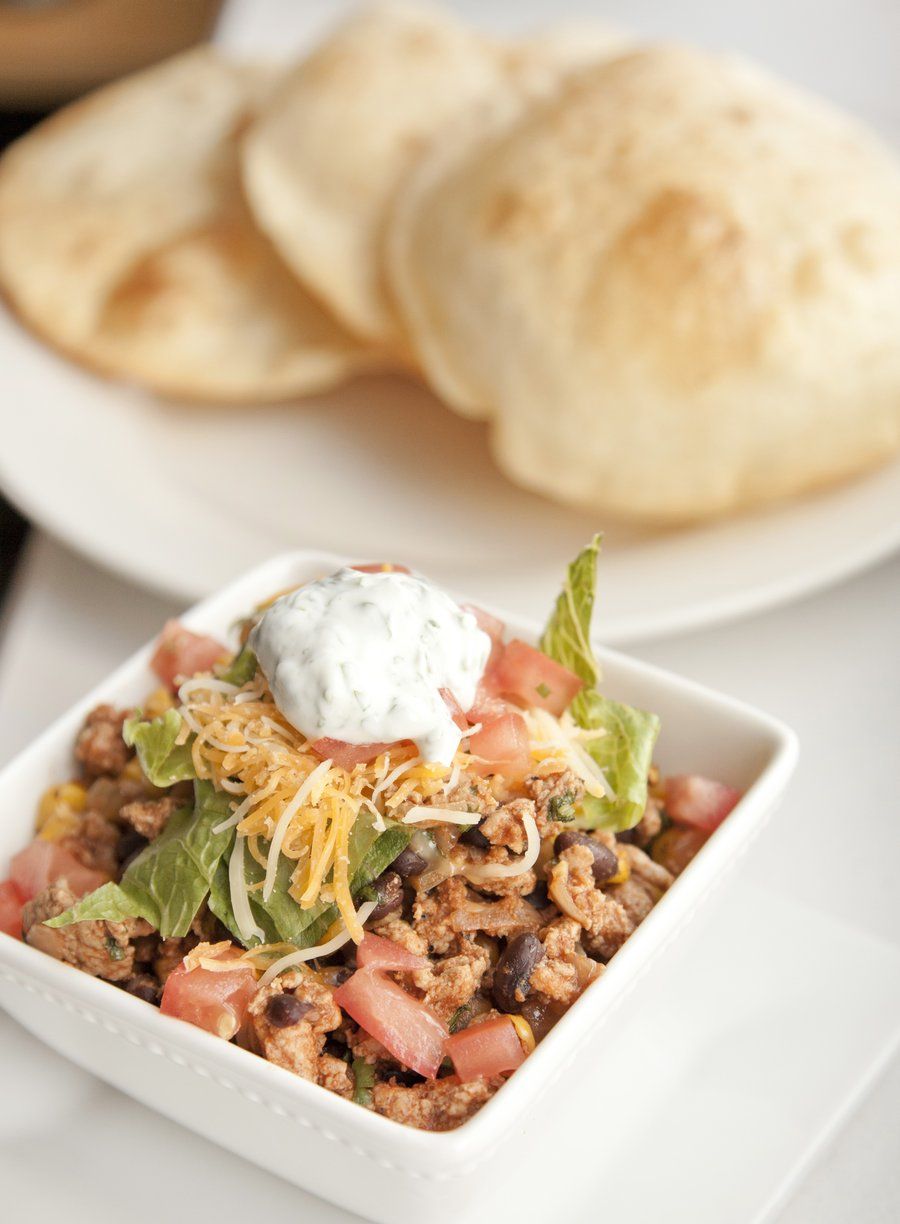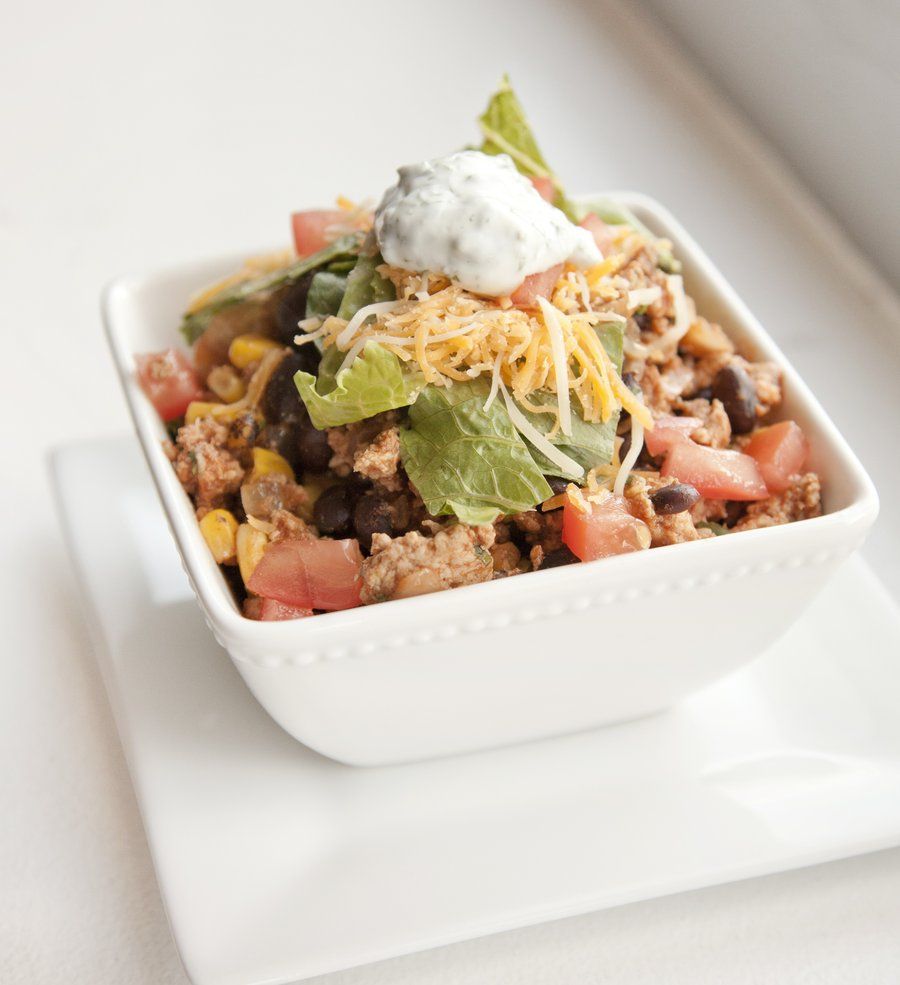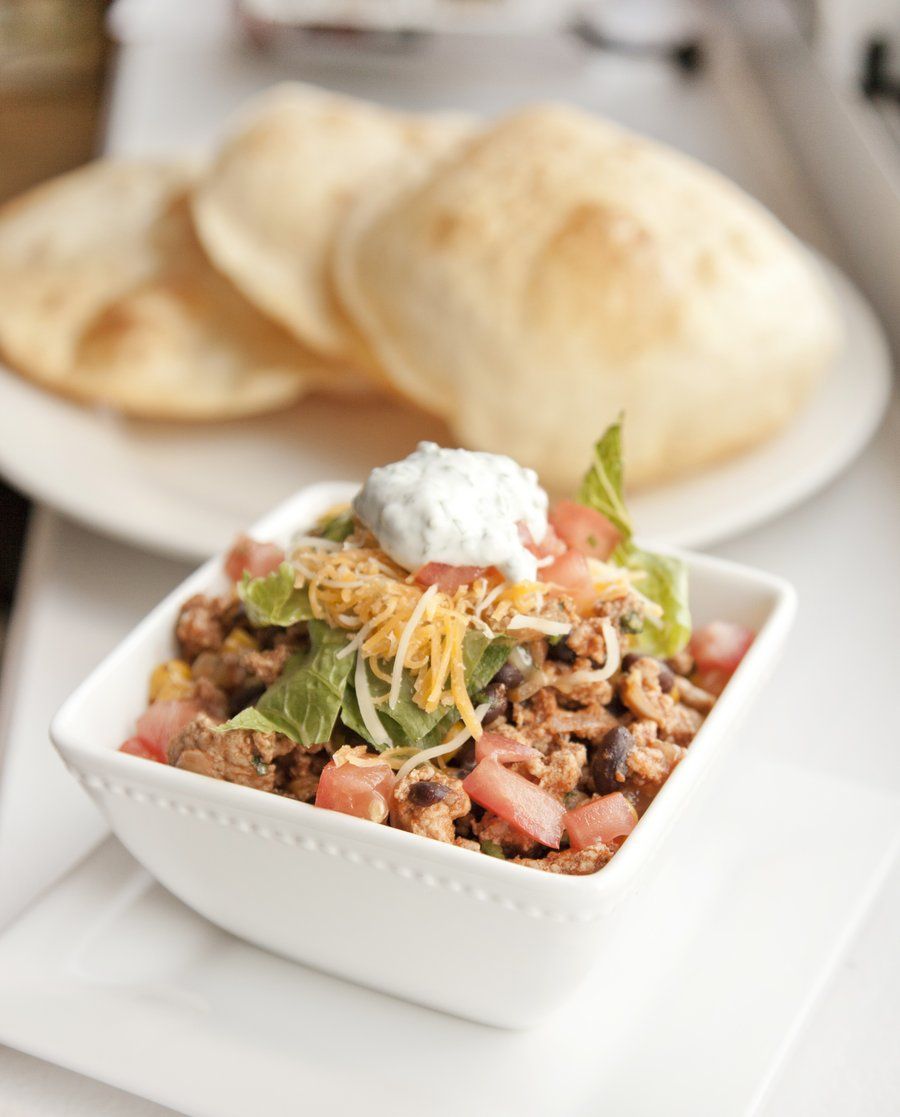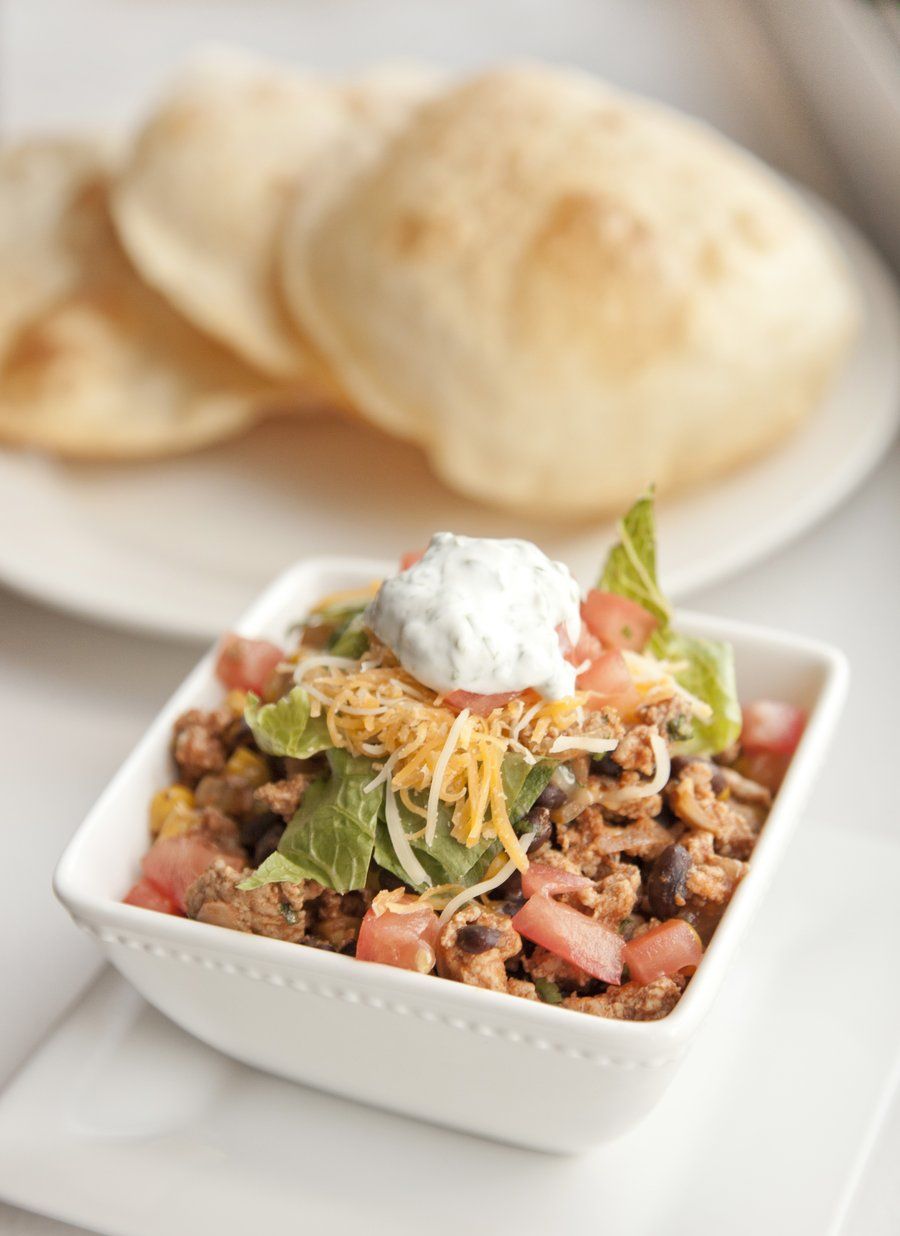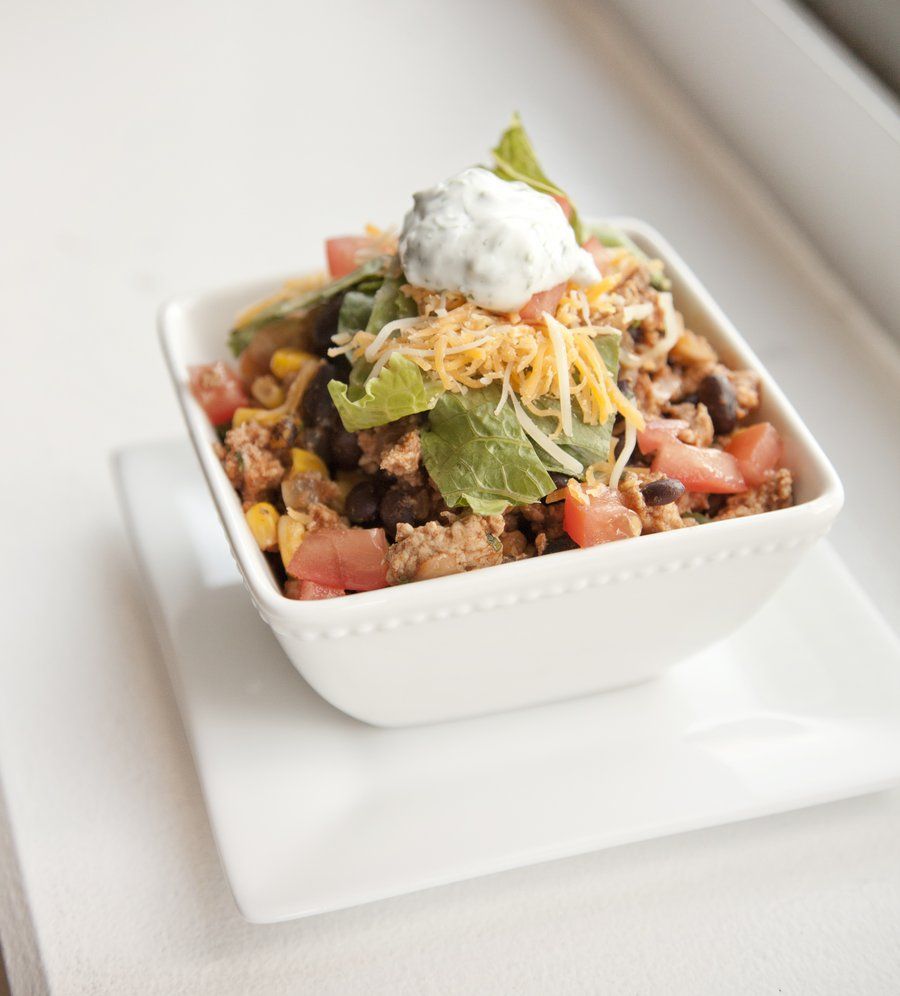 Turkey and Black Bean Chili
Prep Time
---
10 Minutes

Cook Time
---
45 Minutes

Total Time
---
55 Minutes

Yield
---
Serves 4

Ingredients
1/2 Onion (diced small)
1 1/2 tsps Chili Powder
1/2 Teaspoon Cumin Powder
3 Garlic Cloves (minced)
1/4 Cups Dry White Wine (I used Pinot Grigio)
1 1/4 lbs Ground Turkey
2 tsps Liquid Smoke
2 T Tomato Paste
1/2 Cup Water
1 Teaspoon Salt
1/2 Teaspoon Black Pepper
15 Ounce Can Black Beans (drained and rinsed)
1 Cup Fire Roasted Corn
Cayenne (to taste)
---
Directions
Heat up a medium sized metal pot with 1 teaspoon of canola oil. Once hot, add in your onion and cook for about 5-8 minutes over a medium heat stirring frequently. Add in your chili powder, cumin and garlic and cook another 2 minutes.
At this point, deglaze the pot with your white wine, using your spoon to scrape up any browned bits from the bottom of the pot - cook 2 minutes. Now add in your ground turkey. With a spoon, break up the turkey and cook until there are no pink spots. Once the turkey us cooked through, add in your liquid smoke, tomato paste and 1/2 cup of water. Cook over a medium heat for about 15 minutes. (*I don't like my chili too watery, but if you like more liquid, just add more water or stock if you'd like).
Season the chili with 1 teaspoon of salt and 1/2 teaspoon of black pepper. Add in your black beans and corn and cook another 5-8 minutes. Taste and season again if necessary. I add in a little cayenne for some heat! Serve with the Cilantro Lime Yogurt, Shredded Cheddar Cheese, and fresh diced tomato.
Cilantro Lime Yogurt
Prep Time
---
5 Minutes

Total Time
---
5 Minutes

Yield
---
Makes 1 cup

Ingredients
1 Cup Greek Yogurt
1 Tablespoon minced Cilantro
1 juiced Lime
1/2 Teaspoon Salt
1 Teaspoon minced Chives
---
Directions
Combine all ingredients in a bowl and mix together - season with more salt if you please!