Lately I have been really into working with Japanese ingredients and raw fish. Sushi/Sashimi in the hot summer months is one of my favorite things to eat because it isn't heavy, but it's filling…and the Japanese flavors in various sauces is something I crave because of their complex flavor profiles. In this dish, I made (for the first time ever), Homemade Ponzu Sauce.  Ponzu sauce is a citrus based brown sauce that can be served with anything from Beef to Chicken to Sashimi. Typically it can be made with a combination of lime and lemon juice, but for this recipe I focused just on lemon juice. You will also note in my recipe below that this Ponzu sauce calls for Dashi (basically the Japanese version of a classic broth). I made my own, but you can also use powdered Dashi, in which you just combine with some water to make.
To make your OWN Dashi, Put 2 cups of room temperature water in a small pot and add 1 postcard sized piece of Kombu (dried seaweed). Let the Kombu sit in there for about an hour with the heat turned off. After an hour, put the heat on the stove and get the water to the point where it's just starting to slightly bubble. At this point, remove the Kombu and add in 10 grams (about 1 cup) of Dried Bonito Flakes (dried fish flakes). Cook the bonito flakes on a medium high heat until they start to sink to the bottom of the pot. Remove the pot from the heat and pour the contents through a fine mesh sieve. Discard of the kombu and bonito flakes – and the clear liquid you poured through the sieve is your Dashi!
I hope you enjoy this recipe as much as I enjoyed both making it and eating it!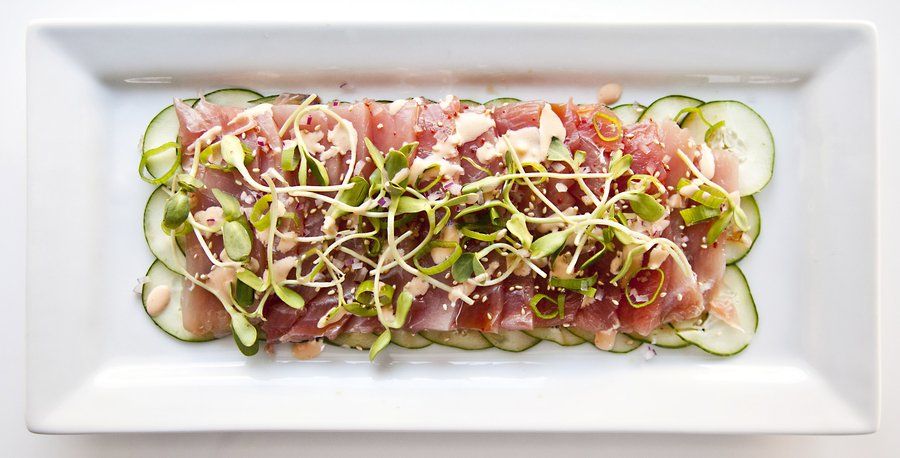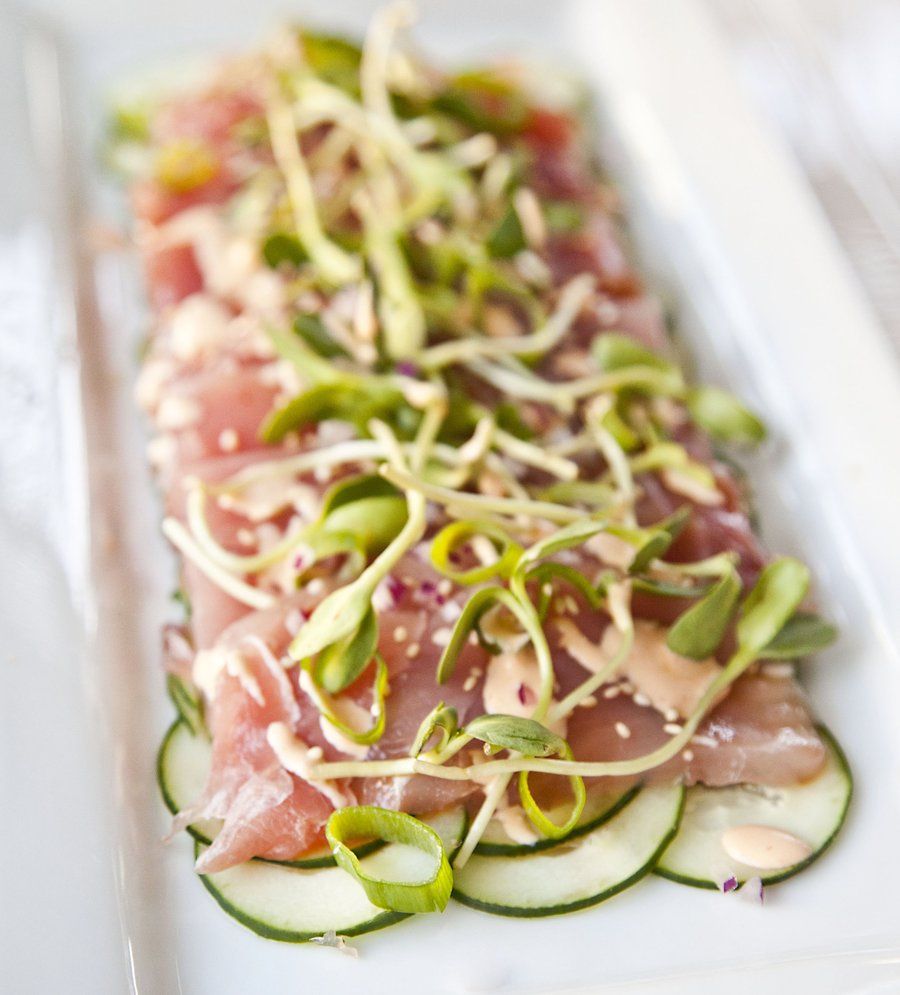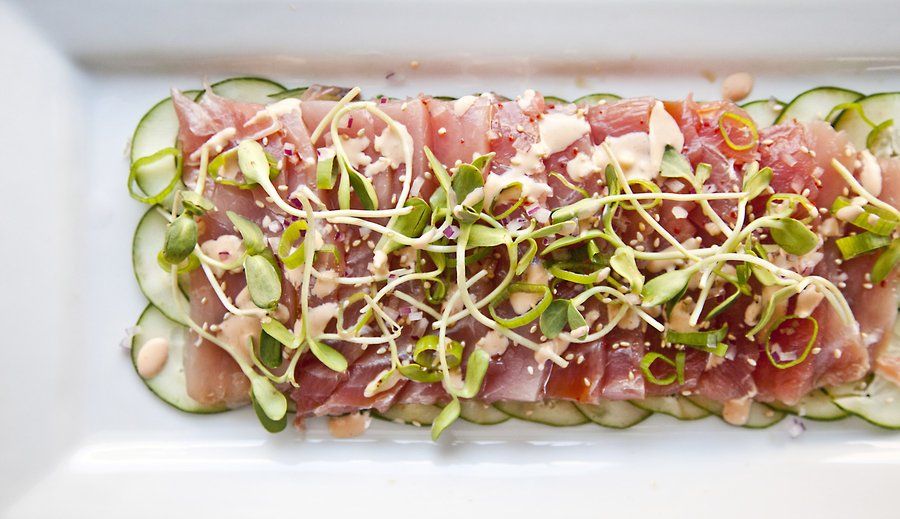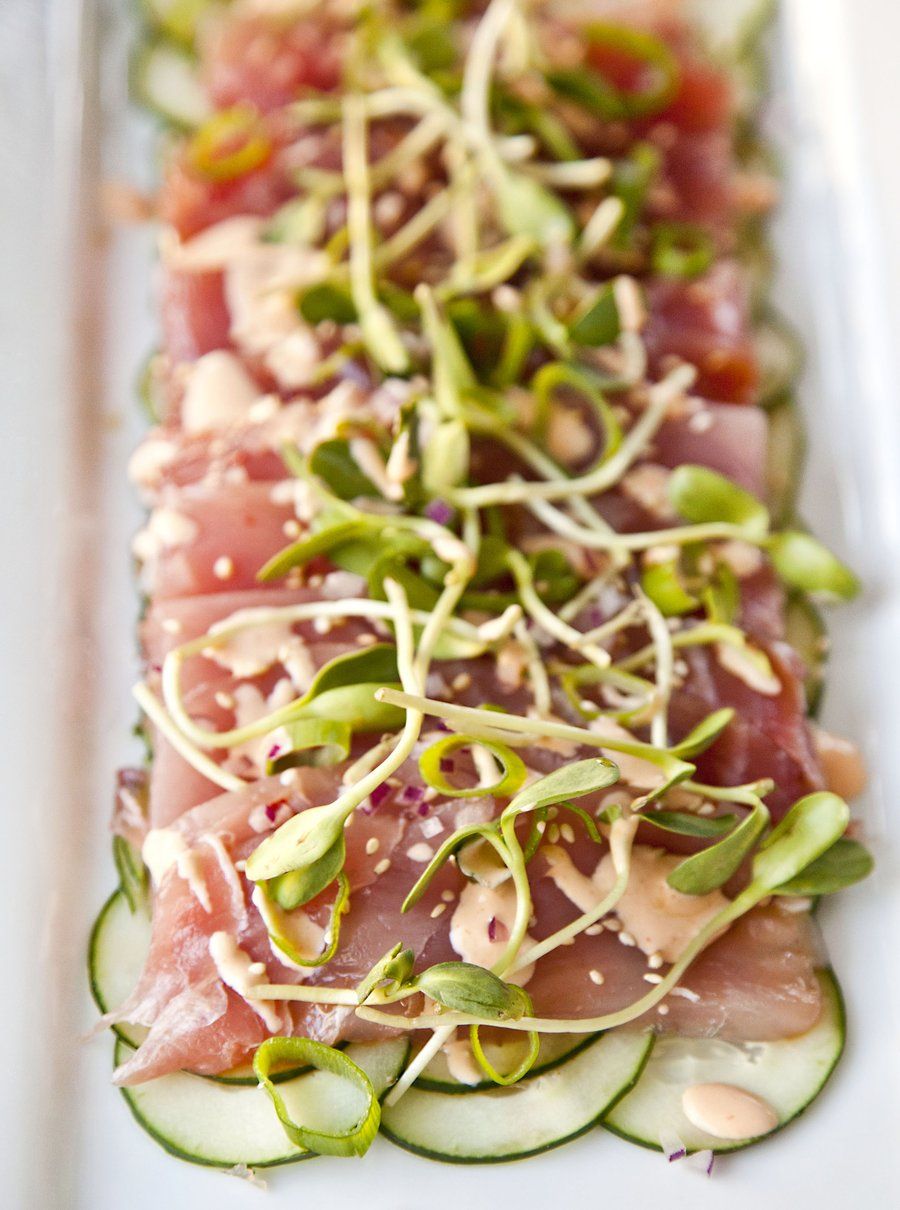 Tuna Sashimi with Ponzu Sauce
Prep Time
---
20 Minutes

Total Time
---
20 Minutes

Yield
---
Serves 2

Ingredients
2 T Low Sodium Soy Sauce
3 tsps Lemon Juice (fresh)
2 1/2 T Dashi (*see note on how to make)
1 1/4 tsps Mirin
1 Teaspoon Rice Vinegar
Pinch Gochugaru Korean Chili Flakes (or any chili flake of your choosing)
1 Cucumber (sliced paper thin)
3/4 Pound Sushi Grade Yellowfin Tuna (sliced thin)
1 Tablespoon Mayonnaise
Hot Sauce (to taste)
1 Teaspoon Sesame Oil
Sesame Seeds (to garnish)
Sunflower Sprouts (or any sprout of your choosing)
1 Scallion (sliced thin)
---
Directions
In a large measuring cup, combine your soy sauce, lemon juice, Dashi, Mirin, rice vinegar and Gochugaru. whisk together until combined.
In a separate small bowl, combine your Mayo, hot sauce and sesame oil and whisk together until combined. You can make this as spicy as you see fit.
To plate: lay down a layer of cucumber slices, overlapping them slightly. Top with your thin sliced tuna. With a spoon, lightly apply your sauce from step 1 (you won't use all of it - because you want to reserve some for serving). Top then with some spicy mayo (from step 2), sesame seeds scallions, and sunflower sprouts. Serve cold.