I absolutely love Valentine's Day. Call it a Hallmark holiday if you will, but I see something wonderful about dedicating a day to celebrating love. Whether it's love for a spouse, partner, your kids, dogs, parents, or whatever/whomever you choose to love, I think it's a happy holiday and it's something I have encouraged my kids to get excited about. Typically our tradition has been to make cupcakes each year on Valentine's Day (which I am sure we will be doing again this year), but I also wanted to make a few fun treats with them prior to Valentine's Day to just set the love mood.
I had attempted making a "bark" for Christmas this year, and through making a gigantic mess and a very ugly bark, I tried something a little different with this one.
A lot of recipes (when making something with melted chocolate) will tell you to use Candy Melts as opposed to Chocolate Chips. While Candy Melts live up to their name and are easier to melt, they lack the flavor that a chip has. So I decided to take the harder (but more tasty) route of a White Chocolate Chip versus a White Candy Melt.
It's by making this treat that I realized I really remember very little from the Pastry module in Culinary School, like tempering chocolate, or having patience for anything pastry related….but nonetheless, my family devoured this and didn't seem to care about the skills that were behind it's creation.
This is a super tasty Valentine's Treat you can make with your kids – I love how the salty pretzels and potato chips balance out the sweetness of the white chocolate. The Oreos add a great darker Chocolate taste and your kids will love anything with sprinkles and M&M's if they're anything like my daughter!
Some other fun ideas you can try for your salty elements could be popcorn, Chex Mix, or Corn Flakes – but I think the salt content of the pretzels and potato chips is really the best to cut through the sweetness of the white chocolate (which for those who aren't aware, it WAY sweeter than milk chocolate). Also, if your kids are into using food coloring, you can try coloring the white chocolate!
Enjoy!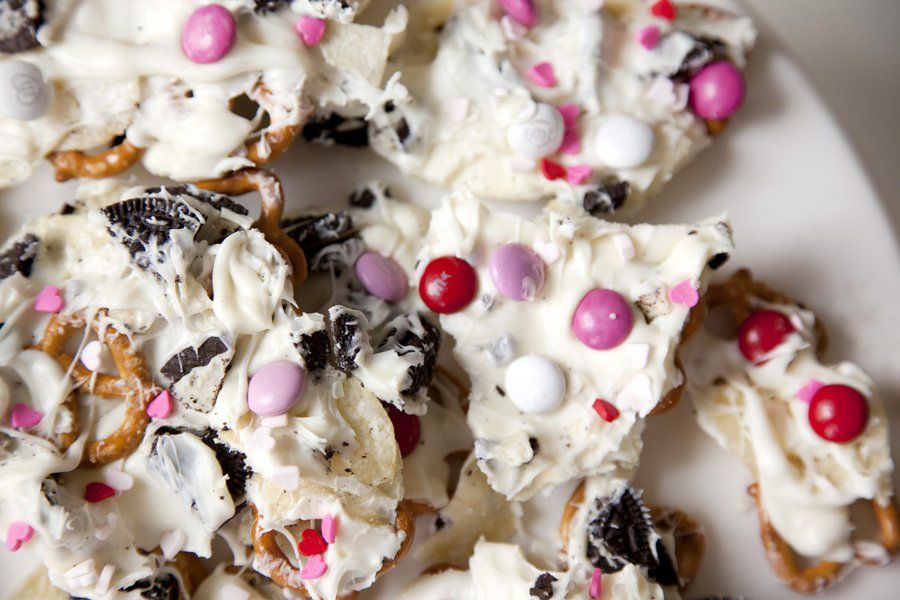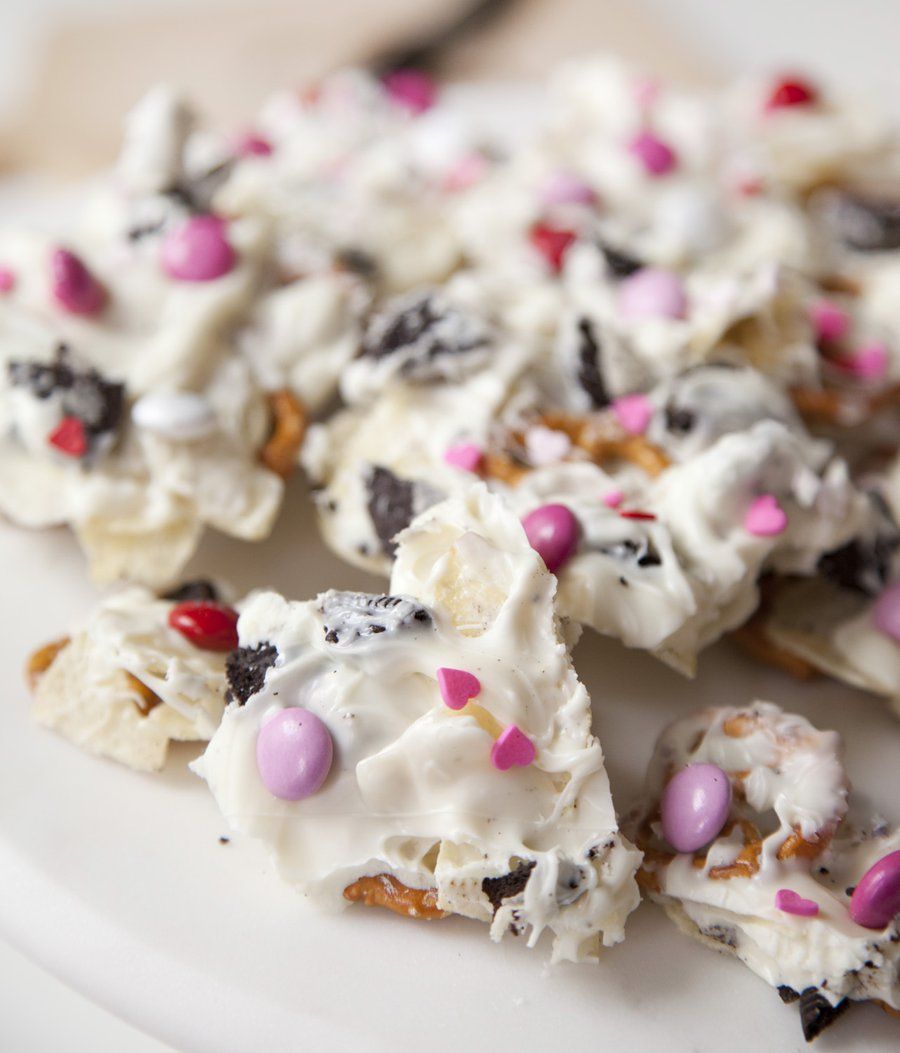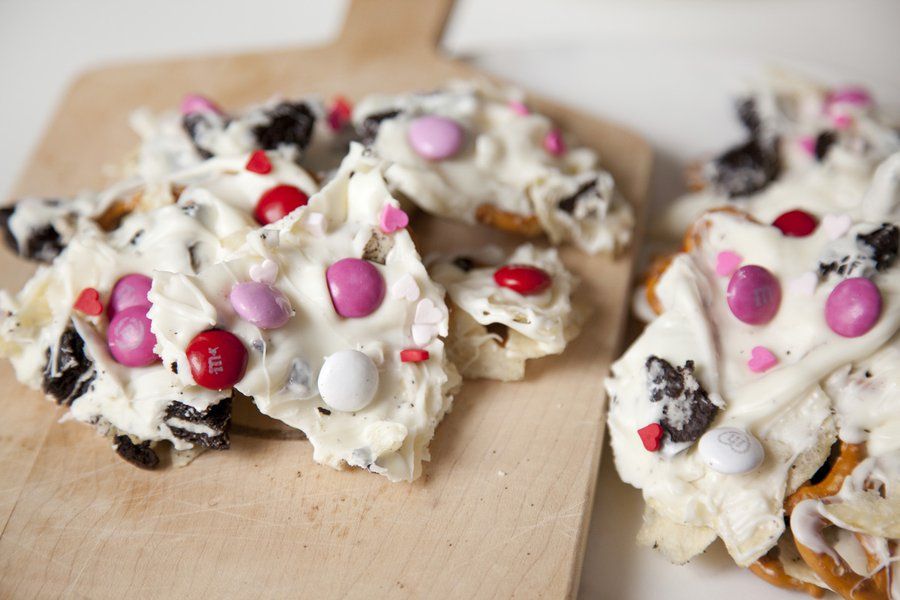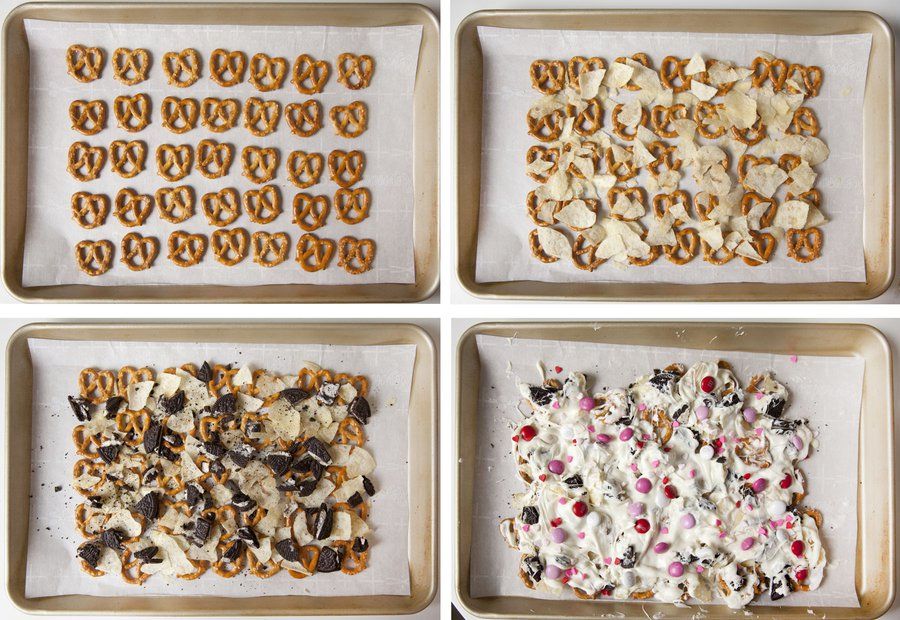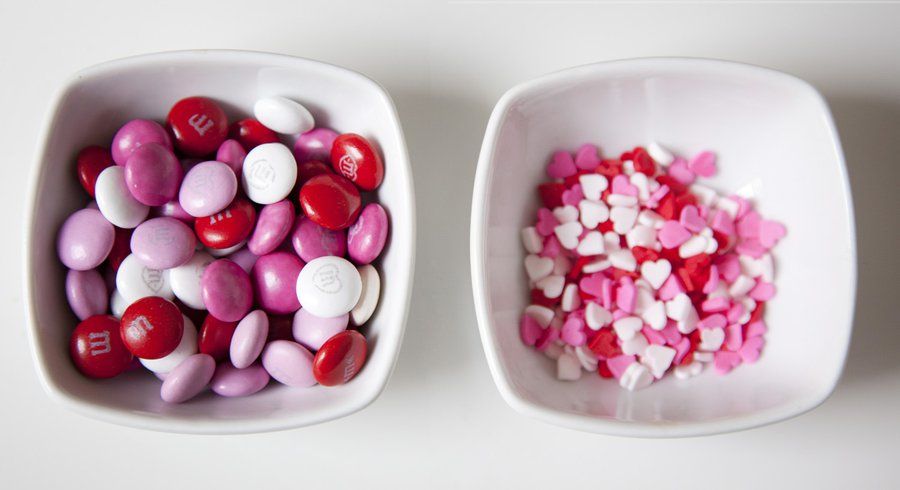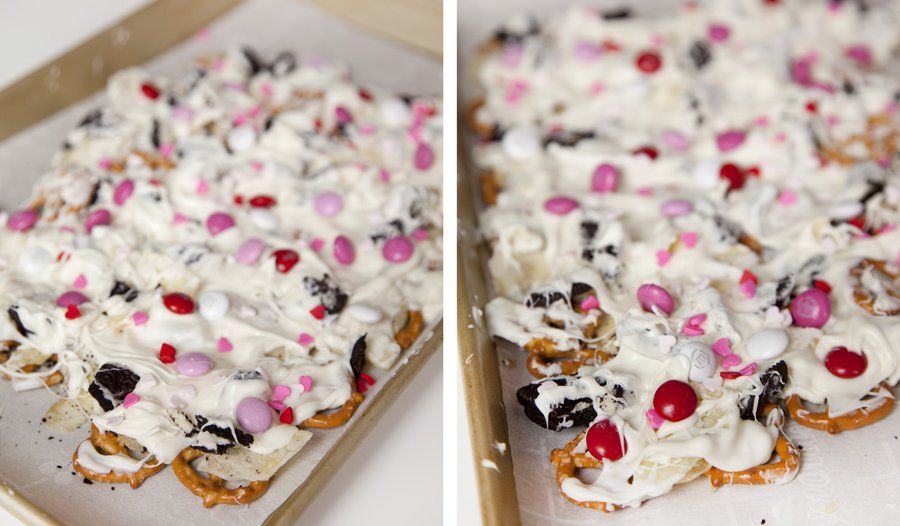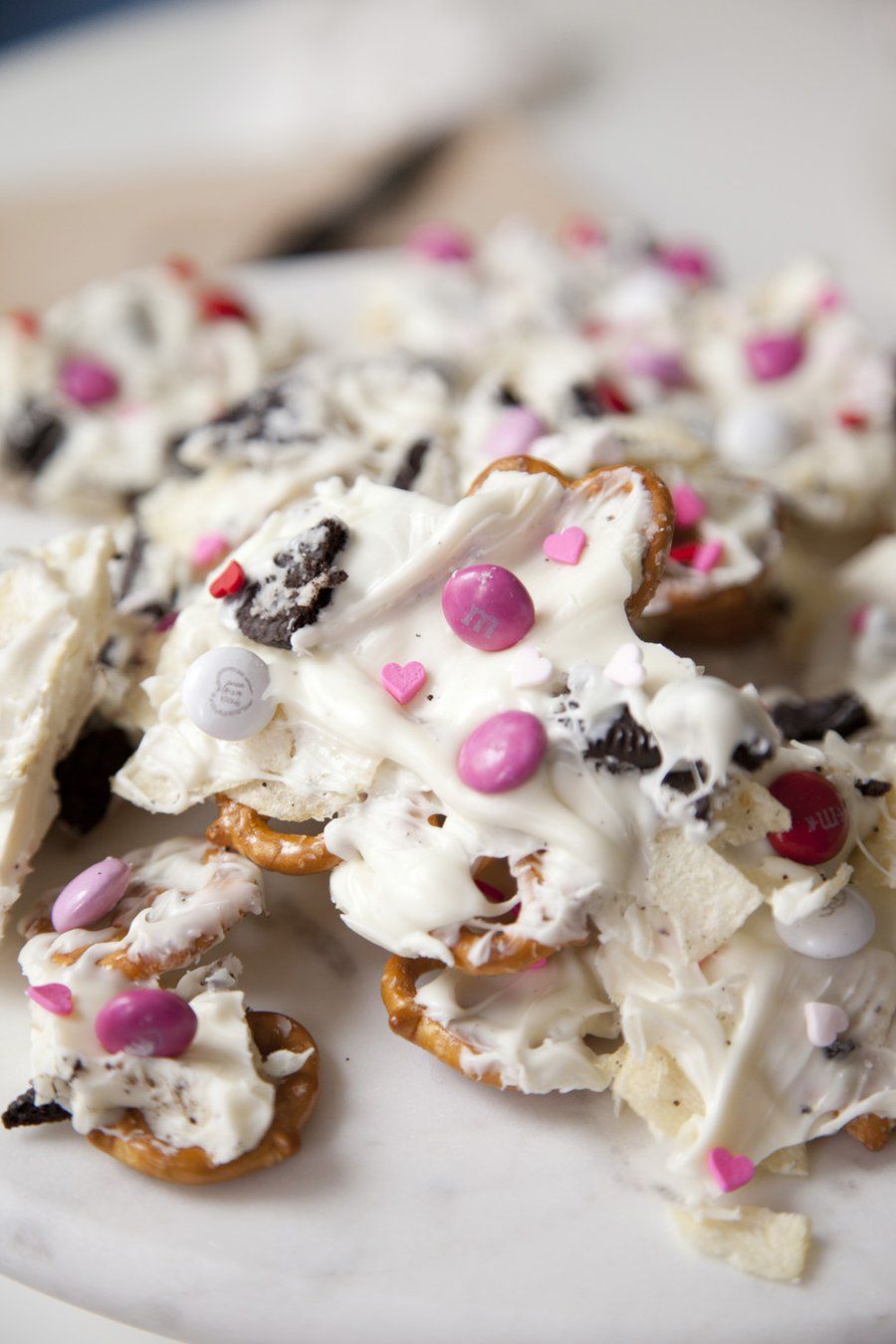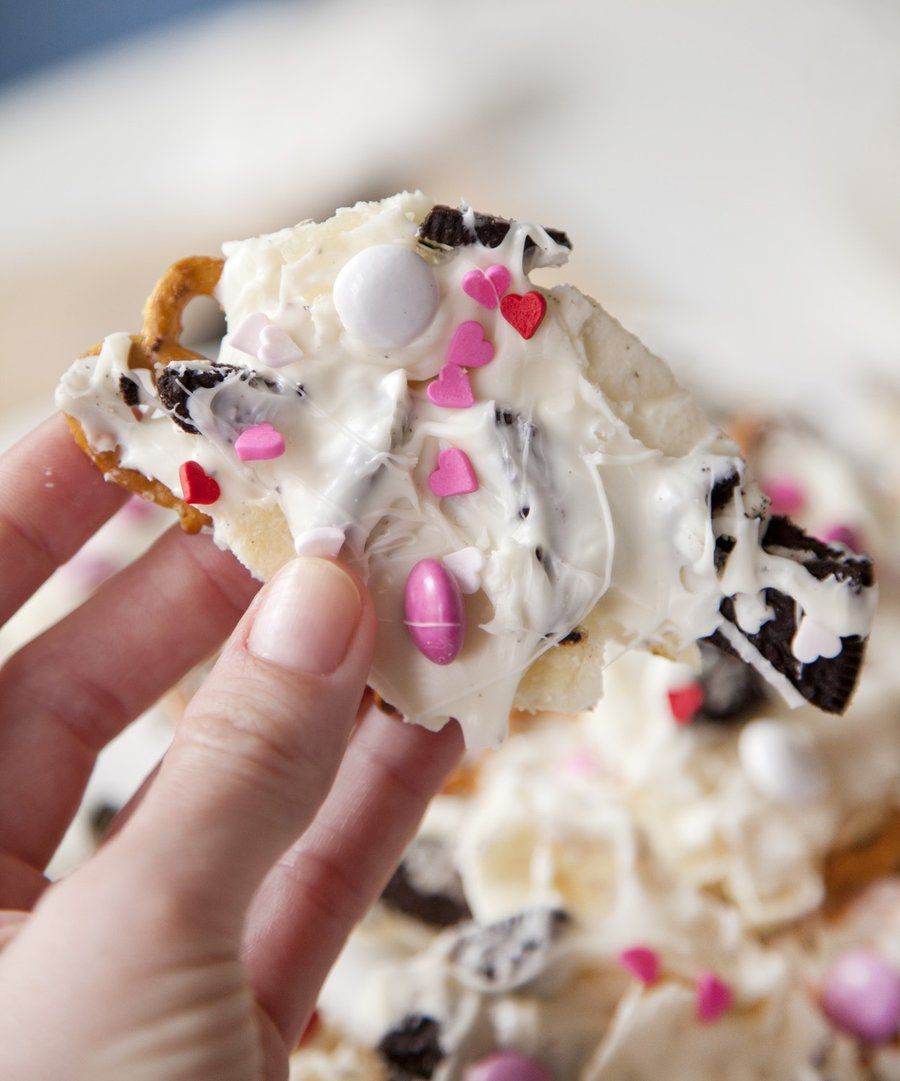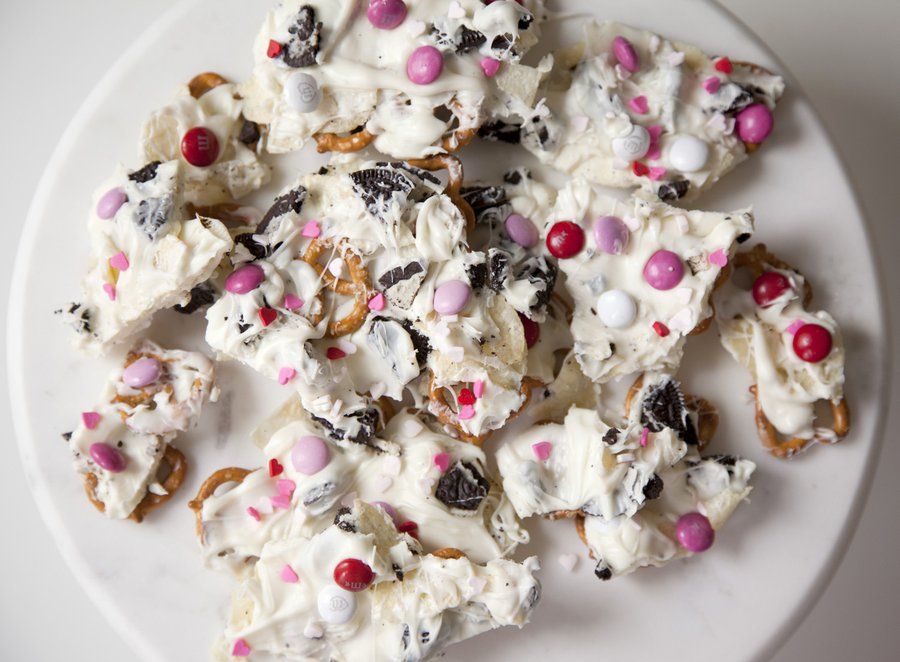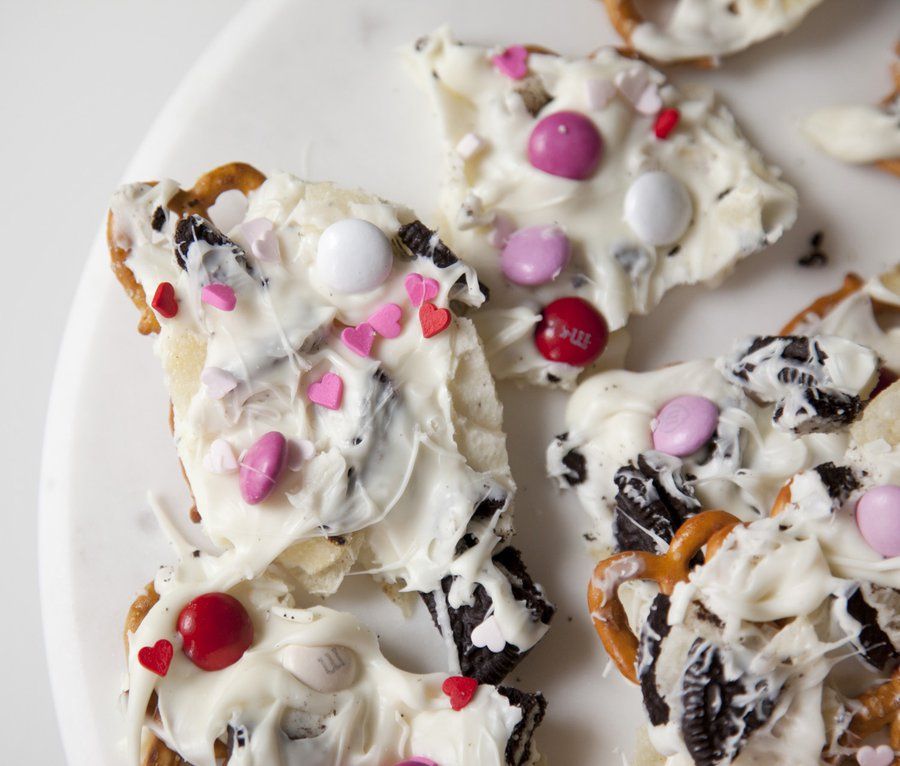 Sweet & Salty Valentine's Day Bark
Prep Time
---
10 Minutes

Total Time
---
10 Minutes

Yield
---
Makes a 9"x13" Piece

Ingredients
1 Cup Mini Pretzels
1/2 Cup Plain Potato Chips (roughly crushed up)
4 Oreo Cookies (chopped up roughly)
12 oz White Chocolate Chips
M & M's (for decorating)
Sprinkles (for decorating)
---
Directions
Line a 9x13 inch baking sheet with parchment paper. Lay down an even layer of your mini pretzels. Top that with your crushed up potato chips, and then add on top, your chopped up Oreos.
In a microwave safe bowl, place your white chocolate chips, and put in the microwave for 30 seconds. Stir. Keep putting in the microwave for 15 second increments (stirring between each one), until the chocolate is completely melted (about 1 minutes to 1 minutes 30 seconds).
Working quickly, spread your melted white chocolate evenly all over your pretzel/chip/oreo mix. Make sure to cover all baking sheet elements with chocolate. Before the chocolate can harden, decorate the top with M&M's and Sprinkles!
Let the chocolate bark set for at least 30 minutes and then break up, with your hands, into large chunks. Store in an airtight container.