I have always been a huge fan of pastas in cream sauces. I like the occasional Bolognese as well, but I have never been someone who craves a bowl of pasta with just regular Marinara sauce, for me, Marinara is for Pizza or meatballs. I am 100% for the cream sauces…Alfredo and the likes…
So when crowd sourcing my readers for ideas for upcoming recipes, my cousin suggested I do a Pasta Carbonara. I looked back at my life and my cooking and thought "Oh My God. How have I never made this before?!"
Oddly enough, the only time I've even seen someone order a pasta Carbonara was when I was a teenager, a friend of mine ordered it from a random Pizza place while we were on vacation in Aspen (why I remember this so vividly, I have no idea). I remember looking at it and thinking how freaking good it looked and made a mental note to order it the next time I was in an Italian restaurant. Well somehow, that day never came and up until today, I still have never eaten/made a Carbonara sauce before…and boy, was I missing out.
I had to do some research on Carbonara Sauces before I got started because besides Bacon/Pancetta, I had no idea what else was in it. I assumed it was made with heavy cream, but to my shock, found out the creaminess is in fact from a mixture of raw eggs and Parmesan cheese. I also had to look up what kind of pasta is typically used. I saw everything from spaghetti to bucatini, but I decided to go with a fettuccine (because of the current world shortage on Bucatini – no joke). Fettucine has more surface area than spaghetti/bucatini which lends itself to holding more sauce, plus it's got a great chew to it.
Since I am someone who needs a protein at every single meal, I decided I wanted to add in some roasted chicken thighs in addition to the pasta. For the chicken, I just roast a bunch of thighs with salt, pepper, garlic powder and oregano at 425 degrees for 30 minutes. Then just cut up the chicken into bite sized pieces. You can nix the chicken, but it stretches the meal if you want to make this for a crowd.
After these important decisions were made, I spent a few hours at night, laying in bed, searching 20+ Carbonara recipes from various reputable sources (New York Times, Saveur, Bon Appetit, etc), and narrowed down my game plan and ingredients to create this recipe….. I mainly went with Bon Appetit's recipe, despite it seeming incredibly intimidating, but I must say, this dish turned out incredible and it definitely one I will be cooking in the future.
Enjoy!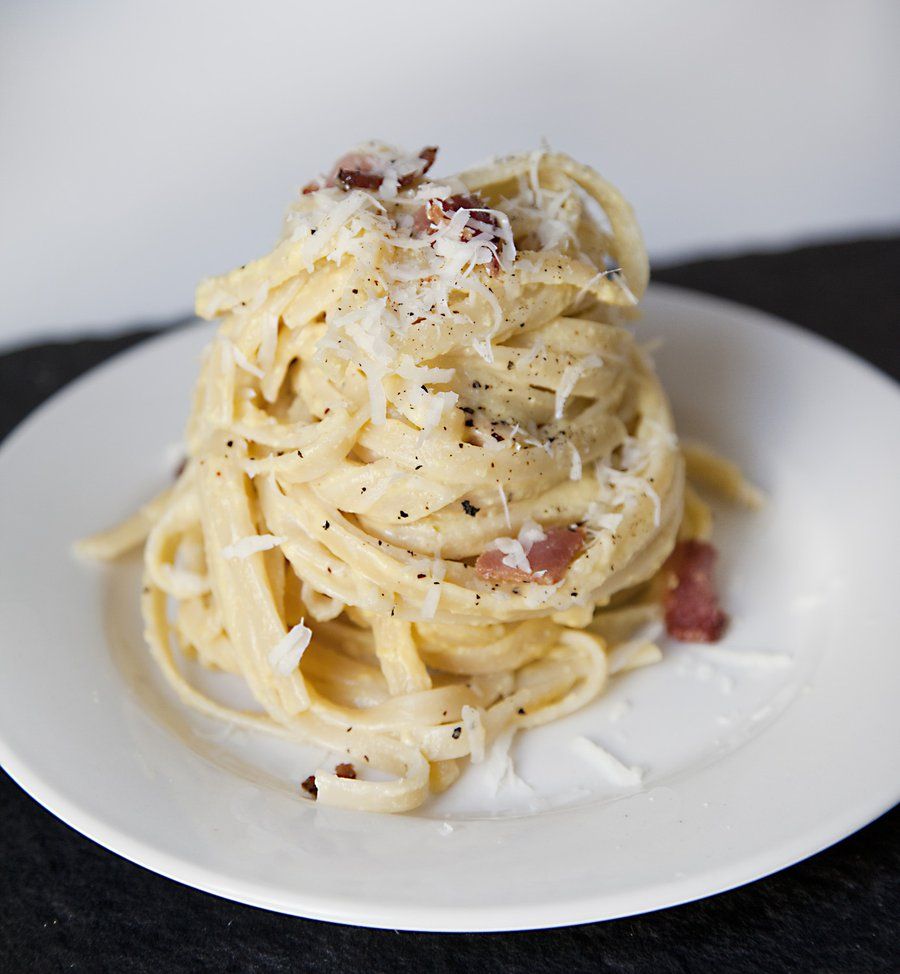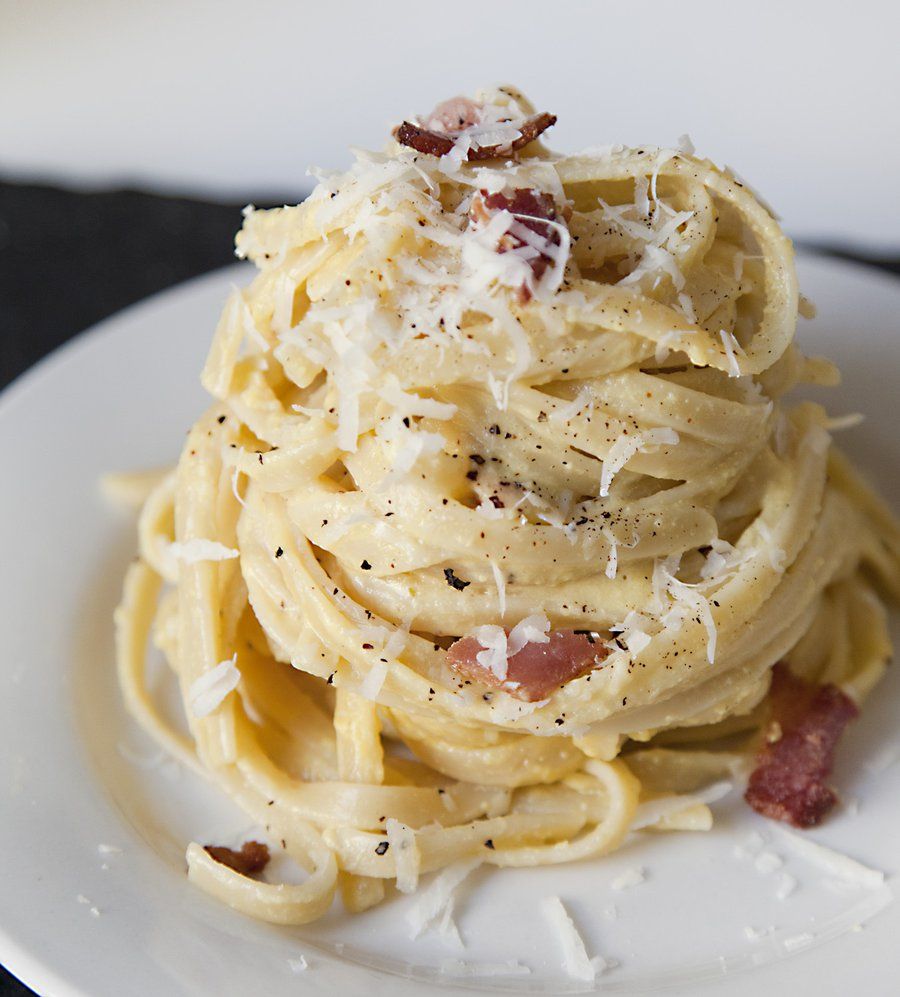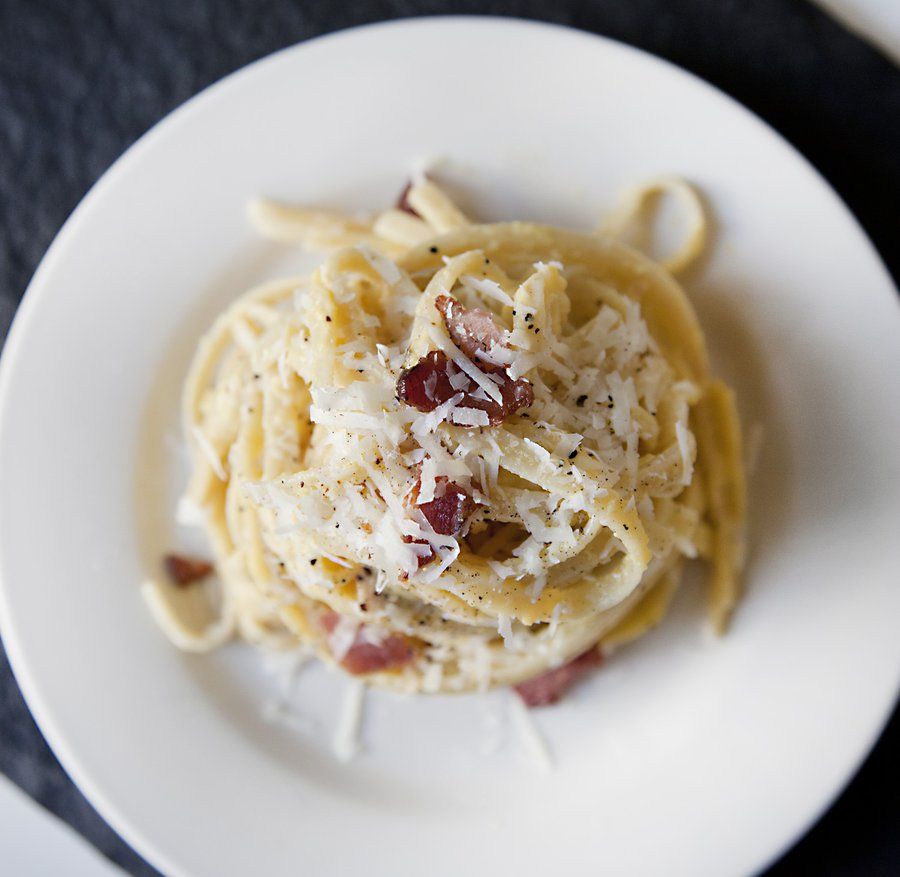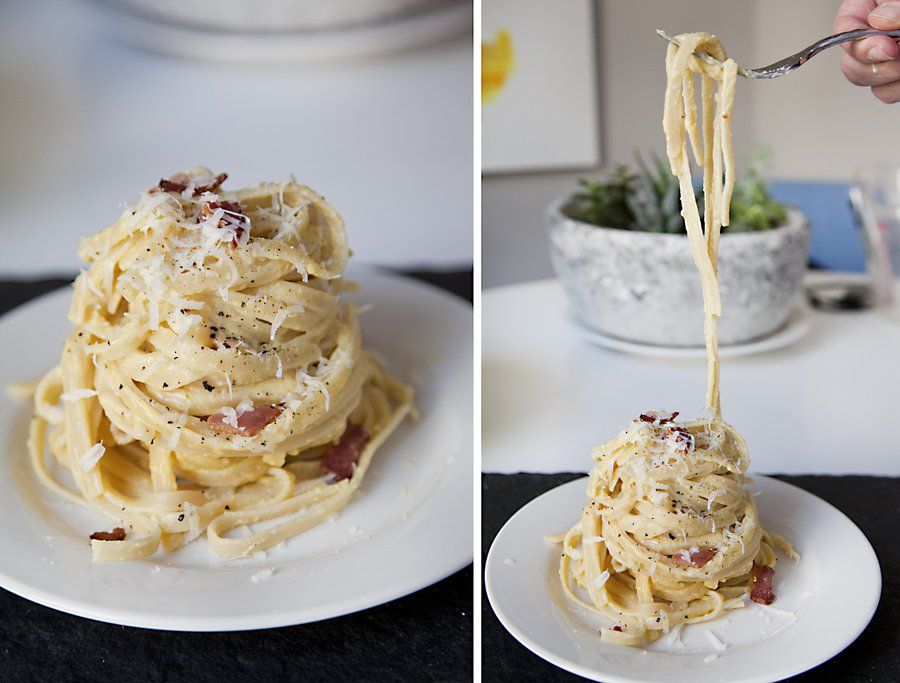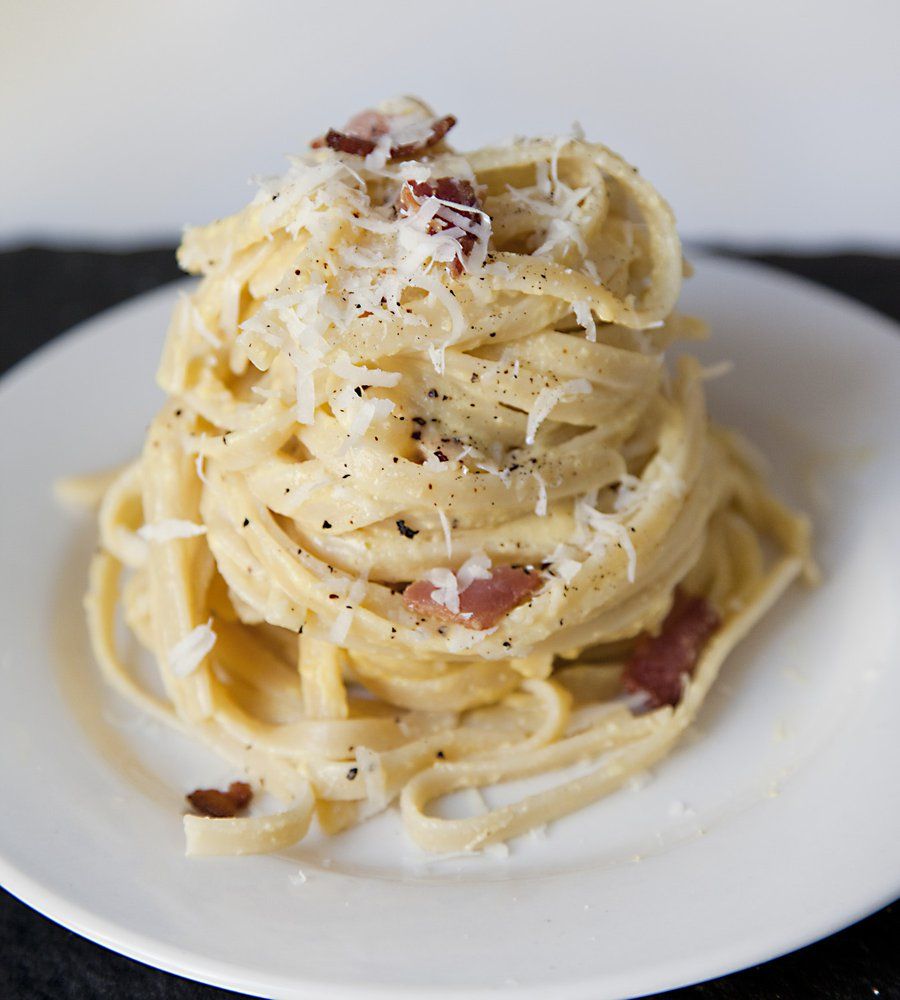 Creamy Pasta Carbonara
Prep Time
---
5 Minutes

Cook Time
---
20 Minutes

Total Time
---
25 Minutes

Yield
---
Serves 4-6

Ingredients
1 Pound Fettuccini
1/4 Pound Bacon (cut into 1" strips)
4 Egg Yolks
2 Whole Eggs
2 oz Parmesan Cheese (grated, divided)
1/4 Teaspoon Black Pepper
Pecorino Romano (For Serving)
3 Cups Cooked Chicken (I used Thighs, cut into bite sized pieces)
---
Directions
Heat 4 quarts of water in a large pot over a high heat. When the water starts to steam, add 1 Tablespoon of salt and cover the pot with it's lid.
While you are waiting on the water, do a little prep - Remove 1/4 pound of bacon from packaging and cut into 1 inch strips. Finely grate 2 oz. of Parmesan Cheese and set aside one-quarter of cheese for later.
Whisk your eggs in a medium bowl until no streaks remain, then stir in remaining grated cheese and your pepper.
In a small skillet - cook your bacon until crisp. Remove the bacon from the pan with a slotted spoon, and place on a paper towel lined plate to drain. Save 3 tablespoons of your bacon fat for later (discard the rest, if any).
Once your pasta water is boiling, add in your fettuccine, and cook it about 2 minutes LESS than what the packaging requires. In addition, a minute before your pasta is done, scoop out 1¾ cups pasta cooking liquid with same heatproof measuring cup.
Drain your pasta and place your pasta pot back on the stove. Add in your bacon grease and 1 cup of your reserved pasta water. Bring to a boil and then add your pasta back into the pot, stirring constantly until the pasta is al dente and water is reduced by about half, about 2 minutes. Remove pot from heat.
Whisk ¼ cup pasta cooking liquid into reserved egg mixture, then very slowly stream this mixture into the pasta, stirring constantly until the cheese is melted and the egg is thickened to form a glossy sauce. Season with salt, if needed. Thin sauce with remaining ½ cup pasta cooking liquid (adding a tablespoonful at a time) until it's the consistency of heavy cream.
Mix in bacon, cooked chicken and divide pasta among bowls. Top with pepper and reserved cheese. I also topped with additional Pecorino Romano.