The biggest hit of this year's Thanksgiving was my Sunchoke Soup with Sage Croutons and Pancetta. Sunchokes (commonly know as Jerusalem Artichokes) are those weird little knobby things that look a little bit like Ginger Root, but have such a great flavor. Paired with the saltiness of diced Pancetta and the crunchy sage infused Croutons - you will fall in love with this soup.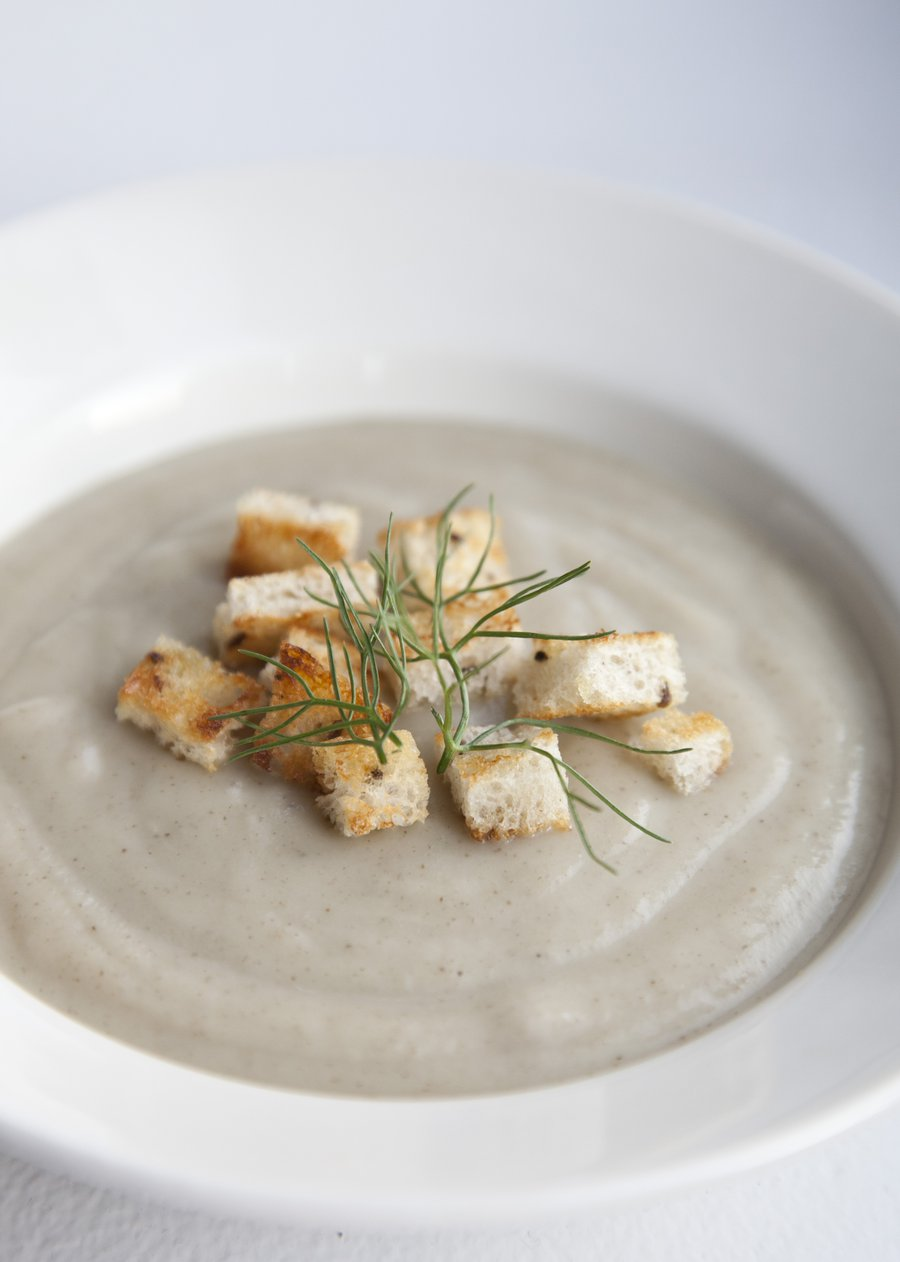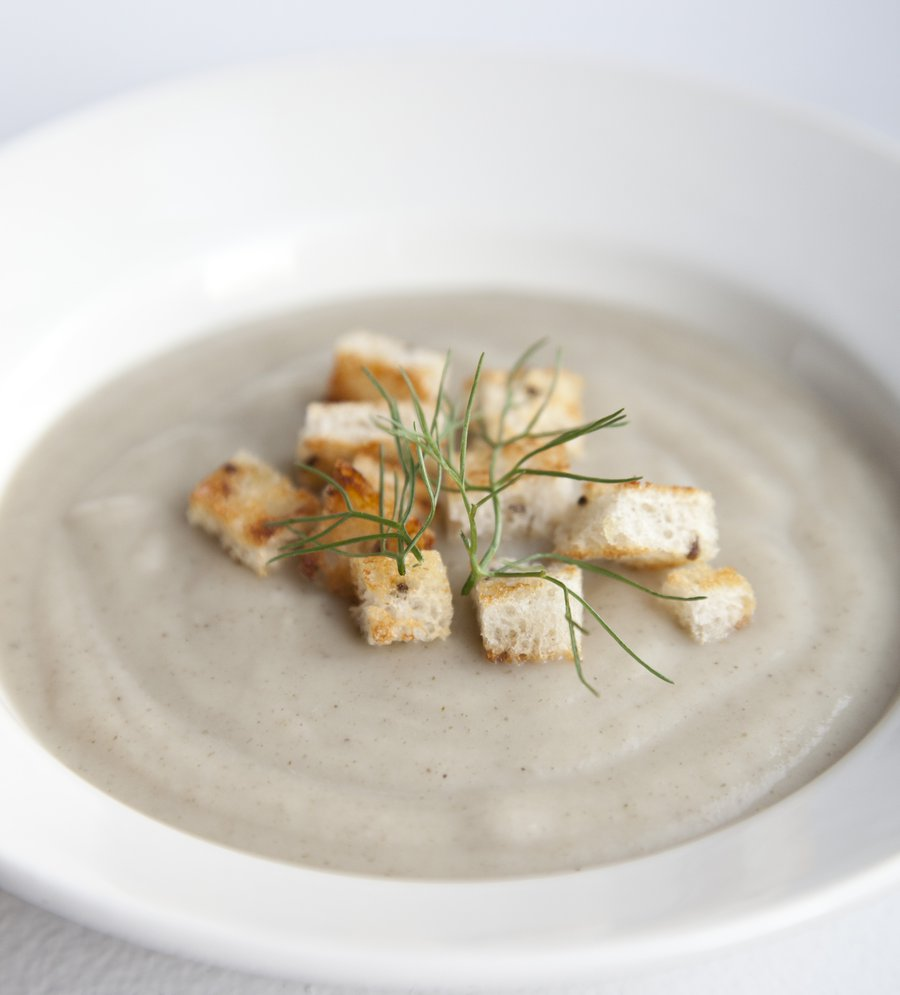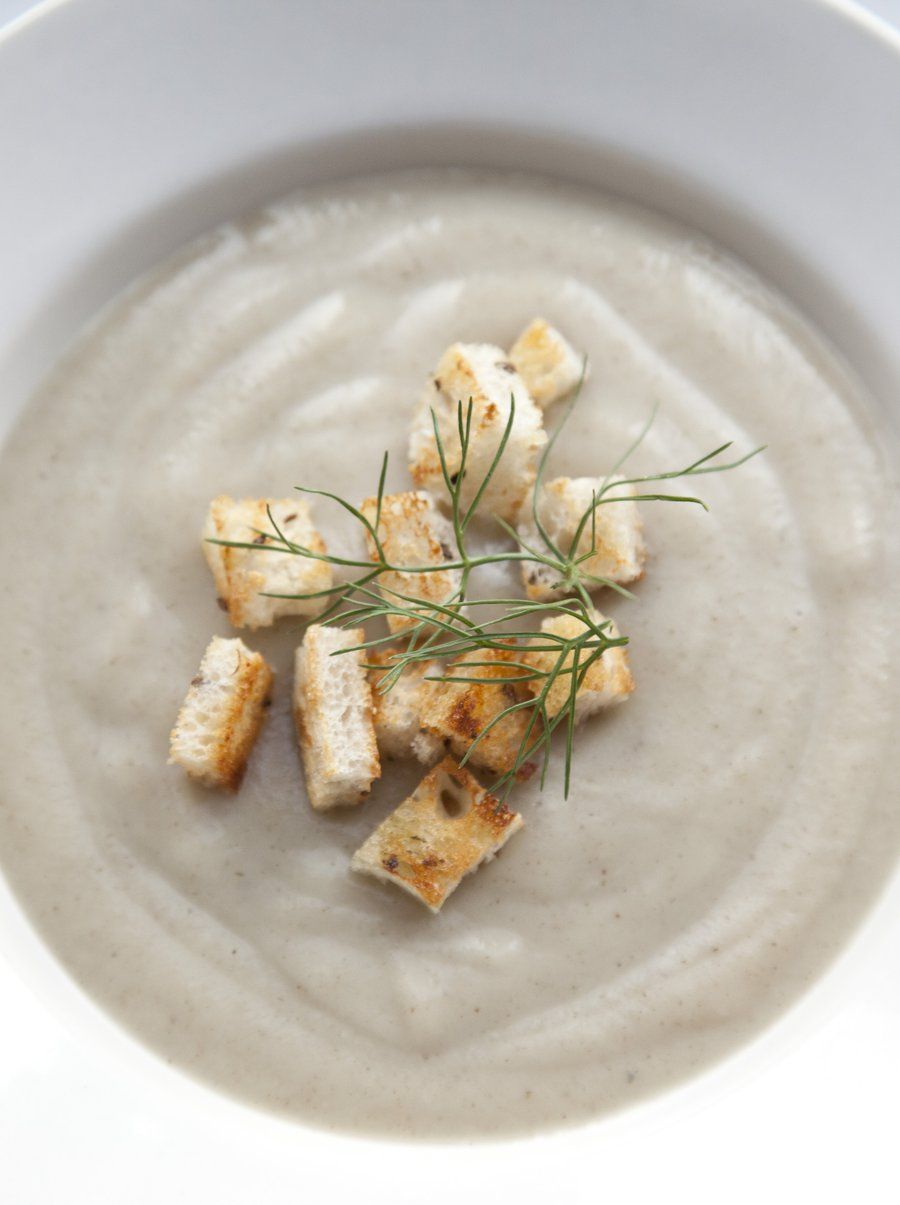 Sunchoke Soup with Sage Croutons
Prep Time
---
10 Minutes

Cook Time
---
2 Hour 45 Minutes

Total Time
---
2 Hour 55 Minutes

Yield
---
8-10 Soup Servings

Ingredients
2 lbs Sunchokes (cut into 1" pieces)
3 Leeks (white parts only, cleaned and chopped roughly)
1 Fennel Bulb (core removed, chopped roughly)
2 chopped roughly Celery Stalks
4 smashed Garlic Cloves
1 Sachet (Peppercorns, Thyme and Bay Leaf)
2 qt Low Sodium Chicken Stock
1/2 Cups Heavy Cream
Salt and Pepper (To Taste)
2 Slices Leftover Bread (crusts removed, cut into small cubes)
3 Sage Leaves
1 T Butter
4 oz small dice Pancetta
---
Directions
Preheat your oven to 400 degrees. Lay your Sunchokes out on a sheet tray lined with a silpat. Generously drizzle Olive Oil all over it and season with salt and pepper. Bake in the oven for about 40 minutes, or until completely knife tender.
Meanwhile in a large soup pot heat up some Olive Oil, and add in your leeks, fennel, celery, garlic, and sachet. Cook for about 8 minutes (or until your vegetables start to soften), then add in your roasted sunchokes. Stir and cook another 2 minutes.
Add in your chicken stock. Bring to a boil and reduce to a simmer. Cook for at least 30 minutes. Taste and season with Salt and Pepper. Add in your Heavy cream and cook another 5 minutes.
Meanwhile make your garnishes. In a small non-stick sauté pan, melt your 1 T of Butter, add in the sage leaves and cook for about a minute. Add in your bread cubes and cook til golden brown. Remove and let drain on a paper towel. In the same sauté pan, add your Pancetta and cook til crispy. Drain on a towel and save to garnish the soup.
Once your soup is done, in batches, add to a Vitamix and puree til smooth. Pass through a sieve. Pour into soup bowls and garnish with croutons, pancetta and a few fennel fronds.