There is something so satisfying about the art of making bread…especially when it's as successful & delicious as this one. You're basically taking the ingredients for French Onion Soup and creating a bread out of it….pretty ingenious if you ask me. You can make this bread in a typical bread loaf pan….however mine has mysteriously gone missing, so therefore, I decided to make them into individual breads in my mini dutch ovens (how cute are they?!) Tonight I am pairing this savory bread with a Roast Eye Round and some Creamed Spinach....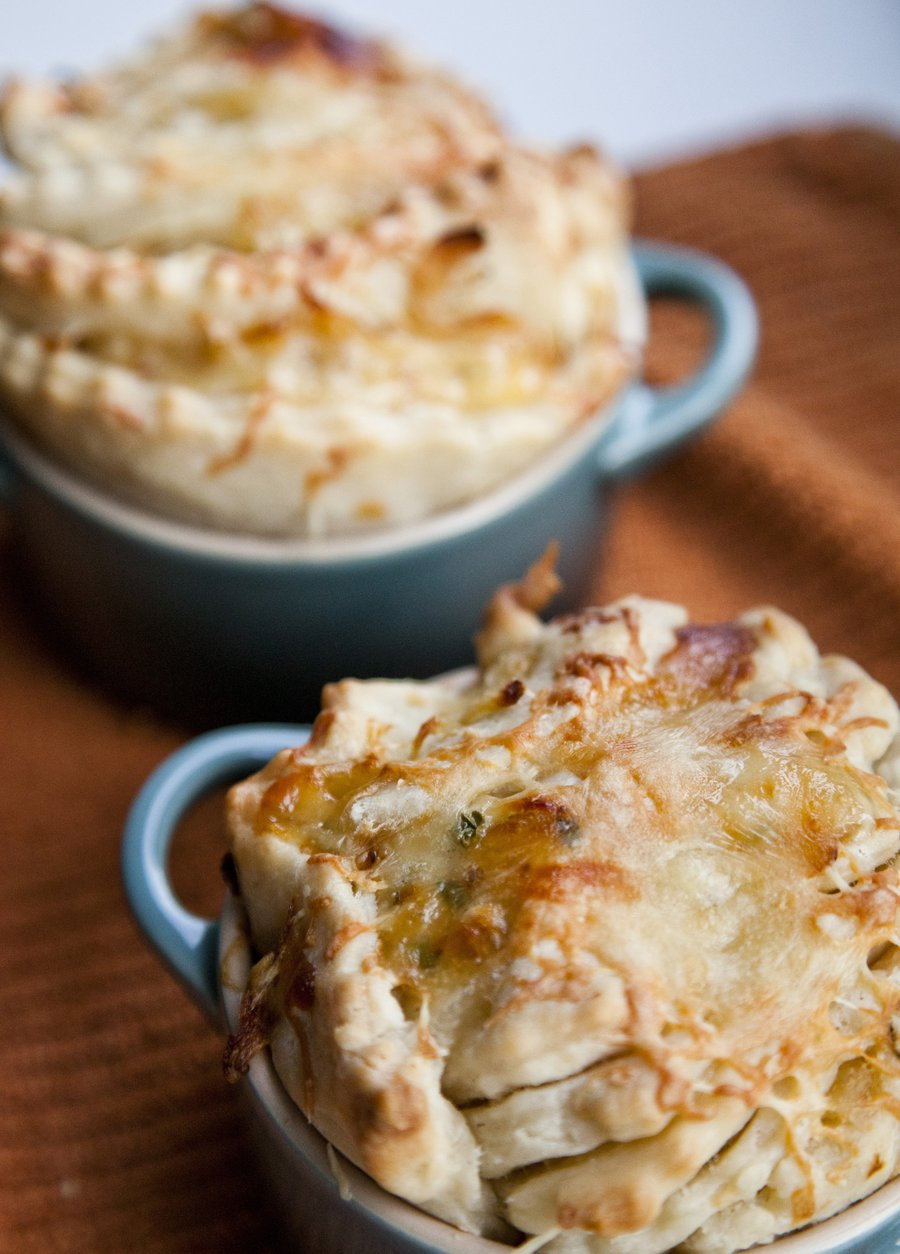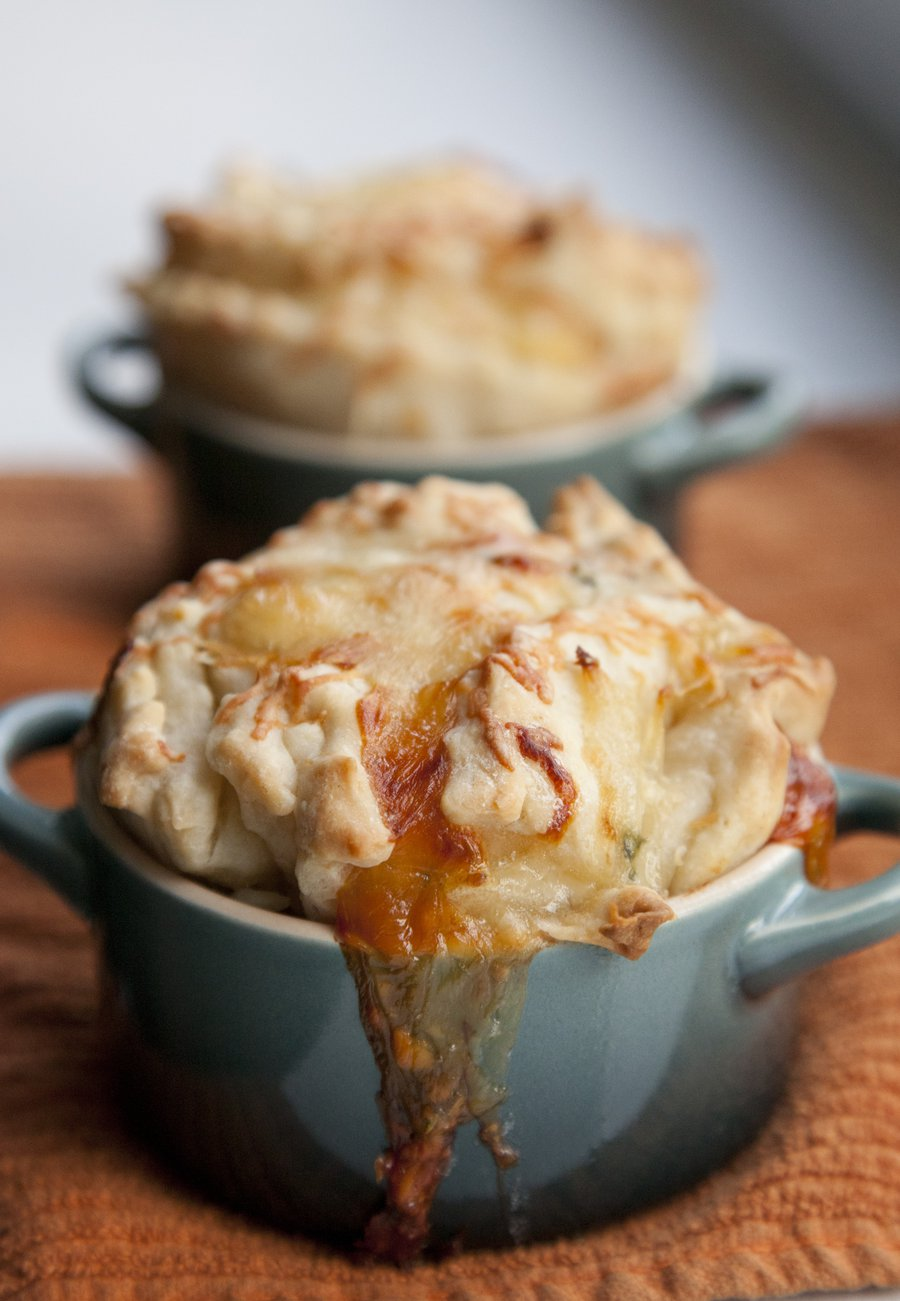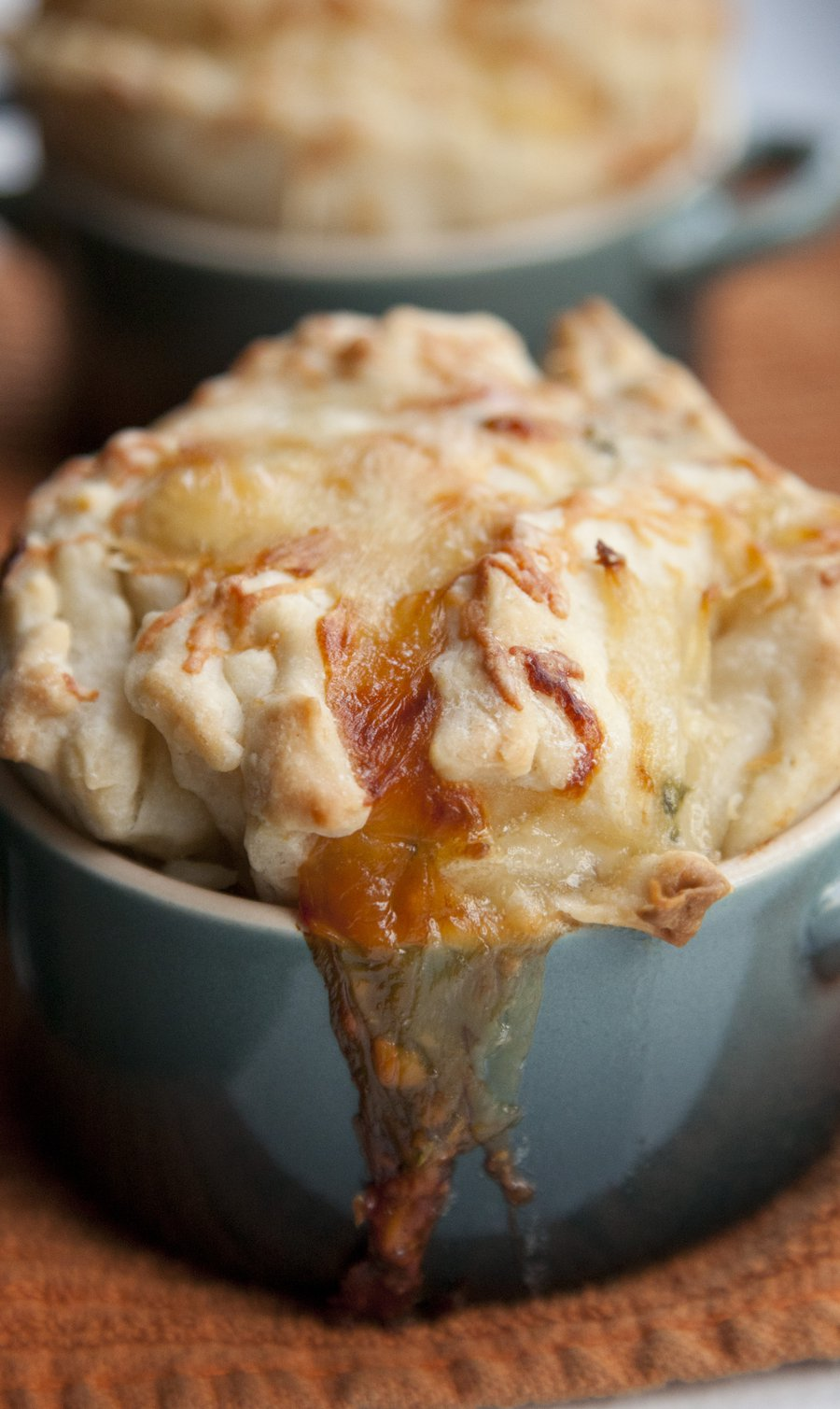 Caramelized Onion & Gruyere Bread
Prep Time
---
3 Hour 30 Minutes

Cook Time
---
40 Minutes

Total Time
---
3 Hour 10 Minutes

Yield
---
1, 9x5 Loaf Pan

Ingredients
1/2 Cups Milk (105 to 110ºF)
1/2 Cups Water (Plus 2 T, heated to 105 to 110ºF)
1 1/2 tsps Active Dry Yeast
3 Cups Flour
1 1/2 tsps Salt
1 1/2 T Sugar
4 T Butter (Unsalted)
1 T Butter
1 sliced thin Onion
1 1/2 Cups shredded Gruyere
1 T Fresh Thyme Leaves
1 T melted Butter
Salt and Pepper (to taste)
---
Directions
Combine milk and water in a bowl. Sprinkle with yeast and let yeast bloom, 5 to 10 minutes. Stir to combine.
In the bowl of a Kitchen-aid mixer fitted with a dough hook, blend flour, salt and sugar on low speed for 30 seconds. Slowly add yeast mixture, then add butter. Increase speed to medium-low and continue kneading an additional 8 to 10 minutes. Dough should be smooth and elastic and shouldn't be sticky. Transfer the dough to a lightly oiled bowl and cover with plastic. Let dough rise at room temperature until doubled in size, 1 to 1 ½ hours. Lightly coat the inside of a 9-inch by 5-inch loaf pan or mini dutch oven with non-stick spray.
While the dough is rising, make your filling: In a nonstick skillet, warm the 1 T butter over medium-high heat. Add the onions and cook until caramelized, about 15 minutes, stirring occasionally. Season with salt and pepper. Let cool to room temperature. Mix in a medium bowl, the gruyere, thyme, and onions. Refrigerate until ready to use.
Punch down the dough, turn out onto a lightly floured working surface and roll out into a 16×10-inch rectangle. Using a pastry scraper or pastry wheel, cut the dough in half lengthwise, then crosswise into 8 even sections. Top each piece of dough evenly with caramelized onions, followed by the cheese mixture. Stack 4 of the topped dough pieces on top of one another, turn the stack sideways and place in the pan so the cheese mixture faces the short end of the pan and the long cut edges of the strips face up. Repeat with the remaining dough, onions, and cheese mixture, lightly pressing the strips into each other. It will be a tight fit.
Cover with plastic wrap and let dough rise 30 minutes. Brush the top of the loaf with the 1 T of melted butter. Preheat an oven to 350 degrees F. Remove the plastic and transfer to the oven. Bake until the top is golden and the interior temperature is 190ºF, about 40 minutes, tenting the top of the bread loosely with foil if it begins to brown too quickly. Transfer the pan to a wire rack to cool 10 minutes, then turn loaf out onto the rack to cool 20 minutes longer before serving. Serve warm.
*Before baking, I topped my bread with some extra shredded Gruyere Cheese!