I must admit, I was never much of a fish eater until recently. Maybe it was that I hadn't found the right fish for me, or hadn't given the idea of fish a try, but either way, I have become a fish convert. I have recently discovered that my favorite types of fish are Striped Bass, Chilean Sea Bass, and Red Snapper. None of these fishes are overly fishy in taste, and if cooked/seared correctly, they yield the most delicious, crunchy skin and tender meat.
I tend to sauté my fish (as opposed to baking) which I think is the best and most delicious way to eat a fish. Not only does the fish cook in less than 10 minutes, it also allows you to create the most delicious butter/lemon pan sauce ever!
Last night I paired my Striped Bass with a Jerusalem Artichoke (Sunchoke) Puree, which was an experiment. Oddly enough, the combo of the puree with the fish was such an awesome bite - the two elements just worked perfectly together!
Check out this recipe (especially if you're not normally a fish eater!) - if I have been converted, anyone can! :)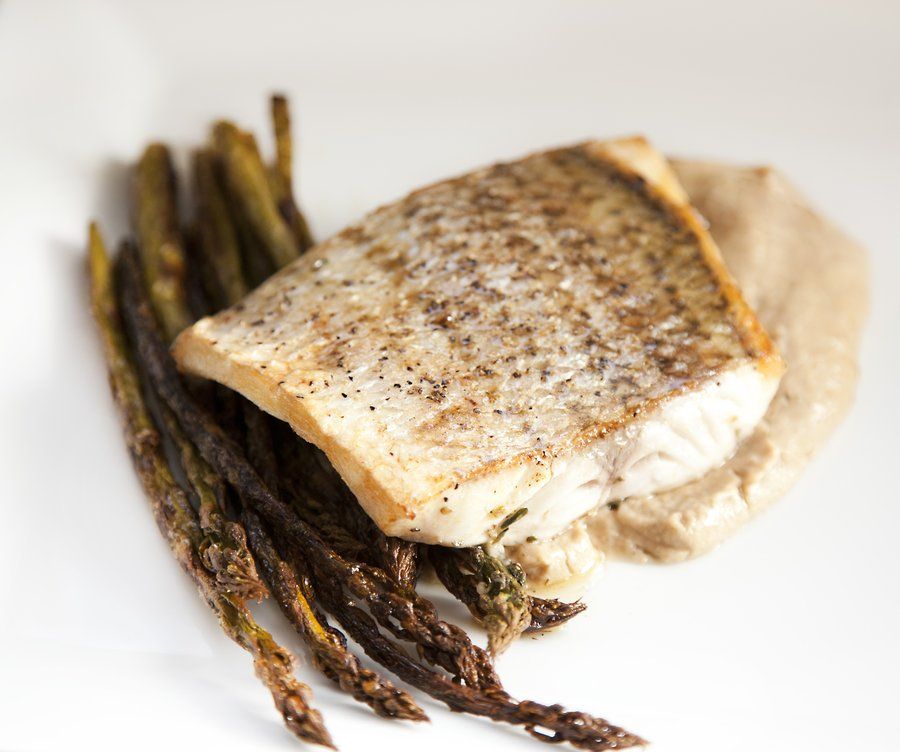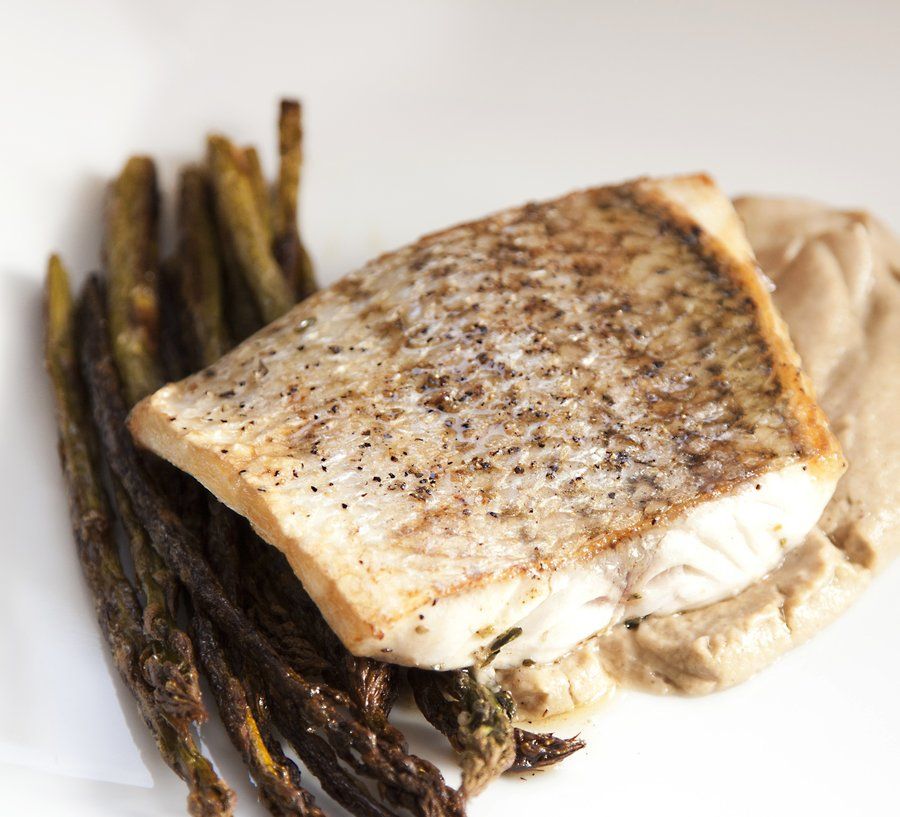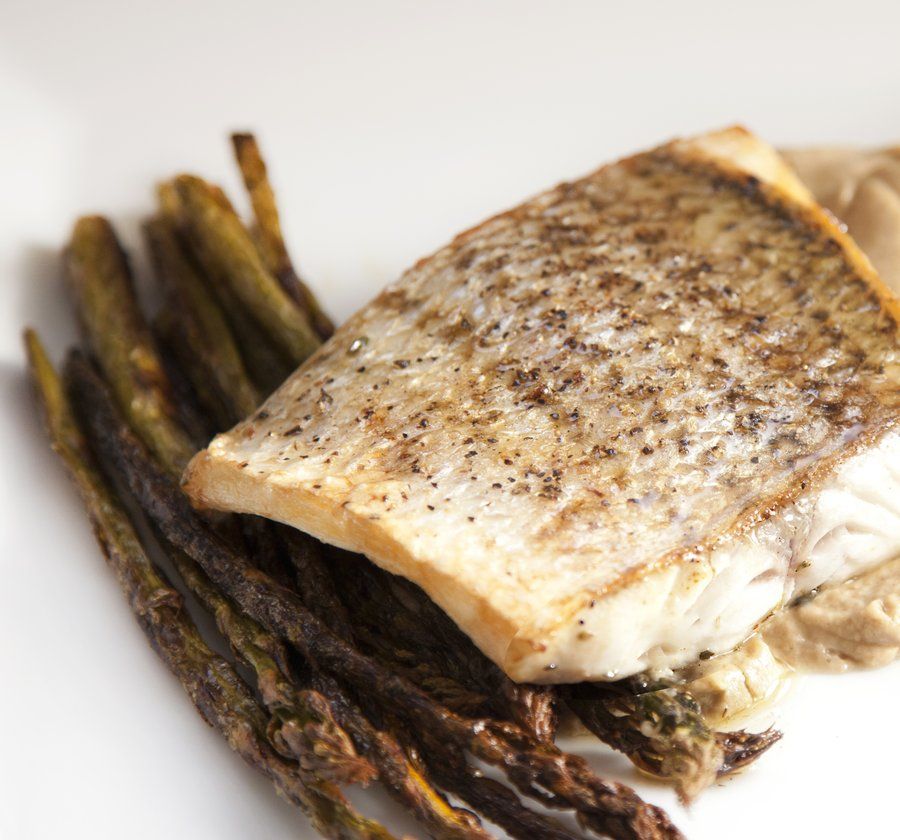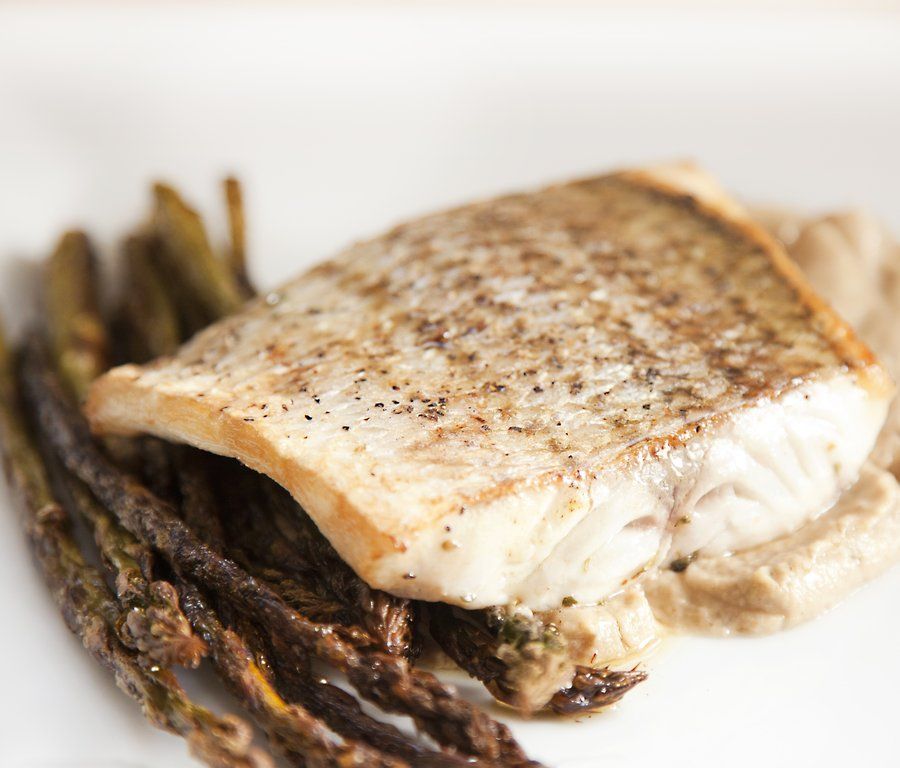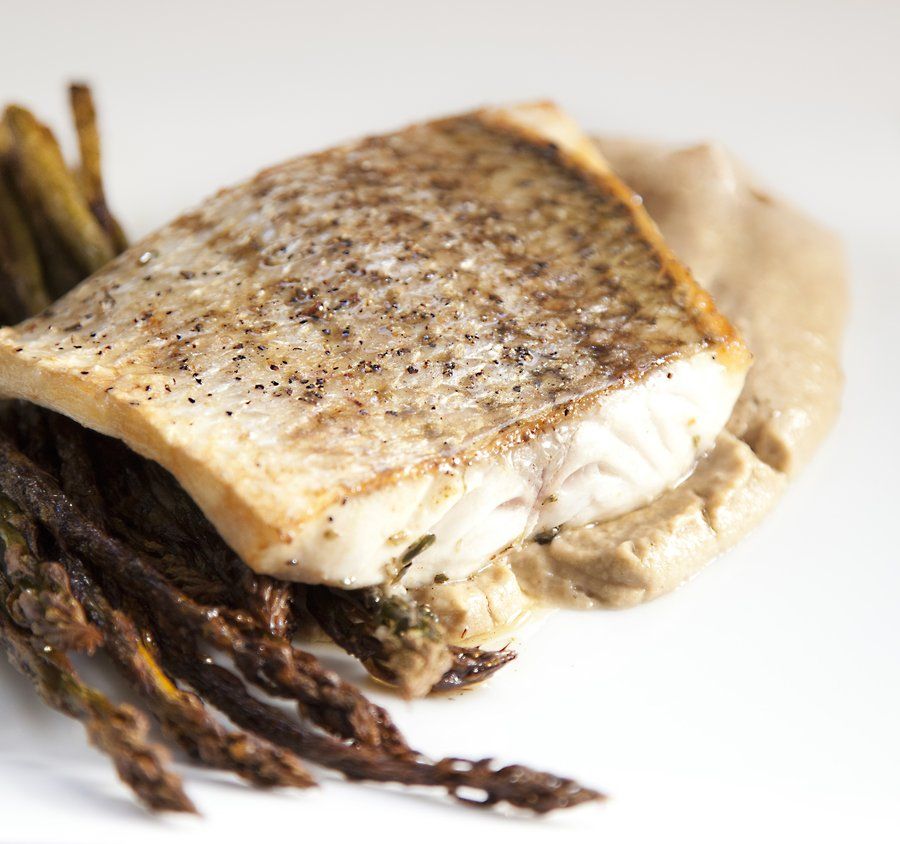 Striped Bass, Jerusalem Artichoke Puree and Roasted Asparagus
Prep Time
---
10 Minutes

Cook Time
---
2 Hour 45 Minutes

Total Time
---
2 Hour 55 Minutes

Yield
---
Serves 4

Ingredients
2 lbs Striped Bass (cut into 4 equal fillets (skin on, bones removed))
1 Pound Jerusalem Artichokes (cut into 1" chunks)
1/4 Onion
1/2 Cup + 2 Tablespoons Heavy Cream
20 oz Asparagus (the non-floret ends cut off about 2" up)
1 Tablespoon Butter
1 Teaspoon Lemon Juice (fresh)
Salt and Pepper
---
Directions
Preheat your oven to 400 degrees. Cut your artichokes into 1" chunks and lay out on a silpat-lined baking sheet. Leave your 1/4 onion in tact and place on sheet as well. Drizzle with Olive Oil and salt and toss to coat. Bake in over for 40 minutes, shaking the pan every 10-15 minutes. Remove from oven and place the artichokes and onion directly into a vitamix or blender. Add in your heavy cream and process for about a minute or until completely smooth. Taste and season with salt (about 1/2 teaspoon). Pour the contents through a fine mesh sieve into a pot and reserve.
Meanwhile, on the same silpat-lined baking sheet, lay your asparagus out in an even layer. Toss in Olive Oil and a generous amount of salt. Bake for 40 minutes, shaking the pan every 10-15 minutes. When the asparagus is almost done, start to re-heat your puree and get to cooking your fish.
For the Fish: Heat up a skillet with enough canola oil to just coat the bottom. Season both sides of the fish with salt and pepper. Once the oil is smoking hot, lay the fish down, skin side down and cook for about 3-4 minutes. Flip the fish over and cook through (about another 3-4 minutes). Remove the fish and place on a cutting board.
Plate your puree and asparagus and lay your fish on top. Dump out the excess grease from your fish skillet and add in your butter, swirling it around for about a minute until it starts to lightly brown. Add in your lemon juice and swirl around for a few seconds, then ladle over the fish. Serve hot.