I don't even know where to begin with this post. I have such an incredible love for red meat that this may start to go off on a meat-loving tangent, so bear with me.
I grew up eating steak and red meat from a very young age. In my family we ordered and ate steak "black and blue" which is actually more rare than "rare". My mom had her classic line to waiters in steakhouses:
"Turn the oven on to 400 degrees, take the steak out of the fridge and put it on a plate, take a picture of the oven, show the picture to my steak, and then bring me the steak"
No kidding, we like it THAT rare. Needless to say, I adapted this mentality and am disgusted by any red meat cooked over a rare point.
My mom and I would even pick at the raw ground beef when we were making hamburgers (I guess this is kind of like a ghetto tare tare...) and how I am still alive because of this is still a mystery.
But anyways, enough about my obsession with raw cow.
My favorite Steakhouse of all time, is Peter Lugar's Steakhouse. I grew up going there for special occasions and loved every aspect of it. Not only was their steak to die for, but also the side dishes of Creamed Spinach and German Potatoes were incredible. Every year I was asked where I wanted to celebrate my birthday, and I ALWAYS said "PL's" (that's what we call it on the in-crowd.....kidding....sort of...)
We'd always order PL's Porterhouse Steak, done black and blue. The steak comes out still cooking on the plate they serve it to you in, so my mom and I would quickly grab the meat off the plate for fear it may cook to a rare or even worse, medium rare (ugh!) The meat is slathered in this incredible butter sauce, and literally melts in your mouth. I mean, I don't know where M&M's coined that catchphrase, but PL's steak is really the embodiment of "melt in your mouth". And side note: don't M&M's ALWAYS melt in your hand??!!! The irony!!!…..but I digress….
So now, after this meat-lover ramble, I give to you, Peter Lugar's Style Porterhouse. The process by which I cooked this steak is exactly how they do it at PL's. And if you've never had the experience of eating at PL's - you have even more reason to try this steak and fall in love with the world's greatest steakhouse and the best steak cooking method.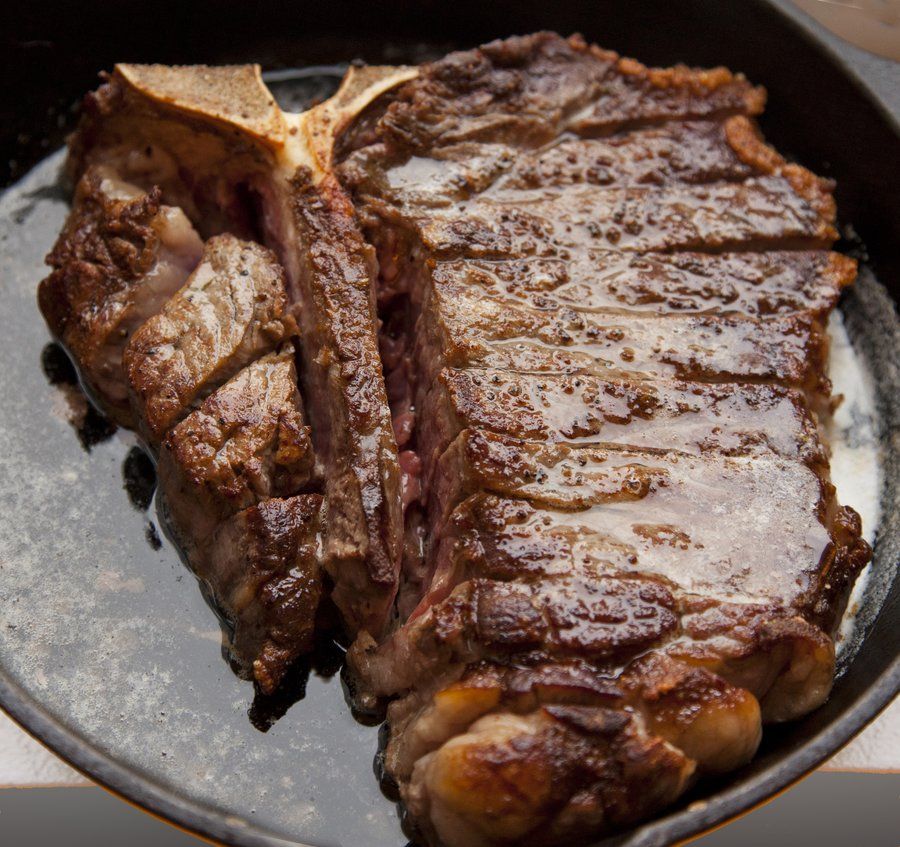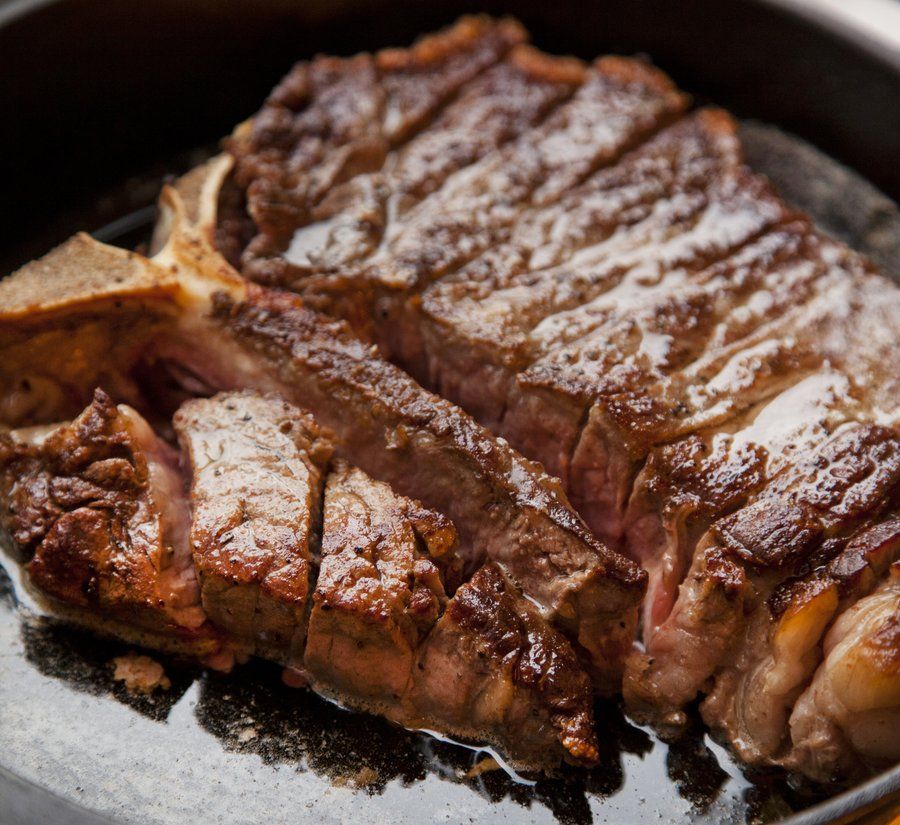 Let's first just admire the beauty of this incredible piece of meat. *drools*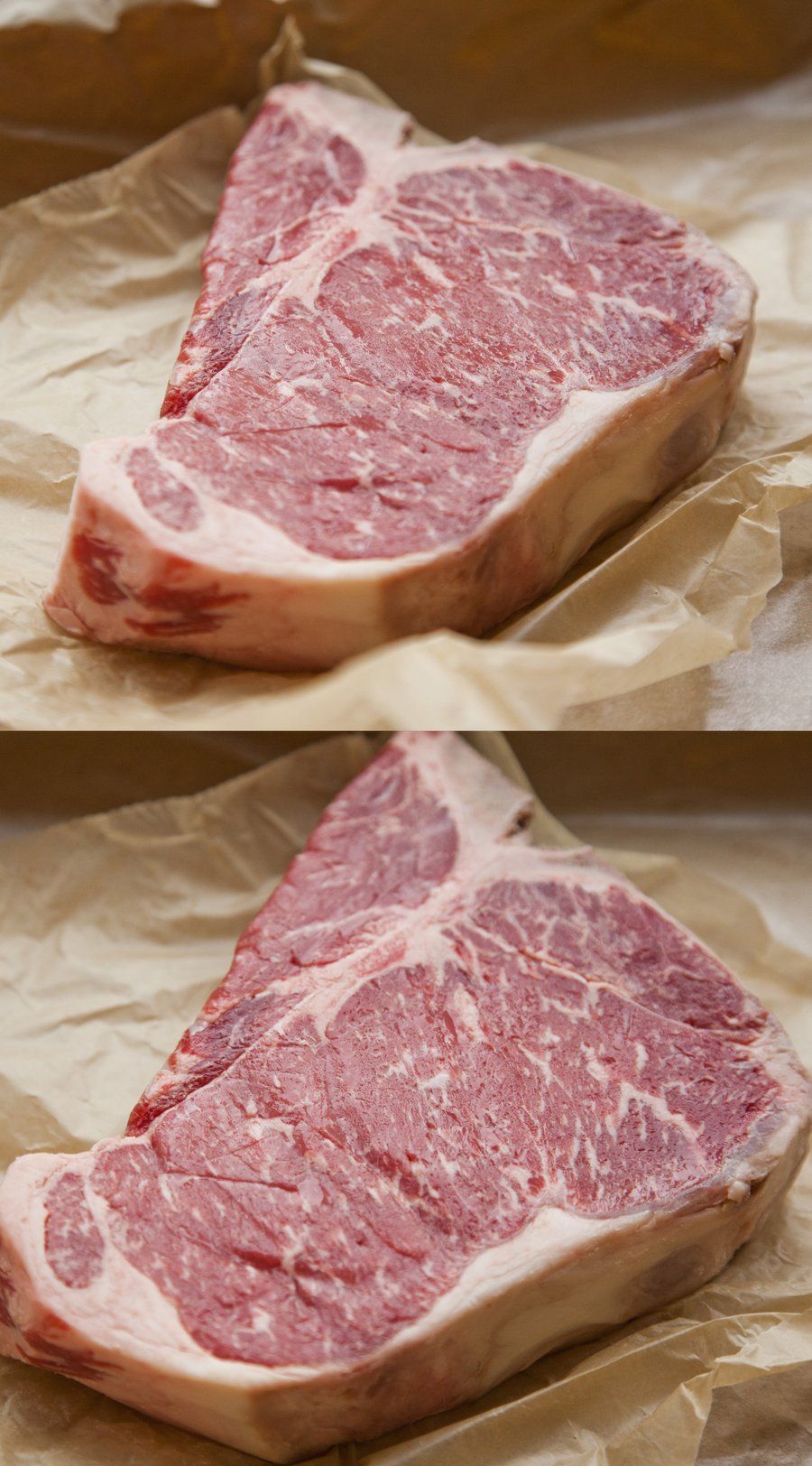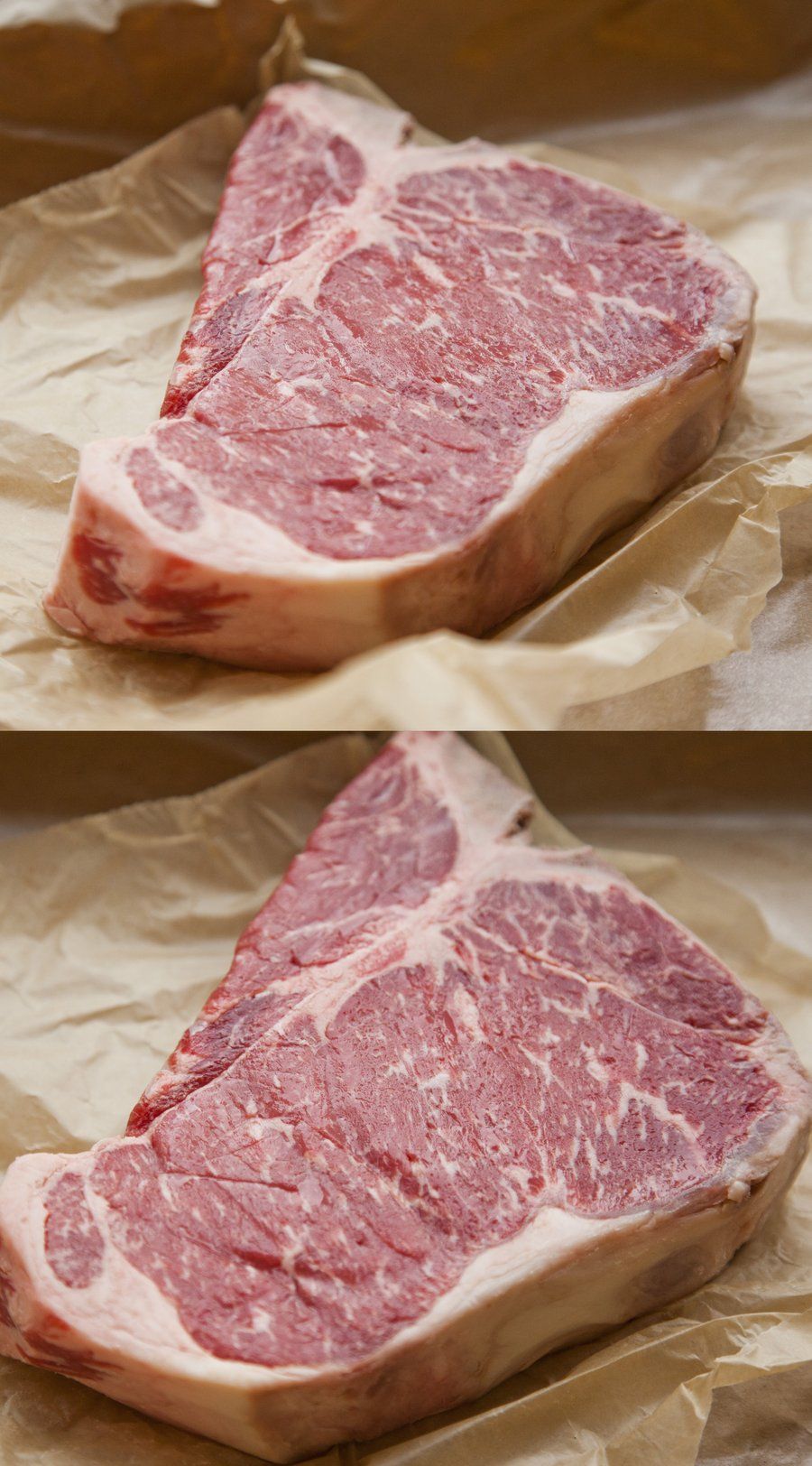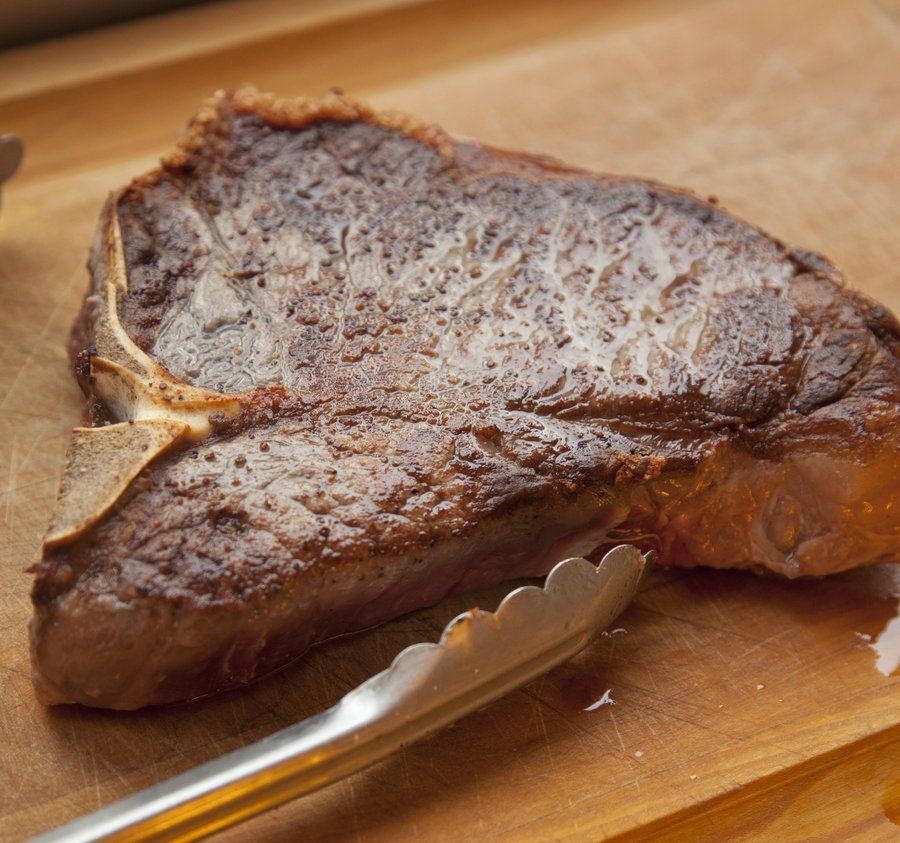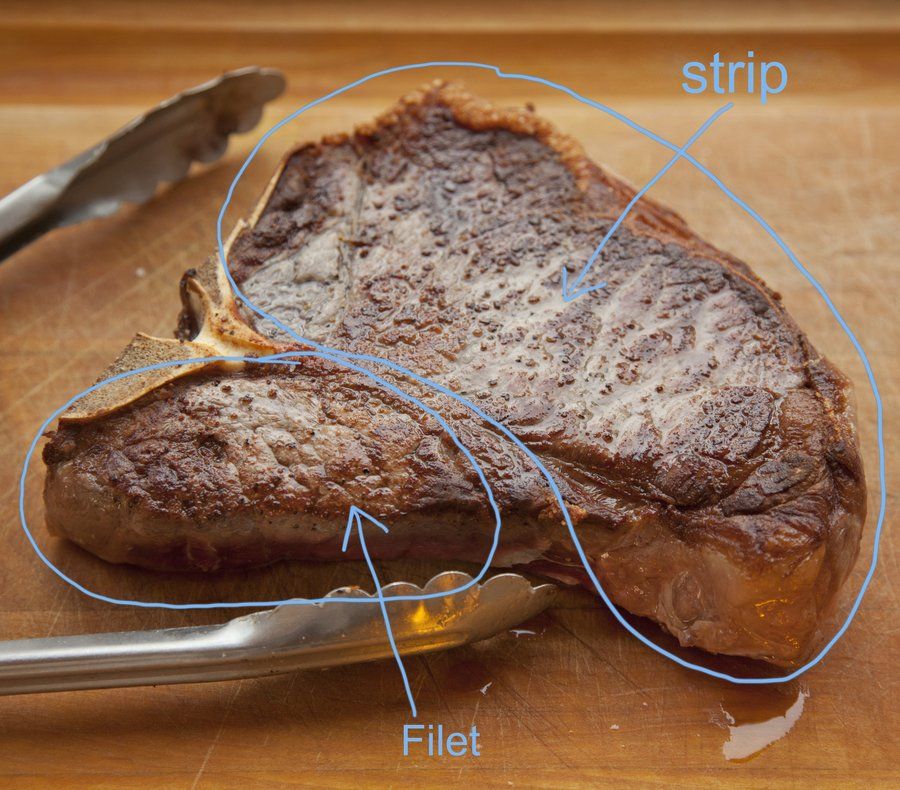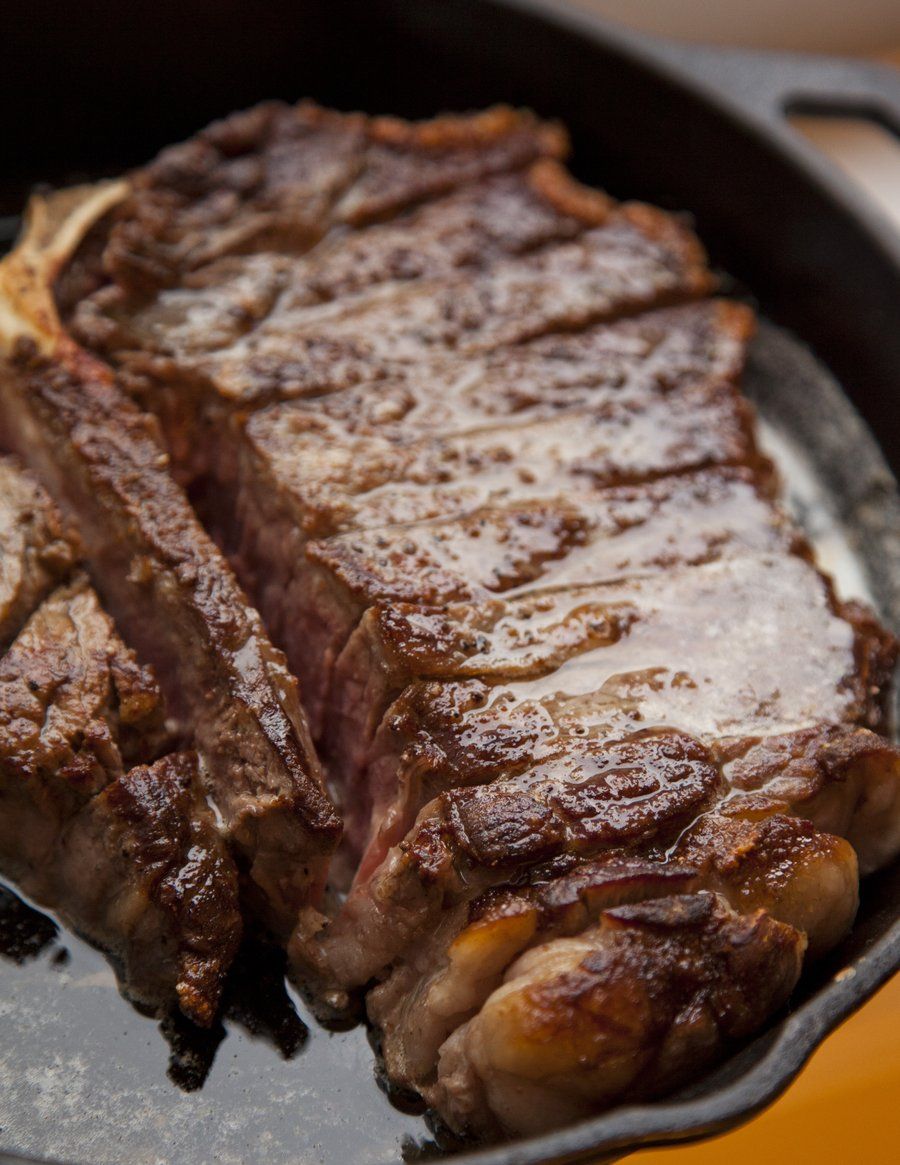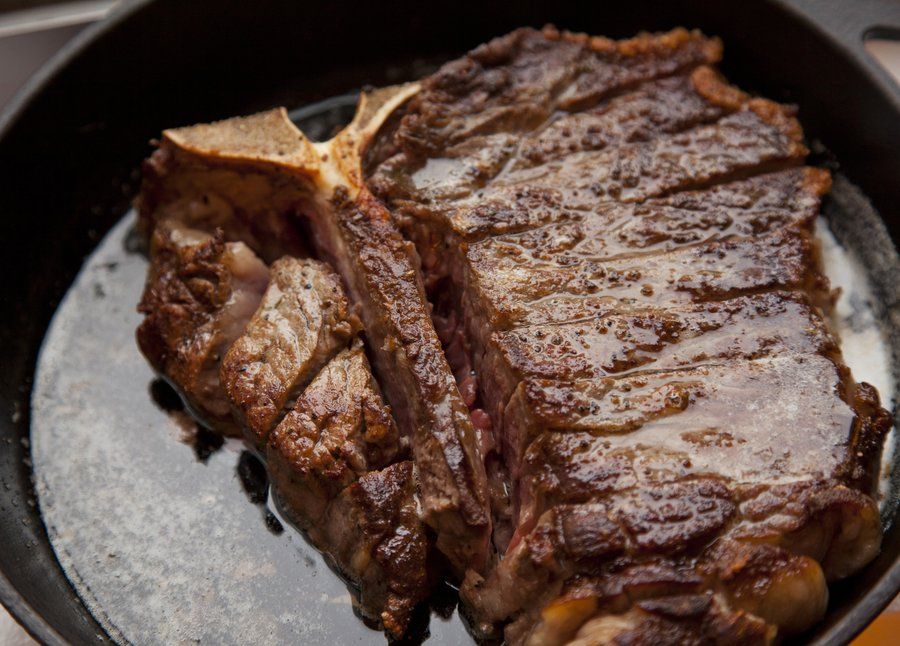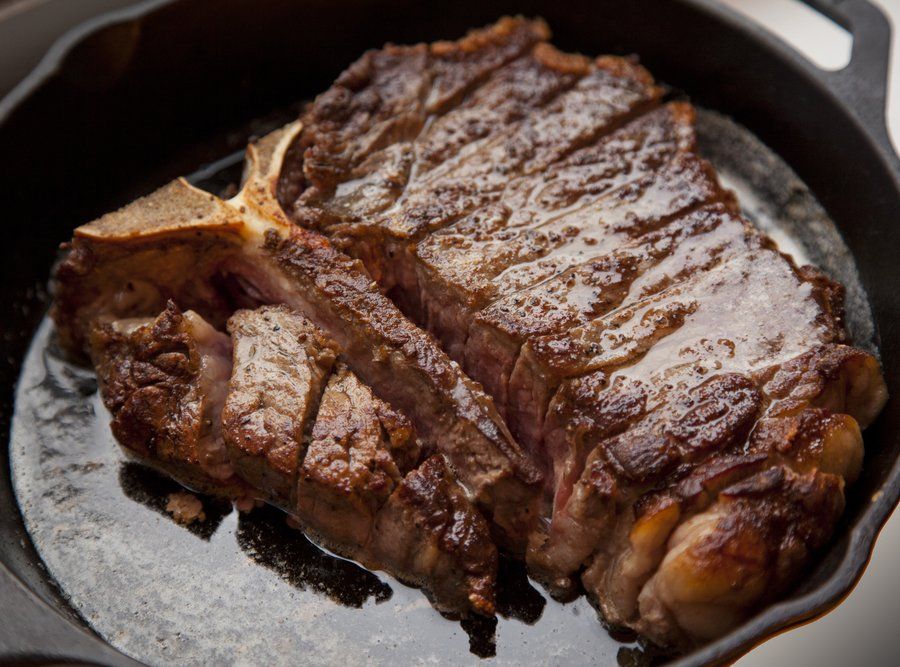 Steakhouse Style Porterhouse
Prep Time
---
5 Minutes

Cook Time
---
20 Minutes

Total Time
---
25 Minutes

Yield
---
Serves 2

Ingredients
2 Pound Porterhouse Steak Bone-in
1 Teaspoon Canola Oil
Salt
3 T sliced thin Butter
---
Directions
Heat up a cast Iron Skillet with about 1 teaspoon of Canola Oil in it over a medium high heat. Generously season both sides of your porterhouse with salt (really add a lot - it needs the flavor).
Once the oil and pan is hot, place your porterhouse in the pan and let cook 4 minutes on one side (don't touch it just let it cook). Remove the steak from the pan, and place on a cutting board, seared side up.
Let the steak rest 10 minutes. Then, cut the steak off the bone in 2 pieces (the strip on one side and the filet on the other). Cut straight down into thick slices perpendicular to the bone.
Place the bone back in the cast iron pan, and reassemble the sliced meat alongside it (seared side up). Top the meat with your slices butter and place under the broiler for 5 minutes (for rare). *Since the steak is already sliced, you can check the doneness of your meat easily and cook it for as long as you want.
Serve the steak directly from the pan and spoon the butter pan sauce on top.