Croquettes are such a fun dish to make. When I think of a croquette I think of a little ball, made out of any type of delicious filling, mixed with a delicious béchamel sauce, encapsulated in a crunchy exterior and served hot.
I have made this other version of croquettes before with Ham and Cheese, but I wanted to try a Potato Croquette for the next time I have people over who are vegetarian. The great thing about this dish is you can switch it up. I used a cheddar cheese to turn my béchamel into a Mornay sauce, but you can use any cheese you like (try Gruyere, Swiss, Gouda, Smoked Gouda….)
The real trick to making a croquette is making sure you completely cool down your interior filling and let it sit in the freezer for a little while so that you easily can mold it. The other key is using Panko breadcrumbs for the outside, as opposed to regular breadcrumbs (Panko gives such a better crunch factor). I topped my croquettes with a little dollop of Sour Cream and some minced Cilantro as well!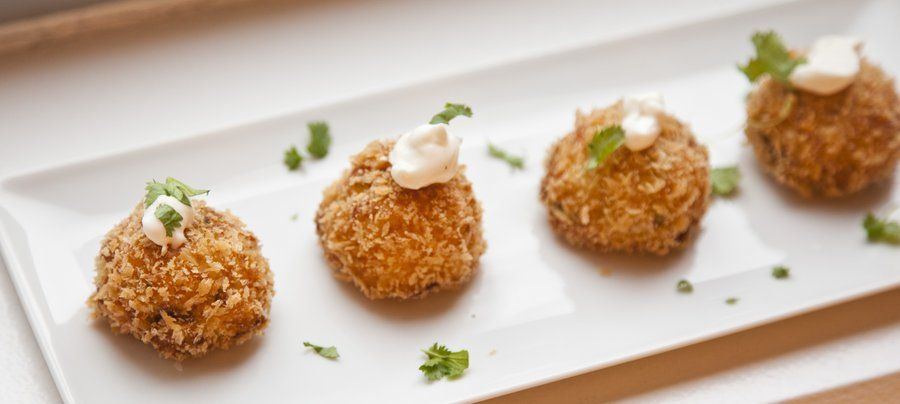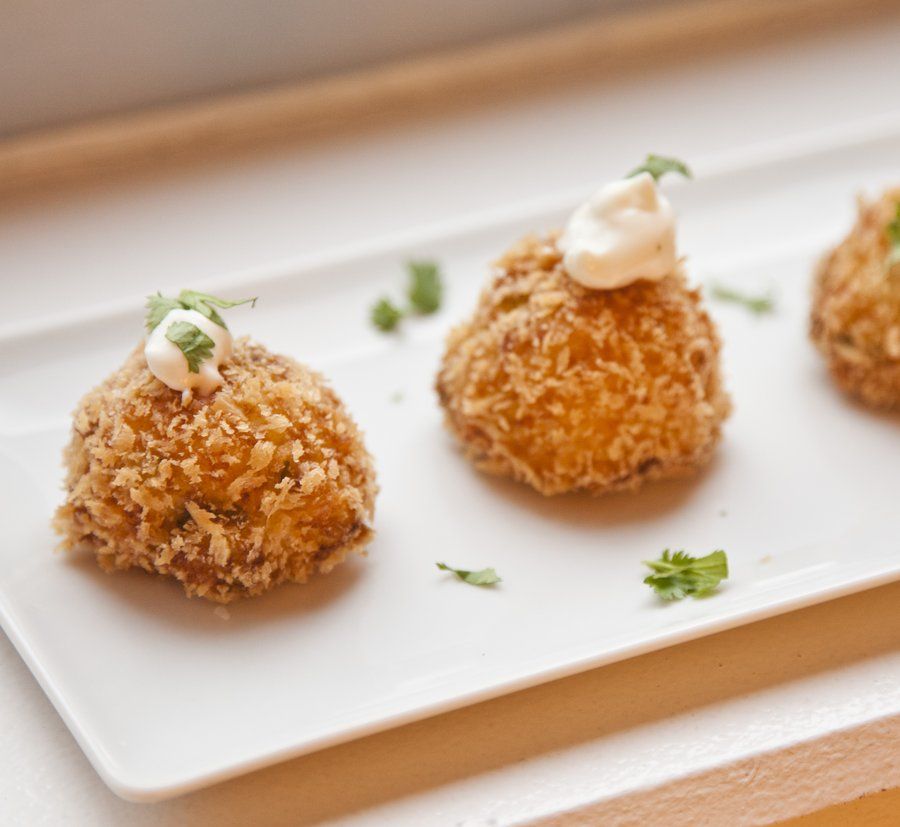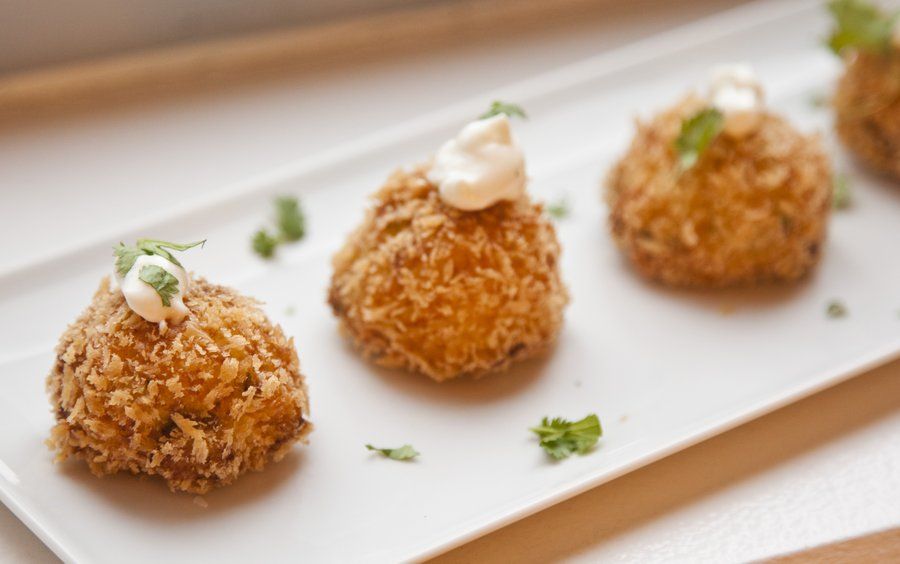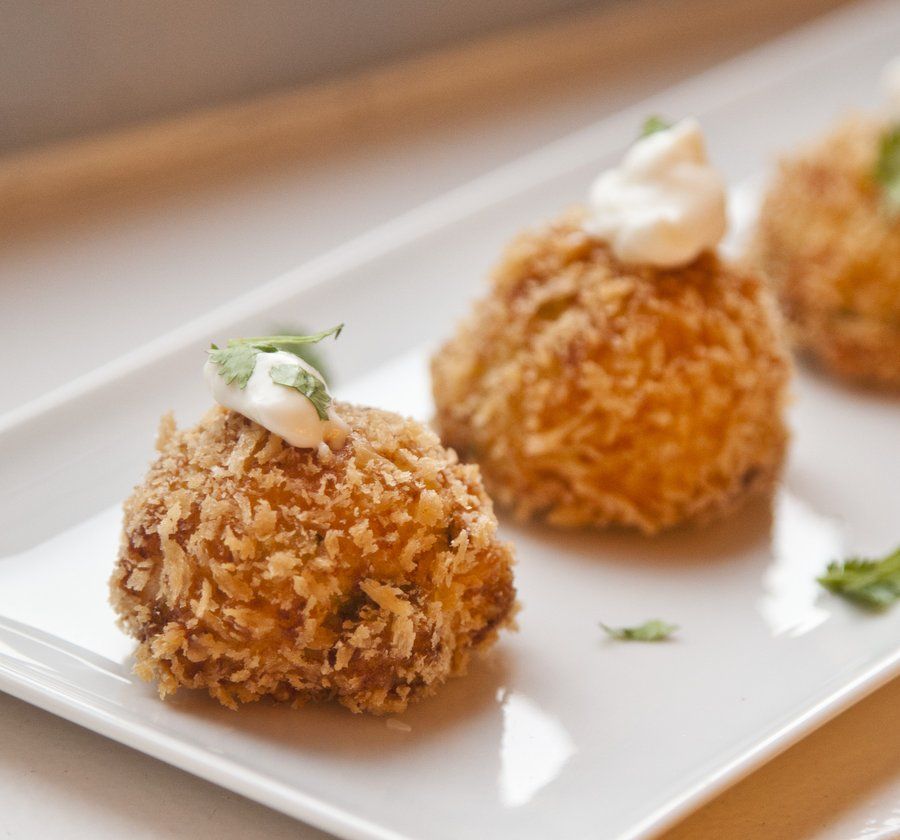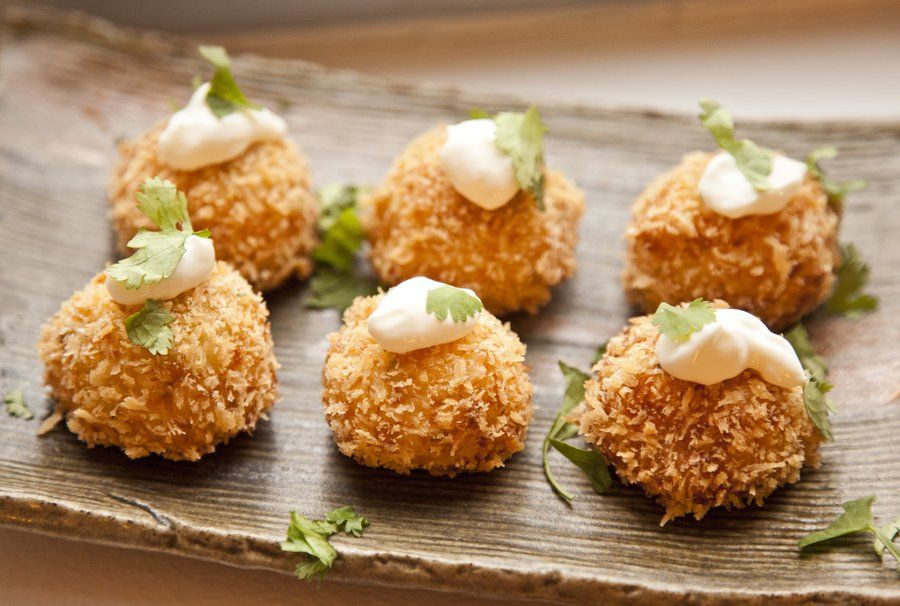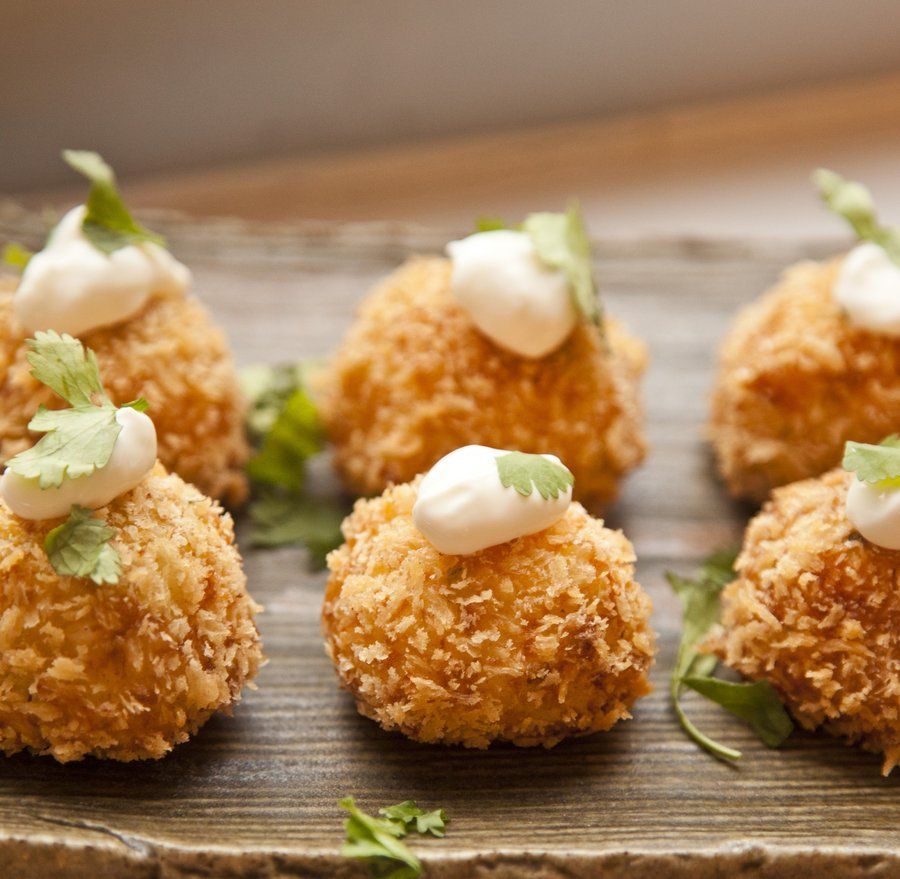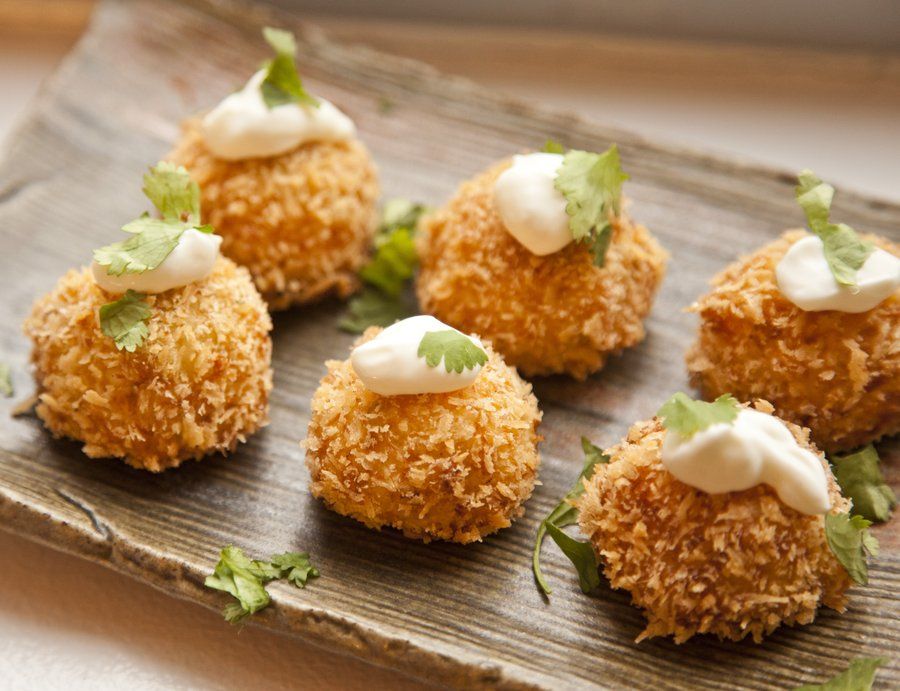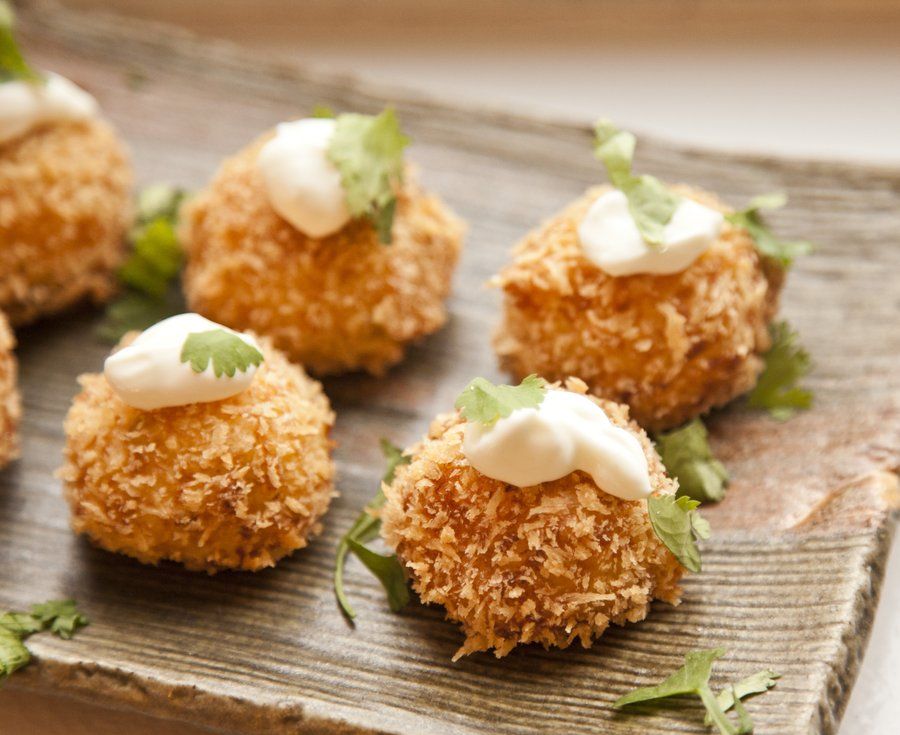 Potato Croquettes
Prep Time
---
3 Hours

Cook Time
---
20 Minutes

Total Time
---
3 Hour 20 Minutes

Yield
---
Makes about 20 Croquettes

Ingredients
1 Potato
1/2 Cup minced Onion
1/2 Cup minced Celery Stalks
2 T sliced thin on a bias Scallion
Pinch Cayenne
1 Tablespoon Butter
1 1/2 T Flour
3/4 Cup Milk
1/2 Cup shredded Cheddar Cheese
Salt (to taste)
1 Egg
1 Cup Panko Breadcrumbs
Canola Oil (for frying)
---
Directions
Peel and cut your potato into 1" wedges. Place in a pot, and cover with cold water. Add 1 Tablespoon of salt to the water. Bring to a boil and cook til the potatoes are easily pricked with a paring knife (about 8 minutes). Drain and mash in a bowl immediately.
In a small saute pan, heat up 1 teaspoon of olive oil. Add your onion and cook about 5-8 minutes until soft. Add the onion to the bowl with the potatoes. To that bowl, add your celery, scallion, and a pinch of cayenne.
Now you can make your bechamel. In a small saucepan, melt your butter, once melted, over a medium high heat, add all your flour all at once. Stirring constantly, cook the roux for about 3 minutes. Slowly whisk in your milk and cook until the mixture starts to thicken (about 5 minutes). Add in your cheese, and stir til the cheese melts. Taste and season with salt.
Pour your bechamel into the bowl with the other ingredients and stir to combine. Taste and season with salt. Place the bowl in the fridge for at least an hour to cool off. Once cooled, line a baking sheet with parchment paper and using an ice cream scoop, scoop out even sized mounds of your potato mixture onto the parchment.
Place the baking sheet in your freezer uncovered for about 30 minutes to firm up the potatoes. Remove the sheet from the freezer, and carefully roll each mound into a little ball and place back in the freezer for another 10 minutes.
While the croquette balls are setting in the freezer, set up your breading station. In a bowl beat 1 egg with 1 Tablespoon of water. In a separate dish, add your Panko breadcrumbs. Remove your croquettes from the freezer, and in batches, coat each croquette with the egg wash and then cover in the panko. Place the croquettes back on the baking sheet.
Once you've breaded all your croquettes place them back in the freezer for another 10 minutes to help them set. Meanwhile using a deep fryer, or a pot of oil - heat your oil to 360 degrees. In batches, fry your croquettes to a golden brown color and let drain on paper towels. Serve hot. (*Note: For the best results, fry the croquettes directly from the freezer, don't let them sit out at room temperature).