Urban Cookery has recently partnered with our friends and local Organic farmers over at Greenflash Farms! SUPER exciting! And yesterday I received our first box of local produce from their farm share program (typically known as a CSA)! For anyone who doesn't know what a farm share is, you basically sign up for a weekly box from your farm of choice, which is filled with their current farm produce and other farm goodies! Anything from fruits, veggies, eggs, flowers or whatever else your local farm produces.
Yesterday's box was filled with some amazing green veggies, herbs and root veggies which put me in chef heaven planning out this week's meals around all this bounty!
The first thing I got excited about was the spinach. Huge, leafy greens that smelled like actual spinach (it's amazing how different farm fresh food is from the grocery store stuff)…and for some reason, every time I see fresh spinach, I think of pizza.
I recently blogged my Spinach and Caramelized Onion Naan Pizza which I LOVE, but last night I decided to add a few more elements and also, keeping with the local produce, I made sure every veggie/herb I used, was 100% local to our home in New Jersey (after all, we are the garden state).
I found some beautiful Organic Beefsteak Tomatoes, local yellow onions and fresh NJ Basil that smells divine. I also made my own homemade pizza dough (which I haven't done in a while) and I have to say, it makes all the difference in flavor.
So let's get this local farm fresh pizza party rollin'!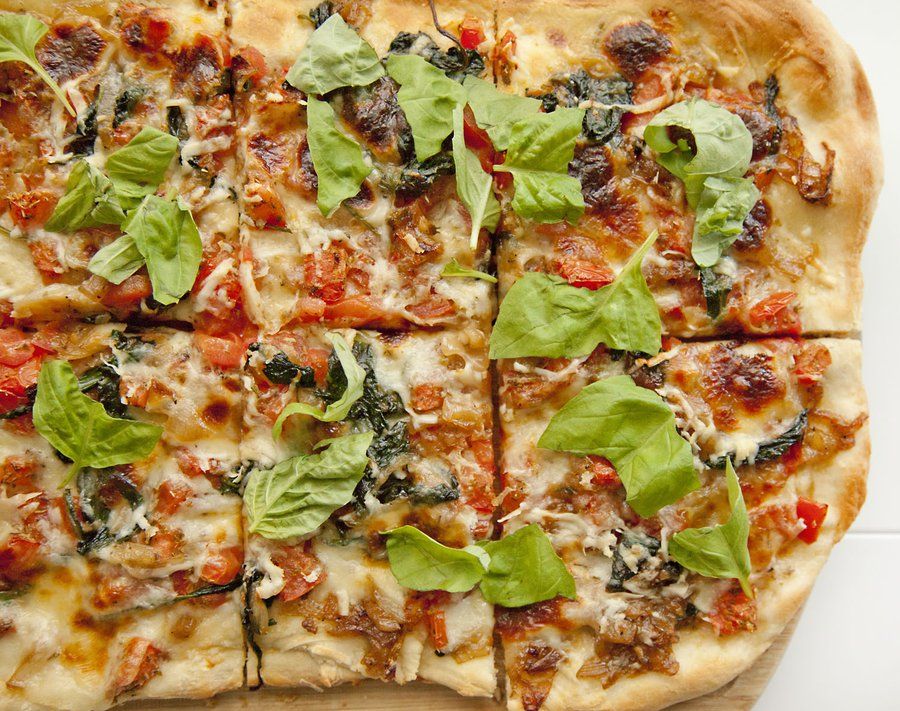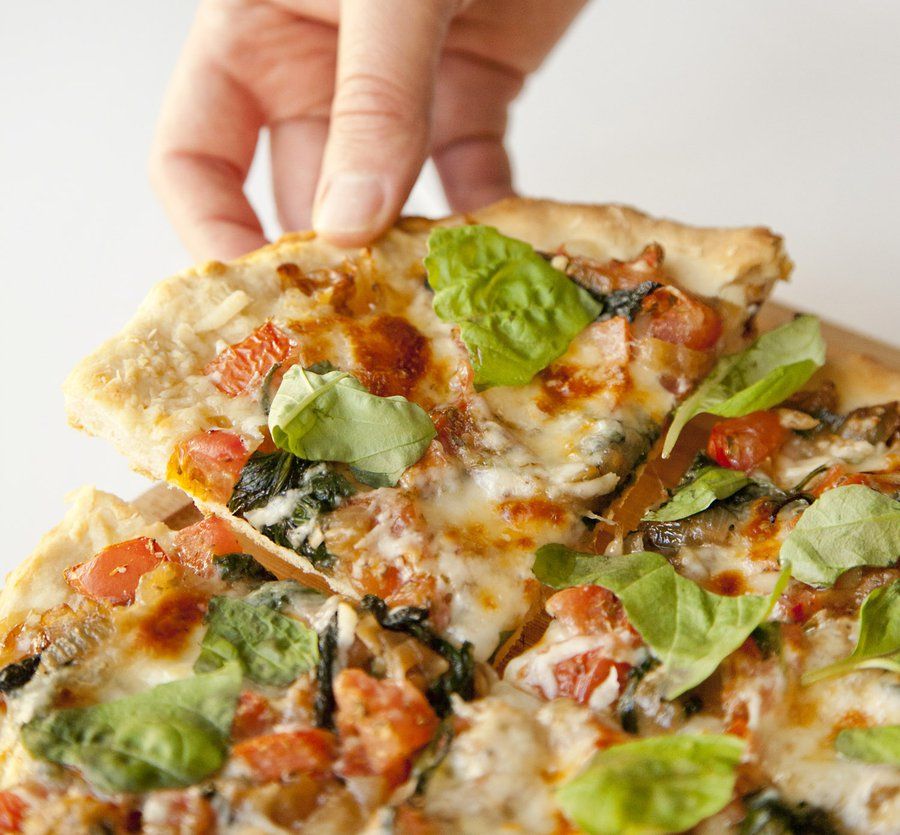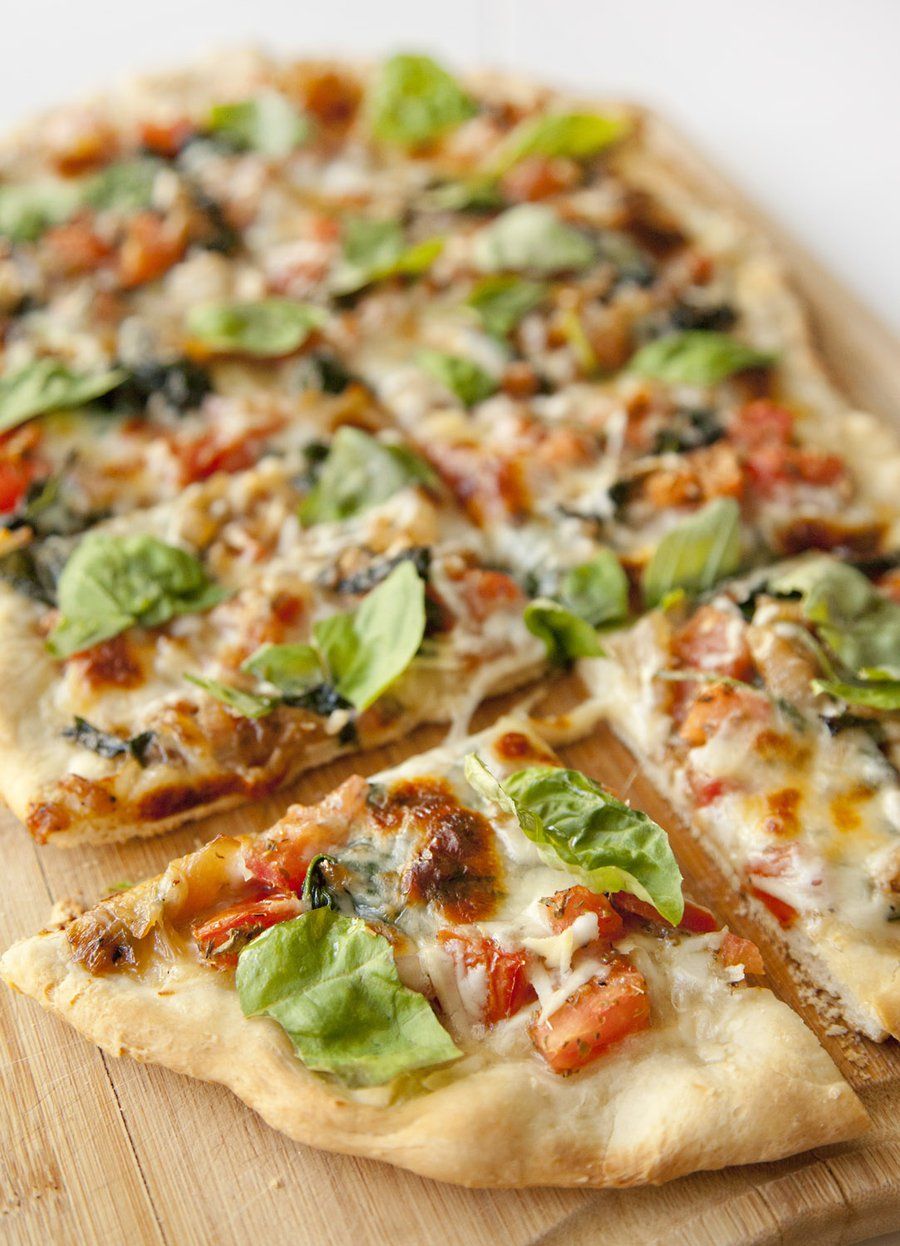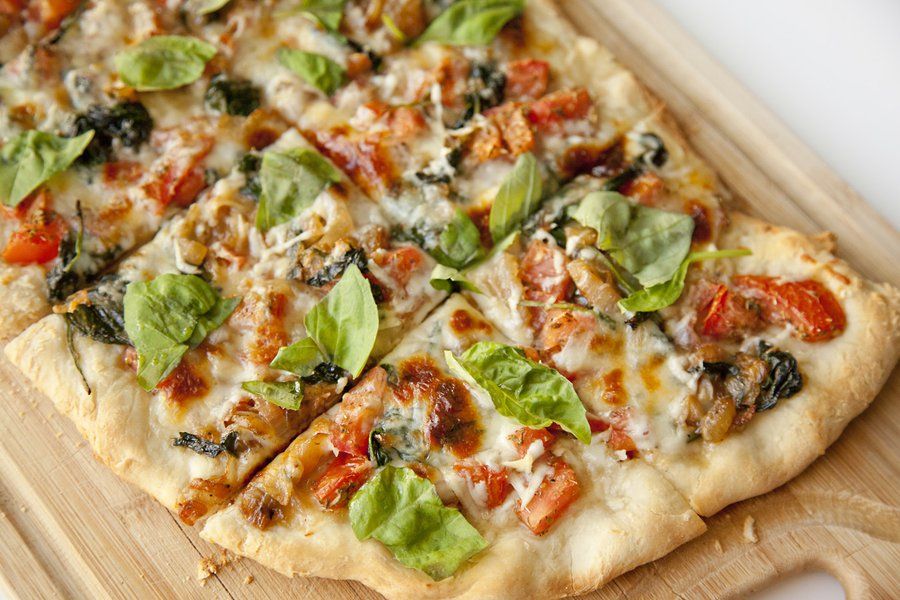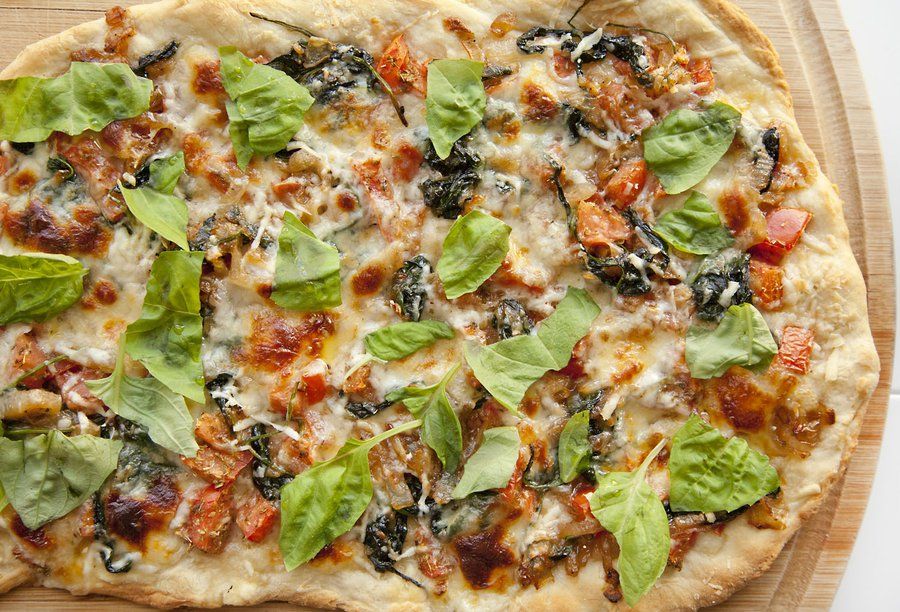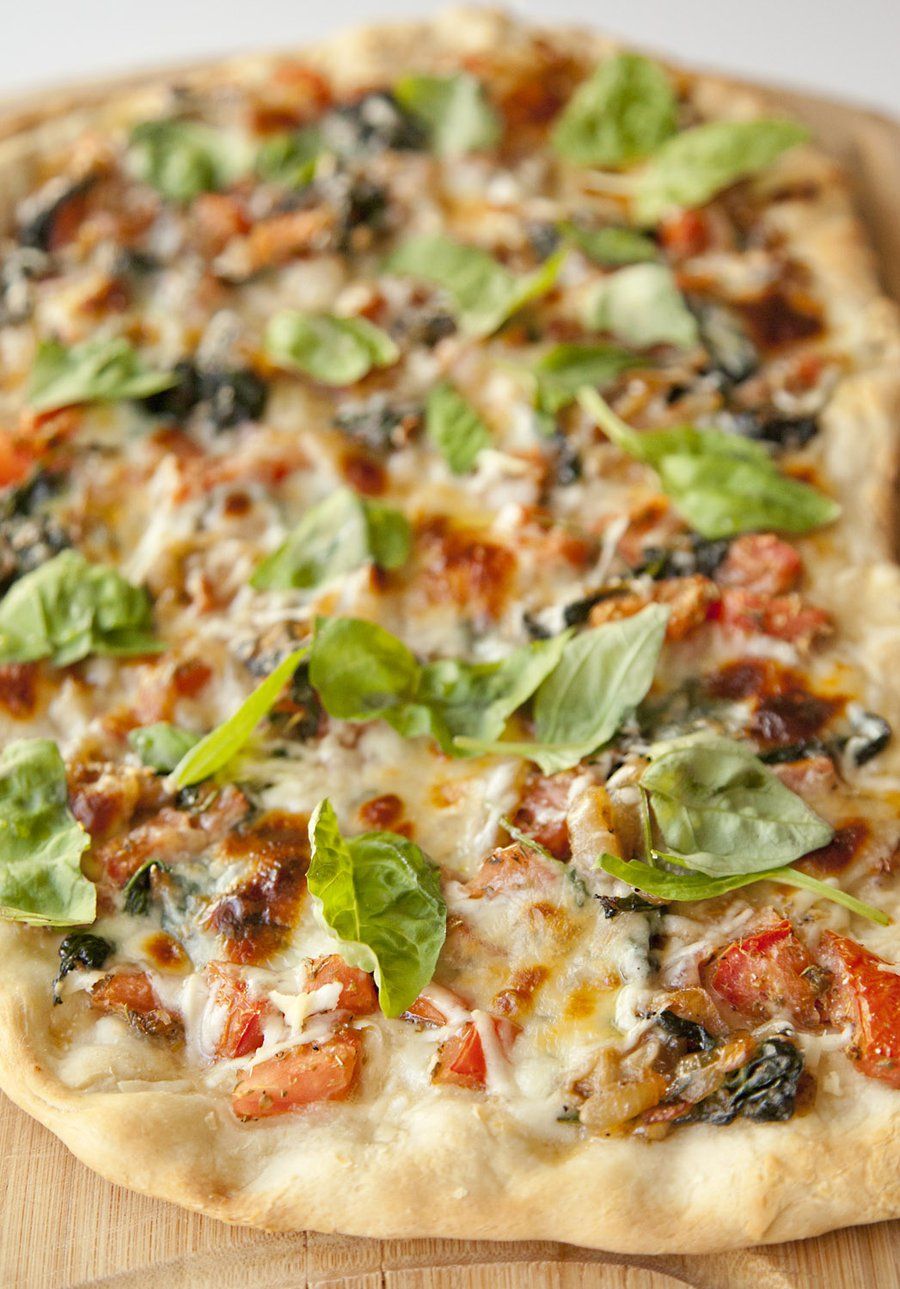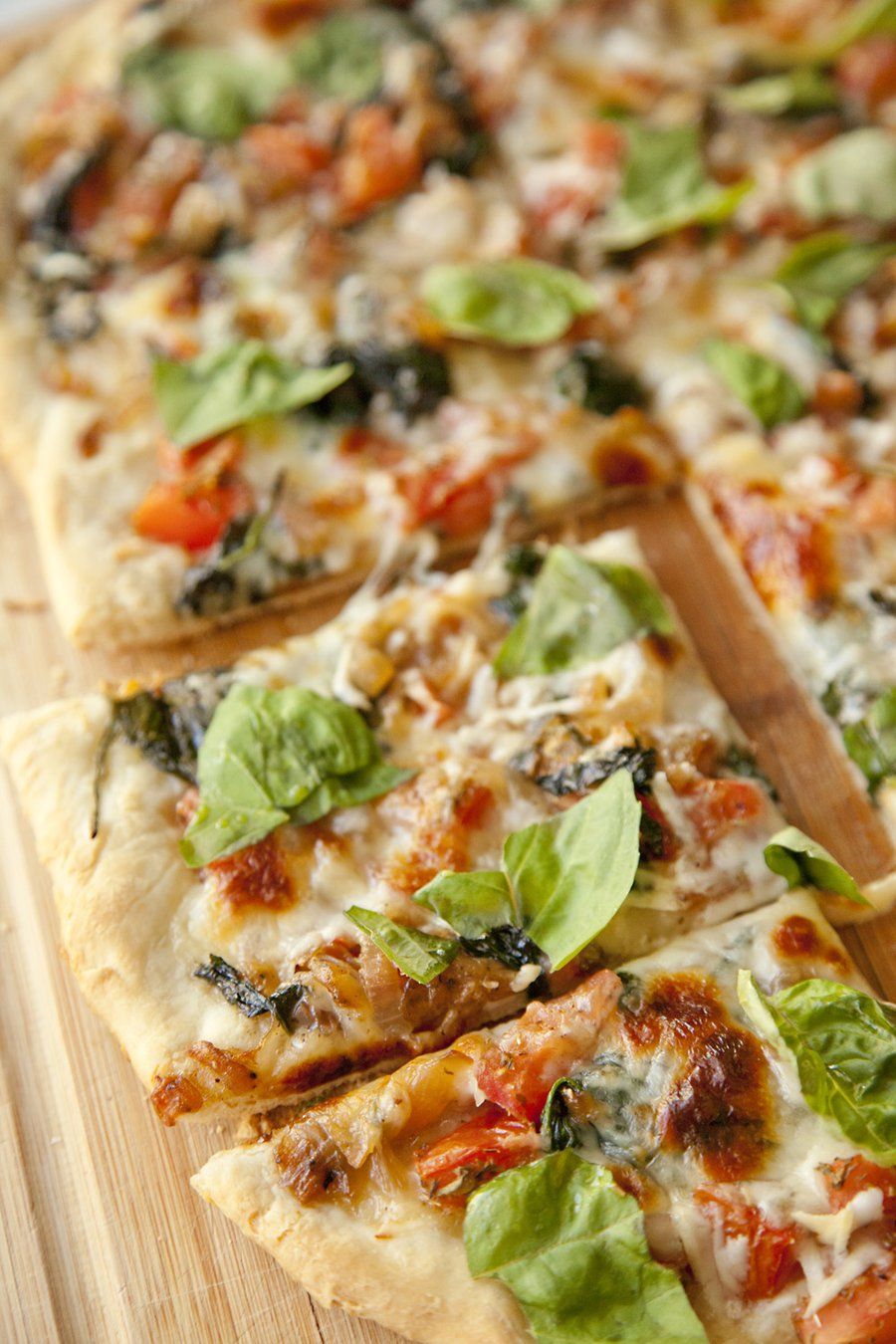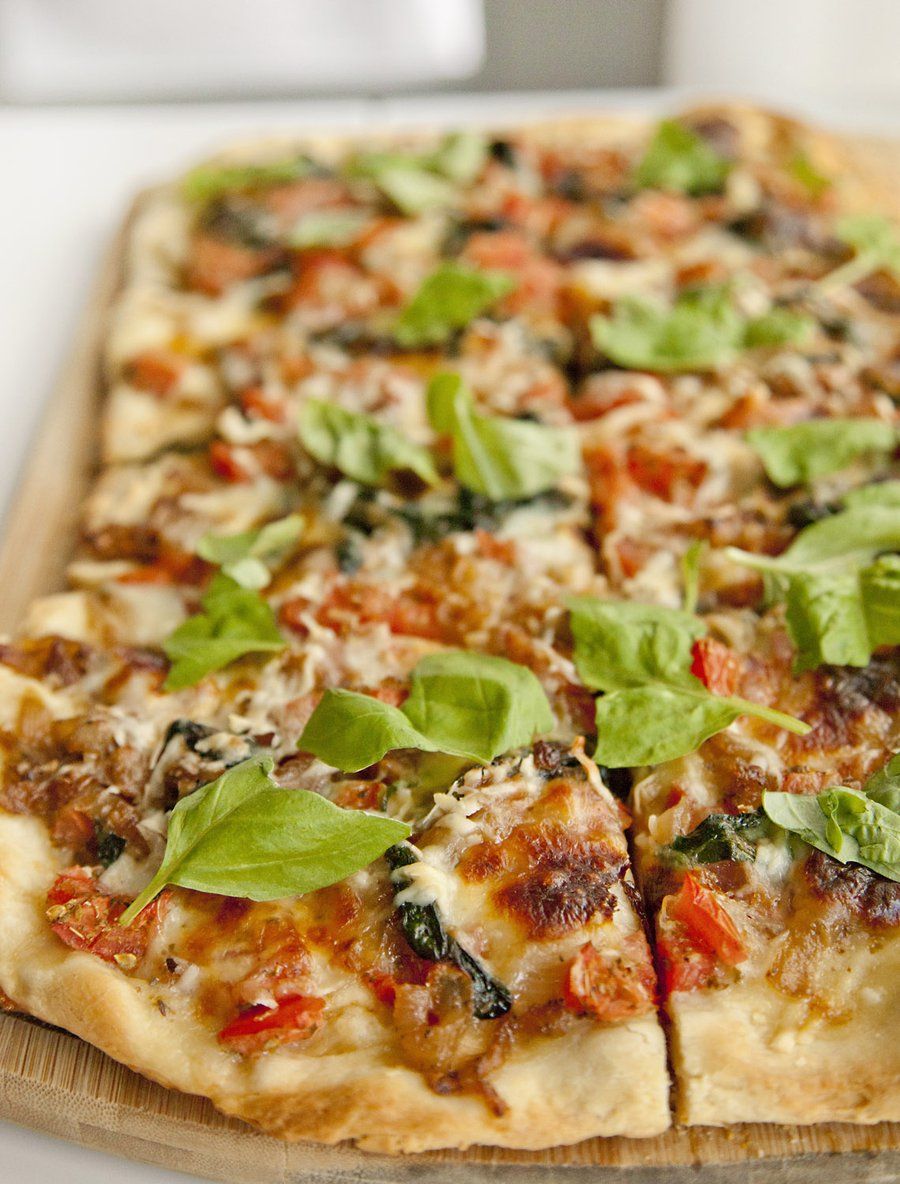 Spring Vegetable Pizza
Prep Time
---
15 Minutes

Cook Time
---
55 Minutes

Total Time
---
1 Hour 10 Minutes

Yield
---
Serves 4

Ingredients
1 Tablespoon Canola Oil
1/2 Tablespoon Butter
3 Cups Yellow Onion (sliced thin)
1/2 Teaspoon Black Pepper
5 Cups Fresh Spinach Leaves
1 Tablespoon Garlic (minced)
3 1/2 Cups Beefsteak Tomatoes (cut into a small dice)
2 T Dried Oregano
1 Recipe Classic Dough (Recipe Below)
1 Cup Pecorino Romano (grated)
1/2 Pound Mozzarella Cheese (whole) (cut into 1/4" thick squares)
Fresh Basil Leaves (torn)
Olive Oil
1/2 Teaspoon Salt
---
Directions
Heat up a medium sized skillet over a high heat and add in your canola oil and butter. Once the butter has melted, add in your onion and black pepper and stir. Reduce the heat to medium-low and cook your onions, stirring frequently, until caramelized (about 35 minutes). Once your onions are a nice golden brown color, add in your spinach (in batches) and garlic and turn the heat up to medium high. Cook the spinach til it's wilted (about 5 minutes). Turn off the heat and season with salt. Reserve for later use.
In a large bowl, combine your tomatoes, oregano and salt and mix together until combined.
Grease two large baking sheets with non-stick spray and pre-heat your oven to 500 degrees.
Divide your pizza dough in half and stretch them out, one on each baking pan, until they're thin and resemble a pizza (they should take up almost the entire length and width of a normal baking sheet).
Top each pizza evenly with the tomato mixture, then the spinach/onion mixture. Then top with the Pecorino Romano and Mozzarella pieces. Place in the oven and immediately turn the oven temperature down to 375 degrees.
Bake in the oven for 15 minutes and then turn on the broiler for a few minutes to lightly brown the top. Remove from the oven and top with torn pieces of fresh Basil and a drizzle of good Olive Oil. Serve hot!
Classic Dough Recipe
Prep Time
---
2 Hours

Total Time
---
2 Hours

Yield
---
1 Sheet Dough

Ingredients
3 1/2 Cups Flour
1 tsps Salt
4 T cubed Butter
1 Package Active Dry Yeast
1 T Sugar
---
Directions
In a food processor fitted with a dough blade, combine your flour salt and butter. Pulse a few times to combine.
Combine your water (1/3 cup heated to 110 degrees), sugar and yeast in a small bowl and let bloom (about 8 minutes). Add yeast mixture to your flour mixture and mix.
While mixing, slowly pour in 1 cup of ice water to the mixture. Mix about 20 seconds until the dough forms.
Turn out the dough into a lightly greased bowl. Cover with a kitchen towel and let rise 1 1/2 hours. Beat down and let rise another 30 minutes. Now you can use it for whatever purpose!