I have been sick for the past 2 ½ weeks.
I am not one to usually complain about not feeling well, but literally, this is the virus that won't go away….and the worst part of it all, was that for the last 5 days, I couldn't taste ANYTHING.
Let me restate that, I couldn't taste ANYTHING. If you gave me dog sh*t and a filet mignon on the same plate, and told me to eat them, I wouldn't be able to taste the difference…. And after 5 days of this chef torture I was convinced my career as a chef was over and that I would never taste food again. I really don't know what there would be to live for at that point (besides my family)….but seriously, imagine never being able to taste anything ever again?!
HORRIFYING.
However, after a wonderful turn of events, this morning when I woke up, my taste buds decided to return and make their debut, despite still be completely sick. I was immediately invigorated to cook up a super flavorful meal for dinner because my buds were back! I am not sure why this dish came to mind, but I had made it a few months ago and have been meaning to blog it ever since and if ever there was a meal with a ton of bold flavors, this is it:
Pastrami, Swiss Cheese, and a Homemade Red Onion Jam sandwiched between two pieces of Rye Bread and heated up in a Panini maker.
BOOM.
Flavorcity, Population: ME.
My dad recently gave me his Panini Maker which he received as a gift and declared he only used once in the 2 years he owned it. He knew that I would get more use out of it (100% true) so now said Panini Maker is in my custody and I am a happy Cheffy. Since receiving this beautiful piece of machinery, I have been Panini-ing everything (Panini-ing should be a verb)…. from Quesadillas, to Grilled Cheese, to plain Toast, a Panini maker knows no bounds. So anytime I think up a sandwich that would benefit from the wonders of the Panini Machine, I am psyched.
In addition to my affinity for the Panini Machine, I have also been into making Savory Jams lately (see my Bacon Jam here). These savory yet kind of sweet condiments can take a normal sandwich to the next level.
This sandwich can be made with some variations, which I have tried before…you can use Gruyere Cheese instead of Swiss and you can make it into a "quesadilla" by subbing out the Rye Bread for a flour tortilla – both of these variations were delicious!
Enjoy!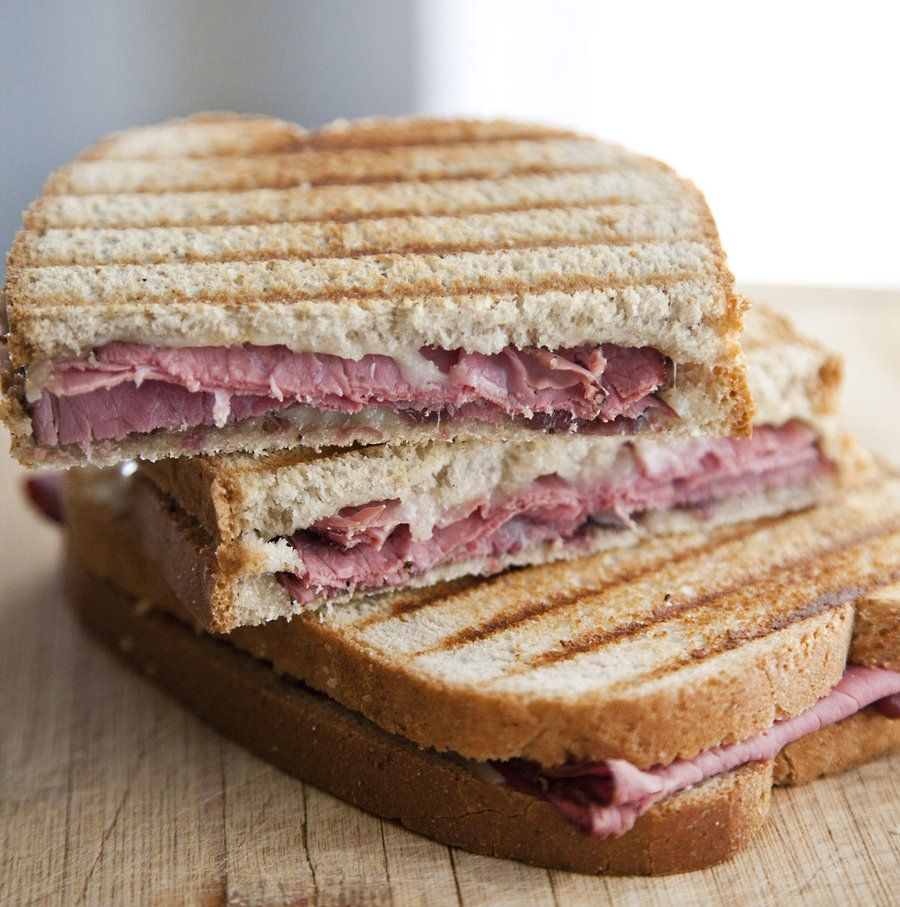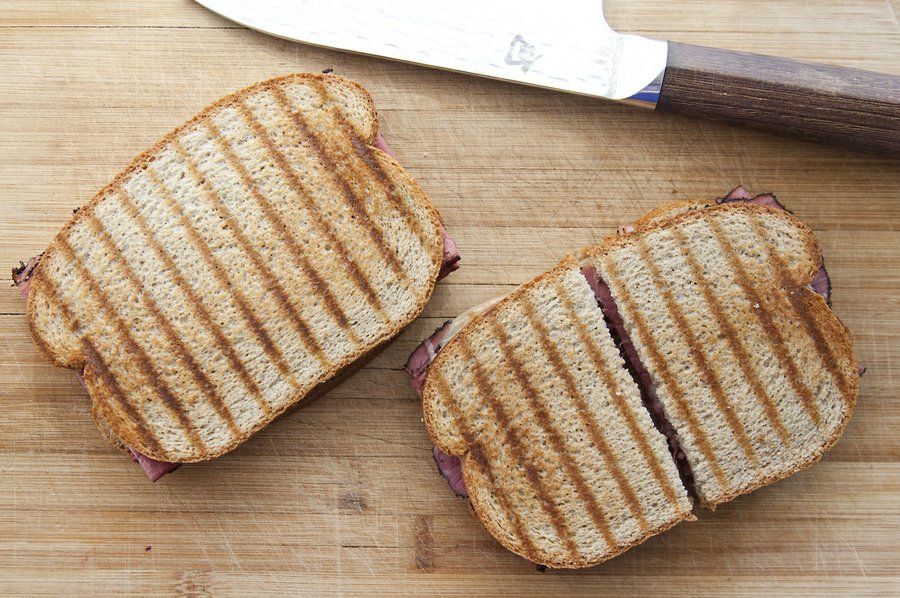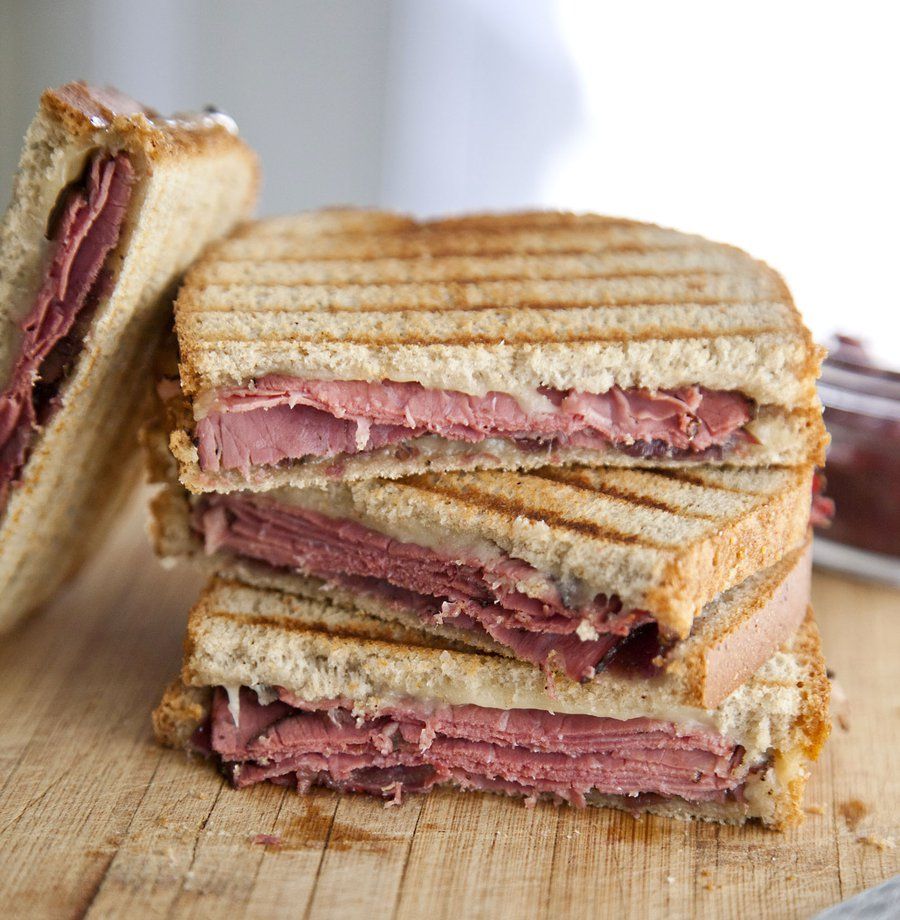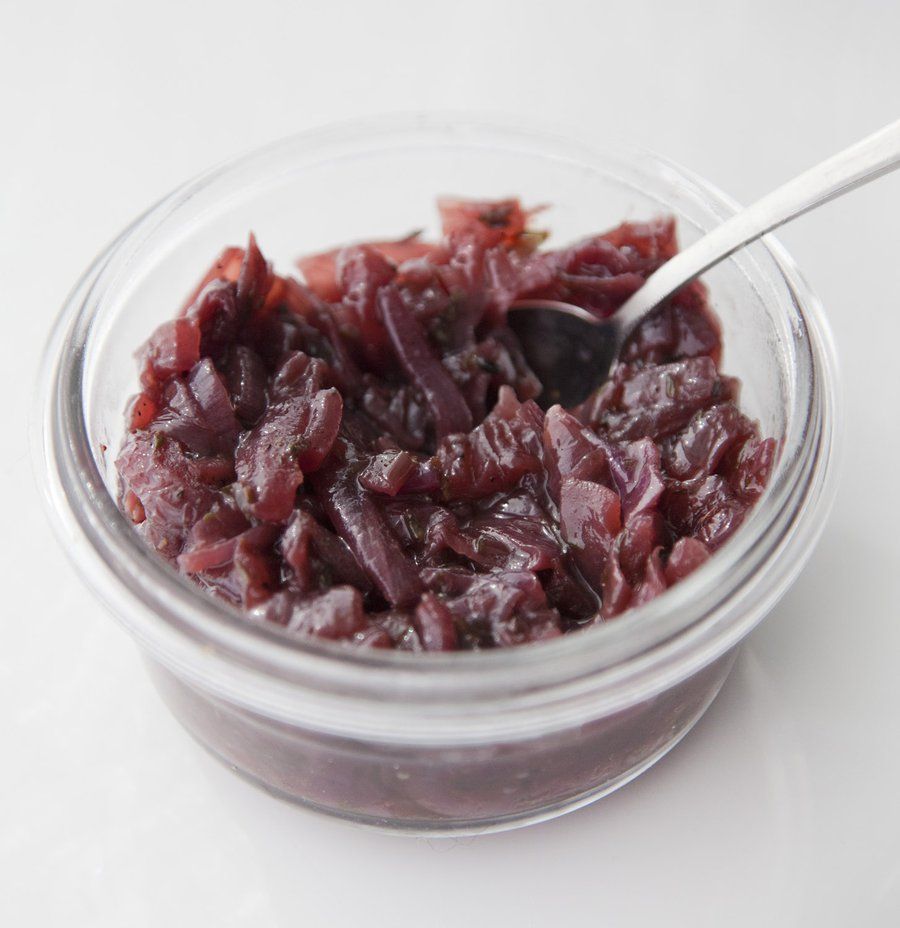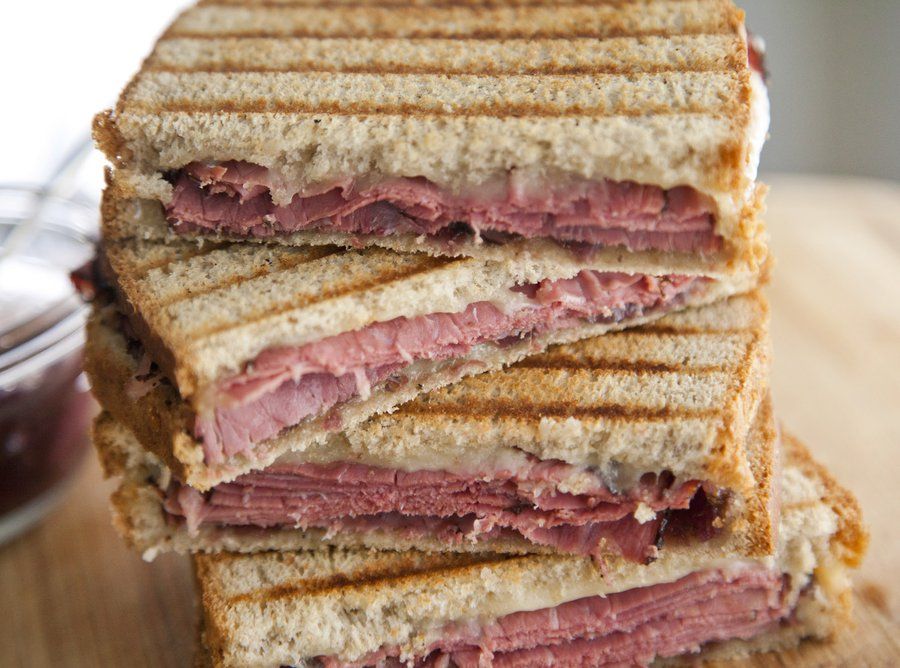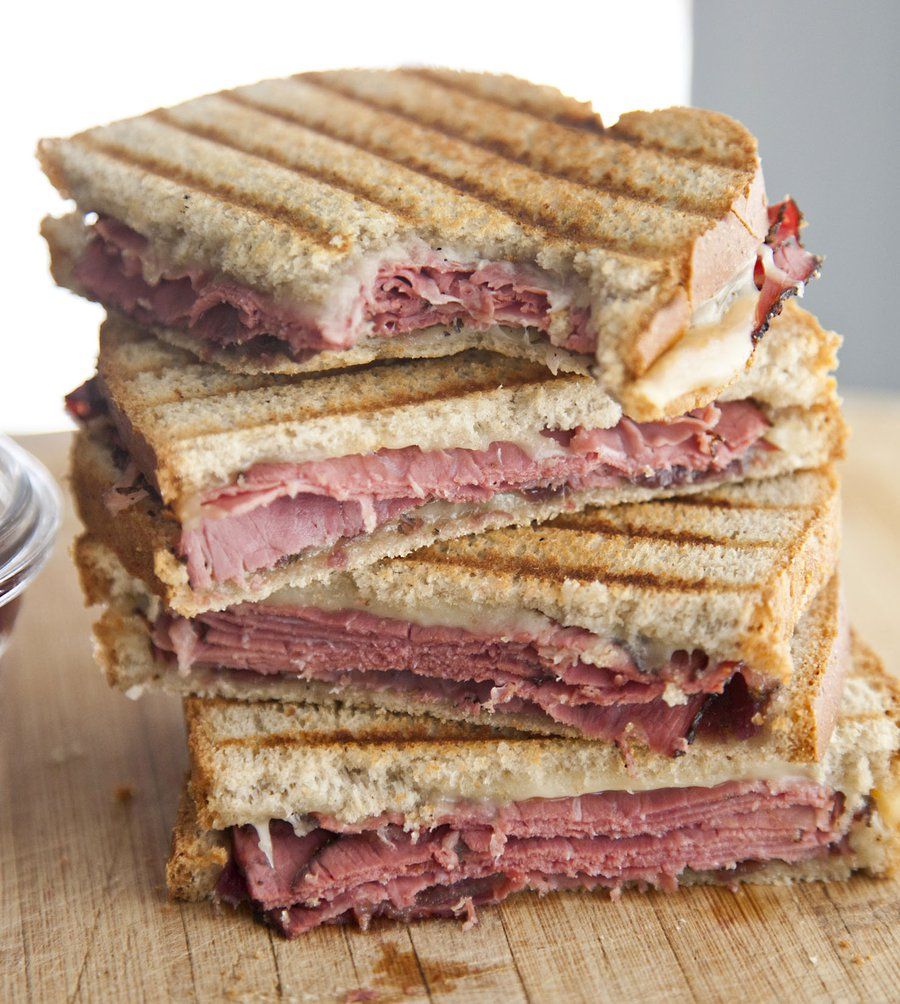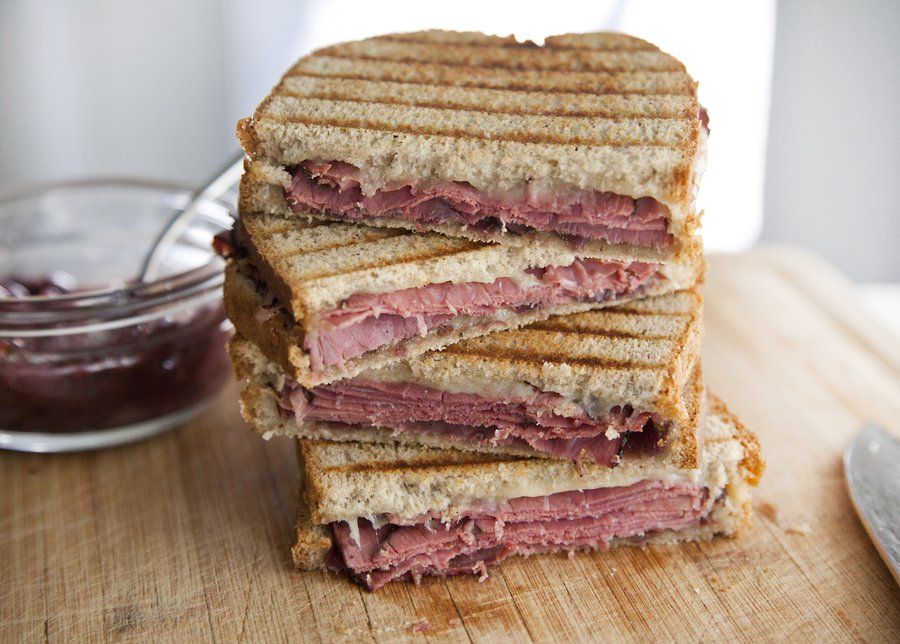 Red Onion Jam
Prep Time
---
1 Minutes

Cook Time
---
30 Minutes

Total Time
---
31 Minutes

Yield
---
Makes 1.5 cups

Ingredients
2 tsps Canola Oil
1/2 Tablespoon Butter
3 Cups Red Onion (sliced thin)
1 Teaspoon Dried Thyme
1/4 Cup Red Wine
2 T Red Wine Vinegar
1 Tablespoon Granulated Sugar
1/4 Teaspoon Black Pepper
---
Directions
In a medium sized saute pan, over a medium high heat, add your canola oil and butter. Once the butter has melted and starts to bubble add in your red onion and thyme. Over a medium/low heat, cook your onion (stirring constantly) until caramelized - about 15 minutes.
At this point, add in your red wine, red wine vinegar, sugar and black pepper and stir. Over a medium heat, cook until the liquid it's evaporated and the onions are super soft. Taste and season with salt.
Pastrami, Swiss & Red Onion Jam Panini Sandwiches
Prep Time
---
5 Minutes

Cook Time
---
5 Minutes

Total Time
---
10 Minutes

Yield
---
Makes 6 Sandwiches

Ingredients
12 Slices Rye Bread
3/4 Pound Swiss Cheese (Sliced thin)
1 Recipe Red Onion Jam (see recipe above)
1 1/4 lbs Pastrami (sliced thin)
---
Directions
To assemble the sandwiches, lay out all 12 slices of your bread and top each piece of bread with an even amount of your swiss cheese until all the cheese has been used up. On only 6 slices of the bread, add a layer of your onion jam and then top those same 6 slices with an even amount of Pastrami (until the pastrami has been used up).
Place the 6 slices of bread with only cheese on them, on top of the slices that contain all the sandwich elements to make a sandwich.
In batches, place the sandwiches in a Panini Maker and cook till golden brown on the outside. Serve hot.