One of the greatest things about having friends from different countries is learning their native food the way their grandparents taught them to make it. One of my friends, Stacey is from Seoul, Korea, and cooks the best Korean food I've ever had. She first got me obsessed with her cooking through her Korean Fried Chicken, which I attempted to recreate here. Then I got to taste her slow cooked Korean Short Ribs (I died and went to meat heaven), and most recently, she gave me my first bowl of Beef Bibimbap (complete with homemade Bulgogi Sauce and Homemade Korean Hot Sauce). I not only got to watch her prepare the Bibimbap elements (incredibly impressed with her knife skills), but was then given a full tutorial on how to create/build the bibimbap bowl with said elements and then how to mix it all together for consumption.
Needless to say, I devoured the gigantic bowl of goodness and stalked her the rest of the week asking questions about each element, various ingredients, and for her incredible recipes! I am so grateful she shared this dish with me because I made her version the other night and my husband and I both agreed it was amazing. But last night, I decided to change up my friend's Beef Bulgogi Bibimbap and make a Sticky Korean Chicken Bibimbap. I used all the same elements from Stacey's Bibimbap:
Sautéed Carrots
Sautéed Zucchini
Sautéed Shitake Mushrooms
Brown Rice
Soy Sauce
Homemade Hot Sauce
Scallions
Fried Egg
I changed the protein from beef to chicken and tried out a new recipe for a sticky chicken sauce.
The possibilities with making bibimbap at home are endless….you could go vegetarian, use beef/chicken/pork/shrimp, change up the veggies (Bok Choy, Sautéed Spinach, Avocado, Mung Beans, Bell Peppers, Avocado, Cucumber), you can also change up the various sauces you use. But the one thing I implore you to make is the Homemade Korean Hot Sauce (recipe below). I intend on making some chicken wings for the Superbowl and just tossing them in this sauce…I may even just drink the sauce on it's own because it's that damn delicious.
I look forward to hearing about everyone's Homemade Bibimbap!
Enjoy!
Recipe Notes:
I sautéed the carrots, zucchini and shitake mushrooms separately in a little canola oil with a tiny bit of salt for about 5 minutes each. You just want a little bit of color on the veggies and the mushrooms to be cooked through. I do them separately so that people can pick and choose which veggies they want in their bowl.
I make the bibimbap bowls almost like a "build your own bowl" – I put all the elements out on the counter and people can put in whatever they want and top it with whatever sauces they may like!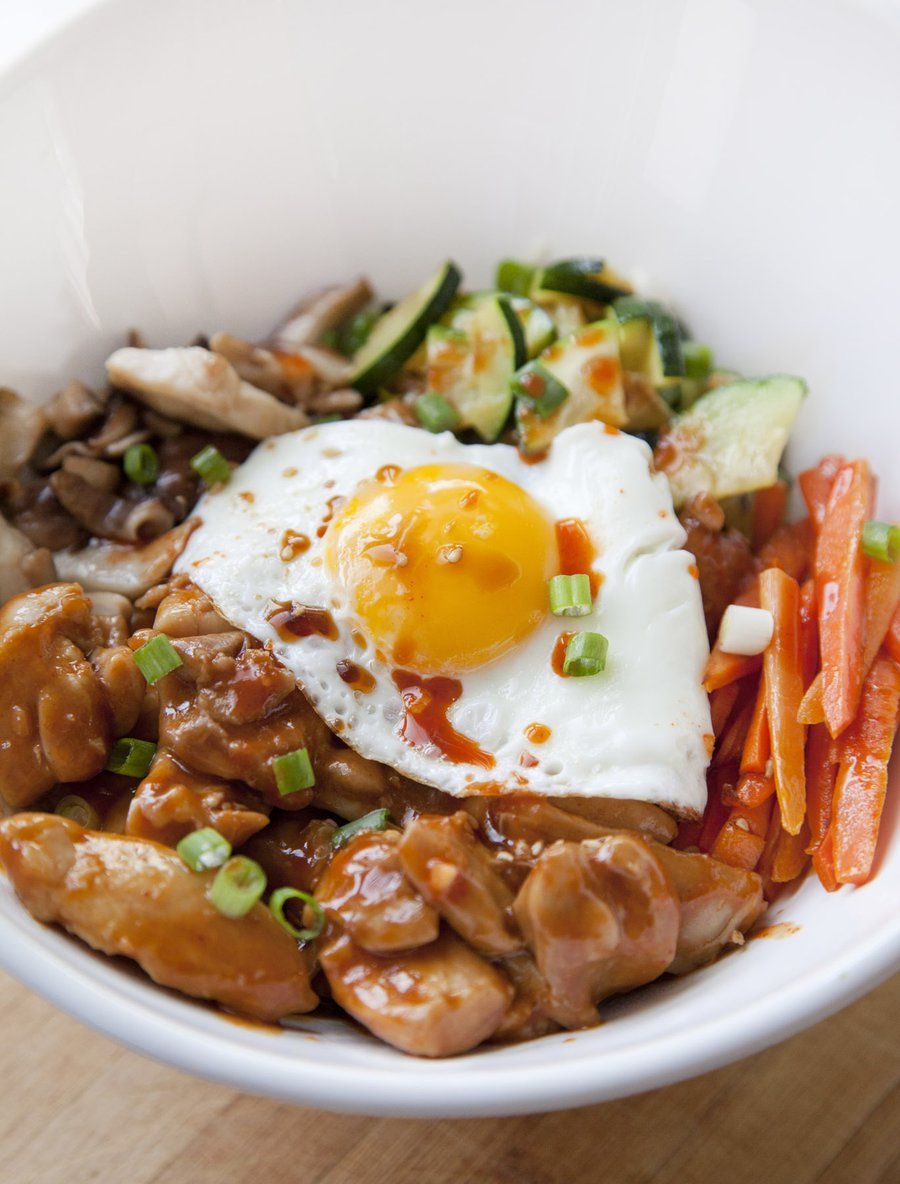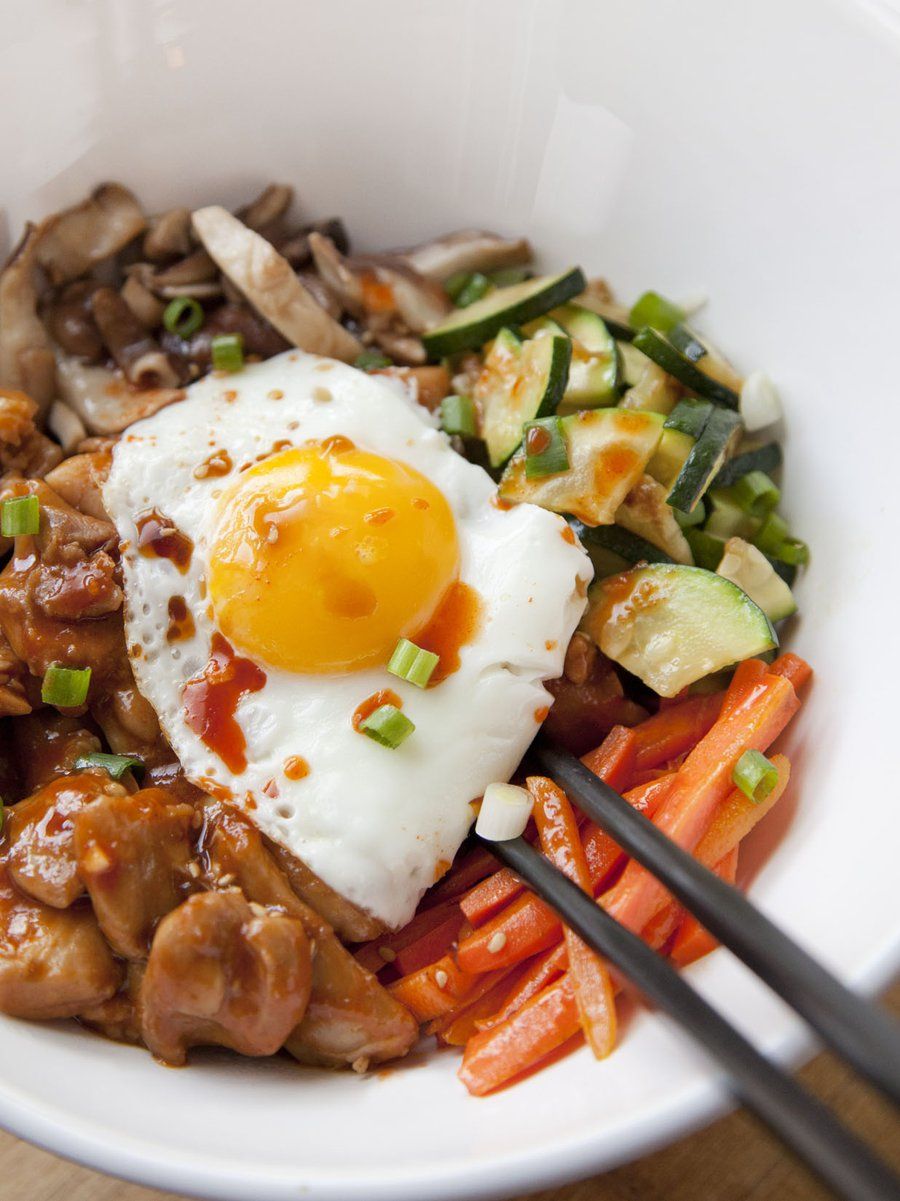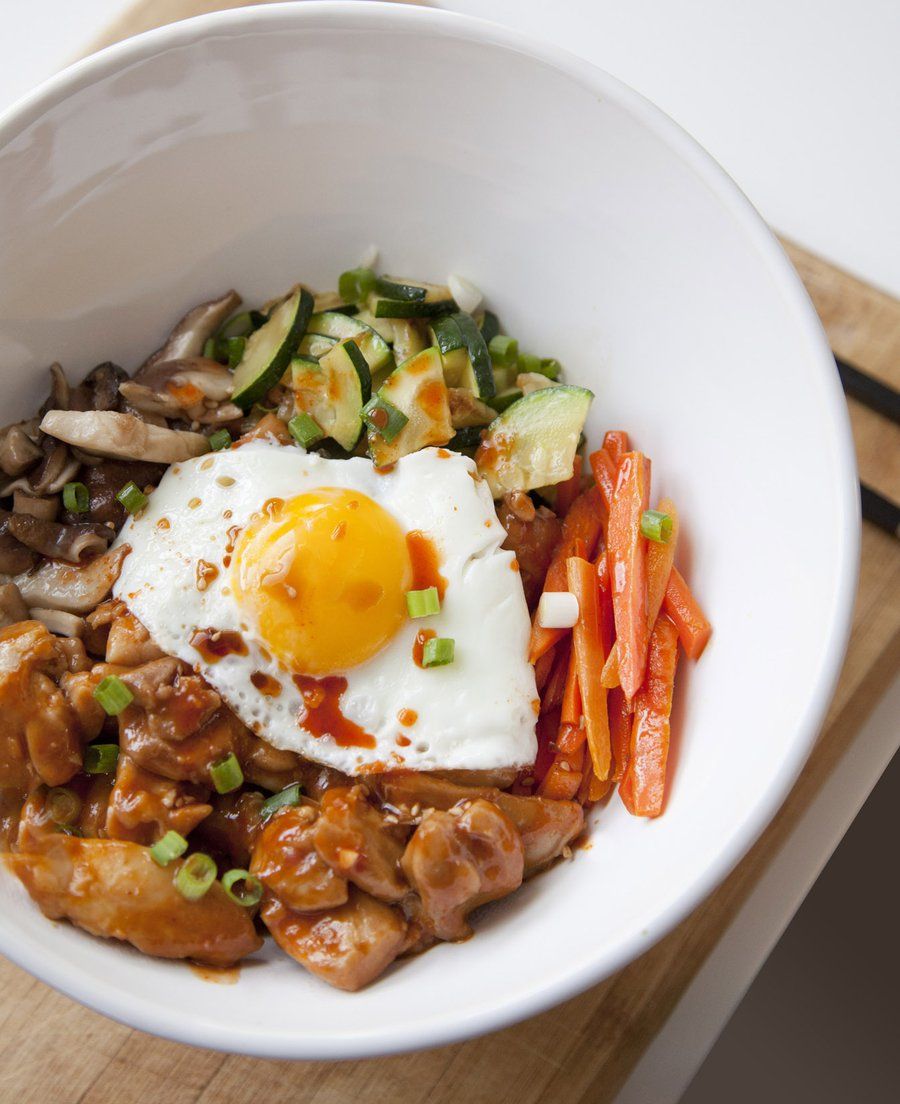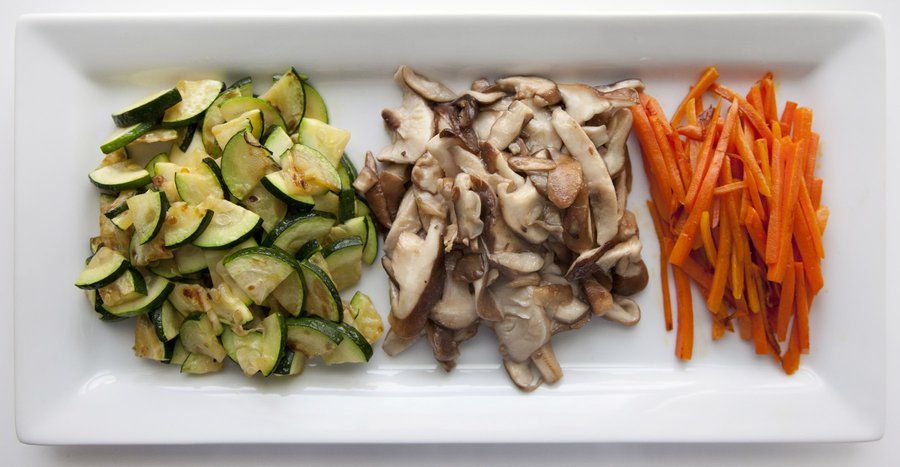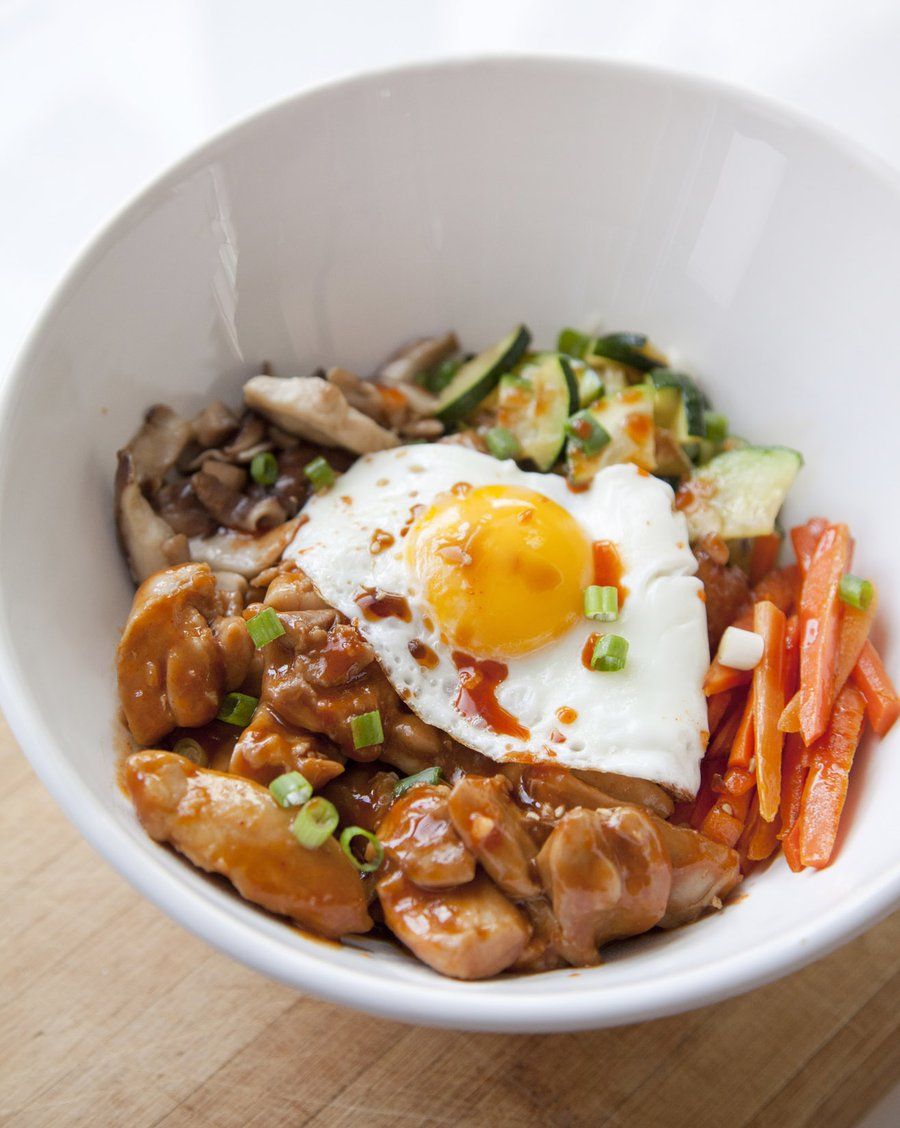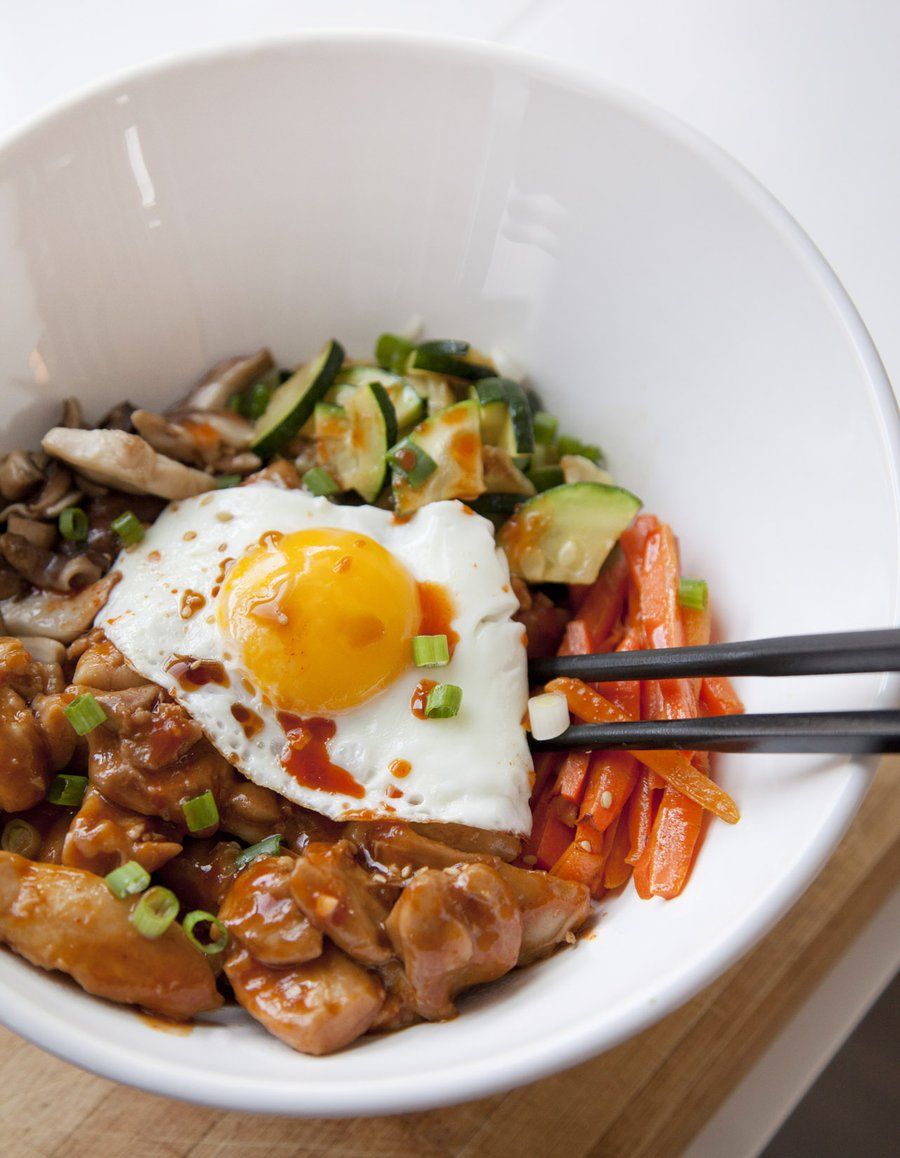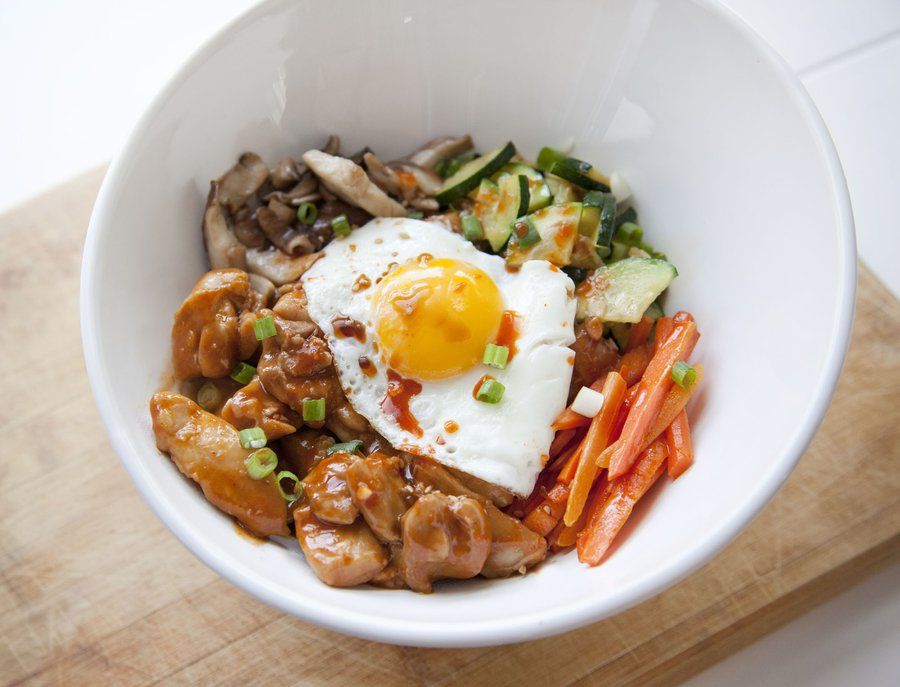 Homemade Korean Hot Sauce
Prep Time
---
5 Minutes

Total Time
---
5 Minutes

Yield
---
Makes 1/2 cup of Sauce

Ingredients
2 T Gochujang Korean Chili Paste
2 T Plum Sauce
1/2 Tablespoon Soy Sauce
1 Tablespoon Mirin
1/2 Tablespoon Garlic (minced)
3 T Water
1/2 Teaspoon Sesame Seeds
---
Directions
Whisk all ingredients together in a small bowl - can be kept in an airtight container in the fridge for a few weeks.
Spicy Chicken Bibimbap
Prep Time
---
10 Minutes

Cook Time
---
15 Minutes

Total Time
---
25 Minutes

Yield
---
Serves 4

Ingredients
2 1/2 lbs Boneless Skinless Chicken Thighs (cut into bite sized pieces)
1 Tablespoon Garlic (minced)
2 T Low Sodium Soy Sauce
2 T Rice Vinegar
1 1/2 tsps Gochujang Korean Chili Paste
1 Teaspoon Sesame Oil
1/4 Cup Ketchup
2 T Plum Sauce
1 Tablespoon Light Brown Sugar
1 Teaspoon Ginger Root (grated on a microplane)
1 1/2 tsps Cornstarch
---
Directions
Cut the chicken thighs into small bite-sized pieces.
Combine all elements except the chicken and cornstarch in a bowl and whisk together until combined.
Heat a large saute pan over a high heat, with about 1 Tablespoon of Canola Oil and cook your chicken in it until it's fully cooked through. Remove the chicken with a slotted spoon and place on a plate. Leave the chicken drippings in the pan.
With the heat still on high, pour the contents of your bowl from step 2 into the pan and whisk it in with the chicken jus that remains in the pan. Bring the liquid to a boil and cook for about a minute or two, whisking constantly.
In a separate small bowl, stir together your cornstarch with 1 tablespoon of water until the cornstarch has dissolved. Add this into your saute pan while the mixture is boiling, and whisk together with your sauce. This will thicken your sauce and make it nice and glossy.
At this point, add your chicken back into the saute an and toss completely in the sauce.
Spicy Chicken Bibimbap Bowl
Prep Time
---
5 Minutes

Cook Time
---
5 Minutes

Total Time
---
10 Minutes

Yield
---
Serves 4

Ingredients
2 Cups Brown Rice
3 T Rice Vinegar
2 T Sugar
1/2 Teaspoon Sea Salt
1 Recipe Spicy Chicken Bibimbap (recipe above)
5 Carrots (peeled, julienned, and lightly sautéed)
2 Zucchini (cut into thin sliced, lightly sautéed)
10 oz Shitake Mushrooms (sliced thin and lightly sautéed)
4 Eggs (fried with a runny yolk)
4 Scallions (sliced thin)
Low Sodium Soy Sauce (for serving)
Homemade Korean Hot Sauce (recipe above - for serving)
---
Directions
Cook your Brown Rice according to the package. While the Brown rice is cooking combine together in a small bowl your Rice Vinegar with your sugar and sea salt. Put the bowl in the microwave and cook on high until the sugar and salt have dissolved (you will need to stir it together to combine). Allow this mixture to cool. When your rice is done cooking, using a wooden spoon or paddle, stir in this vinegar mixture until fully incorporated.
To Assemble the Bowl (this makes 4 large bowls): Add your rice at the bottom of the bowl. Top with Chicken, Carrot, Zucchini and Mushrooms. Add in some scallions and top finally with 1 fried Egg per bowl. You can then add in soy sauce or the Korean Hot Sauce (recipe above). Serve hot.
*Encourage your eaters to mix everything in the bowl together before eating! Everything should be combined!