Let me preface this blog post by saying, this was the first time I ever indulged in a Poke Bowl. When we lived in NYC, Poke Bowls were just starting to become a fad, and a Poke place even opened right next to our apartment, but I had never actually tried one prior to making one last night.
So what is Poke?
Poke is diced raw fish served either as an appetizer or as a main course and is one of the main dishes of Native Hawaiian cuisine. Poke means "to slice or cut" hence the way the bowl looks with sliced or cubed fruits, veggies and protein.
I was instantly attracted to the Poke Bowl because I think they just look sexy AF. The colors, the fresh fish, the ability to mix and match ingredients, and the fact that it can incorporate Japanese flavors all led to my desire to create my own Poke Bowl.
While Poke originated in Hawaii, many it is heavily influenced by Japanese or other Asian cuisines, so it had me thinking back to the first time I ever tried raw fish. I was friends with a girl in 3rd grade who would bring California Rolls to school for lunch. I remember thinking she was so cool because she ate sushi. Obviously in reality, California Rolls are like the diet coke of sushi because they not only don't contain any raw fish but they're typically made with "imitation crab" which just the name of makes me want to gag. Fast forward a few years, I think the first time I tried sushi, like REAL sushi, not a California Roll, I was in high school. We had this awesome sushi place in our town called Misaki, and my parents and I would frequent it a few times a month. My parents always ordered and shared the Sushi Deluxe, which was both intimidating in size and in the variety of raw fishes it contained. So one day, after having seen this boat of sushi devoured by my parents thousands of times, I decided I would dare and try my first piece of raw fish. The Tuna always looked the most appetizing to me…the deep red color contrasting with the bright white sushi rice….it always looked incredibly appealing. Spoiler alert: it was delicious and I was immediately hooked on all things raw fish related.
With that being said, I knew if I were to create my own Poke Bowl it had to feature my first raw fish love: Tuna.
My Poke bowl also needed to contain various flavors, textures and colors as well….
Avocado for the green creamy deliciousness that it has
Mango for it's sweetness and bright yellow color
Nori for the crunchy salty, umami bite
Cucumber for some more crunchy textures and bright, clean flavor
Both Black and White Sesame seeds to make it look pretty
Scallions for a subtle onion flavor
A drizzle of homemade spicy mayo which adds a little heat without overpowering the delicate nature of the Tuna….plus any drizzle always looks pretty
I also made my bowl with Brown Sticky Rice, but you can really make it with any rice you want….Sushi Rice, Jasmine…whatever you prefer.
Some other topping option include: Edamame, Carrots, Cilantro, Lettuce, Jalapenos …the options and combos are endless.
Also, if you aren't a fan of Tuna (I am crying on the inside), you can make this dish with Salmon as well….both work and both will taste delicious and look beautiful! The one thing you MUST do is get Sushi Grade Fish since this fish is essentially raw.
Enjoy!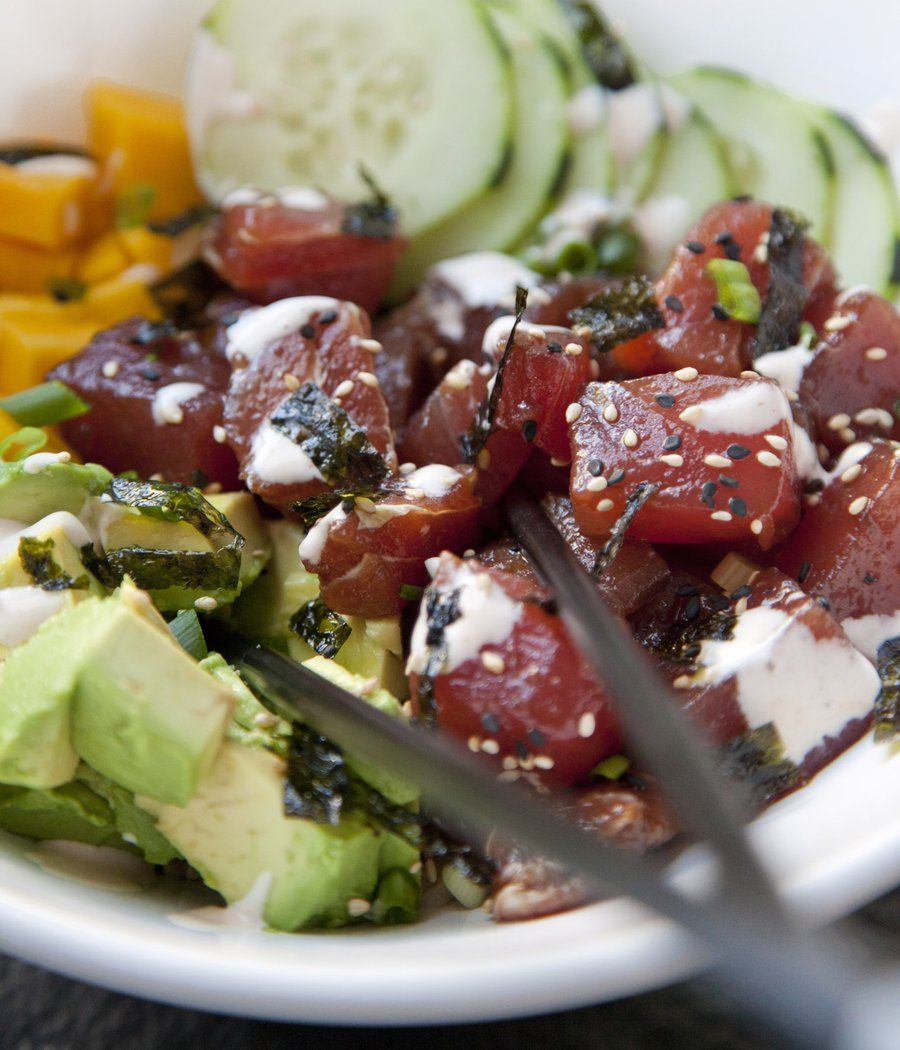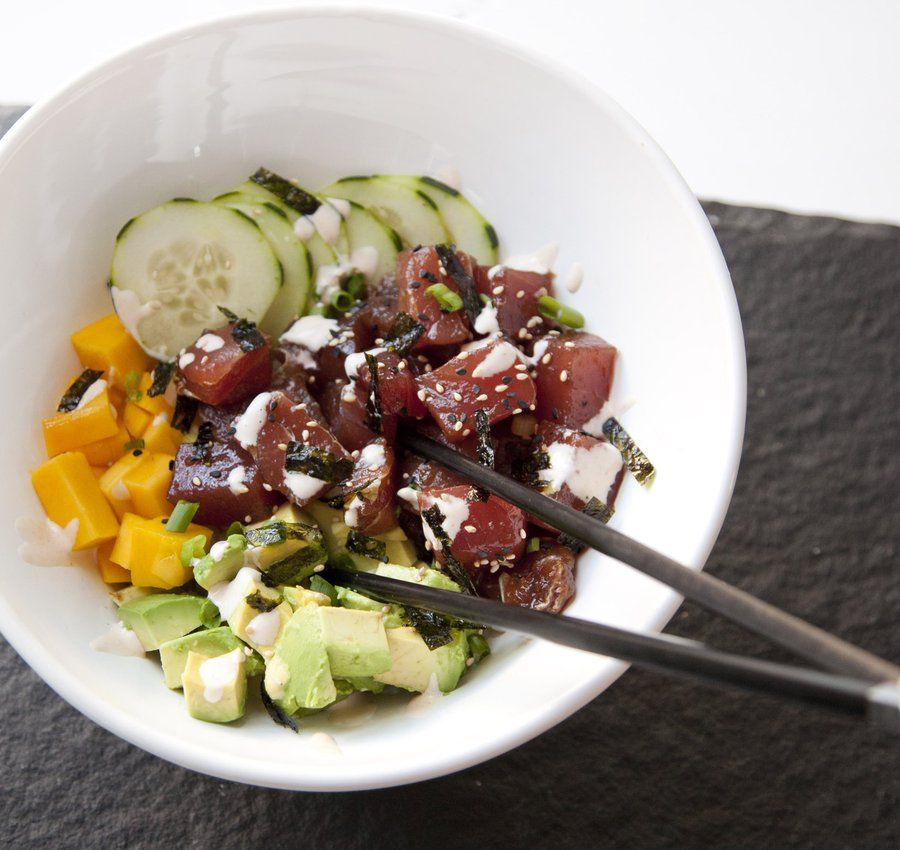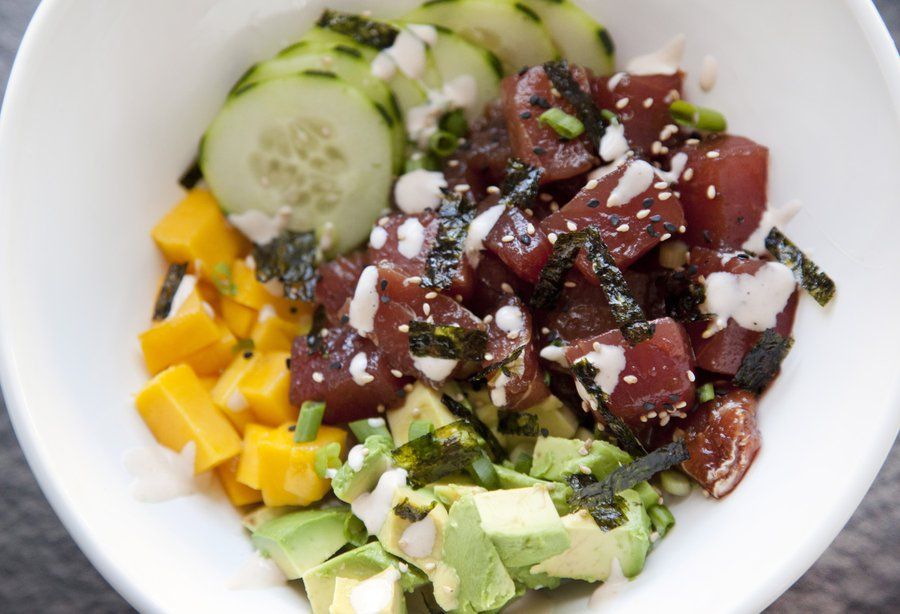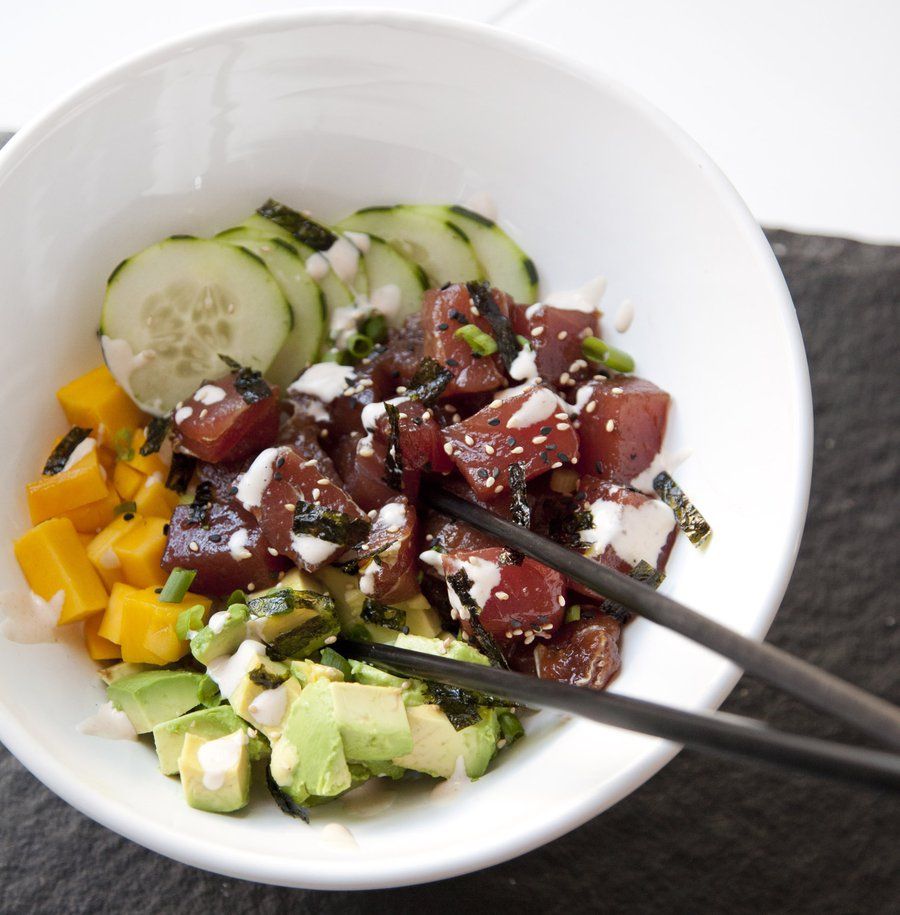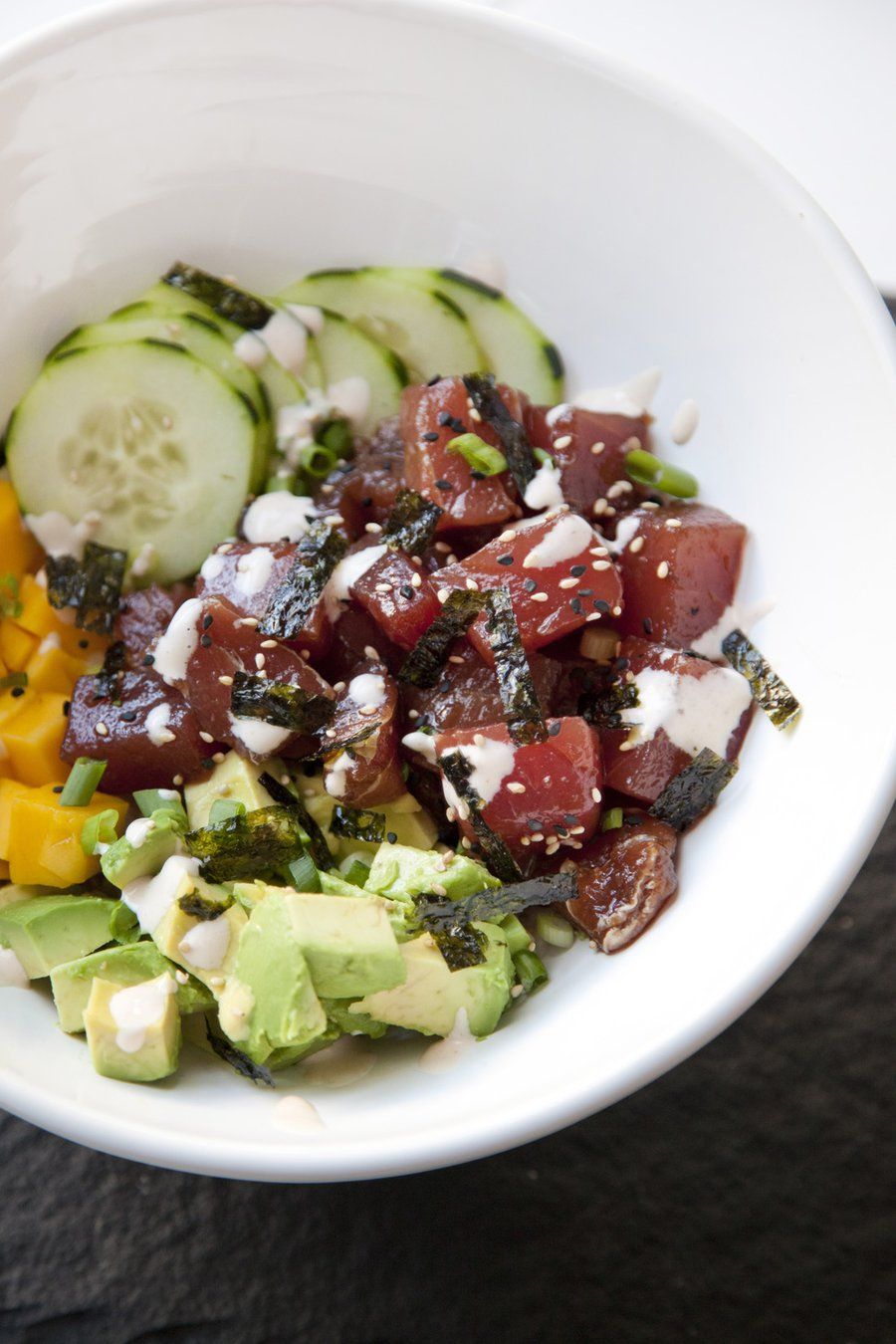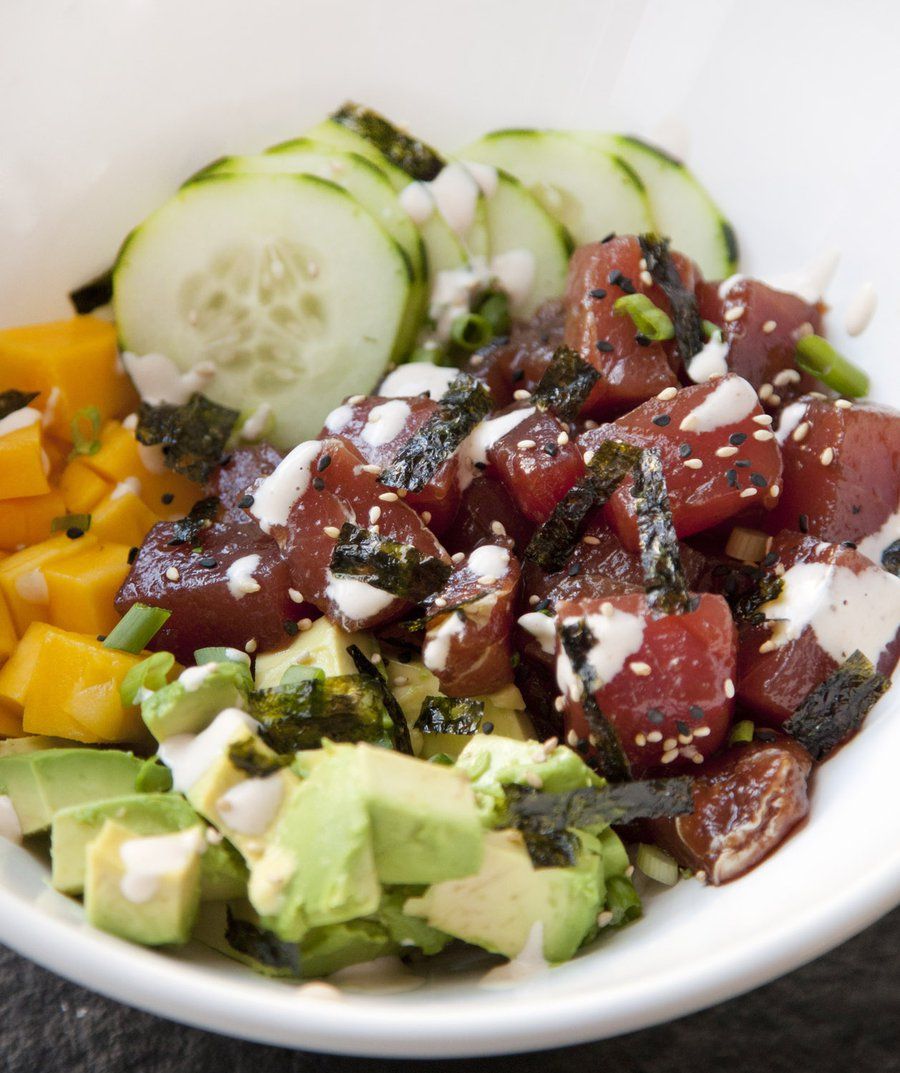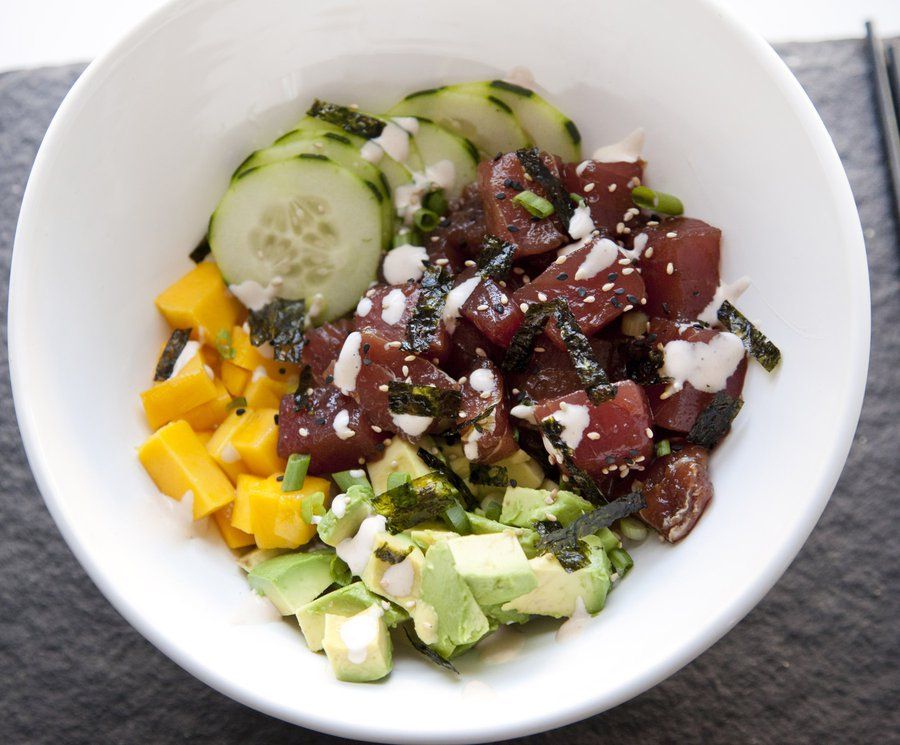 Yellowfin Tuna Poke Bowls
Prep Time
---
25 Minutes

Total Time
---
25 Minutes

Yield
---
Serves 4

Ingredients
2 Cups Brown Rice (Cooked according to the package)
3 Rice Vinegar (divided)
2 Tablespoon Granulated Sugar
1/2 Teaspoon Sea Salt
2 lbs Sushi Grade Yellowfin Tuna (cut into 1/2" chunks)
1/4 Cup Low Sodium Soy Sauce
1 1/4 tsps Mirin
1 1/2 tsps Sesame Oil
2 Avocados (sliced thin or in chunks)
1 Cucumber (peeled and sliced thin)
1 Mango (cut into small chunks)
Black and White Sesame Seeds (for garnish)
1/2 Cup Scallions (sliced thin)
4 Sheets Snacking Nori Seaweed (julienned)
2 T Mayonnaise
3/4 tsps Frank's Red Hot
1/2 Teaspoon Lime Juice
---
Directions
Cook your Brown Rice according to the package. While the Brown rice is cooking combine together in a small bowl 3 Tablespoons of your Rice Vinegar with your sugar and sea salt. Put the bowl in the microwave and cook on high until the sugar and salt have dissolved (you will need to stir it together to combine). Allow this mixture to cool. When your rice is done cooking, using a wooden spoon or paddle, stir in this vinegar mixture until fully incorporated.
For the Tuna: Cut your tuna into 1/2" chunks and place in a bowl. Stir in your Soy Sauce, Mirin, Sesame Oil and the remaining 1.5 teaspoons of rice vinegar. Stir together to combine. Keep refrigerated untily you're ready to use.
For the Spicy Mayo: Combine your Mayonnaise, Hot Sauce and Lime Juice together - put in a small squeeze bottle for easy drizzling. I used Frank's Red Hot but you can also use Sriracha or whatever hot sauce you like best.
To Assemble the Poke Bowls (this will make 4 bowls): Divide the Brown Rice evenly in all 4 bowls. Top each bowl with Tuna, Avocado, Cucumber, and Mango. Sprinkle the Sesame Seeds on just the fish. Sprinkle on the Nori and the Scallions on the whole bowl. Finish off with a drizzle of Spicy Mayo. Serve immediately.