Despite the incessant snowfall we seem to be getting currently  in New Jersey, there are random moments when you smell the air and it smells just like spring. I feel like spring has a certain crisp, hopeful smell to it, and I smelled it this morning on my daily walk....and since all things lead back to food when it comes to me, this smell inspired the flavors and ingredients of today's pizza.
Spring produce, like heirloom tomatoes, basil, and the likes, are some of my favorite foods to work with. I love that really good tomatoes and basil can be a dish on their own or they can be combined with cheeses and/or proteins to make them into a variety of dishes.
My husband, being the dough maker in the house, expressed the desire to use his sourdough starter in a pizza dough...so with our combined efforts, this pizza was born. I have really been getting into making White Pizza lately (pizza, sans tomato sauce) because I feel like the toppings you can add are endless. White Pizza to me is like a blank canvas with limitless combinations of flavors, textures, and colors...which as a chef and visual eater, appeals to me.
Like I said, my husband was in charge of making the dough, and he's been using the techniques of Ken Forkish and his book, Flour Water Salt Yeast (which has become a quarantine bible of sorts around here). He followed Forkish's "Sourdough Pizza Dough" recipe using the Sourdough starter that he's been feeding since June 2020. This batch was particularly tasty because my daughter, Mayzie helped (see photo below) #proudmama
I also topped the cooked pizza with my newest cheese discovery, Stracciatella, which I can best describe as the insides of a burrata ball. It's creamy, sweet and a little salty, and balanced out the finishes pizza beautifully!
Enjoy!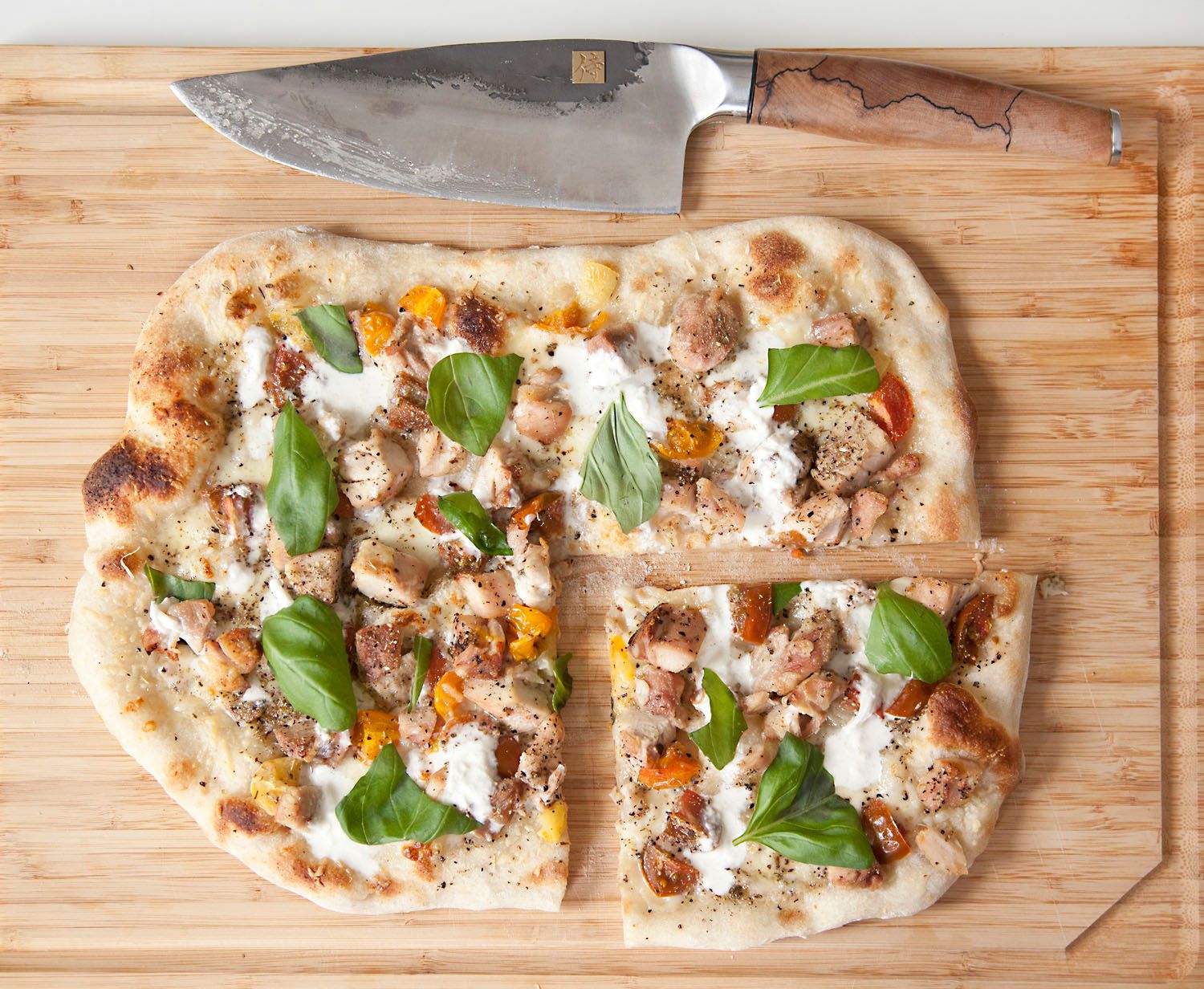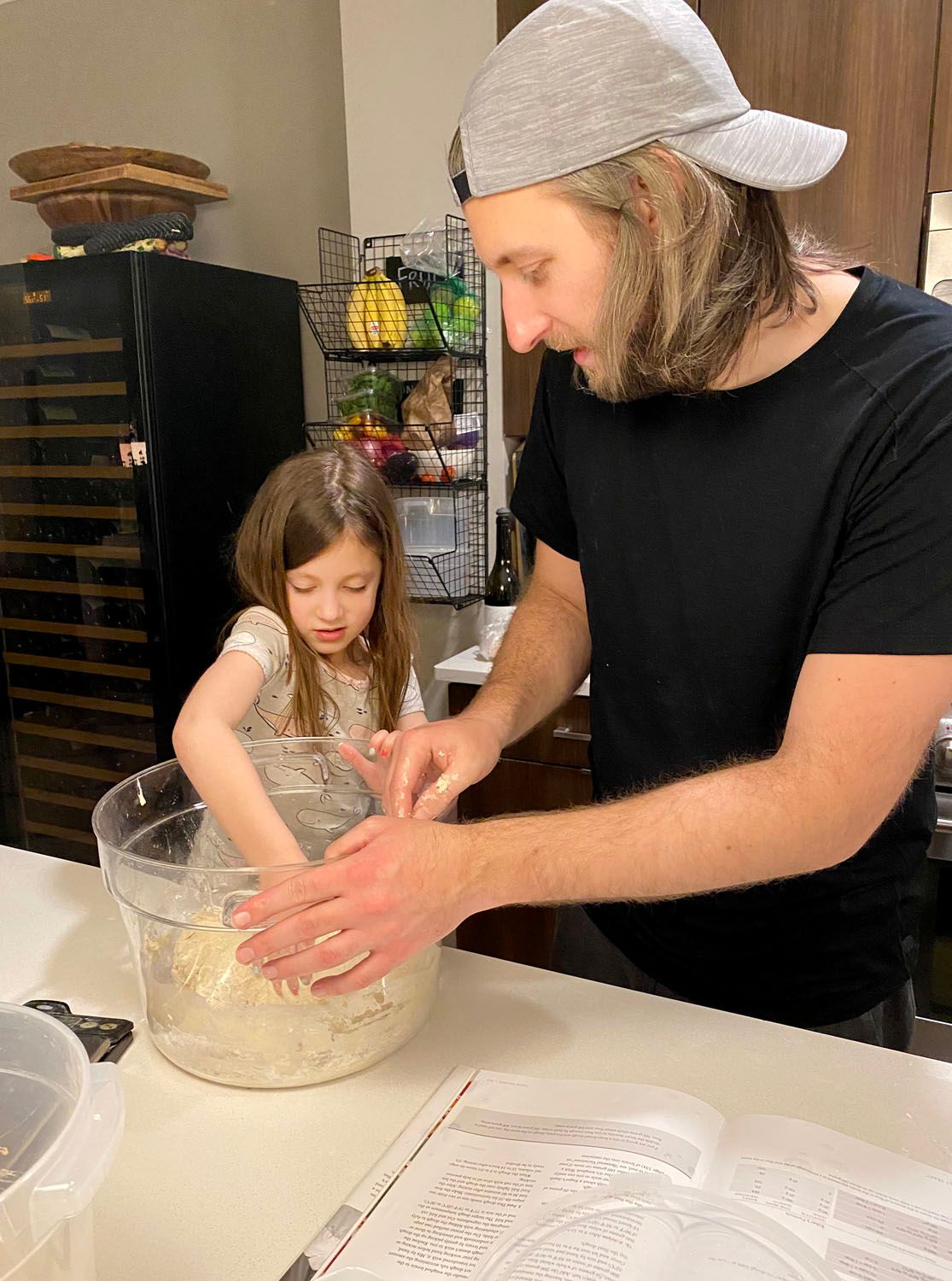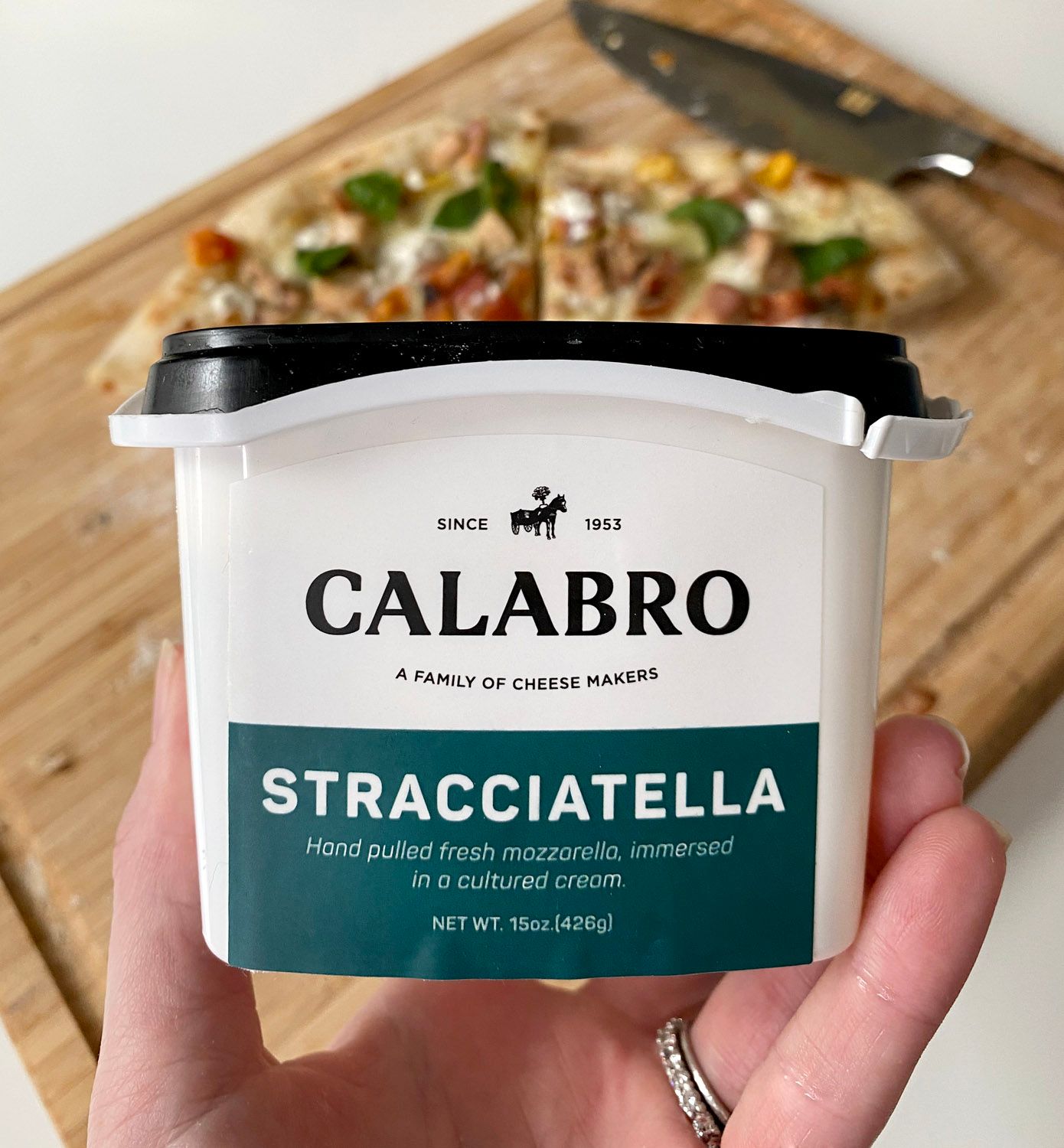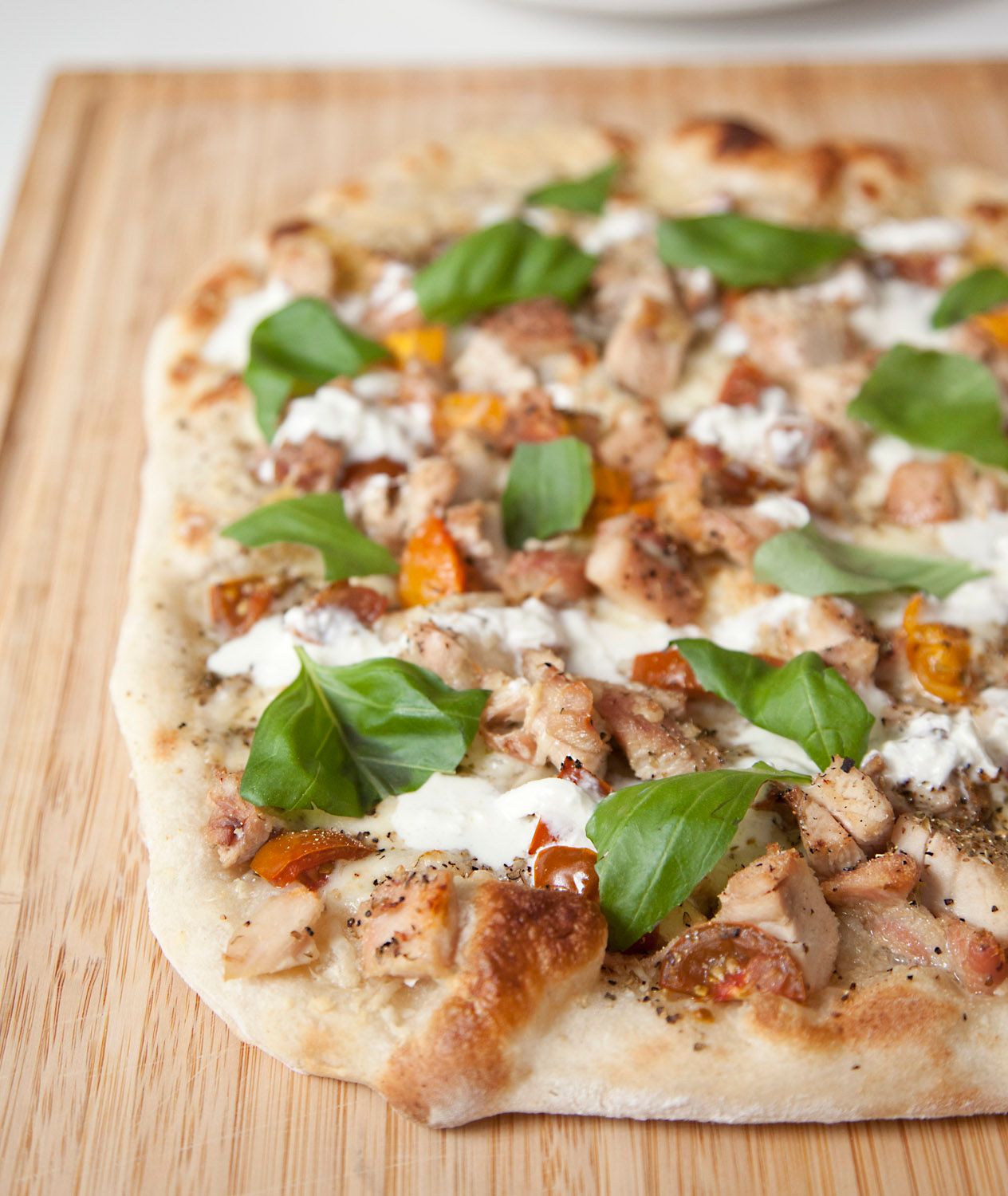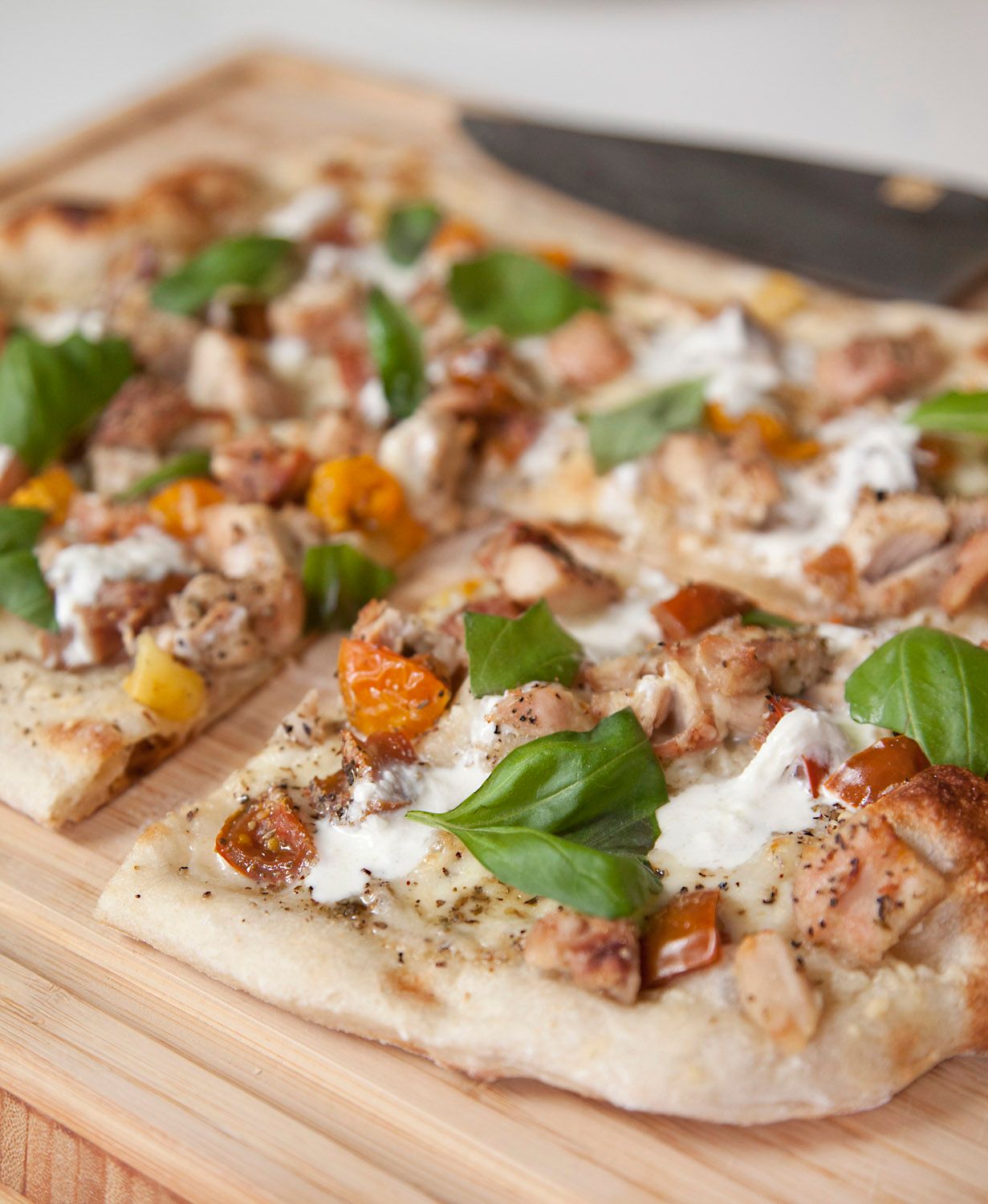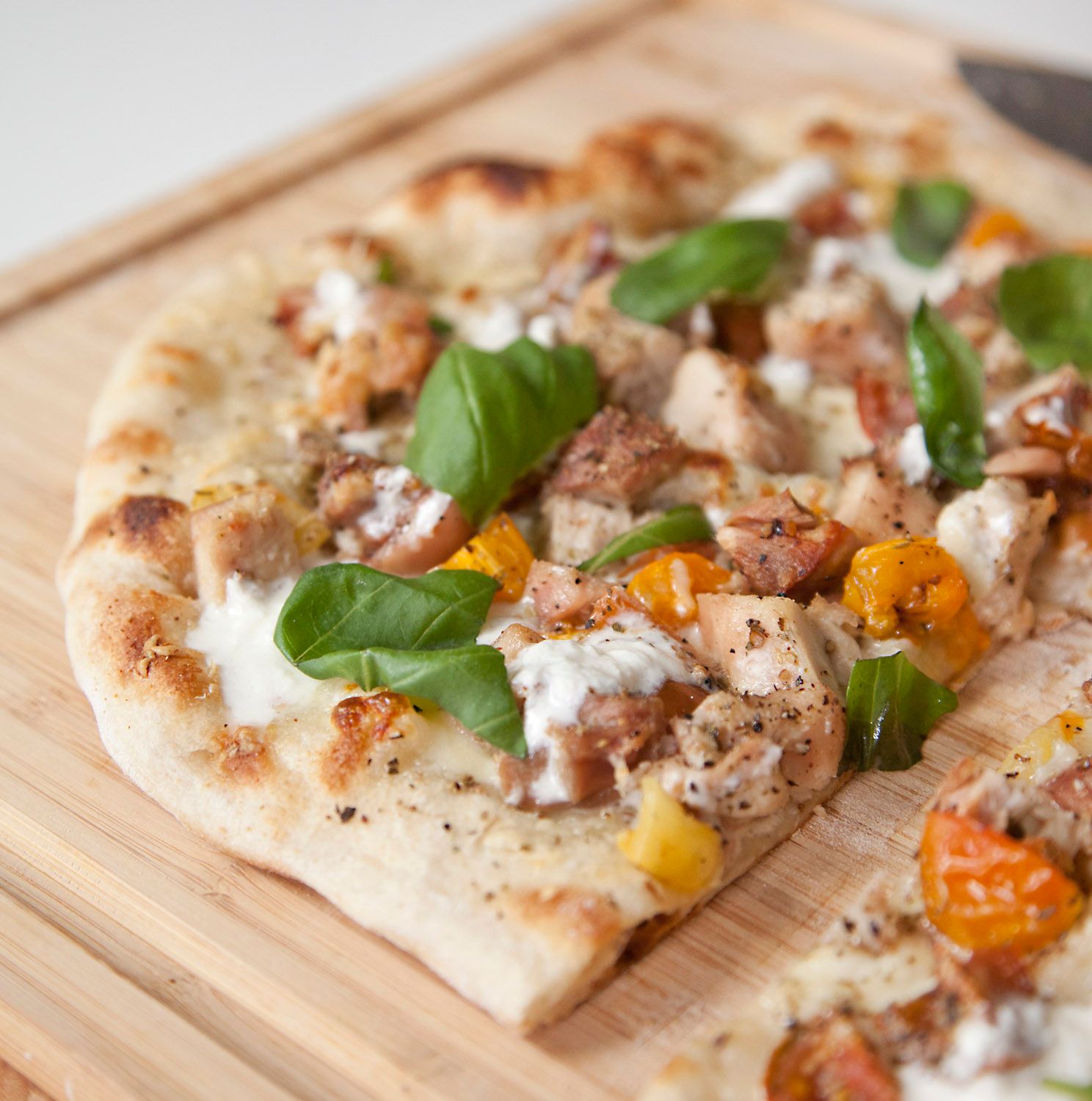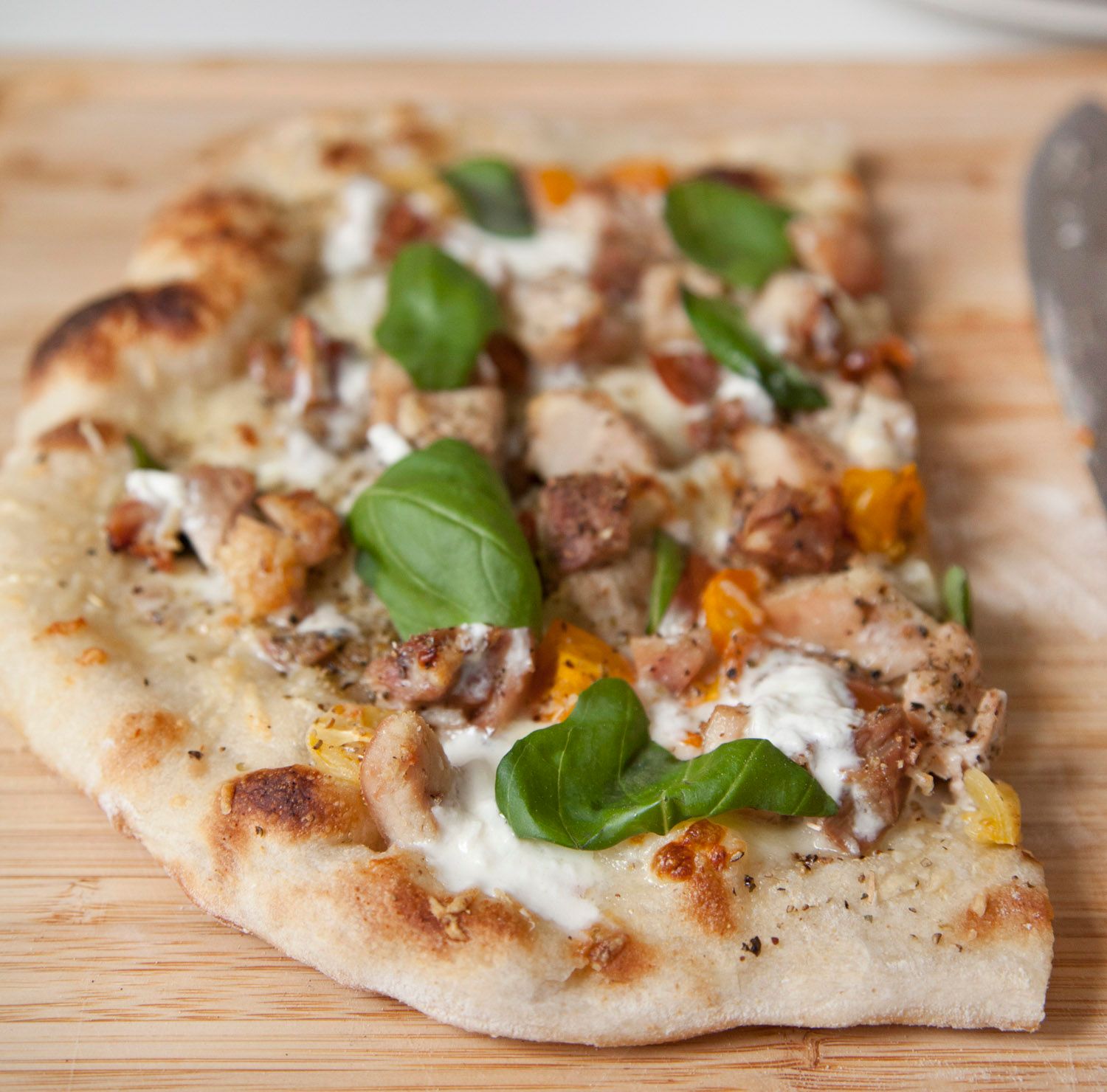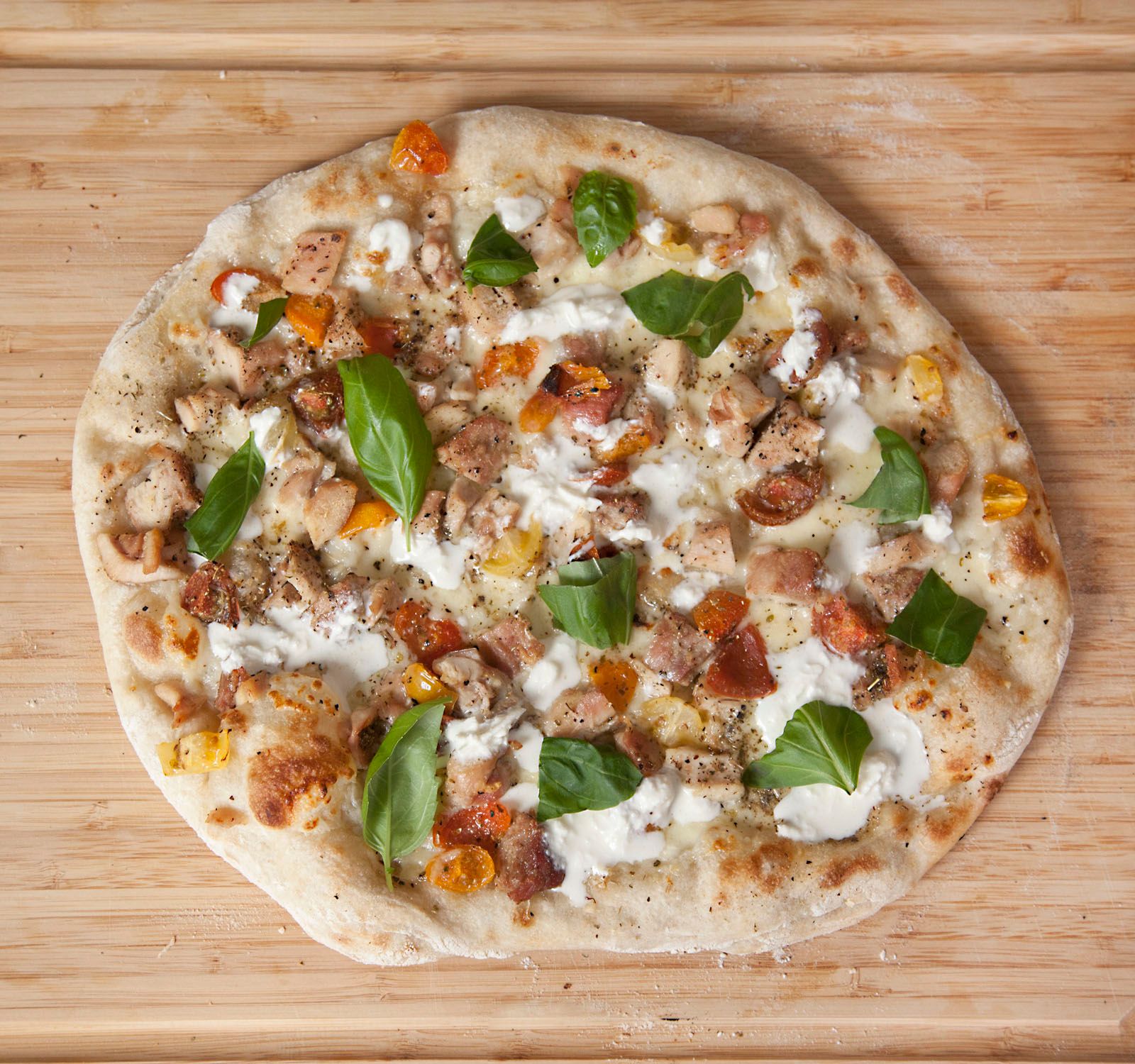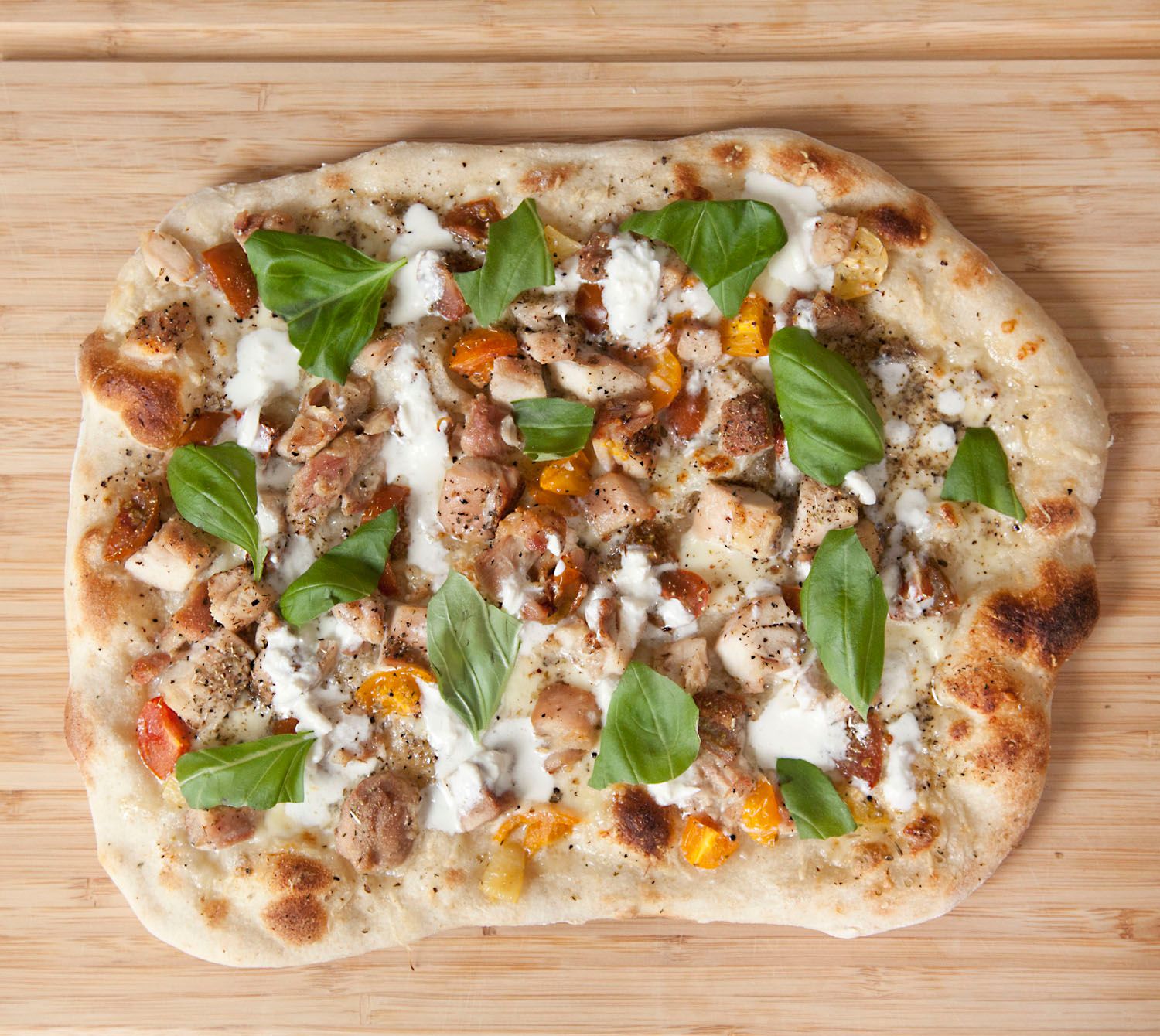 Sourdough White Pizza with Chicken, Tomato & Basil
Prep Time
---
45 Minutes

Cook Time
---
8 Minutes

Total Time
---
53 Minutes

Yield
---
Makes 2, 15" Pizzas

Ingredients
2, 12oz Sourdough Pizza Dough Balls
8 ounce Ball of Mozzarella, sliced thin
3/4 cup Pecorino Romano, grated
2 cups Cooked Chicken, breast or thigh, whatever you prefer
1 cup Mini Heirloom Tomatoes, diced small
1 teaspoon Garlic Powder
1 teaspoon Dried Oregano
1/2 teaspoon Course Ground Pepper
Stracciatella Cheese, for drizzling
Basil, for garnish
---
Directions
Note: this makes two pizzas - so divide the cheeses, chicken, tomatoes, and spices evenly between each pizza!
Preheat your oven to 525 degrees with your pizza stone in it. Make sure the stone is placed 8 inches from your broiler. Once the oven has reached 525 degrees, leave your pizza stone in there for 30 extra minutes to heat up.
Once your pizza stone has heated in the oven for the full 30 minutes, it's time to assemble your pizza.
Prepare a pizza peel or cutting board by generously flouring the surface
Stretch pizza between your knuckles, gradually spreading until it reaches desired diameter
Apply the cheeses to the dough as desired (I like to place the mozzarella in random spots to give it a rustic feel, and then I sprinkle the Pecorino over it in an even layer).
Add the chicken, then tomatoes, spacing them out evenly across the pizza. Then top with a sprinkling of the garlic powder, oregano and black pepper evenly over the whole pizza.
Transfer the dough into the oven by sliding from the peel/cutting board onto the pizza stone. A flick of the wrist helps the process without disrupting topping placement.
Bake at 525 degrees for 5 minutes. Change oven to Broil and cook another 2-3 minutes.
Remove from oven with tongs. Top with a generous drizzle of the Stracciatella and fresh basil and serve immediately.