Since quarantine began, and I haven't been allowed to go to the gym, I've been walking around my neighborhood instead for my morning exercise and ritual "head clearing". I find I do my best thinking while working out...my mind stands still while my body moves and it's the one part of the day where I can gather my thoughts, think creatively without interruption, and it's typically where I get my inspiration for cooking.
On today's walk, I was greeted by some incredible pre-spring weather....birds were literally chirping, the sun was warm on my face, and snow was melting right before my eyes. I took an extra long walk today and decided that since I walked 5 miles, I deserved my favorite thing in the world: pasta.
I had recently bought this beautiful dried Pappardelle pasta that I've been holding on to (for some inexplicable reason), and decided today was the day for it's consumption.
I had some beautiful basil and about 10 different types of Italian cheese in the fridge so I decided on a simple Basil Pesto Sauce using Ricotta and Parmesan, then topping the whole thing with a fresh ball of creamy Burrata.
Enjoy!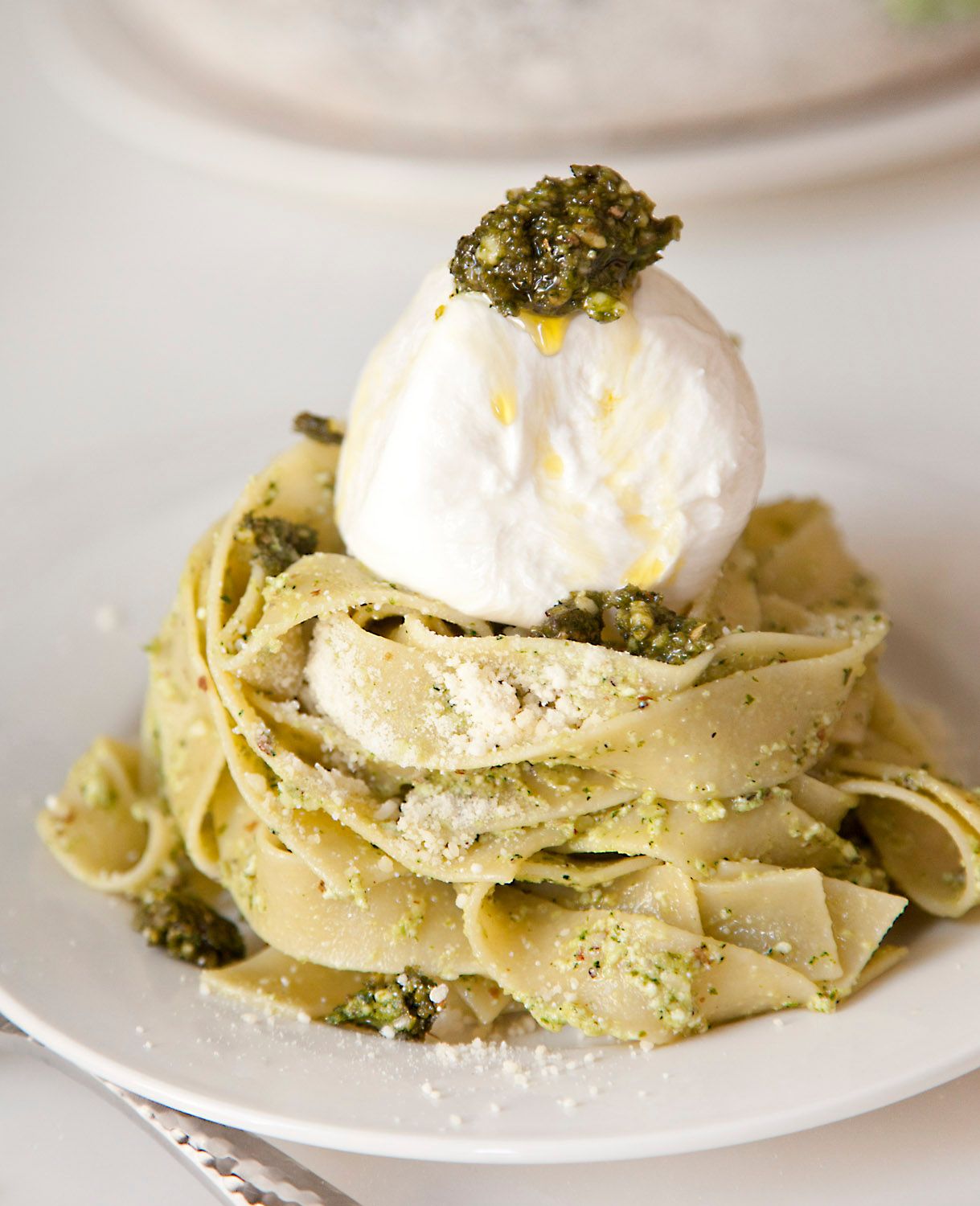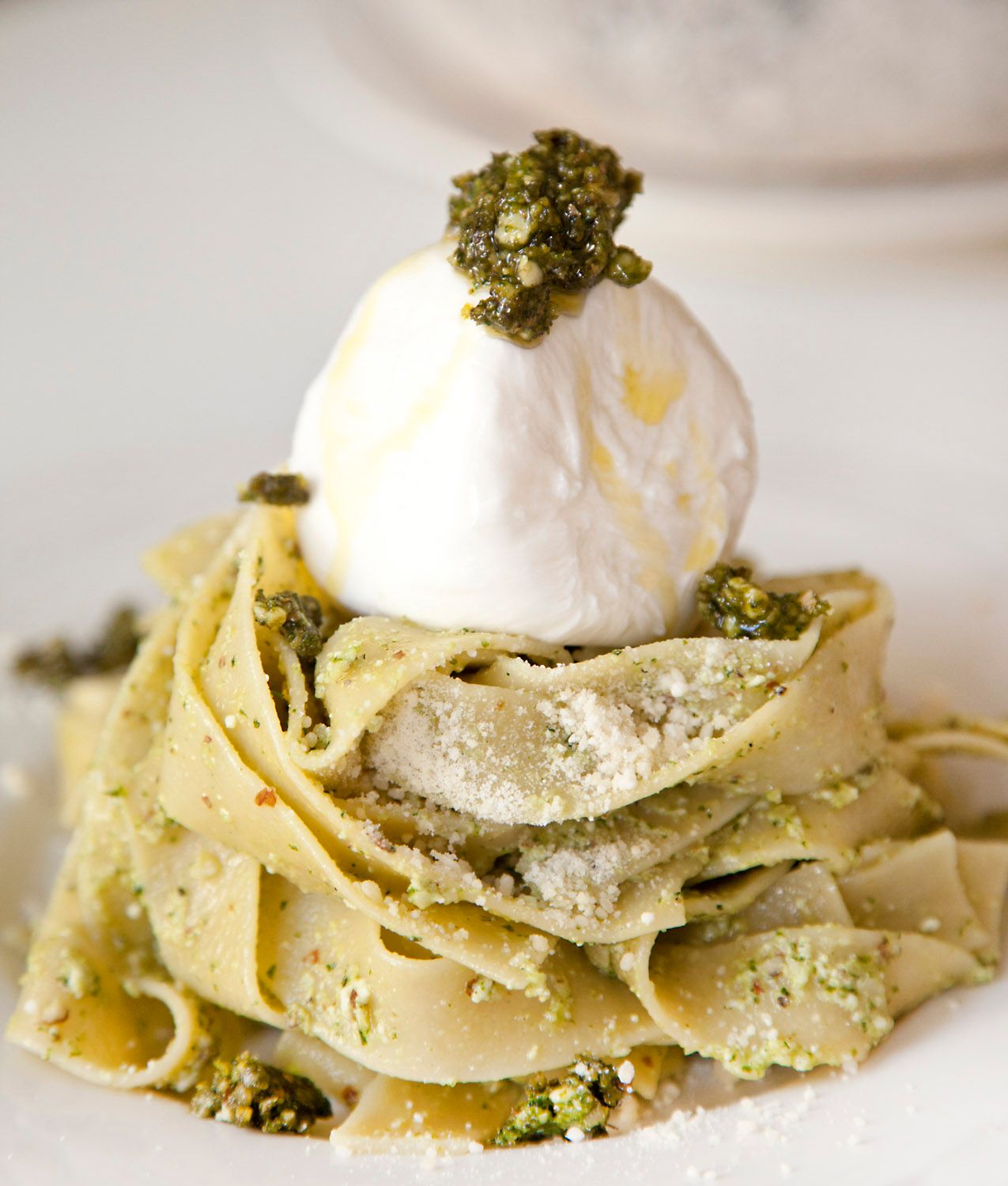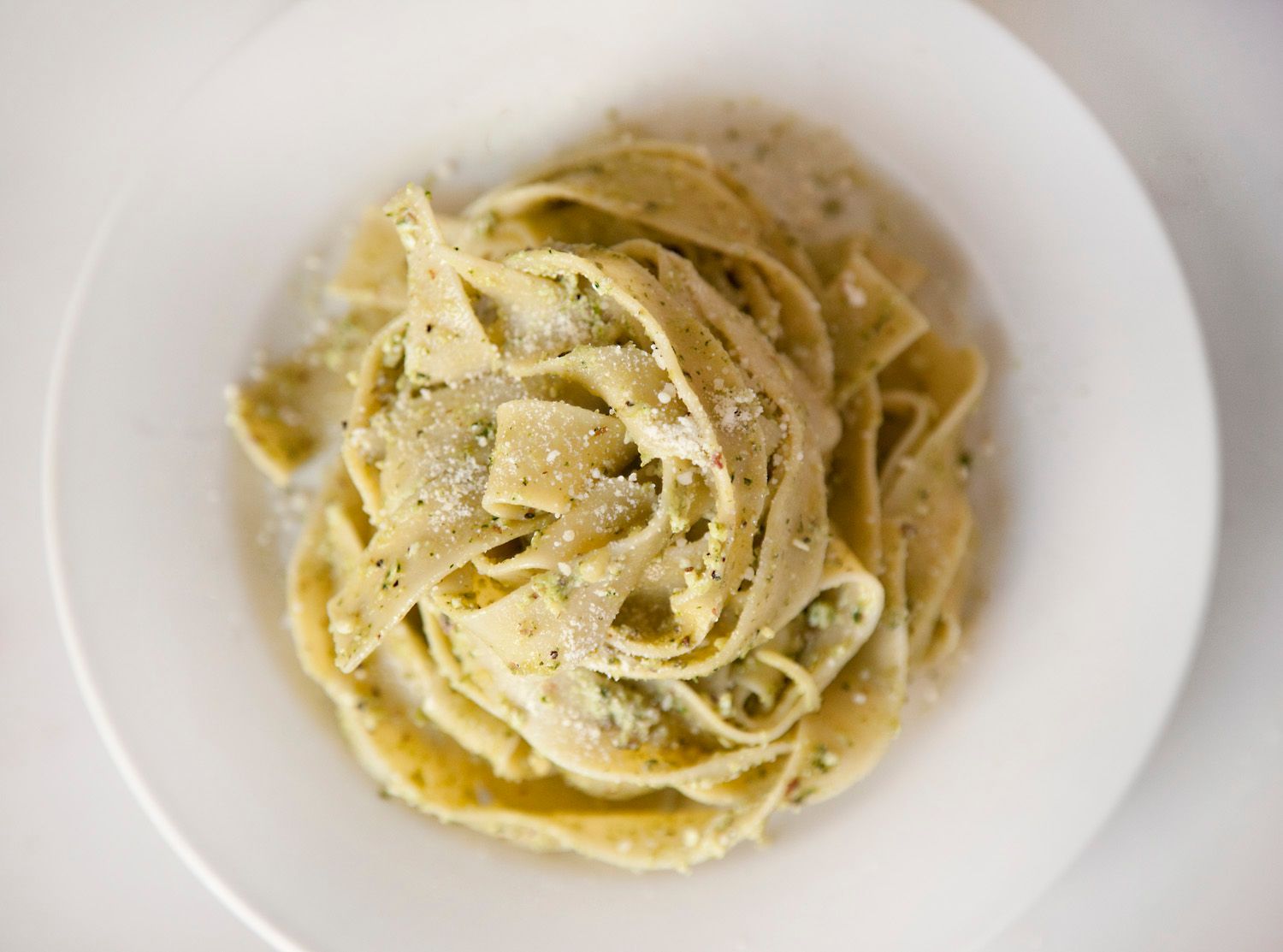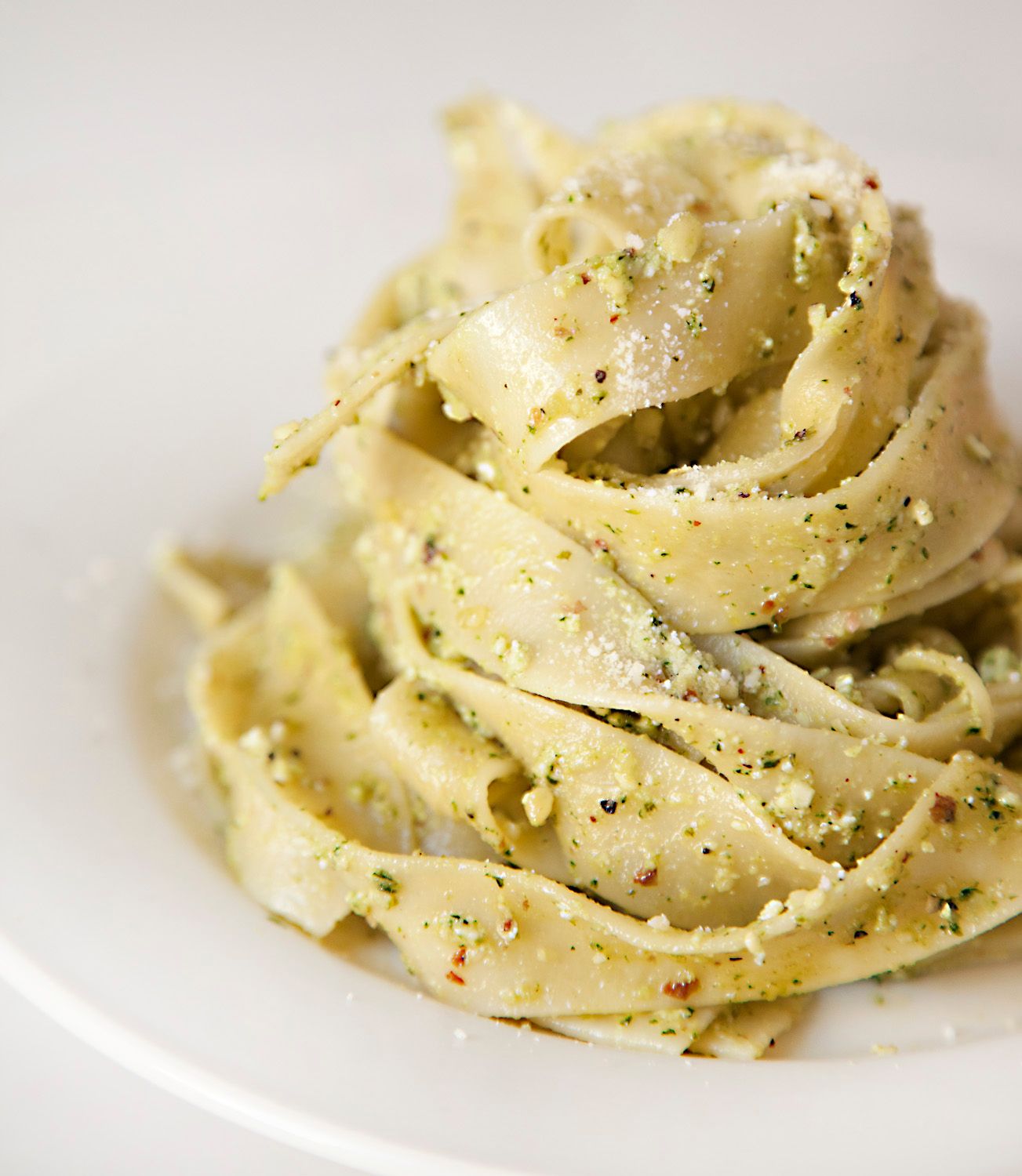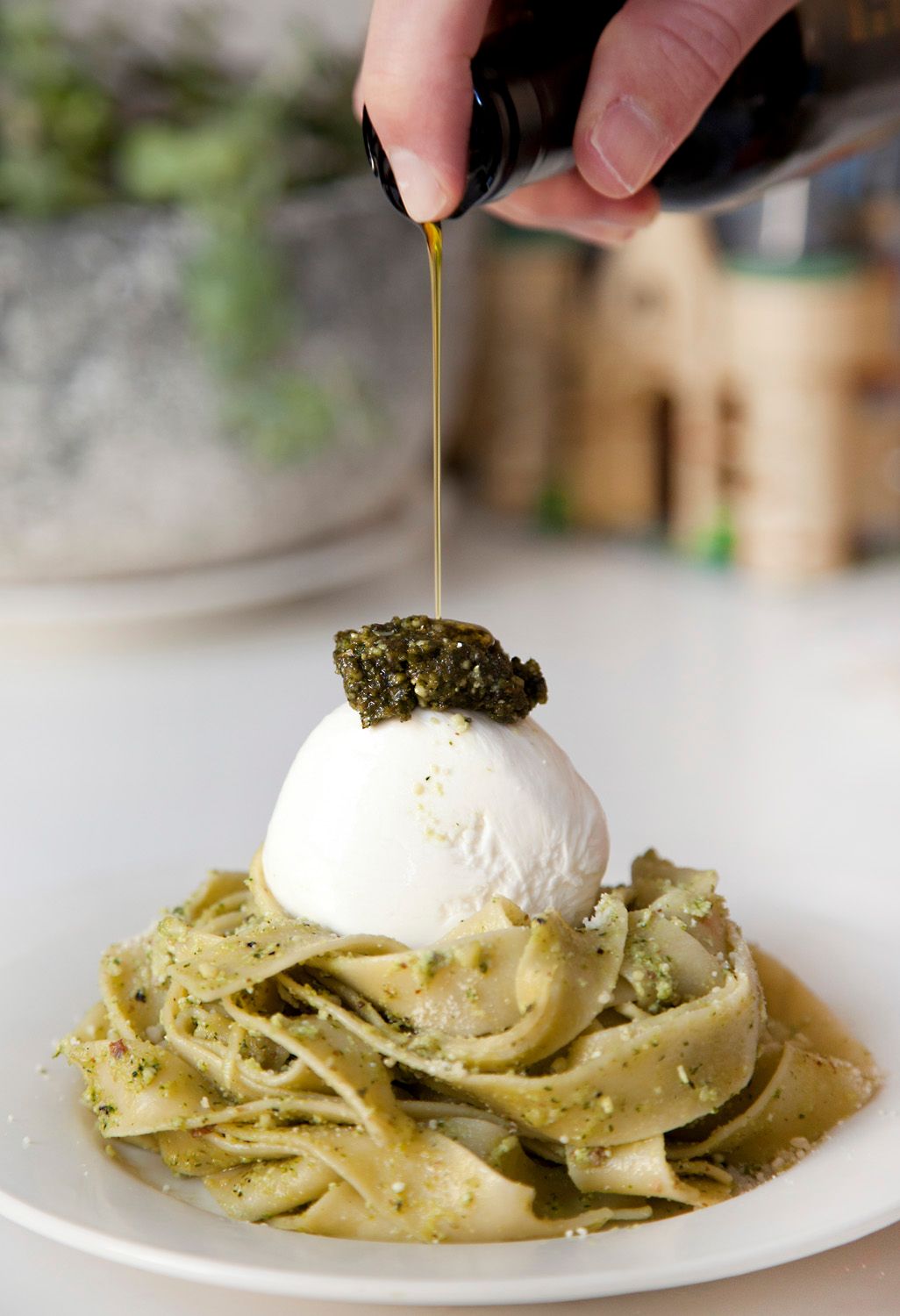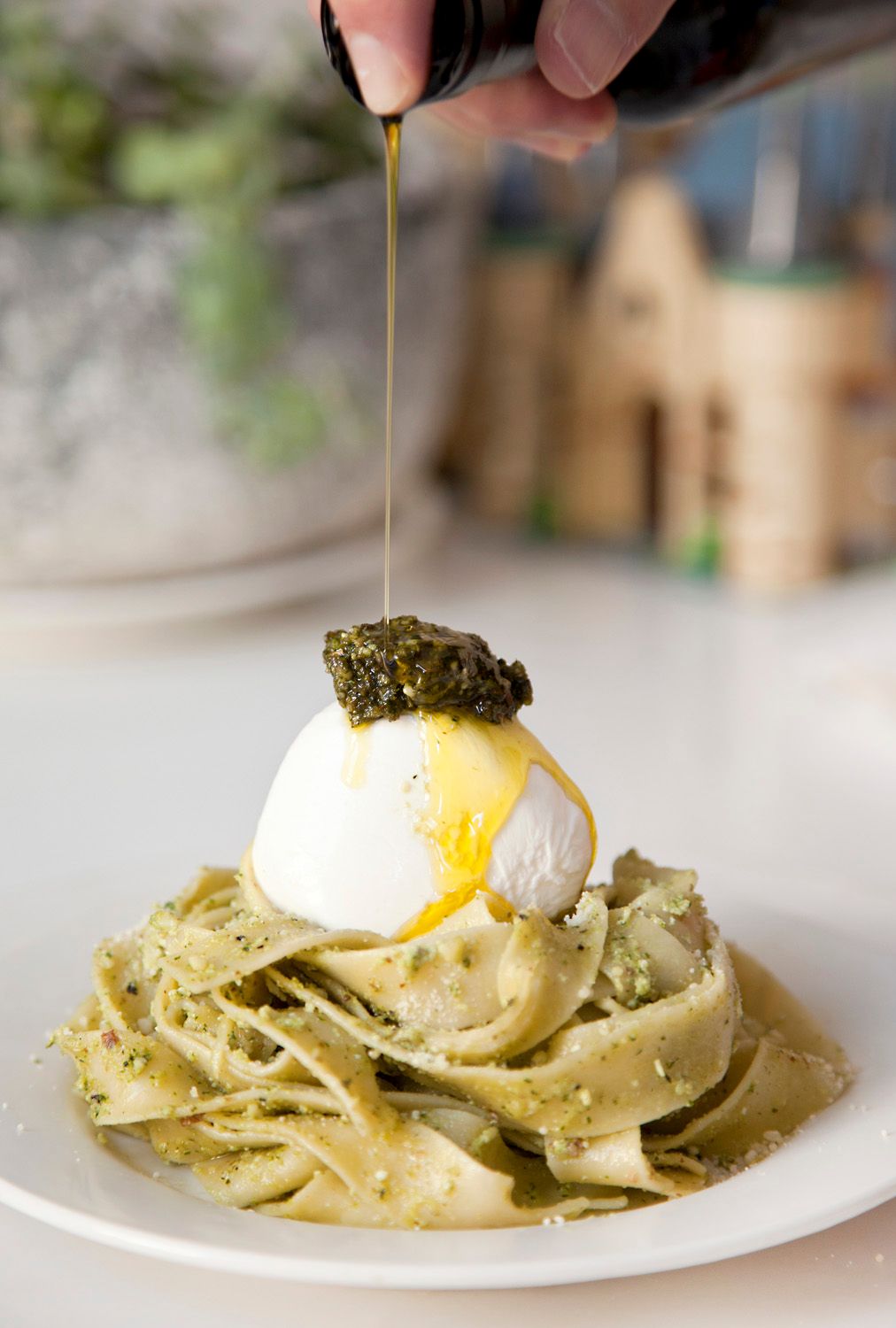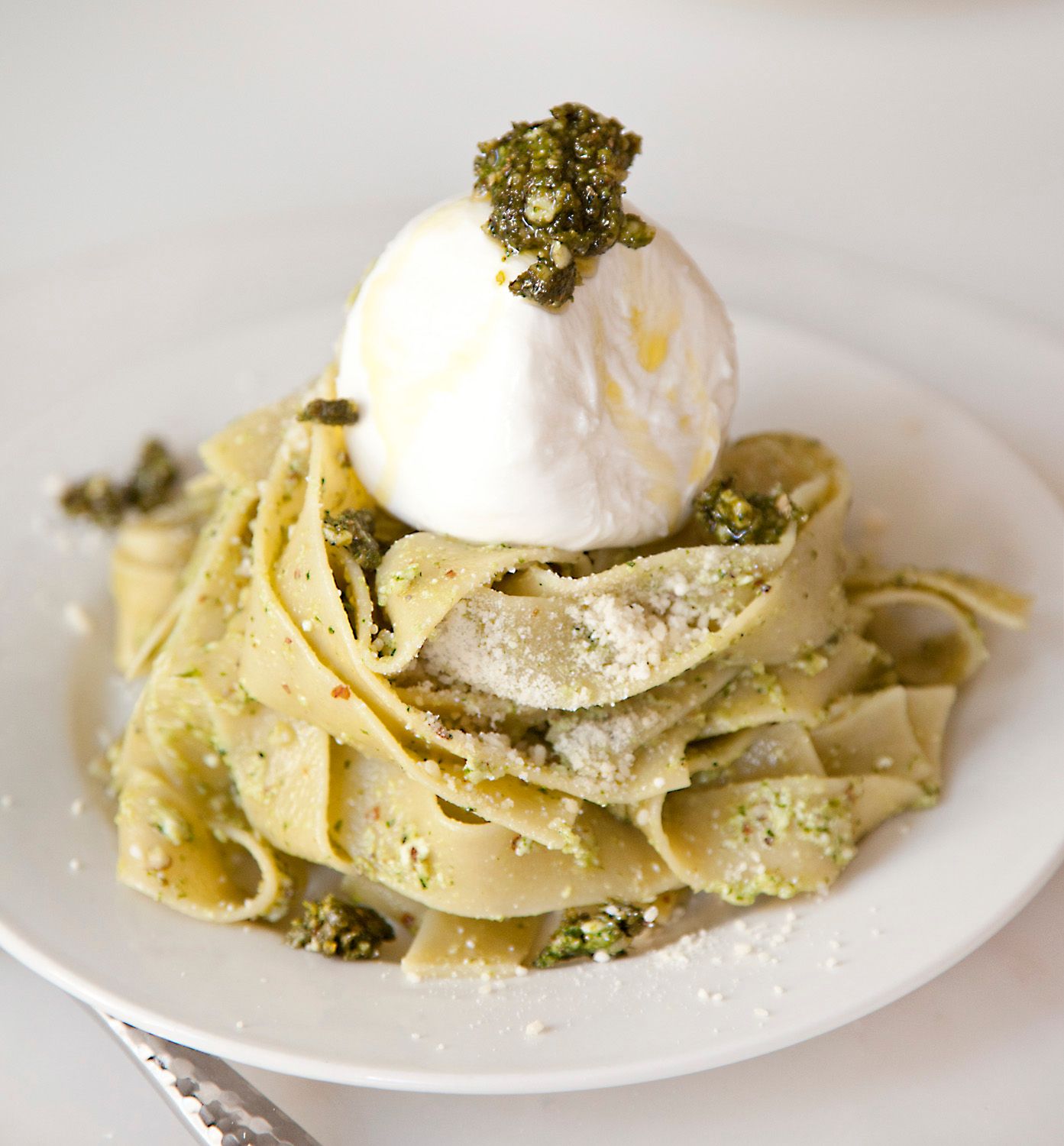 Pappardelle with Basil Pesto, Ricotta and Burrata
Prep Time
---
5 Minutes

Cook Time
---
15 Minutes

Total Time
---
20 Minutes

Yield
---
Serves 2-4

Ingredients
1.5 oz. Basil Leaves
2 large Garlic Cloves
1/2 teaspoon Black Pepper
6 Tablespoons Pine Nuts
6 Tablespoons Almonds (not salted)
2 Tablespoons Olive Oil
24 oz. Dried Pappardelle Pasta
6 Tablespoons Butter
1/2 cup Whole Milk Ricotta
1/4 cup Parmesan, grated
4, 2 oz. Balls of Burrata
---
Directions
In a Cuisinart-style blender, fitted with a blade attachment, blend together your basil, garlic, black pepper, pine nuts, almonds and a pinch of salt until it's a smooth paste. Remove the contents of the blender into a bowl and pour your Olive Oil over it. Mix the olive oil into the pesto and reserve for later.
Cook your pappardelle as per the package's instructions. Drain the pasta once done, and reserve a cup of the pasta cooking liquid.
In the same pot you cooked your pasta in, over a medium heat, melt your butter and add in most of your pesto (leaving about 1/4 cup for later). Add in a 1/2 cup of your pasta water and cook, stirring until combined and smooth. At this point, add in your pappardelle, ricotta, and parmesan cheese, and stir until the pasta is coated in the sauce. Taste and season with salt and pepper.
To plate, lay out 4 plates or shallow bowls. Plate the pasta by twirling with a fork and spoon so as to create a "mountain" of pasta. Place a ball of burrata on top of each mountain of pasta. Top each Burrata ball with 1 Tablespoon of your reserved pesto and drizzle with a little Olive Oil.
You can serve this with extra parmesan on the table for people to add more should they wish!