Sometimes my recipes are conceived from the pure need to use up certain foods in my house. I have had this bag of mini pretzels sitting around for months that no one seems to want, and I have been trying to use them up in one way or another, but it seems to be the bag that never ends. I wish I could say these cookies were developed under more creative circumstances but one thing you learn working in professional kitchens is to never waste anything - so many recipes I create are due to a need to use up an ingredient before it goes bad or before I forget about it and it winds up in the pantry abyss.
With that being said, I also had this random snack-sized bag of Lays Potato Chips that I also wanted to get rid of so that my daughter would stop asking me if she could eat them....so with the need to get rid of two, otherwise unhealthy pantry items, I decided to make them extra unhealthy by baking them into a buttery, sugary, chocolatey cookie....seems logical....
My last cookie bar recipe was incredible (get the recipe here) - so I riffed off that cookie base, and just added in my two new salty ingredients.
I love a good salty and sweet combo and this cookie is everything I want in life texture and taste-wise.... Crunchy, chewy, sweet, salty, and easy to make!
Enjoy!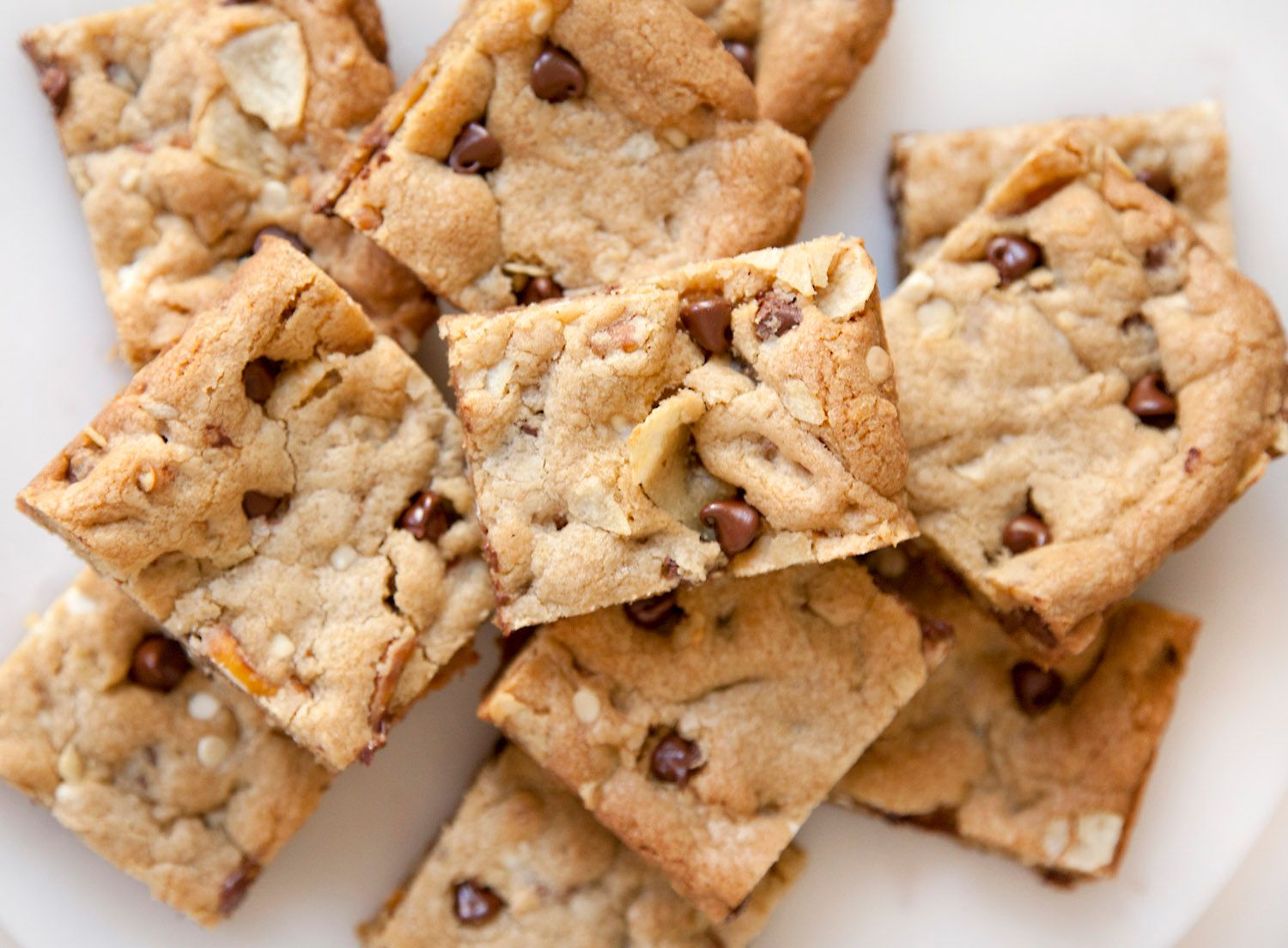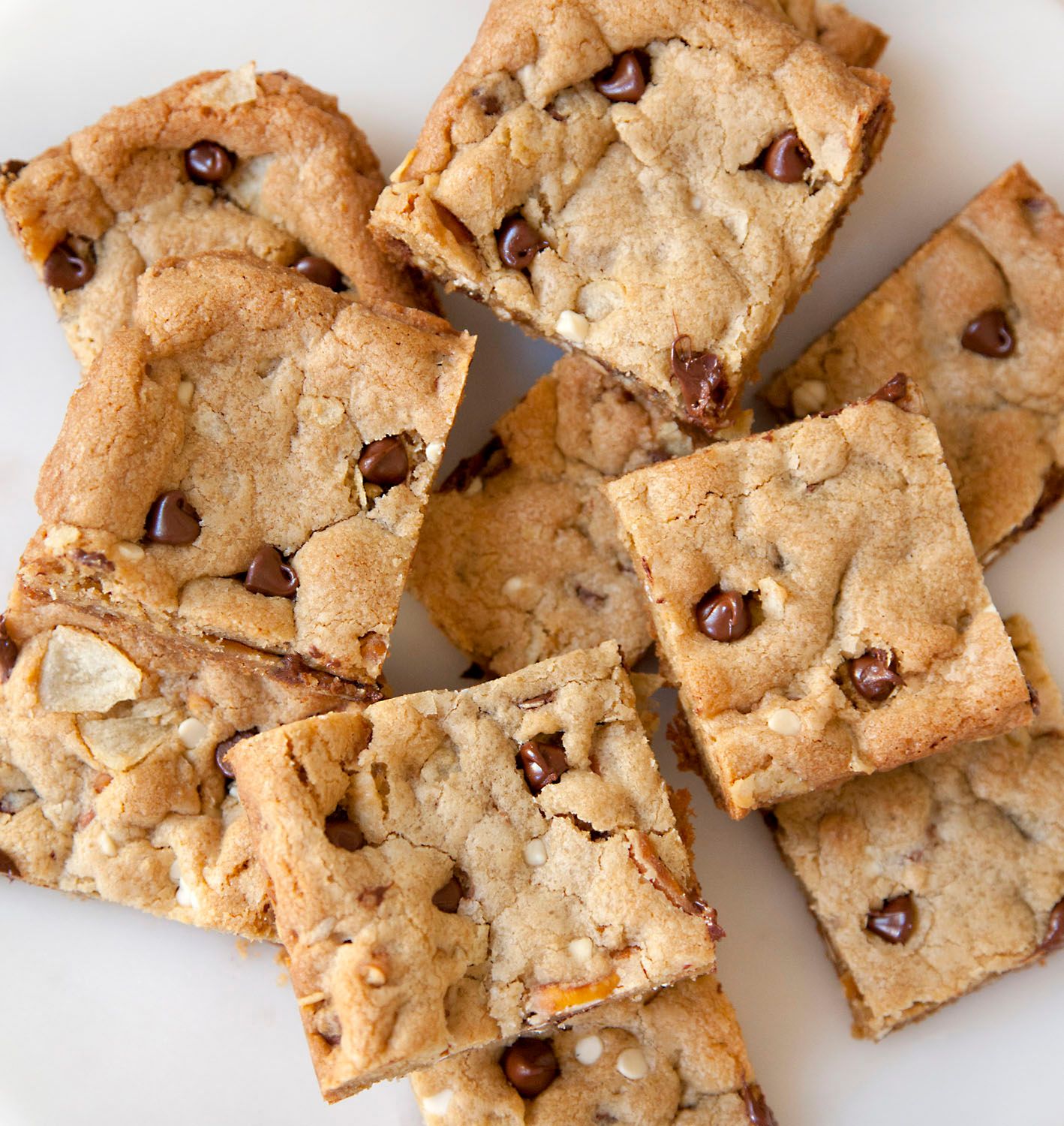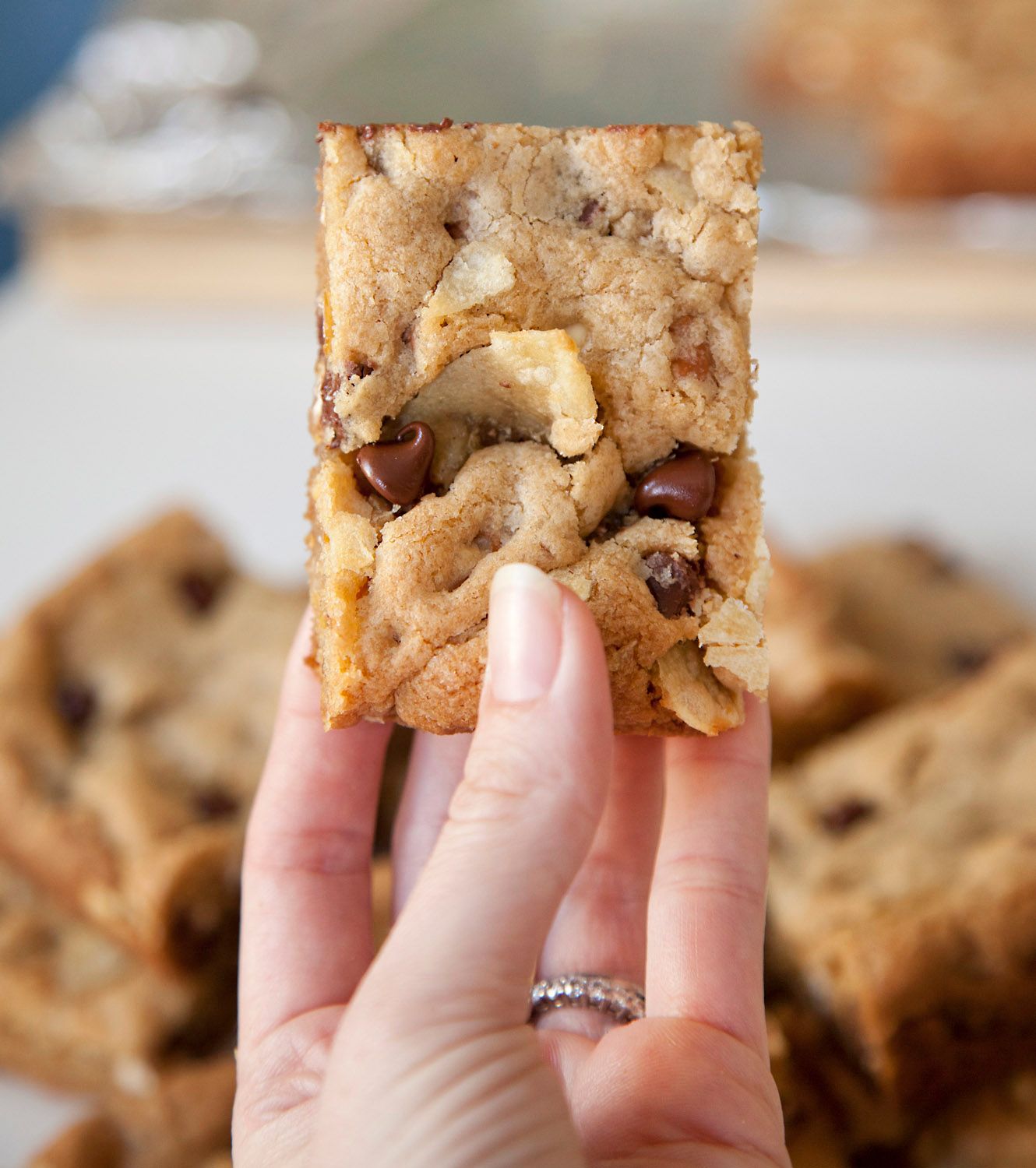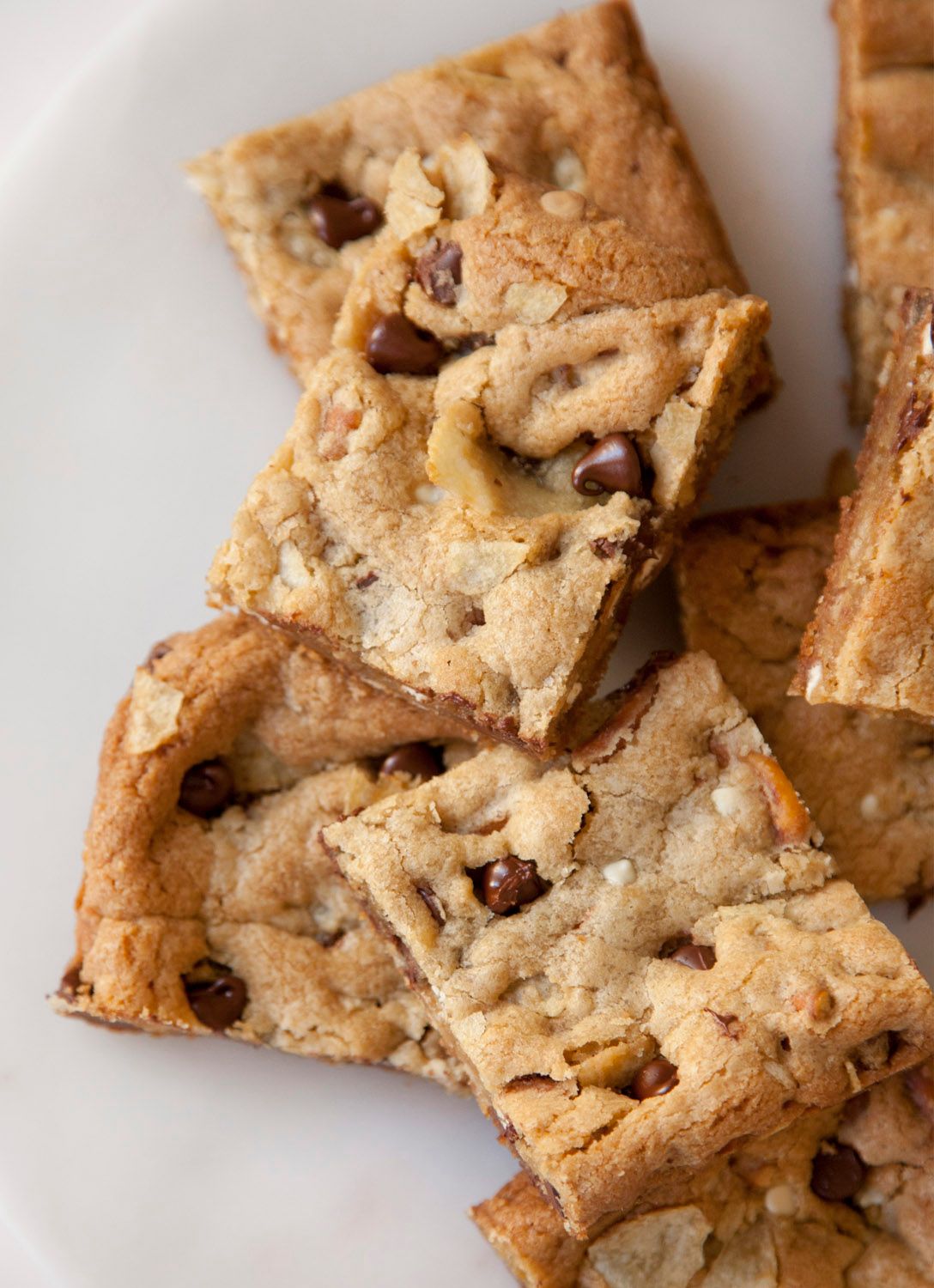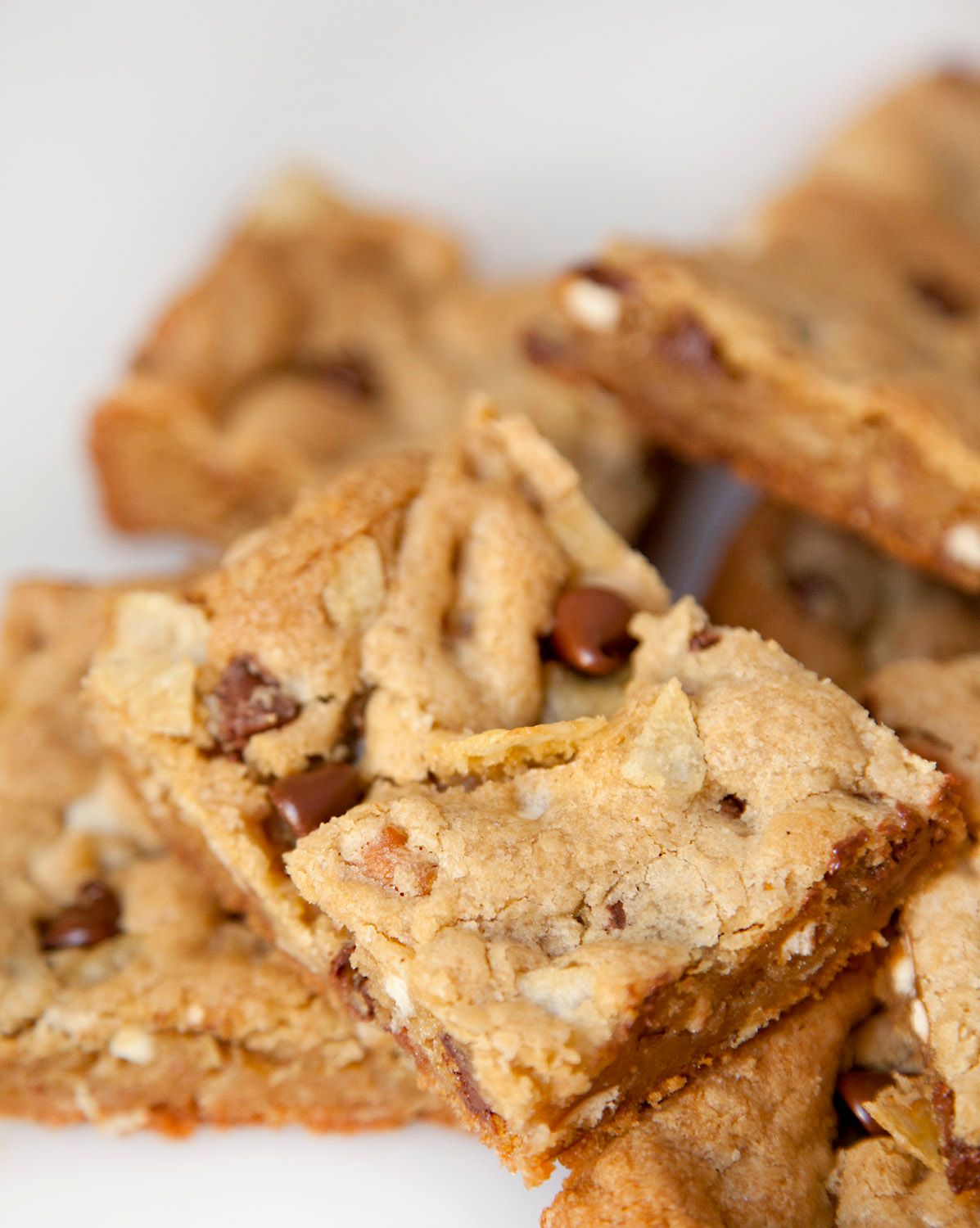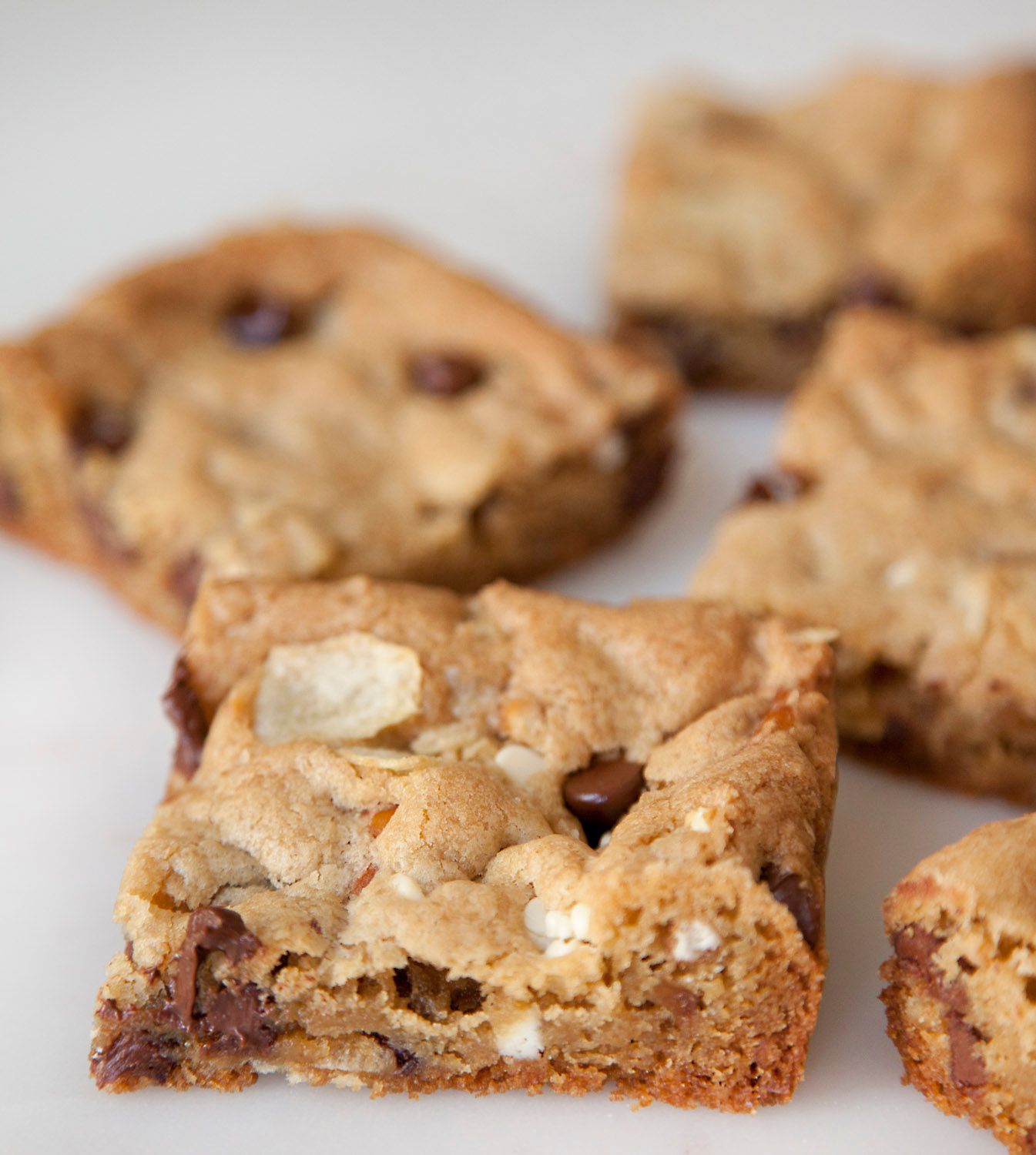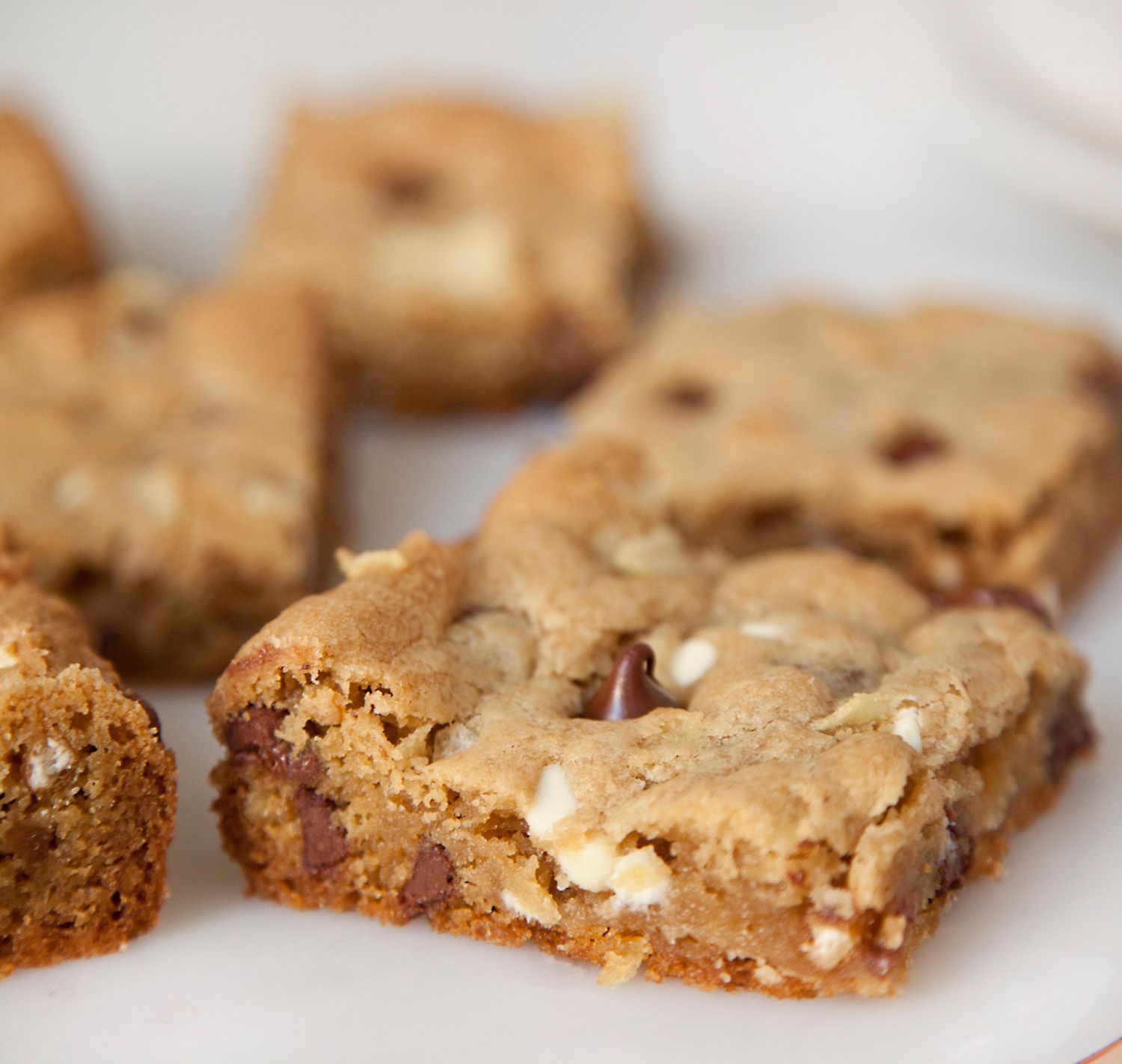 Sweet & Salty Cookie Bars
Prep Time
---
15 Minutes

Cook Time
---
25 Minutes

Total Time
---
40 Minutes

Yield
---
Makes 16 Bars

Ingredients
3/4 Cup Butter (at room temperature)
1 Cup Brown Sugar
1/2 Cup Granulated Sugar
1 Egg
1 Egg Yolk
1 Tablespoon Vanilla Extract
2 Cups All Purpose Flour
2 Teaspoons Cornstarch
1 Teaspoon Baking Soda
1/2 Teaspoon Salt
3/4 cup Potato Chips, crushed slightly
1/2 Cup plus 2 Tablespoons Chocolate Chips, divided
1/2 Cup Mini Pretzels, crushed slightly
2 Tablespoons Mini White Chocolate Chips
---
Directions
Preheat your oven to 350 degrees and line a 9x13" pan with tin foil. Spray the tin foil with non-stick spray.
In a large bowl using a handheld or stand mixer fitted with the paddle attachment, beat the butter until creamed and smooth – about 1 minute. Add the sugars and beat on high speed until light and fluffy, about 3 or 4 minutes. Scrape down the sides and bottom of the bowl. Add the eggs, and vanilla and beat on high until fully combined, about 2 minutes.
In a separate bowl, whisk together the flour, cornstarch, baking soda, and salt. With the mixer on medium low, add in your flour mixture slowly and mix until fully combined. Turn off your mixer.
Add in your potato chips, 1/2 cup of chocolate chips, pretzels, white chocolate chips and mix until combined.
Spread the cookie dough in an even layer on your prepared baking sheet and bake 25-30 minutes (you want the inside just cooked through).
Remove the pan from the oven and immediately press your 2 Tablespoons of chocolate chips into the top of the cookies.
Allow the cookies to cool in the baking sheet for 10 minutes before removing them to put on a cooling rack. Allow the cookies to cool completely before cutting.