My love affair with Smoked Salmon started at a very young age. Growing up in Long Island with a Jewish Father, and an Italian mother who loved a good quality Smoked Salmon, I was destined to fall in love with the delicious fish myself.
As a kid, Bagels and Lox on the weekend was a real treat… my dad and I would go to a local Jewish Deli, which had arguably the best Smoked Salmon on all of Long Island, named Andel's. My mom would accept no substitute to Andel's, because it really was far superior to any other smoked salmon out there… but the running joke in our family was that you had to take a mortgage out on your house to afford a quarter pound of their melt in your mouth lox. Hashtag expensive.
As I have gotten older, and as Smoked Salmon has become more and more of a delicacy in the culinary world, I wanted to class-up the typical Bagel with Cream Cheese and Lox and make an open-faced, NYC Jewish Style Sandwich. Obviously the choice of bread had to be Rye Bread, and instead of Cream Cheese, I went with something lighter and brighter; Sour Cream mixed with fresh lemon juice and herbs.
The real star of the show however was the lox. No, unfortunately there was no Andel's, but my husband brought home Chef David Burke's Pastrami Salmon which you can get at our local Bagel Shop, Murray's Bagels.
Let me digress for a little….I have a total love affair with all things David Burke. I was lucky enough to do a stage in his restaurant, David Burke Townhouse on the Upper East Side, and to say I left with so many new ideas is an understatement. Chef Burke creates the most creative plates of elevated comfort food that will inspire anyone to get in the kitchen and get a little playful with your food. Between his imaginative plating, the flavors of his food, and his cheeky names for dishes, he really is unique in the culinary field. He is very well known for his Pastrami Salmon, which is basically a Smoked Salmon, that is cured in a Pastrami-style seasoning (again, paying homage to the NYC Jewish Delis that I love so much). If you live in NYC, or are ever visiting, go to a Murray's Bagels, and try this salmon…it will rock your world. Or you can make it at home with the recipe here!
SO with the Pastrami Salmon as the centerpiece, I just garnished the top of my sandwiches with a few fresh herbs, onion slices, and lemon zest (another super important component that really brings out the flavors in everything else).
Some other ideas for garnishes: capers, thin sliced avocado, sliced cucumbers….
What I love about this dish is it's versatility… you could have this for breakfast, brunch, lunch or dinner…or cut the rye bread into smaller pieces and serve it as a beautiful appetizer at a party.!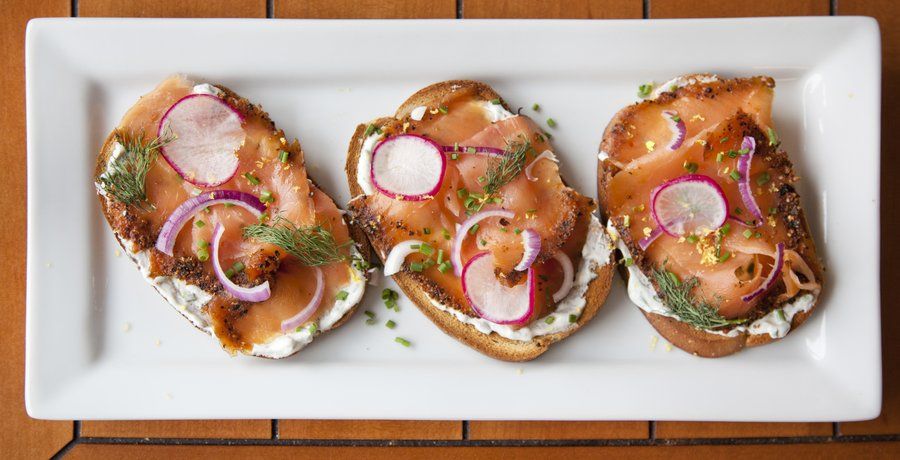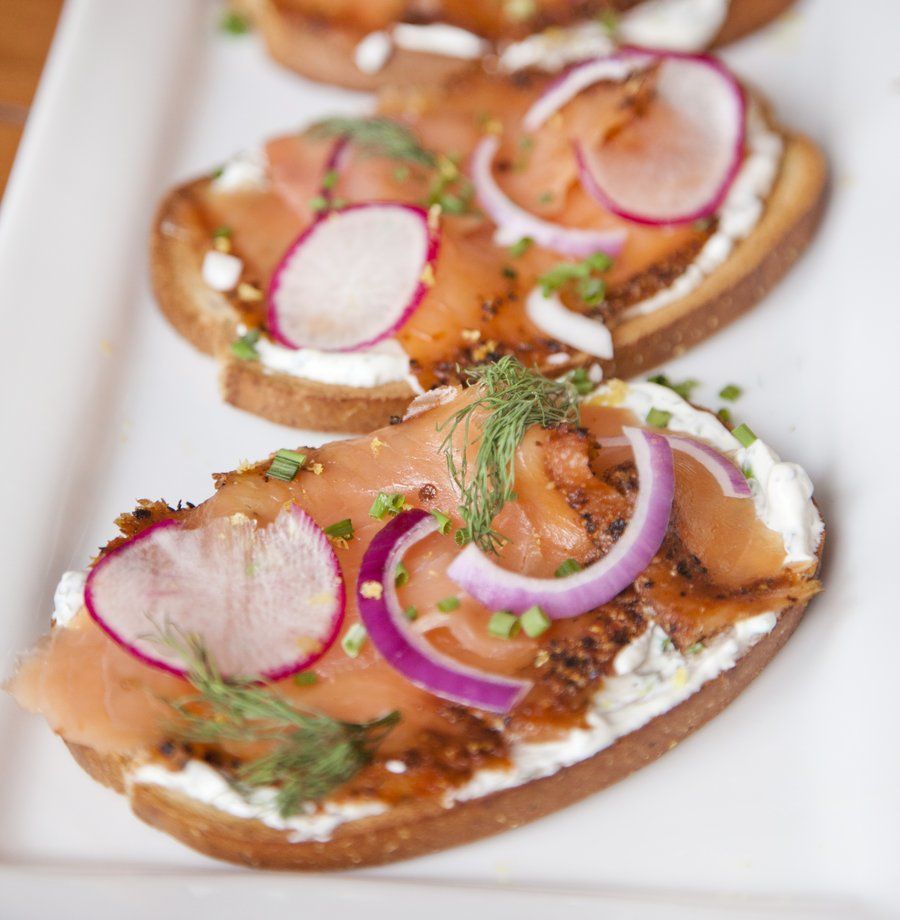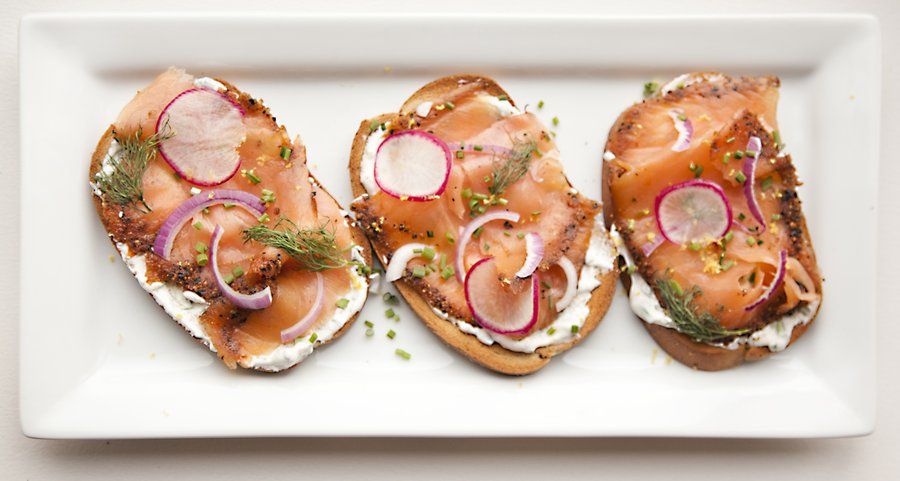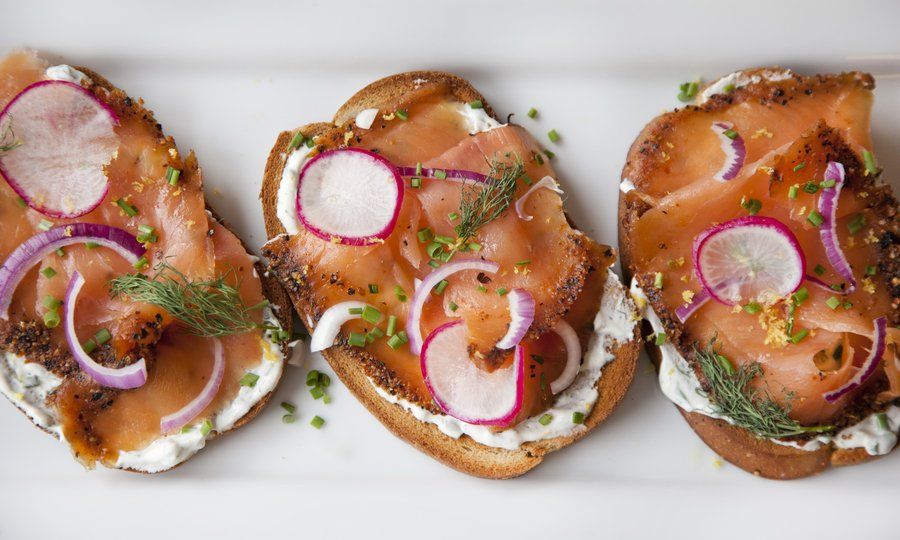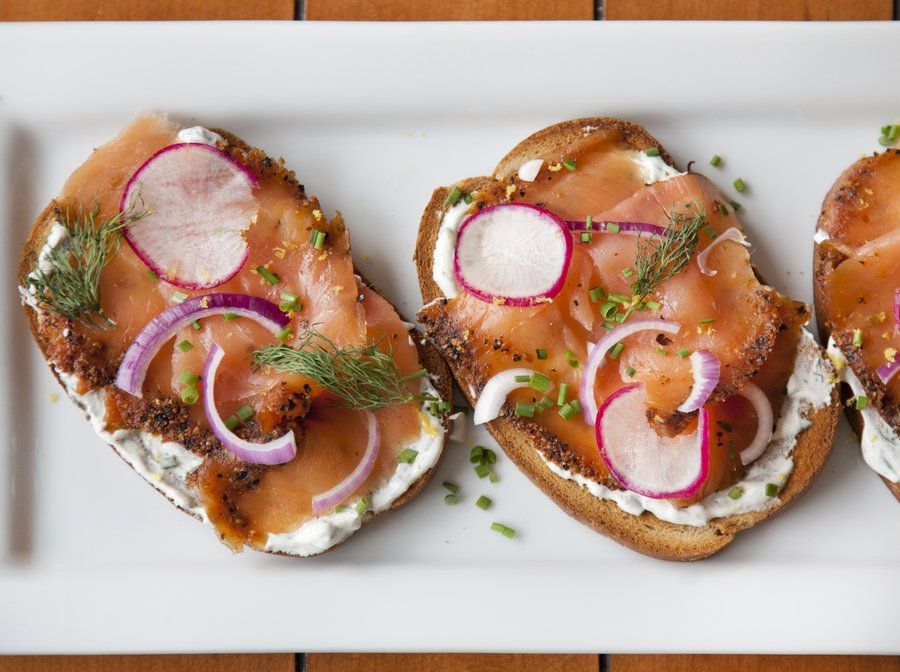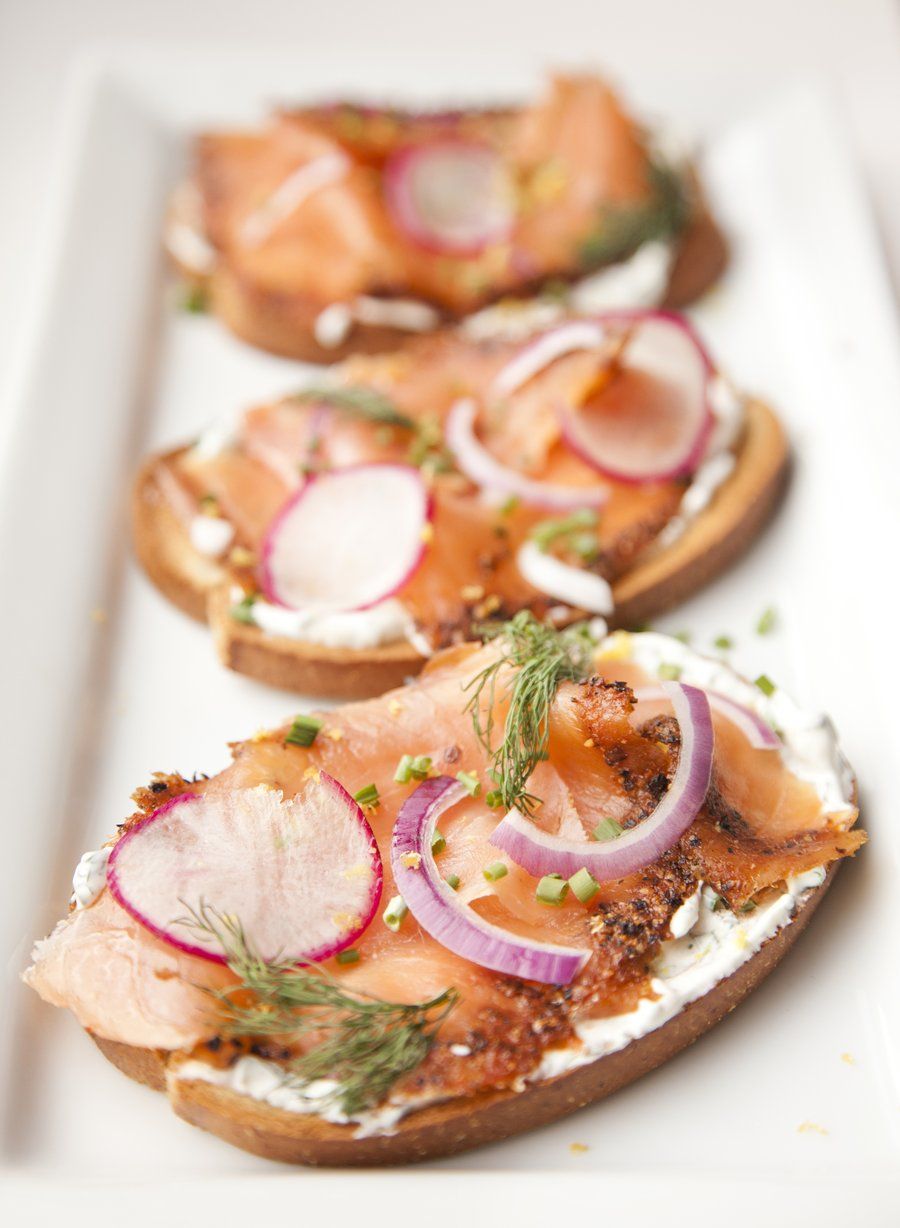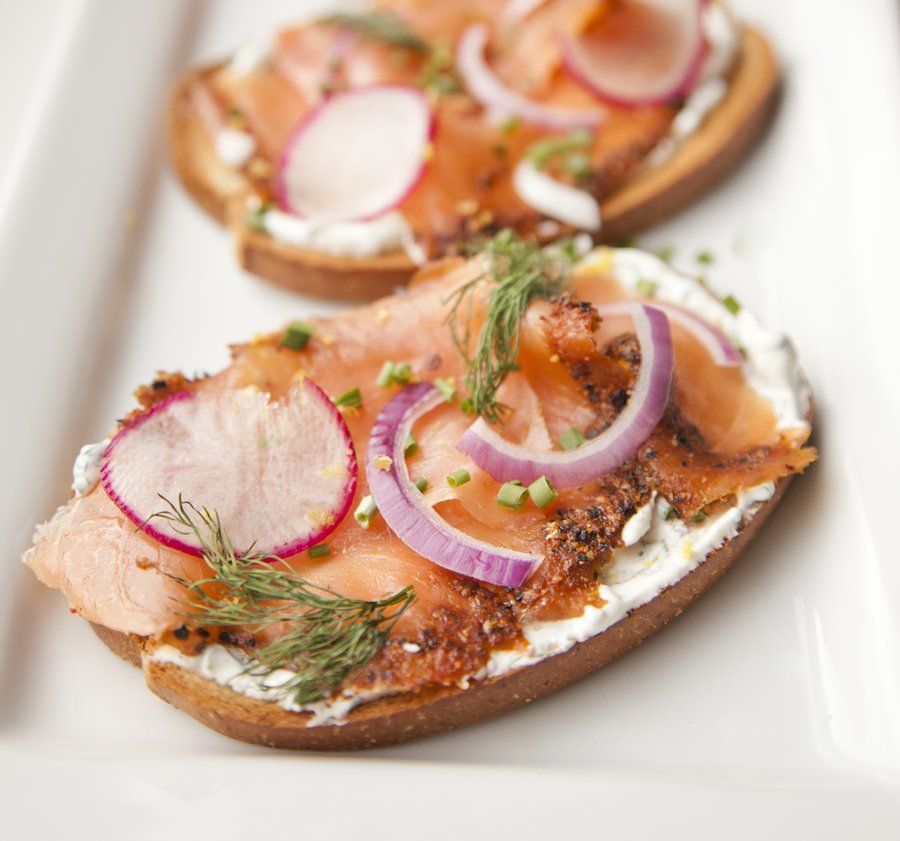 Smoked Salmon On Rye with Lemon Crema
Prep Time
---
10 Minutes

Cook Time
---
5 Minutes

Total Time
---
15 Minutes

Yield
---
Makes 6 Toasts

Ingredients
6 Slices Rye Bread
1/3 Cup Sour Cream
1 Teaspoon Lemon Juice (fresh)
1 Teaspoon Chives (minced)
1 Teaspoon Fresh Dill (minced)
1/2 lbs Smoked Salmon (Lox)
2 T Red Onion (sliced thin - for garnish)
2 T Chives (minced - for garnish)
6 Sprigs Fresh Dill (for garnish)
Zest Lemon (for garnish)
1 Radish (sliced paper thin)
Black Pepper (for garnish)
---
Directions
Preheat your broiler on hi and place your bread on a baking sheet. Toast on both sides until golden brown (or use a toaster if you have one).
In a bowl, combine your sour cream, lemon juice, dill, chives and a little salt and pepper and stir to combine.
To assemble: Spread a smooth thin layer of your sour cream mixture onto the bread. Add 1-2 slices of smoked salmon on top, then garnish with red onion, chives, dill, radish, lemon zest, and fresh pepper. Serve immediately.