I am a big fan of all things Short Rib, and an even bigger fan of Mexican Food….so when I thought of making Short Ribs Tacos, I took to social media to see if my Urban Cookery followers would be into learning this recipe. The results were resoundingly in favor of Short Rib Tacos and so I give you, my Slow Cooker Short Rib Tacos with Homemade Pickled Red Onions.
Let me first state that the pickled onions in this dish are an absolute MUST. Do not make this dish unless you plan on having the onions on top. The acidity and crunch of the onions really helps cut through the heaviness and bold flavors that Short Ribs have. I am not usually a fan of pickled things, but have become a total convert because of these onions. Not only are they so easy a child could make them, but you can make a big batch of them and keep them in the fridge for up to 4 weeks to use on future dishes (they go great on a bagel with cream cheese & lox)!
In terms of other toppings for the taco, I added fresh sliced avocado, parsley leaves (another really great addition to the flavor profile) and some sour cream…you can also add fresh diced tomato (I tried it out on a few tacos and liked how it worked). These tacos can be served on whatever tortilla you like – corn, flour, hard shell, soft shell, etc etc.
This is a great dish to make if you have to serve a crowd -- you can make it into a DIY Taco Bar….or make it for dinner like I did and enjoy the leftovers for a few days (braises always taste better the longer they sit in the fridge)!
Enjoy!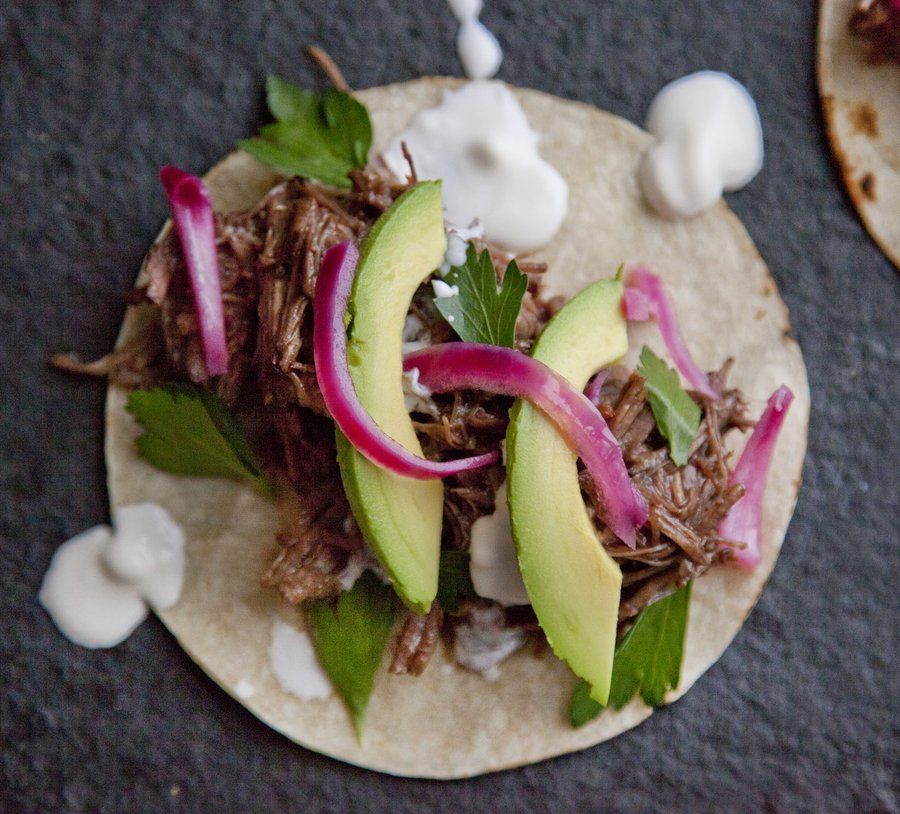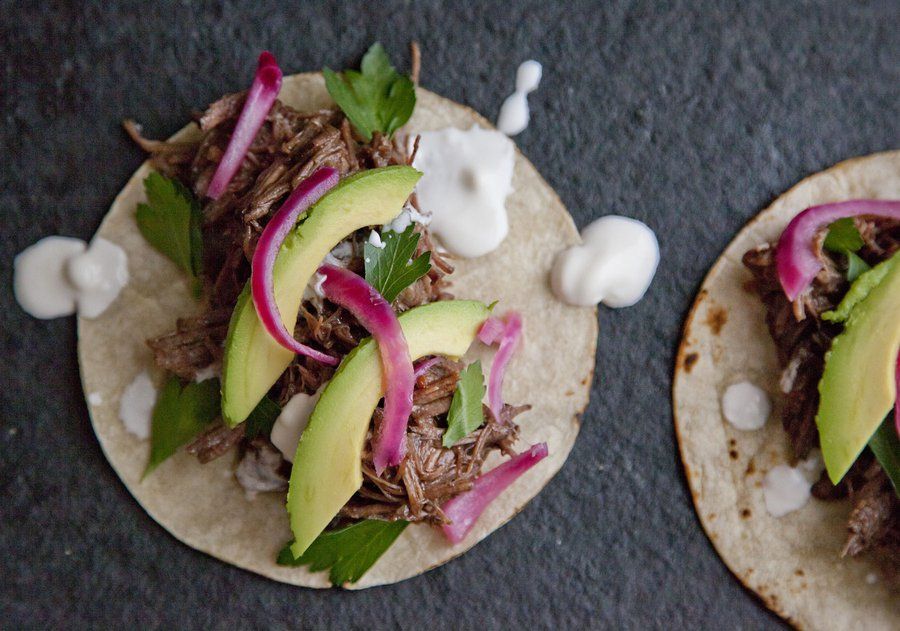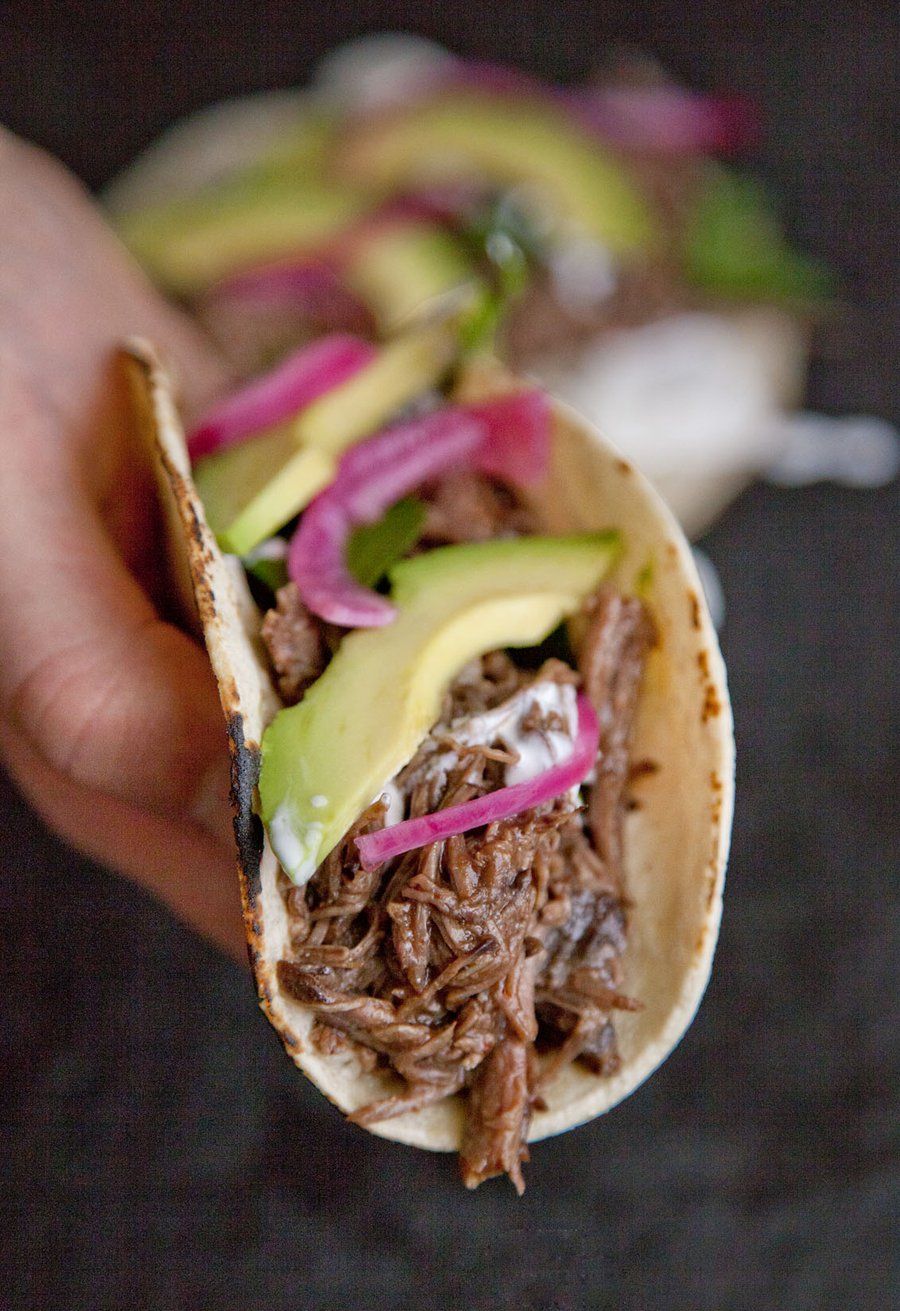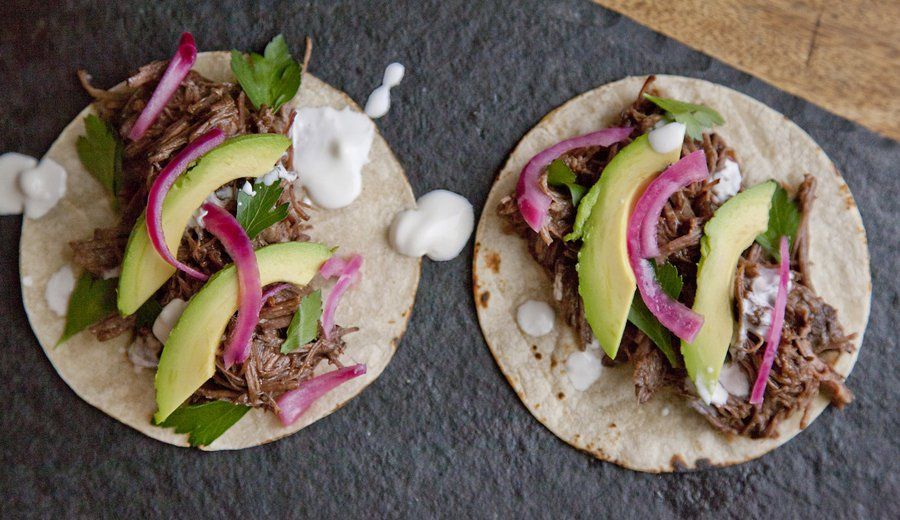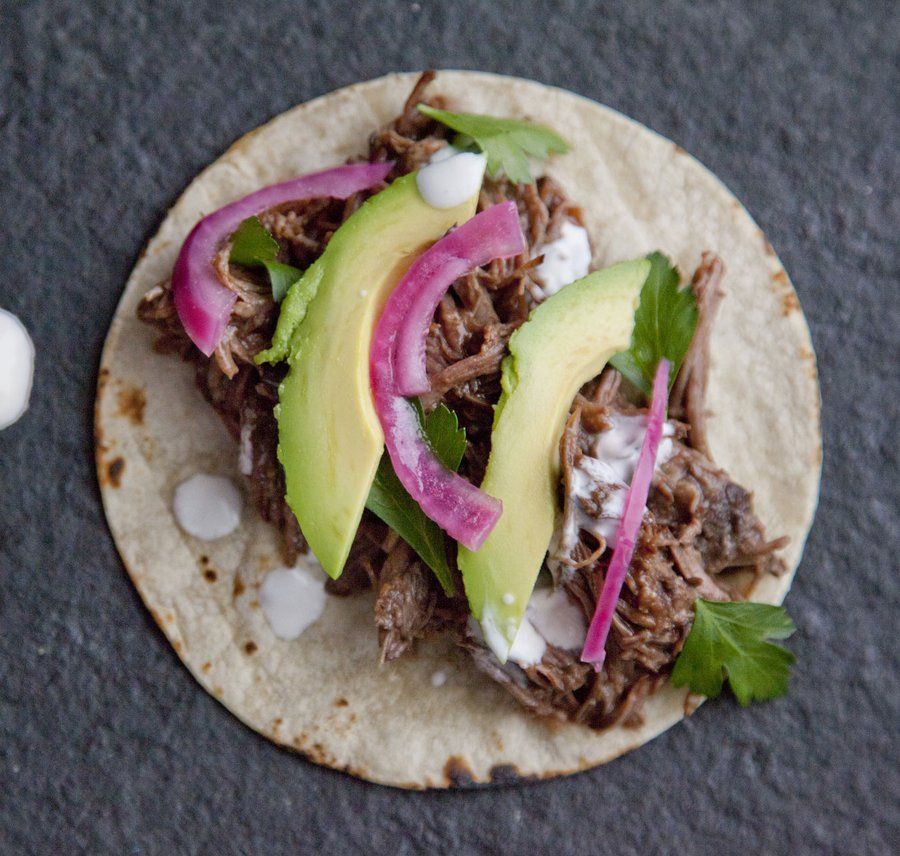 Pickled Red Onions
Prep Time
---
3 Minutes

Cook Time
---
10 Minutes

Total Time
---
13 Minutes

Yield
---
Makes 3 cups

Ingredients
3 Cups Red Onion (sliced thin)
1 Garlic Clove (peeled)
2 Cups White Vinegar
6 T Sugar
3 T Salt
1 Teaspoon Coriander Seeds
---
Directions
Place your thin sliced red onion and peeled garlic clove in a non-reactive bowl.
In a medium sized sauce pan stir together your vinegar, sugar, salt and coriander seeds. Bring to a boil and whisk until the sugar and salt have dissolved.
Pour the hot vinegar over the onions/garlic and submerge all of the onions in the vinegar. Let sit at room temperature until it cools down. Use immediately or store in an airtight jar for up to 4 weeks.
Slow Cooked Short Rib Tacos
Prep Time
---
5 Minutes

Cook Time
---
6 Hour 20 Minutes

Total Time
---
6 Hour 25 Minutes

Yield
---
Serves 4-6

Ingredients
4 1/2 lbs Boneless Short Ribs (fat trimmed)
2 Cups Beef Stock
2 T Tomato Paste
1 1/2 T Garlic (minced)
1 Tablespoon Adobo Sauce
2 Chipotle Pepper in Adobo Sauce (minced)
2 tsps Dried Oregano
1/3 Cup Red Wine
1 Tablespoon Honey
2 T Apple Cider Vinegar
1 Teaspoon Cornstarch
2 Avocados (sliced thin)
10 8" Flour Tortillas (or any tortillas you like)
Parsley (fresh, leaves only)
Sour Cream (for serving)
1 Recipe Pickled Red Onions (recipe below)
---
Directions
In your slow cooker, lay down your Short Ribs. In a medium sized bowl, whisk together your beef stock, tomato paste, garlic, adobo sauce, chipotle peppers, oregano, red wine, honey and apple cider vinegar until combined nicely. Pour this whisked mixture over your short ribs. Cook the short ribs on low in your slow cooker for 6 hours.
After 6 hours, carefully remove your short ribs to a cutting board and allow them to sit for 10 minutes. While the Short ribs rest, strain the liquid from the slow cooker through a fine mesh sieve and into a fat separator (a device that separates the fat from the good liquid -- fat at the top and the braising liquid at the bottom).
Pour the liquid (without the fat) through another fine mesh sieve and into a medium sized sauce pot. Bring the liquid to a boil and cook for about 20 minutes on a medium high heat to let it reduce a little.
While the sauce is reducing, shred up your short ribs.
In a small bowl, combine your cornstarch with 1 tablespoon of water and mix together until the cornstarch has dissolved in the water. While the sauce is still at a high heat boil (after it's reduced for the 20 minutes), add in your cornstarch mixture and cook for a few more minutes (this will thicken your sauce). Taste the sauce and season with salt and pepper. Now add in your shredded short rib meat to the sauce. Mix and toss to combine, taste and season again if needed -- serve immediately.
Serve on your choice of corn or flour tortillas, with sliced avocado, fresh parsley, sour cream, and the pickled onions (recipe below).