A few weeks back I purchased Chrissy Teigen's Cookbook, Cravings.
I don't usually buy cookbooks (I have a select few that I own and absolutely adore), but after seeing some of her recipes featured on Instagram, I knew this chick was my food spirit animal. I love a girl who likes to eat….and not just eat, but eat honest to God GOOD comfort food, like Burgers and Wings and Short Ribs. You will never see me buy a cookbook featuring crap like Gluten Free, Sugar Free, Fun Free Food. I ain't about that life. To me, life is worth living while you can, and I would be super pissed if I died while eating a kale salad….I'd rather die while biting into a White Castle Burger any day.
So with that being said, I read through Chrissy's cookbook from back to front (it not only has amazing recipes, but she is my comedic spirit animal as well)….legit funny preamble to every recipe, which had me liking her more and more with each page. So now that I have totally fan girl-ed out and declared my woman crush of the decade, I'll get to the recipe.
Chrissy features a Burger in her book called "Capon's Chrissy Burger". Chef Josh Capon has two restaurants in NYC that I am OBSESSSSSSSSED with. I am also totally in love with him and think he's the cutest chef ever, next to Scott Conant who will forever be my chef crush numero uno.
Chef Capon's first restaurant I visited was El Toro Blanco, which I was introduced to while I was pregnant, and I literally went in there and ate my body weight in Guac and Enchiladas. It's by far my favorite Mexican restaurant in NYC, and always a fun night out (preggo or not). I later went there post-preggo and can attest to the margaritas being as fantastic as the food.
Capon's other restaurant is Lure Fishbar in SoHo, which is known for its burger (the dude's won awards for this burger so you know it is legit). So in Chrissy's book (should I be referring to her as Ms. Teigen?), she features her version of the famed Chef Capon Burger.
Since Ms. Teigen made her own version, I decided to do the same (make my own version of the Capon Burger). But before we get ahead of ourselves, let's discuss what Chef Capon's burger actually entails….
The Capon Burger comes two ways: "BASH Style" which has Bacon & Onion Jam and Pickles. OR "LURE Style" which has the works plus Capon's super huge and crunchy Onion Rings on top.
Capon's Chrissy Burger (as featured in Cravings): Includes Chrissy's Special Sauce, Capon's Burger Mix (which I will be using), buns, lettuce, tomato, American Cheese, Bacon and Onion Rings.
Having now laid out the burger situation from both Chef Capon's restaurant, and Chrissy Teigen's Capon Burger, I give to you, the Sara Capon Burger which will consist of my favorite part of each of the aforementioned burgers plus my own additions.
For the main part of the burger (meaning, the actual burger patty), I will be using Chrissy's Recipe which is what I am led to believe is Chef Capon's recipe as well. What makes the burger mix special is that it contains 8 teaspoons of Dijon Mustard. I have never put mustard in a burger, and I was immediately intrigued that the burger contained it, in addition to only salt and pepper as well. My burger will also contain, lettuce, tomato and crispy bacon, but I will add in my own "Special Sauce", Pepper Jack Cheese (instead of American), some raw red onion and I will be omitting the Onion Ring, because I am just not an Onion Ring kinda girl (I would take a bullet for a French Fry though).
So let's get cooking and see how it all comes out!.......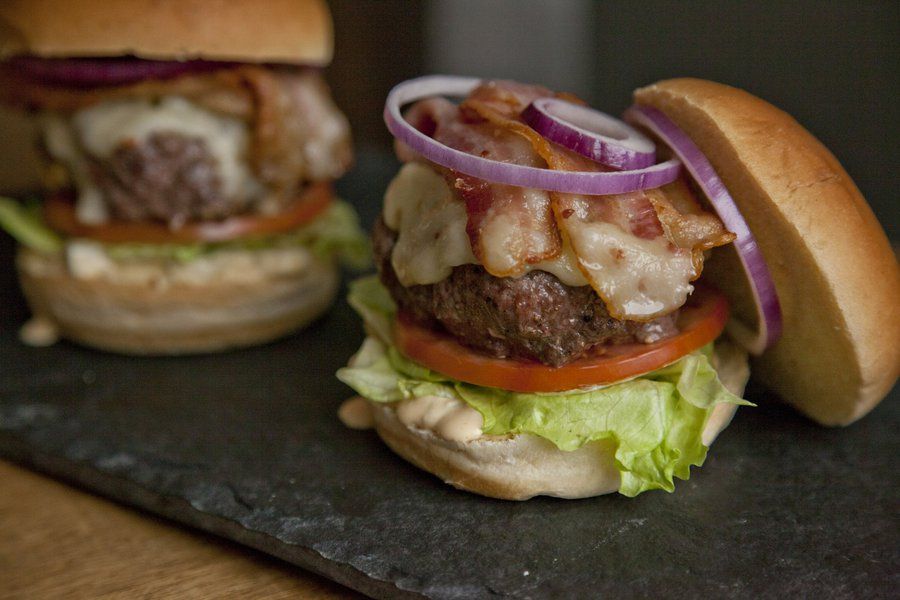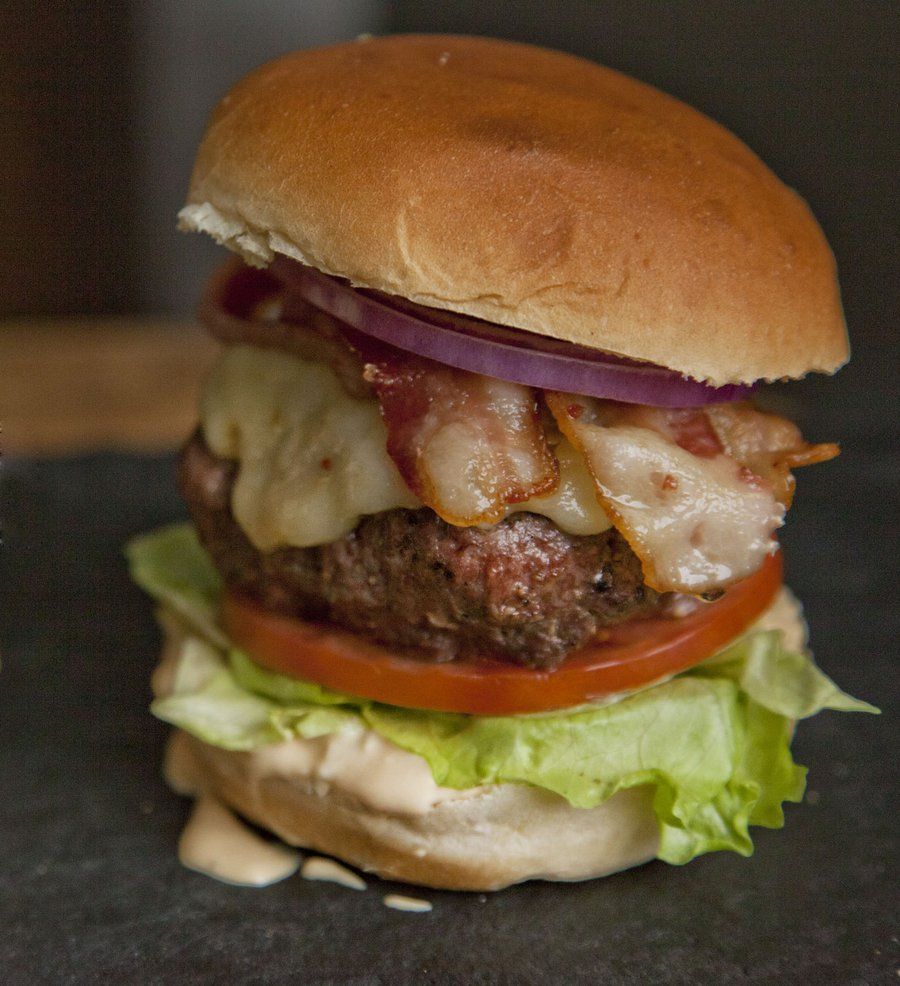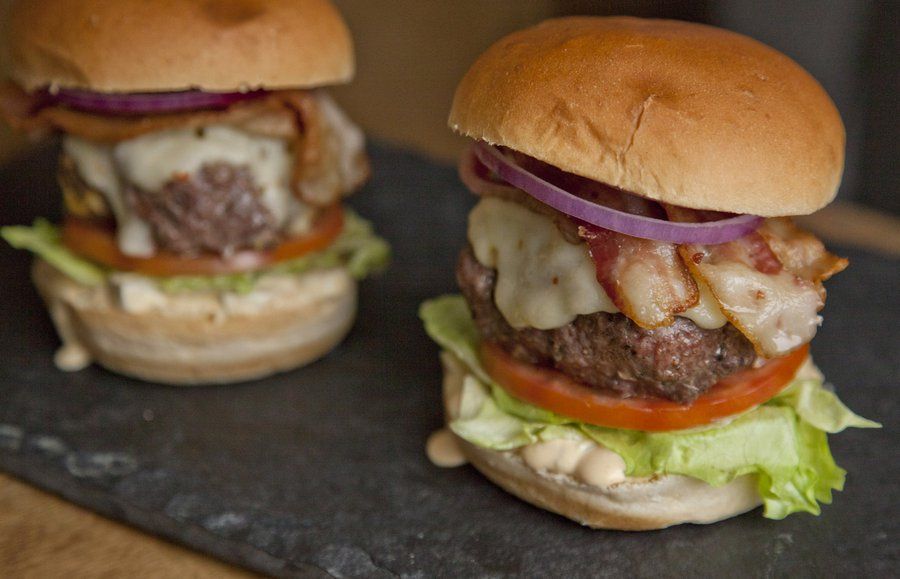 Here comes the verdict. Obviously, this was a super tasty burger. I don't know if I've ever met a burger I didn't like, though. The burger itself was very juicy, but the Dijon flavor wasn't as pronounced as I thought it would be. However, the combo of the Dijon and the Pepper Jack Cheese, worked awesomely together... I am very happy about my choice of cheese (next time I will try it with Chef Capon and Chrissy's choice of American Cheese).
The one thing my husband and I both agreed the burger needed was a somewhat sweet element like a caramelized onion (I see now why Chef Capon offers the "BASH" burger with the bacon and onion jam). I think I could have done away with the sliced red onion and made a batch of super caramelized onions and that would have rounded out the various flavors/textures (salty bacon, sour pickles, crunchy lettuce, spicy pepper jack, juicy burger).
Although I have previously stated my ambivalence towards the onion ring, I can see how that element would also add to this burger…. but to be honest, I don't even know how I could open my mouth wide enough to eat this burger WITH an onion ring in it too….this burger was gigantic. So with all that being said, I encourage you to make this burger and play around with the various toppings to see what you like best!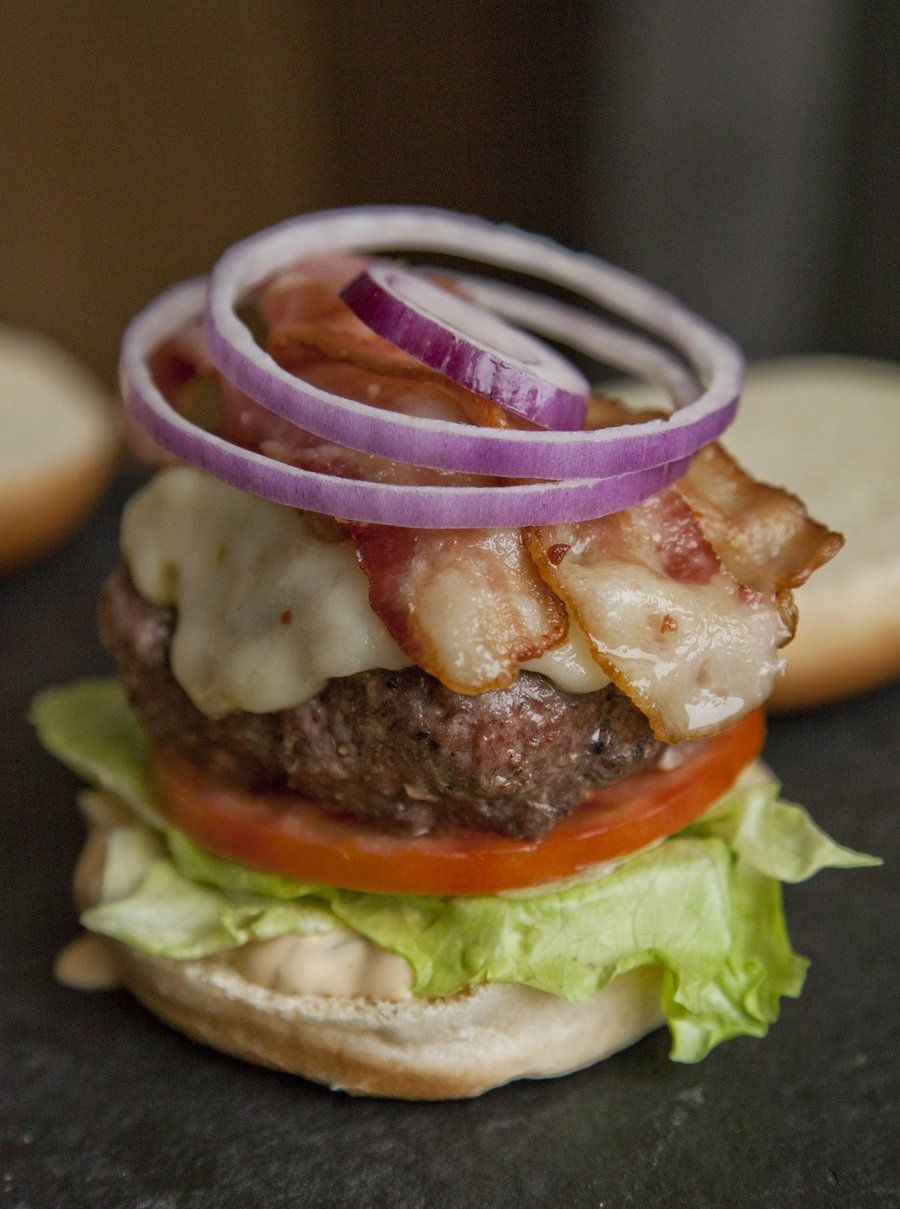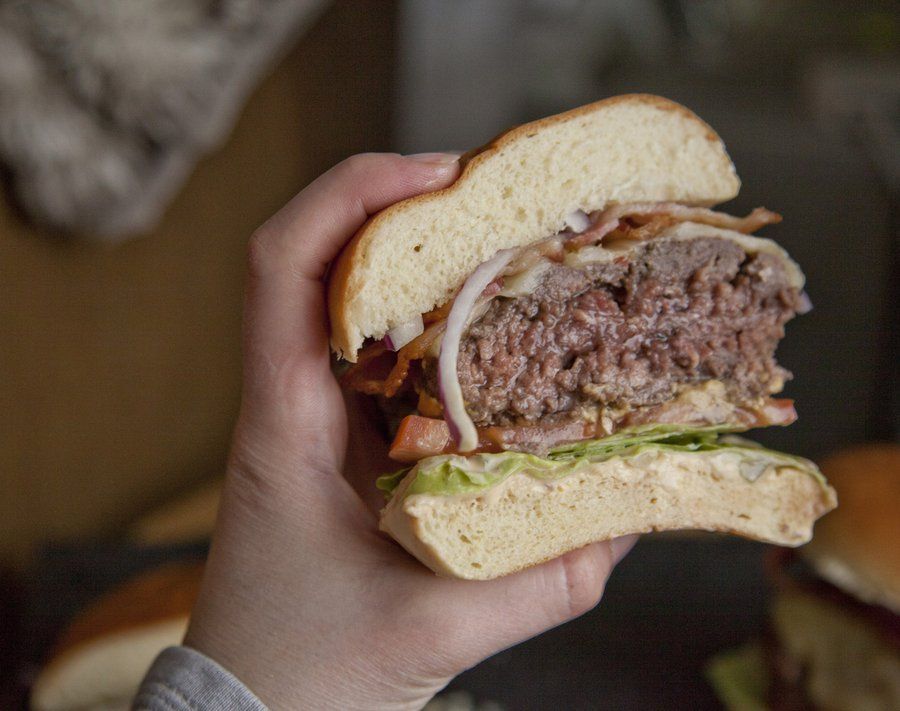 Sara's Capon Burger
Prep Time
---
10 Minutes

Cook Time
---
6 Minutes

Total Time
---
16 Minutes

Yield
---
Serves 4

Ingredients
1/3 Cup Mayonnaise
2 T Ketchup
1 Tablespoon Yellow Mustard
1 Cup Pickles (diced small)
1/4 Teaspoon Garlic Powder
Frank's Red Hot (as much as you want, to taste)
1 1/2 lbs Ground Beef (80/20)
1 1/2 tsps Salt
1 1/2 tsps Black Pepper
8 tsps Dijon Mustard
8 Slices Bacon (cooked)
4 Slices Pepper Jack Cheese
4 Lettuce Leaves
4 Slices Tomato
4 Slices Red Onion
4 Brioche Buns
---
Directions
For the Special Sauce: In a bowl combine your Mayonnaise, Ketchup, Yellow Mustard, Pickles, Garlic Powder and Hot Sauce. Stir to combine and set aside.
To Assemble The Burger: Spread the special sauce on the bottom of the bun, top with a lettuce leaf and slice of tomato. Add the cooked patty on top, and top that with a slice of Pepper Jack, and two slices of cooked bacon, some red onion, and more special sauce. Close the burger with the top of the bun and enjoy!
For the burgers: Gently combine the meat with the salt and pepper, and form into 4 pattys. Smear 2 teaspoons of Dijon on each patty (on only 1 side). Heat a griddle or cast iron skillet on medium high heat, and when very hot, cook the burgers mustard side up for 3 minutes. Flip, and cook another 3 minutes for medium rare and 4 minutes for medium.