I must admit, I don't cook as much fish as I probably should. To me, red meat every night is the kind of diet I like (*cough cough carnivore cough cough*)....but every now and then, even I have to switch it up. So tonight I created this dish: Seared Red Snapper Fillets in a Brown Butter Lemon Sauce served over a Moroccan inspired Couscous dish.
Fish is so easy and quick to make that every time I make it, I wonder to myself, "why don't I make this more often?" Searing the fish in this brown butter sauce creates this wonderfully juicy fish with a melt in your mouth flavor. I paired this savory fish with a Moroccan Couscous, which has a great mixture of flavors: sweet, spicy, salty and the combo is fantastic.
In the Couscous recipe I put in some Roasted Cherry Tomatoes - I made mine myself and it's super easy:
Cut your cherry tomatoes in half, and spread out on a sheet tray lined with foil
Toss with Olive Oil, salt, and a little sugar. Top with fresh thyme sprigs. Roast in a 325 degree oven for about 1 hour and 15 minutes, or until they start to dry out nicely
These are great to make in bulk and use on pizza, bruschetta, pasta....you name it!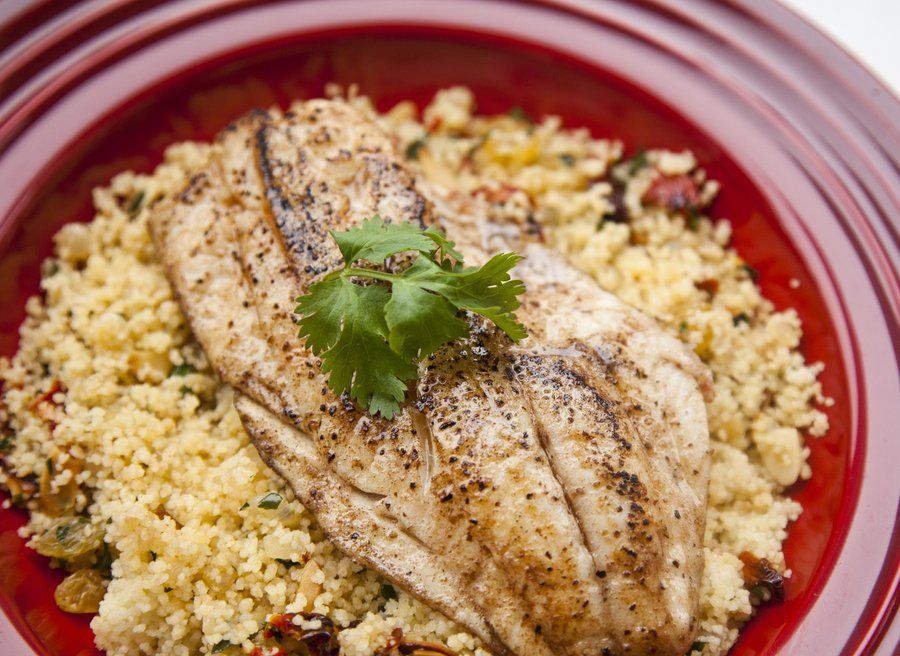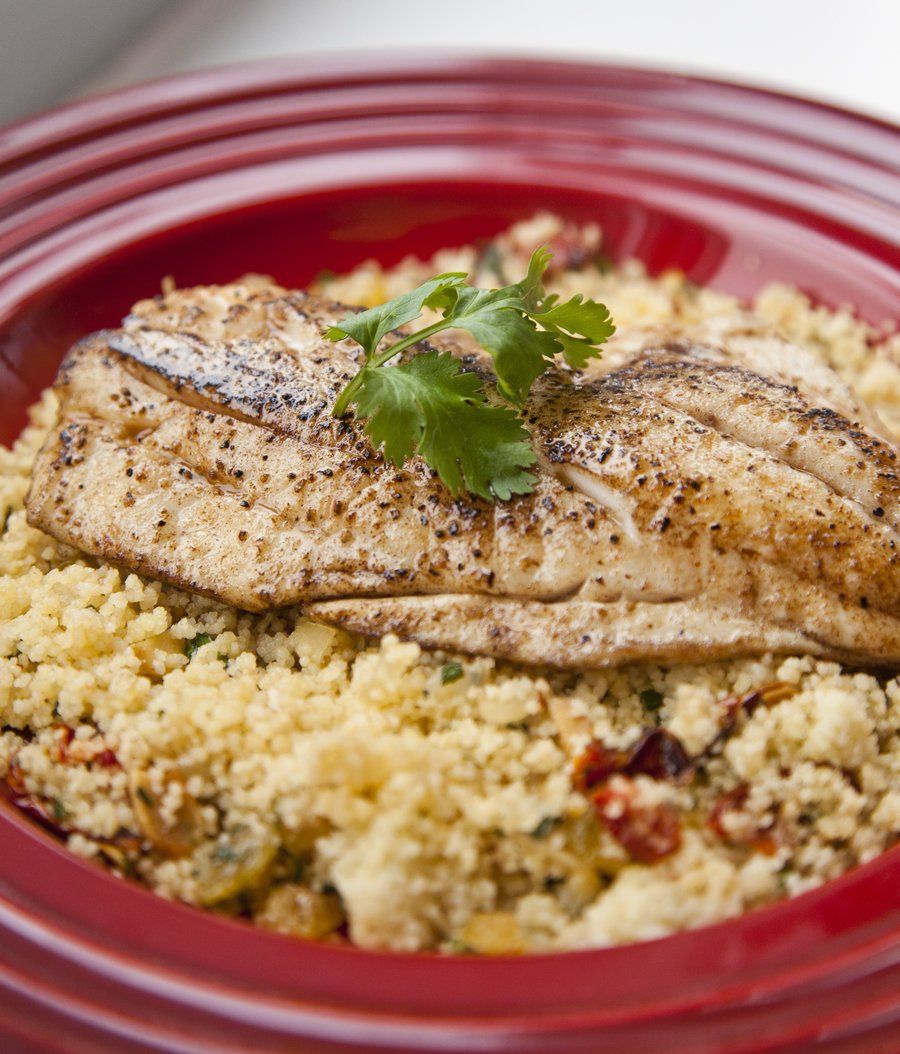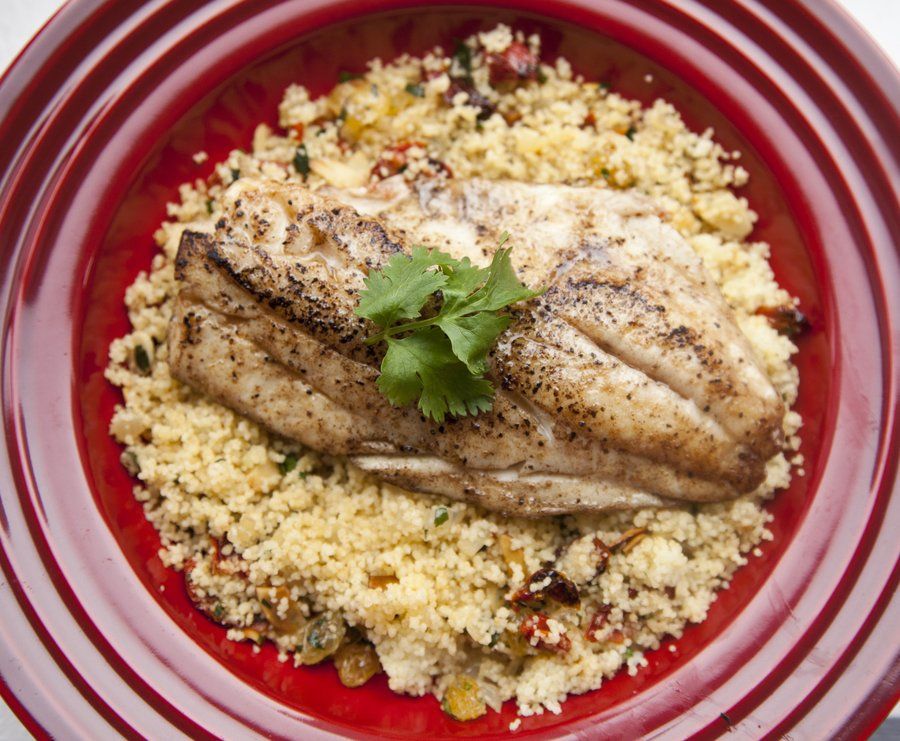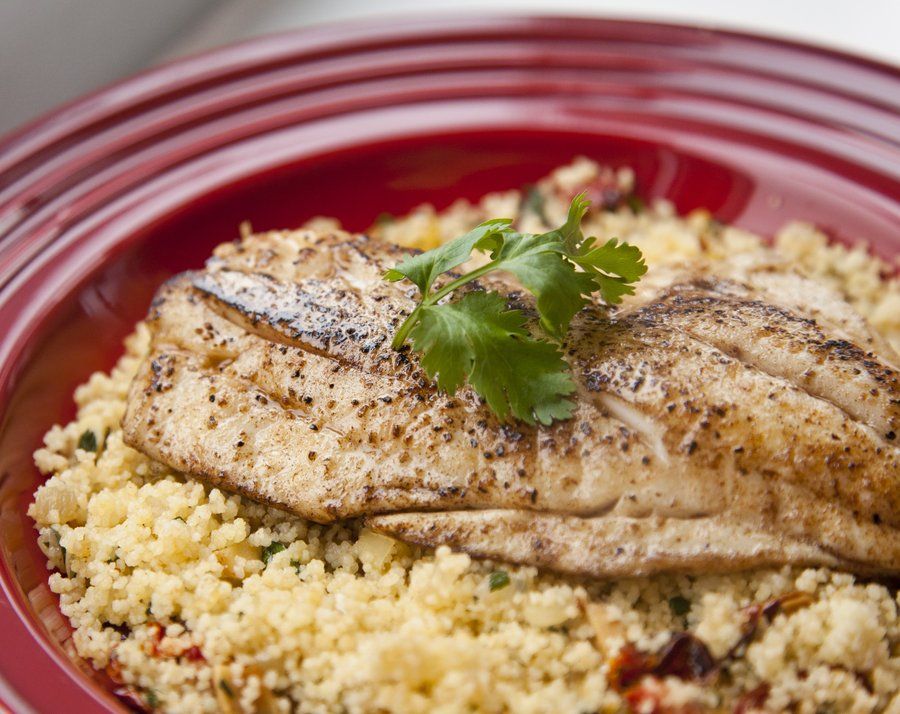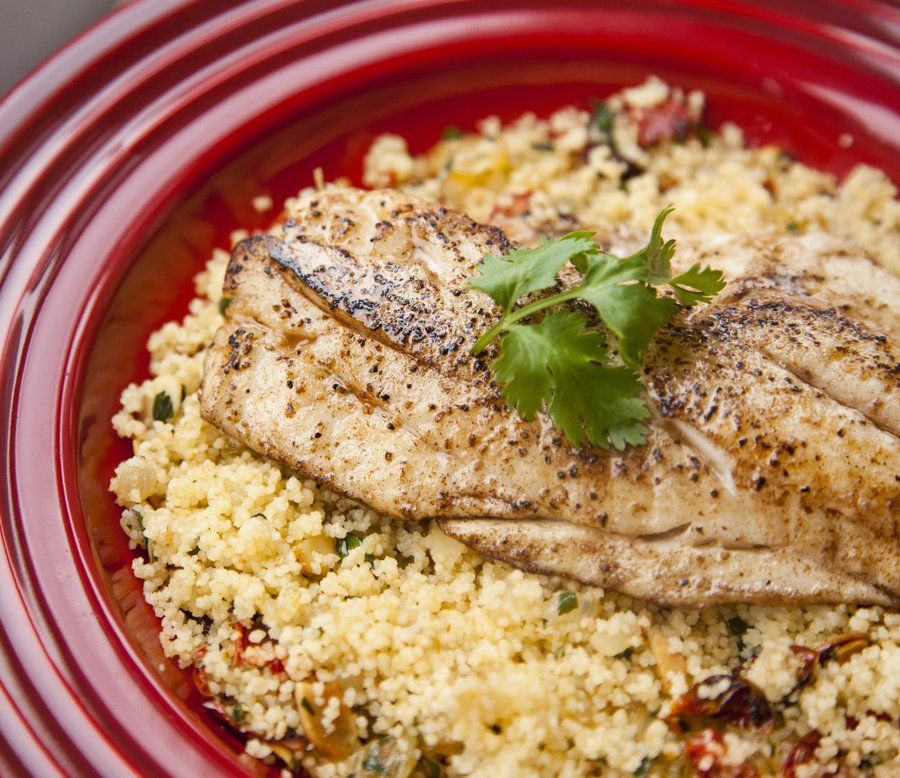 Moroccan Couscous
Prep Time
---
15 Minutes

Cook Time
---
10 Minutes

Total Time
---
25 Minutes

Yield
---
Serves 2

Ingredients
1 tsps Extra Virgin Olive Oil
1 Cups minced Onion
1/2 tsps Cumin Powder
6 tsps Golden Raisins
1 Cups Couscous
2 T Extra Virgin Olive Oil
Salt
1/3 Cups chopped roughly Roasted Cherry Tomatoes
3 T chopped roughly Cilantro
1/4 Cups Sliced/Slivered Almonds (lightly toasted)
Cayenne (to taste)
---
Directions
In a non-stick saute pan, heat up 1 teaspoon of Olive Oil. Add in your onion and cumin and cook at least 8 minutes over a medium heat until soft and translucent. Remove from heat and stir in raisins.
Meanwhile, in a pot, bring 1 cup of water to a boil. Add in 1 cup of couscous and 2 Tablespoons of Extra Virgin Olive Oil. Add in a pinch of salt as well. Bring back to a boil, then remove from heat. Cover and let sit for 5 minutes. Fluff with a fork.
Add to the couscous, your onion/raisin mixture, cilantro, and roasted tomatoes. Taste and season with salt and cayenne. Drizzle a little Olive Oil on it once plated.
Seared Red Snapper
Prep Time
---
5 Minutes

Cook Time
---
10 Minutes

Total Time
---
15 Minutes

Yield
---
Serves 2

Ingredients
4 Snapper Fillets
4 T Butter
Salt and Pepper
1 T Lemon Juice (fresh)
---
Directions
Make sure there are no pin bones left in your Snapper Fillets. Season the flesh side with salt and a little pepper.
In a large, non-stick saute pan, add in your butter. Over a fairly high heat, once your butter starts to foam, add your snapper fillets, skin side down. Baste the tops of the snapper with the butter and cook for about 3-4 minutes. Flip the fillets over and cook another 2 minutes. At this point, add in your lemon. Cook another minute (make sure the fillets are cooked through) and remove them from the pan.
Serve immediately.