France, the birthplace of culinary giants, incredible regional wines, and the art of pastry...a veritable playground for a chef much like myself. In a country where you can't walk more than a block without running into a fresh baguette or a macaroon, when my husband and I decided to make our annual once a year vacation to France, to say I was excited was an understatement. I immediately had visions of me walking down Champs-Elysees in a sundress, with a fresh baguette under my arm, while Clair de Lune somehow played in the background as my own personal theme song. Whatever, it's my dream, don't judge me.

I had been to Paris when I was in college with a friend, and made it a point to basically eat my way through the city... three square meals a day, with interim meals consisting of Cappuccinos and fresh Croissants. I fell in love with the idea that the most important decision of a Parisian's life was where they got their bread from every morning. Being a queen of the carbs, baguettes are my version of dessert, and the French are in my opinion the masters of the Baguette. As a kid when my mom would take me food shopping with her, she'd sit me in the grocery cart, hand me a whole baguette and I would keep quiet the entire time. Thankfully, my husband also shares this love for the perfect baked good that is a French Baguette. Living in New York City, you'd think we would have some place or bakery that could mimic the attributes of a French baguette, but I have searched long, and I have searched far, and I have yet to find anything that meets all the criteria. But I digress....I could go on this tangent for a while, being that it is such an important culinary topic to me.

So, back to the trip. My husband and I will take one 2-week vacation a year, and that's pretty much all the traveling we'll do all year...so when we travel, we go all out: the best hotels, restaurants, and activities. After deciding France was the destination, we knew we wanted to do Paris (duh), wine country, and the South of France for a little beach/relaxation time. Basically with no kind of reference to anything in the whole country, my ADD kicked after a few internet searches of where to go or where to stay, and I told my husband to just plan the whole thing, "I trust you, just plan it and make it all a surprise to me." He took the reigns and planned all aspects of this trip and let me sit back and be none the wiser. I am an insane type-A control freak, so I was kind of proud of myself for letting go and handing the control over to my super laid back hubbster.

I went into this 2 week vacation completely blind, knowing only general areas we were going to...I had no idea where exactly, how long, what we were doing, or what types of places we were staying in....he planned it all. I totally lucked out in the hubby department.

So we started out in Paris for a few days, eating at local Brasseries, finding some of my old haunts from my first trip, and just meandering the streets of Paris exploring (which to me, is the best way to experience Paris). We walked over 10 miles a day just weaving in and out of the complex streets of Paris, with no particular direction in mind. Our only planned meal was one we were very much looking forward to: L'Atelier de Joel Robuchon in Saint Germain.

5 years ago we went to Joel Robuchon's restaurant in Hong Kong and both agreed it was the best meal we'd ever had...ever...and nothing has changed that in 5 years. So after realizing there was a Joel in Paris, we made our reservations 2 months in advanced and began the countdown to culinary greatness (this was the only aspect of the trip I knew was planned).

Joel Robuchon's style of cooking is hard for me to sum up in a few words...I would best describe it as food finessed with the finest of French Techniques but with some of the most incredible creativity of Modern Cuisine as well. For example, our first dish was a creamy Gaspacho with a mustard ice cream. Yes, you read that correctly... Mustard Ice Cream. I ate it, and my mouth was crying with happiness. It's moments and dishes like this that makes you wonder what the hell he was smoking when he came up with the concept, and can you get some? The next course, perfectly cooked langoustine (imagine a Shrimp and Lobster had a baby, that's a langoustine) wrapped in this paper thin deep fried shell. For those who have cooked lobster or shrimp, you know the difference between under done and over cooked seafood is a very small window of time, and to perfect the perfect doneness, is an art. This was complete perfection. Next course, beef sliders with a zesty vinegar based sauce topped with the most perfectly seared foie gras sandwiched between 2 in-house homemade brioche buns - simple but executed to complete perfection. At this point we were surprised with a small coquette of Joel's famous Mashed Potatoes, which are literally the smoothest thing you'll ever eat. Like eating satin...only potatoes and probably 12 pounds of perfect French salted butter. After pondering how one could possibly get mashed potatoes THAT smooth, we were informed that he only uses the very insides of Yukon Golds (those awesome waxy potatoes)...I didn't inquire as to the ratio of potato to butter, but I'm sure it wasn't on the Weight Watchers list of things to snack on. Whatever, things don't have calories on vacation. Last savory course, a hail Mary on my part knowing that my husband doesn't typically like them, but I suggested the Veal Sweetbreads. Holy perfection… so much so that hubby is now a believer in the sweetbread goodness of life. Served with perfectly sautéed cremini mushrooms with a lemon foam - it was something that again was executed perfectly with the right crispy sear on the sweetbreads and the perfect combination of flavors and textures. We were raving about the meal all vacation, and as a chef, I can't think of something that brings more inspiration or reinvigoration into the art of cooking than an experience like Joel Robuchon.

Sometimes as a chef, cooking for a family or in a restaurant day in and day out, you can get into a culinary repertory rut...much like I'd assume in any field. Sometimes you need an experience or a moment to just relight your fire for your passion, and something like this just makes you remember why you fell in love with the art of cooking and why working with food is life for you. Thank you Chef Robuchon, you're truly an inspiration and genius.
After this diatribe of Joel praising you may ask, what does this have to do with Seared Pork Chops in a Mushroom Sauce? Well, like I said, as a chef, we take inspiration from all over and for some reason, the sautéed mushrooms in the Sweetbread dish we had, stood out to me. I love sautéed mushrooms as a side/sauce to basically anything…and Joel's were just outstanding. So with that, I was inspired to make this dish, really highlighting the mushroom sauce. My husband, who is usually not a huge mushroom fan, was raving about the mushrooms and sauce, saying they were the star of the dish.
If you're not much into pork or pork chops, this dish would also be incredible with bone-in chicken thighs or boneless chicken breasts.
Enjoy!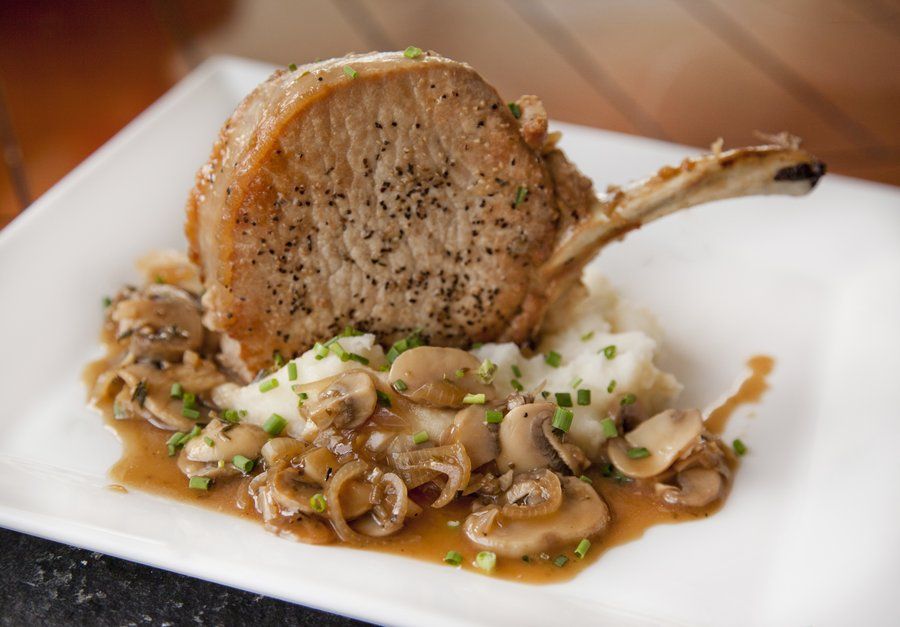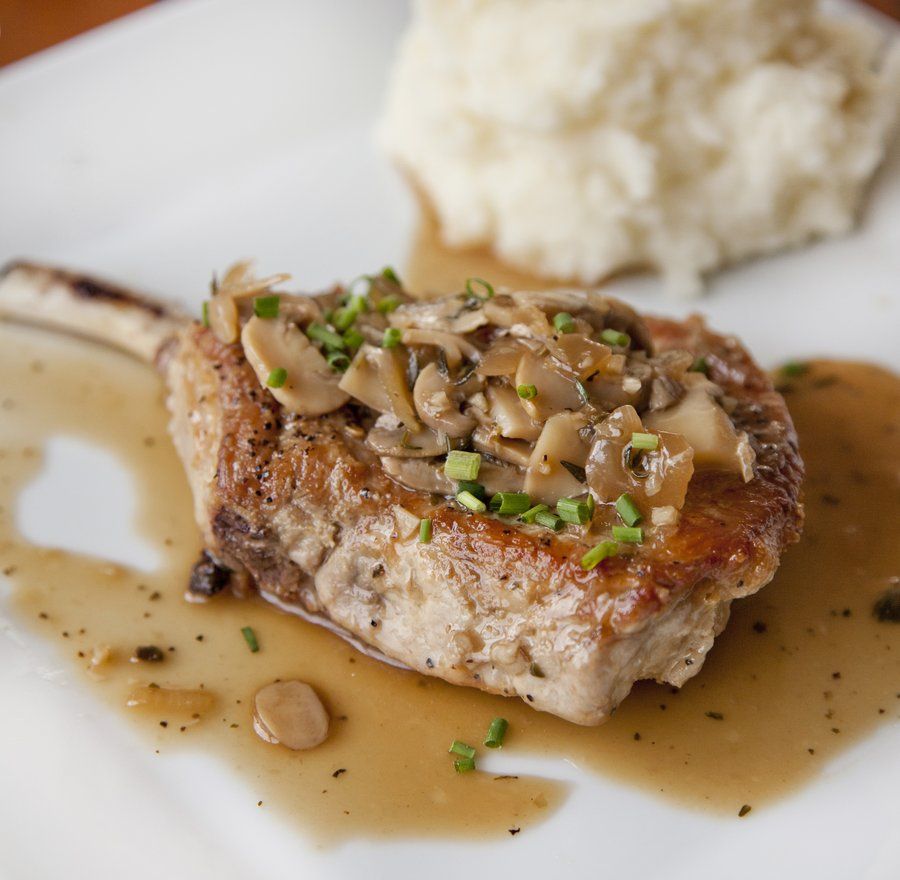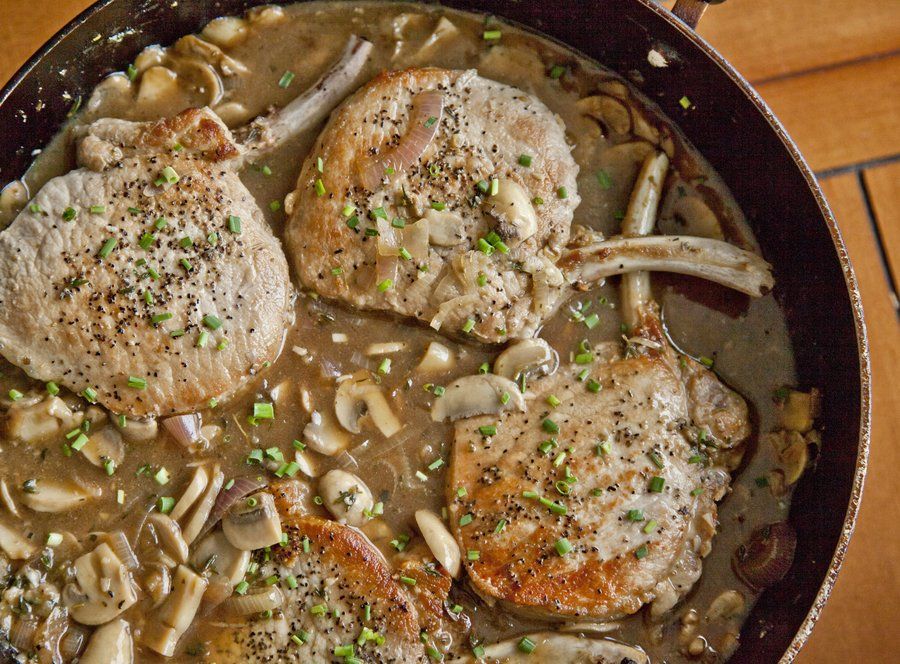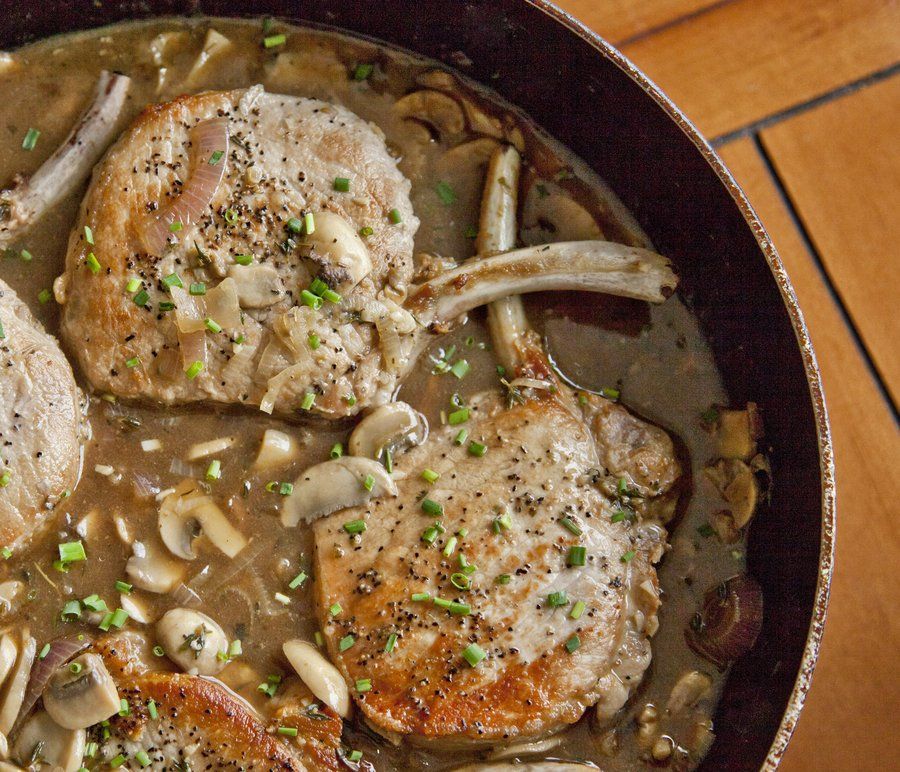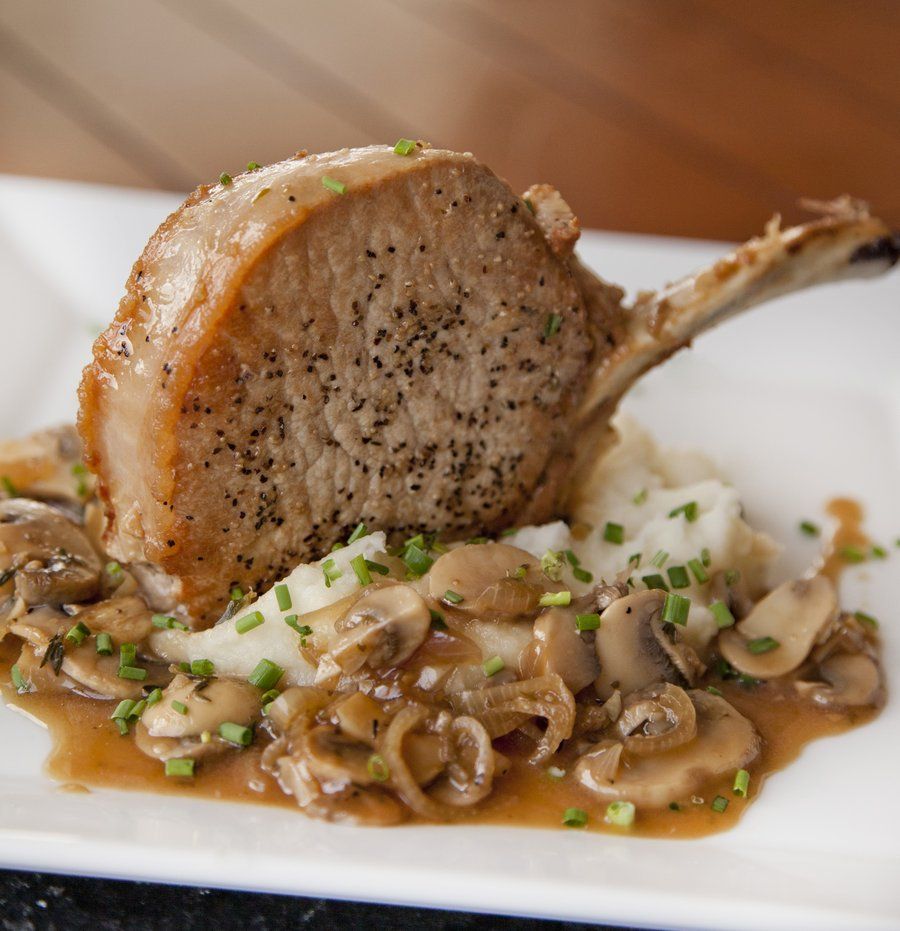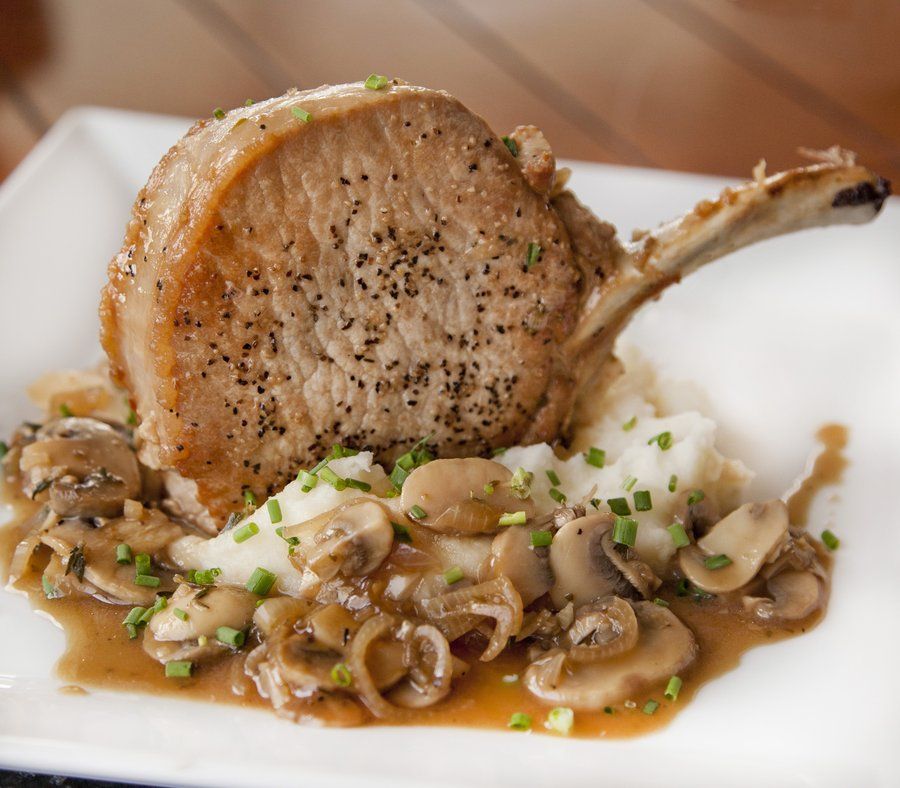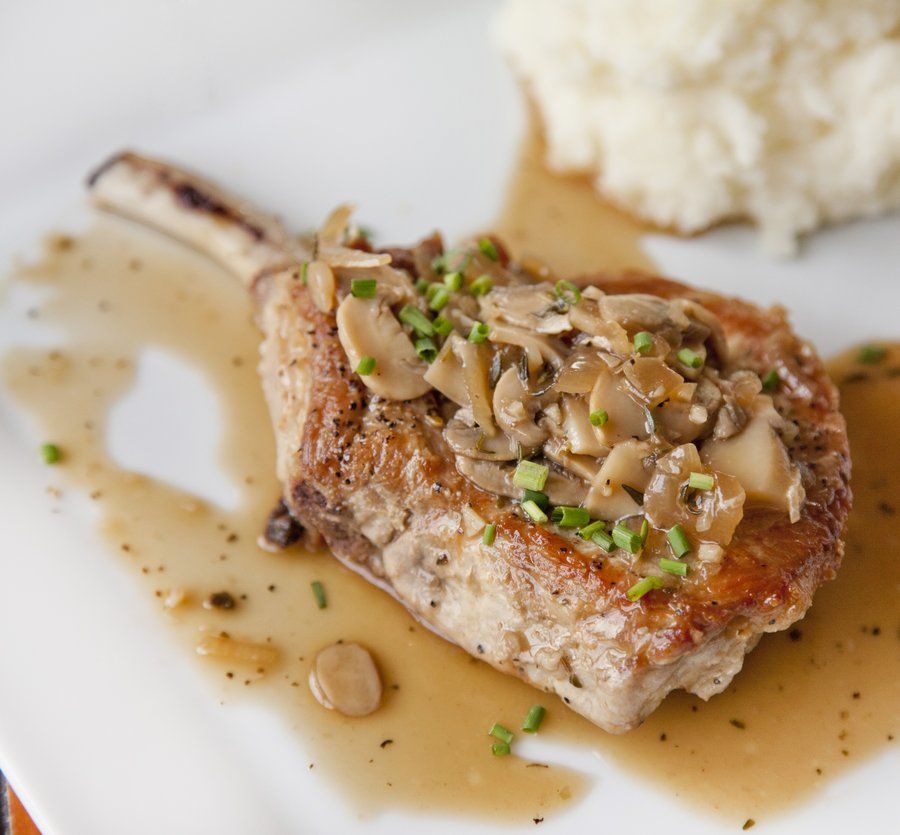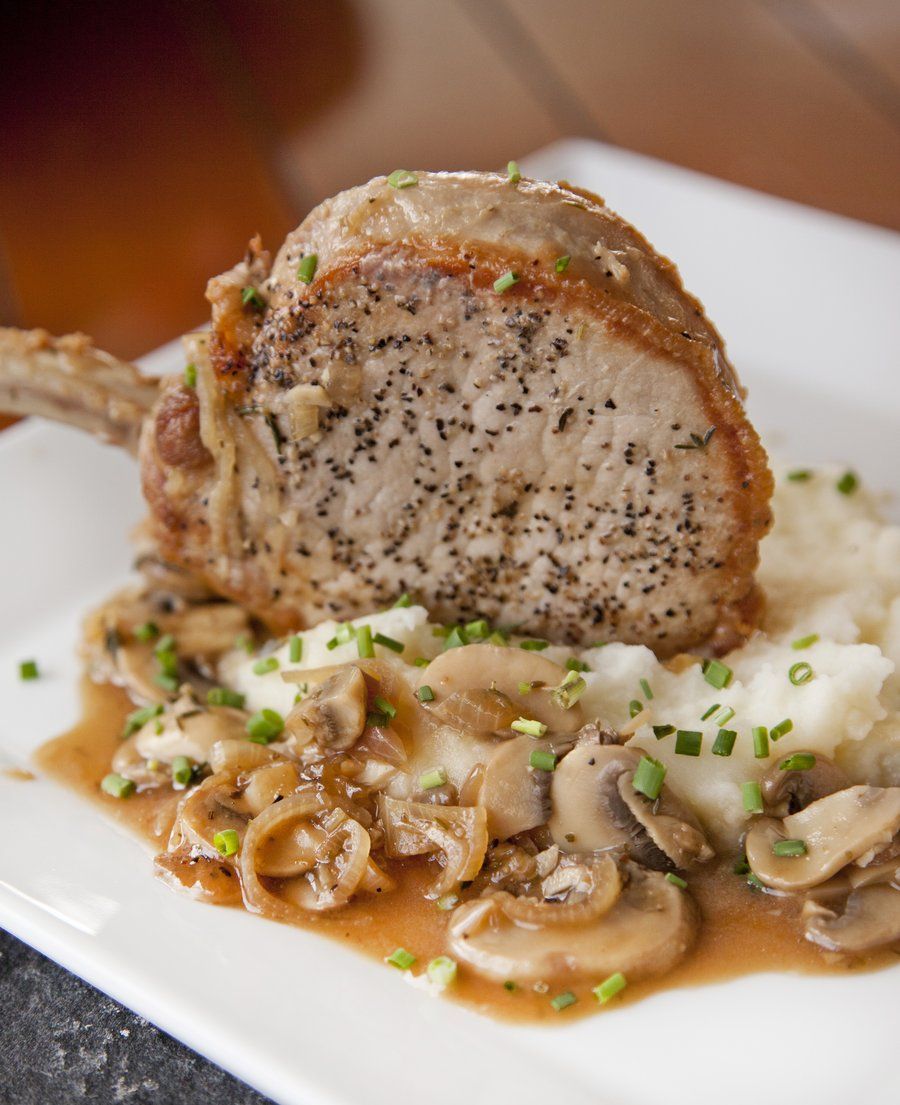 Creamy Potato Puree
Prep Time
---
5 Minutes

Cook Time
---
20 Minutes

Total Time
---
25 Minutes

Yield
---
Serves 4-6

Ingredients
4 Russet Potatoes
1 Cup Whole Milk
8 T Unsalted Butter (1 stick)
2 tsps Salt
---
Directions
Peel your potatoes and cut into 1" cubes. Place immediately in a pot and cover with cold water. Add 1 Tablespoon of salt to the water and place on the stove. Bring to a boil, and cook for about 10-15 minutes until the potatoes are easily pierced with a paring knife.
Drain your potatoes through a sieve and immediately scoop the potatoes into a ricer. Pass the potatoes through the ricer right back into the pot you cooked them in. *It's important to rice the potatoes when they're super hot!
Mix in your milk, butter and salt and stir to combine - serve hot.
Pork Chops in a Mushroom Sauce
Prep Time
---
15 Minutes

Cook Time
---
30 Minutes

Total Time
---
45 Minutes

Yield
---
Serves 4-6

Ingredients
6 Bone In Pork Chops (about 1" thick, fat trimmed)
1 Pound White Button Mushrooms (cleaned & sliced thin)
1/2 Red Onion (sliced thin)
2 Shallots (sliced thin)
1 Cup Dry White Wine (divided)
5 Garlic Cloves (minced)
1 Tablespoon Thyme (fresh - leaves only)
1 Teaspoon Herbs de Provence
2 Cups Low Sodium Beef Broth
1 Tablespoon Cornstarch
---
Directions
Heat up a large skillet with enough canola oil to lightly coat the bottom. Heat over a high flame - once the oil is screaming hot, season your pork chops with salt and pepper on both sides and place in the skillet (you will have to do this in 2 rounds). Sear both sides of the pork until it's golden brown - remove pork from skillet and place on a plate.
While the skillet is still over the flame, add in the mushrooms, red onion and shallot and turn the flame down to medium high. Stir the mushroom mixture around to coat all pieces with remaining oil. Cook about two minutes then add 1/2 cup of your white wine to the skillet to deglaze the pan.
Cook the mushrooms for about 5-10 minutes, stirring frequently, until all the liquid has basically evaporated. At this point add in your garlic, thyme, herbs de provence, and the rest of your white wine. Bring to a simmer and add in your beef stock. Bring to a boil.
In a small bowl, stir together your cornstarch with 2 tablespoons of water. Once stirred together to make a slurry, pour the cornstarch mixture into the skillet and cook another 3 minutes to thicken. Taste the stock and season with salt and pepper. Now add back in your pork chops to finish cooking through for about 3-5 minutes). Serve hot garnished with minced chives.