My husband and I just returned from a 2-week vacation across France, and to say it was an inspiring culinary voyage is an understatement. One of the coolest aspects of France is that every territory has it's own style of cuisine and it's own signature dishes (much like the United States but, in an region that's only the size of Texas).
While traveling from North to South, from Paris, through the wine regions and down to the South of France, we encountered many styles of cooking and I was in heaven!
While spending two days in Bordeaux wine tasting, we ate at two different places for lunch, both of which had a Salmon Tartar option…and each day, that was what I ordered. On the first lunch, the salmon tartar was super light, seasoned with just lemon and some chives and served with a lemon cream on the side. On the second day, the Salmon Tartar was made with a little mayonnaise/crème fraiche mixed in served on top of Eggplant "Caviar" (small diced roasted eggplant). Both dishes were amazing in their own right, and both were the perfect summer dish…especially since it was 100 degrees outside both days of wine tasting…yea yea I know, first world problems.
So coming back to New York City, I knew I wanted to make a tartar that was a hybrid of these 2 dishes that we tasted on the trip. I decided to utilize both the bright flavors of the lemon juice, and the creaminess of the mayonnaise and season with some fresh herbs like dill and chives to create my version of a French style Salmon Tartar.
This dish was a total rock star creation. Light, bright and unbelievably tasty – it's the perfect summer dish that can be made as either an appetizer or and entrée. I served it as last night's dinner with a side of homemade Guacamole (to me salmon and avocado go together like gin and tonic…..or peanut butter and jelly….whatever you're into).
You could also try this recipe with sushi grade Ahi Tuna as well if you're not much of a Salmon Fan.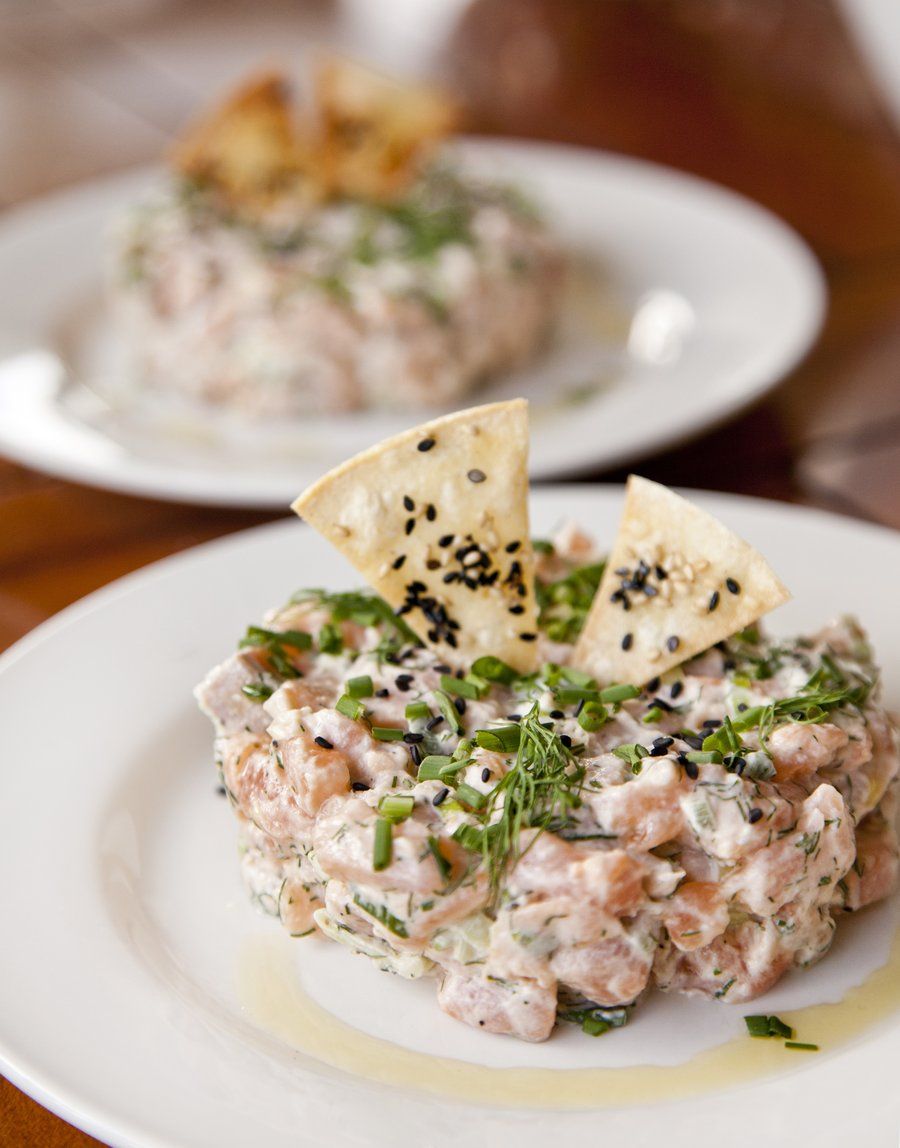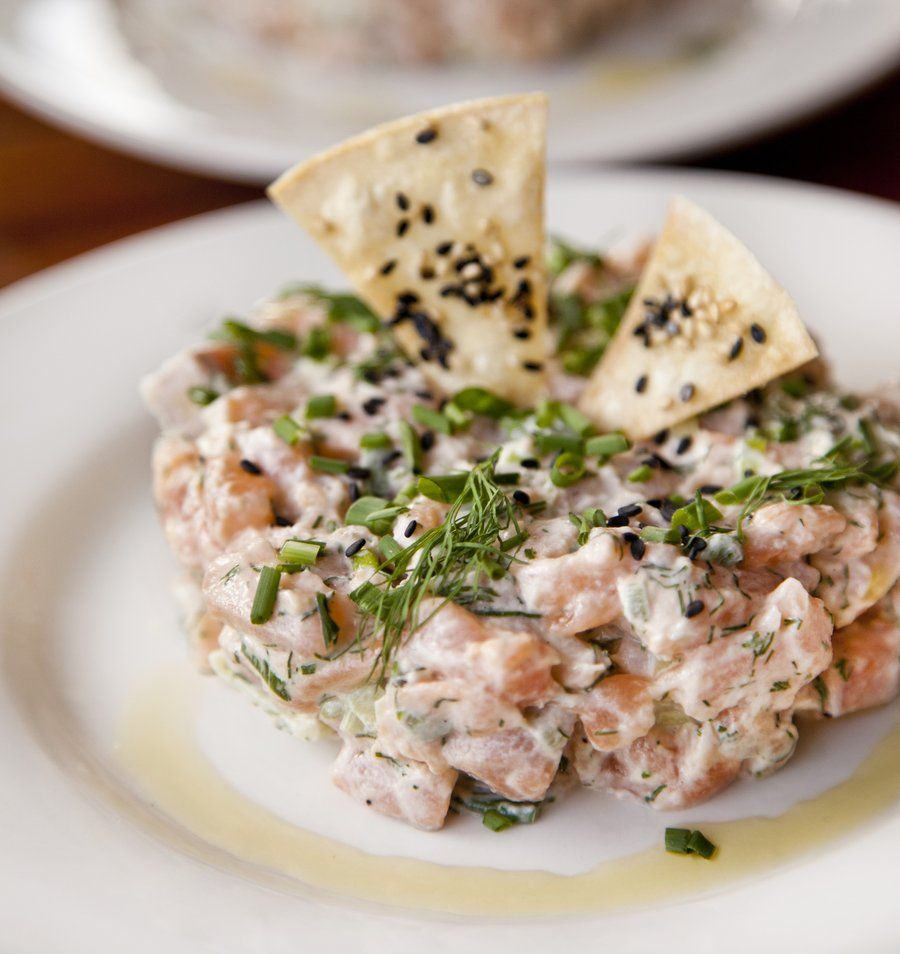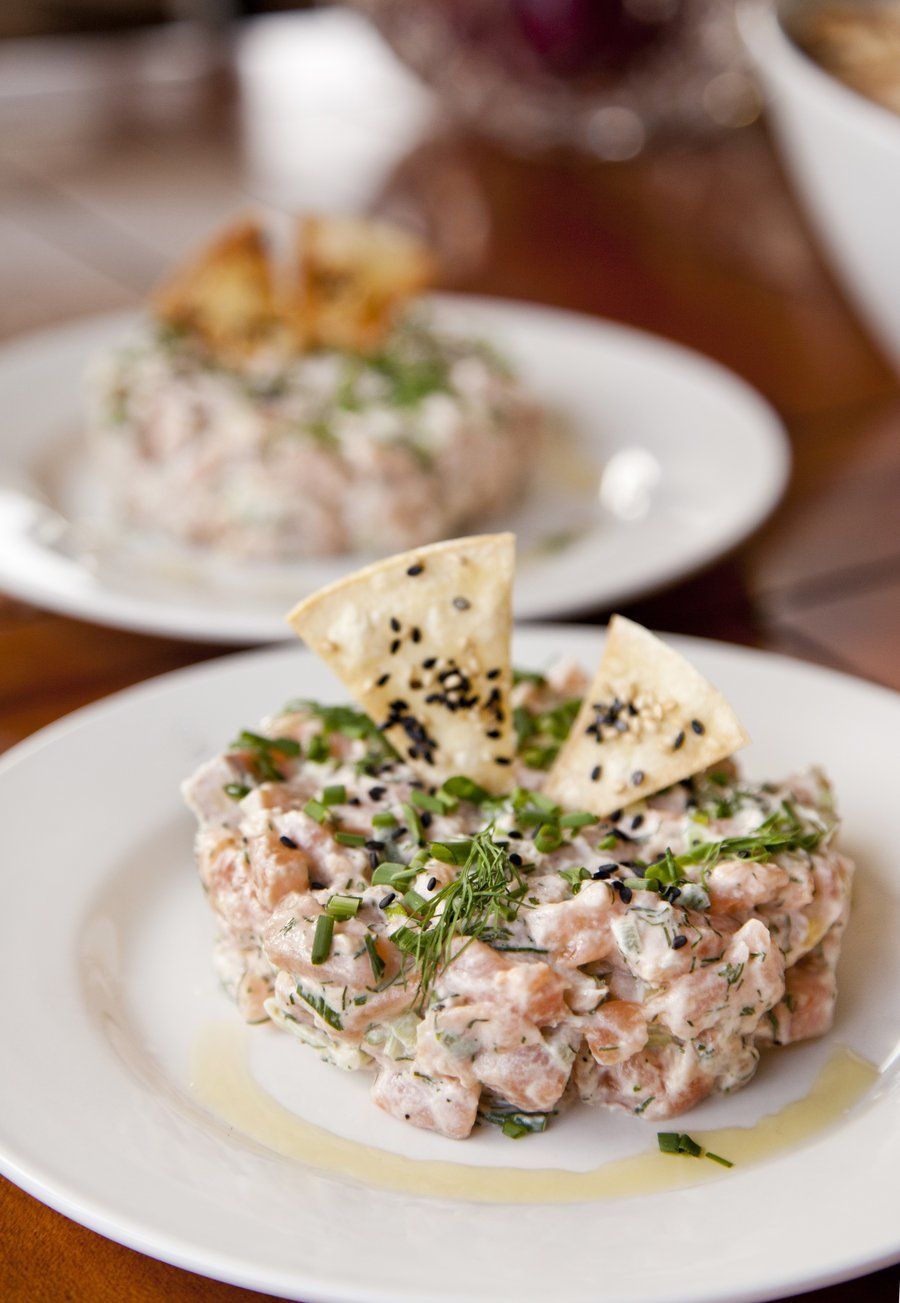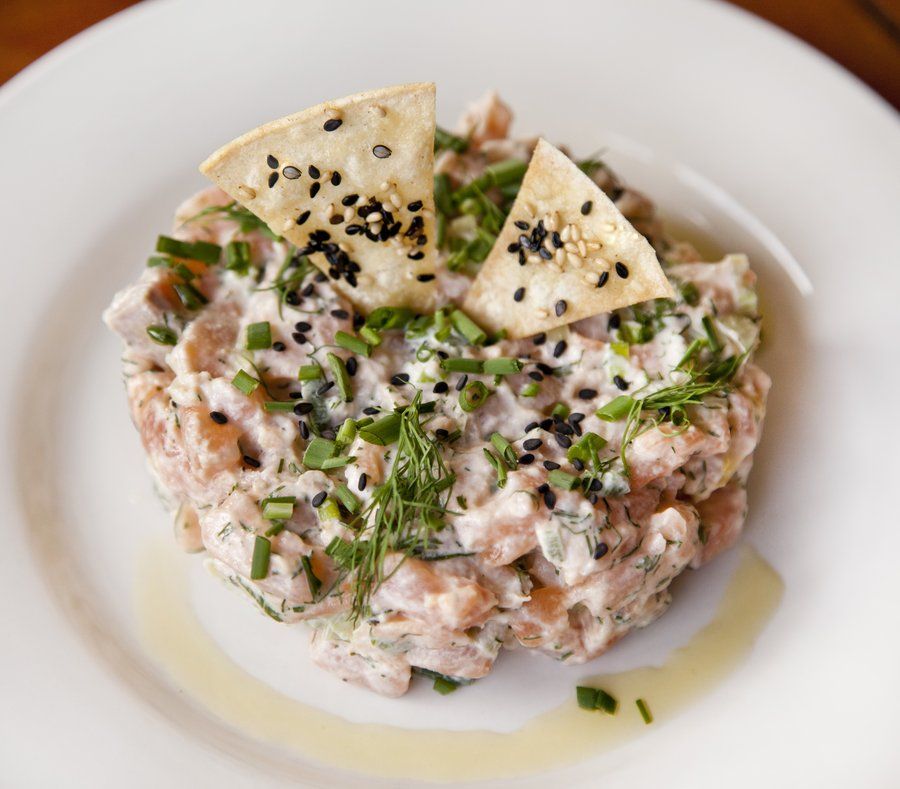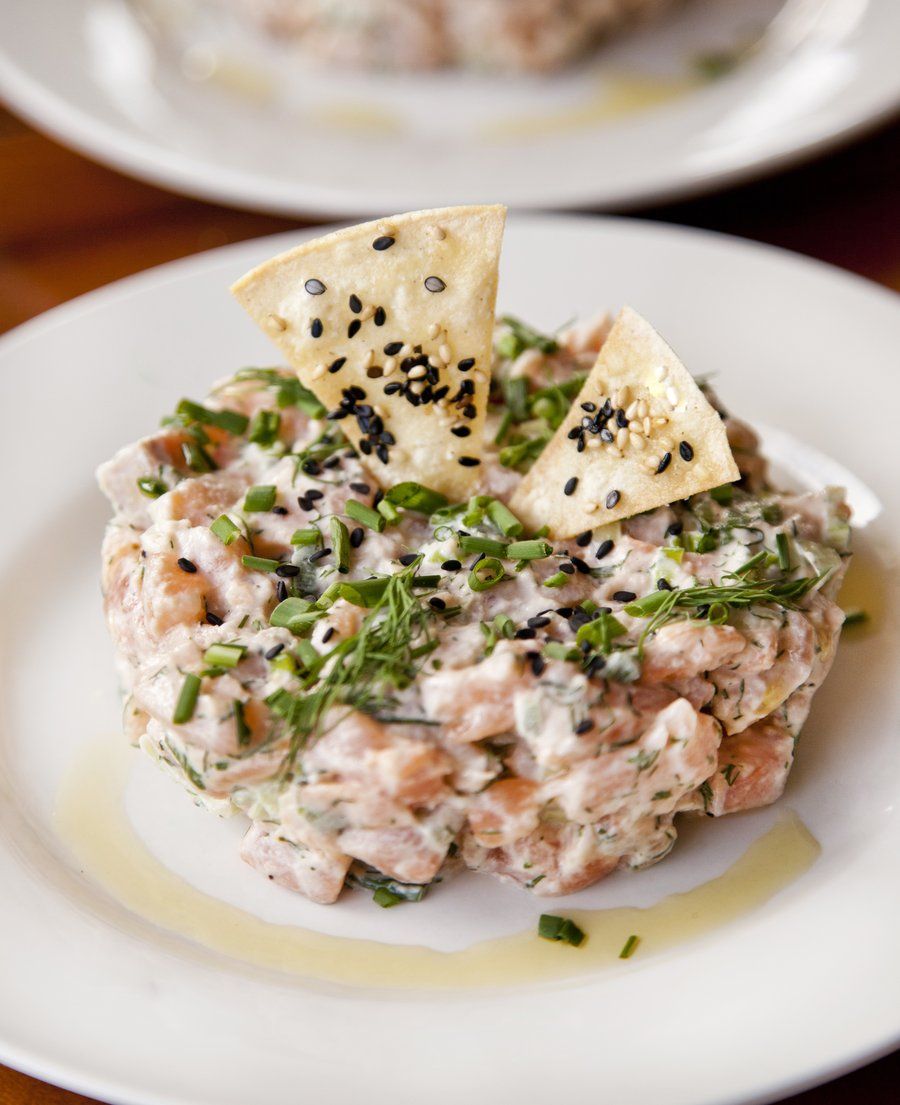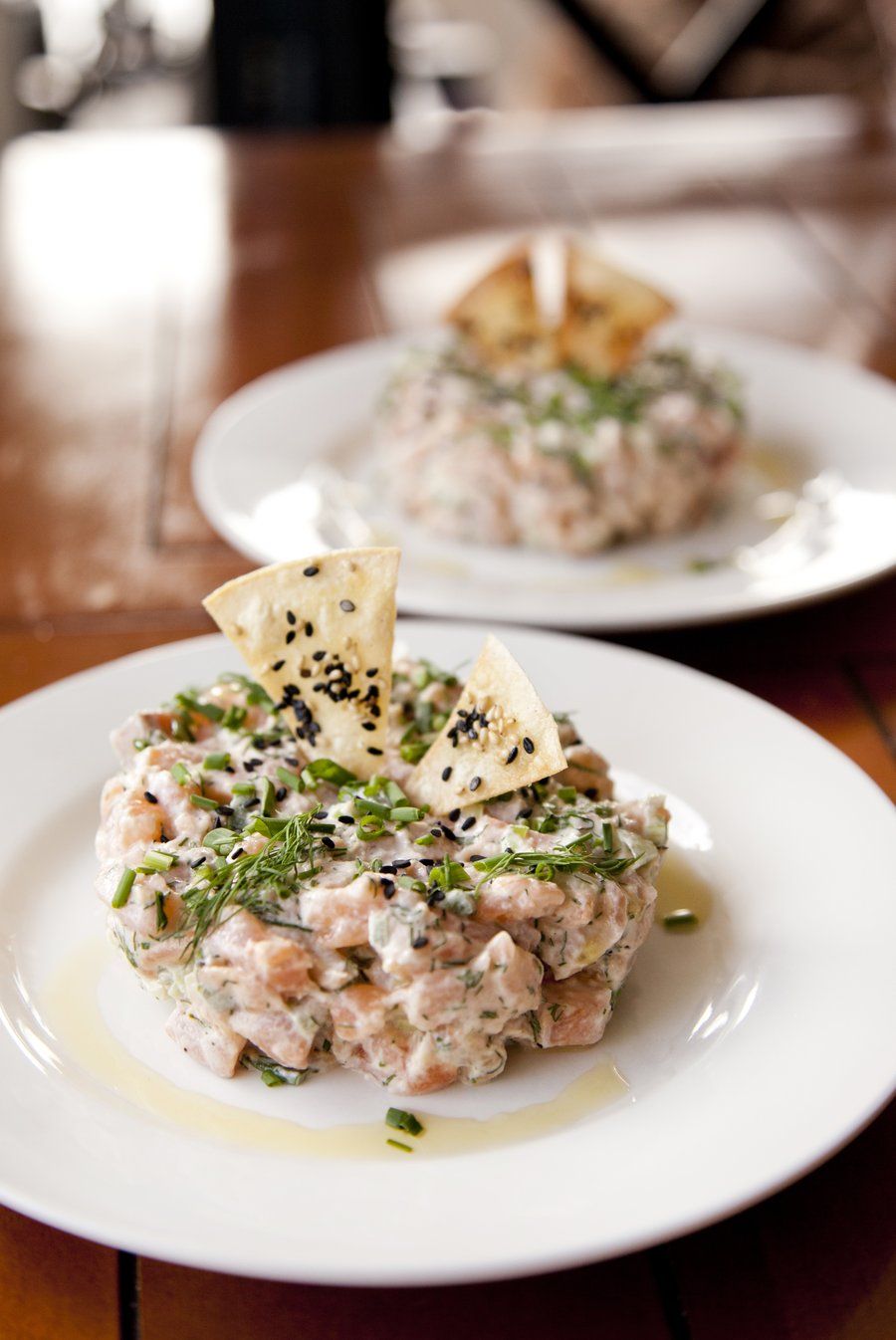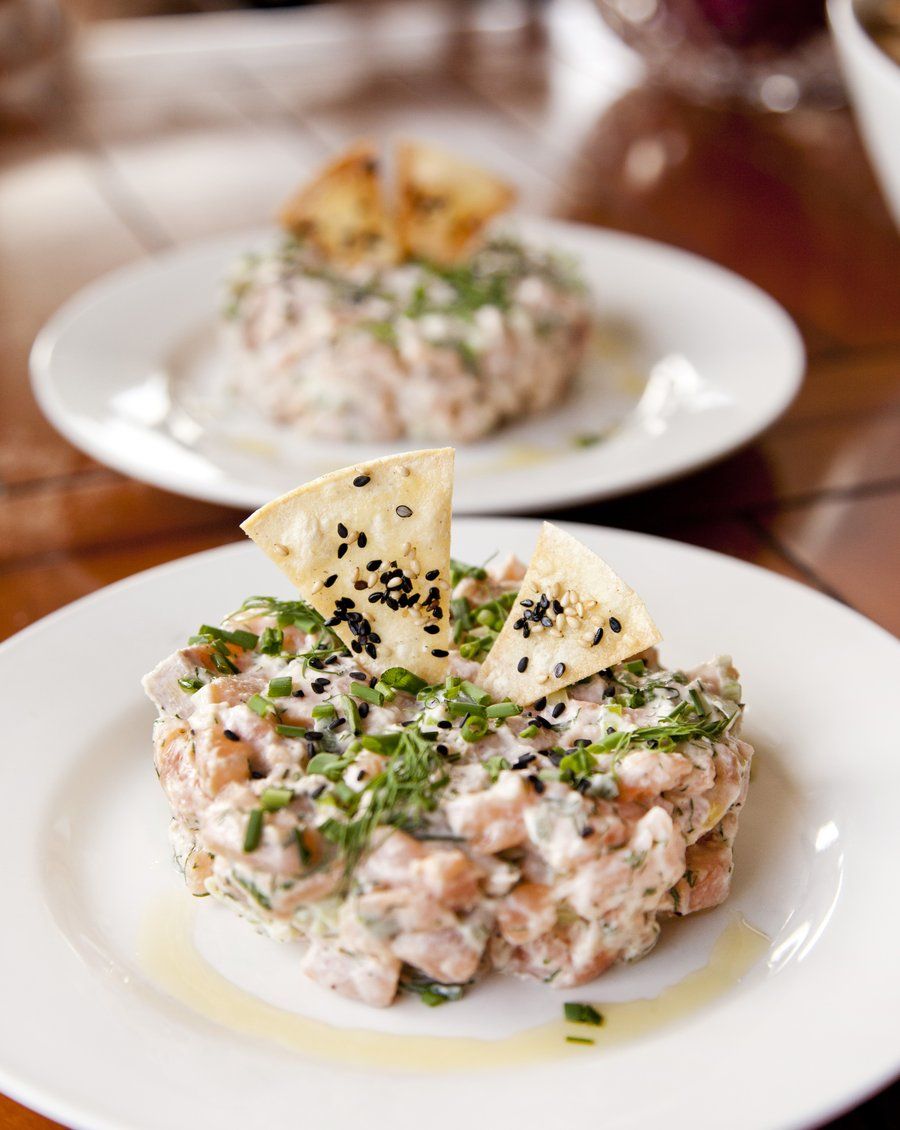 Salmon Tartar
Prep Time
---
20 Minutes

Total Time
---
20 Minutes

Yield
---
Serves 2-4

Ingredients
1 1/2 lbs Salmon (1.25 pounds after the skin is removed)
1 Lemon (juiced)
1 1/2 T Fresh Dill (minced)
2 T Mayonaise
2 Scallions (sliced thin on a bias)
1 1/2 tsps Salt
1/4 tsps Black Pepper
1 Tablespoon Chives (minced - for garnish)
1 Teaspoon Black Sesame Seeds (for garnish)
---
Directions
Remove the skin from the fish and discard. Slice the fish lengthwise about 1/4" thick and then cut into small fingernail-sized pieces and place in a large bowl. Add your lemon juice, dill, mayo, scallions, salt and pepper to the bowl and stir well to combine.
Refrigerate until you're ready to serve it. To plate, use a circular mold and pack the salmon into it. Carefully remove the circle mold and top the salmon with chives, black sesame seeds, sesame seed chip (recipe below) and some more fresh dill. Pour a little Olive Oil around the salmon for a nice finished look.
Sesame Seed Chips
Prep Time
---
5 Minutes

Cook Time
---
12 Minutes

Total Time
---
17 Minutes

Yield
---
Makes 2 dozen chips

Ingredients
3 6" Corn Tortillas
Olive Oil
Salt
Black Sesame Seeds
White Sesame Seeds
---
Directions
Preheat your oven to 375 degrees.
Cut your whole corn tortillas into 8 equal sized wedges. Place all the wedges on a baking sheet, not touching or overlapping, and lightly drizzle with Olive Oil. Season with salt and then top with both black and white sesame seeds.
Bake for 12 minutes in the oven and then remove. Allow to cool 5 minutes before serving.