I am a total meat and potatoes kind of girl. Only last night, I decided to sub-out the potatoes for cauliflower and make a Thomas Keller inspired Cauliflower Gratin. I used Chef Keller's techniques but with my flavor profile (adding in sage for parsley and substituting Gruyere Cheese for Parmesan).
I made a super easy seared Flank Steak with a Classic Red Wine pan sauce to go along with the gratin.
This is the ultimate, rib sticking, delicious food that I love to both cook and eat!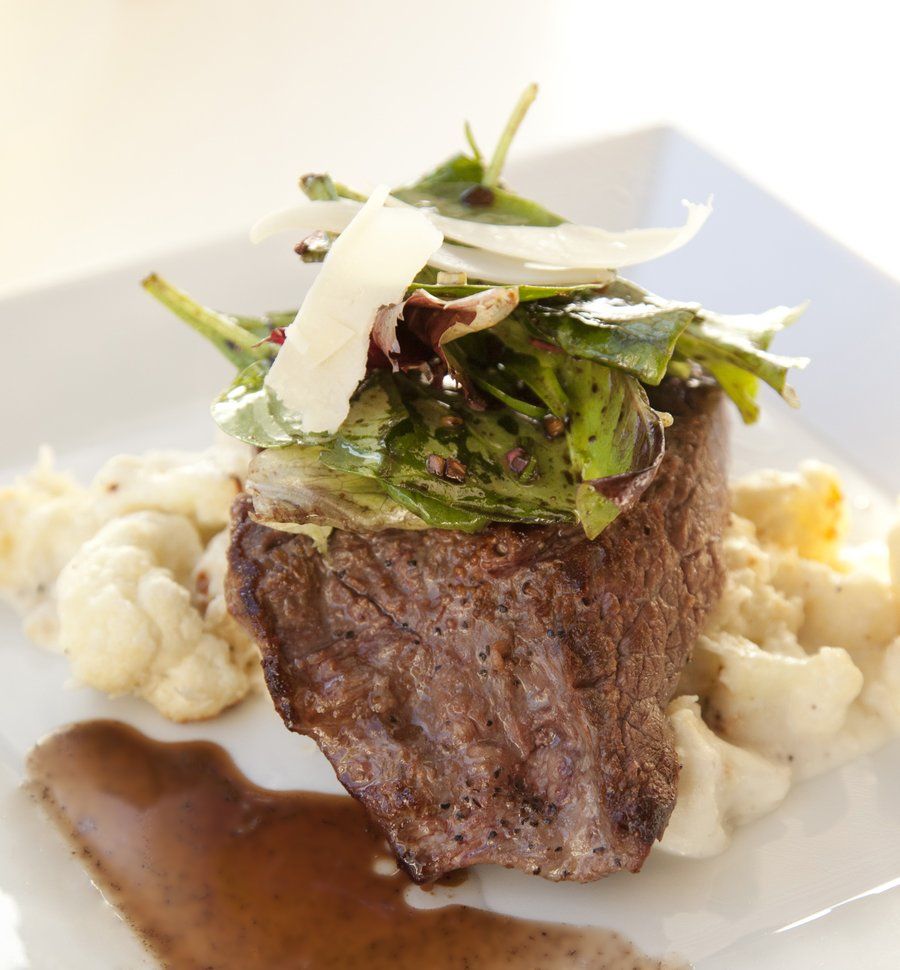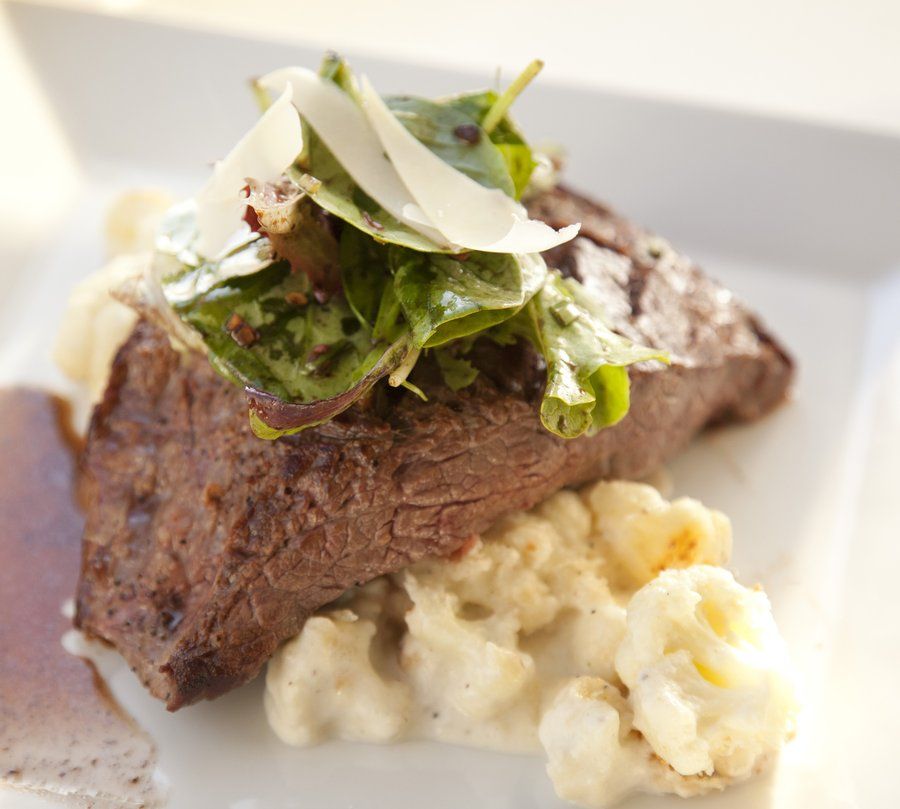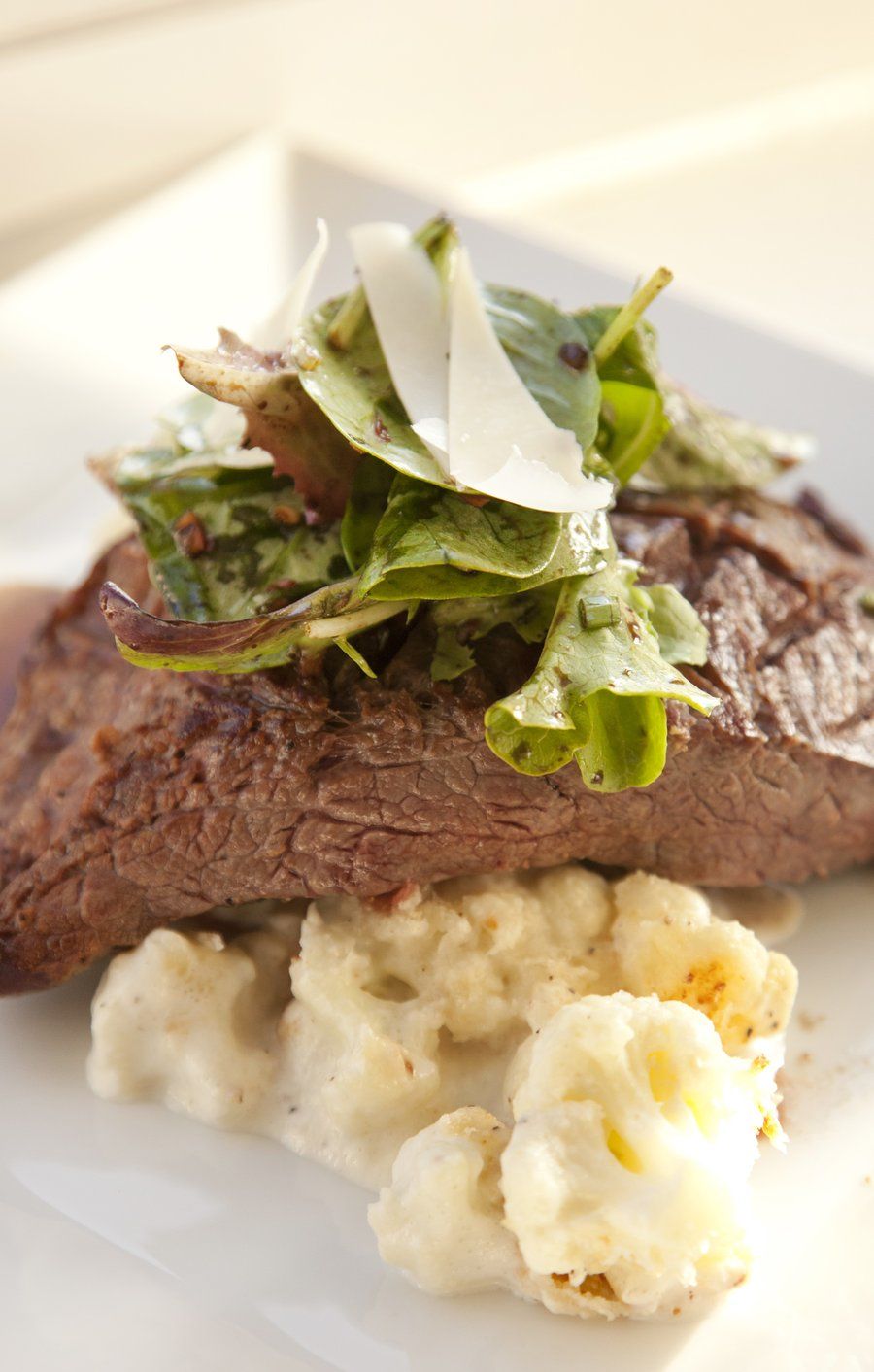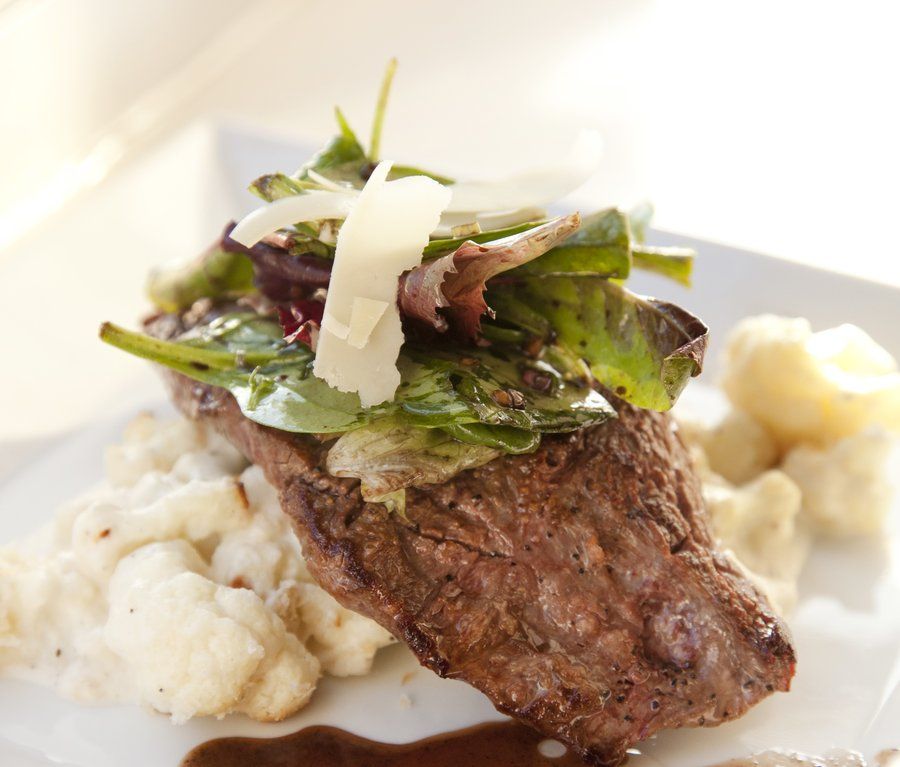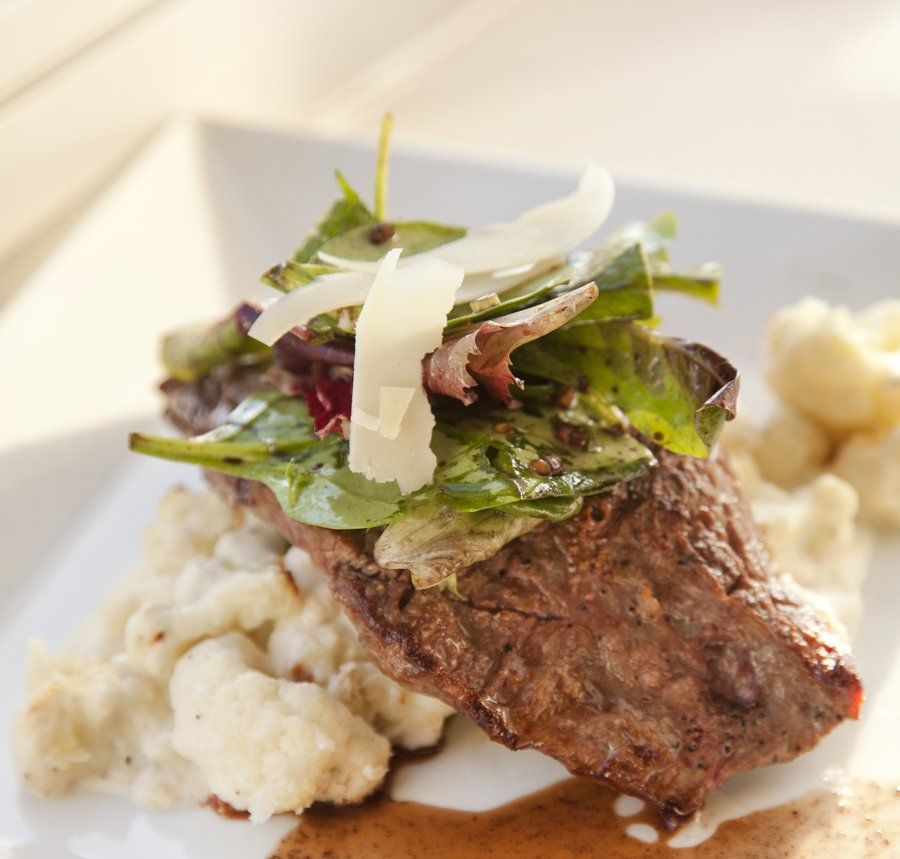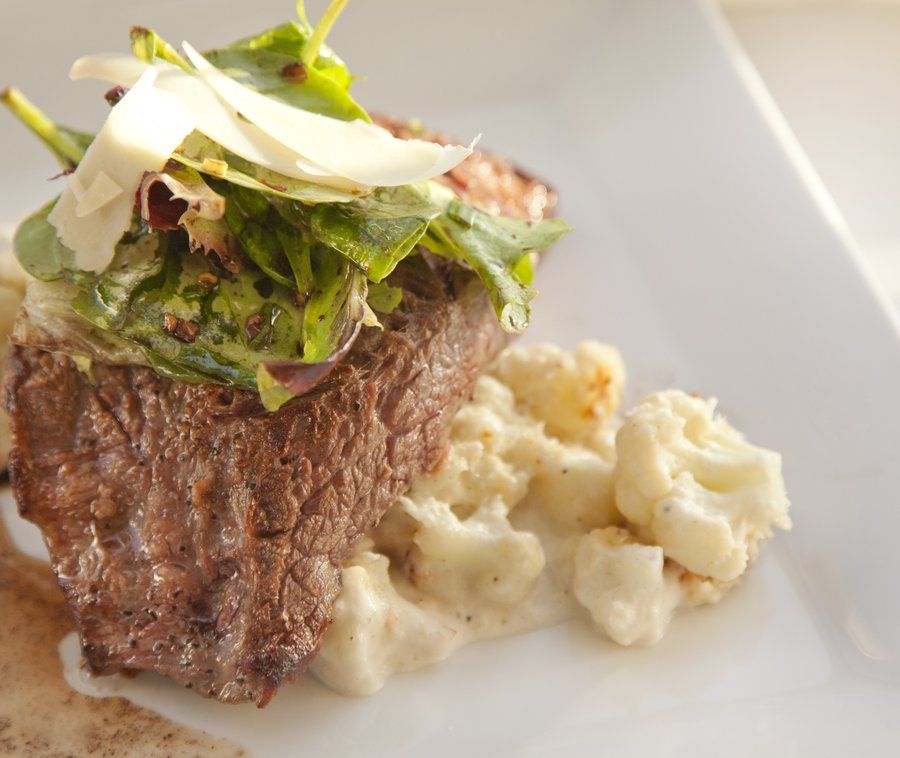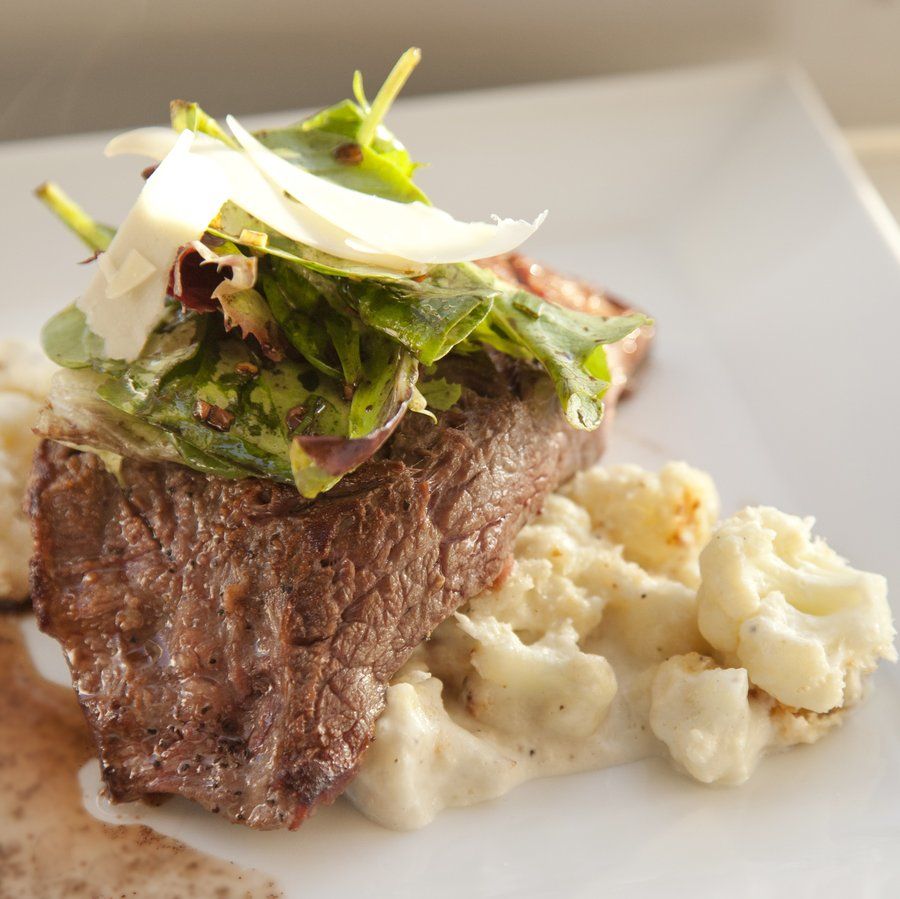 Seared Flank Steak with a Red Wine Sauce
Prep Time
---
5 Minutes

Cook Time
---
20 Minutes

Total Time
---
25 Minutes

Yield
---
Serves 4

Ingredients
2 lbs Flank Steak
Salt and Pepper
1 Tablespoon Shallot (minced)
1/2 Cup Red Wine (I used a Cabernet Sauvignon)
3/4 Cup Low Sodium Beef Broth
2 Sprigs Thyme
---
Directions
Trim your steak of any excess fat and cut into 4 equal sized portions and carefully score each side of the steak in a cross-hatch pattern (this prevents the steak from buckling when it cooks). Heat up a large metal skillet with enough canola oil to lightly coat the bottom of the pan. Season the steak generously on both sides with salt and pepper.
Once the pan is smoking hot, place your steak in the pan, presentation side down. Cook for about 4 minutes until you have a nice golden brown crust, turn over and cook another 4-5 minutes or until you've reached your desired doneness.
Remove the steak from the pan and allow to rest on a rack for at least 10 minutes - cover with foil to keep hot. You may have to do the steak in batches.
Once you've cooked all your steak - dump out the oil in the pan but place the pan back over a medium heat. Add in your shallots and deglaze with the red wine using a spoon to scrape up all the browned bits from the bottom of the pan. Reduce the wine completely (about 3 minutes), then add in your stock and thyme. Cook until the sauce thickens just enough to coat the back of a spoon - 3 minutes. Taste and season with salt and pepper.
When serving the sauce with the meat, you can either serve it as is (just remove the thyme) or you can strain it - which is what I like to do.
Cauliflower Gratin
Prep Time
---
50 Minutes

Cook Time
---
25 Minutes

Total Time
---
1 Hour 15 Minutes

Yield
---
Serves 4-6

Ingredients
1 Head Cauliflower
1 Tablespoon White Vinegar
4 T Shallot (minced)
2 T Butter
2 Sprigs Thyme
3 Sage Leaves
1 Bay Leaf
1 Cup Heavy Cream
Pinch Curry Powder
1/2 Teaspoon Prepared Horseradish
1/3 Cup Parmesan Cheese (grated)
2 T Panko Breadcrumbs
Pinch Nutmeg
---
Directions
With a pairing knife, remove the florets from the head of cauliflower - making them about 1 inch pieces and not leaving too much stem on them. Save the stems.
Bring a large pot of water to a boil - add in your vinegar and 2T of salt. Put your cauliflower florets into the water and blanch for 3 minutes. Remove, drain, and place in an 8x8 baking dish. Set that aside.
Now take your reserved stems and combine them with the core of the cauliflower (not the green leaves or any of the rough parts of the core - just the nice white parts). Mince up the core and stems so that you have 1 cup of them. If you don't have a full cup - take some of the florets you blanched to make a cup.
In a medium sized saucepan - melt your butter. Add in your shallot and your 1 cup of minced cauliflower. Cook about 5-8 minutes over a medium high heat. Add in your thyme, sage and bay leaf and 2/3 cup of water. Cook until the water has completely evaporated and the cauliflower has cooked through (if the water evaporates before the cauliflower is cooked, add a little more water).
Once the cauliflower is cooked, add in your heavy cream and simmer for about 2-3 minutes. Remove from heat - discard your thyme, sage and bay leaf - and place all the contents of the saucepan in a Vitmix or blender. Blend until smooth about 15 seconds. Add in your pinch of curry, and your horseradish. Process again til smooth - taste and season.
Pour this mixture over your cauliflower florets in the 8x8 baking dish (the cream sauce should come up 1/2 way on the florets). Refrigerate for at least 30 minutes and up to a day.
Preheat your oven to 450 degrees. Take your cauliflower out of the fridge and sprinkle with the parmesan cheese, Panko, and a pinch of nutmeg. Cook for 20 minutes, then brown under the broiler for a few minutes just to crisp it up. Serve hot.