Well kids, I am preggo again….and this time, it's with a little boy! While I am incredibly excited for our newest family member to arrive, I have to admit, I am the WORST pregnant person. By the worst, I mean, I just HATE being pregnant. Those women who say they're "glowing" and feel their best when pregnant, I hate them too. I feel like a 20 ton Orca Whale and I am only 22 weeks pregnant, not to mention, there's no glowing. I also hate that with pregnancy comes all the rules and restrictions…no alcohol, only 1 cup of coffee a day, no unpasteurized cheeses, but worst of all…..no sushi.
Sushi and I are totally in love, and if someone asked me what food I would/could eat every single day for the rest of my life, sushi would be the answer.
So while I count down the days until I gestate this little munchkin inside me, I shall long for the flavors and textures of my beloved sushi.
Ok there's a reason for all this complaining (kind of)…. Since I have been missing sushi so much, I decided to make a deconstructed "sushi" (it's in quotes because obviously the fish is cooked)…but I will close my eyes and pretend it's raw.
I knew I wanted to do salmon because of my newest obsession the "Soy Vay Teriyaki Sauce and Marinade" which I use on anything and everything nowadays, but which I truly love on salmon. If you haven't tried this sauce yet, your life hasn't fully begun.
With my salmon I decided to pair it with creamy avocado, crunchy cucumber, some sweet raw carrots, salty Nori and a homemade spicy sauce to top it all off. I also decided to use Brown Rice instead of Sushi Rice for the alleged health benefits of brown rice (I am always a skeptic of all "healthy" allegations).
The thing I love most about Bowls (Poke, or cooked versions), is that you can get creative with the ingredients and toppings. Some other ideas are sautéed bok choy, edamame, raw red onion, corn, mango, sautéed mushrooms….you name it! You can also sub out the Salmon for Tofu, Chicken, or Steak depending on your mood (but either way, I suggest using the marinade that I mentioned above).
So with that, I give you my pregnant version of a deconstructed sushi in the form of a Salmon Bowl (that was a mouth full…)! While it was not sushi, this was both delicious and satisfying….not to mention healthy!
Let me know your thoughts!
Enjoy!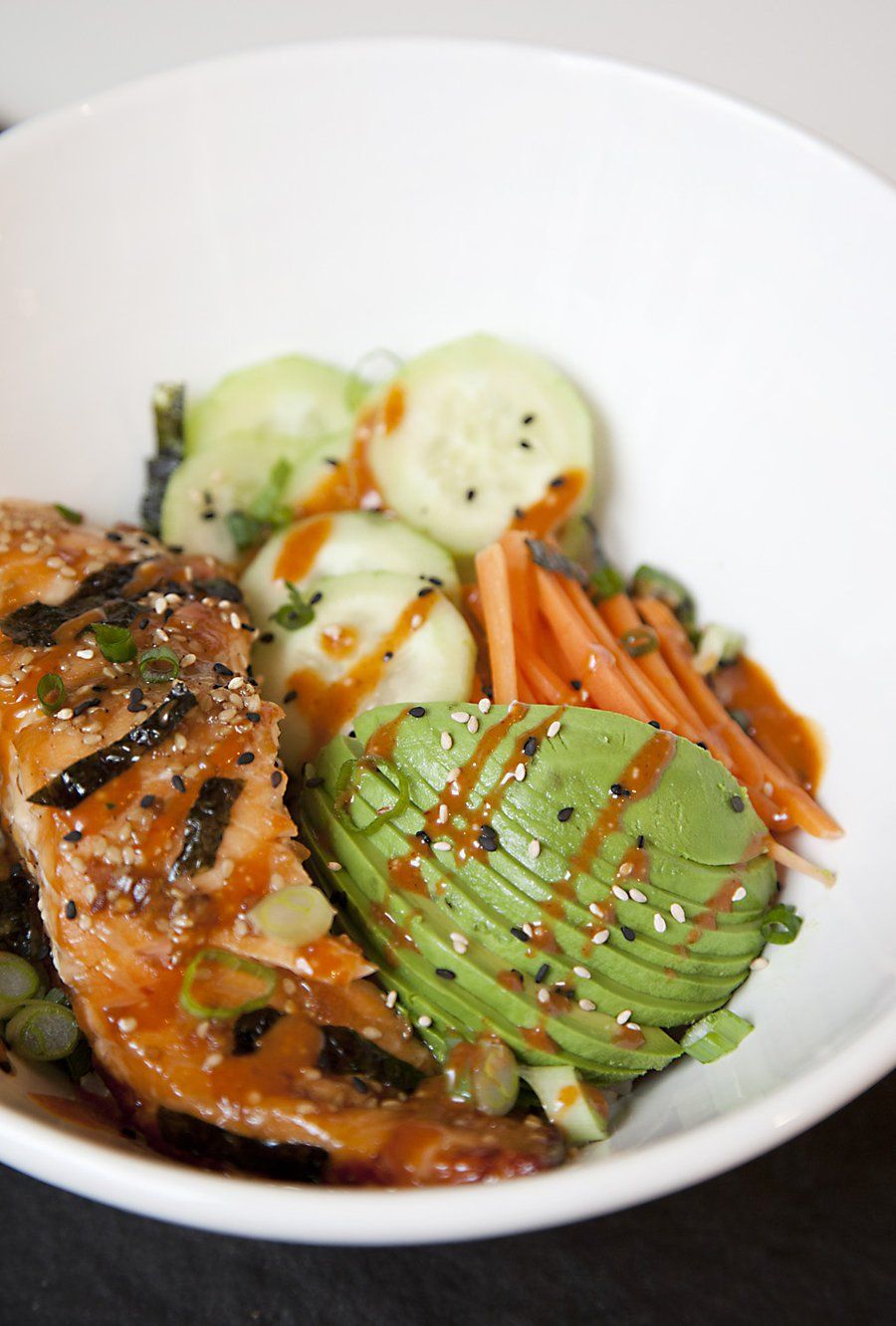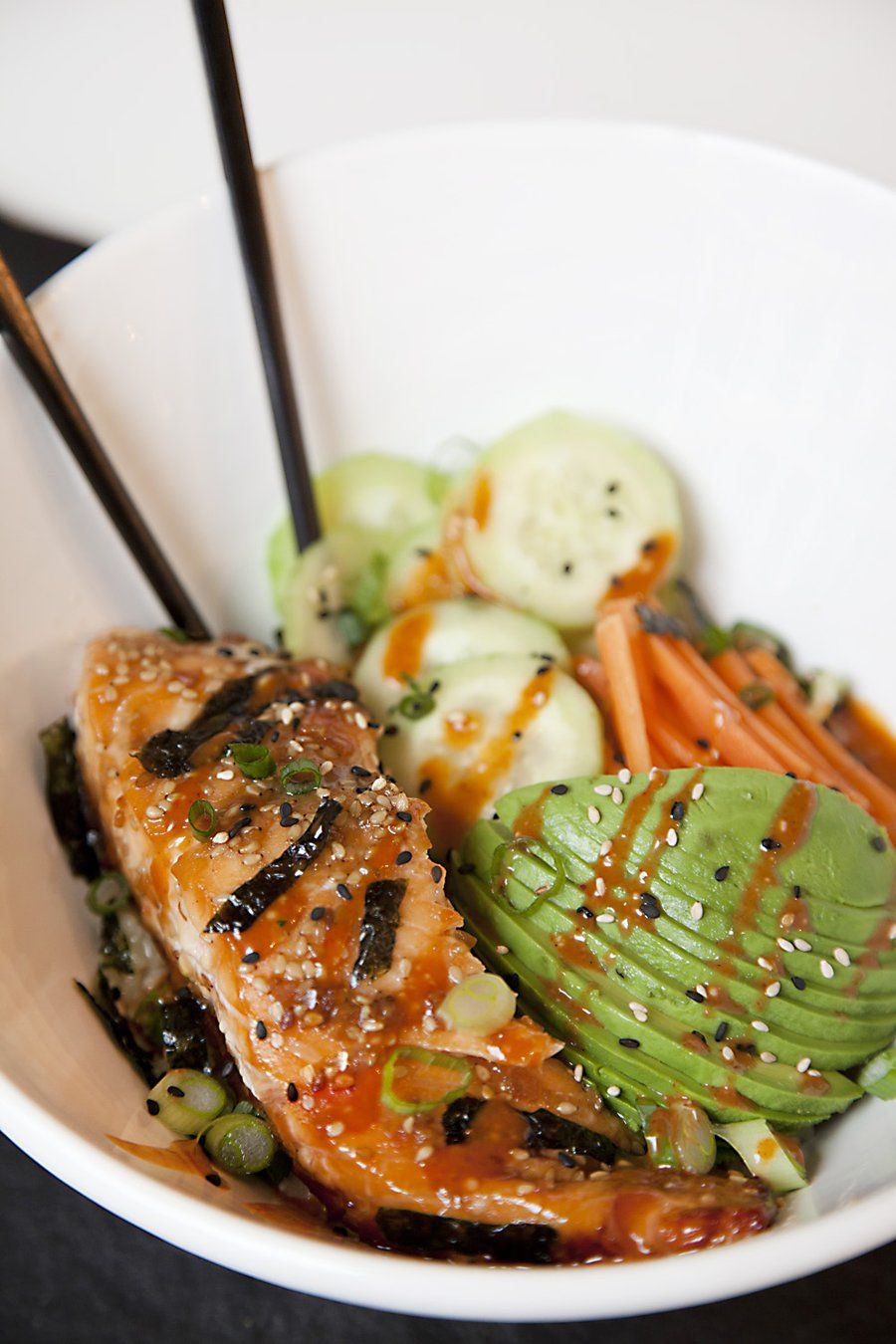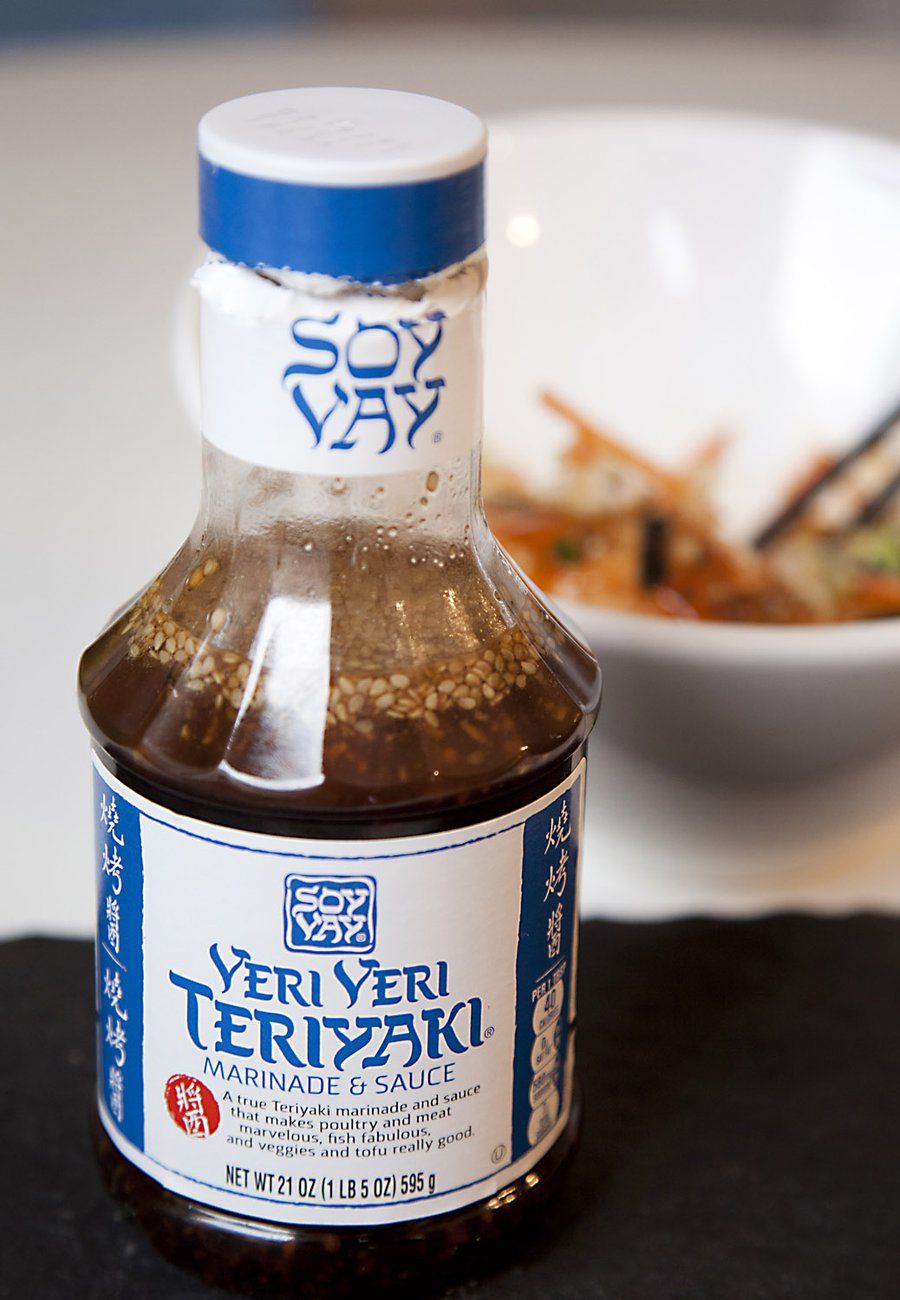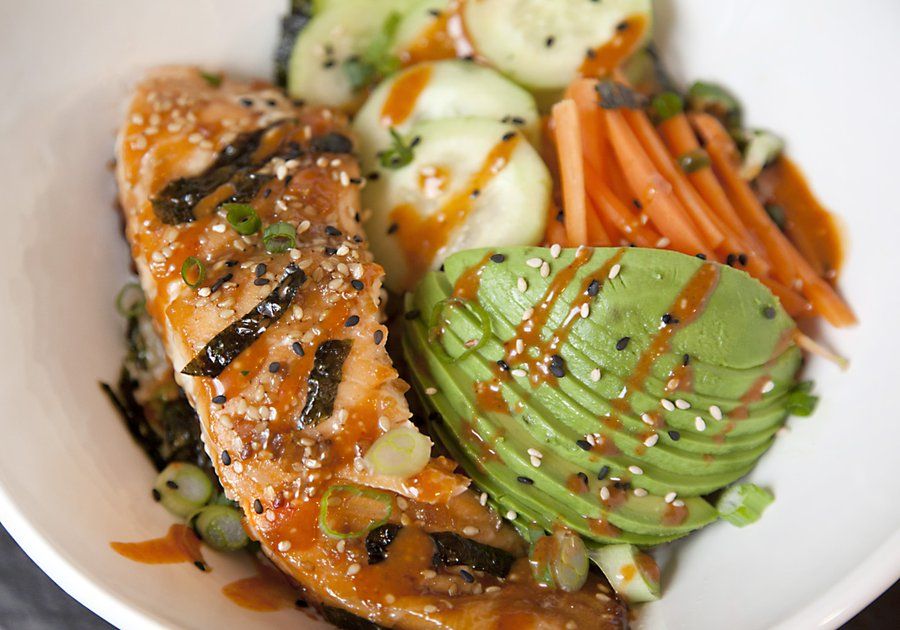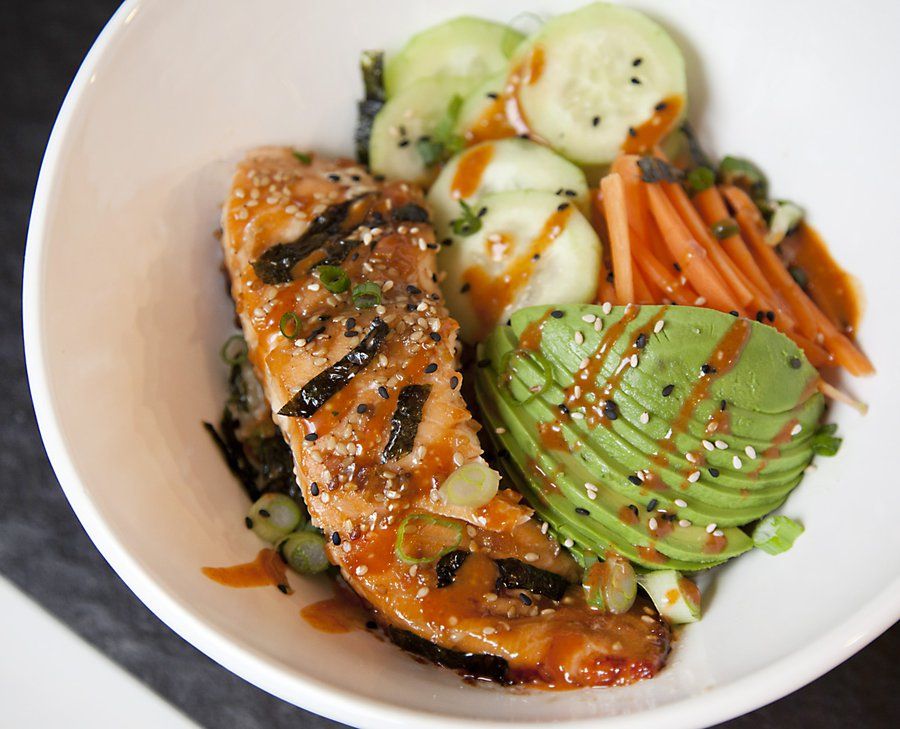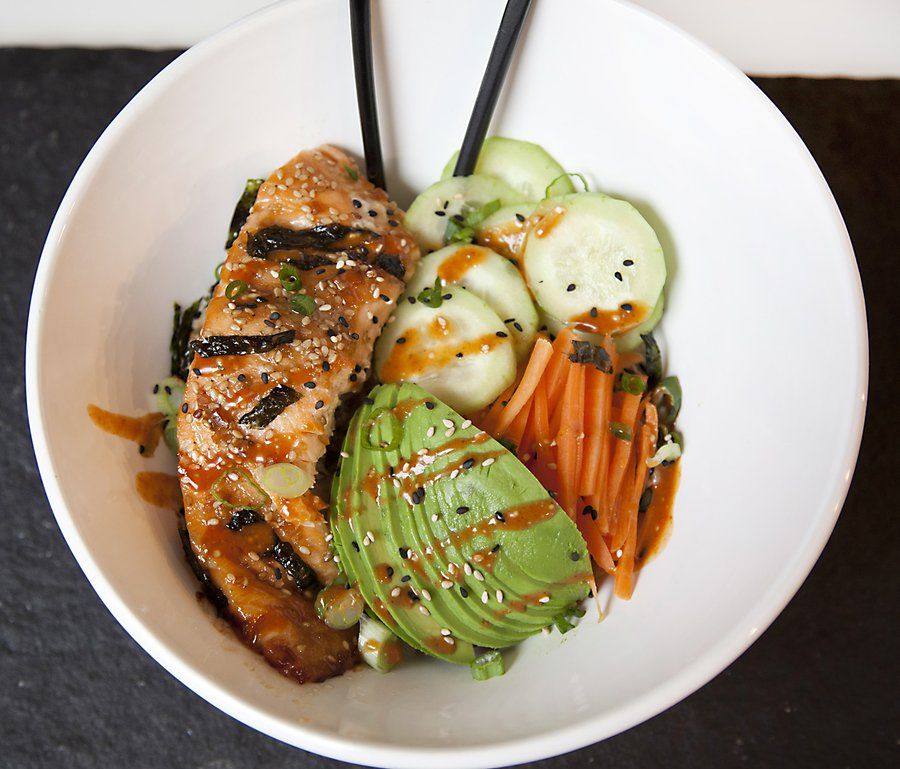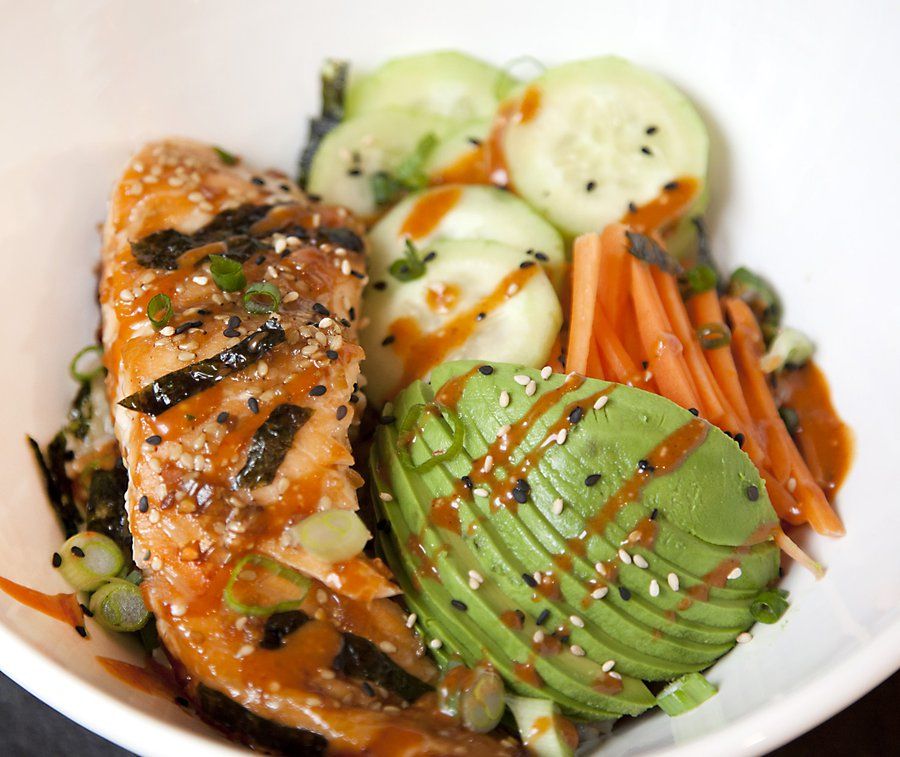 Salmon Teriyaki Bowl
Prep Time
---
20 Minutes

Cook Time
---
45 Minutes

Total Time
---
1 Hour 5 Minutes

Yield
---
Serves 2

Ingredients
1 1/2 Cups Brown Rice
2 T Rice Vinegar
1 Tablespoon Granulated Sugar
1/2 Teaspoon Sea Salt
1 Pound Salmon Filet (2 filets, skin removed)
3 T Soy Vey Teriyaki Sauce & Marinade
1 Tablespoon Gochujang Korean Chili Paste
1 Tablespoon Plum Sauce
1 Teaspoon Low Sodium Soy Sauce
1/2 Teaspoon Mirin
1 Tablespoon Water
1 Tablespoon Mayonnaise
1 Avocado (Sliced thin)
1 Cucumber (Peeled, sliced thin)
2 Carrots (sliced into matchsticks)
Nori (cut into thin strips)
2 Scallions (sliced thin)
Sesame Seeds (for garnish)
---
Directions
Cook your Brown Rice according to the package. While the Brown rice is cooking combine together in a small bowl your Rice Vinegar with your sugar and sea salt. Put the bowl in the microwave and cook on high until the sugar and salt have dissolved (you will need to stir it together to combine). Allow this mixture to cool. When your rice is done cooking, using a wooden spoon or paddle, stir in this vinegar mixture until fully incorporated
Marinate your salmon in the Teriyaki Sauce for at least an hour in the fridge. Place the salmon on a baking dish lined with tin foil and pour the marinade on top. Cook in a 375 degree oven for 15-20 minutes (or until cooked through completely).
For the spicy sauce: Combine in a bowl your gochujang, plum sauce, soy sauce, mirin, water and mayonnaise -- mix together until combined and set aside.
To assemble the bowl: Add about a cup of Brown Rice and top with the salmon, avocado, cucumber, carrots and Nori. Sprinkle on the scallions, add the spicy sauce (as you see fit) and garnish with sesame seeds. Can be eaten hot or at room temperature!