I always find it interesting and amusing how I come up with the idea to cook certain dishes. The other day, I was in the supermarket and I saw these gorgeous, plump, yellow lemons and for some reason my mind said "Chicken Francaise".
I have literally made Chicken Francaise once in my life, and eaten it probably 3 times, but for whatever reason, the sight of these beautiful lemons gave me the inspiration for Chicken Francaise. I guess it's the mind of a chef, but whatever it may be, the idea was then in my mind and so I give you my version of Chicken Francaise.
It's been a while since I've made homemade, pan fried, chicken cutlets, mainly because it's a laborious process, and lately, my dinners have been all about being quick in the kitchen while my 3 year old runs around asking me 4,000 questions and demanding I play with her. But when my husband said he would take our daughter out of the house for the sole purpose that when he returned home there would be Chicken Francaise waiting for him, I jumped on the opportunity to make something a little more exciting than my usual under 30 minute meals.
One thing I absolutely LOVE about Chicken Francaise is the sauce – anything made with a combo of Garlic, Butter, White Wine and Lemon is bound to be incredible, and this sauce is certainly no exception. Decadent, tasty, and fairly simple in technique, this is a dinner that will wow your guests, family or friends and will always be a crowd pleaser, even for those picky people.
This recipe was such a hit with me and my husband that we ate all 3 pounds of chicken between the two of us....don't judge.....this dish is just THAT good.
I do have a few notes on the recipe that will make your life easier….
For starters, you can pan fry the chicken in advanced and then reheat it in a 425 degree oven to get it back to being nice and hot. This is a lifesaver! You can also make the chicken cutlets and freeze them – but to me, they taste best fresh.
Secondly, for the wine in the sauce – use a DRY white wine. I cannot emphasize this enough. Use a wine that you'd also want to drink (not Mr. 2-Buck-Chuck from Trader Joes that tastes like cough syrup)….I love using a good Pinot Grigio when it comes to cooking…it's dry, full-bodied, and will give you the proper flavor in the sauce/stock you're trying to achieve. Also, you then have a great wine to pair with the dinner as well!
Enjoy!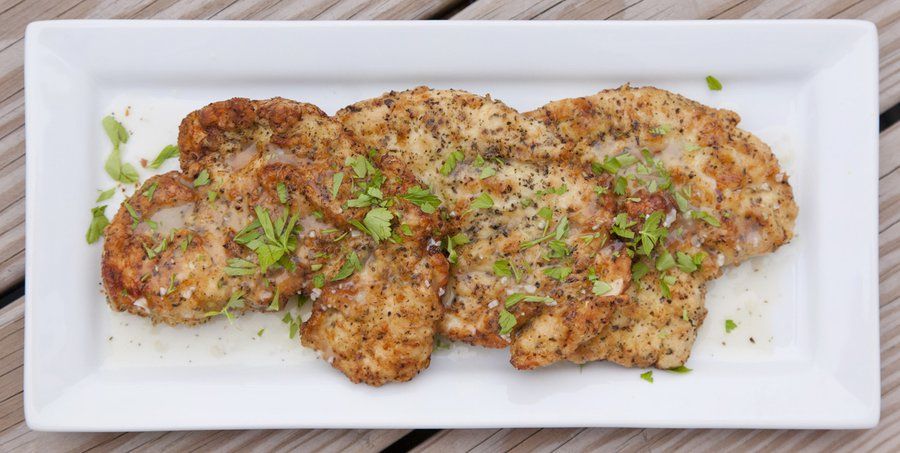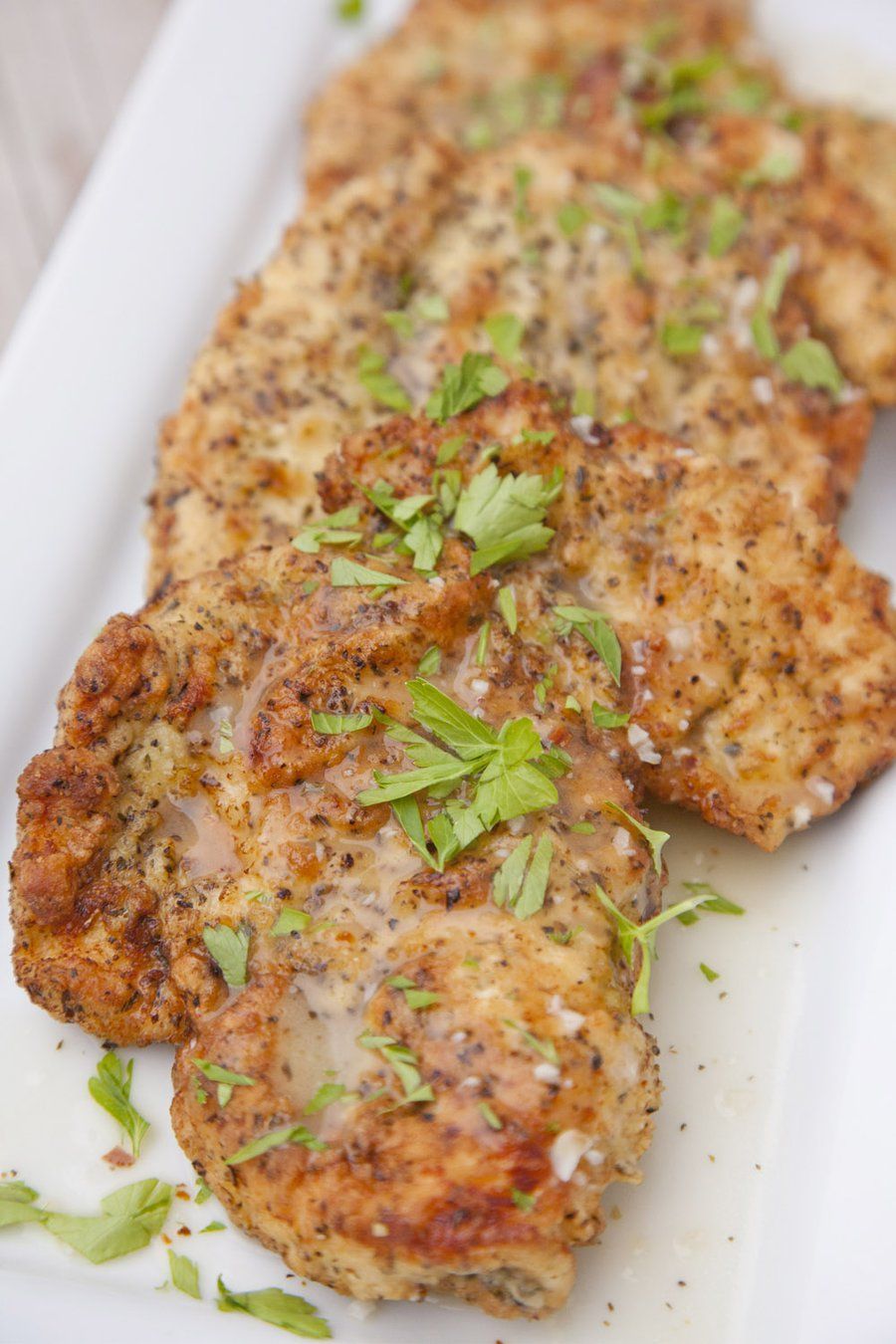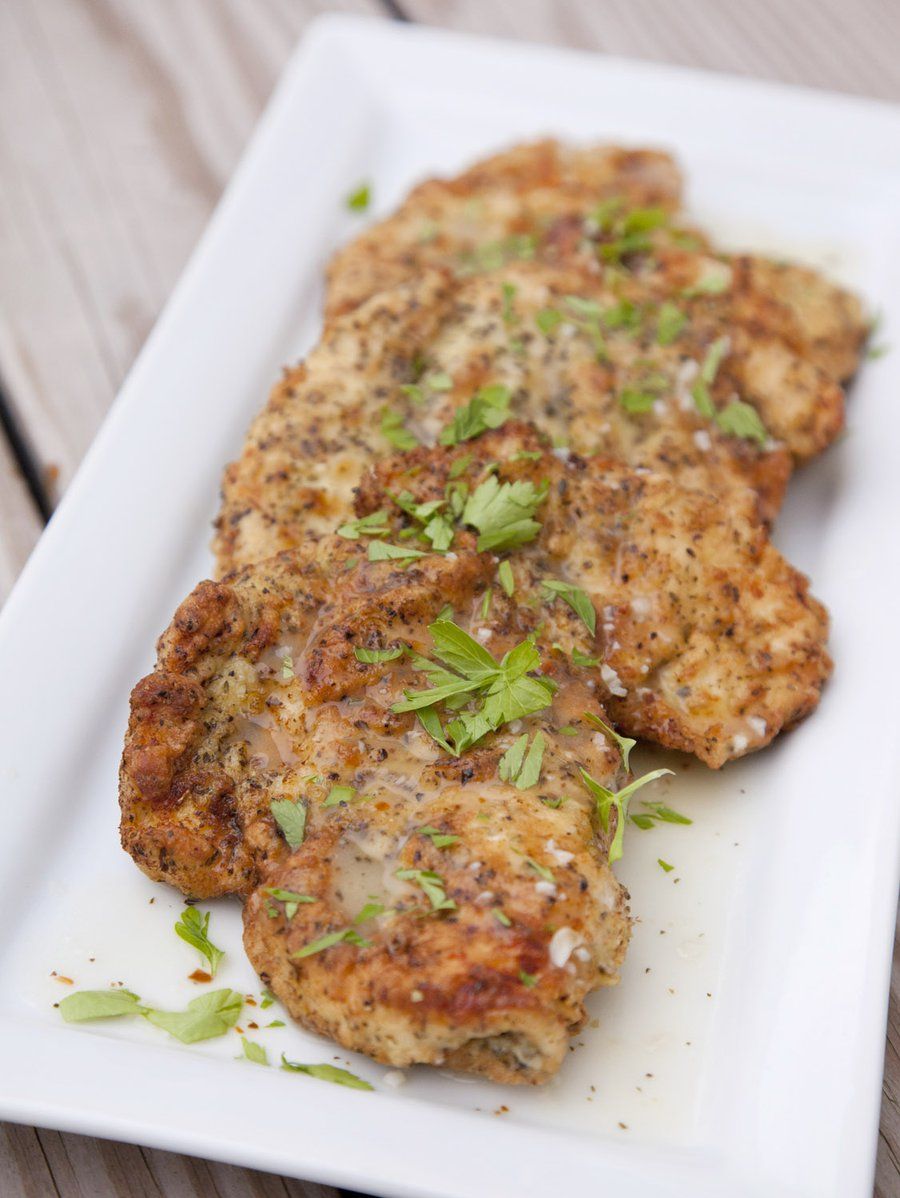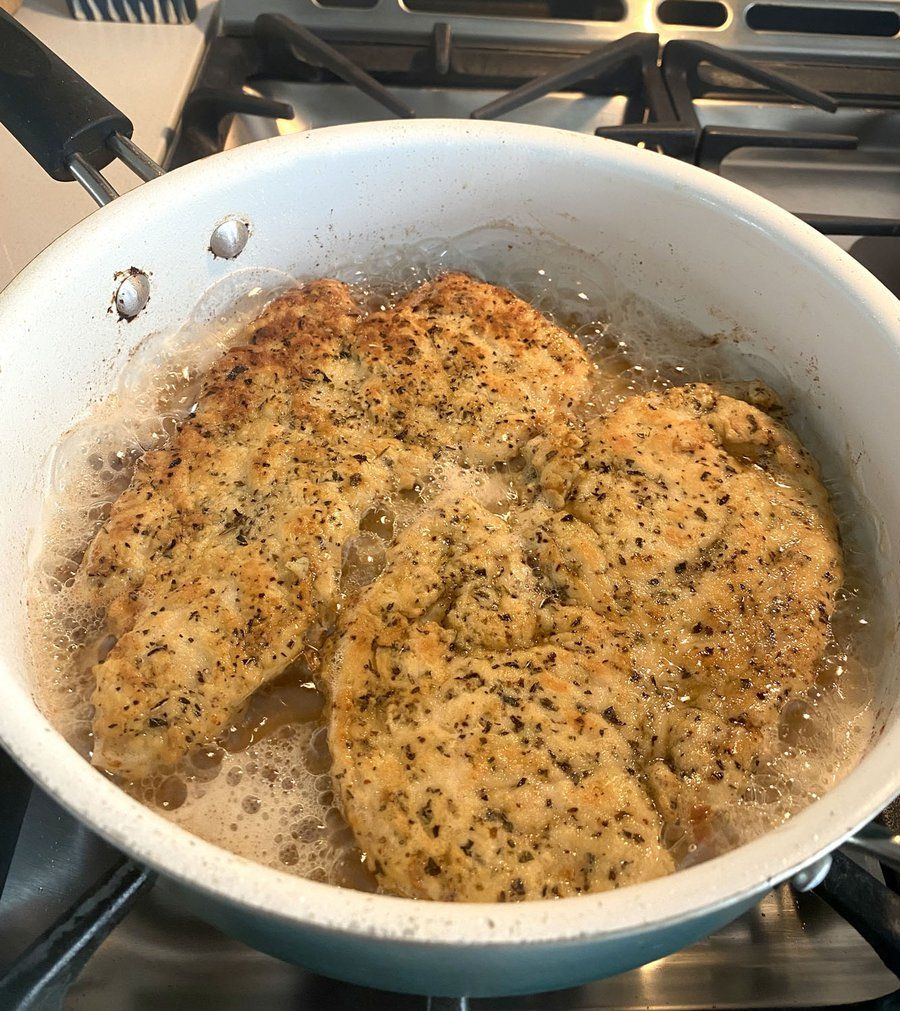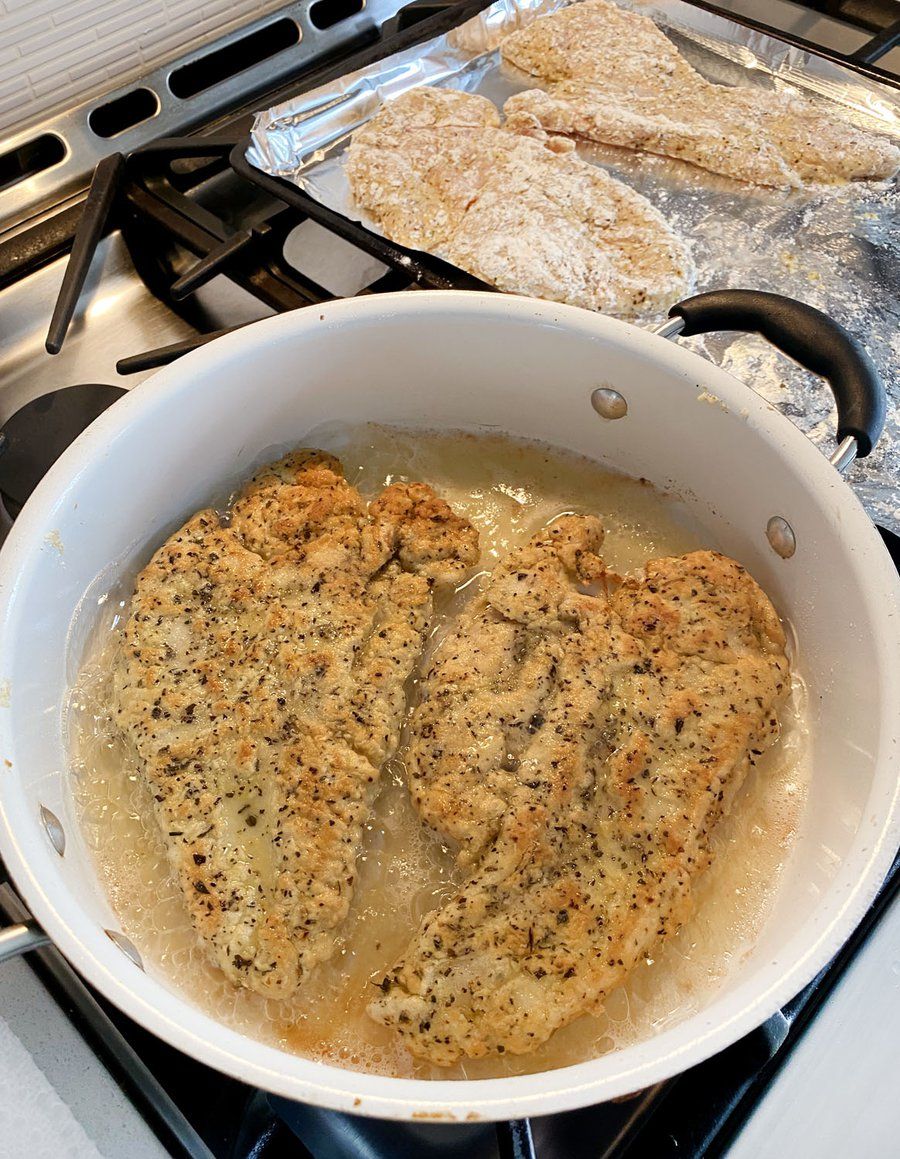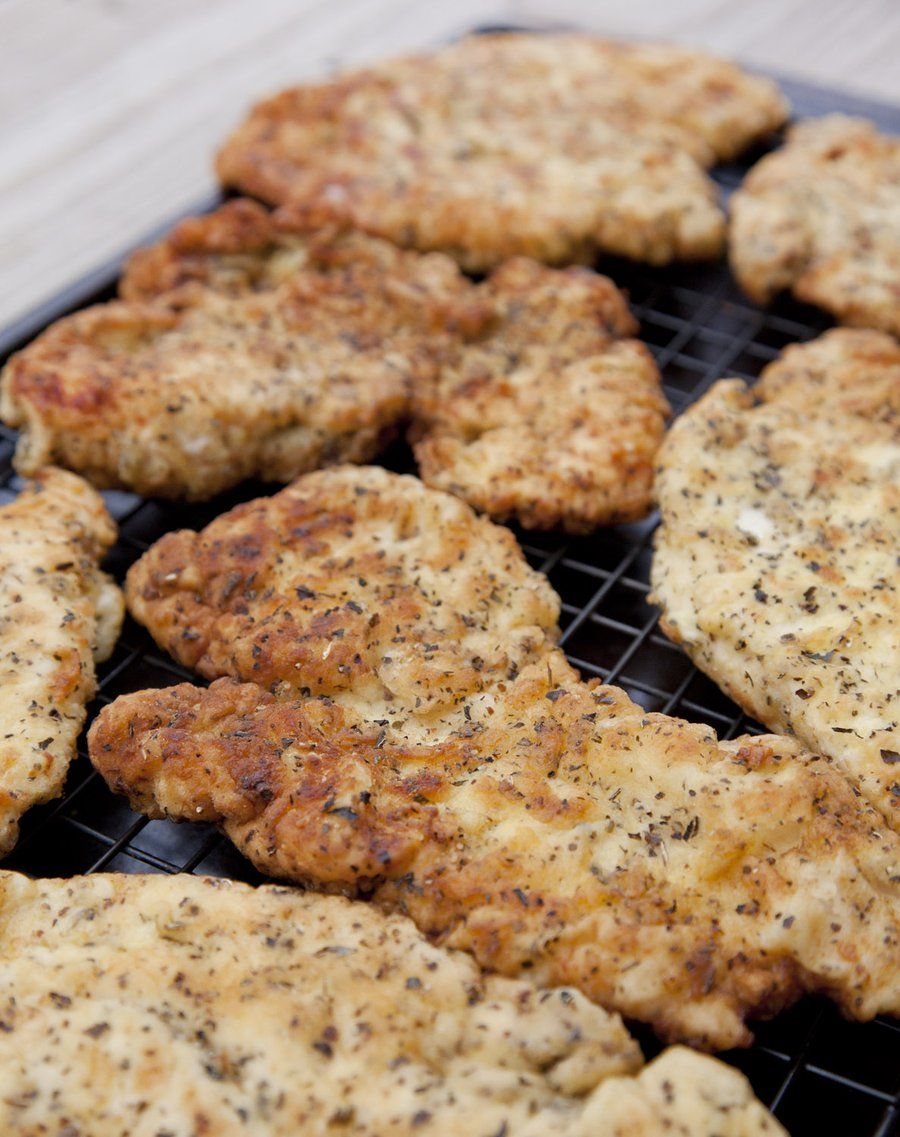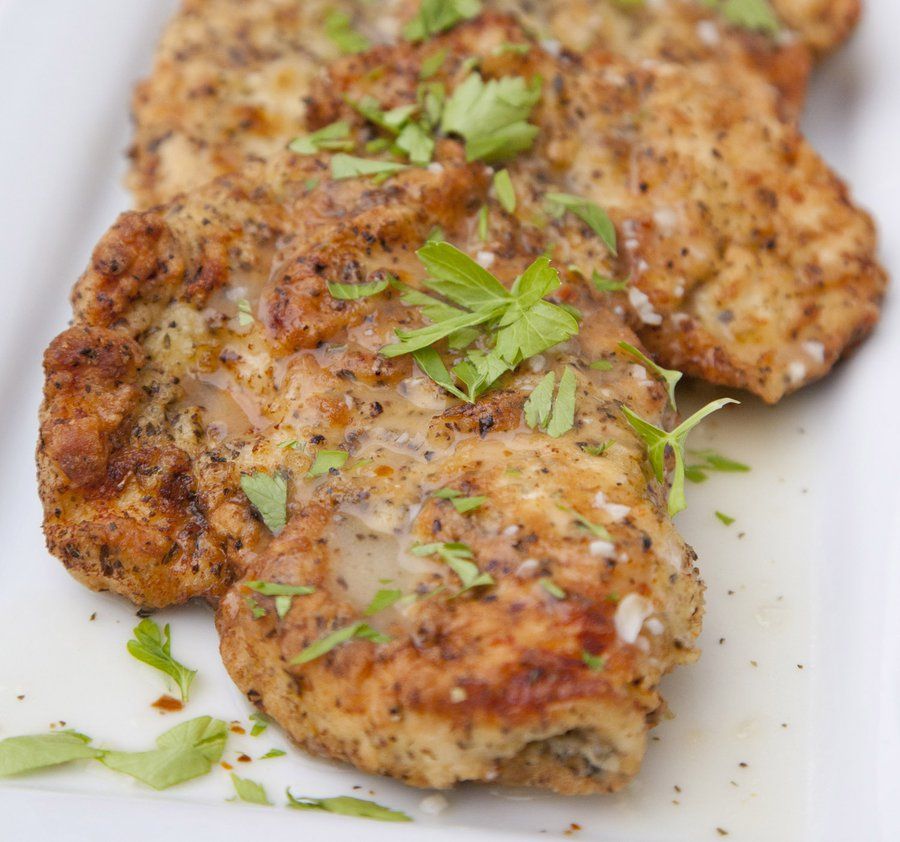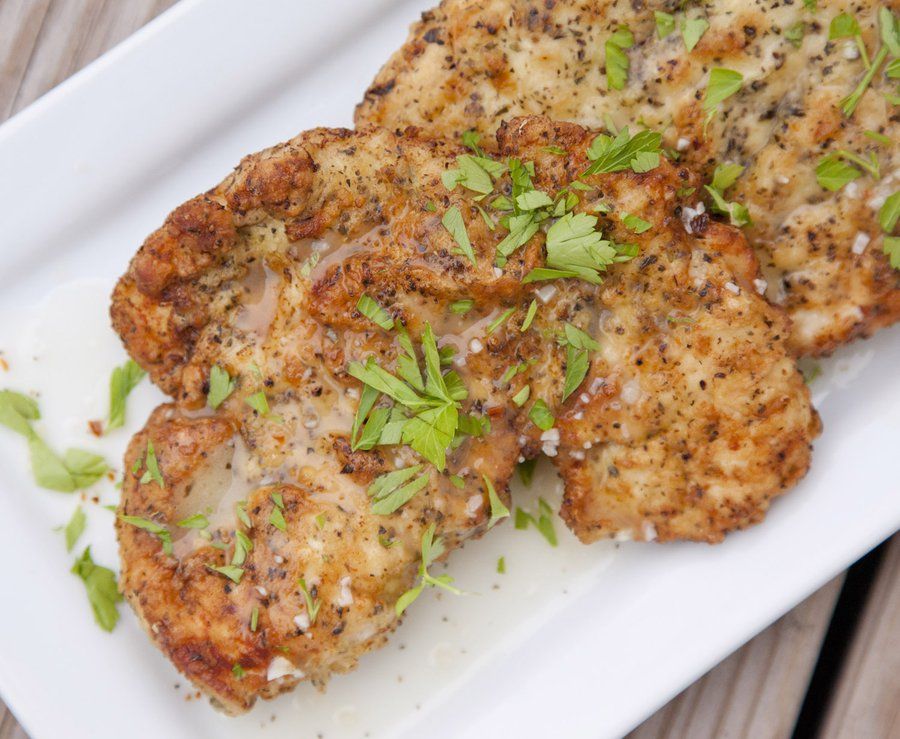 Chicken Francaise
Prep Time
---
30 Minutes

Cook Time
---
30 Minutes

Total Time
---
1 Hour

Yield
---
Serves 4-6

Ingredients
3 lbs Chicken Breasts (about 4 large chicken breasts)
1 Cup All Purpose Flour
1 1/4 tsps Salt
1 1/2 tsps Black Pepper
4 tsps Dried Basil
2 Eggs
1/4 Cup Whole Milk
5 T Butter (divided)
4 Garlic Cloves (minced)
1/2 Teaspoon Red Pepper Flakes
1 1/4 Cups Low Sodium Chicken Stock
1/2 Cup Dry White Wine (I used Pinot Grigio)
1/4 Cup Lemon Juice (fresh)
Parsley (minced, for garnish)
---
Directions
Butterfly your chicken breasts in half and then cut them laterally in half creating two pieces of chicken from each breast. Place the chicken (one at a time) in a large freezer bag or between two pieces of Saran wrap, and using the side of a meat tenderizer, pound the chicken to about a 1/4" in thickness.
On a large plate, mix together your flour, salt, pepper and dried basil. In a separate large bowl, whisk together your eggs and whole milk.
In an assembly line process, first dredge each piece of chicken in the flour mixture until completely coated. Shake off excess flour, and submerge in the egg mixture until it's coated in that. Place the chicken back in the flour mixture and again coat it completely in the flour (shake off excess) and place the breaded chicken on a plate. Repeat this process until all of the chicken is breaded. Save the flour mixture for the sauce
Once all of your chicken has completed the breading process, heat a large skillet with enough canola oil to coat the bottom of the pan. Once the oil is hot, in batches, fry up your chicken on both sides until golden brown and cooked through. Remove your chicken from the oil and place on a paper towel lined baking sheet to drain off excess oil. You may need to replace your oil halfway through frying if it starts to get brown or dirty.
In a medium sized saucepan, heat up 3 Tablespoons of your butter until it's melted. Add in your garlic and red pepper flakes and cook over a medium heat for about 2 minutes (stirring so as not to burn the garlic). Take 1-2 Tablespoons of your reserved flour mixture from the 3rd step, and add it to the butter to create a roux. You want the roux to resemble wet sand so add the flour accordingly. Mix together the flour and butter and cook for about 1-2 minutes stirring constantly. At this point, add in your chicken stock and white wine and bring to a boil then reduce the heat.
At this point, add in your lemon juice, and stir until the sauce is slightly thickened. Remove the sauce from the heat and add in your remaining 2 Tablespoons of butter and stir until melted. Taste and season with salt and pepper, if necessary.
Place the chicken on plates, or platter, and the pour sauce over the top. Garnish with freshly chopped parsley.