In a few weeks I will be participating in my first ever Chili Cook-off!
This will be a local event, and I am not really sure what to expect, but when I heard there was a chili cook-off happening, I knew I needed to partake. While the event seems to be pretty unorganized (as I have learned trying to communicate with it's organizer), and the parameters for the judging haven't been disclosed I am going in totally blind and just hoping that my Chili stands out from the rest….
I am sure there will be millions of Ground Beef Chilies as well as a few vegetarian Bean Chilies, maybe even a Chicken Chili, but I wanted to go with what I know as "Colorado Chili". The difference between Colorado Chili and your typical ground beef chili is that the meat used is usually Chuck Meat, cut into cubes and cooked until the cubes just melt in your mouth. The sauce in the chili is almost closer to a gravy's consistency, and the chili gives off more of a stew vibe than a chili vibe (except for the flavors which are very obviously chili). I feel this variation in meat will hopefully set me apart from my fellow competitors…
I decided to top my Colorado Chili with some typical Chili toppings like Sour Cream, Cheddar Cheese and Chopped Chives (and of course some hot sauce, to taste). But you can top this with anything you like: Avocado, red onion, tomatoes, salsa, you name it! I am still not 100% set on what I would like to top the Cook-off Chili with….I may have to do some more taste testing….it's a tough job, but someone's gotta do it…
So I made this chili today as a test chili and was a huge fan of the way it turned out! The first thing I liked about it was the texture – it was exactly what I was hoping for – a melt in your mouth beef, with a creamy sauce. The flavor was of mild spice (so I added hot sauce to mine as I saw fit). The one thing that is necessary is that you taste and season it completely before serving. Since you're not cooking it with any salt, the salt and pepper at the end is what allows all the flavors to come out. Taste it multiple times and season liberally.
I think for the cook off, what I will do differently is add an acid component while cooking – probably apple cider vinegar. I may reduce the amount of chicken stock in it and add in the vinegar to help round out the depths of flavor. I may also add some cayenne to the cooking process to give it that underlying heat that cayenne is so great at providing. I will post my results and updated recipe after next weekend! Wish me luck!
Enjoy!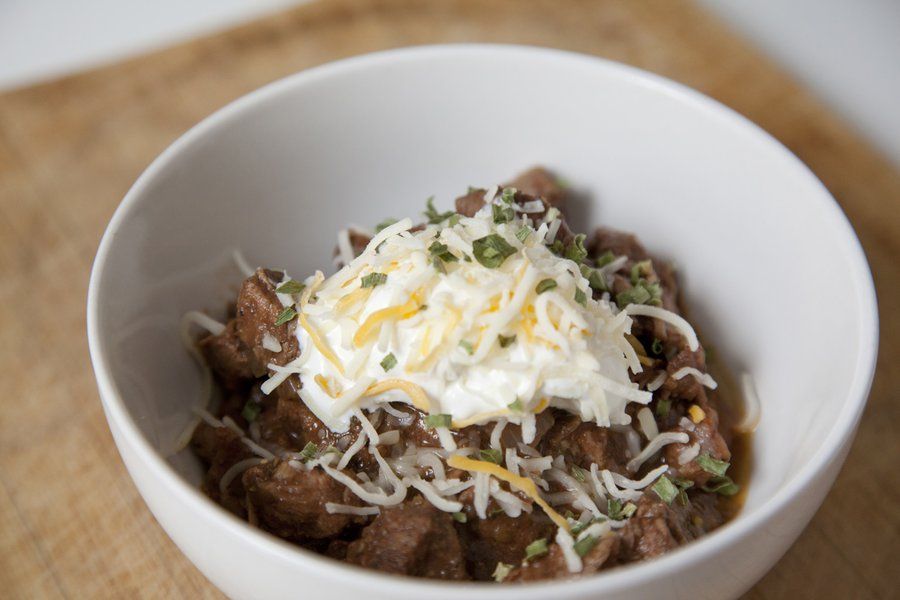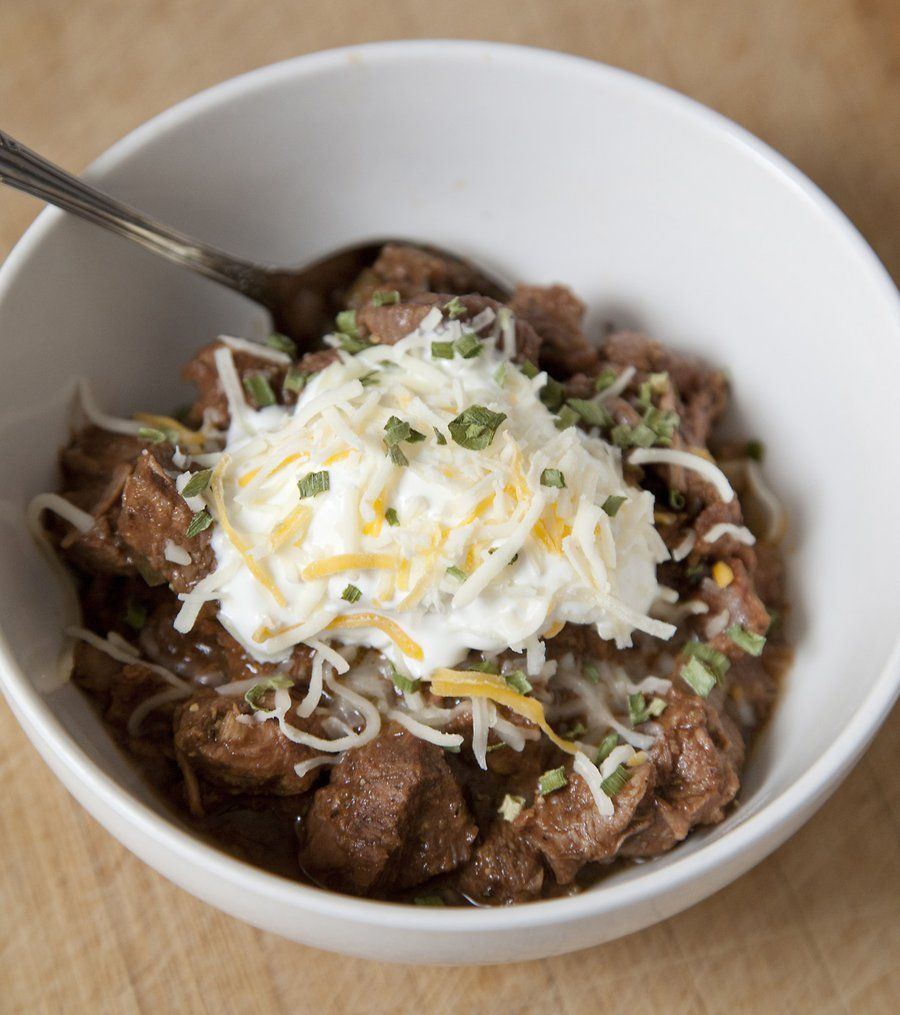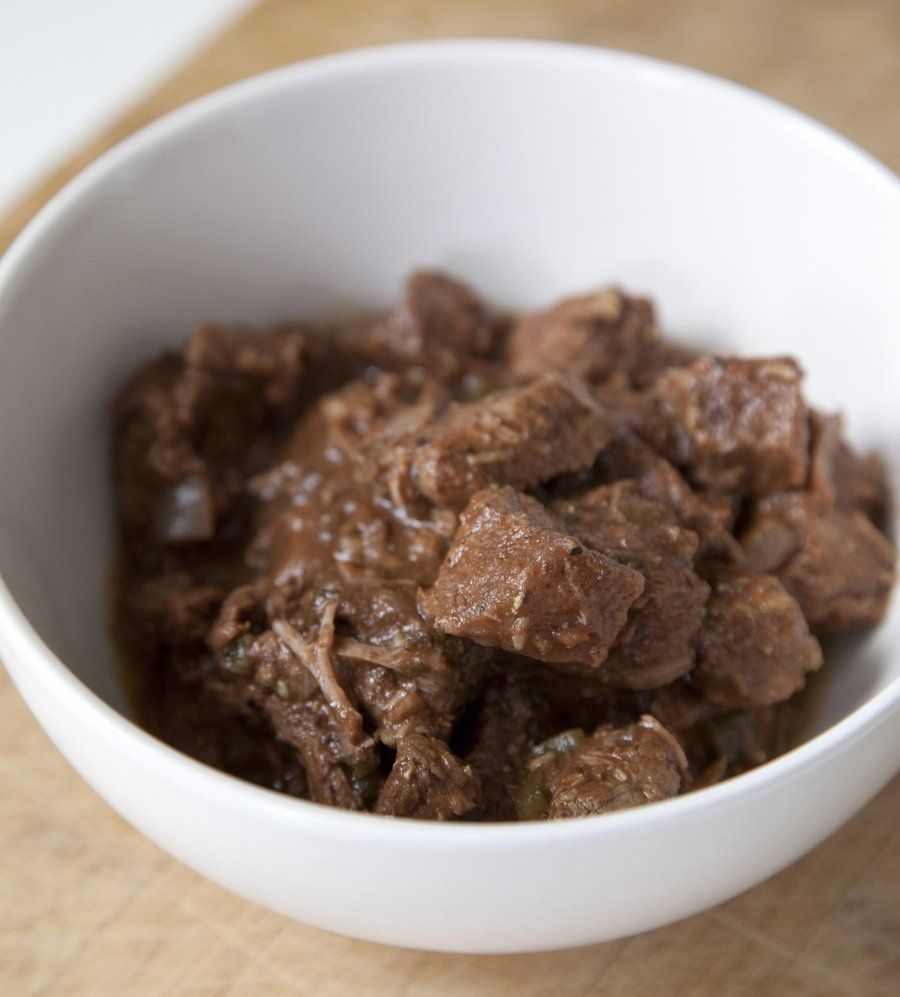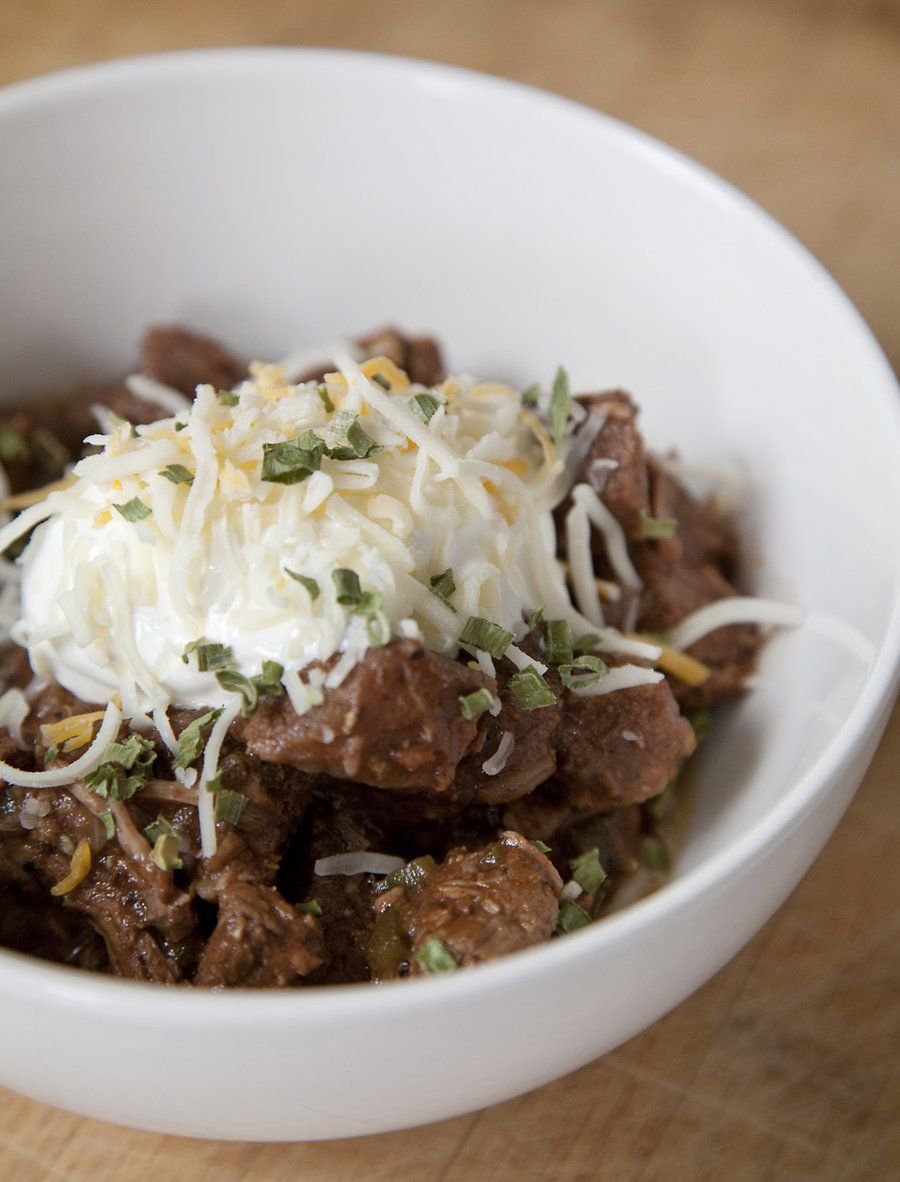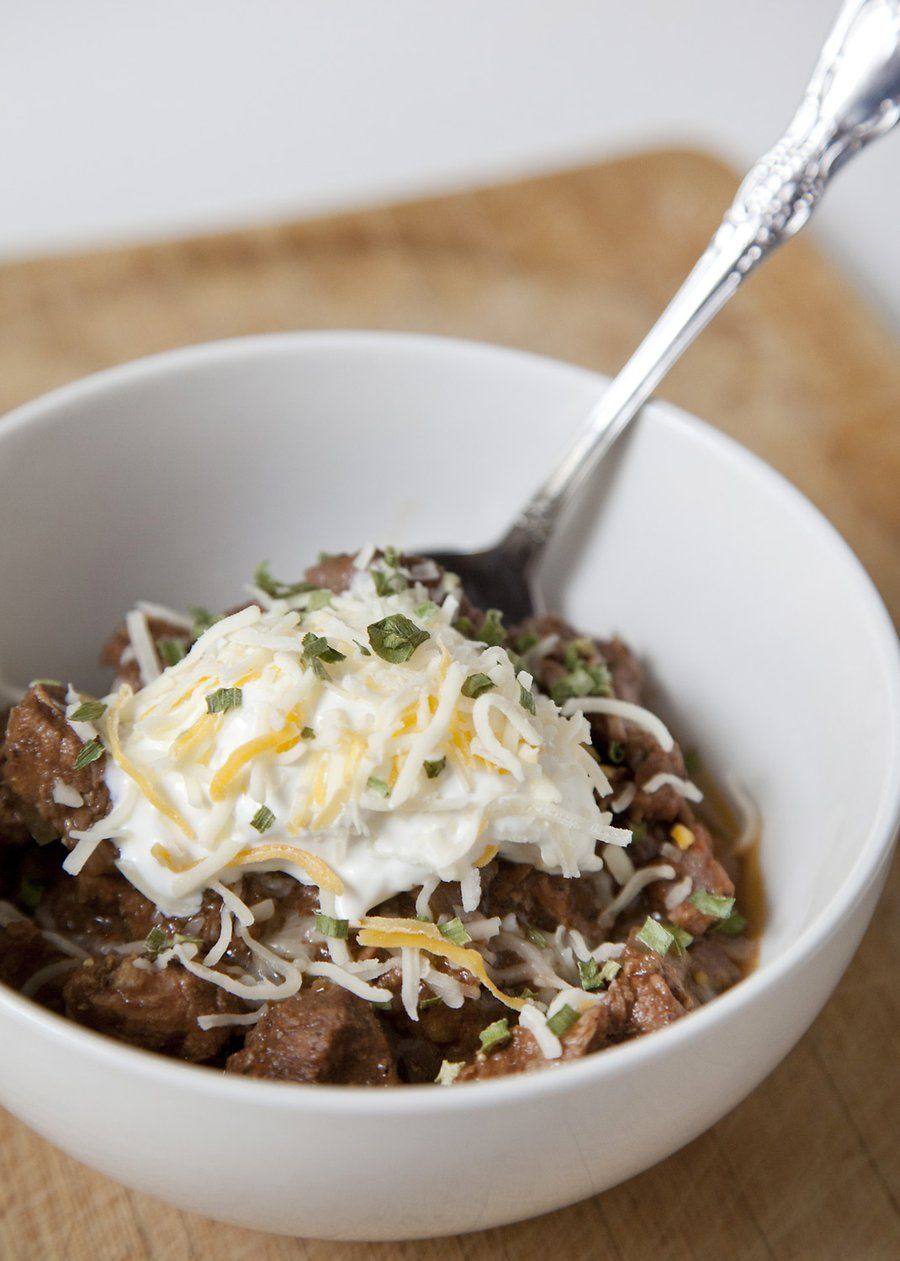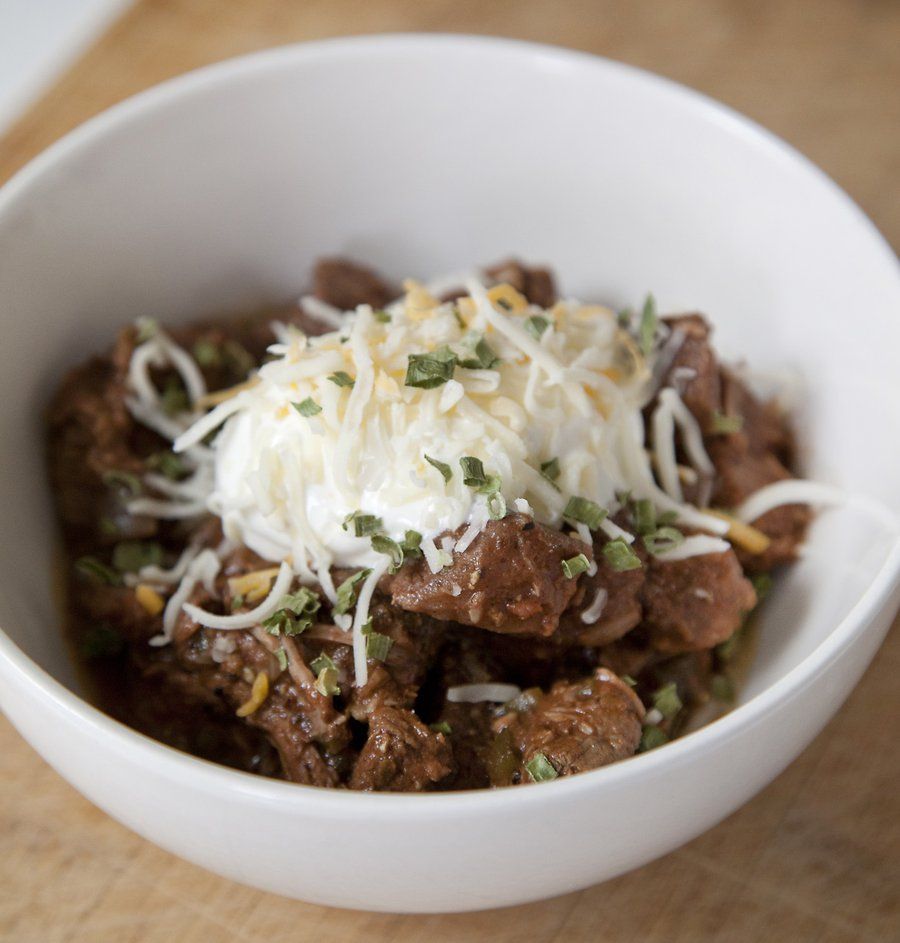 Slow Cooker Colorado Chili
Prep Time
---
15 Minutes

Cook Time
---
6 Hours

Total Time
---
6 Hour 15 Minutes

Yield
---
Serves 4

Ingredients
3 3/4 lbs Chuck Meat (cut into 1" cubes)
1 Cup Onion (diced small)
1/4 Cup Poblano Pepper (minced)
1/4 Cup Jalapeno (minced)
2 T Garlic (minced)
3 T Tomato Paste
1 Teaspoon Black Pepper
2 T Dried Oregano
1 Tablespoon Chili Powder
2 tsps Coriander
1 1/2 Cups Low Sodium Chicken Stock
2 T Butter
3 T Flour
---
Directions
In your slow cooker combine everything except your butter and flour. Mix together with a spoon and cook on low for 5 1/2 hours.
Once it is done cooking, turn off the slow cooker and using a ladle, ladle out 2.5 cups of the liquid only into a large measuring pitcher.
In a small pot, melt your butter, once melted, over a medium heat, add in your flour and mix together to make a roux. Cook for about 1-2 minutes stirring constantly. At this point, slowly pour your 2.5 cups of cooking liquid through a fine mesh sieve and into the pot. Add the liquid slowly, while whisking to create a thick sauce (the consistency of gravy). Once all the liquid is incorporated, turn off the heat and taste. Season with salt and pepper.
Add about 1/2 of the liquid from the previous step into your slow cooker and mix together with your beef. You can add more liquid if you like, but you don't want too much liquid (you can reserve the rest of the liquid in an airtight container in the fridge for future use!)
Taste the chili and season with salt and pepper. Serve hot - topped with sour cream, shredded cheddar, chives and hot sauce.