The first time I ever visited Paris I was a junior in college and went with a friend for Spring Break. While everyone else I knew was joining the Cancun bandwagon of beaches and binge drinking, I yearned for something more cultured and filled with French food and pastries.
After getting off the plane and getting to my hotel, the first thing I did was find one of those small Brasserie's that you see in French movies that are painted dark red, with dim lighting, smokey air and loaded with all of France's delicacies.
I found one of these places about 3 blocks from my little hotel, and immediately knew this would be the place I would enjoy my first of many Parisian meals.
Oddly enough, at the age of 19, I had never ever liked eating eggs. I blame this on my mom who ate a soft-boiled egg every morning and the smell completely turned me off to any and all preparations of egg. Despite my aversion to eggs, in Paris, in this quaint little Brasserie, I was drawn to order the Quiche Lorraine as my first French meal…
Quiche Lorraine is typically a Quiche with either ham or bacon in it. How bad could it be? Spoiler alert: it was amazing.
I devoured the quiche and pledged myself an egg convert.
I hadn't even thought about this Quiche Lorraine until a few months ago when my girlfriends and I got together for a potluck brunch and I wanted to bring something savory. I typically find, when going to someone's house, everyone winds up bringing something sweet….and me being the savory palate-d chef that I am, needed to make sure there was something savory, salty and protein-filled on that brunch table. So when thinking of making a Quiche Lorraine I tried desperately to think back to that first meal in Paris and what the flavors were. I vaguely remembered what was in it, just that it was a light fluffy interior with a tasty pie shell and enough ham in it to give you that smokey flavor without over doing it.
With this quiche I came up with, I added in some lightly caramelized onions, used two types of cheese, and made sure I used heavy cream to recreate that fluffy Quiche Lorraine in Paris. It was a huge hit at our ladies brunch so I now share it with you!
Bon appetit!
If you make this Quiche in advance and want to warm it up: Cover it with tin foil and bake in the oven at 350 degrees for about 25-30 minutes!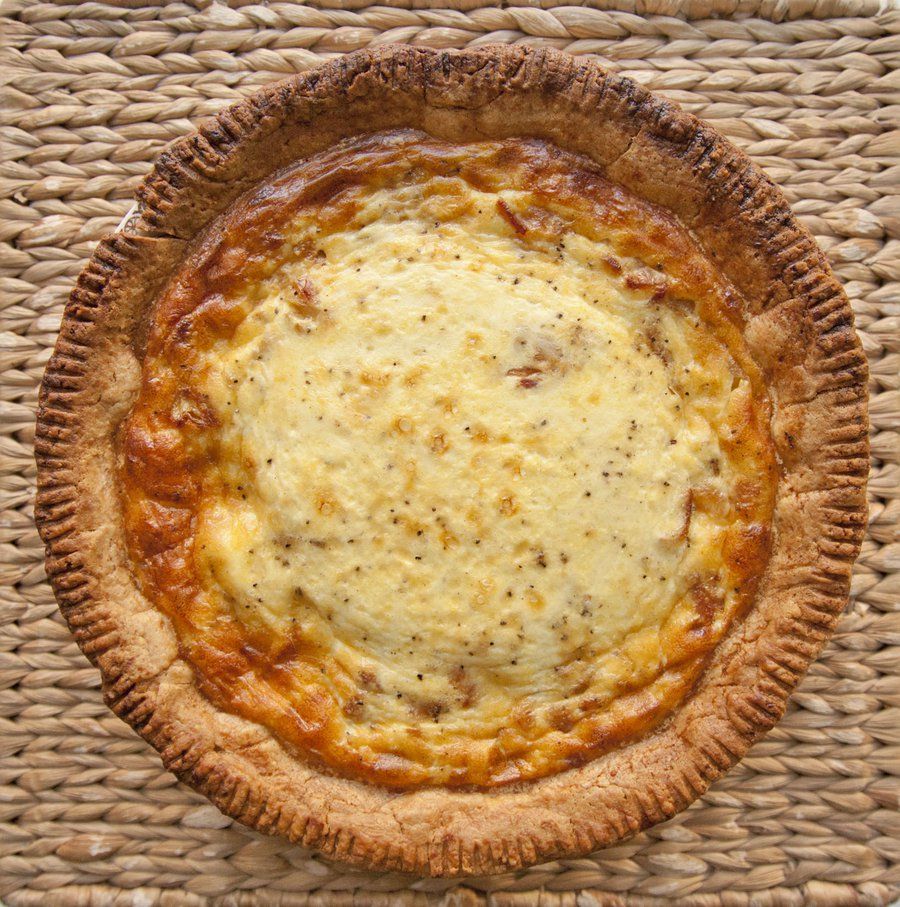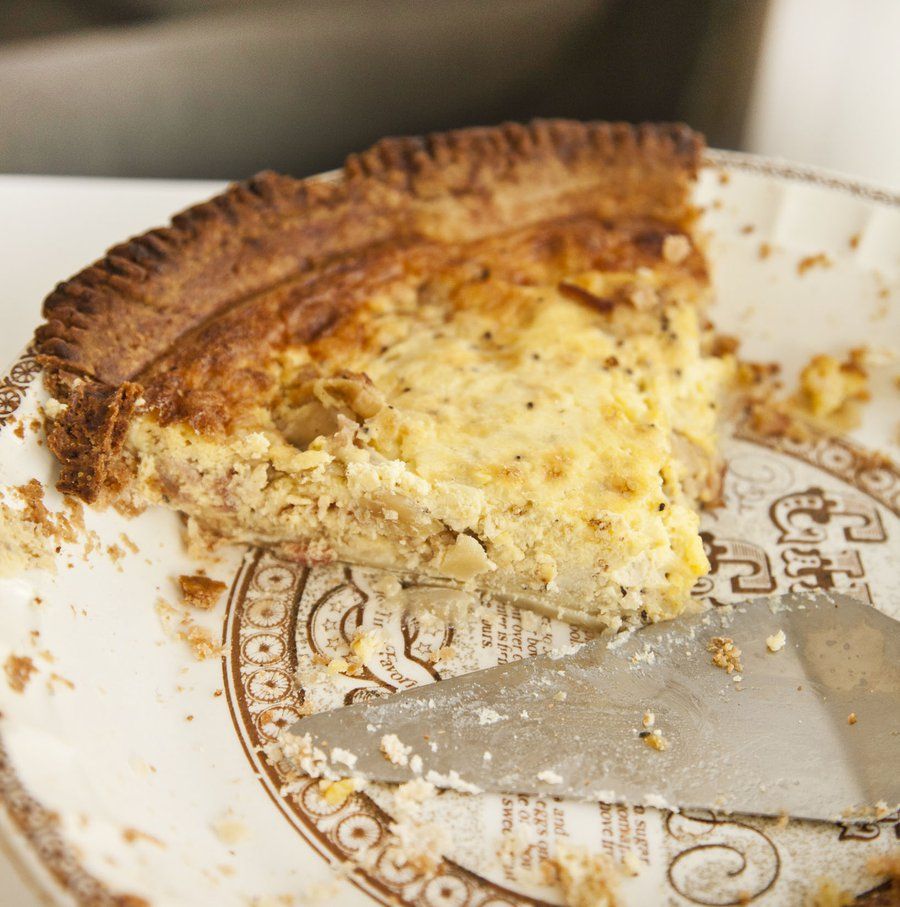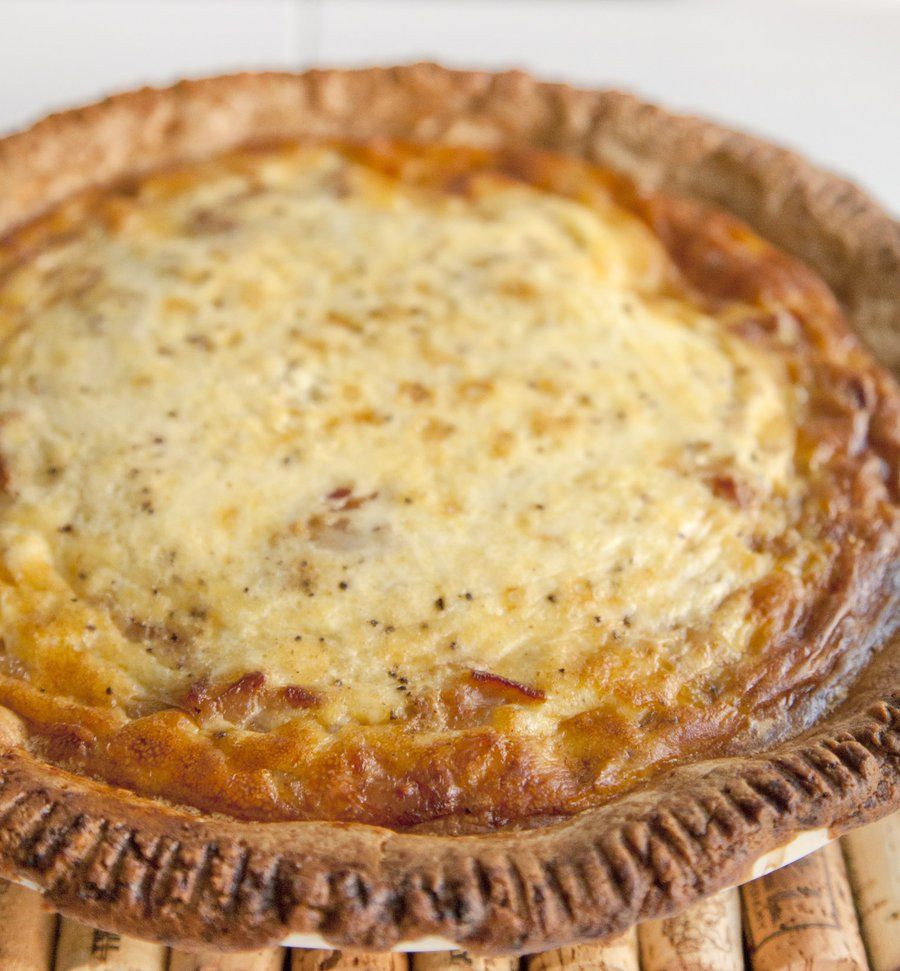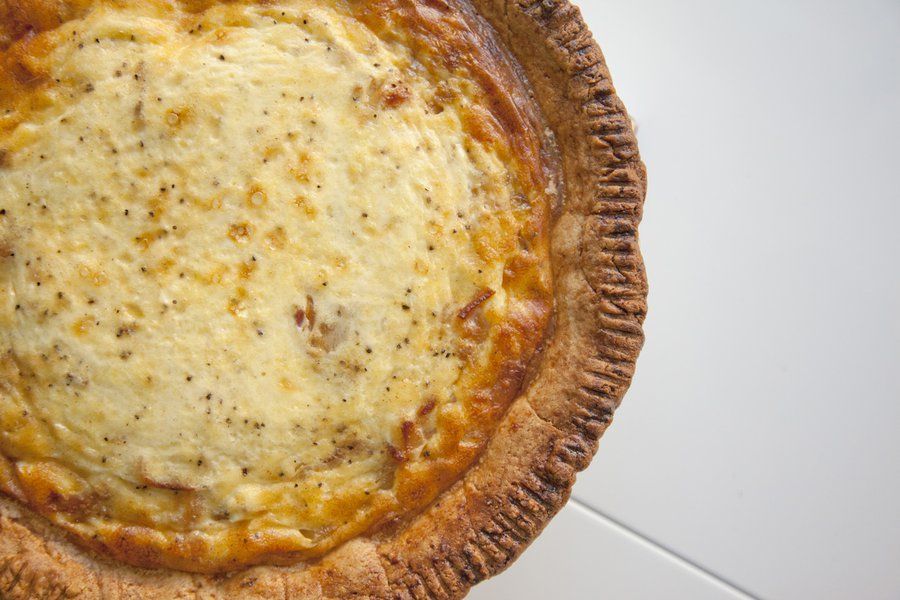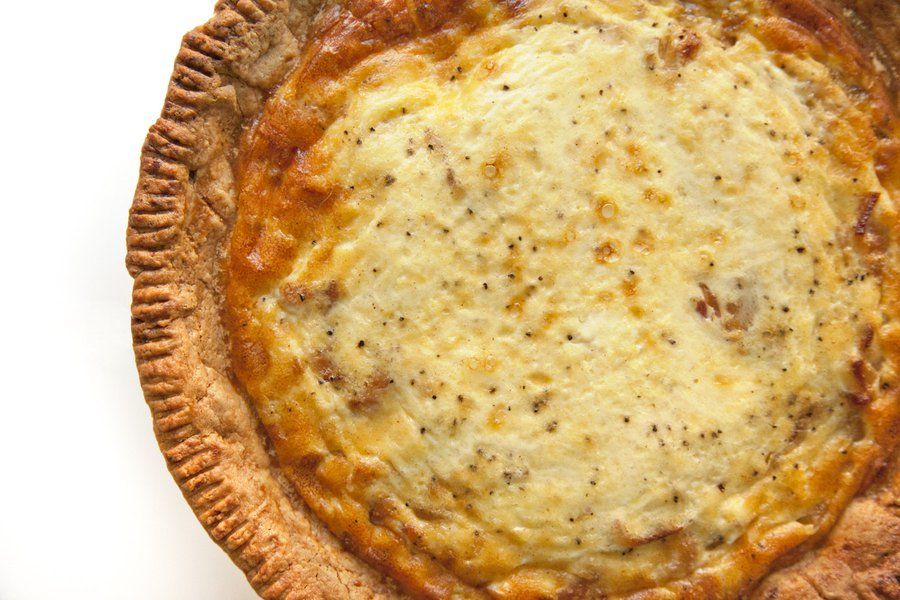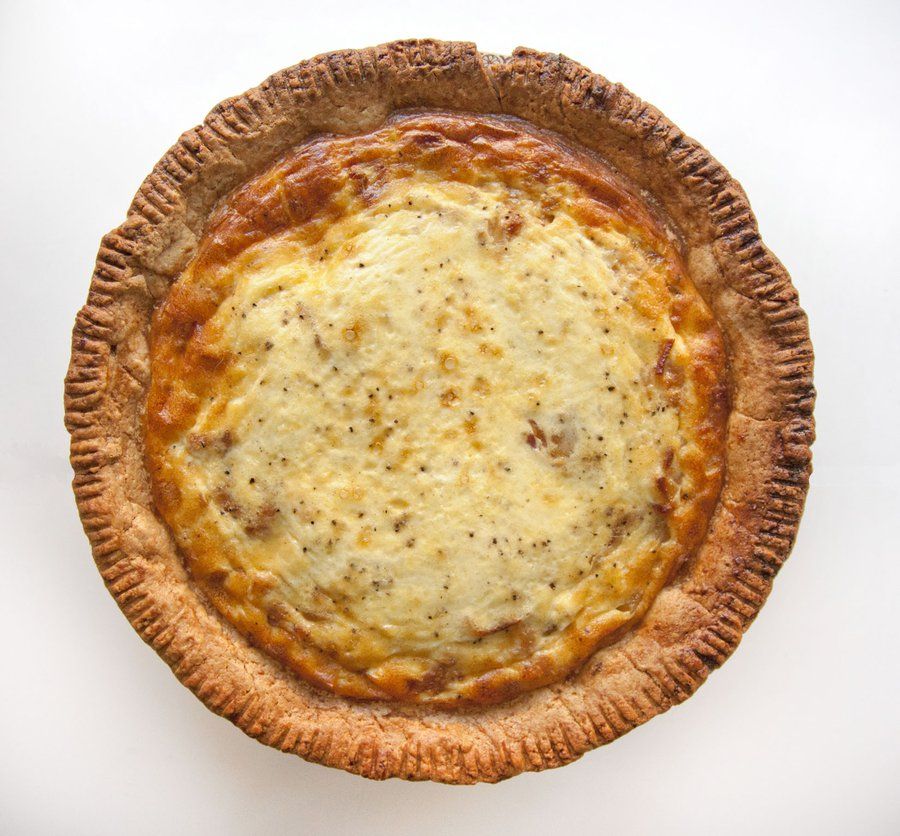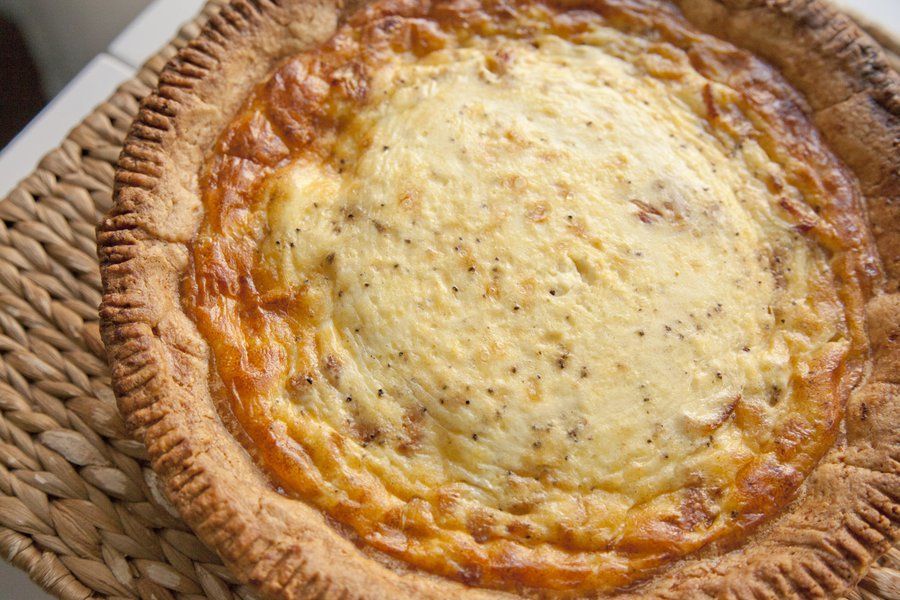 Quiche Lorraine
Prep Time
---
15 Minutes

Cook Time
---
1 Hour 25 Minutes

Total Time
---
2 Hour 40 Minutes

Yield
---
Makes 1 9" Quiche

Ingredients
1 Prepared Pie Crust (I like Trader Joe's Pie Crust)
5 Slices Bacon
1/2 Onion (sliced thin)
4 Eggs
1 3/4 Cups Heavy Cream
Pinch Nutmeg (about 1/8 teaspoon)
1/2 Teaspoon Salt
1/2 Teaspoon Black Pepper
1 Cup Swiss Cheese (shredded)
1/4 Cups Parmesan Cheese (grated)
---
Directions
In a medium skillet, cook your bacon on both sides til it's cooked through, but not crispy yet. Remove the bacon from the pan and place on a paper towel lined plate, and chop into fine pieces once cooled.
Pour off some of the bacon fat from your skillet and leave enough fat to just slightly coat the bottom of the pan. Over medium heat, cook your onion for about 8-10 minutes, stirring frequently until lightly caramelized. Allow to cool.
Preheat your oven to 400 degrees. Place a premade pie crust into a 9" pie plate. Cover with parchment paper and baking beans and cook for 10 minutes. Remove from the oven and remove the baking beans and parchment paper.
In a large bowl, beat your eggs and heavy cream together until incorporated. add your swiss cheese, parmesan, nutmeg, salt and pepper and beat again to combine.
Scatter your onion and bacon at the bottom of your slightly cooked pie crust from step 1. Pour the egg mixture on top. Cover the pie dish loosely with tin foil and cook 35 minutes. Remove the foil and lower the oven to 350 degrees. Cook about 25 minutes more (or until the inside is cooked through). Remove from the oven and serve hot or room temperature.