Today's delicious meal is brought to you because of a constant quarantine issue I have….
Since I have not stepped foot in a grocery store (or any store for that matter) since mid-March 2020, we've been getting our groceries delivered…..and while this has been great from a safety aspect, it takes an exorbitant amount of planning, and sometimes even my OCD can't plan it all out. The constant random substitutions, out of stock items, and general human errors I encounter when placing an online order usually leaves me with 80% of the things I originally ordered….first world problems for sure, but frustrating nonetheless.
So when figuring out what to make for lunch today, I looked to my very sparse supply count and came up with an idea for nachos using my pretty meager provisions. Dishes like nachos, meat loaf and even pasta can be really fun to experiment with in terms of various ingredients you may already have on hand…and they can wind up just as incredible as something not just thrown together with pantry items. I have found that this dish best represents the phrase "Necessity is the mother of invention" – I wanted nachos but didn't have my usual ingredients so I riffed on a classic and have to say the remix was fantastic.
The one thing we do have on hand constantly is a full supply of various meats, seafoods, and other frozen items thanks to an early purchase of a massive deep freezer that we keep fully stocked. We have been ordering meat from places like Crowd Cow and US Wellness meats, which have incredible selections of Grass Fed beef as well as some finer things like Dry Aged Beef and Wagyu.
I have a referral code to Crowd Cow for $25 off your first order – click HERE for that! We love their products!
So today's nachos got a little boujie flair with our choice of meat: a Dry Aged Grass Fed Ground Beef from Crowd Cow. If you don't like beef, you can make this dish with ground chicken or ground turkey – or for a vegetarian take, nix the meat and just double the amount of beans.
In terms of other fun pantry items you can add to these nachos some ideas include: olives, jalapenos, salsa, corn, or anything else you're into putting on nachos. My newest obsession is putting minced banana peppers on my nachos for some extra flavor (plus it's something I always have on hand in the fridge). Another great pantry option is jarred Roasted Red Bell Peppers. If you don't have fresh tomatoes, you can use salsa, or canned roasted tomatoes. As a last minute addition, I sprinkled Doritos over the top of the baked nachos just for the heck of it! Pantry cooking is so fun – let me know what you come up with!
Enjoy!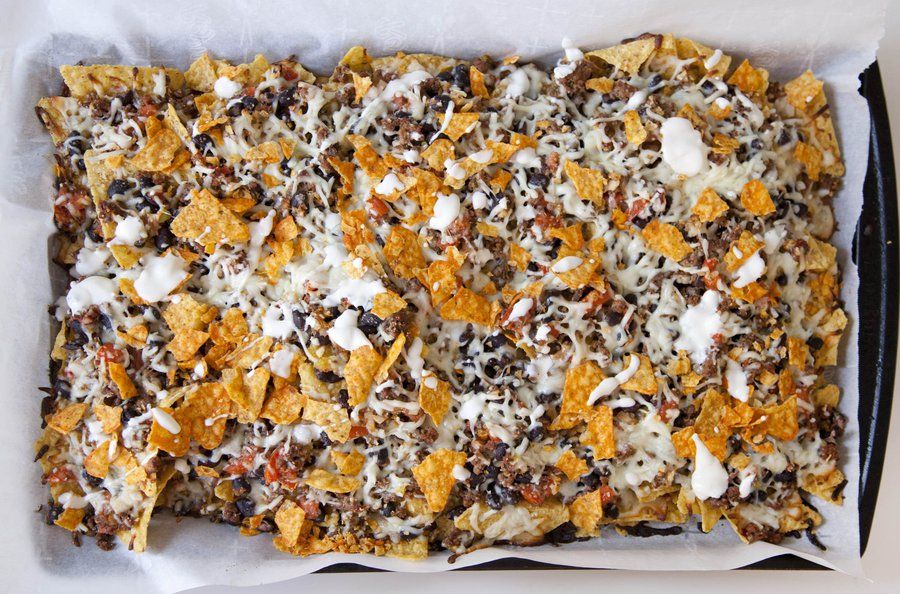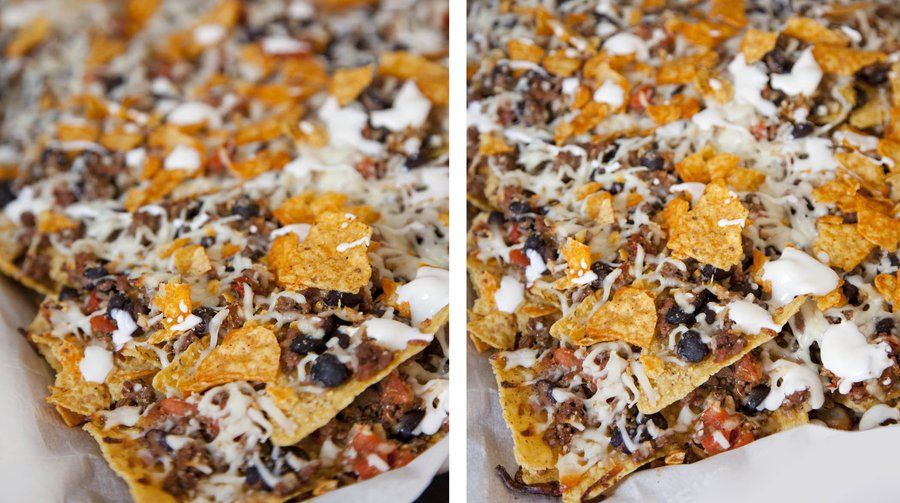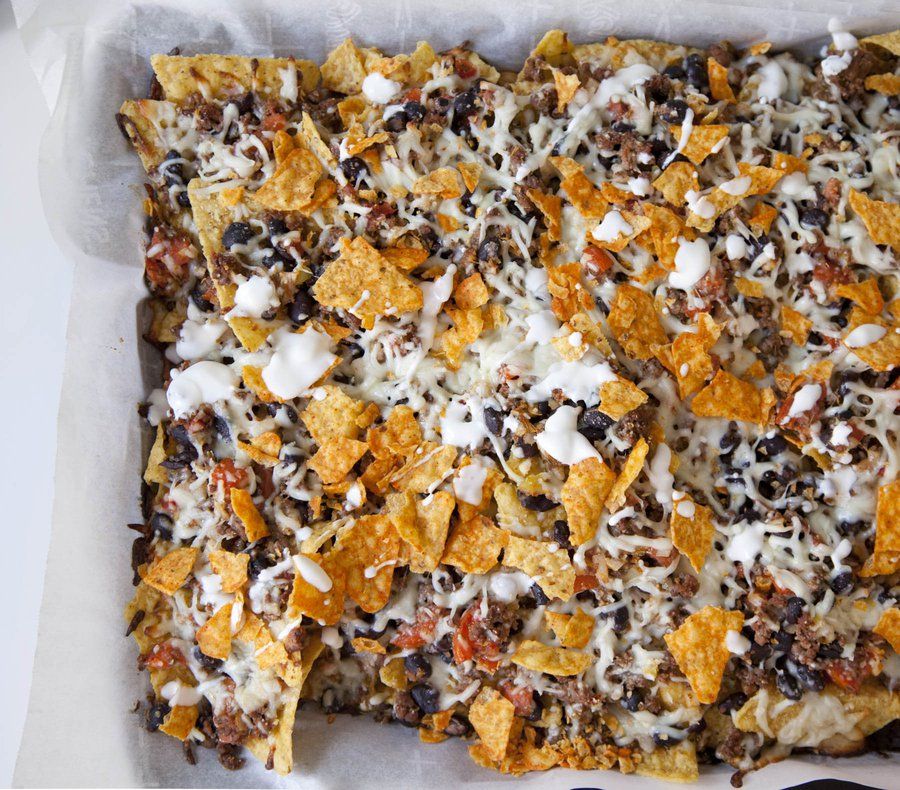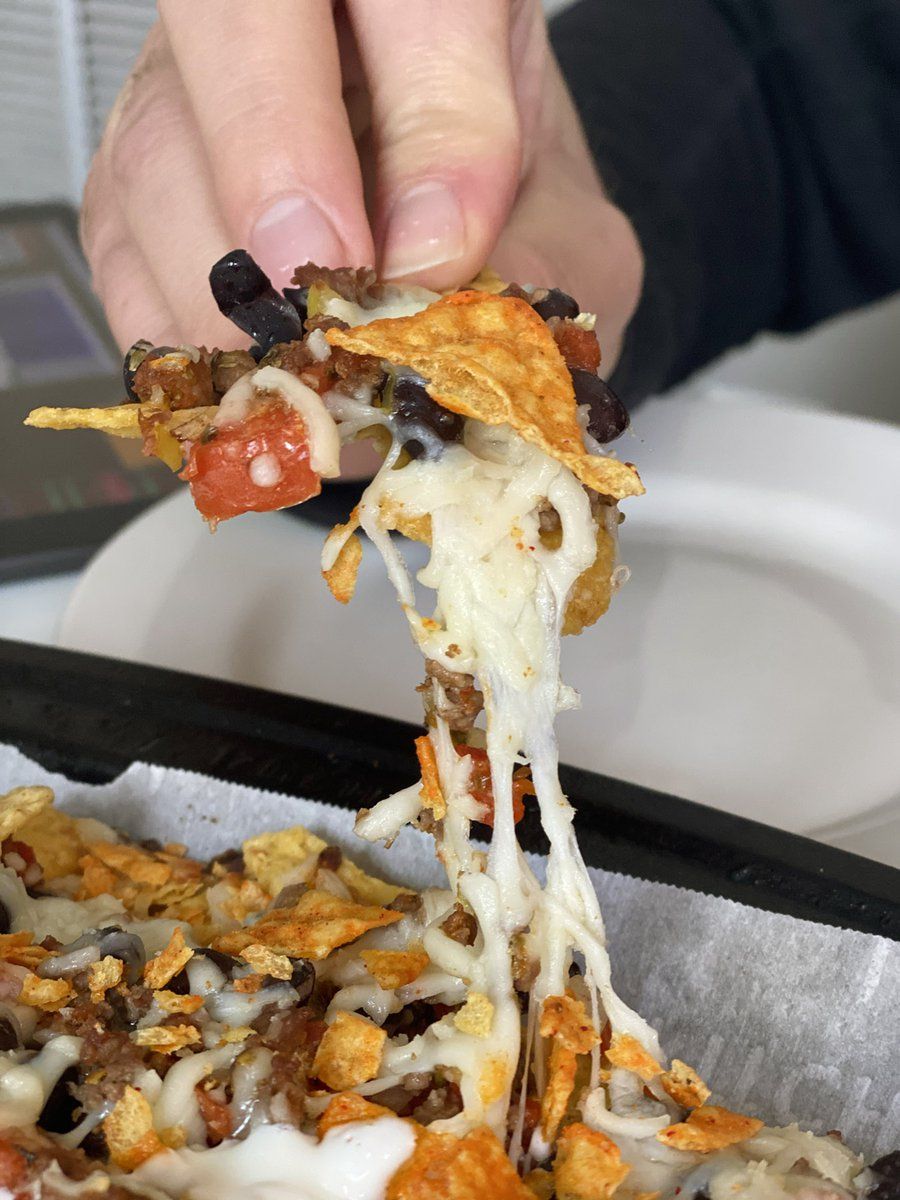 Quarantine Nachos
Prep Time
---
15 Minutes

Cook Time
---
15 Minutes

Total Time
---
30 Minutes

Yield
---
Serves 4

Ingredients
1 Pound Grass Fed Dry Aged Beef
1 Cup Tomato (diced small)
1/2 Cup White Onion (diced small)
1 15 oz Can Black Beans (Drained and rinsed)
2 T Garlic (minced)
2 T Dried Oregano
2 T Banana Peppers (minced)
2 T Roasted Red Bell Pepper (minced)
3 T Frank's Red Hot
3 Cups Mozzarella (Shredded, divided)
9 oz Tortilla Chips
Doritos (crushed on top - optional)
Sour Cream (optional)
---
Directions
Preheat your oven to 375 degrees and line a large baking sheet with Parchment paper.
Cook your beef in a skillet until there is no more pink and it's cooked through. Drain the meat through a sieve to get rid of any grease/liquid. Place the drained beef in large bowl and add in all the other ingredients up to the tortilla chips and mix together. **Only add 1 cup of your cheese at this step - save the rest for the next step.
Place the tortilla chips in an even layer on your lined baking sheet. Distribute the ingredients from step 2 over the tortilla chips. Top the chips with the remaining cheese and bake for 15-20 minutes.
Options: Serve with sour cream, Crushed Doritos and Cholula Hot Sauce!