Yesterday I posted my recipe for my Bacon Jam, and got such a great response from my readers that I wanted to share one of the ways in which I use this amazing condiment.
I experimented with my Bacon Jam a lot in the past week, pairing it with various cheeses, meats, breads, and other condiments, and this combo that I am sharing now was by far my favorite.
I love a quesadilla (to me a quesadilla is anything made in a flour tortilla which has been folded in half and then grilled to crunchy tortilla perfection). Classically, it's a Mexican dish, with Mexican fillings, but today my quesadilla took a little trip to France and Italy where it met up with some shredded Gruyere Cheese and some paper thin sliced Prosciutto San Daniele…..and of course was rounded out with my Bacon Jam.
Let me just say that this might be one of my favorite flavor combinations of all time. I think Prosciutto is the best cured meat ever created (you can quote me on that)…and the combination of Prosciutto and Gruyere is one of  my favorite meat/cheese combos of all time….so layering that with the element of a sweet and salty bacon jam sandwiched in between a perfectly thin crisp tortilla just literally sent my taste buds into the stratosphere.
I tried this same sandwich with Ham instead of Prosciutto, which was good, but the Prosciutto was definitely the winner hands down!
Enjoy!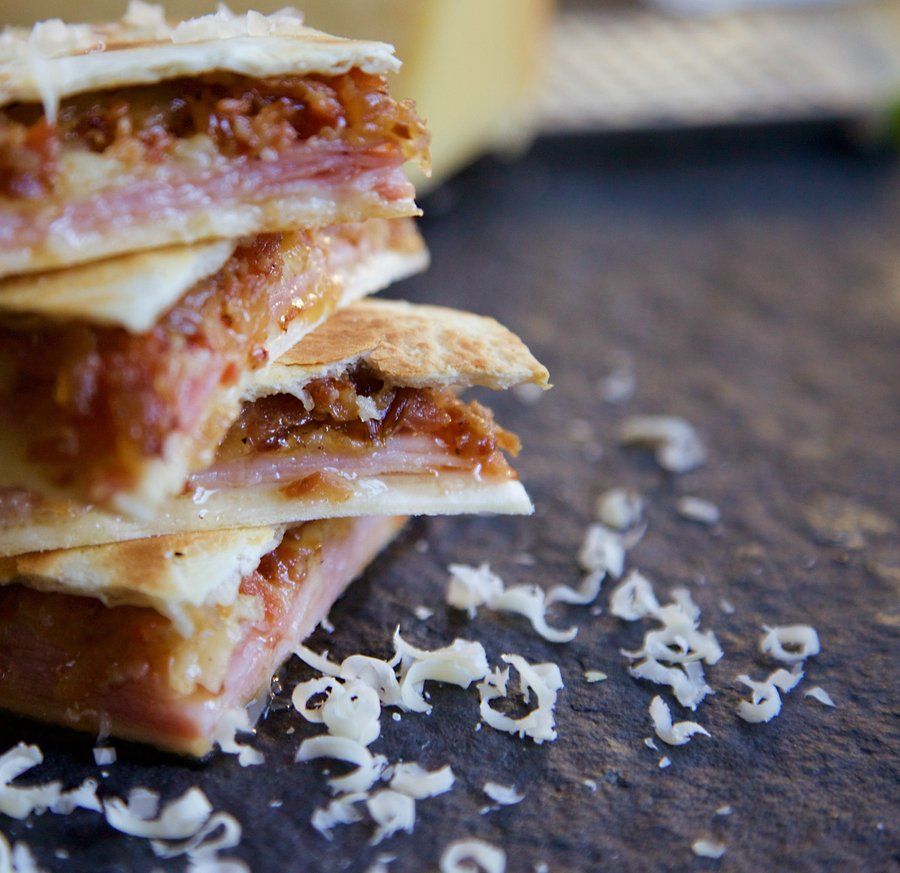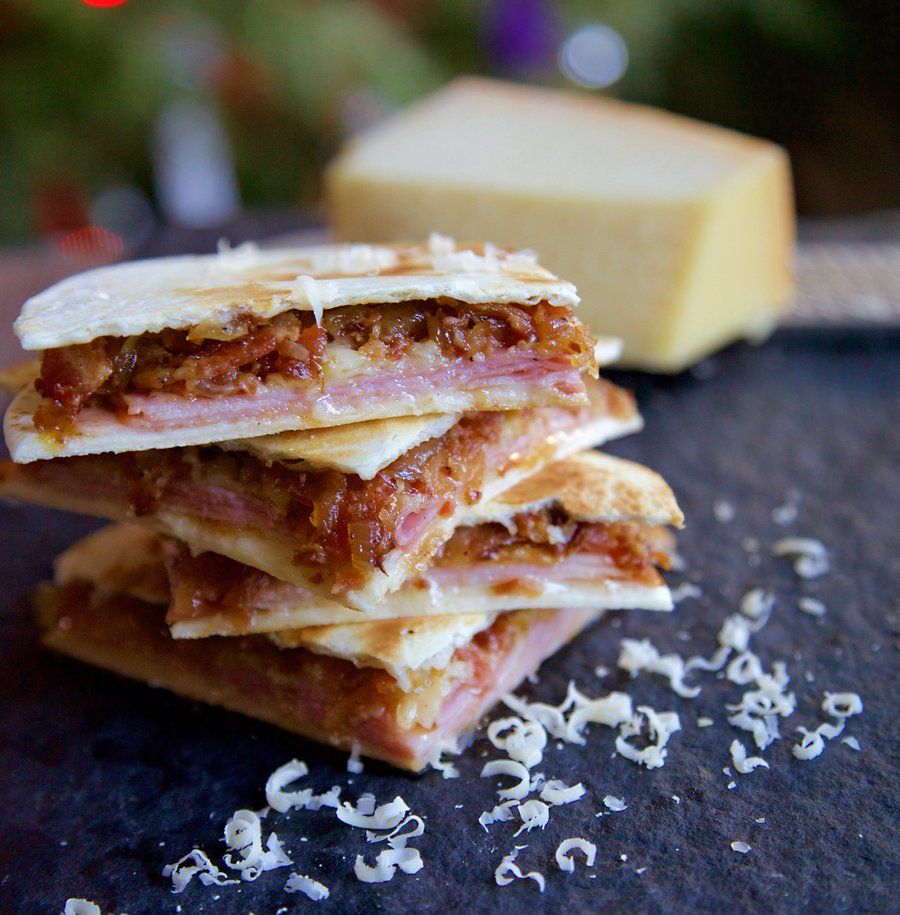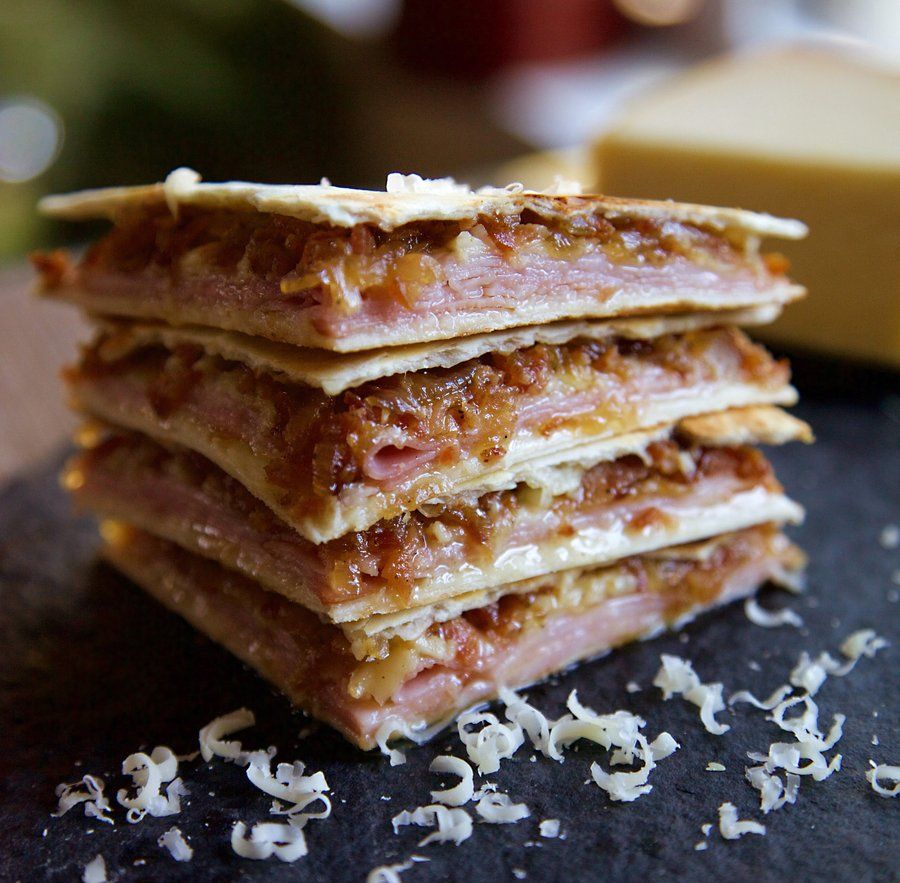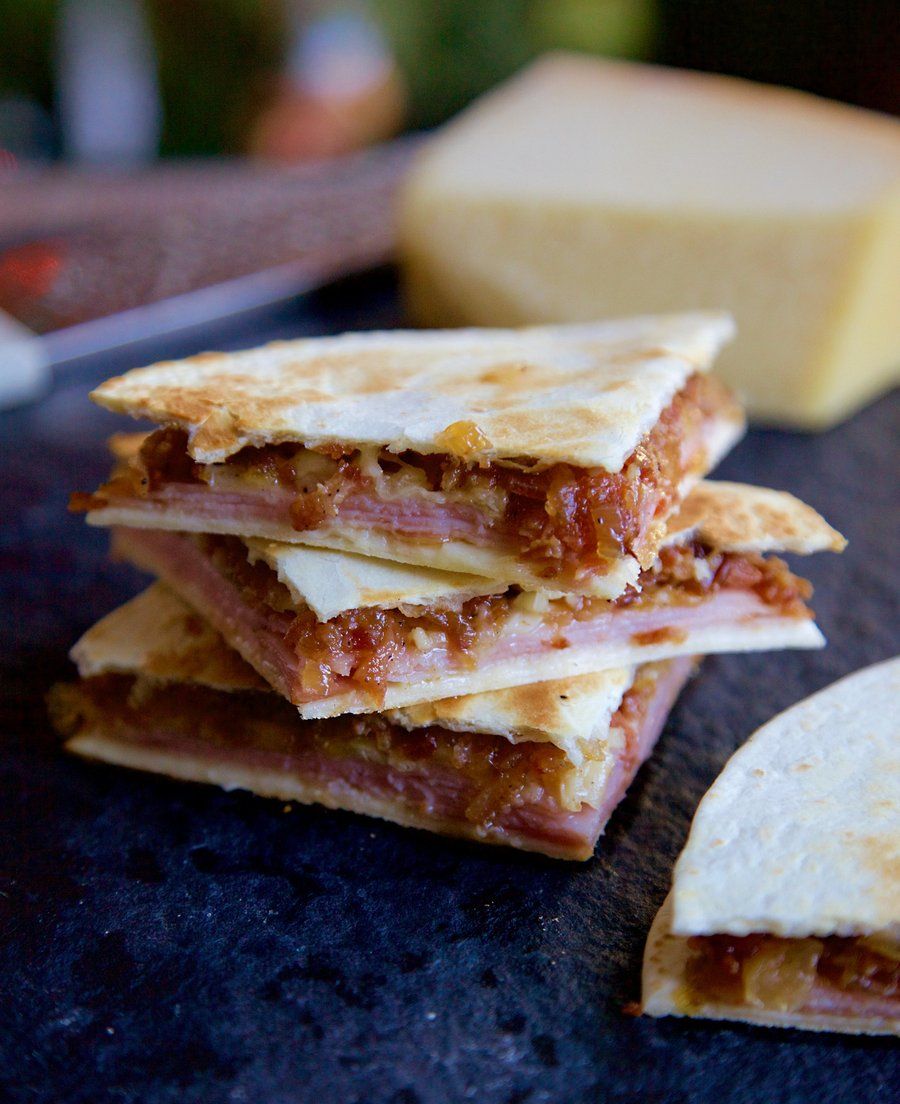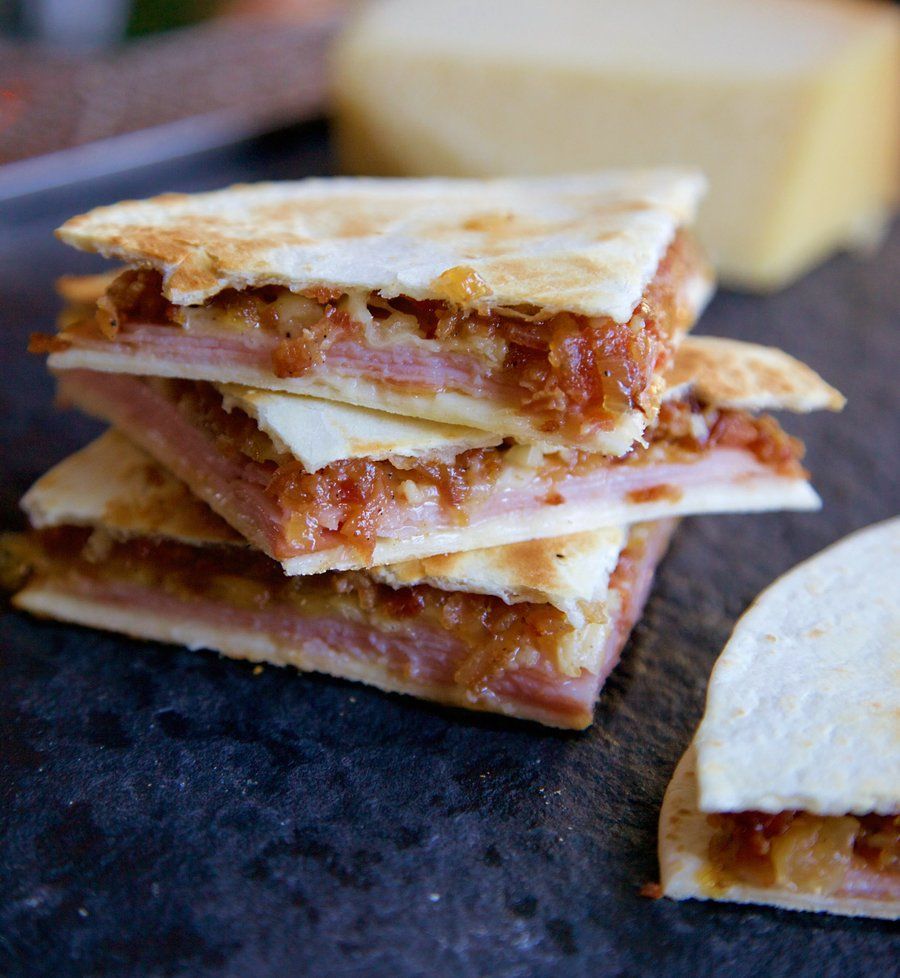 Bacon Jam
Prep Time
---
5 Minutes

Cook Time
---
1 Hour 15 Minutes

Total Time
---
1 Hour 20 Minutes

Yield
---
Makes 1.5 cups

Ingredients
1 Pound Bacon (don't use thick cut)
1 Onion (sliced thin)
1/4 Cup Apple Cider Vinegar (divided)
4 T Light Brown Sugar
1 Teaspoon Black Pepper
---
Directions
Preheat your oven to 375 degrees. Line a baking sheet with tin foil and lay your bacon out on the sheet tray in an even layer. Bake for 20-25 minutes, or until the bacon is crispy.
Remove bacon from the baking sheet and let drain on a plate lined with paper towels. (Once bacon is cooled and drained, mince your bacon into small bits and reserve.) Pour about 2 tablespoons of the bacon grease from the baking sheet into a medium sized saute pan.
Over a medium heat, add the sliced onion to the saute pan and cook over a low/medium flame for about 45 minutes (stirring frequently) until the onions are a golden brown color.
Turn up the heat a little under the saute pan and add half of your vinegar. Deglaze the pan with the vinegar and cook til most of the liquid is absorbed. At that point, add in the rest of your vinegar, your brown sugar and your pepper. Cook a few more minutes, stirring constantly until your mixture forms a glaze.
Add your minced bacon into the saute pan and stir to combine. Remove from heat. This can be served hot or room temperature and can stay in the fridge in an air tight container for a week.
Prosciutto, Gruyere & Bacon Jam Quesadillas
Prep Time
---
1 Minutes

Cook Time
---
5 Minutes

Total Time
---
6 Minutes

Yield
---
5-6 Quesadillas

Ingredients
6 8" Flour Tortillas
3/4 Pound Gruyere (shredded)
3/4 Pound Prosciutto San Daniele
1 Recipe Bacon Jam (recipe below)
---
Directions
Spread an even layer of Bacon jam on one half of your tortilla. On top of the jam, add some shredded gruyere cheese. Top that with 4-5 slices of Prosciutto and top with a little more shredded gruyere.
Fold the other half of the tortilla over so as to create a half circle. Place in a cast iron pan or any other heavy bottomed pan (or you can use a panini maker if you have one).
Over a medium heat, cook the tortilla until it's golden brown on both sides. Cut into wedges and serve hot. Optional: Serve with Mustard