More often than not, my weeknight dinner game is more about getting something easy on the table than something chef-y. Running around after a toddler who needs your attention 24/7 doesn't exactly lend itself to slow braising beautiful fall off the bone short ribs with a red wine reduction sauce…in fact, we've been big on the sandwich dinners lately because they're quick, tasty, and I could come up with 500 sandwich ideas off the top of my head.
Last night, I decided to make a chicken salad because I had some fresh tarragon in the house, and for some reason, whenever I see tarragon I immediately think: Chicken Salad (a Chef's mind is always a curious thing). This is a super super simple recipe, and so incredibly flavorful! The combo of fresh tarragon, black pepper and rice wine vinegar really elevates what could be a pretty bland and boring meal.
You can obviously eat this as a sandwich on your choice of bread or you can top a salad with it, or eat it on it's own (I also applaud any meal that has this kind of versatility because sometimes you don't have bread in the house).
On a side note: I always make chicken salad with thigh meat because it's way more tender, juicy and flavorful. I find chicken salads made with white meat are always kinda dry and hard to chew, and if you plan on keeping your chicken salad in the fridge for a few days to nosh on, thigh meat will retain it's juiciness and be less likely to dry out.
Some ideas with this chicken salad – top it with fun things like crispy bacon, avocado, various greens (Romaine would be perfect), tomato, etc etc.
Enjoy!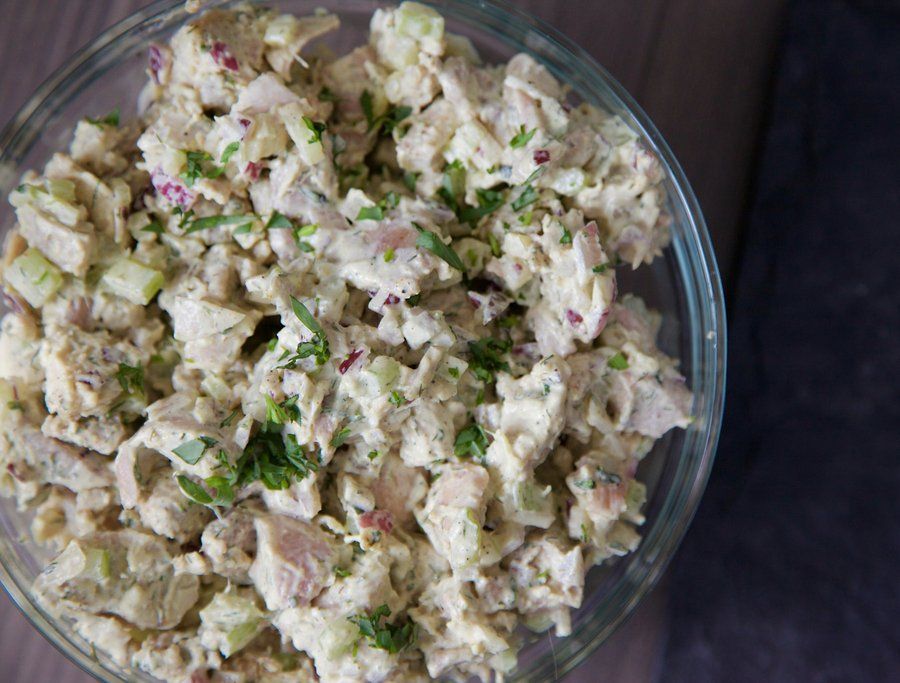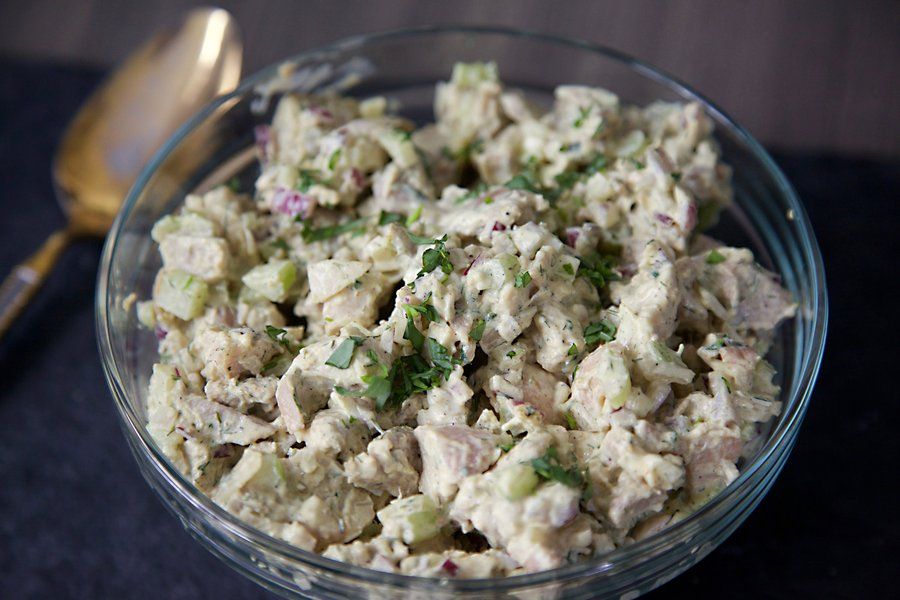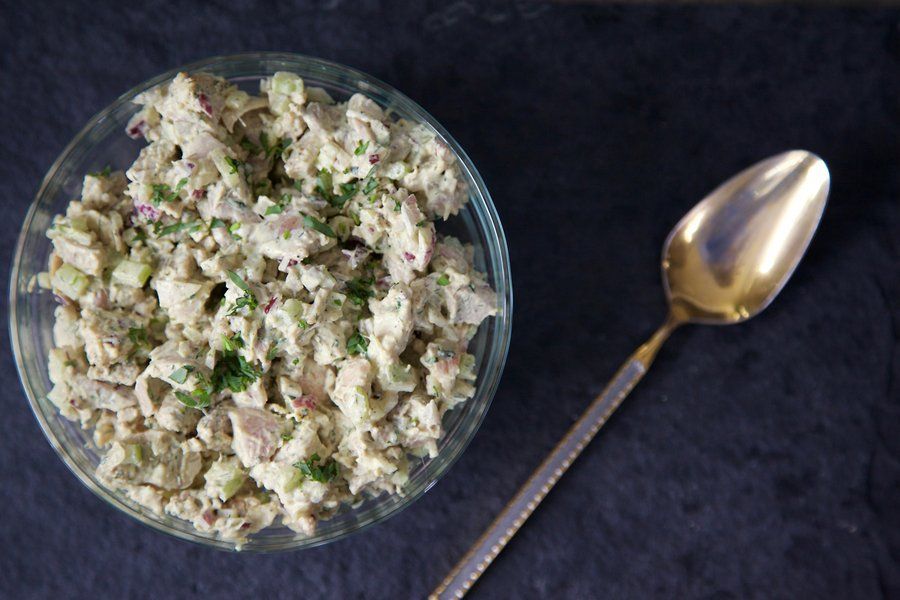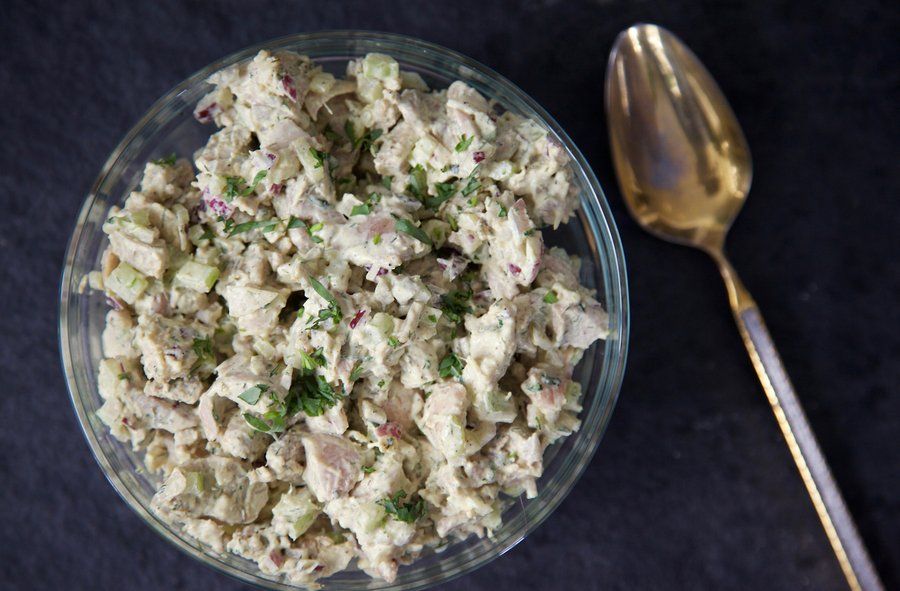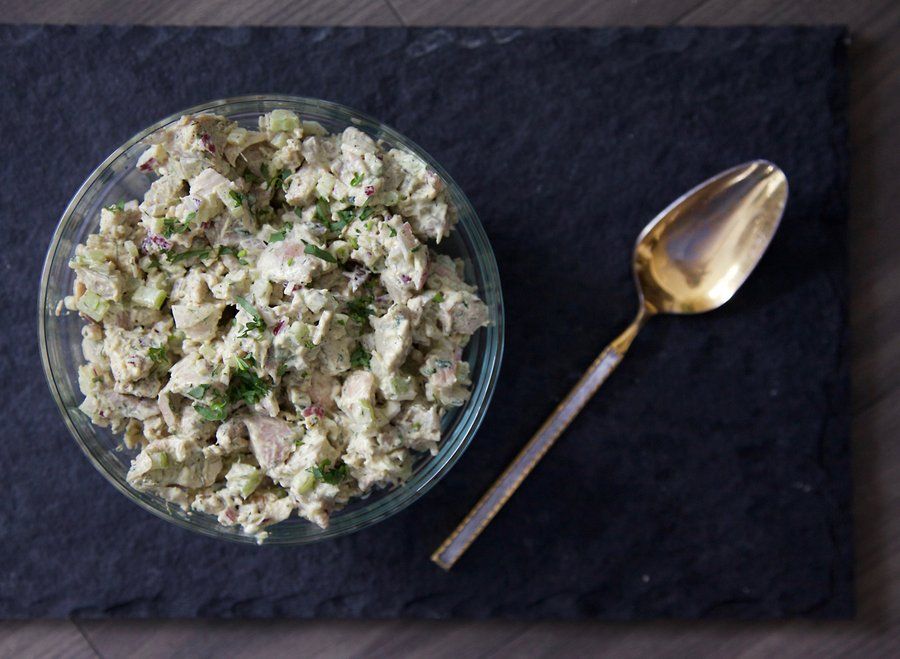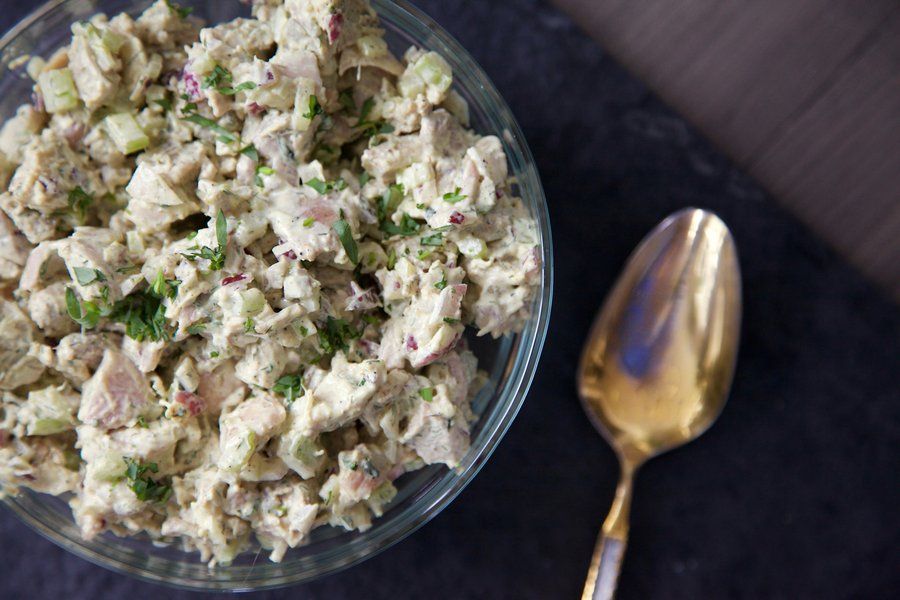 Chicken Salad
Prep Time
---
10 Minutes

Cook Time
---
25 Minutes

Total Time
---
35 Minutes

Yield
---
Serves 4-6

Ingredients
9 Boneless Skinless Chicken Thighs (About 2.5 pounds)
2 Celery Stalks (minced)
3/4 Cup Red Onion (diced small)
1/2 Cup Mayonnaise
1 Tablespoon Yellow Mustard
2 tsps Fresh Tarragon (minced)
1 Teaspoon Black Pepper
1 Teaspoon Dried Dill
1/4 Teaspoon Garlic Powder
1 1/2 tsps Rice Wine Vinegar
Salt (to taste)
Pinch Cayenne
---
Directions
For the chicken thighs: season with salt and pepper - cook in a 400 degree oven for 22-25 minutes (until cooked through). Remove from oven, allow to cool, and then chop into bite sized pieces.
While the chicken is cooking, combine all of your other ingredients in a large bowl and mix together.
Once the chicken has cooled and is chopped up, toss it into the bowl, and mix to combine. Season with salt.