I am going to preface this blog post with the fact that I NEVER, EVER am one to buy premade anything….but for this sandwich, I have broken my rule….and with my hubby's help, created this AWESOME sandwich.
We discovered Tyson's Crispy Chicken when we became members of the magical land of Costco. We moved from New York City to Princeton, NJ and I figured, since I was embracing suburb life fully, the next step was a Premium Costco Membership… and it has been 100% worth it from many standpoints, but mostly because this 3-pound bag of Crispy Chicken has rocked my world in terms of taste and convenience.
In addition to pre-made chicken (I am almost embarrassed to write it), I also got premade Salsa Verde (you can just shun me as a chef now…I am not worthy). I do have a Salsa Verde recipe from culinary school, but I am going to admit, the Goya Salsa Verde (medium heat) is WAY better….
So now that I have aired my culinary "dirty laundry" so to say, let's get on with the sandwich portion of this program…
This sandwich was 100% my husband's brainchild, and I make it literally 1-2 times a week because it's so easy and so delicious, you kinda can't go wrong. The combination of the crunchy crispy chicken with the melted mozzarella, paired with the tang of salsa verde and the heat from the banana peppers, makes this one of the most well-rounded tasting sandwiches I've ever had. The addition of the oregano is also key – it adds a great herbaceous flavor and brings out the flavors in all the other components.
Now, since I am actually not being sponsored by either Tyson or Goya for promoting their products so brilliantly, I have also posted my own personal recipe for fried chicken below as well if you'd like to make the crispy chicken portion from scratch (it is worth is to make because it's beyond tasty)!
Another note: We have been eating this sandwich on a fresh baguette until last night when I had Martin's Potato Rolls on hand, and we decided, the potato rolls are WAY better for this Sammy!
Enjoy!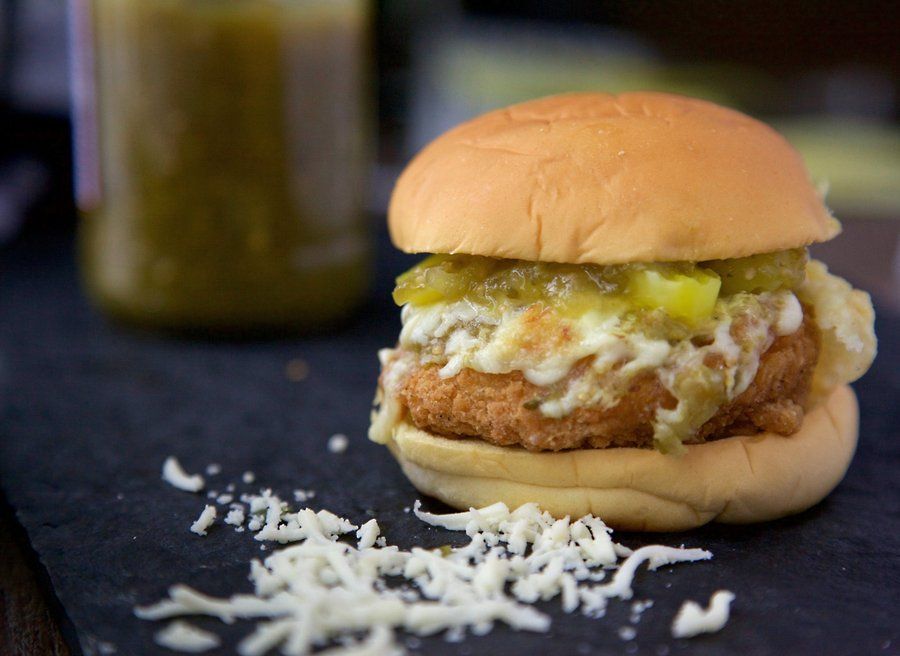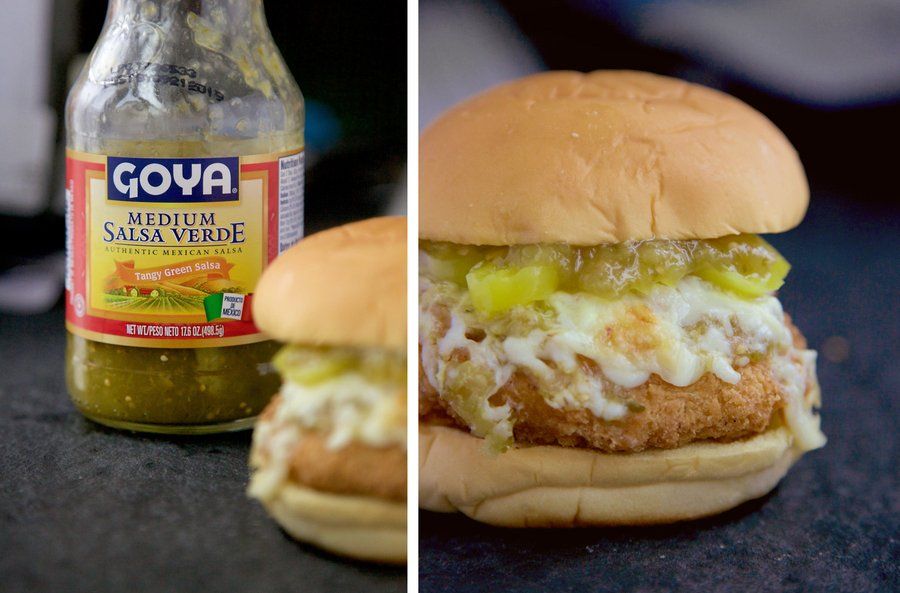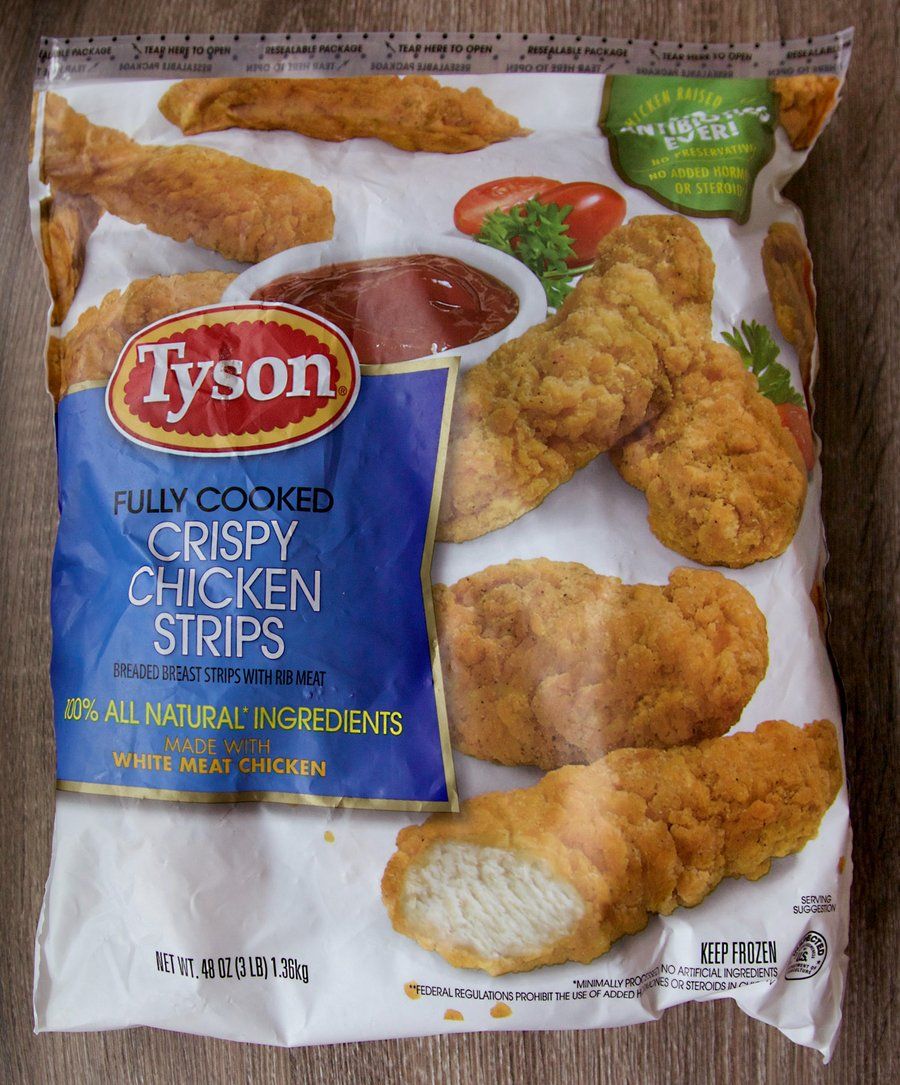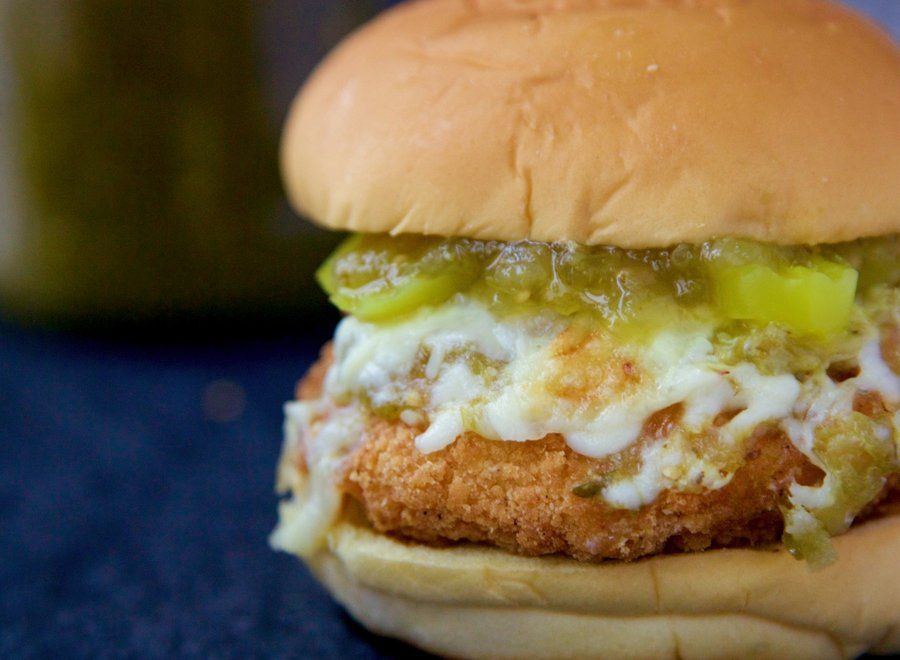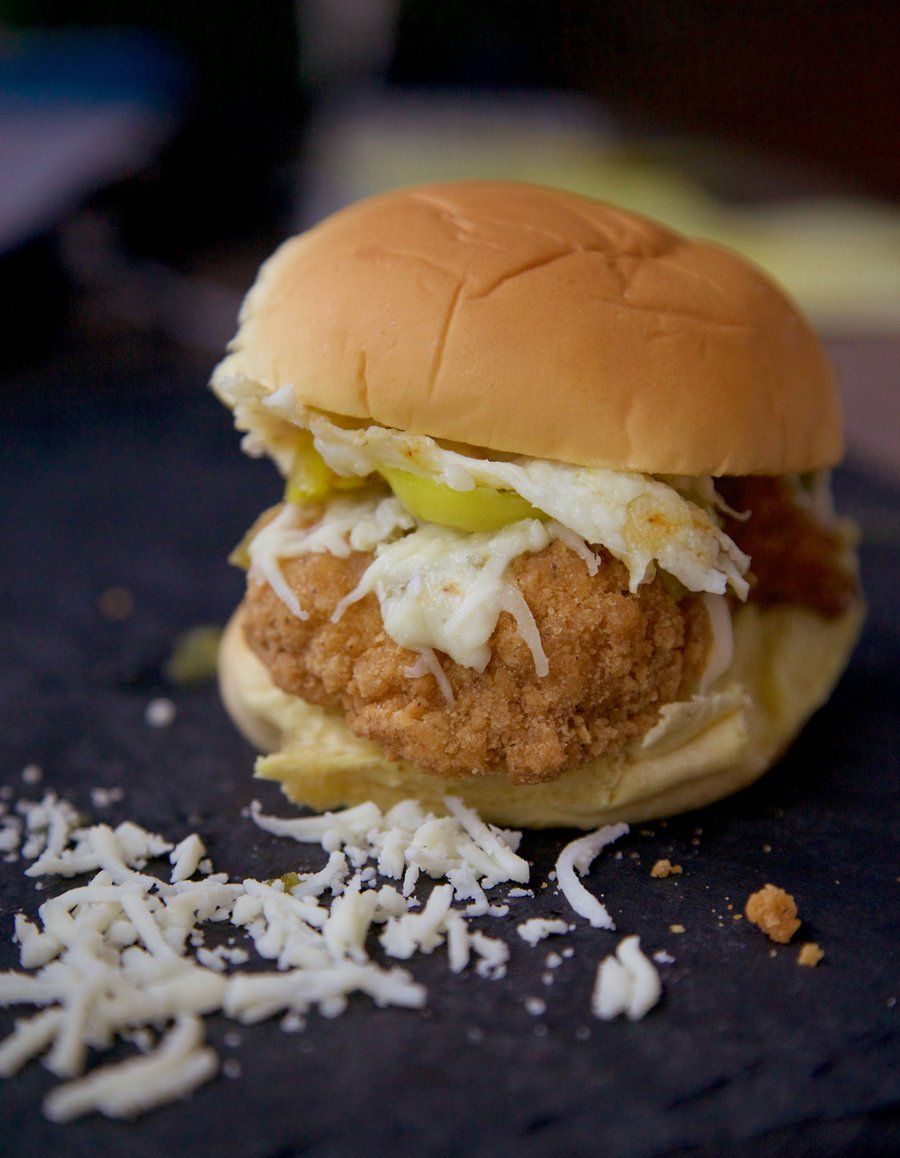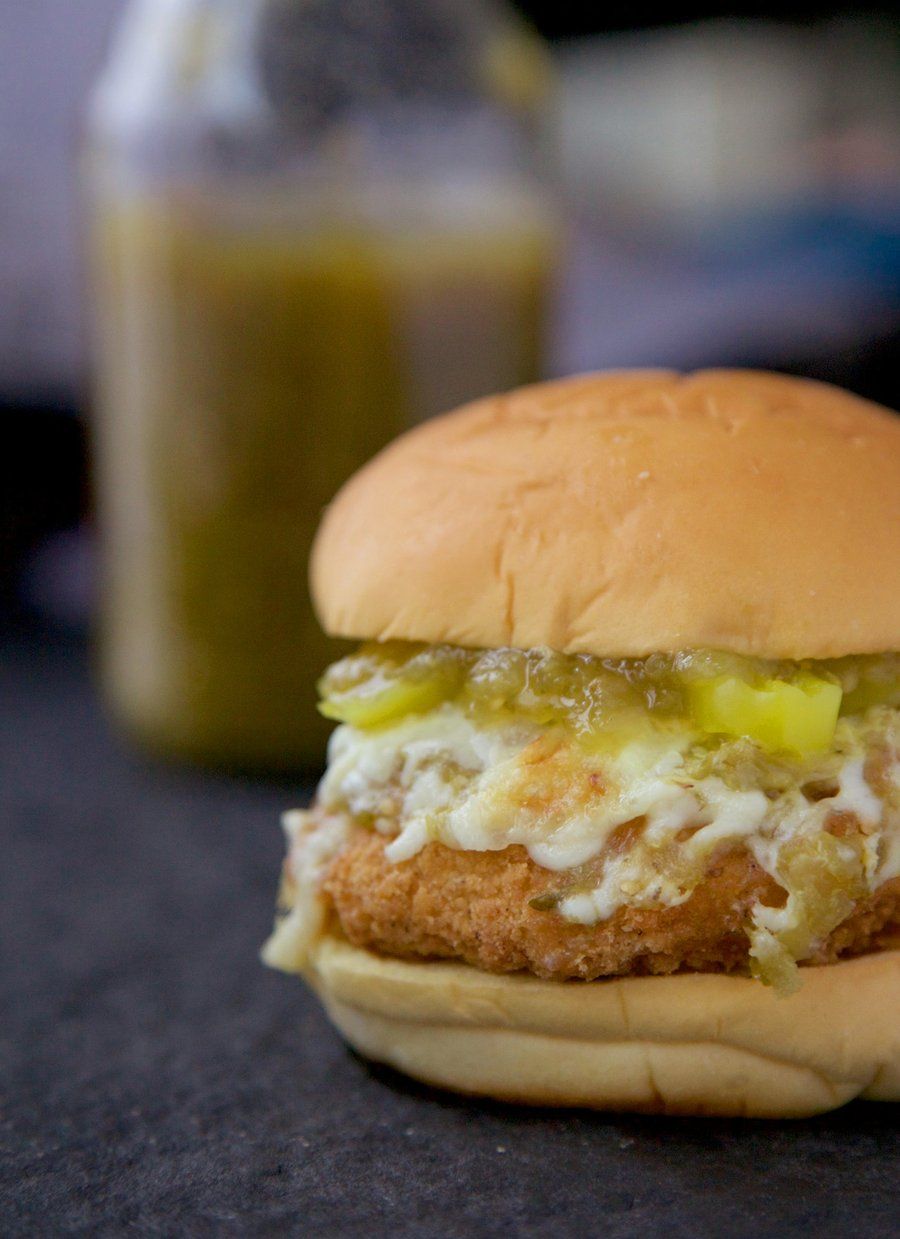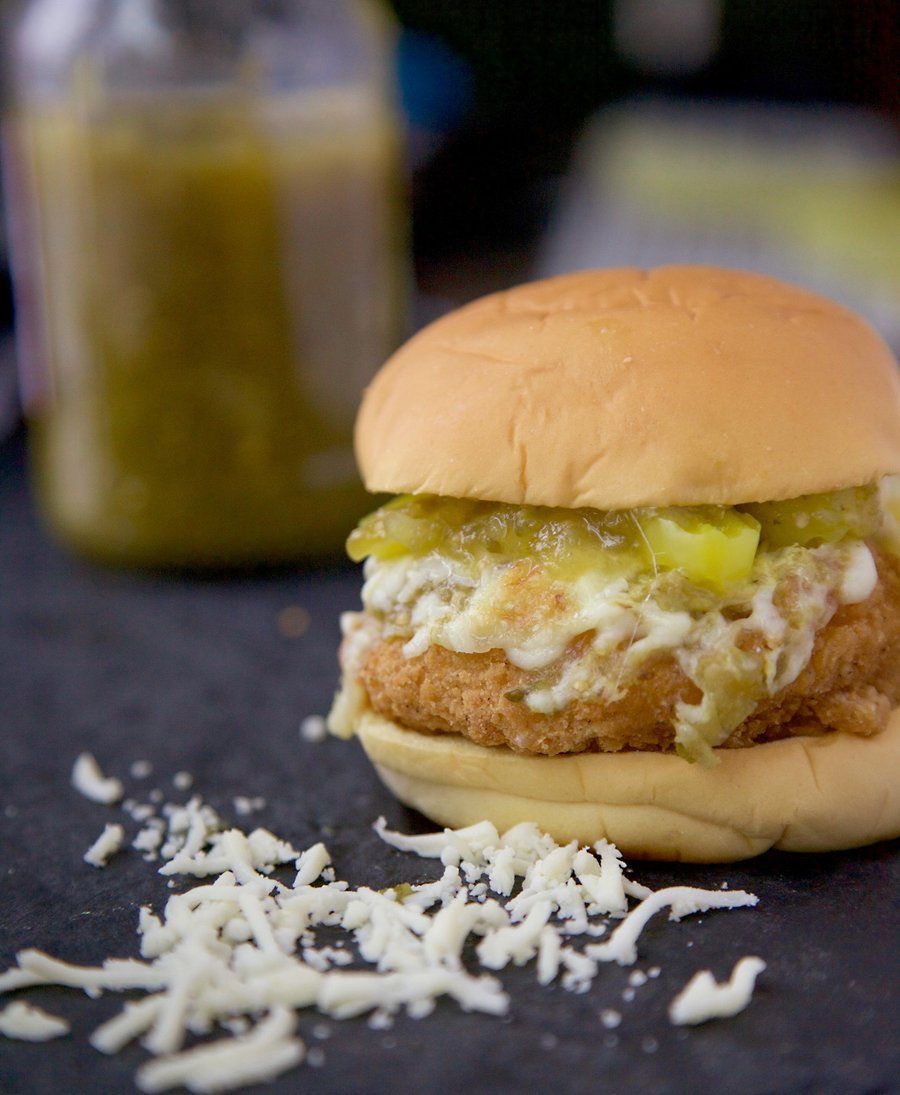 Crispy Chicken Sandwiches
Prep Time
---
5 Minutes

Cook Time
---
20 Minutes

Total Time
---
25 Minutes

Yield
---
Makes as many as you want!

Ingredients
Tyson's Crispy Chicken/Fried Chicken
Martin's Potato Rolls
Salsa Verde
Dried Oregano
Shredded Mozzarella
Banana Peppers
---
Directions
If you're making this with Tyson Chicken (as pictured above), place the chicken on a foil lined baking sheet. Bake at 400 degrees for 10 minutes, flip the chicken over and spoon out a little salsa verde on top of each piece of chicken. Season with dried oregano and then top with shredded mozzarella. Bake another 10 minutes.
To assemble the sandwich: on top of your bread/roll (which has been sliced in half) place your piece of chicken from the previous steps. Top with extra salsa verde, oregano and add as many banana peppers as you desire! Top with the top of the bread/roll and eat hot!
If you're making fried chicken from scratch (my recipe below) - Take your cooked chicken, and in a 350 degree oven, top with the salsa verde, oregano and mozzarella, and bake until the mozzarella is melted.
Fried Chicken
Prep Time
---
2 Hour 20 Minutes

Cook Time
---
20 Minutes

Total Time
---
3 Hour 40 Minutes

Yield
---
Serves 2-4

Ingredients
1 Whole Chicken (broken down, skin in)
2 Cups Buttermilk
1/4 Cups Frank's Red Hot, Buffalo Sauce
Pinch Salt and Pepper
2 Cups Flour
1 1/2 tsps Baking Powder
1 tsps Black Pepper
1 tsps Salt
Canola Oil (for frying)
---
Directions
Breakdown a full chicken into 12 parts : 2 legs, 4 wings, 2 breasts cut in 1/2, 2 tenderloins. Place in a bowl and cover with Buttermilk, buffalo sauce salt and pepper. Let marinate in the fridge for 2 hours.
Heat up your deep fryer to 365 degrees. In a bowl, mix together your flour, baking powder, salt and pepper. One piece at a time, place your chicken into the bowl and cover completely with the flour mixture. Place into deep fryer and fry til golden brown and done on the inside. Repeat til all the chicken has been fried. Serve warm or room temperature.