Puff Pastry encrusted Chicken? Yes Please, sign me up.  I found this awesome recipe from Chef Barbara Lynch of Boston's Menton and No. 9. This is a classic French dish that I hadn't tried yet, or even heard of until a few days ago, so I knew it had to be tried.  I altered her recipe and made the dough flavored with fresh herbs, and didn't stuff the chicken with anything. I also didn't make my own puff pastry dough, due to time constraints but if you'd like to make one of your own, here's a great recipe for "quick Puff Pastry":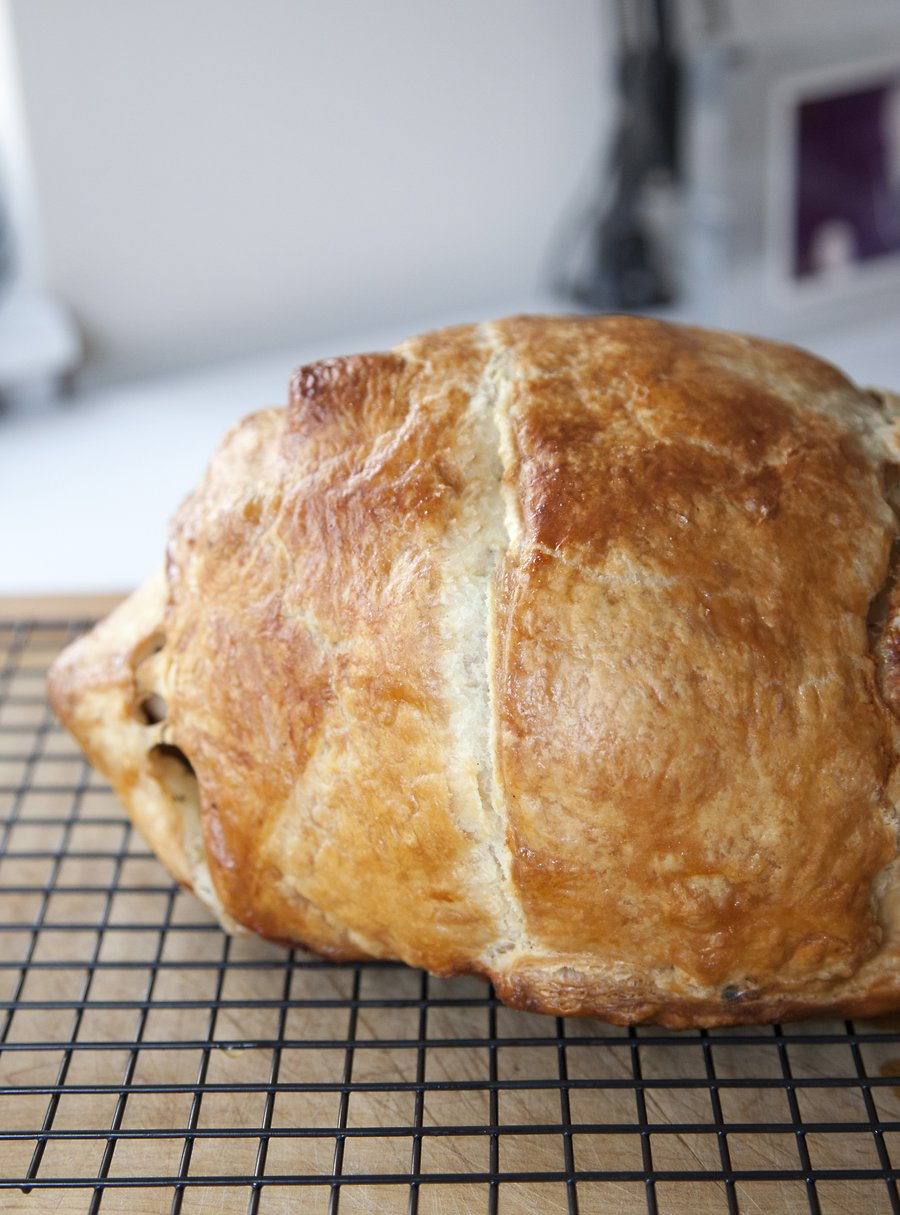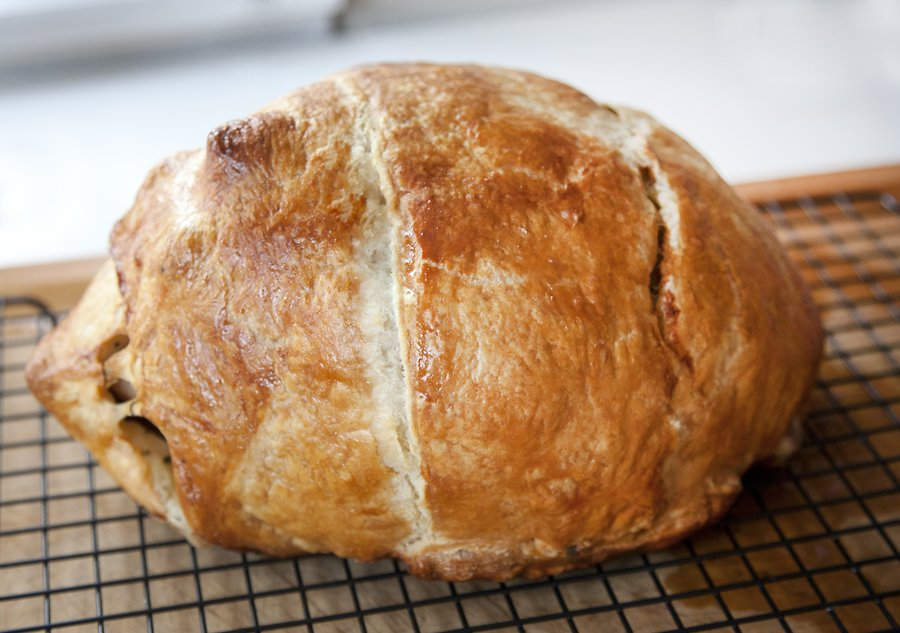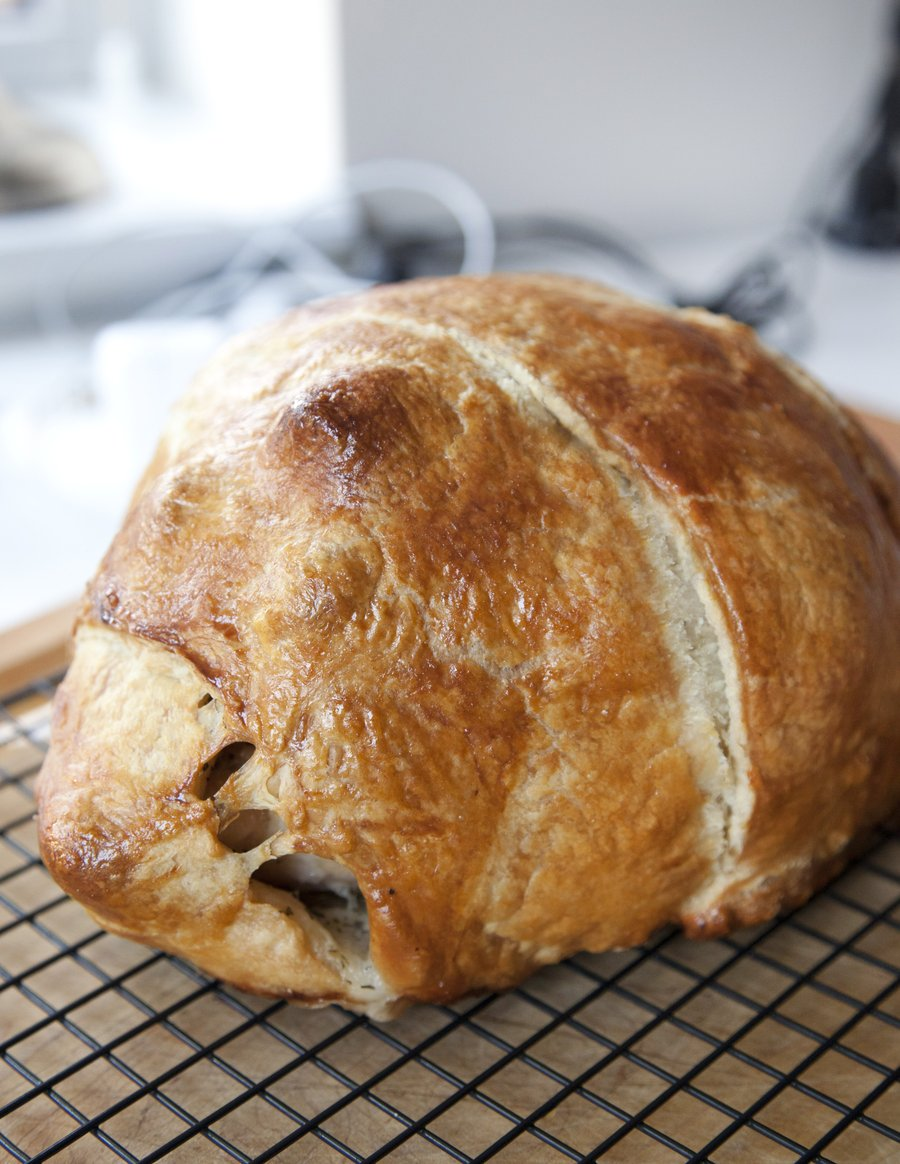 Quick Puff Pastry
Prep Time
---
15 Minutes

Total Time
---
15 Minutes

Yield
---
1 Sheet Quick Puff

Ingredients
6 Sticks cubed Butter (cold)
4 Cups Flour
1 1/2 tsps Salt
2 T Sugar
1 Cups Water
---
Directions
Do in 2 batches in a Food Processor with the metal blade.
Pulse together the flour, butter, salt and sugar until crumbly.
Place in a large bowl and add water.
Kneed on a floured surface and roll out.
Poulet Au Pain
Prep Time
---
10 Minutes

Cook Time
---
2 Hour 30 Minutes

Total Time
---
2 Hour 40 Minutes

Yield
---
1 Whole Chicken

Ingredients
1 Whole Chicken (4-4.5 lbs.)
2 T Butter
7 Sprigs minced Thyme (leaves only)
8 minced Sage Leaves
1 Package Puff Pastry
1 Eggs
Salt and Pepper
---
Directions
Preheat your oven to 400 degrees. Rub 1T of butter between the skin of the chicken and the breast meat. Season the cavity of the chicken generously with salt. Tie up the chicken with twine. Season the outside of the chicken liberally with salt and pepper.
Meanwhile, roll out your puff pastry into a nice thin sheet. Sprinkle your minced thyme and sage over one side of the puff pastry and roll in with a rollin pin. * you only want the herbs on the one side of the dough that will face inward on the chicken otherwise the herbs will burn in the oven. Place the chicken, breast side down in the middle of the dough.
Fold the dough around the chicken, enclosing it completely and sealing the dough on the bottom. Brush your egg all over the outside, sprinkle with a light amount of salt. Place the chicken on a pan lined with either a silpat or parchment paper. Bake for about 1-1 1/2 hours (depending on the size of your chicken).
You want an internal thermometer to read 160 degrees when inserted between the leg and breast. Let rest at least an house before carving and serving.