I am all about extremely rustic, homemade comfort food, and one of my favorite dishes to make during football season is the classic Beef Chili.  I do sometimes make a Vegetarian Bean Chili, but nothing compares to the taste and heartiness of a Beef Chili.  Today while watching the Giants hopefully attempt to pull themselves out of a terrible losing streak, I started to cook my chili.  Chili is one of those great dishes where you make it different every time depending on what you may currently have in your fridge.  I love that you can kinda put anything in there - random veggies, spices, chilies, etc.  Here's today's version of Beef Chili!
This is a great game day meal - especially if you plan on cooking for a huge bunch of hungry men watching football. This recipe serves about 4-6 (depending on how many second helpings people are having!) So just multiply the recipe for the amount of people you need to serve.  This can be made ahead of time and kept in the fridge - and then just warmed up for serving…..in fact, this chili tastes even better the NEXT day!
Happy eating and HAPPY FOOTBALL! Go GMEN!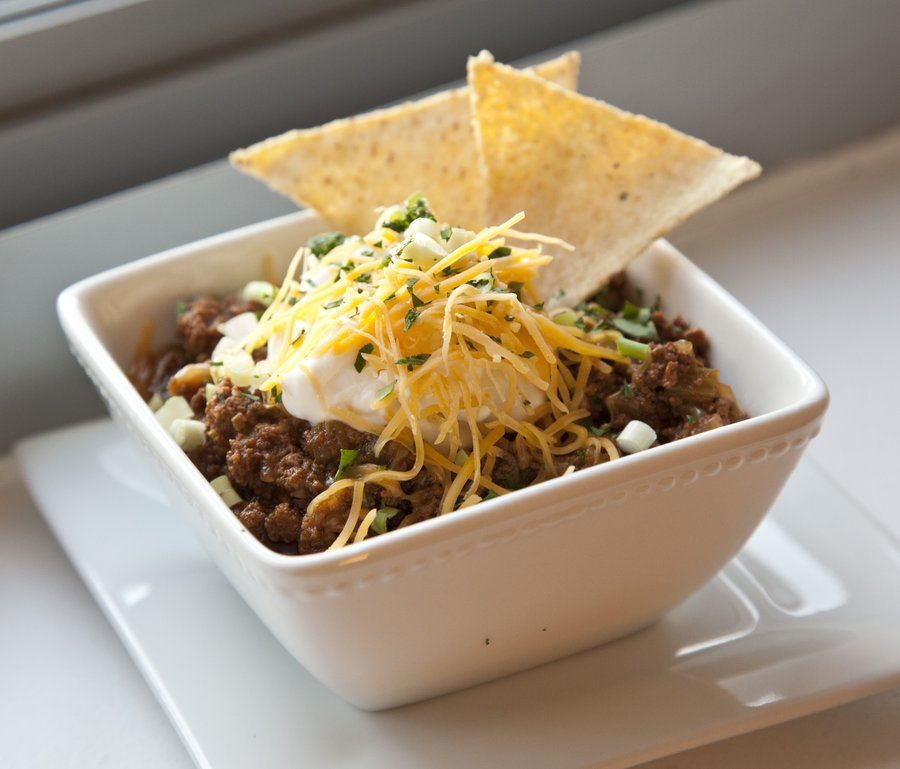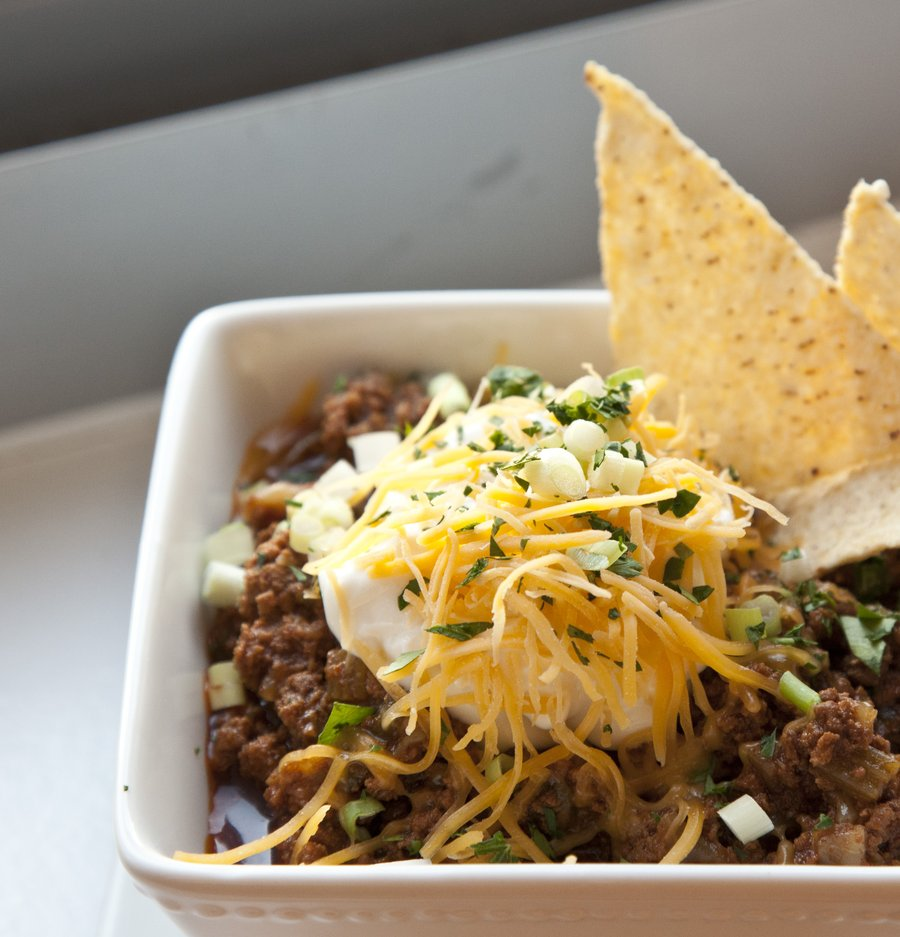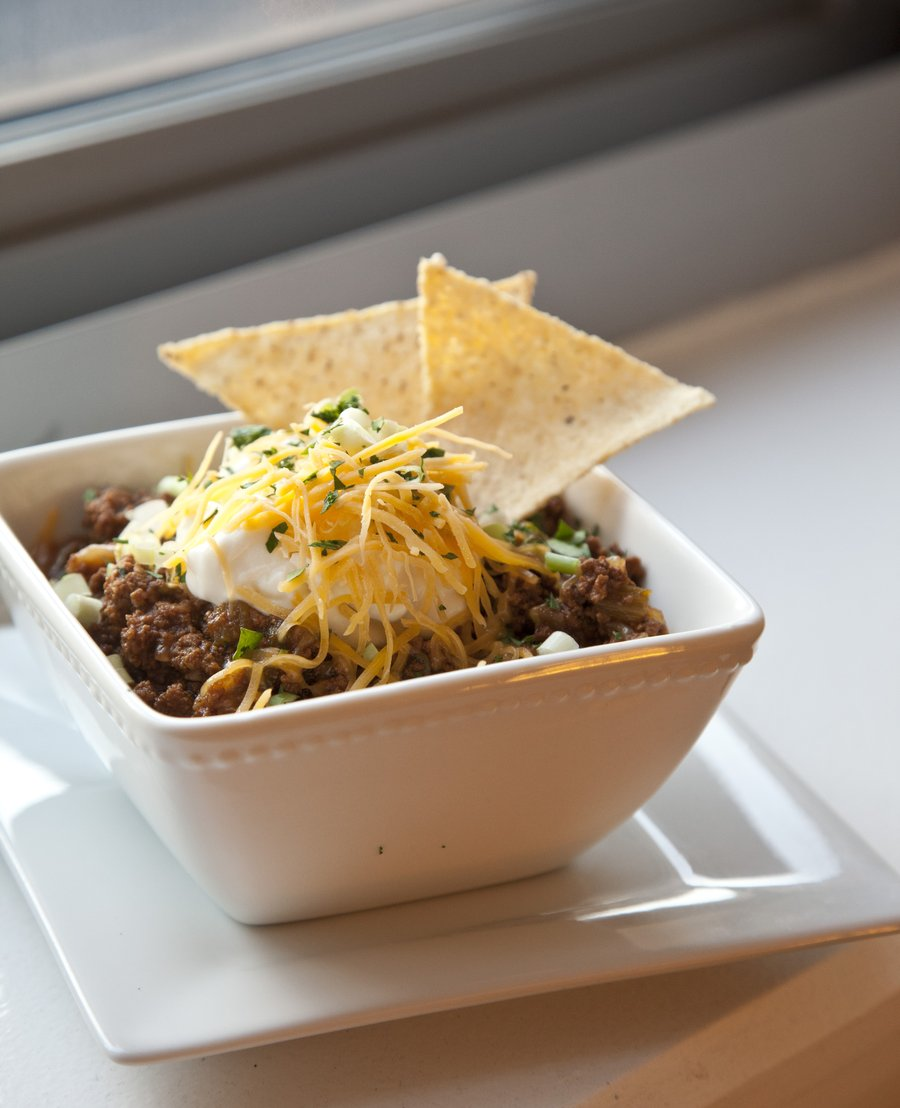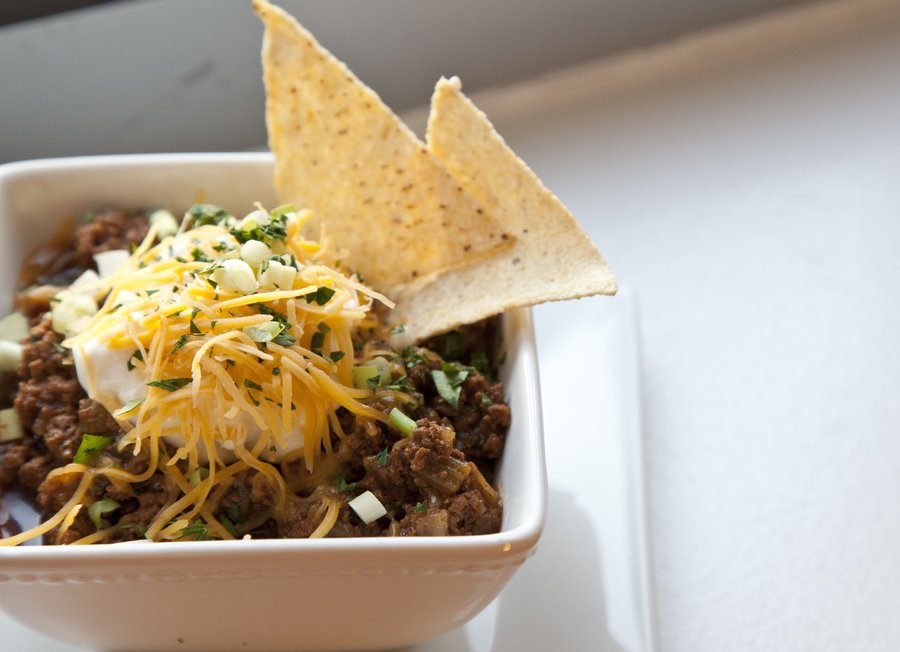 Game Day Chili
Prep Time
---
5 Minutes

Cook Time
---
3 Hours

Total Time
---
3 Hour 5 Minutes

Yield
---
4-6 Servings

Ingredients
2 lbs Ground Beef (80/20)
1 small dice Onion
5 minced Garlic Cloves
1 T Tomato Paste
1 small dice Roasted Green Bell Pepper (seeded)
2 T Chili Powder
1/4 tsps Cayenne
2 Cups Low Sodium Chicken Stock
15 oz Can of Pinto Beans
Salt (to Taste)
---
Directions
In a large pot, brown your meat until there is no pink showing. Drain meat through a sieve and save meat for later use.
In the same pot, over medium heat, add a little EVOO and throw in your onions and celery. Cook about 5-8 minutes, stirring to make sure you don't burn anything - you just want them to start turning translucent. Add in your garlic, stir and cook 30 seconds.
Add in your Tomato Paste, and stir in completely. Cook about 2 minutes, then add in your Chili Powder and Cayenne (if you don't like the spice, just don't add Cayenne). Stir together, then add back your meat, your green bell pepper and 1 cup of your stock.
Cover and let simmer over a low heat - checking often. After about an hour, I added another 1/2 cup of stock because I noticed it getting a little dry (plan to add about a 1/2 cup of stock for every hour you're cooking). Cook this for at least 2 1/2 hours - the more you cook, the more the flavors develop. About 10 minutes before you're about to serve, add in your Pinto Beans. Let cook for 10 minutes. Taste and season with salt.
Serve with shredded cheddar cheese, sour cream, minced scallions and cilantro. Other options: chopped tomatoes, minced white onions, minced jalapeños…..