As a New York Giants fan, it pains me to write this, but….The Philadelphia Eagles are going to the 2018 Superbowl. I will take a moment of silence for my team's horrific season, and brace myself for all the Eagle's fans overzealous insanity.
But with that said, I always like to find a silver lining in things that I usually would find abysmal, and in this case the silver lining is the Cheesesteak. When I think of Philadelphia, as a chef, I immediately think: Cheesesteak.
I have only had one legit cheesesteak in my life, about 12 years ago, while in Philly, and I have to admit, once I got past the artery clogging looks of it, it tasted pretty good. So, to "celebrate" (ugh) the Eagles and their pretty epic triumph yesterday, I made a Chef-y version of the Philly Cheesesteak.
Instead of making it a sandwich, I made it more of an open-faced, bruschetta style. I used some beautiful Boneless Rib Eyes, which I grilled outside because it was an unseasonably warm day, and nothing is quite like the taste of grilled meat. I slow cooked the onions and peppers and topped it all with some spicy Pepper Jack Cheese….. and all of this was piled on a fresh doughy baguette from our local bakery and crisped under the broiler to perfection.
This was beyond delicious, and was a more elegant way to get the flavors of a cheesesteak, without the semi-gross look they tend to have from a fast food place.
Enjoy!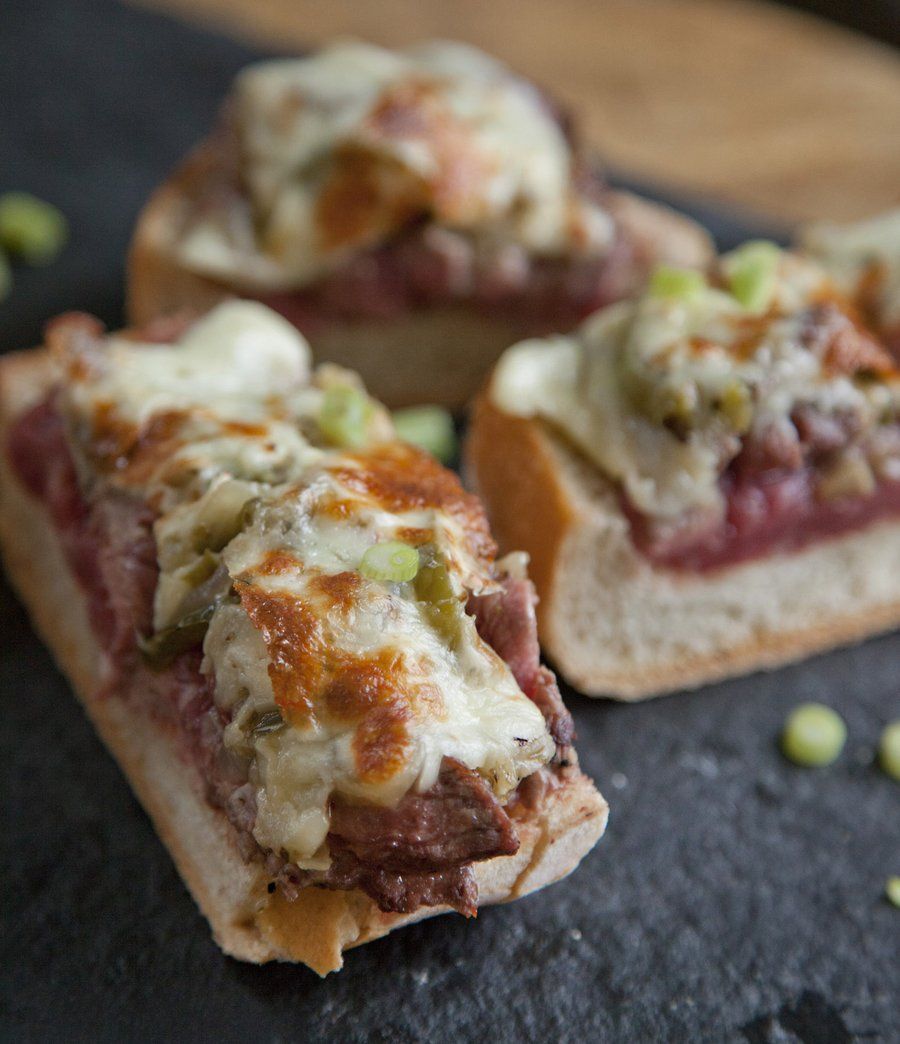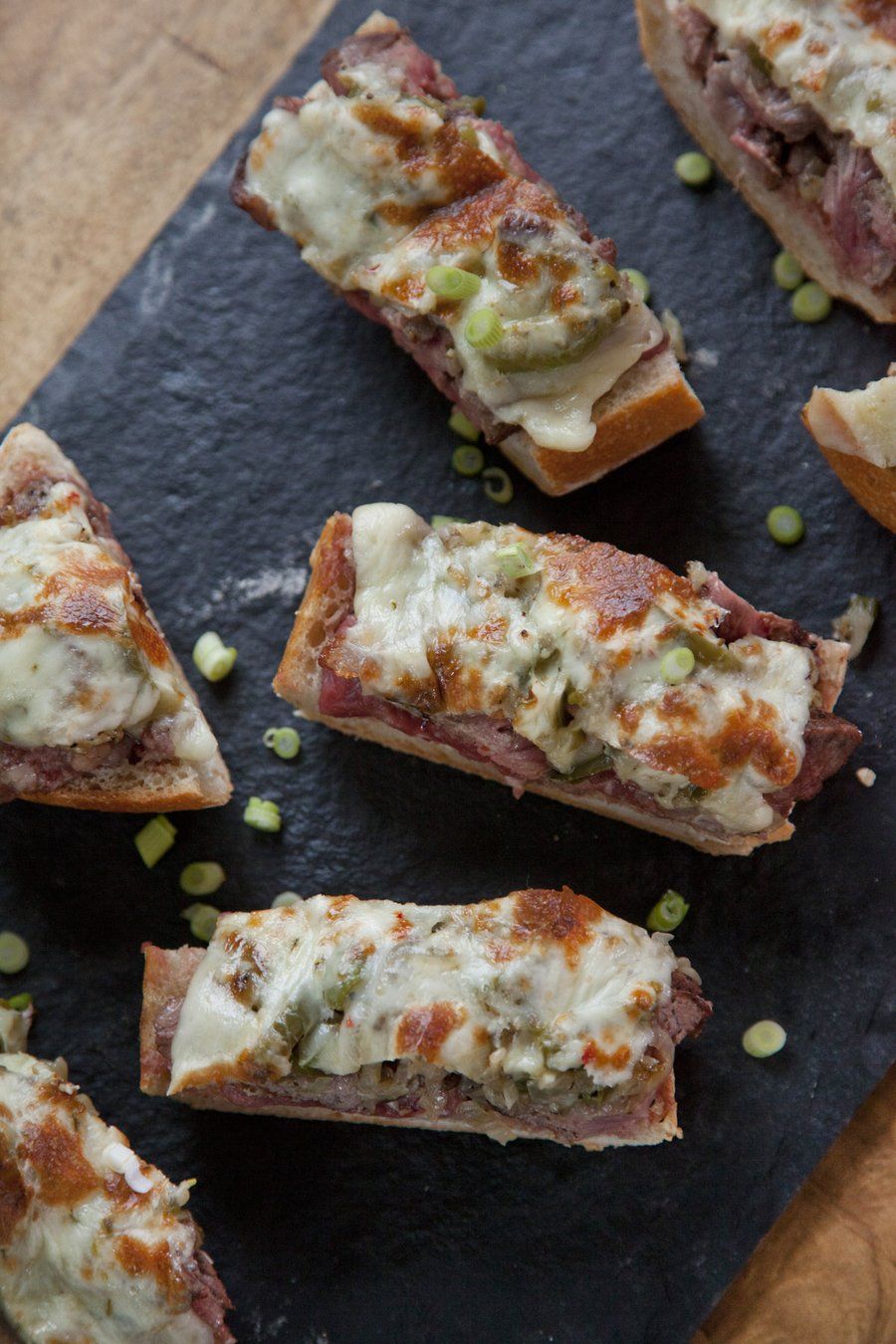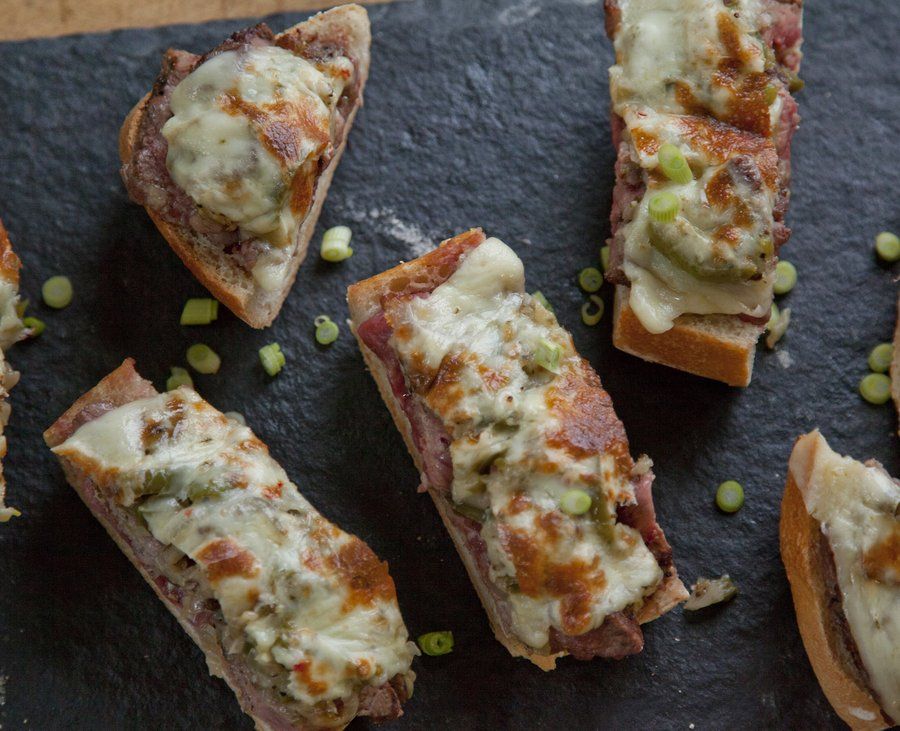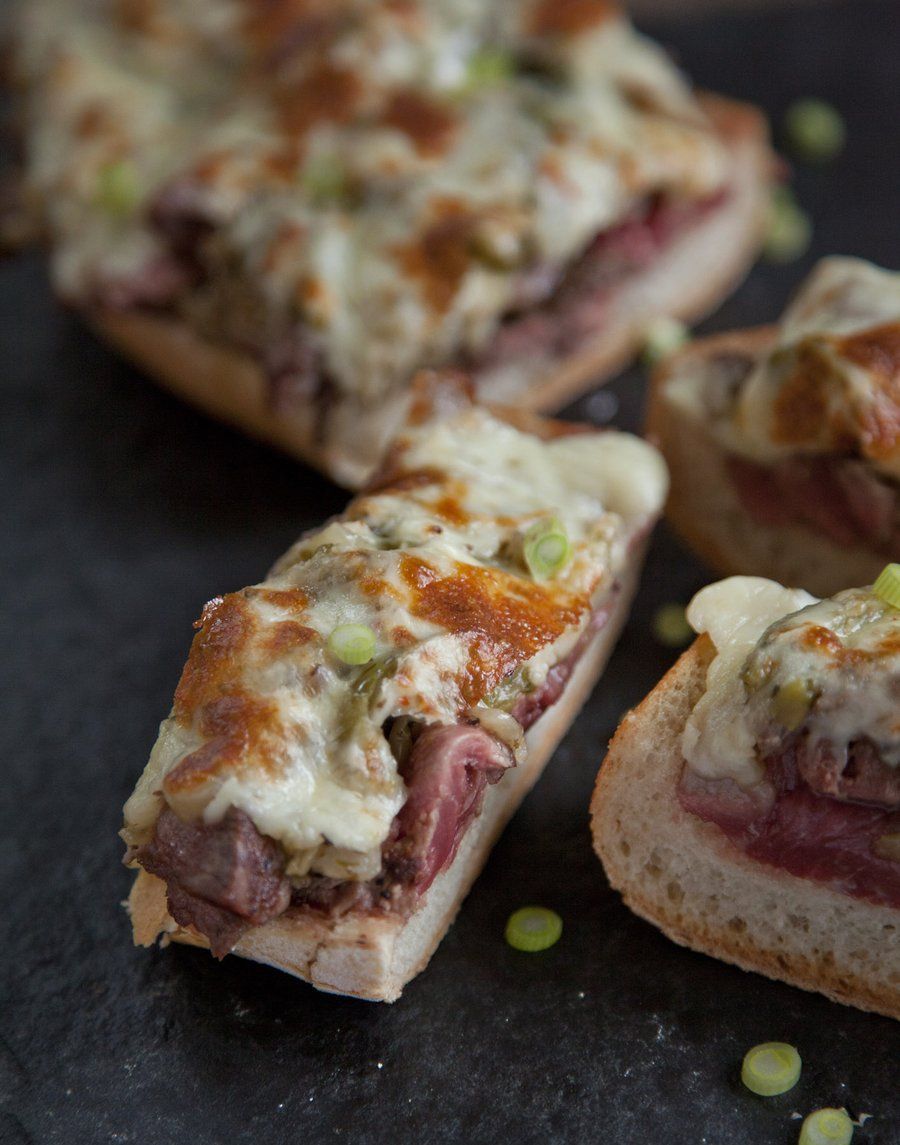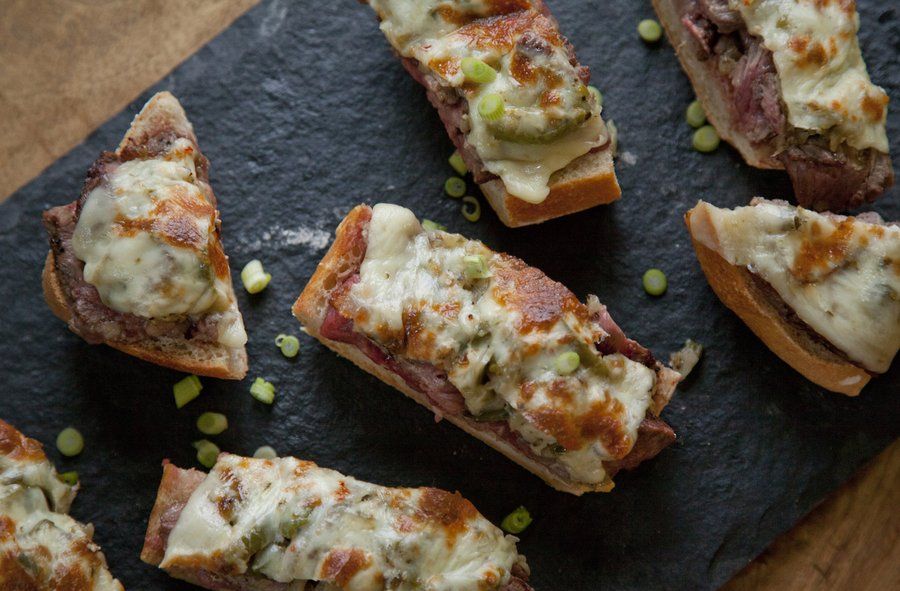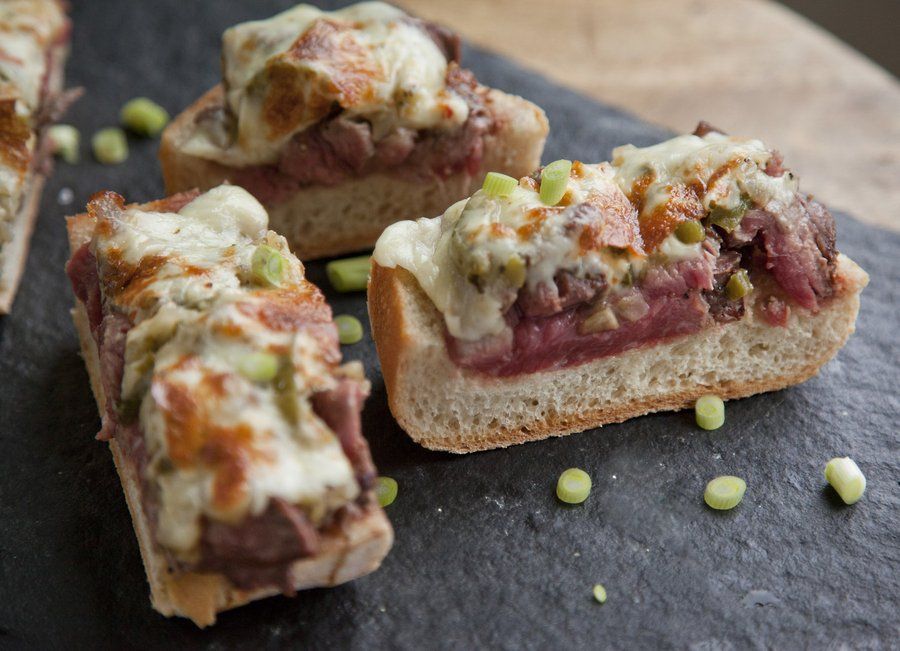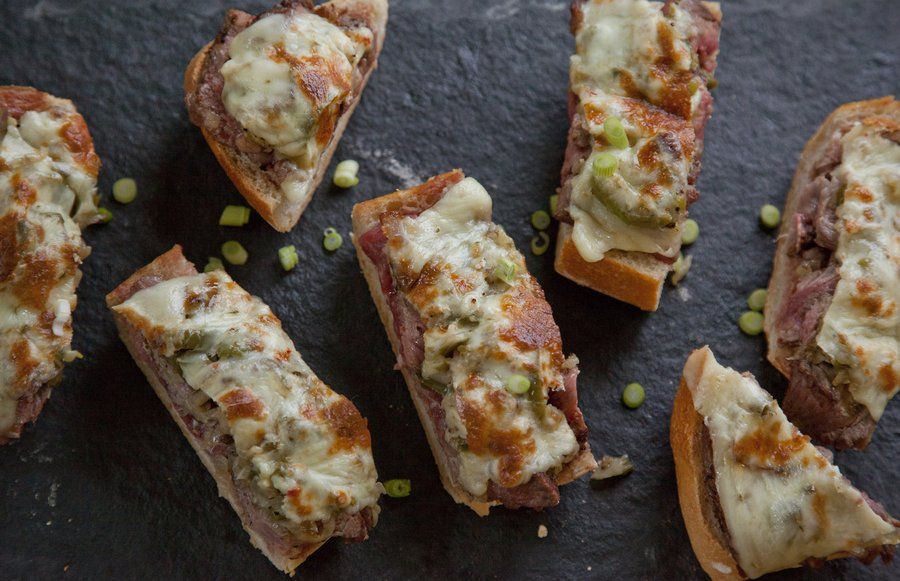 Philly Cheesesteak Cheesy Bread
Prep Time
---
5 Minutes

Cook Time
---
1 Hour

Total Time
---
1 Hour

Yield
---
Serves 4

Ingredients
2 T Butter
1 Tablespoon Canola Oil
1 Onion (sliced thin)
1 1/2 tsps Dried Oregano
1 Green Bell Pepper (seeded, ribs removed, sliced thin)
1/2 Teaspoon Course Ground Black Pepper
3 Garlic Cloves (minced)
2 1/2 lbs Boneless Ribeye Steaks
1/3 Pound Pepper Jack Cheese (sliced)
1 Baguette (large, doughy - Batard style)
---
Directions
For the Onions & Peppers: In a 10" cast iron saute pan (or other heavy bottomed pan), add your butter and canola oil and place over a medium high heat. Once the butter has melted, add in your onion and oregano. Cook over a medium heat, stirring constantly for about 15 minutes (be careful to not burn the onions). At this point, add in your bell pepper and black pepper, and cook over a low/medium heat for about 30 minutes (stirring frequently so as not to burn the onions). At this point, add in your garlic and cook another 5 minutes. Season wth salt and remove from heat.
For the Steak: I grilled my steak to a perfect rare (season both sides of the steak with salt and pepper, and cook 3 minutes per side on a super hot grill). You can also sear your steak in the same cast iron pan you used in step 1...just remove the peppers and onions from the pan, add some canola oil to coat the pan, and get the pan screaming hot, season the steaks on both sides with salt and pepper and cook about 4 minutes per side. Allow meat to rest 5-10 minutes before slicing paper thin.
To Assemble the sandwiches: Place your oven broiler on high and position the oven rack about 6 inches from the flame. Line a large baking sheet with tin foil. Lay your two halves of bread down on the baking sheet with the insides facing up. Top the bread with the sliced steak, then pepper/onion mixture and then your cheese. Broil for about 2-3 minutes or until your cheese and nice and golden brown. Slice up your bread and serve hot.