So apparently I was sleeping through the part of 2017 when Naan Pizza was a trending food. I was awake for the god awful trend of unicorn/rainbow food (wtf), I was there when people desperately tried to come up with their own version "cronut" and failed miserably, and I was conscious during the meatless burger episode which literally made me lose faith in humanity.
Naan Pizza? How did I not think of that? It combines two of my favorite things….naan and well, pizza.
From a young age I was a SUPER picky eater…I think there was a time when I literally ate Peanut Butter and Jelly Sandwiches exclusively for multiple years. But when I was a teenager, my palate started to venture out to all the goodness that exists in this world, and Indian food was my first, fast love. I don't think there's anything in the Indian food family (that I have tried) that I don't love, and that goes especially for their breads…and naan is one of my favorites. Onion Kulcha (which is basically naan dotted with little pieces of caramelized onions) is probably my absolute favorite, but we're splitting hairs here.
I love making pizza – and prior to having a baby, I would make the dough from scratch, but now with a 22 month old who needs 24/7 supervision and attention; ain't no one got time for that. But even with the store bought dough (Wegman's by far has the best I've ever tasted), this Naan Pizza is an even EASIER way to make pizza, and adds the fun element of a flatbread type vehicle to get the pizza toppings into your mouth.
I decided to make both a classic Margherita Pizza with Tomato Sauce, Mozzarella, and Pecorino Romano (pictured below), but I also wanted to make something a little bit more Chef-y so I went with a Caramelized Onion, Garlic and Spinach Pizza which I think was perfect to pair with the Naan because so many of my favorite Indian dishes incorporate those 3 ingredients in them.
I think the idea of Naan Pizza is literally the greatest thing for moms/dads – it's fast (cooks in literally 2 minutes), it's easy (just plop some pizza toppings on and go) and it's delicious (how can a kid turn down pizza?).
I purchased "mini" Naan bread, which is fun because you can make a bunch with all different toppings and have a Naan Pizza smorgasbord with the family (Note to self: do a make your own pizza party with this later on)! Also, this would be a great appetizer for the Superbowl! You can cut them into appetizer-sized pieces and serve!
Enjoy!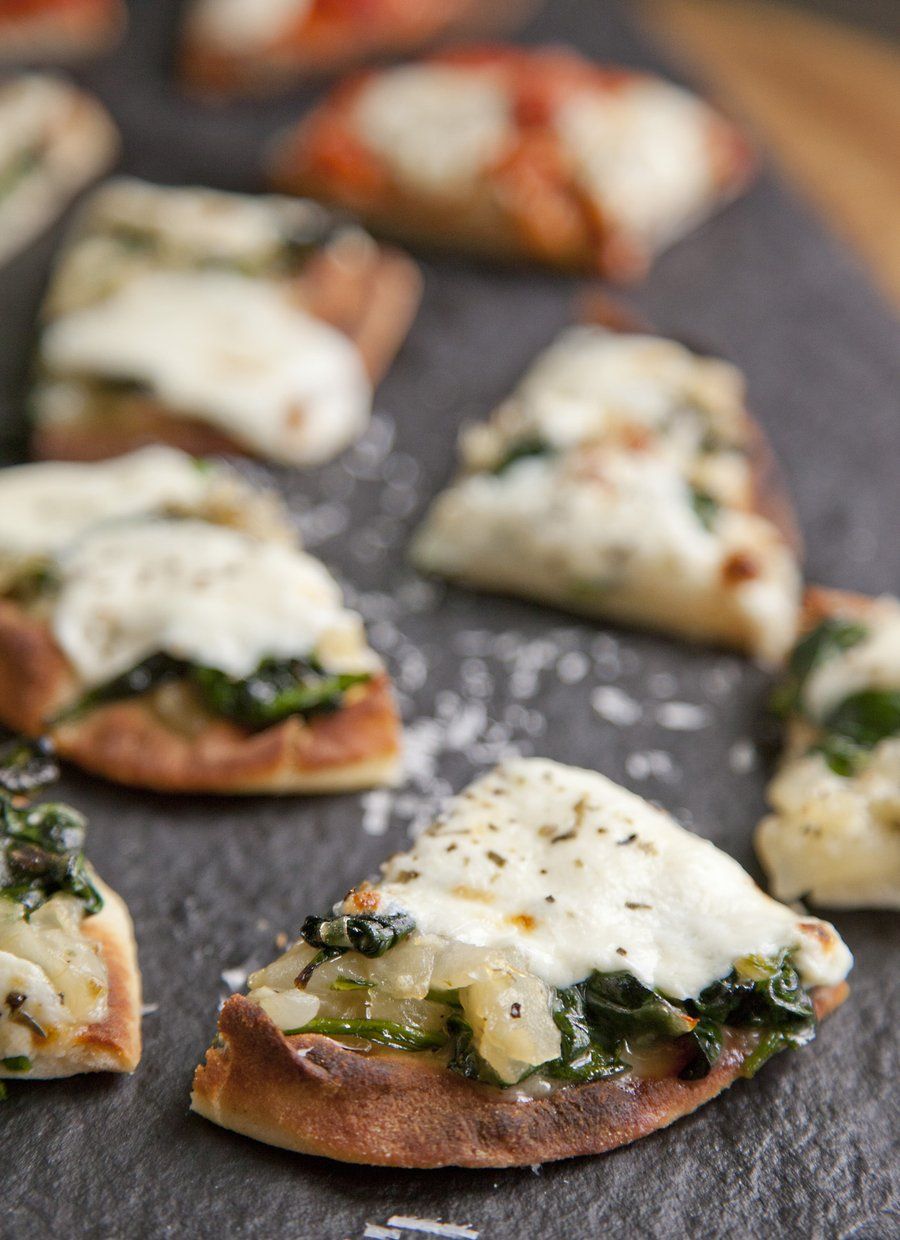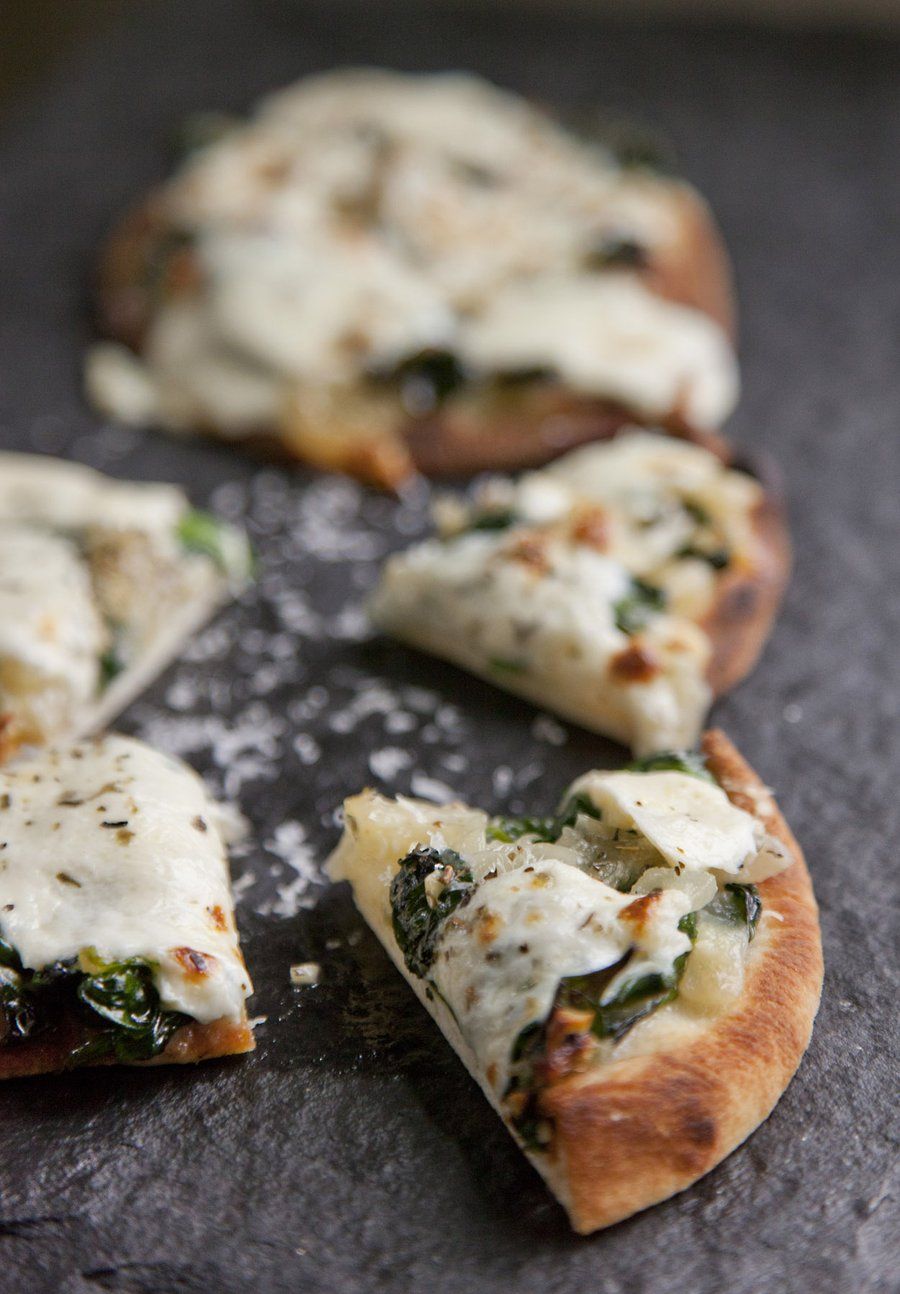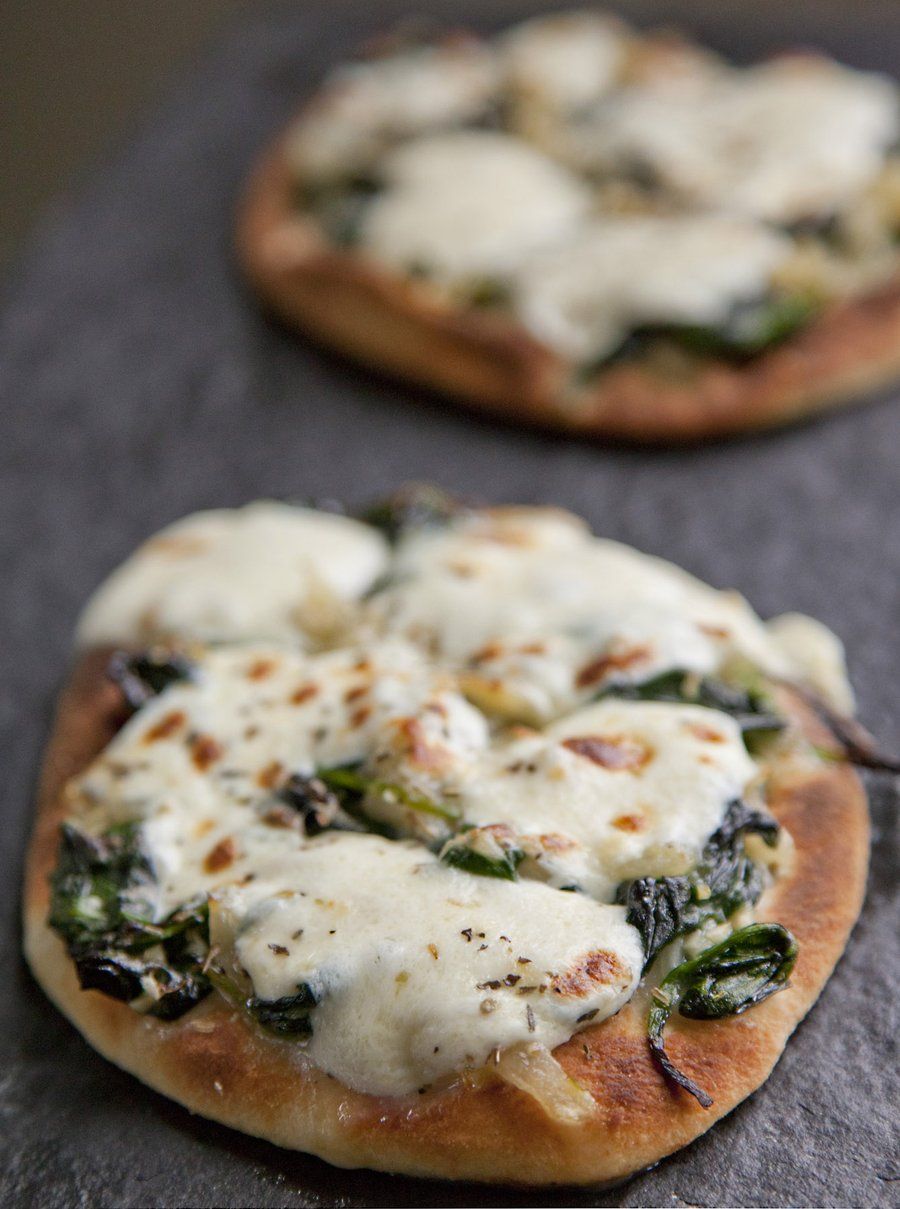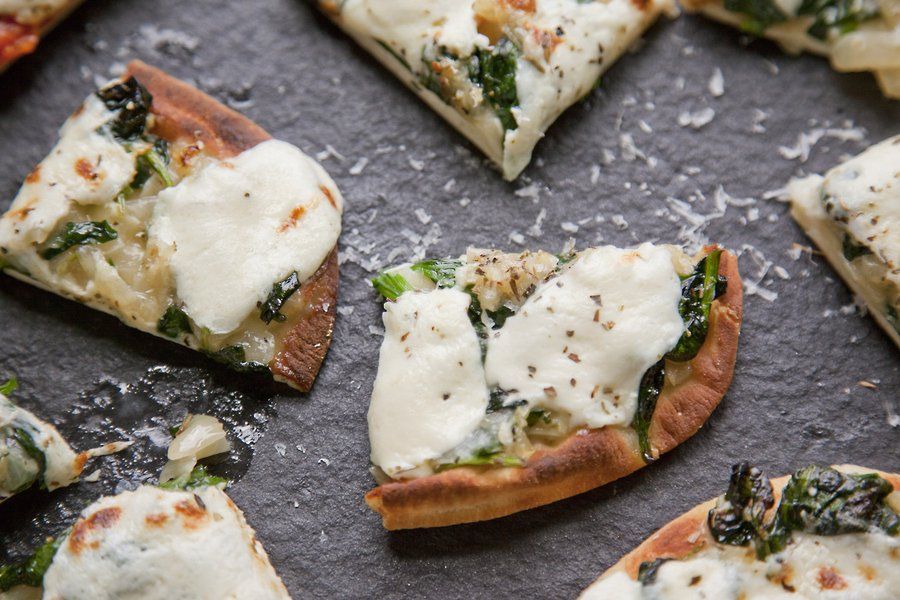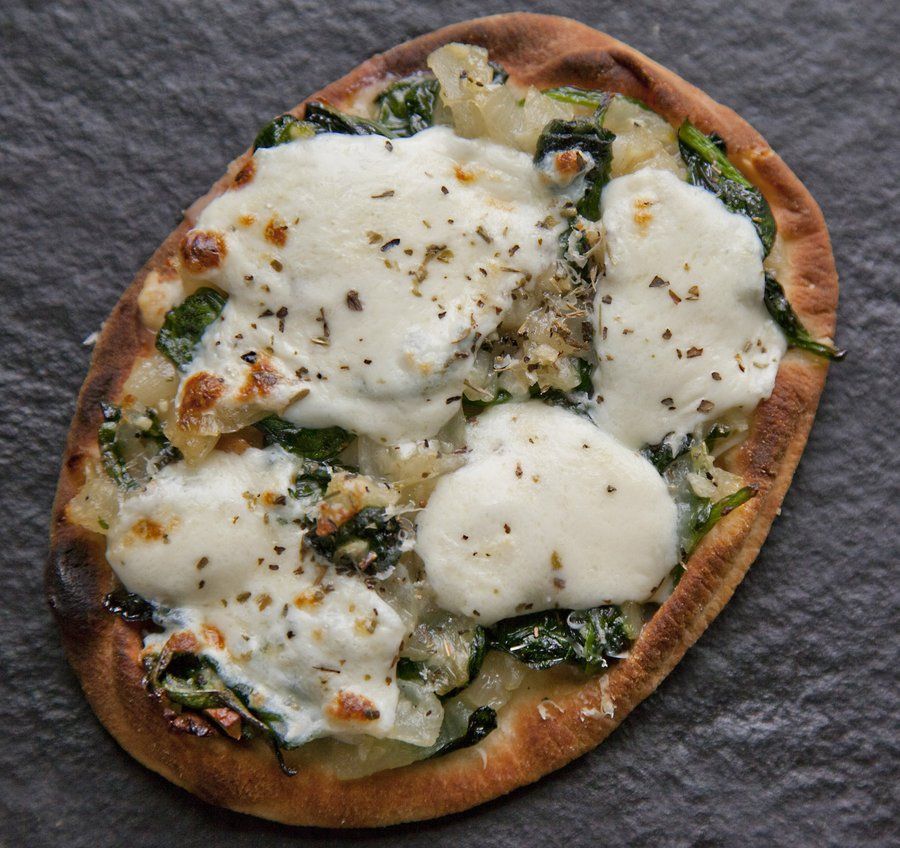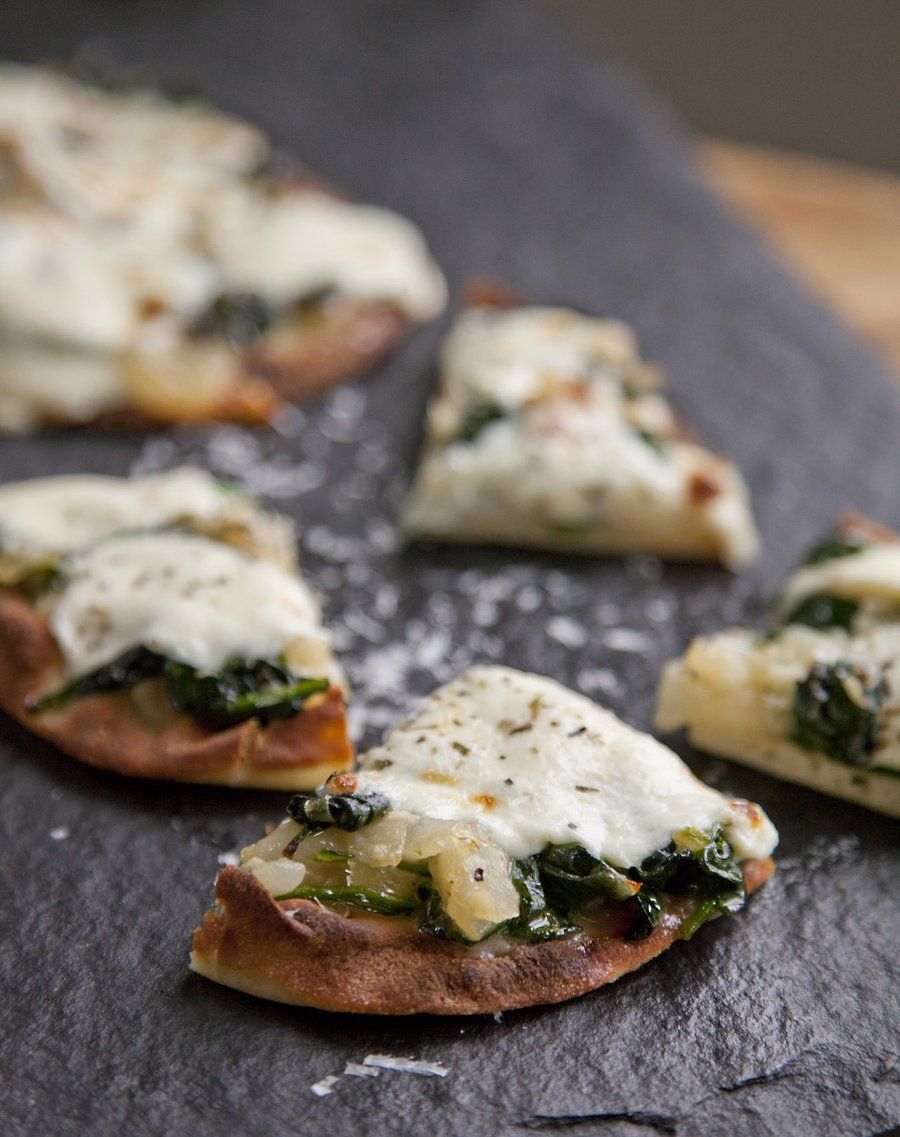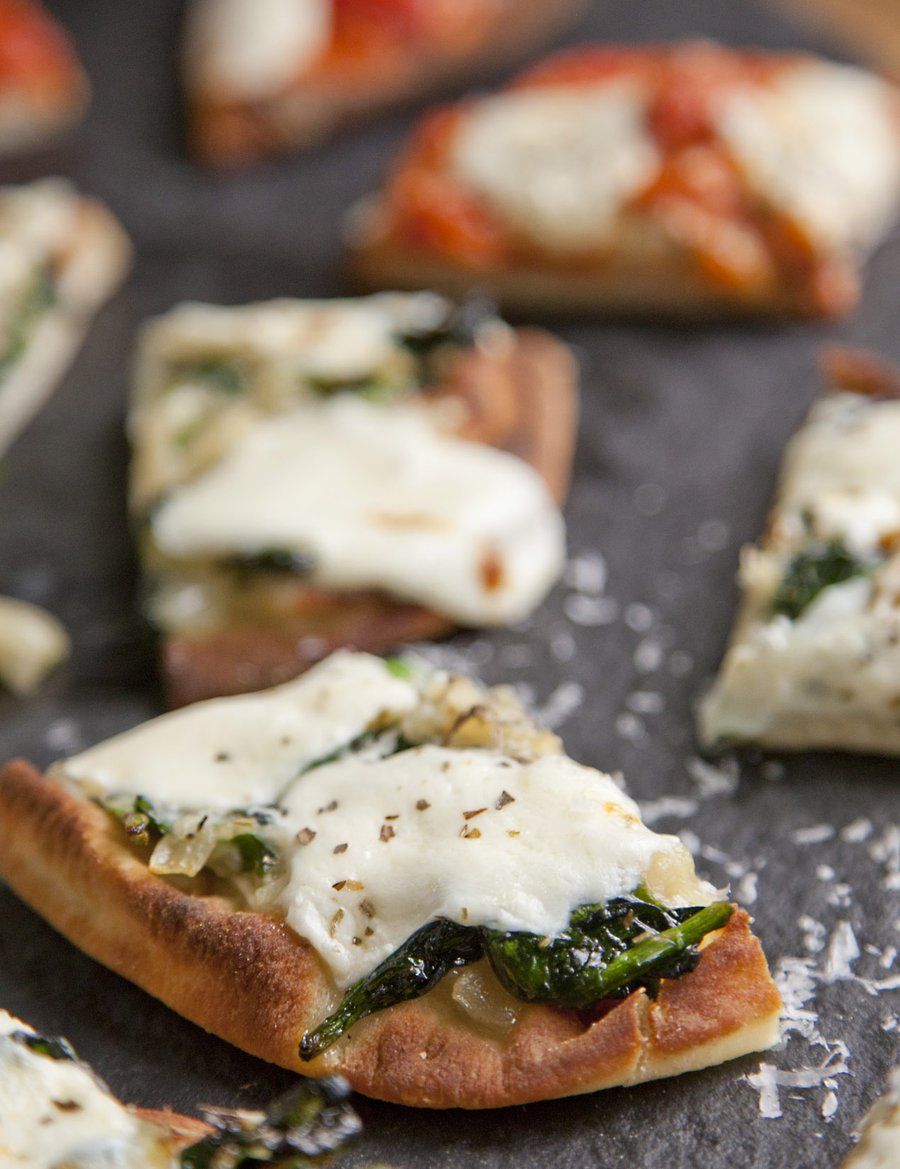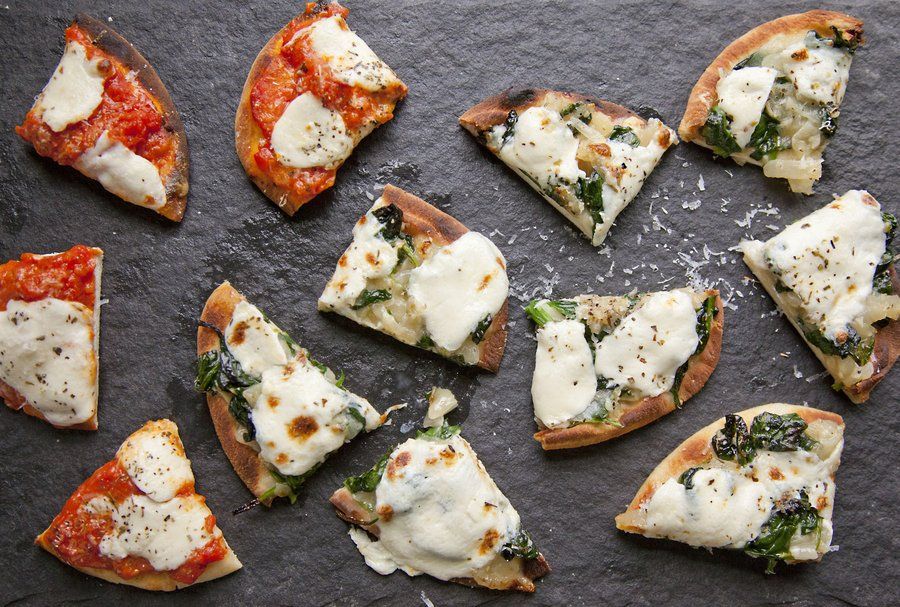 Naan Pizza
Prep Time
---
5 Minutes

Cook Time
---
40 Minutes

Total Time
---
45 Minutes

Yield
---
Serves 2

Ingredients
1 Onion (sliced thin)
2 T Butter
1 Teaspoon Canola Oil
3 Garlic Cloves (minced)
4 Cups Spinach
6 Mini Naan Breads (or 2-3 normal sized Naan)
1/3 Pound Mozzarella
Pecorino Romano (grated)
---
Directions
In a 10" cast iron skillet (or other heavy bottomed saute pan), heat up your butter and canola oil over a medium high heat. Once the butter has melted, add your onion and cook over a medium heat (stirring constantly) for about 30 minutes until the onions start to get slightly golden brown. At this point, add in your garlic and spinach, cooking over a medium heat and tossing until all the spinach has wilted (about 3-5 minutes). Remove from heat and season with salt and pepper.
Place your oven on High Broil. Line a large baking sheet with tin foil and lay your pieces of naan on top. Top each naan with an equal amount of the spinach mixture from step 1. Top with Mozzarella and grated Pecorino Romano Cheese.
Bake the pizza under the boiler for 2-3 minutes (or until the cheese has melted). Cut into wedges and serve hot.