This weekend I bought a whole duck and decided I wanted to do duck 2 ways:
Braised Duck Legs in a Ragout served with Pappardelle
Seared Duck Breast in a Red Wine and Spice Marinade
This post is about #1, the Duck Ragout. I love Pappardelle pasta....it's the super wide looking fettucini-esque pasta, and is great to hold up against a sauce like this because of it's surface area and great bite. This recipe was the perfect amount to serve two people and was so tasty!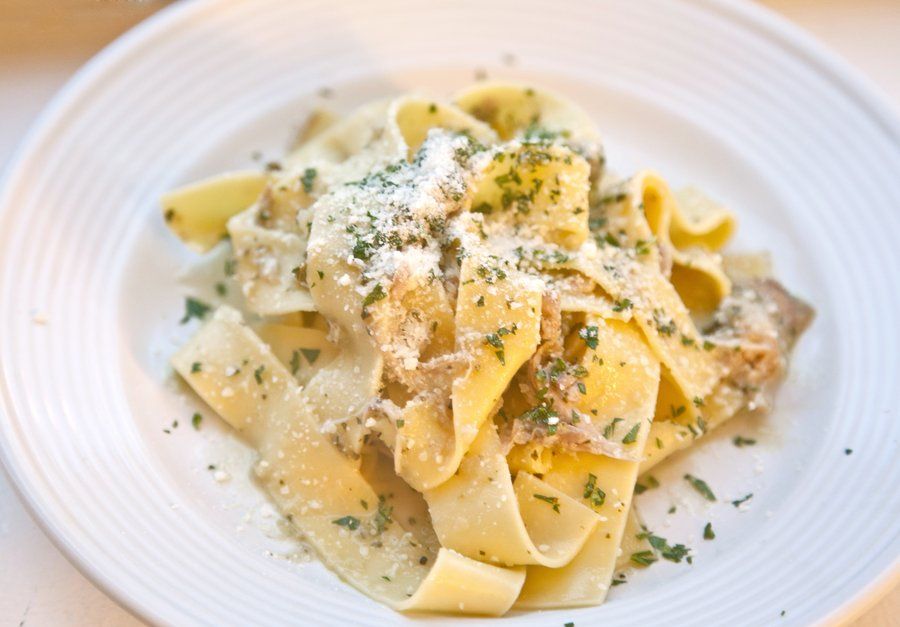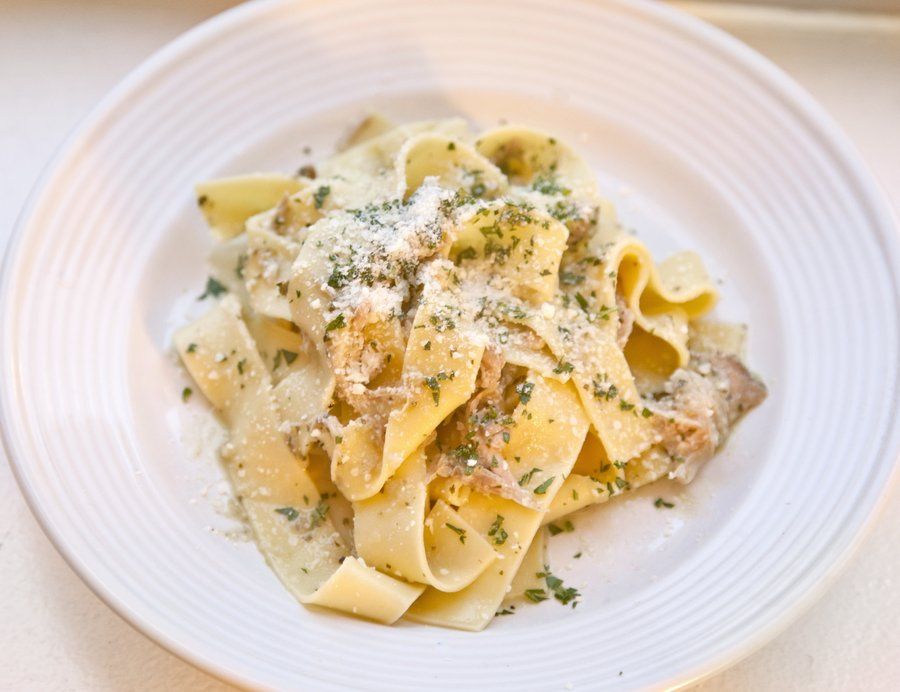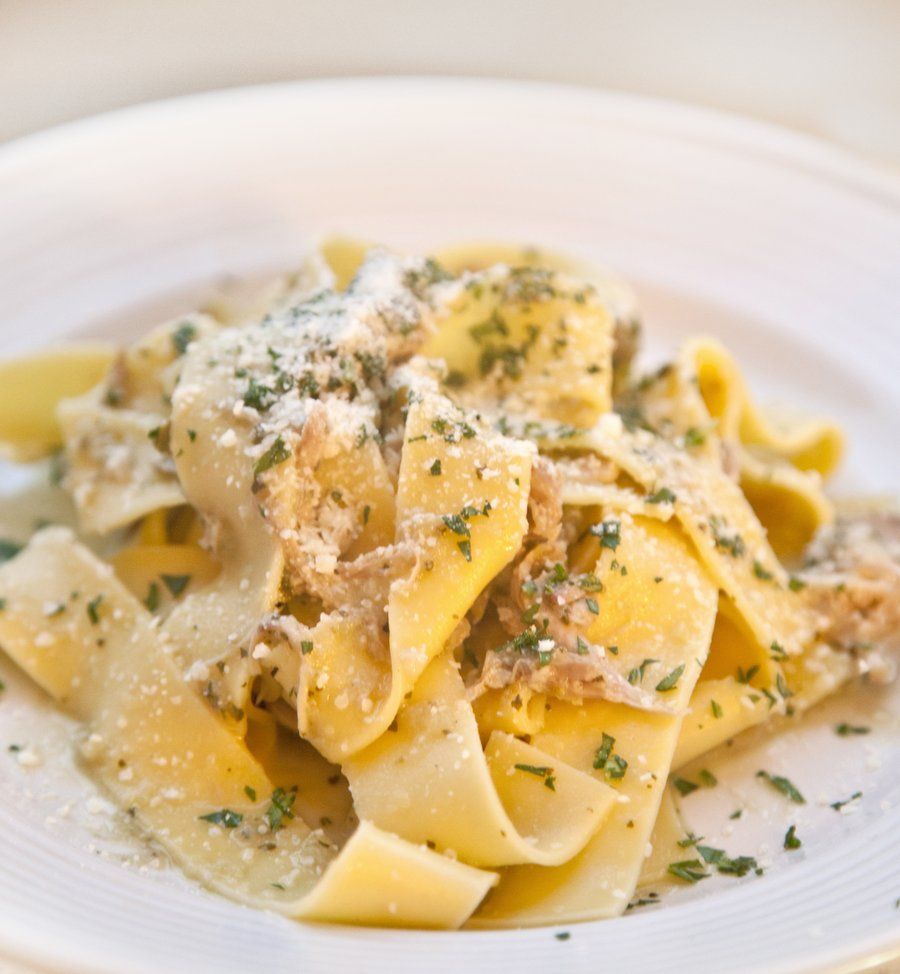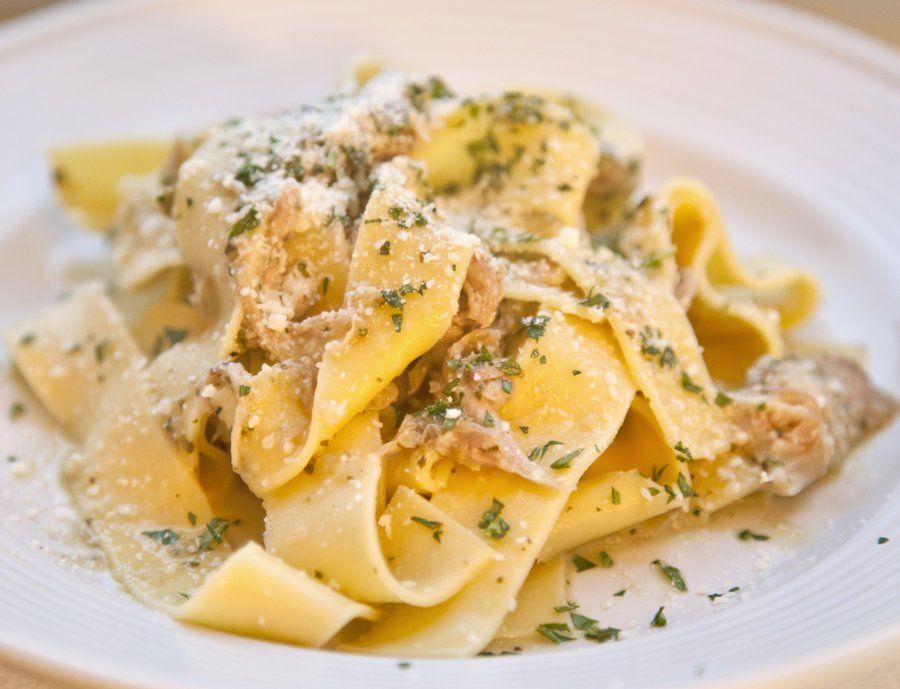 Pappardelle with a Duck Ragout
Prep Time
---
15 Minutes

Cook Time
---
2 Hours

Total Time
---
2 Hour 15 Minutes

Yield
---
Serves 2

Ingredients
2 Duck Legs
Salt and Pepper
Handful Parsley
2 smashed Garlic Cloves
1/2 chopped roughly Onion
1 chopped roughly Celery Stalk
1 Bay Leaf
1 Tablespoon Rosemary (leaves only)
1/4 Cup Dry White Wine (Pinot Grigio)
1 1/2 Cups Low Sodium Chicken Stock
4 oz Pappardelle Pasta (dry)
grated Parmesan Cheese (for garnish)
minced Parsley (for garnish)
---
Directions
Heat up a medium sized pot over a high heat. Take your duck legs and season generously with salt and pepper on both sides. Once the pot is hot, add your duck legs to it, fat side down. Cook until a golden brown (about 5 minutes), turn over and cook another 3 minutes. Remove duck from pot.
In a food processor, mix together your parsley, garlic, onion, celery, bay leaf, and rosemary leaves until smooth.
Add your pureed veggie mixture from step one and cook over a medium heat for about 8 minutes, stirring frequently. Add in your white wine and cook til the wine has evaporated.
At this point, add back your duck legs and pour in your chicken stock. Bring to a boil, and reduce to a simmer. Simmer over a low heat, covered for about 1.5 hours.
Remove your duck legs, and shred the meat on a cutting board. Place the shredded meat back in the pot with the braising liquid. Taste the liquid and season with Salt & Pepper.
Cook your pappardelle in a separate pot (in salted water) til al dente. Drain your pasta and toss into the pot with the duck. Mix together and plate in a shallow bowl. Top with Parmesan and Minced Parsley. Serve hot.