My God, to say it's been a while would be the understatement of the 2020 year. My last post was March 14, 2020 in which we had just started our "Stay the F*ck Home" phase of the quarantine. At that point we were a mere 2 days into staying home, and while my husband was sure this was just the beginning of a long haul of changes, I was still in the hopeful (read: naïve) state of mind. Let's rewind shall we?
On the day of my last post, my daughter's school was just announced to close, effective immediately. The closure was scheduled to last for a few weeks (looking back, this sense of optimism they gave me with that time frame was cruel and mean) and so the day of the post, we decided to make cookies in attempt to stay busy and creative. On a side note, that cookie recipe which you can find here, was made at least once a week for 7 months straight and became the Covid Cookie of choice in the Bojarski household.
Also on March 14th, I was 100 months pregnant (ok, 7 months) and was now reading stories on how preggos were mandated to go through labor and delivery without their partners even in the hospital due to new Covid policies. This was a stress I couldn't even fathom and thankfully, never had to deal with. A few days later, my husband was told he no longer had to work in NYC and could now work from home. SO within a few days, my world, like the world of everyone else on the planet, changed drastically and each day we were in pure survival mode and therefore, my blogging unfortunately went by the wayside.
I won't recap all the nuances of quarantine that all of us families had to endure….homeschool, lots of TV time, eating M&M's dipped in frosting for dinner, and just trying to make it through the day without losing your will to live…..but I will tell you the few things I learned and am still learning during this bizarre time which has brought me back to Urban Cookery…
1. Giving birth to a child CAN in fact be made harder by telling the one laboring that she must wear a mask throughout the entire process.

2. Don't put off plans for tomorrow… Never put off for tomorrow something you can do today because tomorrow is never promised. Whether it's something as simple as calling a loved one you haven't spoken to, or finally completely a month long project….as Nike would say, "Just Do It".

3. Health is everything.

4. Make an effort to celebrate anything you can… A half birthday, a baptism, an anniversary, the feat of putting on real pants that day…. Celebrate with cake, food, that bottle of wine you've been meaning to open. Make your own celebrations any day of the week, not just on holidays.

5. Learn from children… They are way more adaptive than us adults and have the ability to accept circumstances better than most.

6. Be less judgmental. Instead of judging other's decisions, learn from their lifestyles and choices and broaden your horizons.
7. Find the things that make you the most happy and do them as much as possible – challenge yourself and set goals – accomplishing a goal ALWAYS feels good.
And with #7 being said, I have decided to get back into the Urban Cookery blogging process, come up with new and fun creative ways to share content, broaden the spectrum of what I share, and hopefully entertain you at the same time! Food has been my passion for over 15 years and to bring it back into the forefront of my life is something I truly need nowadays.
I would also like to encourage your feedback, ideas, thoughts or whatever by imploring you to email me at:
PLEASE - send me recipes you'd like to me to post, ideas for blogs entries or anything you may wish to see on Urban Cookery.
SO, with all this preamble about how I got to where I did today, I give you the first of hopefully many more blog posts on Urban Cookery. Today's post is highlighting one of the things that brings me the most joy to create – a Cheese and Charcuterie board. Since I haven't stepped foot in a grocery store (or any store for that matter) since March 12th, I have been able to order any and all cheese/charcuterie needs from either Whole Foods, Local grocery stores, Target, local Farms, and local bakeries -- it's incredible how you can get everything via delivery or curbside pickup during this pandemic.
After giving birth to my adorable and perfect baby, Shepherd aka "Sheppy" – I was finally allowed to indulge in all soft cheeses, charcuterie meats, and pair these goodies with some much missed wine.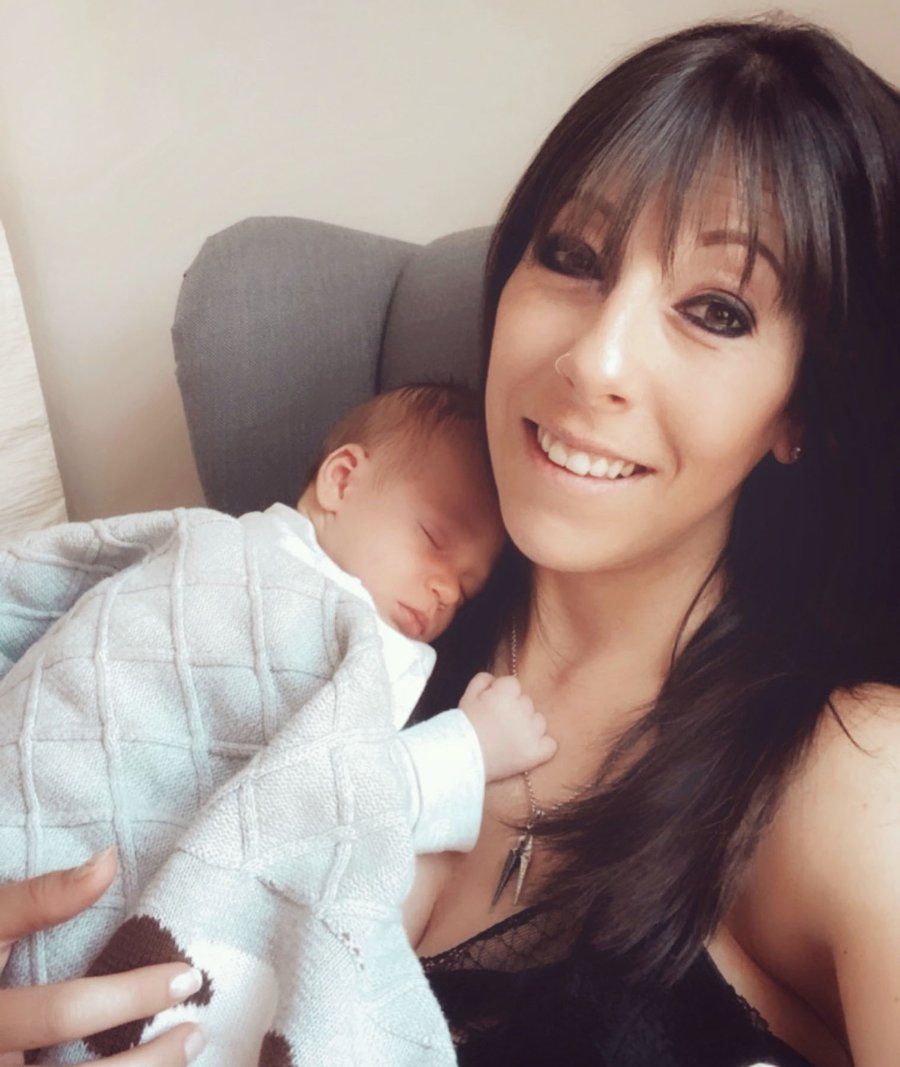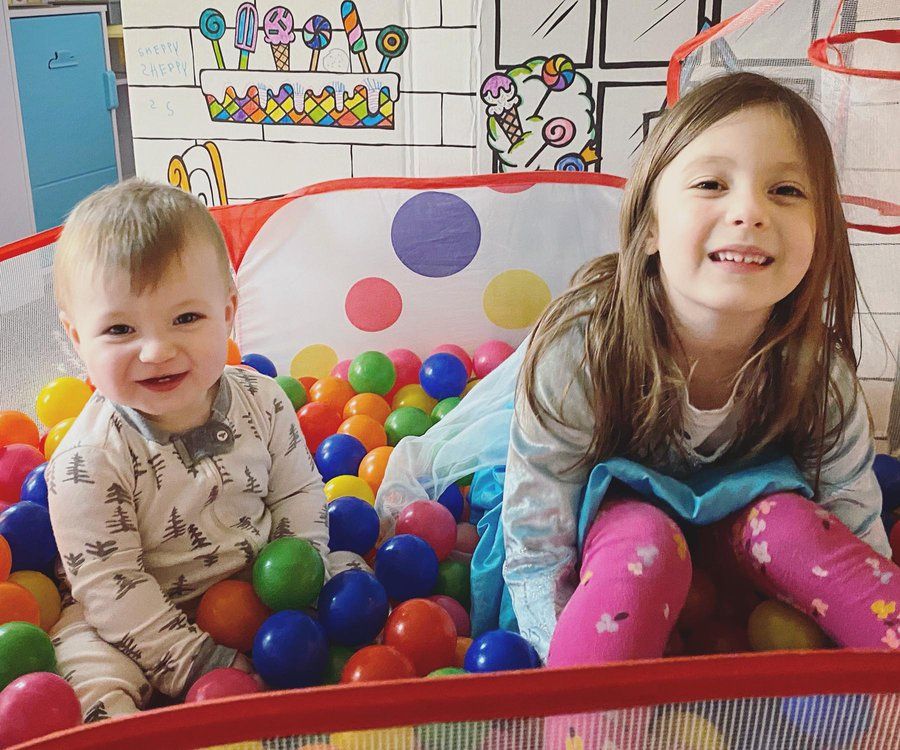 Our newest addition, Shepherd Shaw Bojarski. And an updated photo of my two kiddos together (Mayzie and Sheppy)!
Now back to our regularly schededuled programming....cheese!
Over the past few months, I have found some new cheeses that have become favorites in our house and have tried to get more creative with the presentation of my boards. So let's get started!

Cheese & Charcuterie Boards throughout Quarantine
Since quarantine began while I was still pregnant, I was limited to the types of things I could have on my cheeseboards. Mainly, no cured meats (giving this up might have been the hardest part of pregnancy….besides the whole labor thing). I also wasn't allowed any unpasteurized cheeses which to be honest, I don't typically buy anyway, unless I get farm fresh cheese from some of our local Princeton farms. I was craving Burrata a lot in my pregnancy, and like most families, my husband took to bread baking, so I'd pair his beautiful homemade bread with fresh Burrata, Tomatoes tossed in Olive Oil, Basil and Sea Salt, and sautéed mushrooms with garlic. After giving birth, we added prosciutto into the mix (as well as some beautiful Sauvignon Blanc from California).
This is really my Italian "Antipasti" Cheeseboard, which is super simple to put together but is a great option for lunch or as an appetizer. We also used fresh sliced Mozzarella, Salami, Parmesan, and other fun accompaniments like honey, olives, etc.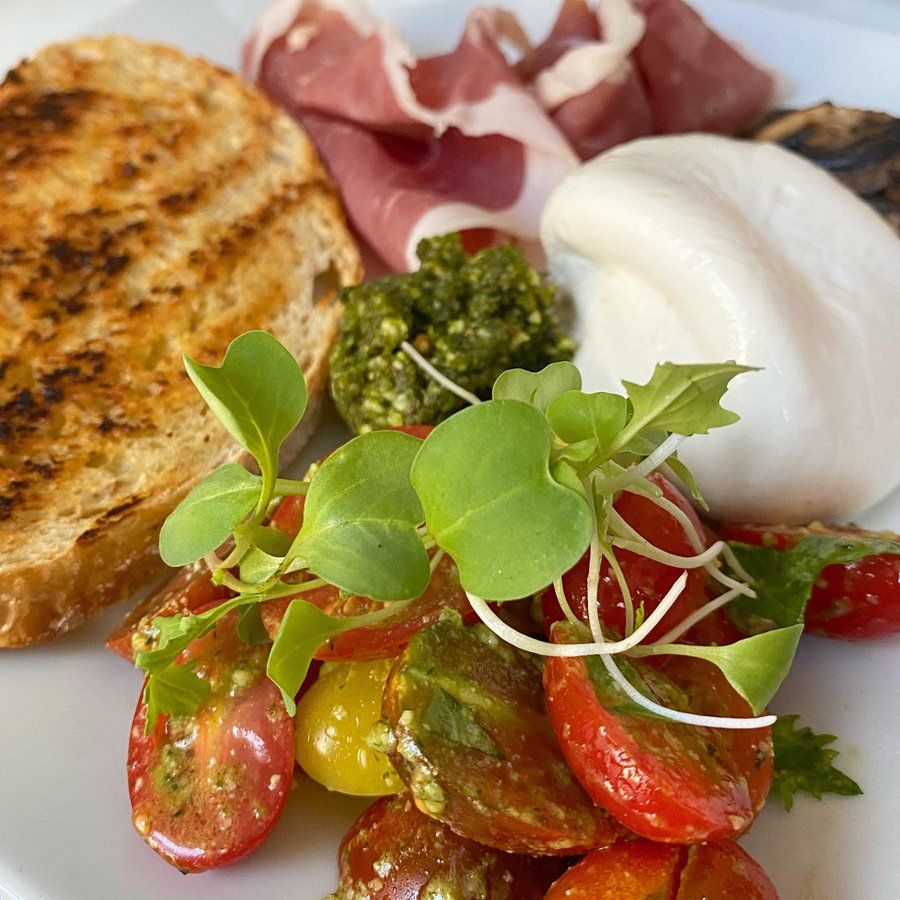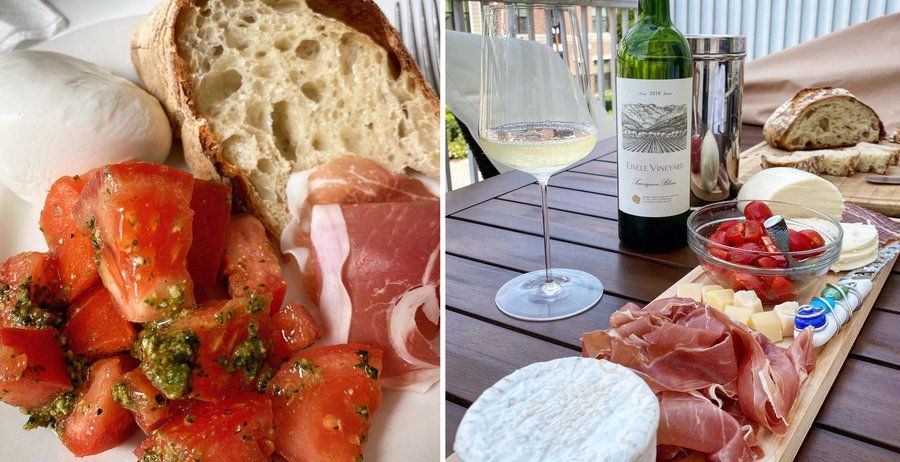 Another fun option (and our favorite cheese of quarantine) was Cypress Grove's Hombolt Fog -- I describe it as goat cheese had a baby with a very mild Blue Cheese. We would pair this with Grilled Homemade Bread which became a fun 2pm snack that I would look forward to each day (I'm not sure if that sounds pathetic or exciting).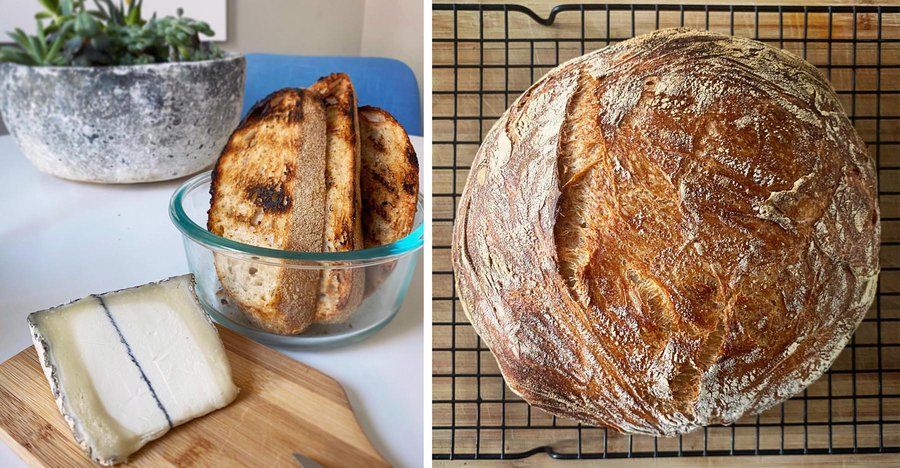 For our 8 year wedding anniversary, my in-law's took our daughter for the night, and I pumped 800 gallons of breastmilk so that my husband and I could enjoy a night of cheese, charcuterie, and most importantly, wine. I popped open a bottle of my favorite Rosé from Wolffer Estate, and we ordered cheese in from Cowgirl Creamery to create a fun cheeseboard that would pair well with some crisp summer wine. I added Prosciutto San Daniele, Salami, Crackers (including our favorite crackers which you'll see on all of my cheeseboards from Raincoat Crisps) and a Hot Pepper Jelly from Trader Joe's.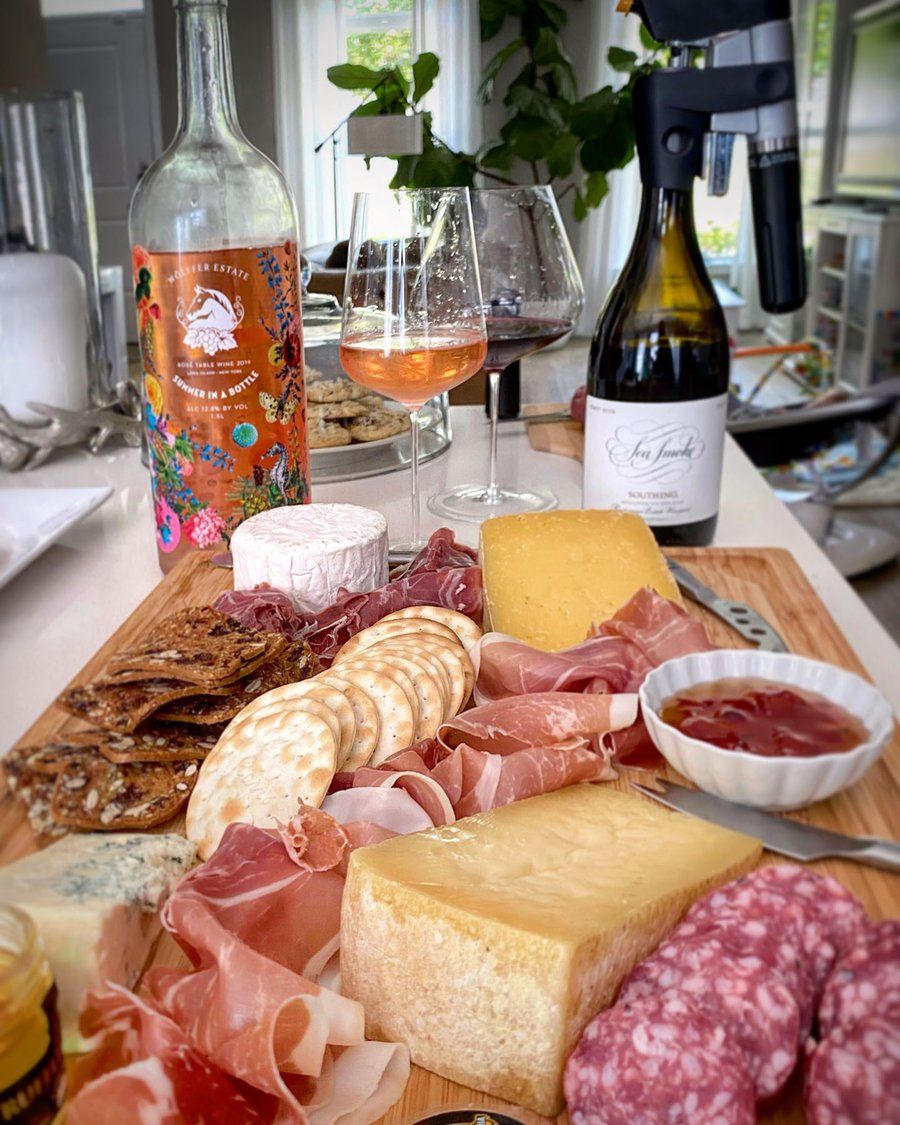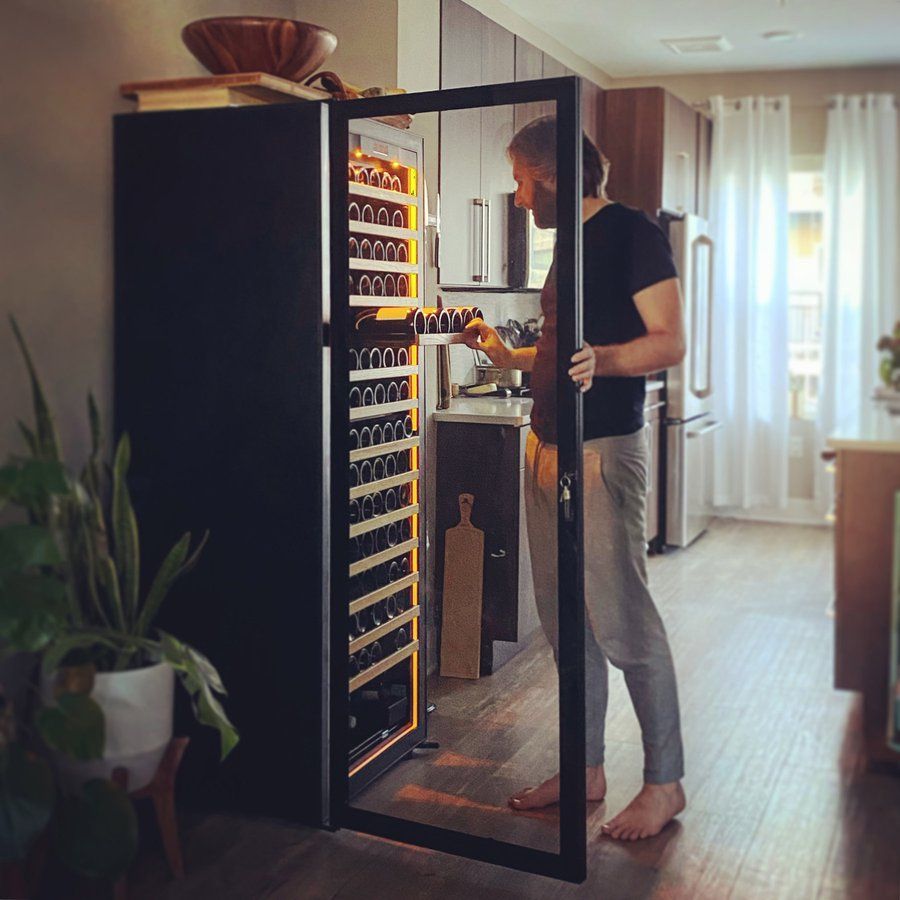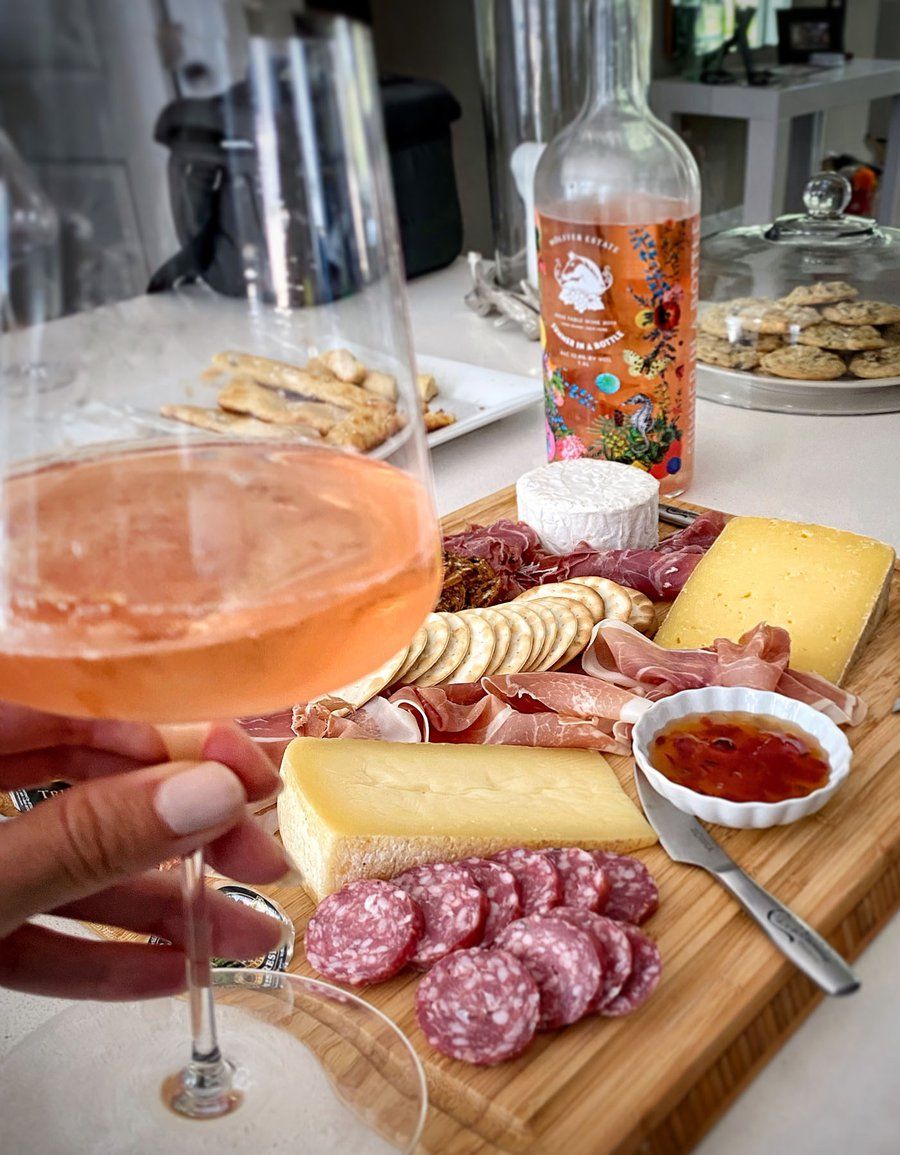 From the summer and into the fall, I declared Friday night as date night…something to look forward to at the end of a grueling week with the kids, and a reason for my husband and I to connect sans kids. I'd get the kids to bed, pour a nice glass of wine, set up our patio, and create a beautiful cheeseboard for us to enjoy. Through the process of trying out new cheeses each week we found some new favorites that I highly suggest you try:
-Lamb Chopper (lamb's milk) – super mild in flavor, semi soft and absolutely delicious.
- Flory's Truckle – we have had this before but I forgot just how good it is – it's best compared to a cheddar but has this incredible texture that almost feels like Pop Rocks in your mouth (if you're familiar with that candy).
-Kunik – Made by a local farm, if you can get past the pungent smell, the taste is absolutely fantastic.
- Drunken Goat – mild and delicious semi-soft cheese that doesn't have that super gamey goat cheese flavor.
- Washington's Crossing – from a local farm (Ely Farm in Pennsylvania) this cheese is awesome because they sell both older and newer versions. The older (2017) tastes like a pecorino romano, while the newer (2020) has a totally different taste and texture and almost tastes more like a cheddar.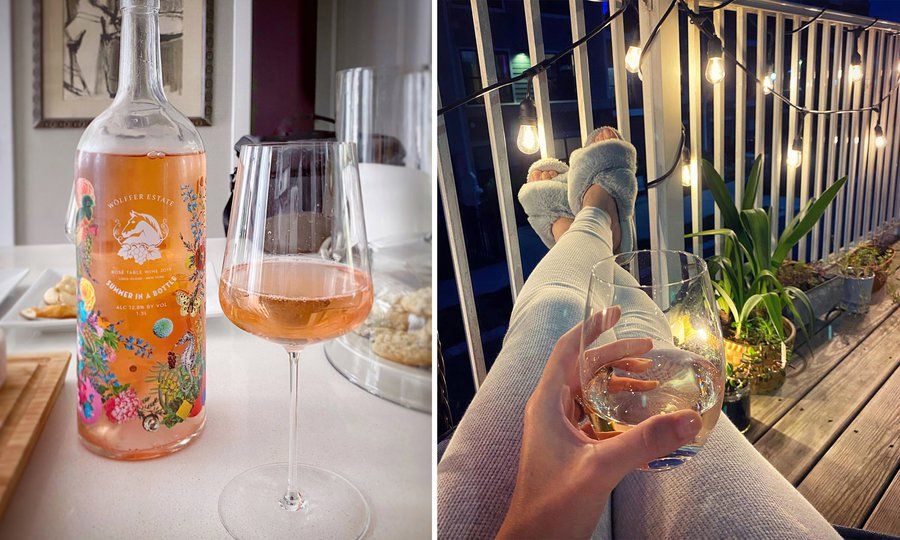 Below Photo - From top left clockwise: Prosciutto San Daniele, Lamb Chopper, Genoa Salami, Hombolt Fog, Raincoat Crisps, Manchego, Cabot Cheddar, Grapes, Crackers, Cabot Sharp Cheddar, Honeycomb.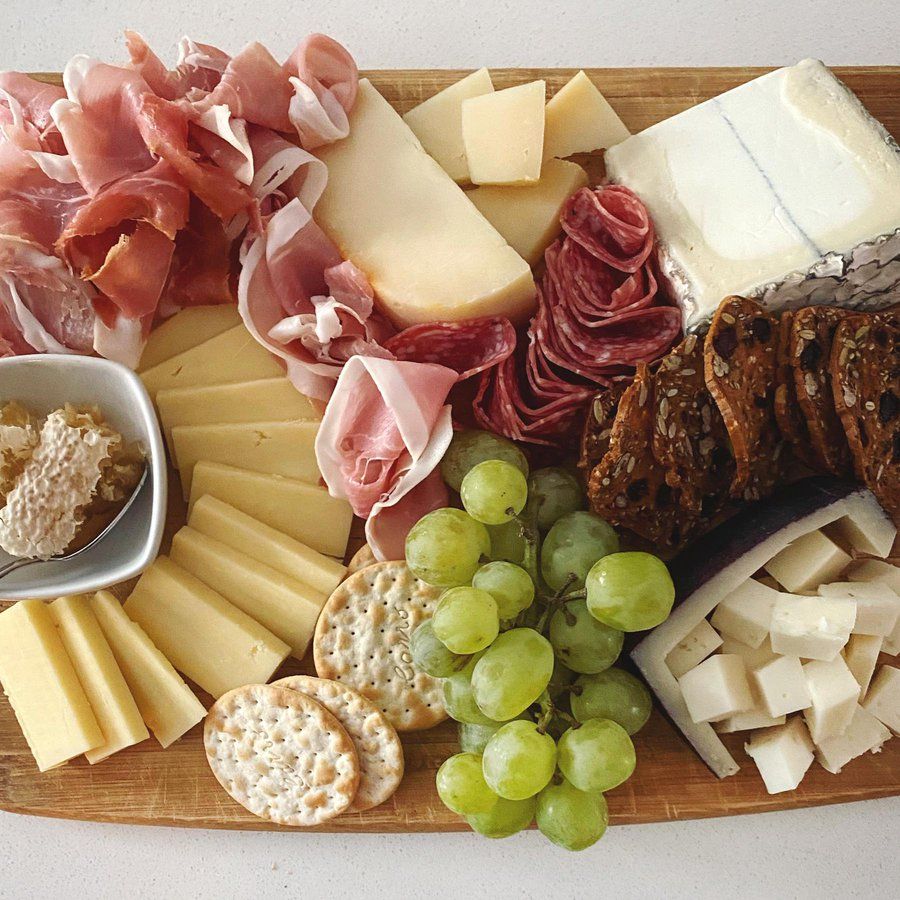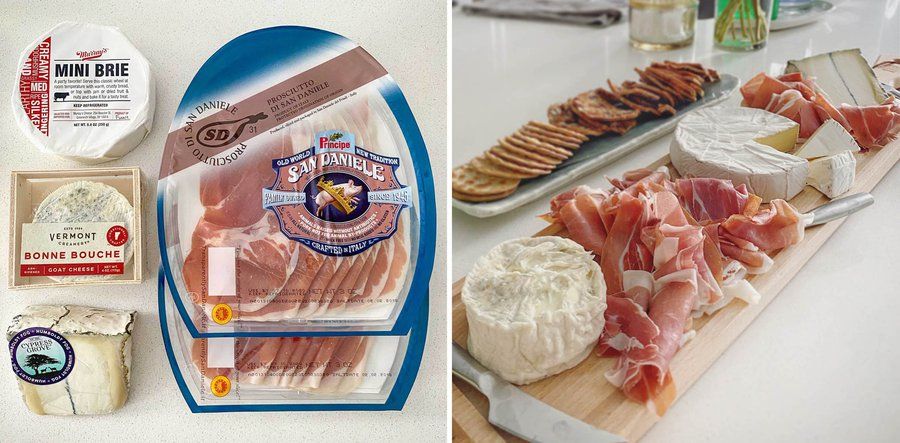 For Christmas, I bought myself a round cheeseboard from Target, and did a "Feast of the Seven Cheeses" (Obviously a play on the classic Christmas Dinner of the Seven Fishes). 3 Cheeses were from Ely Farms (2017 Washington's Crossing, 2020 Washington's Crossing and the Hickory Smoked Cheese). We also had a Lamb Chopper, Hombolt Fog, Drunken Goat and a Manchego. I added in some Truffle Mousse from Whole Foods, Salami, Prosciutto, Honeycomb from The Savannah Bee Company and Baguette from a local bakery.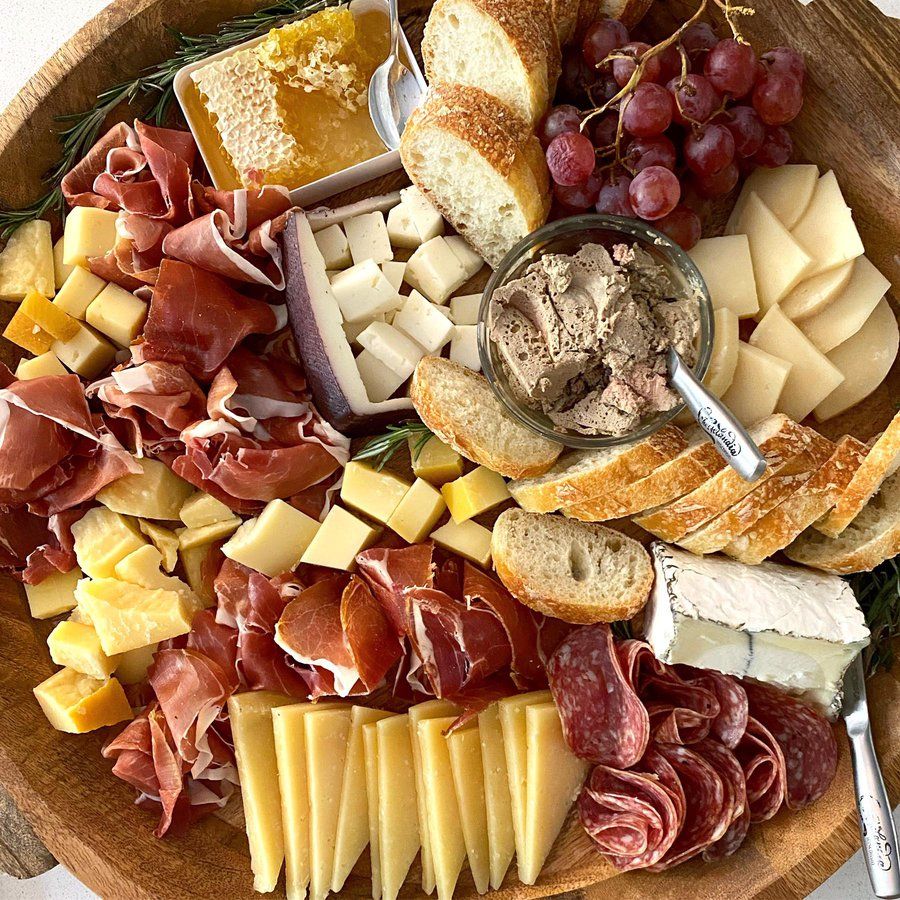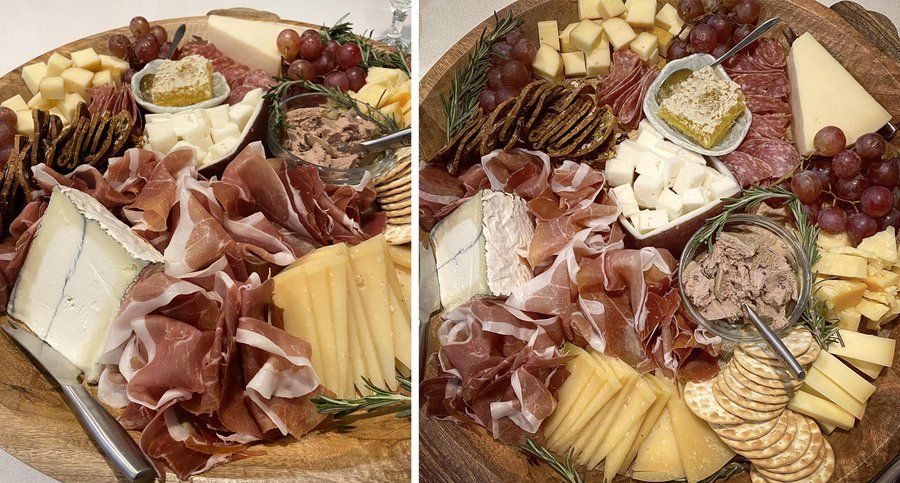 Some more Cheese & Charcuterie fun: