This recipe was really easy to make, very healthy, and super satisfying.  It makes enough to feed 4 people easily and, is one of those dishes that can stand on it's own as a dinner. I made a few changes to the recipe I was given because of course I can't do anything completely by the books, I always have to give it my Sara spin…. Also as a note, this is a spicy dish…so either you can leave out the Cayenne Pepper if you don't like spice or you can do what I did - serve the dish with a side of Low Fat Yogurt (or you can make Raita) to cut the spice.
Like I said, this dish definitely has a spicy kick to it, so I served Yogurt alongside the dish which completely cuts the spice without diluting or losing the flavor of the rice.  This is a simple, quick, cheap and healthy meal that will leave you satisfied.  You can also add other ingredients to it such as Pine Nuts, Golden Raisins..... or serve it alongside some Naan. ENJOY! :)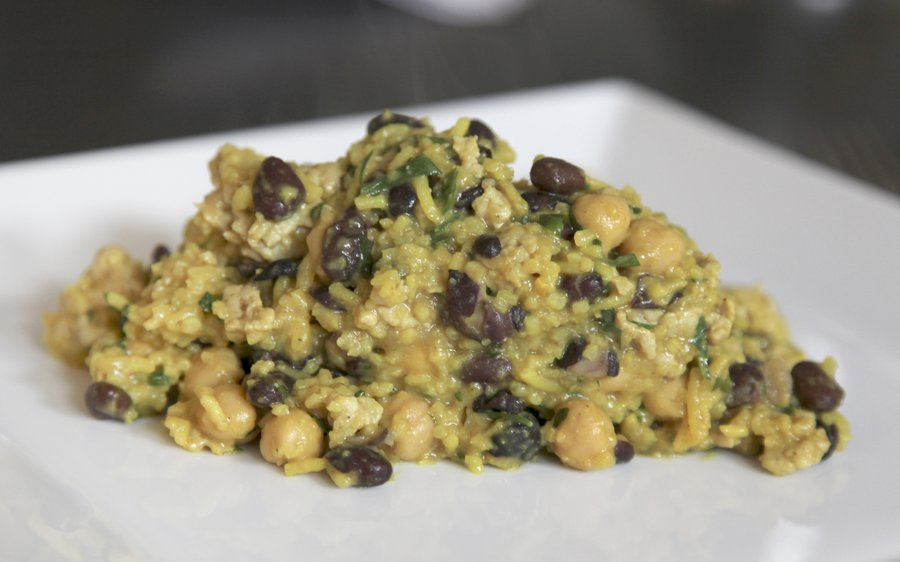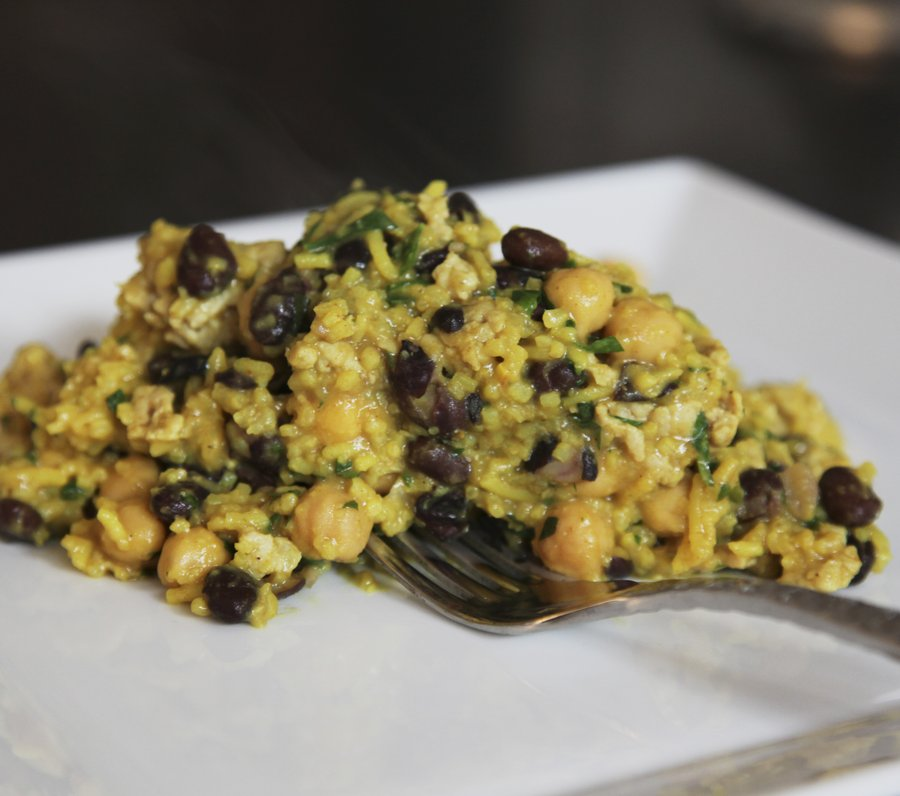 Middle Eastern Rice
Prep Time
---
15 Minutes

Cook Time
---
1 Hour

Total Time
---
1 Hour 15 Minutes

Yield
---
Serves 4

Ingredients
1 T Extra Virgin Olive Oil
1 minced Garlic Cloves
1/2 Cups Basmati Rice (uncooked)
1 tsps Cumin Powder
1/2 tsps Turmeric
1/2 tsps Cayenne
2 Cups Low Sodium Chicken Stock
1 lbs Ground Chicken
15 oz Can Garbanzo Beans (Rinsed and Drained)
15 oz Can Black Beans (Rinsed and Drained)
1 Handful minced Parsley
1 Handful minced Cilantro
2 T Greek Yogurt
Salt and Pepper
---
Directions
In a saute pan, cook your ground Chicken until there is no more pink. Once your meat is cooked, drain out any excess fat in a sieve. Ground Chicken is very lean to begin with but I like to make sure there's no excess grease/fat when I am cooking with meat, which is why I do this step. Set your meat aside for later use…
In a large pot, add your garlic and spices and cook for about 2 minutes over a low/medium heat. Add in your rice and cook for about 5 minutes stirring often.
Pour in your Chicken Stock, bring to a boil. Once it's boiling, reduce the heat to low, cover the pot and let simmer for 20 minutes. Don't touch the pot, don't stir, don't uncover it, don't even look at the pot…just let it be for 20 minutes and your rice will come out AMAZING and fluffy!
After 20 minutes of unadulterated cooking, your rice is ready for it's accessories! Add in your beans, cilantro, parsley, chicken and yogurt. Stir. Cook this for another 5 minutes to warm up the newly added ingredients. This is also the time to taste test your rice to see if you'd like salt or pepper added.