This recipe is divided into 3 parts:
The Bolognese
The Fresh Made Lasagna Noodles
The Assembly of the Lasagna Bolognese with Cheeses and Basil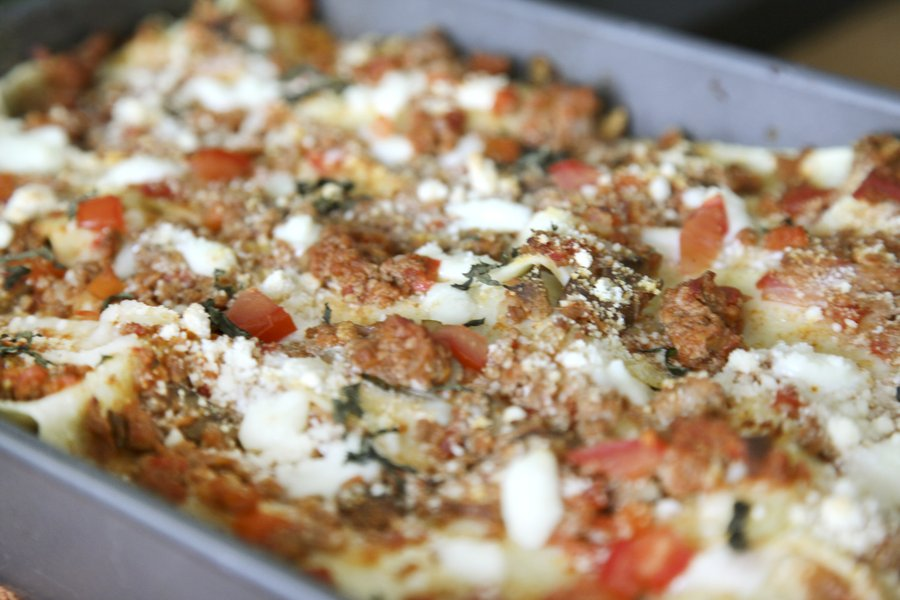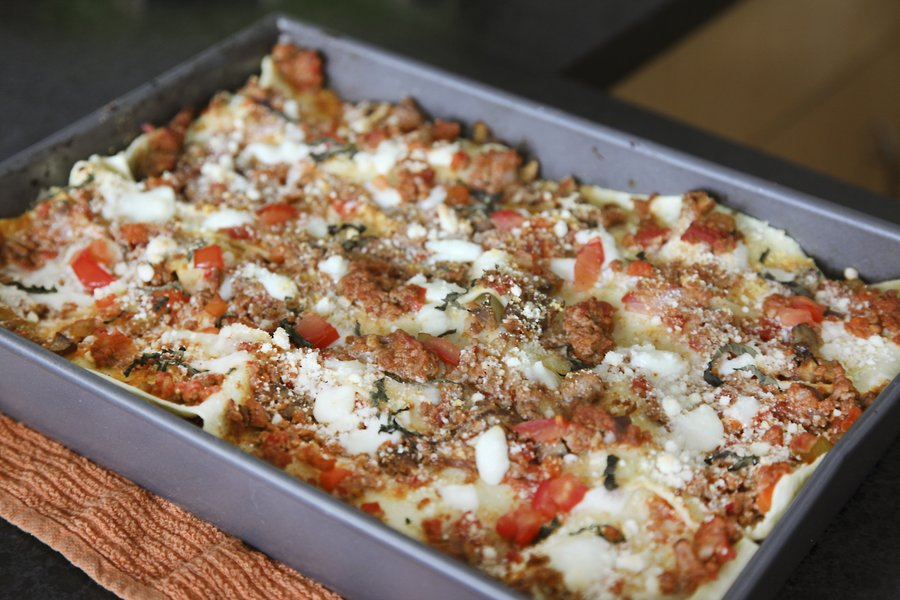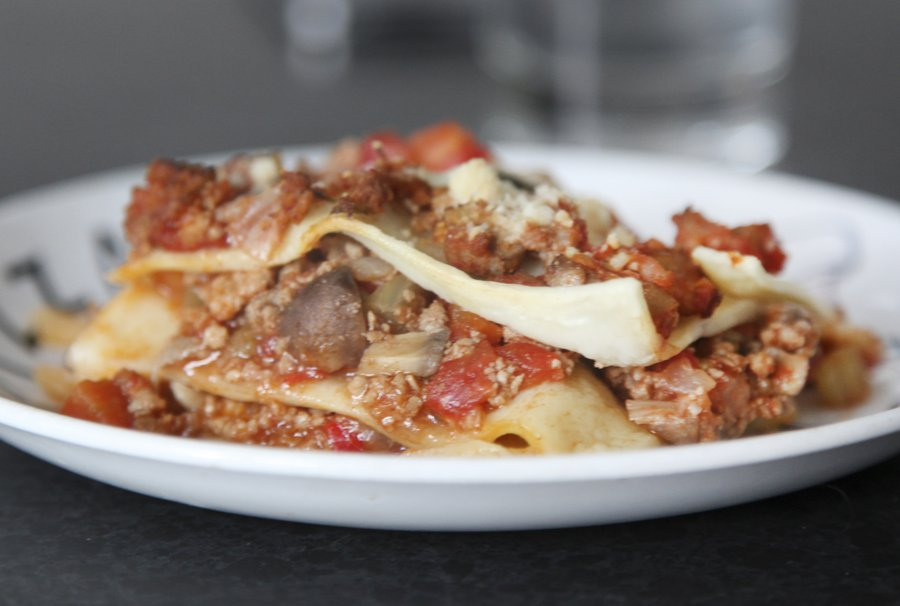 Bolognese Sauce
Prep Time
---
10 Minutes

Cook Time
---
2 Hour 30 Minutes

Total Time
---
2 Hour 40 Minutes

Yield
---
8 cups

Ingredients
1/4 lbs diced Cremini Mushrooms
1 minced Onion
3 small dice Celery Stalks
2 small dice Carrot
1 minced Sweet Red Pepper
5 minced Garlic Cloves
1 lbs Ground Beef
1 lbs Ground Veal
28 oz Can of Crushed Tomatoes
Salt and Pepper
---
Directions
In a large pot, heat up about 3 tablespoons of Olive Oil - once heated, add in all your chopped veggies: mushrooms, onion, carrot, celery, garlic and red pepper. Cook this down for at least 15 minutes until the mushrooms are completely tender and the onions are translucent (stir frequently to keep anything from burning).
Now add in your ground veal and ground beef. After about 10 minutes of stirring and making sure your meat is no longer pink, add in your can of tomatoes.
Cook for at least an hour on low heat, covered, to help the flavors really meld. Taste and season with salt and pepper.
Lasagna Pasta
Prep Time
---
30 Minutes

Cook Time
---
5 Minutes

Total Time
---
35 Minutes

Yield
---
1 Serving

Ingredients
2 1/2 Cups Flour
3 Eggs
Pinch Salt
---
Directions
In a large bowl add your flour and create a "well" in the center where you can crack your eggs into. Crack the 3 eggs in the well & start to mix with a fork.
Once mixed, start to kneed with your hands on a floured surface — if the mixture is too dry (which mine was), add little amounts of water to help moisten it up. If the dough is too wet, add a little more flour.
Once you've kneaded the dough completely. cover with a damp towel for about 15 minutes to let the dough set.
Take small handfuls of dough at a time, making sure they're liberally floured, and roll through the pasta machine until you've reached your desired thickness. Set the strips on a floured plate.
In a boiling pot of heavily salted water, cook the pasta for about 5 minutes (you don't want it to be mushy - al dente is the consistency you're going for - plus the pasta will keep cooking until it's fully cooled down). I then laid out all my pasta individually so they didn't stick together and had a chance to cool down before the assembly stage.
Lasagna Bolognese
Prep Time
---
15 Minutes

Cook Time
---
25 Minutes

Total Time
---
40 Minutes

Yield
---
Serves 6-8

Ingredients
Lasagna Noodles
Bolognese Sauce
10 oz Mozzarella (Fresh, sliced thin)
3 oz grated Parmesan Cheese
Handful chiffonade Basil (Fresh)
---
Directions
Preheat oven to 350 degrees. In a large 9 x 15 pan, spread out some sauce. Layer on top of that an even layer of Lasagna noodles. Top with more sauce. Top with slices of fresh mozzarella cheese. Repeat this process until all the noodles are used up.
On the final layer of noodles, add more sauce and freshly grated Parmesan Cheese.
Bake for 25 minutes and then turn the oven to Hi Broil for a few minutes to crisp the Parmesan Cheese on top. Remove from oven and garnish with fresh Basil.