The summer is a great time to be a chef because of the incredible foods that are in season. I happen to love the foods that are in season in the summer and it's fun creating dishes with these ingredients. Tomatoes, Bell Peppers, Cucumbers, Garlic, Corn, Limes, and Avocados are all in season in the hot summer months (and all happen to work wonderfully with Mexican Cuisine)….do you see where I am going with this….
I was craving a salad yesterday, which I must admit, happens about as frequently as a lunar eclipse… so I decided to jump on the salad bandwagon before my fleeting desire for greenery disappeared. I used to always order this amazing Mexican Chicken Salad when I lived Downtown by the Seaport in Manhattan, and so that was my inspiration for last night's dinner.
I like when a Salad is 80% toppings and 20% lettuce – so this salad is loaded with all of my favorite Mexican toppings and the most delicious chicken seasoned with chipotle pepper and all spice! You can take or leave any of the ingredients if they're not your favorite and just add more of what you do like.
The Salad Dressing is also a new favorite of mine – it's a riff on a "Green Goddess Dressing" with fresh flavors…. and it truly compliments all the elements of this salad.
I also decided to serve my salad in a homemade tortilla bowl (much like the one I used to get downtown) – only mine is baked, not deep-fried! The instructions for the tortilla bowls are located below the salad recipe!
To make a Tortilla bowl:
- Take 1, 10" Flour Tortilla
- Spray a medium sized bowl with cooking spray and wrap the flour tortilla around it to create a bowl shape. Microwave for 50 seconds. Allow to cool in the microwave for a minute.
- Remove tortilla bowl, and repeat process to make more bowls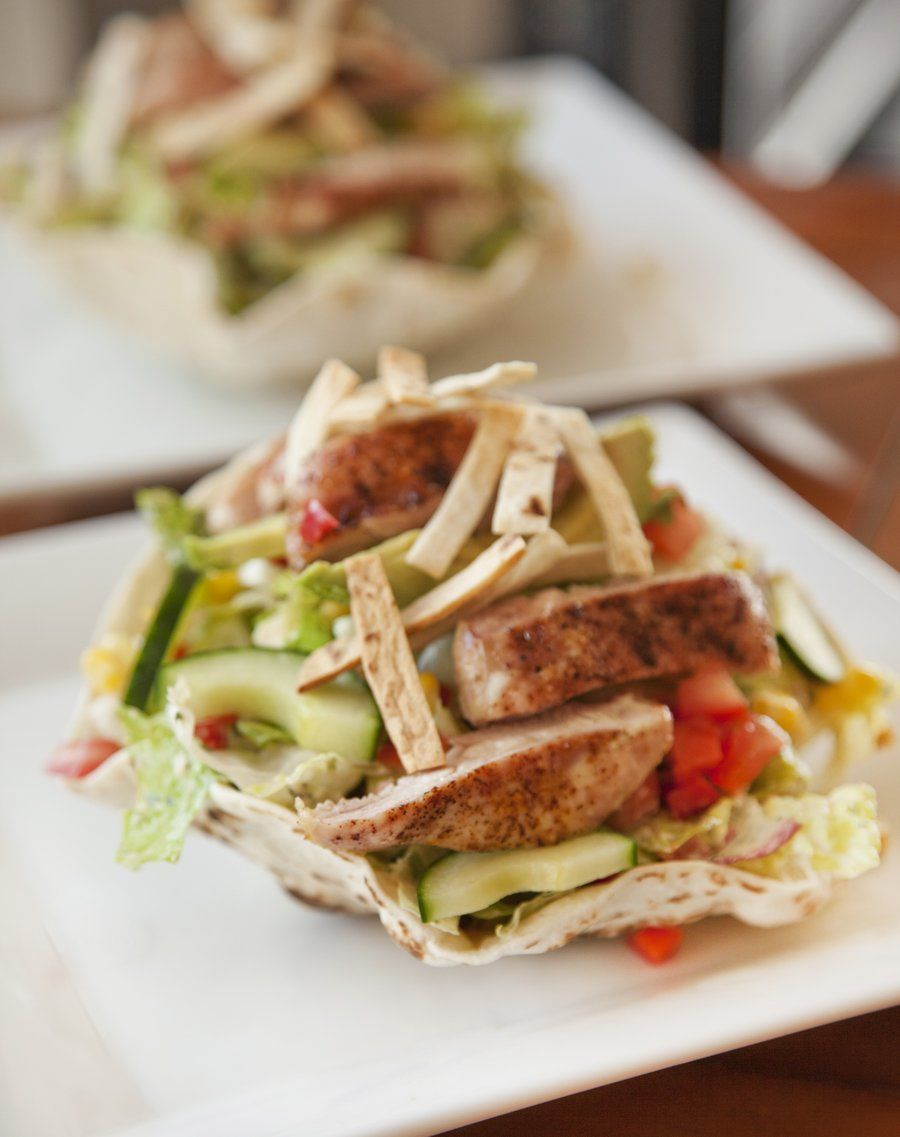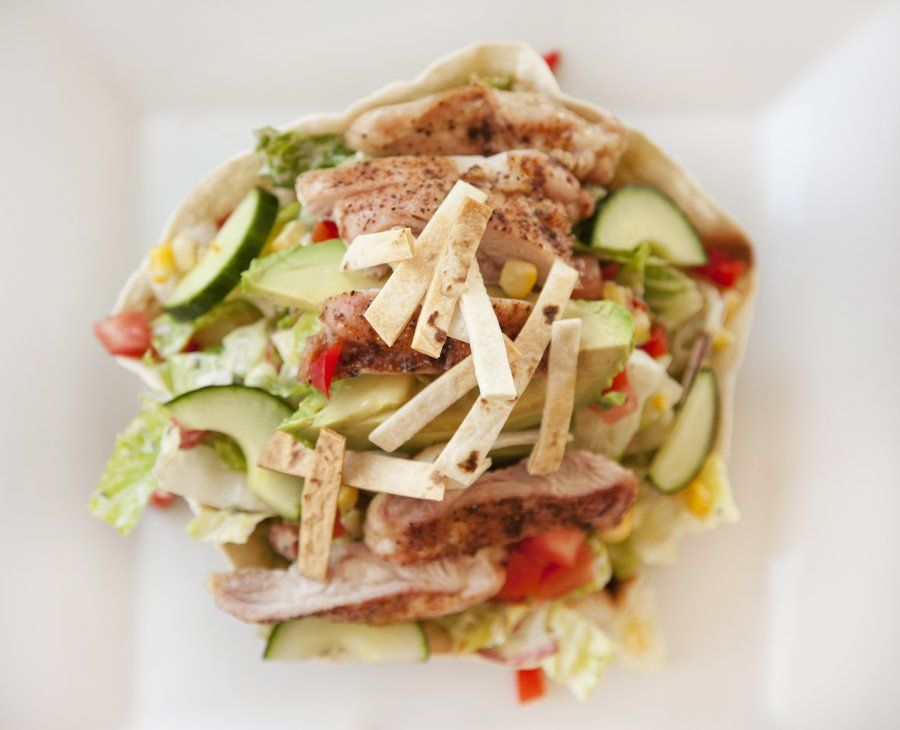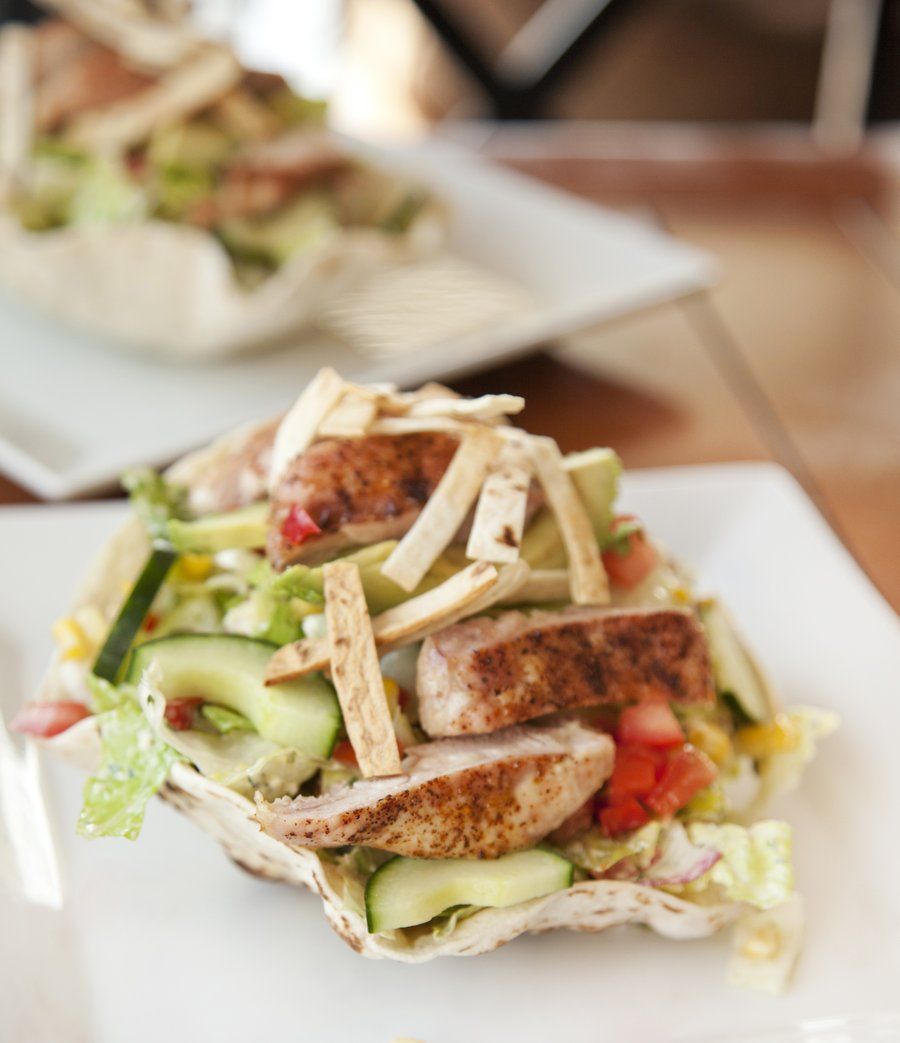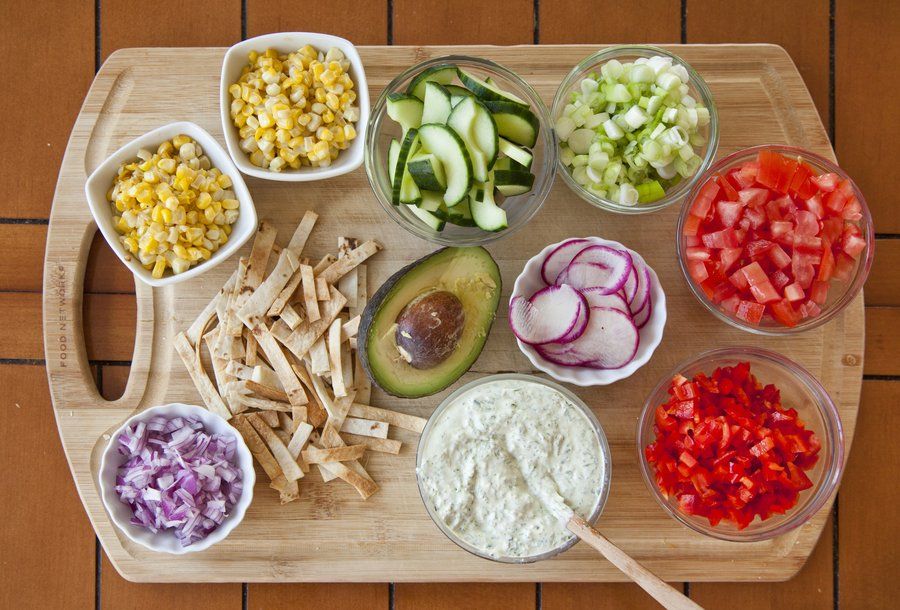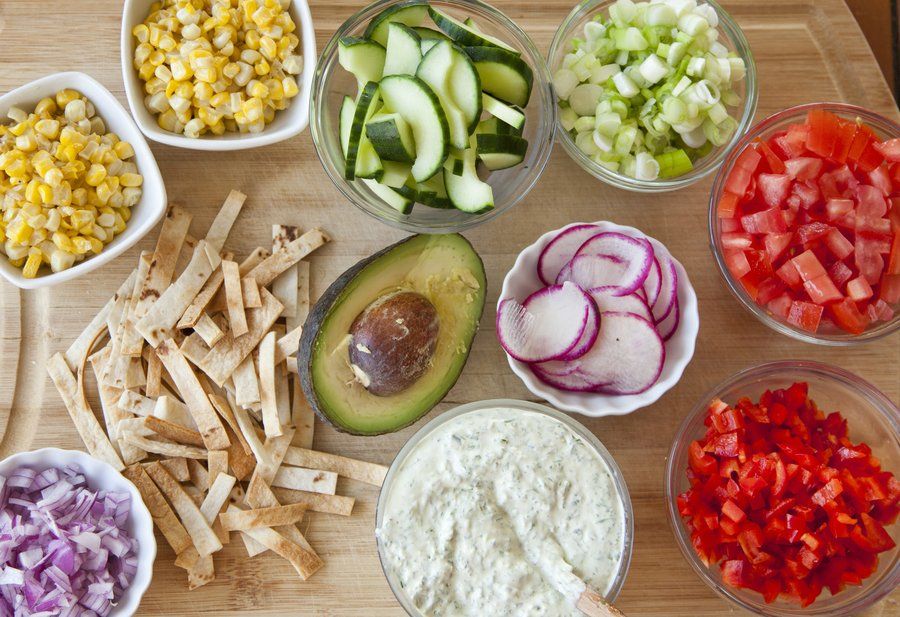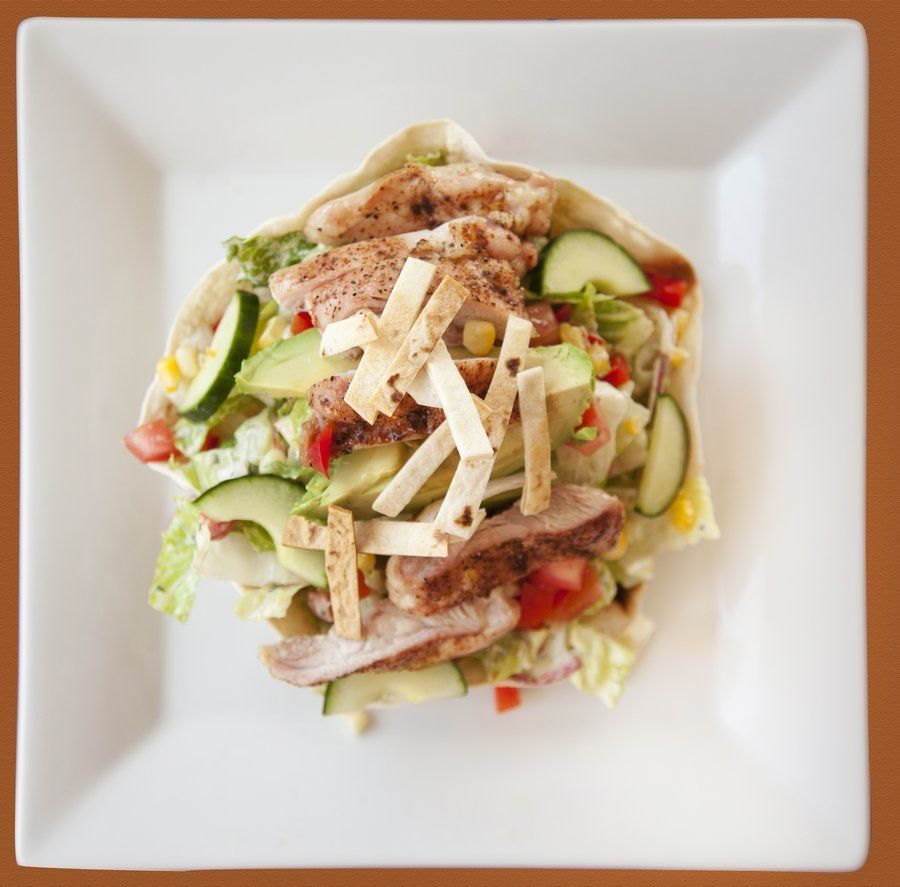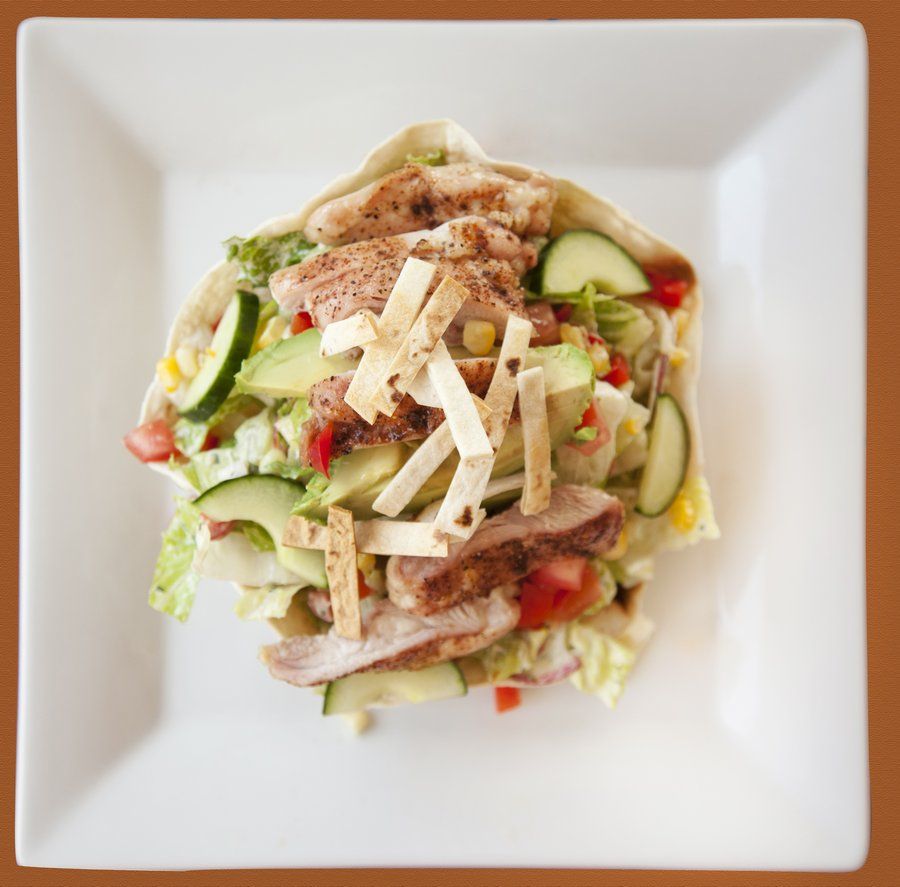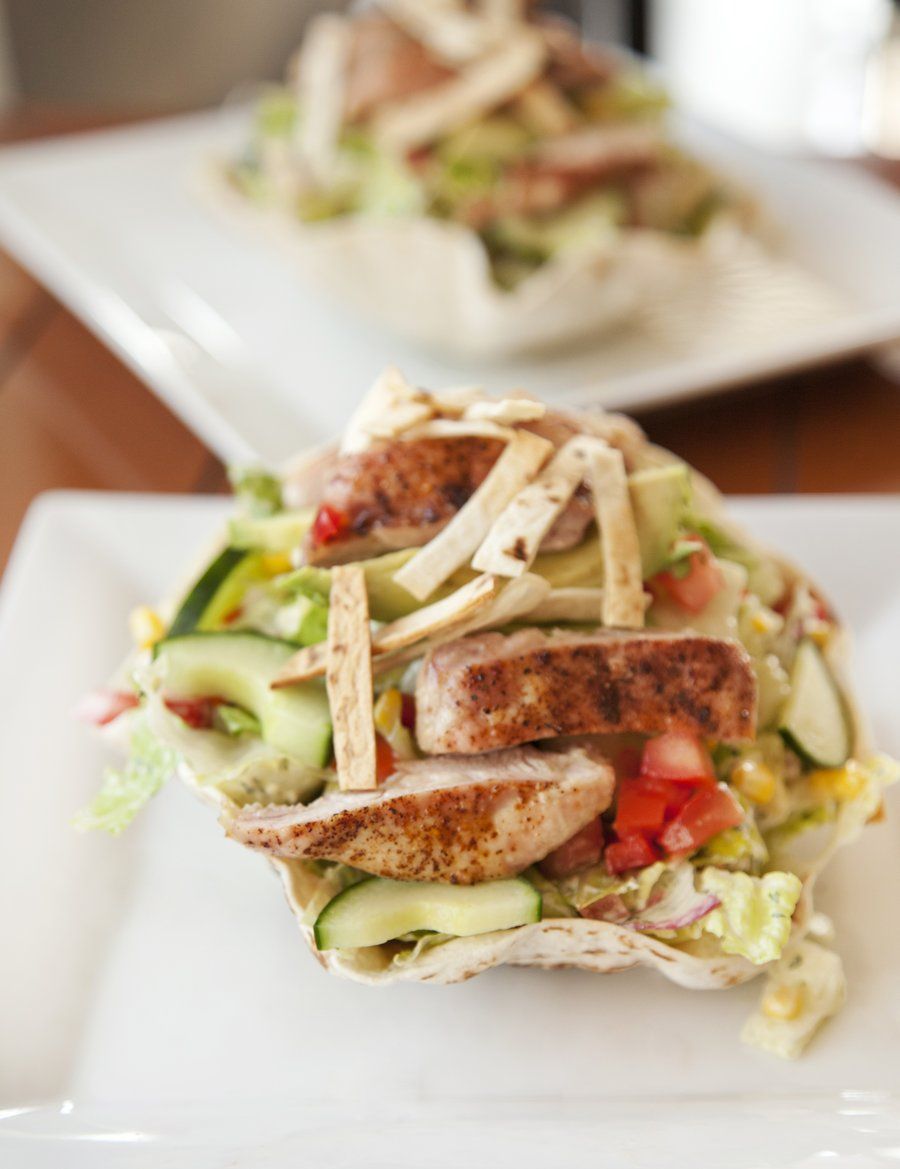 Mexican Chicken Salad with Green Goddess Dressing
Prep Time
---
30 Minutes

Cook Time
---
45 Minutes

Total Time
---
1 Hour 15 Minutes

Yield
---
Serves 4

Ingredients
6 T Mayonaise
2 T Sour Cream
1 Garlic Clove
1/2 Shallot
2 T Chives
2 T Parsley
1/2 Lemon Juice (fresh)
1 10" Flour Tortillas
2 1/2 lbs Boneless Skinless Chicken Thighs
Salt and Pepper
Chipotle Pepper Seasoning (to season the chicken)
Garlic Powder (to season the chicken)
All Spice (to season the chicken)
2 Hearts of Romaine (chiffonade into 1/2" strips)
1 Tomato (seeded and cut into small cubes)
1 Avocado (sliced thin)
1/2 Red Bell Pepper (minced)
1 Radish (sliced thin)
2 Ears of Corn (Sautéed - or 1 cup thawed frozen corn)
1/2 Cucumber (seeded and sliced thin)
3 Scallions (sliced thin)
3 T Red Onion (minced)
---
Directions
First make your dressing: In a food processor fitted with a metal blade, add in your mayo, sour cream, garlic cloves, shallot, chives, parsley, and lemon juice. Process until smooth - taste and season with salt and pepper.
For your Tortilla Strips: preheat the oven to 375 degrees and cut 1 large flour tortilla into 1/2" strips. Place on a baking sheet and bake for 6-8 minutes until lightly browned. Remove from oven and allow to cool.
Now cook your chicken: Turn the oven up to 400 degrees. Place the chicken on a baking sheet and sprinkle with salt, pepper, chipotle pepper seasoning, garlic powder and all spice. Bake for 27 minutes - allow it to rest 5 minutes before slicing it into 1/2" thick strips.
To assemble: In a large bowl combine your romaine, tomato, avocado, red bell pepper, radish, corn, cucumber, green onions and red onion. Mix together. Then add your dressing and toss together (*you may not need all the dressing).
Place your salad in a bowl (or a tortilla bowl - instructions above) and top with sliced chicken.