I have had an awful cold all week - but that does not stop a chef from cooking!
So I was looking for a simple dish to make, which usually equates to me using my slow cooker to create a meal. My husband requested Korean Tacos (as you can tell from the rest of this week's posts, we've been on a total Asian-centric kick) so that was my initial inspiration.
I originally wanted to do Bulgogi Tacos (Bulgogi is usually Seasoned Thin Sliced Beef that is then grilled) - but oddly enough, I couldn't find the cut of meat I wanted at the store....nor did I feel like standing over a hot griddle while battling my current plague.
So I went to one of my favorite cuts of Pork, the Bone in Pork Shoulder. It is no secret that our family loves all things pork...or all things taco for that matter....
In my recipe it calls for Korean Red Pepper Paste (which you can usually find in specialty Asian store) - but no need to go searching around for it, Sriracha is a great alternative..... and if you don't currently own Sriracha...shame on you! ;)
I garnished my tacos with foods I had in my fridge (which actually turned out being a great combo):
Diced Roma Tomato
Diced Cucumber
Cilantro
Daikon Sprouts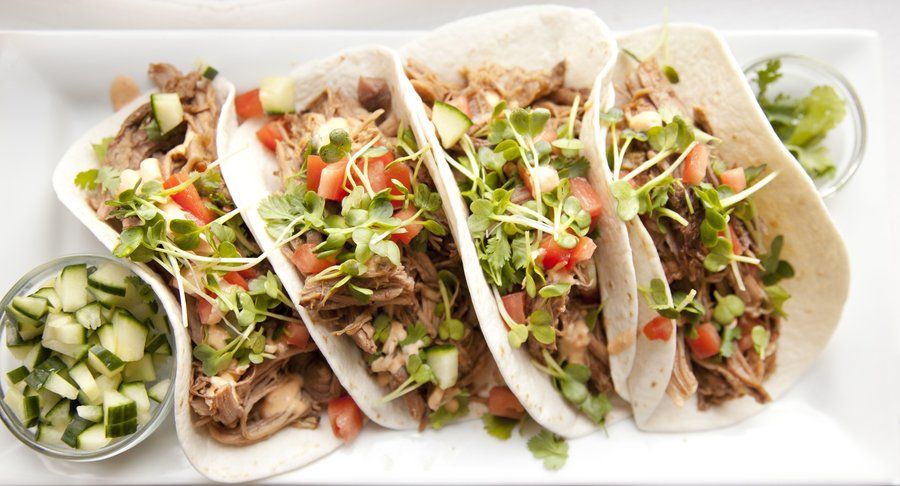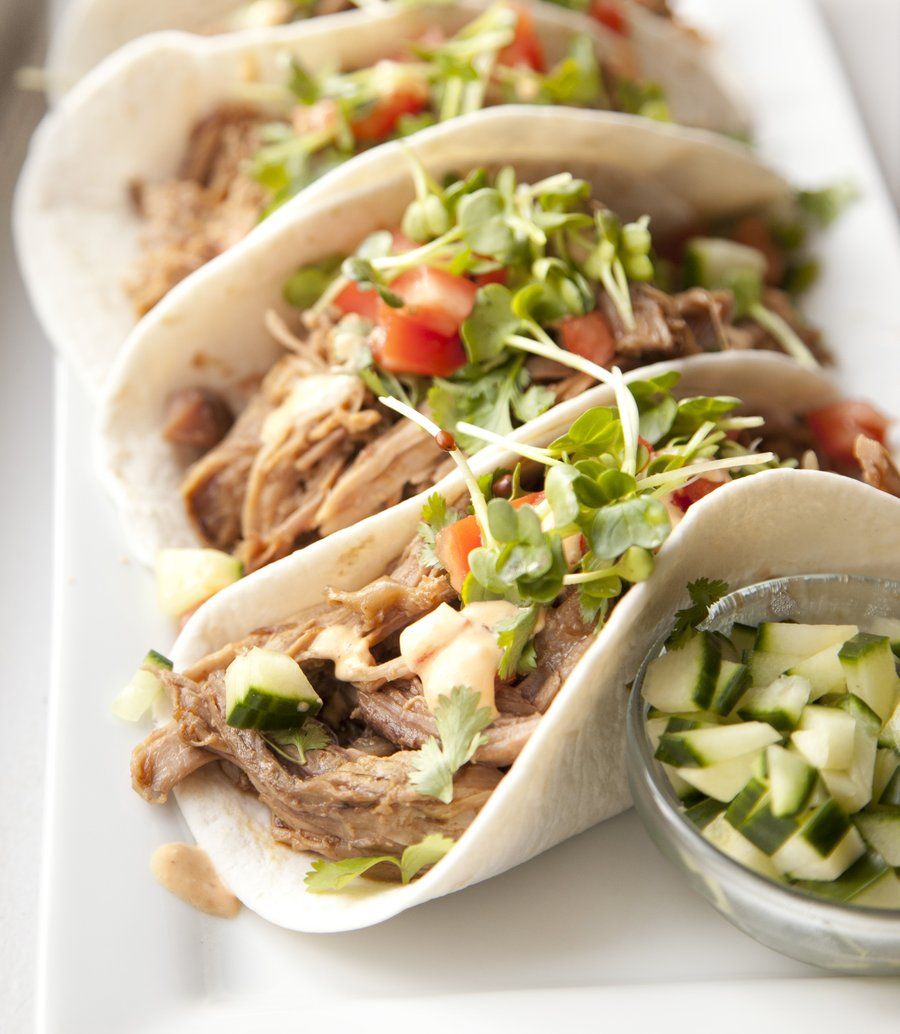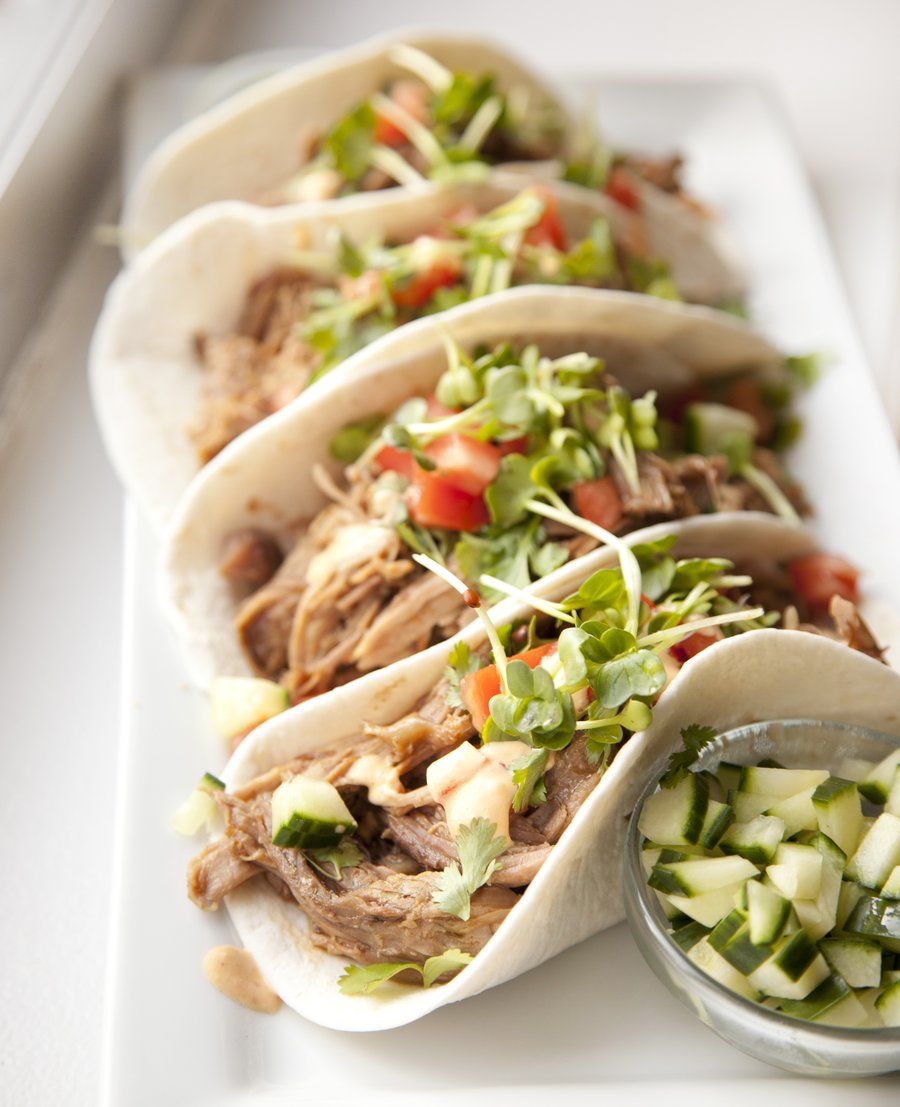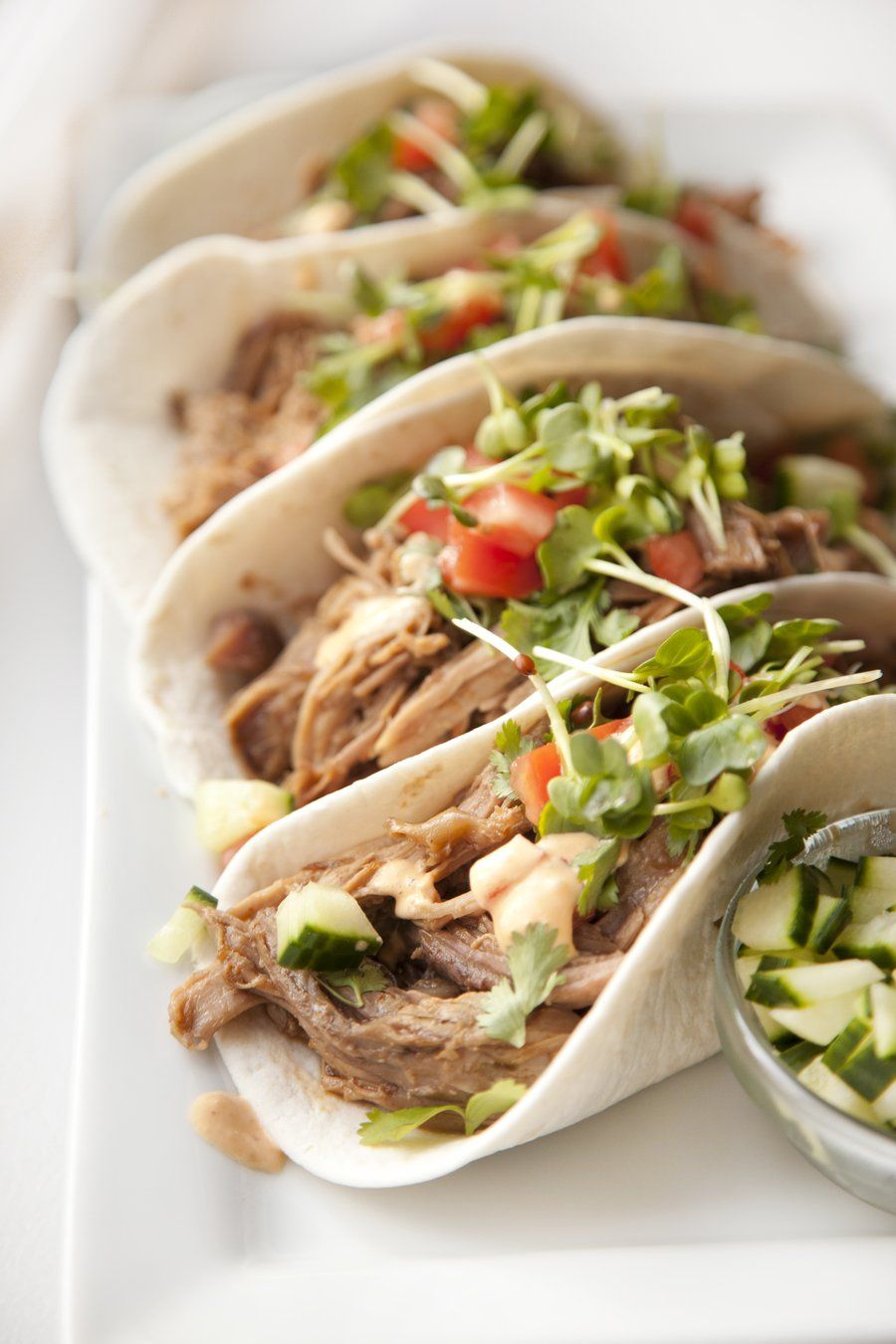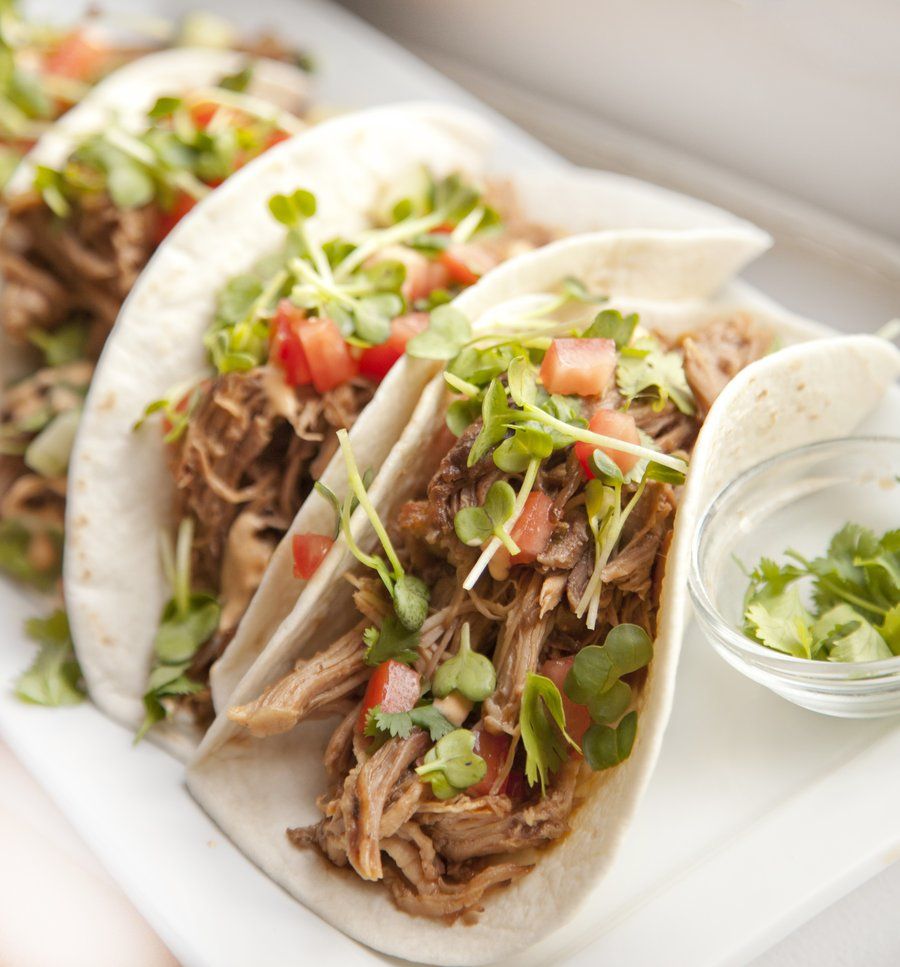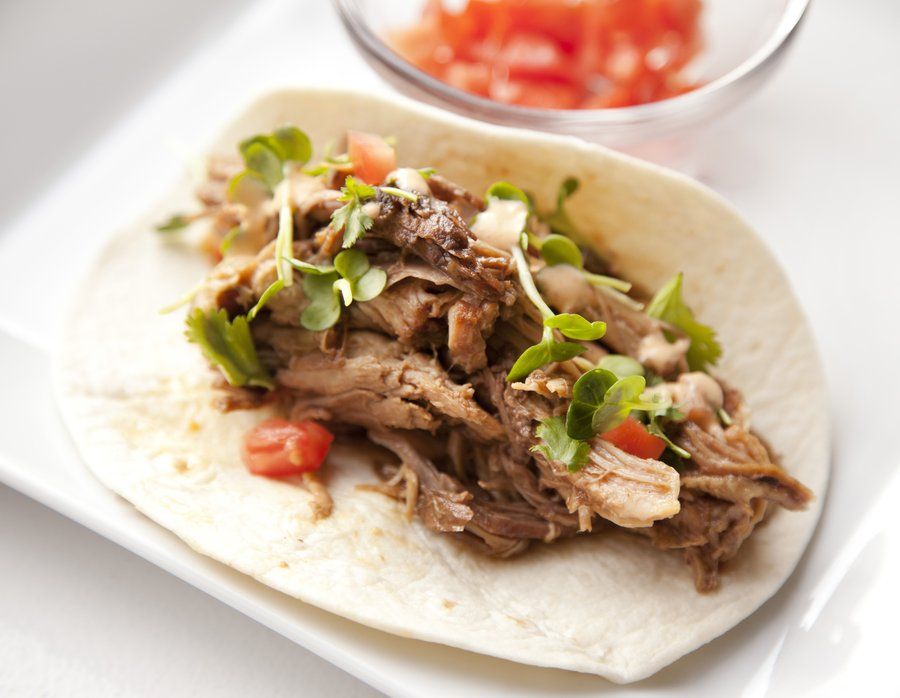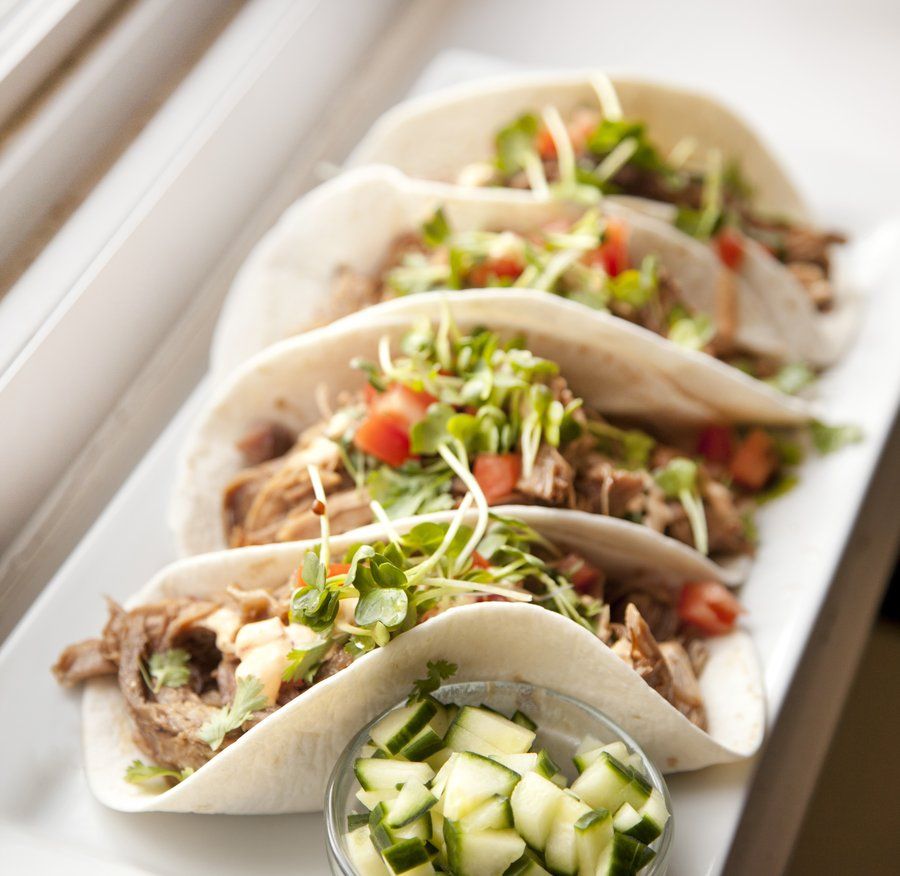 Korean Pork Tacos
Prep Time
---
15 Minutes

Cook Time
---
6 Hours

Total Time
---
6 Hour 15 Minutes

Yield
---
Serves 4-6

Ingredients
1/2 Cup Water
5 Garlic Cloves (chopped roughly)
2 inch Piece of Ginger (chopped roughly)
1 Teaspoon Black Pepper
1 Cup Soy Sauce
6 T Brown Sugar
4 T Dry White Wine
1 Granny Smith Apple (grated, skin on)
8 Scallions (chopped roughly)
4 T Sesame Oil
3 T Korean Red Pepper Paste (or Sriracha)
5 lbs Bone-in Pork Shoulder (Fat Trimmed Off)
1/2 Cup Sour Cream
4 tsps Kimchi (solids only)
Sugar
1 1/2 T Flour (to create the roux)
---
Directions
In a small pot combine your water, garlic, ginger and black pepper. Bring to a boil - reduce to a simmer and add in your soy sauce, brown sugar, and white wine. Simmer about 5 minutes, then remove from heat.
In a large bowl combine your granny smith apple, scallions, sesame oil and Korean red pepper paste (or Sriracha). Add in your mixture from step one.
Place your trimmed Pork Shoulder into your slow cooker and pour your marinade from the previous step over it. Cover and cook on low for 5 1/2 hours.
Once your pork is done cooking, remove it carefully from the slow cooker and place on a cutting board. Strain all the liquid from your slow cooker through a fine mesh strainer and into a fat separator (discard of the solids). Ladle about 1 tablespoon of your fat from the top of the liquid and pour into a medium pot. Add about 1.5 Tablespoons of flour to that and cook over a medium high heat to create a roux, stirring constantly. Cook 2 minutes and then slowly whisk in all the liquid from your fat separator (discarding any residual fat).
Reduce the liquid for about 10-15 minutes - meanwhile, shred up your pork and place in a large bowl. Once your liquid has reduced, ladle it onto the pork (you'll probably only use half of the liquid - you want just enough to season the meat but not to make a liquid mess). Toss the meat taste and season with more liquid if you see fit.
Serve the meat in flour tortilla shells with the Kimchi Sauce, Diced Cucumber, Cilantro and Diced Tomatoes.
While your pork is cooking, make your Kimchi Sauce: Combine your sour cream, prepared Kimchi and a pinch of sugar in a blender and process til smooth. Taste and season - keep in an airtight container in the fridge until ready to serve.