This past week I have been sick with the plague….aka a sinus infection.
For someone like me, who is constantly full of energy and always moving, being sick is not only uncomfortable, but it's annoying. I hate being bed-ridden and exhausted, especially when I am dying to get in the kitchen and cook.
So after 3 days of a stuffy nose, sore throat, and headache, I decided I needed to make my mom's cure-all: Chicken Soup.
As I stated before, I was exhausted and not much in the mood for waiting for a chicken soup to cook and get flavor and blah blah blah….so I busted out my awesome Pressure Cooker to get the job done fast.
You won't believe the amount of flavor you can impart in a soup in a Pressure Cooker in such a small amount of time.
When doing this recipe, you can use dark or white meat Chicken – but make sure you get it ON THE BONE! This is one of the best ways to impart flavor into a soup easily. Add in a few fresh herbs like thyme and parsley and the flavor is just perfect.
So next time you're sick – try this recipe out – and invest in a Pressure Cooker, they're incredible!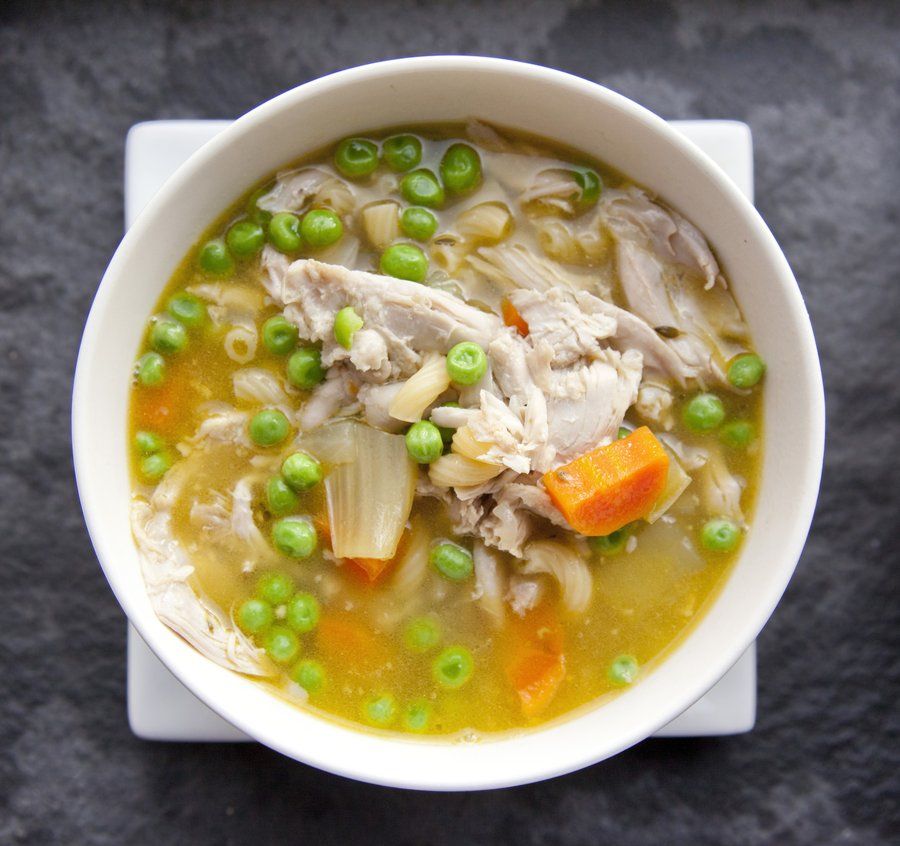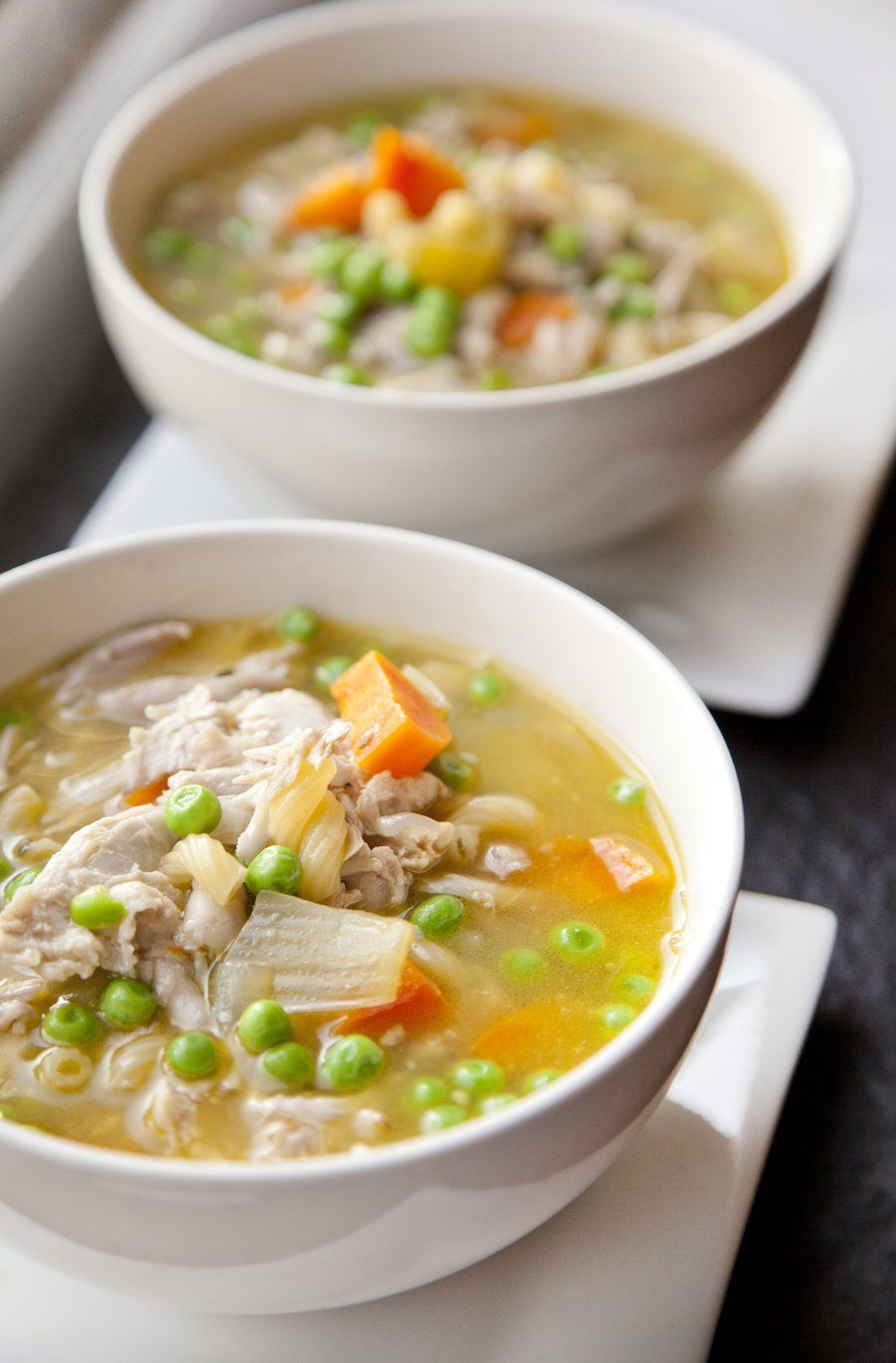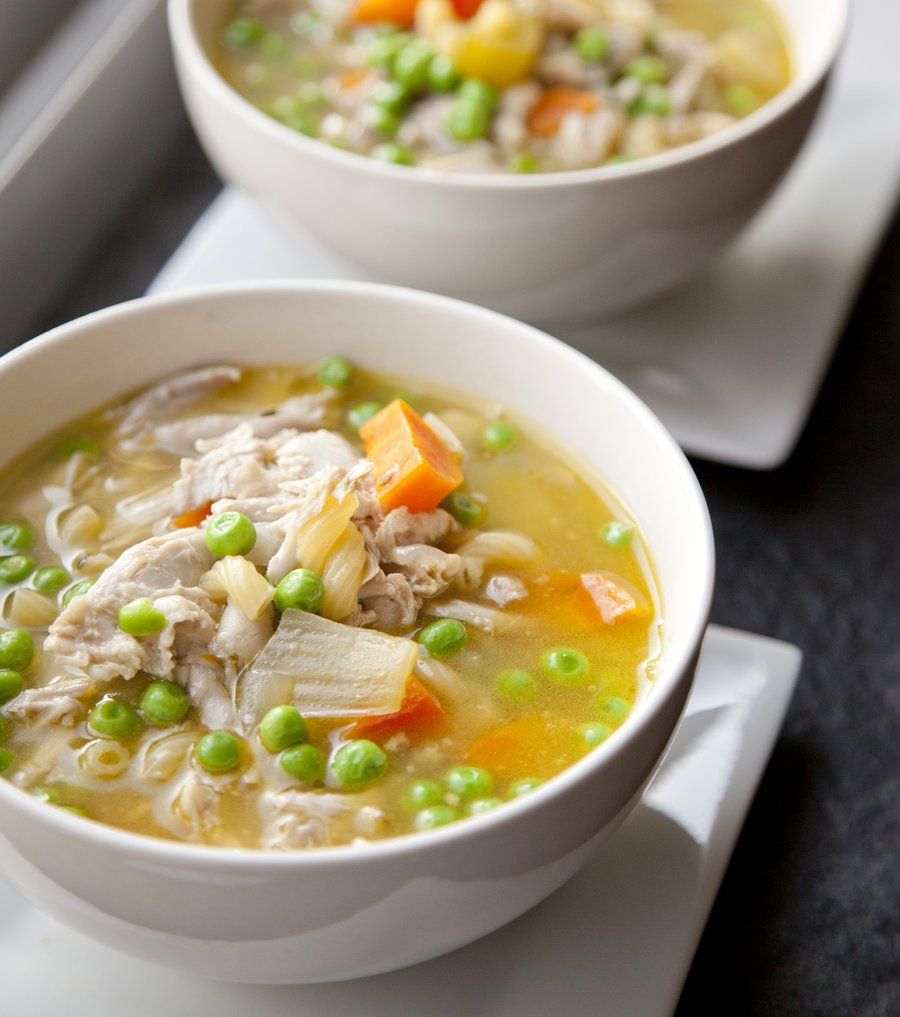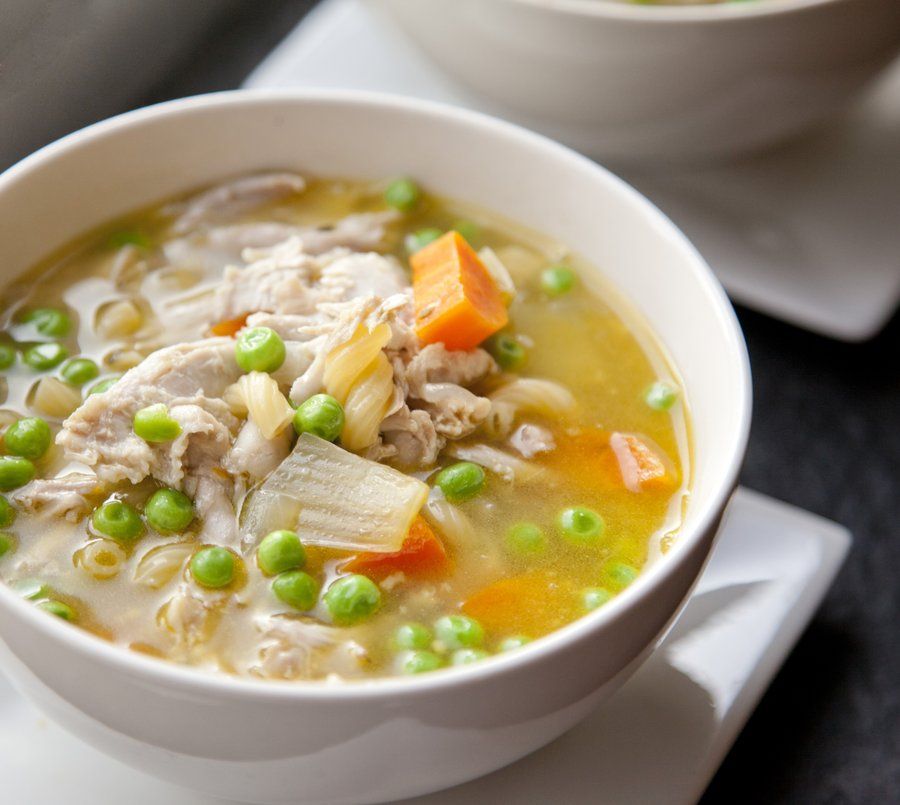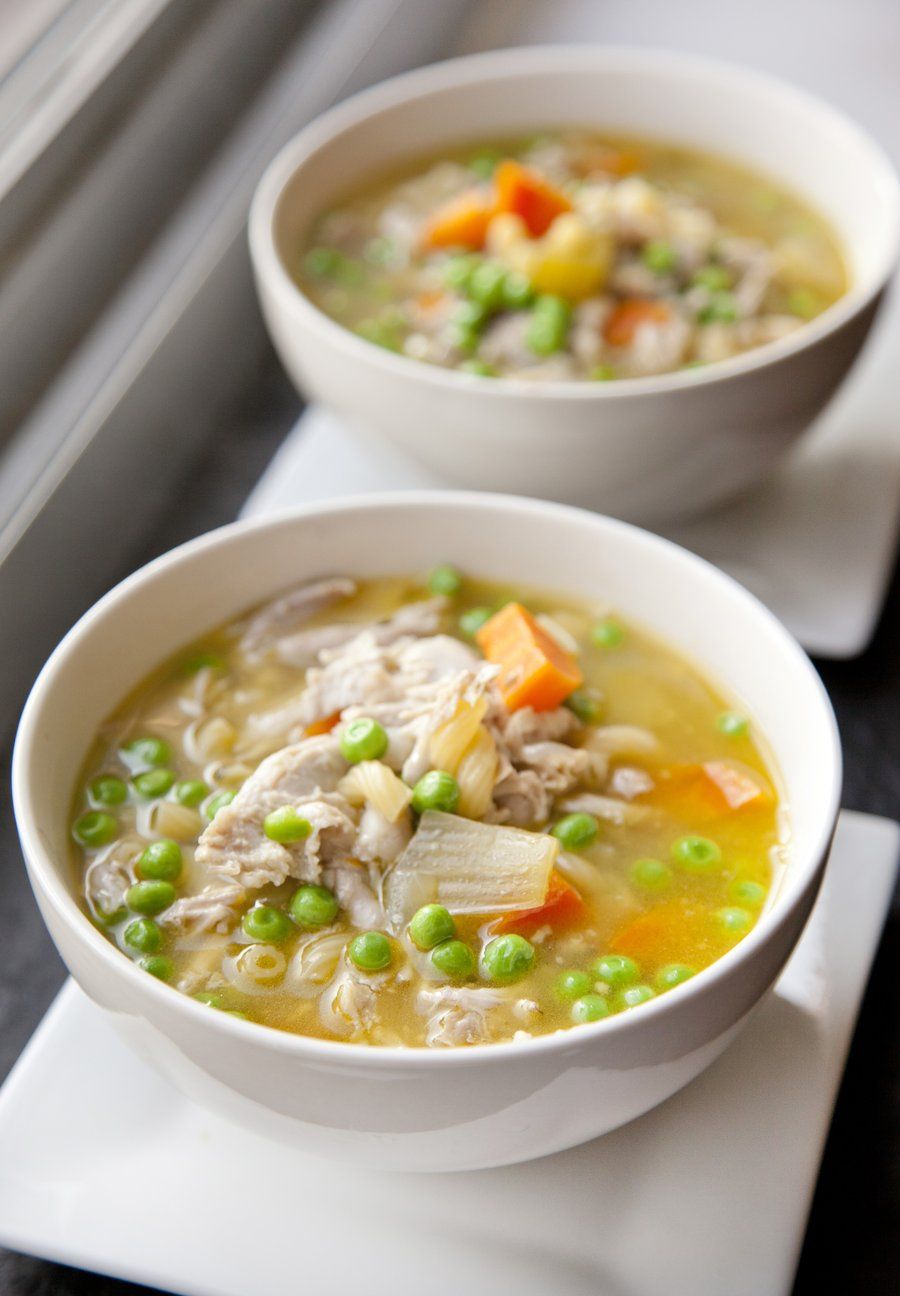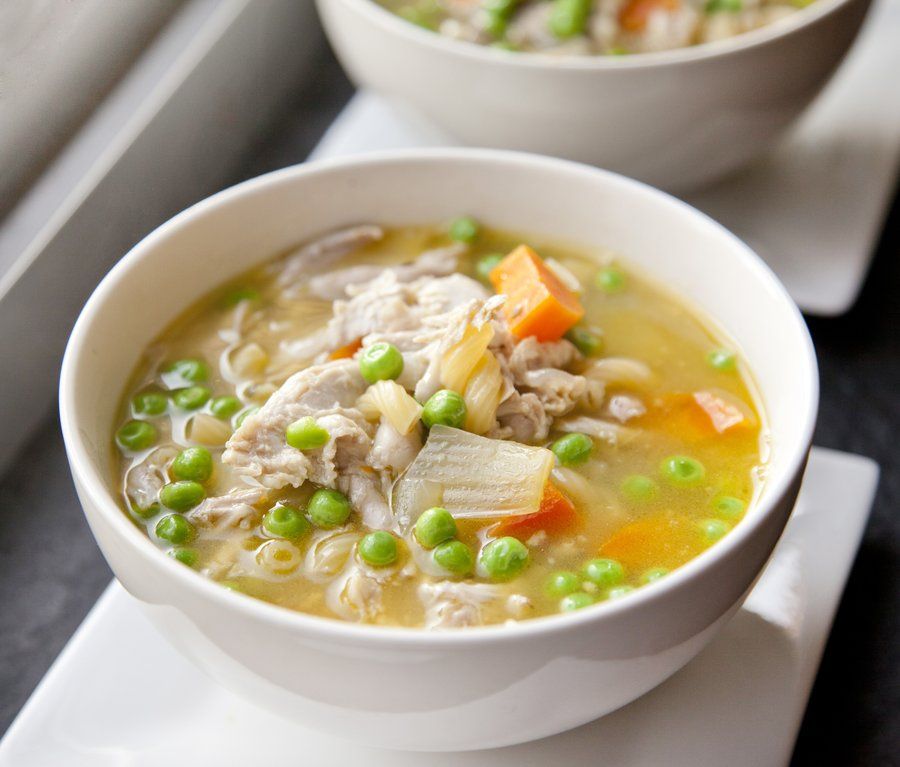 Pressure Cooked Chicken Soup
Prep Time
---
10 Minutes

Cook Time
---
25 Minutes

Total Time
---
35 Minutes

Yield
---
Serves 6-8

Ingredients
1 Tablespoon Extra Virgin Olive Oil
2 Cups Onion (diced small)
2 1/2 Cups Carrots (peeled and cut into 1/4" half moons)
1 1/2 Cups Celery Stalks (cut into 1/2" pieces)
2 3/4 lbs Bone in Chicken Legs/Thighs (skin removed)
1 Teaspoon Salt
1/2 Teaspoon Black Pepper
6 Cups Low Sodium Chicken Stock
3 Sprigs Thyme
5 Sprigs Parsley (leaves and stems)
1 Bay Leaf
1 1/2 Cups Elbow Pasta
1 1/2 Cups Frozen Peas (thawed)
grated Parmesan Cheese (to serve with)
---
Directions
Add 1 tablespoon of Olive Oil to your pressure cooker and set to the 'Saute' setting. Once the oil is hot, add in your onion, carrot and celery and cook for about 5 minutes stirring frequently. Add in your chicken, salt, pepper, thyme, parsley, bay leaf and stock. Cover the lid to the pressure cooker and set to 'High Pressure' for 8 minutes.
When the 8 minutes is up, let the pressure naturally release for about 5 minutes and then use the 'quick pressure release'. Once all the pressure is released, carefully remove the lid.
Remove your herbs and bay leaf and discard. Take out your chicken and place on a cutting board.
Turn your pressure cooker on to 'Browning' - once it starts to boil, add in your macaroni and cook about 5 minutes, or until soft. Meanwhile shred up your chicken and discard the bones. After your macaroni is cooked, add in your shredded chicken and peas and cook another minutes. Taste and season - serve hot with grated parmesan cheese.