I have become semi-obsessed with making root veggie purees lately…I've always loved eating them, and now that I realize how easy it is to make a puree that tastes like heaven on a plate, I'm going all out.  This dish is super easy to create and tastes incredible! This is a 3 part dish; Spinach, Celery Root Puree & Herb Crusted Tenderloin.
You may not be used to working with an ingredient such as celery root, but the flavor that comes out of this puree in incredible and will have you wanting more and more celery root!
This is a great dish to serve and really impress people - this recipe serve 2 nice portions - just adjust the recipe to feed more!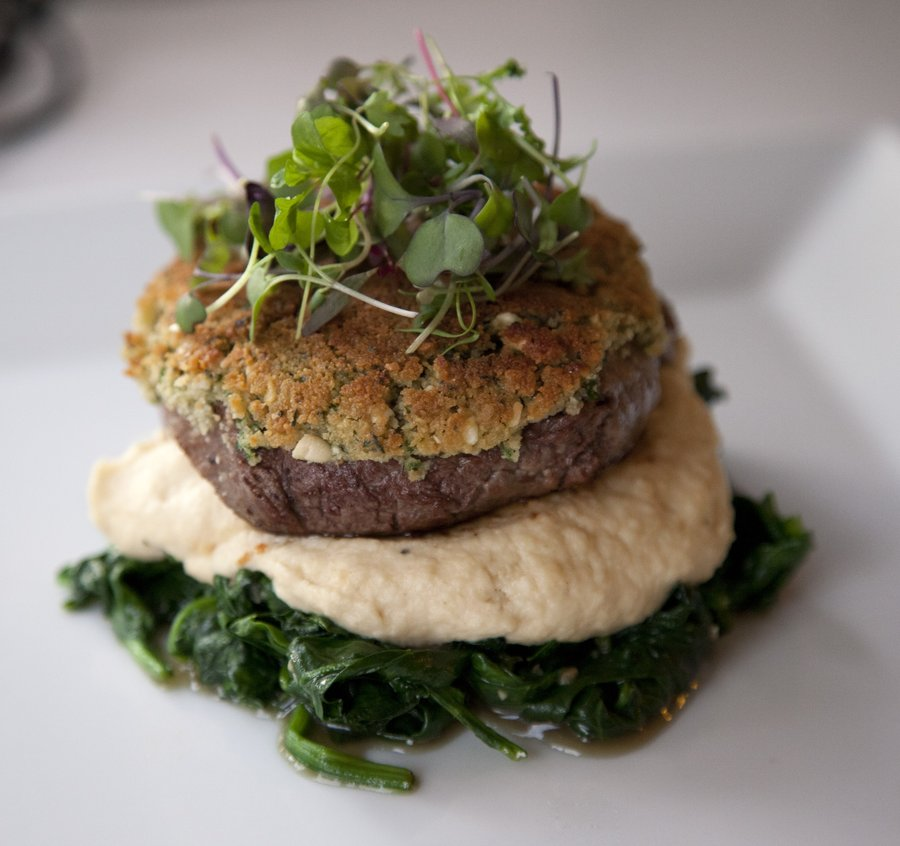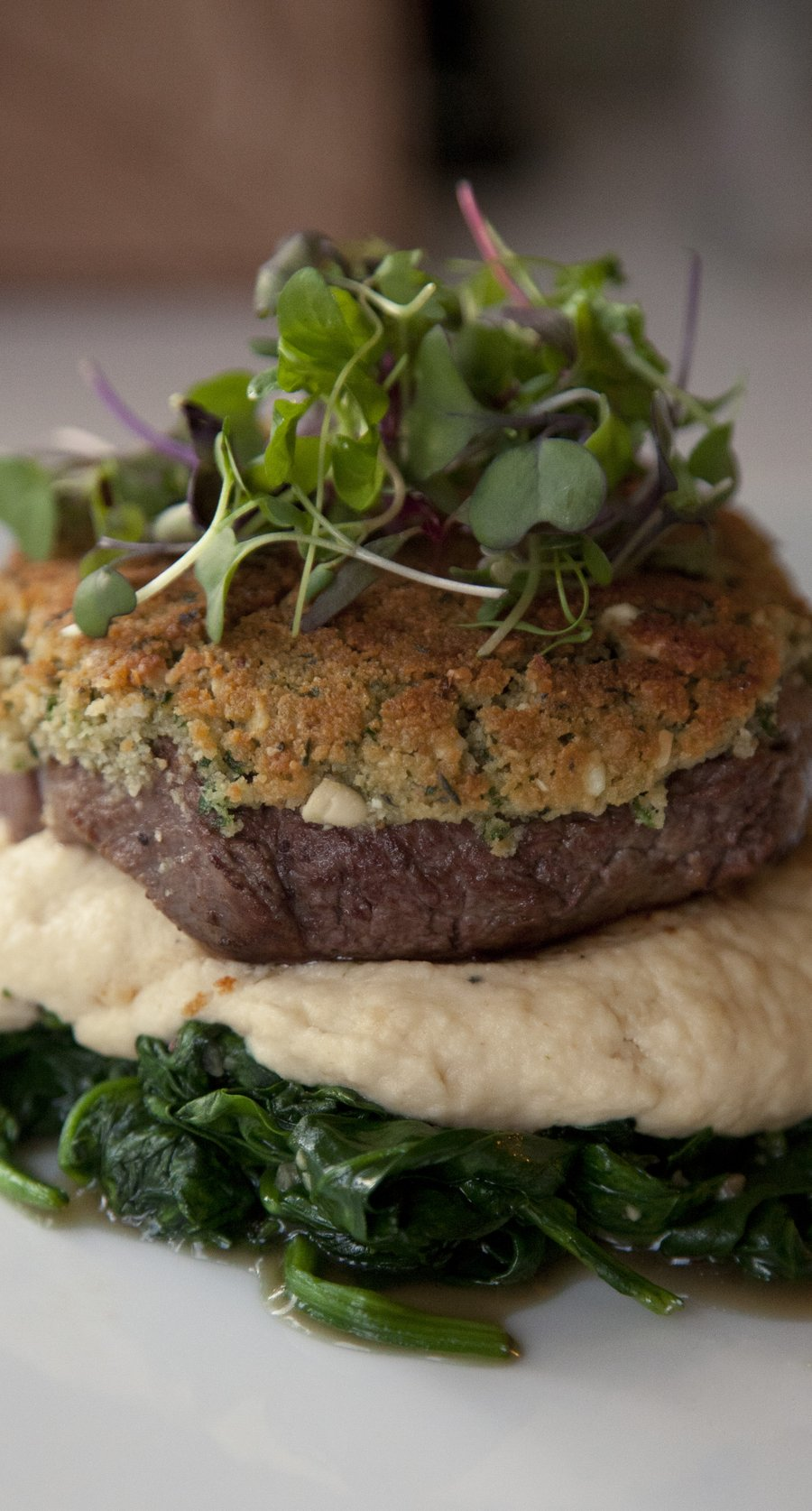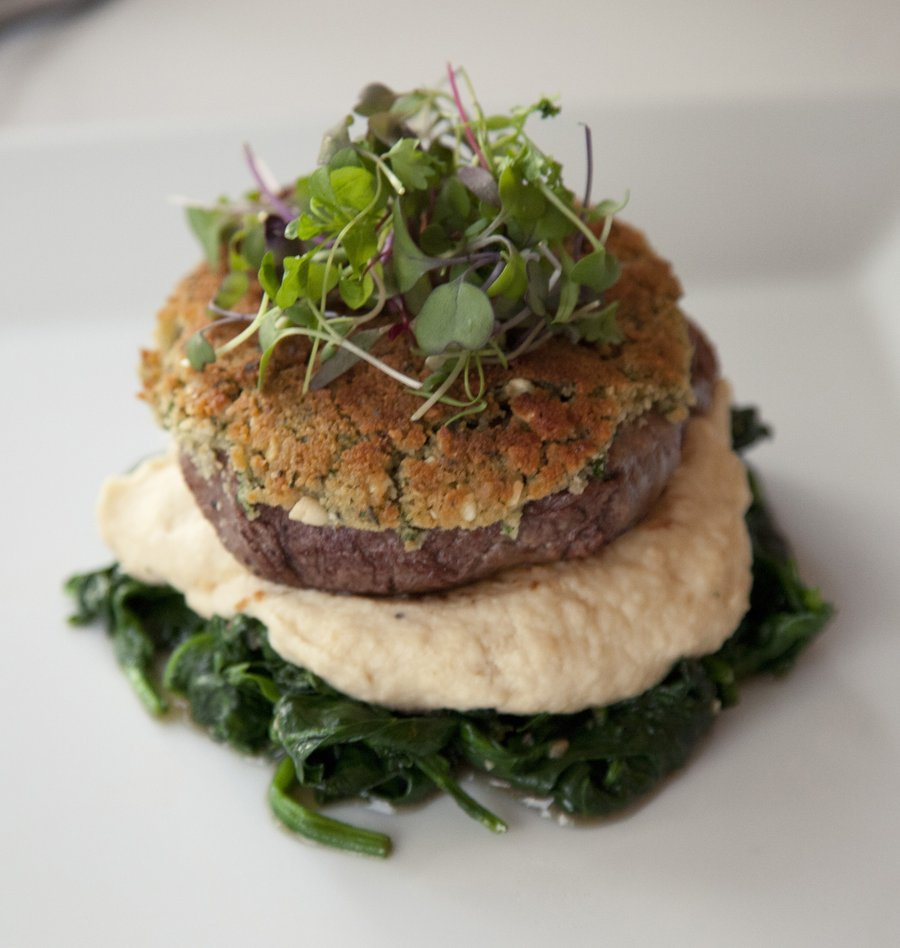 Celery Root Puree
Prep Time
---
10 Minutes

Cook Time
---
40 Minutes

Total Time
---
50 Minutes

Yield
---
3 cups

Ingredients
1 Celery Root (cut into 1" cubes)
Extra Virgin Olive Oil
1/4 small dice Onion
2 smashed Garlic Cloves
3/4 Cups Veal Stock
2 Sprigs Thyme (Leaves only)
2/3 Cups Heavy Cream
3 T Butter
Salt (To Taste)
---
Directions
On a sheet tray, sprinkle EVOO and salt over your cubes of Celery Root and toss to coat. Bake in a 400 degree oven until a paring knife slips into a cube effortlessly.
Meanwhile in a small saute pan, melt 1 T of your butter, and saute your onion, garlic and thyme. Once the butter has been absorbed, start adding in small amounts of your veal stock until absorbed again - keep repeating thing process until your onions are soft and all liquids have been absorbed (you may use more veal stock).
In a Vitamix, or something with equivalent mixing capacity, add in your roasted celery root, your garlic & onions, 2 T butter, and about 1/3 cup of Heavy Cream. Mix on high until completely pureed (adding more heavy cream if it's still too thick). If it is still too thick for your liking you can add small amounts of either veal stock or heavy cream. You want the consistency to hold up on a fork, meaning, it won't bleed through the slits on a fork. Taste and season with salt. Keep warm.
Sautéed Spinach
Prep Time
---
5 Minutes

Cook Time
---
5 Minutes

Total Time
---
10 Minutes

Yield
---
Serves 2

Ingredients
10 oz Spinach
3 minced Garlic Cloves
Extra Virgin Olive Oil
Salt (to taste)
---
Directions
In a saute pan, heat up some EVOO and add in your garlic. Saute for 30 seconds, and add in your spinach.
Saute while stirring until all the leaves have wilted. taste for texture and salt. Take off the heat.
Herb Crusted Tenderloin
Prep Time
---
10 Minutes

Cook Time
---
20 Minutes

Total Time
---
30 Minutes

Yield
---
Serves 2

Ingredients
2 Beef Tenderloin (8oz Each)
1/4 Cups Breadcrumbs
1 oz Butter (at room temperature)
1 Garlic Cloves
3 Sprigs Thyme (Leaves only)
1 Handful Parsley
1 Cups Pine Nuts
Salt and Pepper
---
Directions
Preheat your broiler to hi. In a food processor, mix together your breadcrumbs, butter, garlic, thyme, parsley, pine nuts, salt and pepper until completely incorporated. Lay out this crumble on a sheet of parchment paper.
Lay another sheet of parchment over it and roll it out with a rolling pin to about an 1/8-1/4 inch thickness.
Meanwhile, heat up a saute pan with some Canola Oil. Season your tenderloins with Salt and Pepper and sear your tenderloins on both sides on high heat until a nice crust has formed. Let the tenderloins rest on a rack for at least 5 minutes. Then cut out a perfect sized piece of your crust to lay on the top of each tenderloin. Press the crust into the loin. Place your tenderloins on a sheet pan, and put in the oven under the high broiler until the crust turns golden brown (about 3-4 minutes). Remove from oven.
To assemble: Lay down half of your sautéed spinach, top with celery root puree, and lay your tenderloin on top. Optional: add some Micro greens on top (as shown in the pictures).