I love all things Sushi. While ceviche is not technically sushi, I still think it falls roughly under the same category.
Last weekend, my husband and I ate at the awesome NYC Sushi restaurant, Sushi Samba. My last experience "eating" there had been in college when I went with a bunch of girl friends (where the majority of the night was spent drinking and not doing so much eating). So when my hubby took me back there this weekend, I was intrigued to try the food that I had missed out on last time I was there.
We ordered a few dishes, but of them all, the best and most memorable were the Yellowtail Taquitos (basically a Yellowtail Ceviche with Avocado, in tiny little fried taco shells). Super delicious with a yummy lime flavor, but also insanely priced - $6 per MINI (and I emphasize MINI) taco. So I decided to recreate this dish, Sara style – I wanted to make them less messy (you know what I am talking about, when you bite into a crunchy taco and it goes all over the place). So I made an "open faced" taco, with my version of a Hamachi (Yellowtail) Ceviche with Avocado. I think this came out awesome - Plus, they would make a great appetizer at your next party!
A few tips if you're going to make this dish:
1.     Have an extremely sharp fish knife when fabricating your fish! There's nothing worse then when a dull knife meets a beautiful piece of meat!!!
2.     Get sushi grade Hamachi – don't go buying your fish from some discount market – this is the time to get a little lavish and buy the good stuff! I got mine from Eataly.
3.     If you don't think Hamachi is your jam, try making this same dish with Sushi Grade Ahi Tuna!
So with that, I give you my yummmmmy take on a Sushi Samba classic! Enjoy!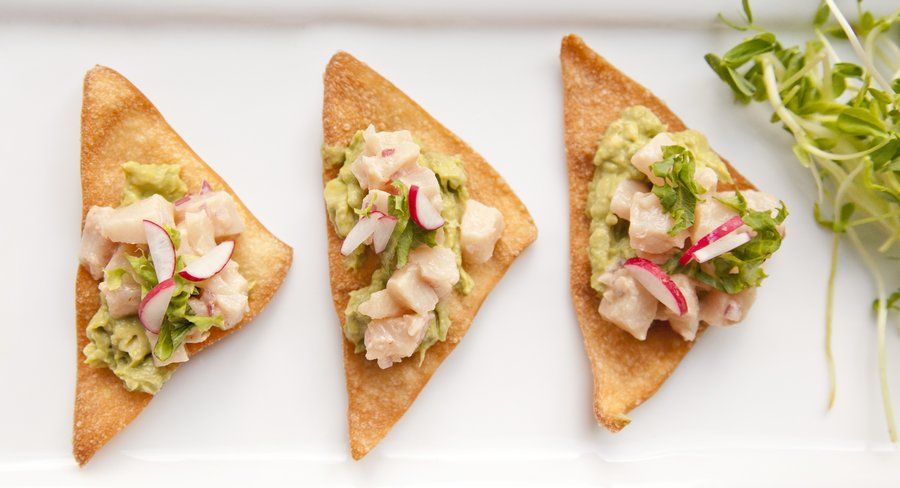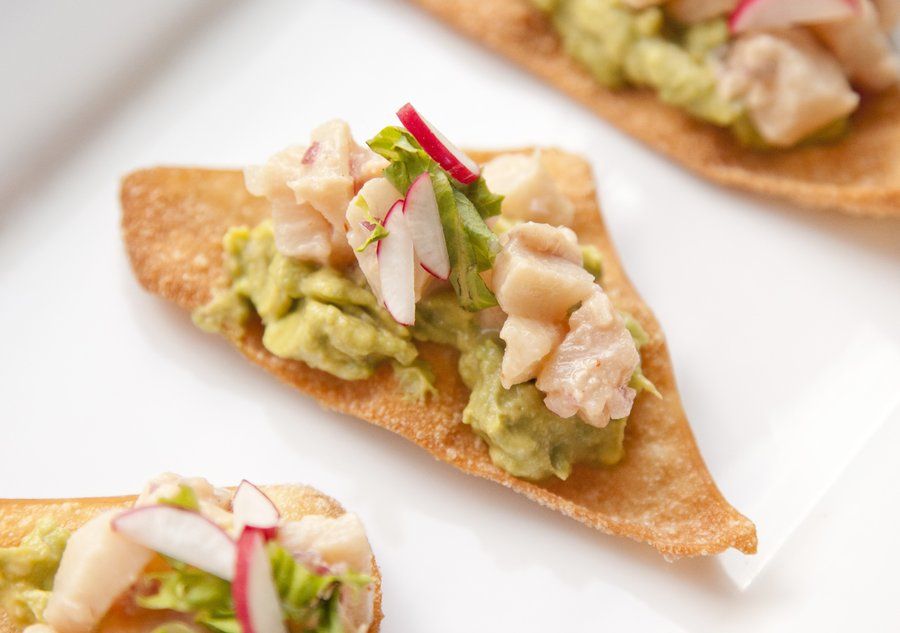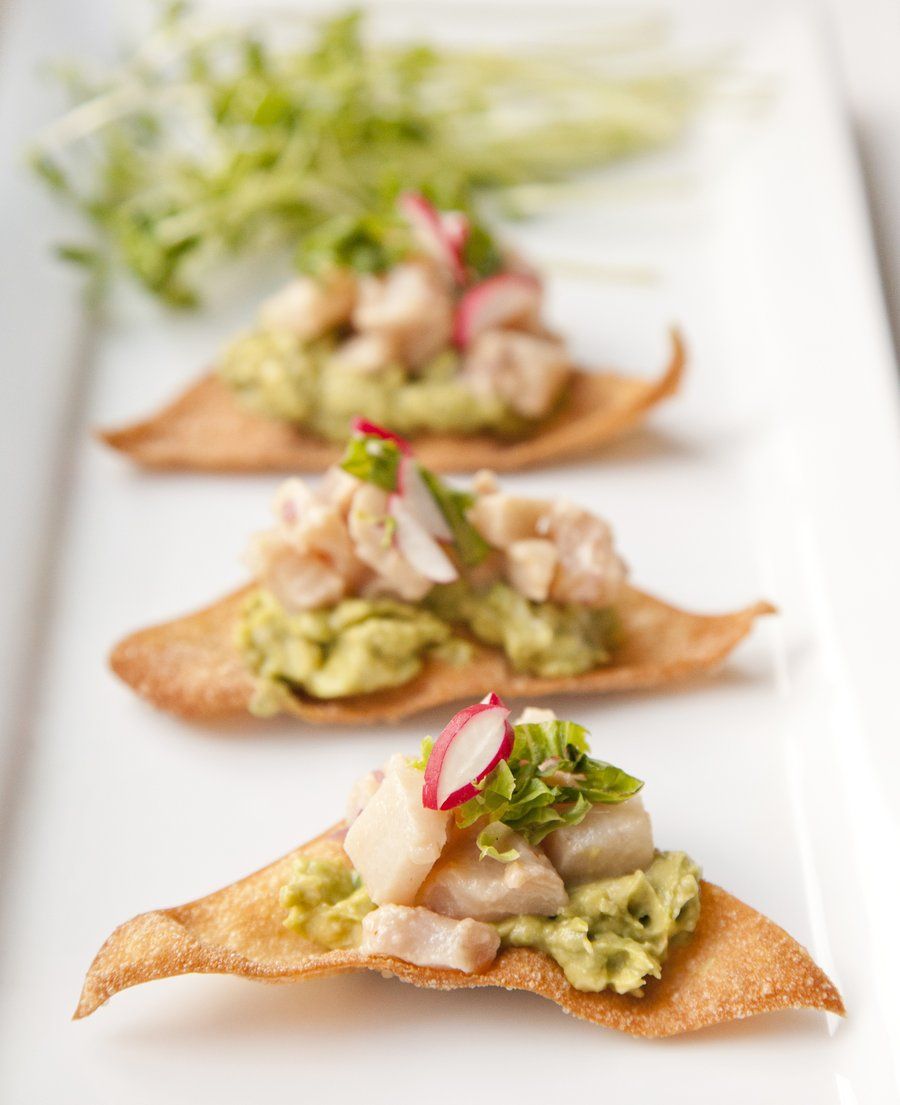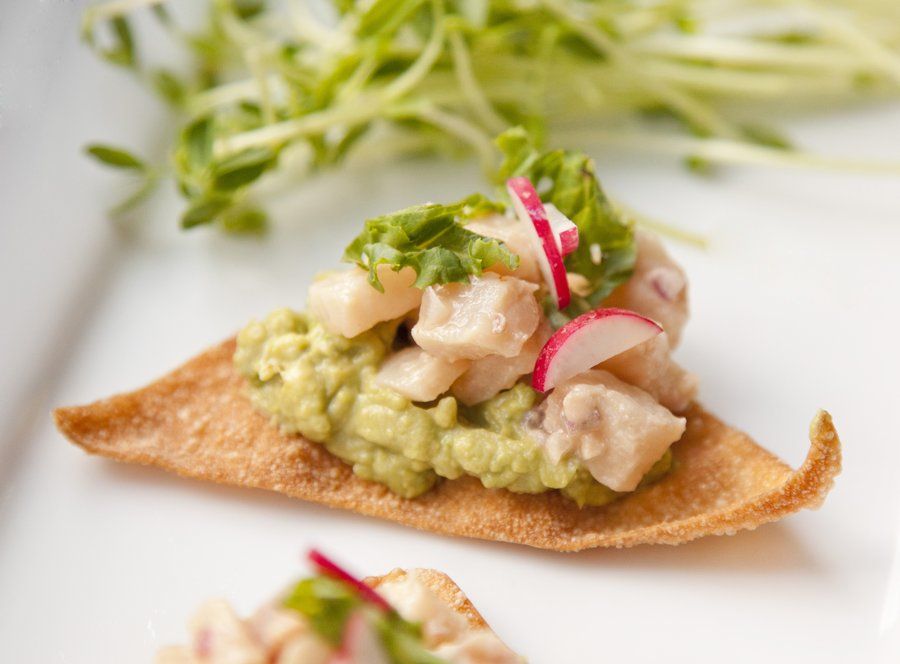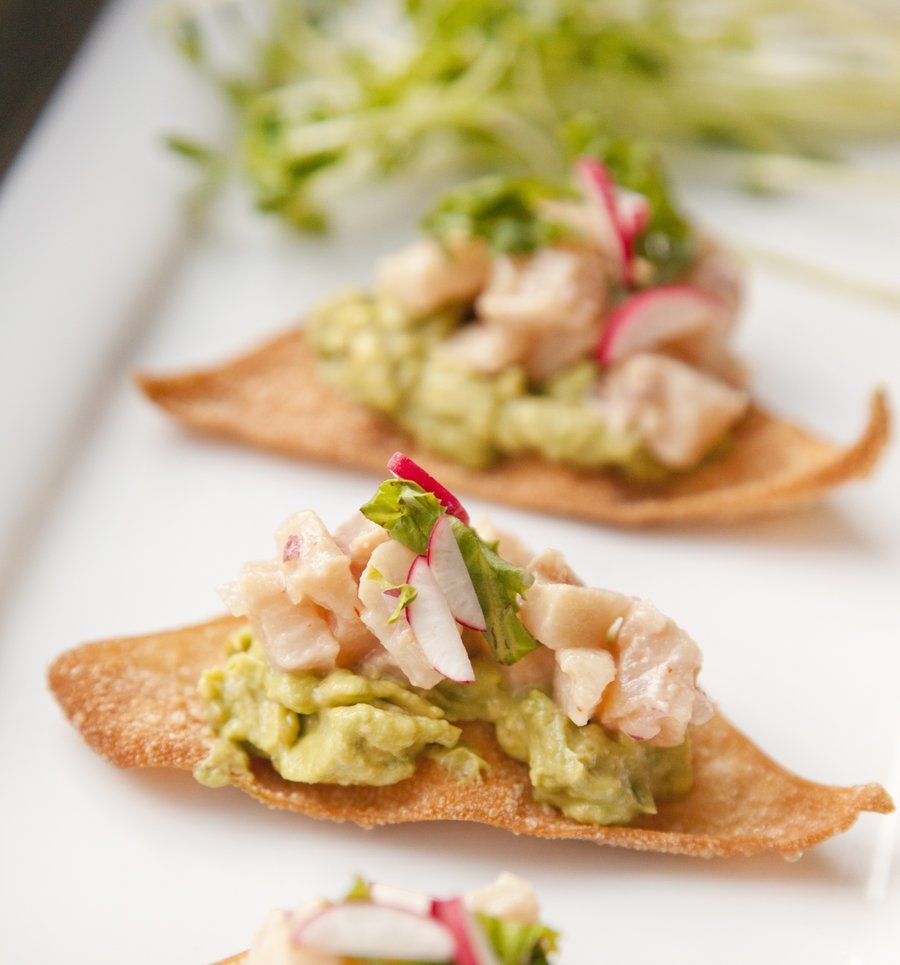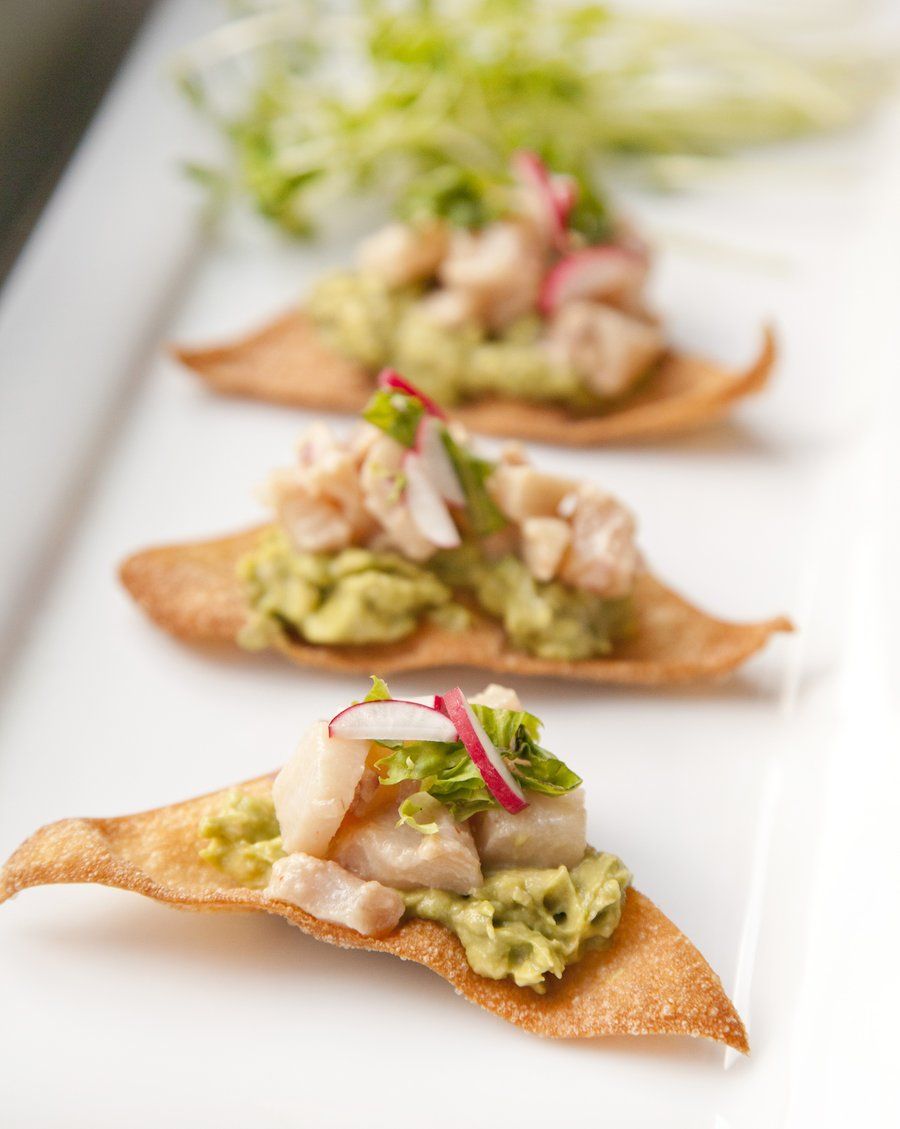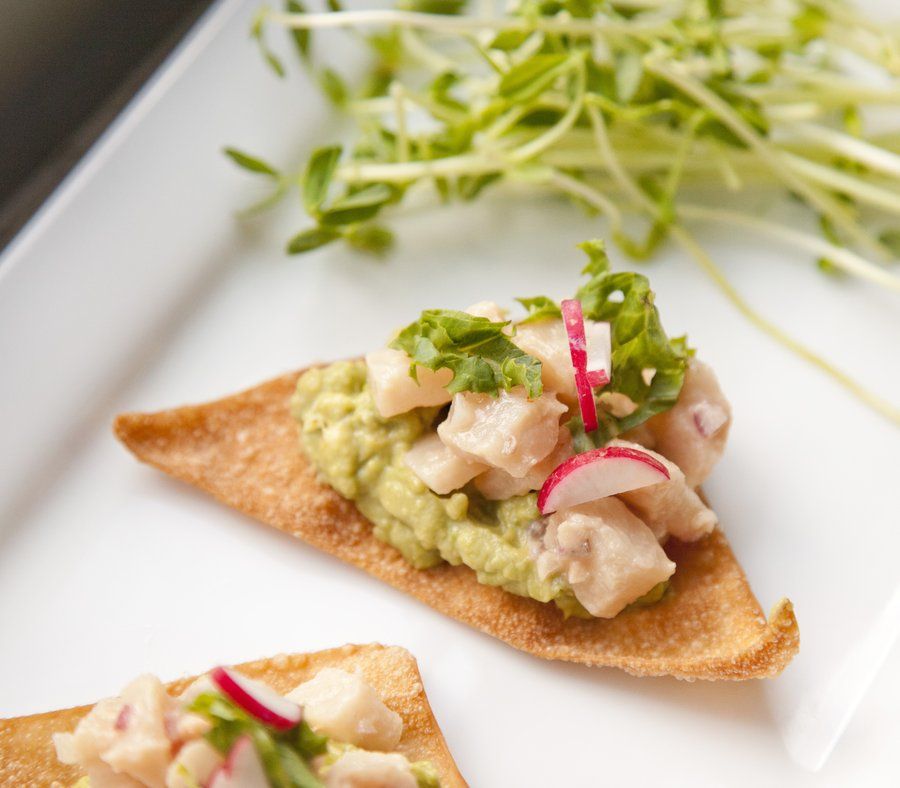 Hamachi Ceviche with Avocado on Fried Wontons
Prep Time
---
3 Hours

Cook Time
---
10 Minutes

Total Time
---
3 Hour 10 Minutes

Yield
---
Makes about 25 Wonton Crisps

Ingredients
1 Pound Hamachi (skin and fat removed, diced small)
1 1/2 T Red Onion (minced fine)
2 T Fresh Lime Juice
1 1/2 T Soy Sauce
1/4 Teaspoon Sriracha
2 Avocados
Juice of 1 Lemon
1/2 Teaspoon Salt
1/2 Teaspoon Sriracha
15 Wonton Wrappers (cut in half diagonally to make 2 triangles)
Bibb Lettuce (julienned)
2 Radishes (julienned)
---
Directions
First, make your Hamachi Ceviche. In a medium sized bowl, combine your red onion, lime juice, soy sauce, 1/4 tsp sriracha and a pinch of salt. Mix together. Add in your diced Hamachi, and carefully mix together. Cover with plastic wrap and let sit in the fridge at least 2 hours.
While your Hamachi is marinating, make your avocado sauce. In a small bowl mash up your avocados. Add in your lemon juice, salt and 1/2 teaspoon of Sriracha - stir to combine. Refrigerate til use.
To make your wonton crisps, heat up a large skillet with about 1/2 inch of canola oil. Once the canola oil is hot, add in your wonton crisps, a few at a time. They will cook SUPER fast - about a few seconds on each side. Once they have gotten slightly browned in the oil, remove to a plate lined with a paper towel. Repeat this process until all of your wonton crisps are made.
To assemble: lay your wonton crisps out on a platter. Top each with about a Tablespoon of Avocado. Top with some Hamachi and with some julienned Bibb Lettuce and Radish. Serve as soon as you make them (the longer they sit, the soggier the wonton will become).