I have really been getting into the art of plating lately, so I have been creating recipes that I think not only visually look stunning, but taste amazing as well.
This is a great recipe in that, if executed right, can be made in about 30 minutes, total time.
It consists of three components:
1.     The Seared Chilean Sea Bass with a Lemon Butter Thyme Sauce
2.     A Basil Pea Puree
3.     Parmesan Potato Crisps
The way you see the recipes written below will yield you 4 servings perfectly. I garnished the top of my Chilean Sea Bass with some Pea Shoots and Radishes to add color and texture to the plate.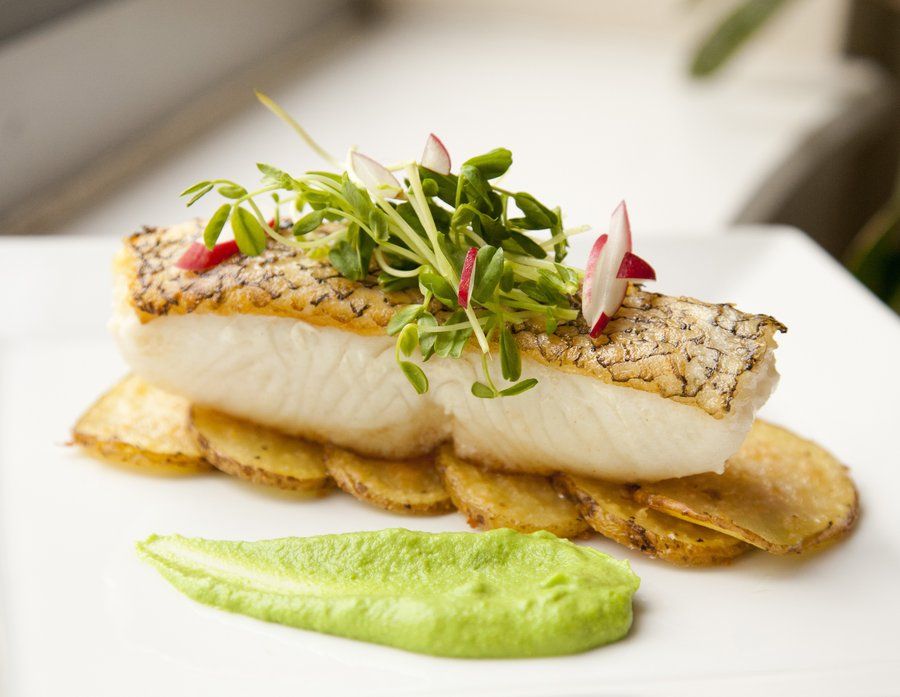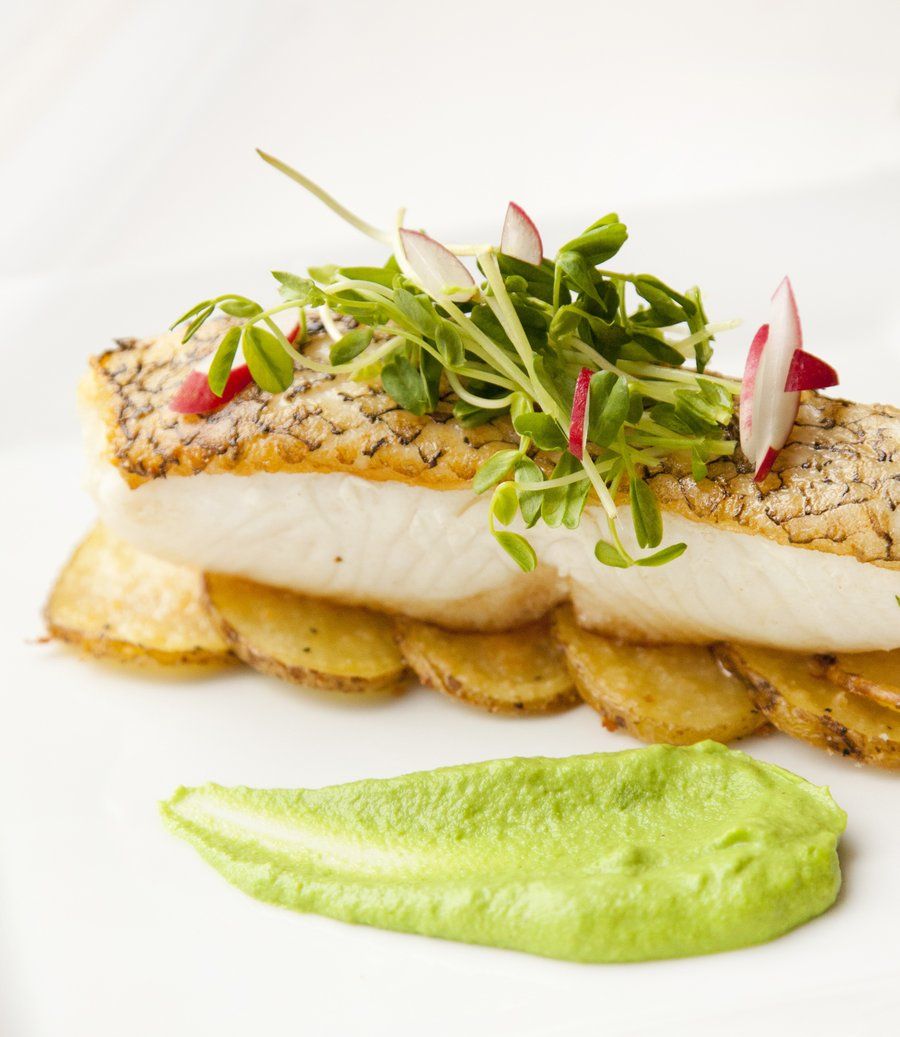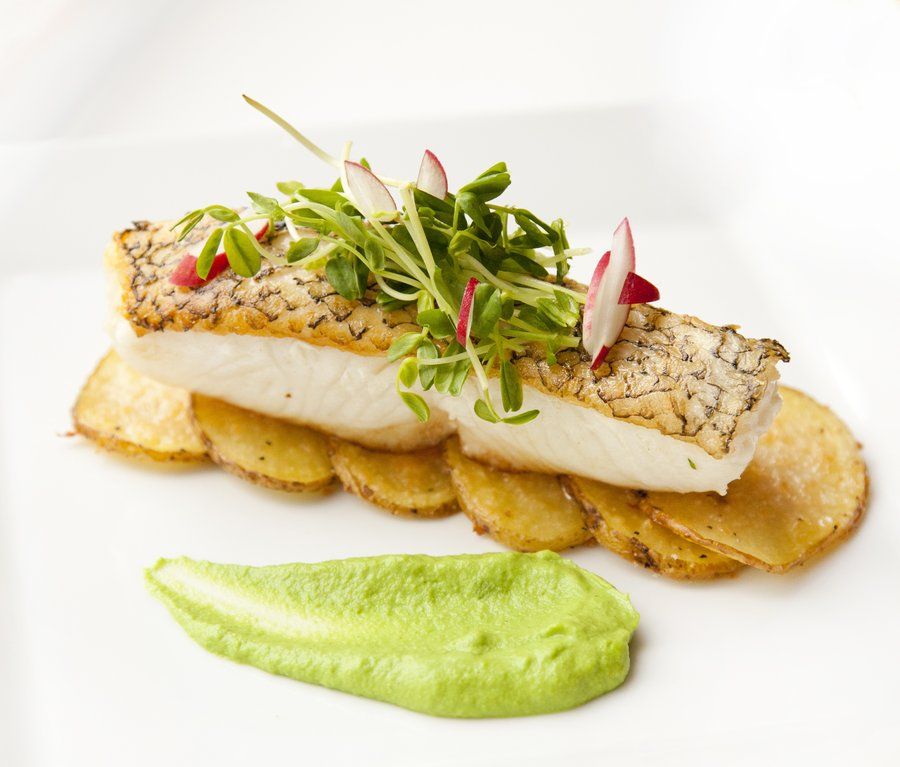 I used the basil I am growing in my little urban garden!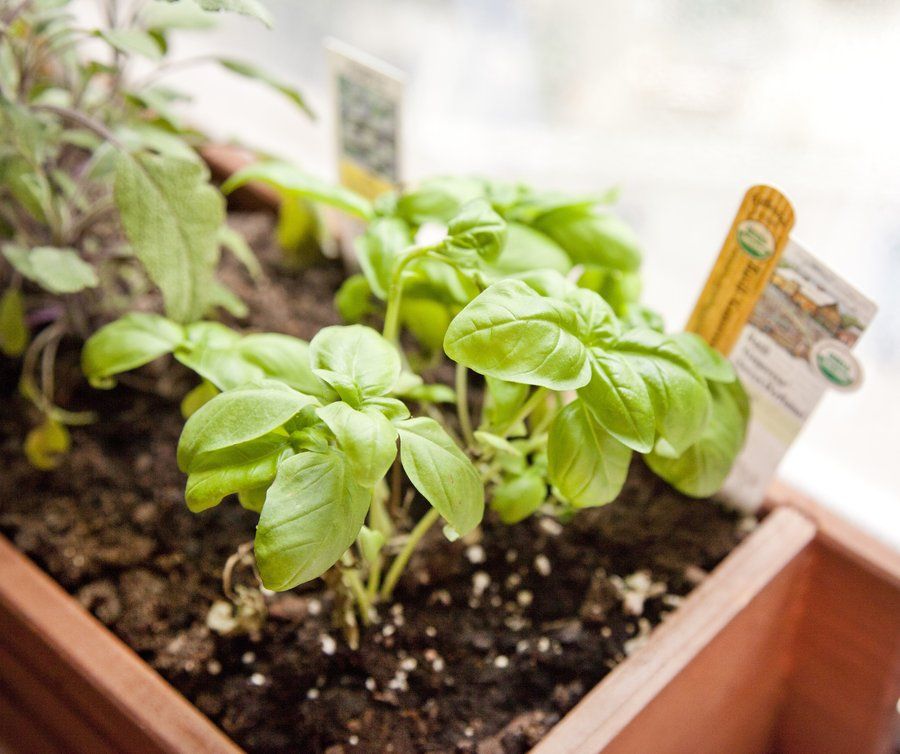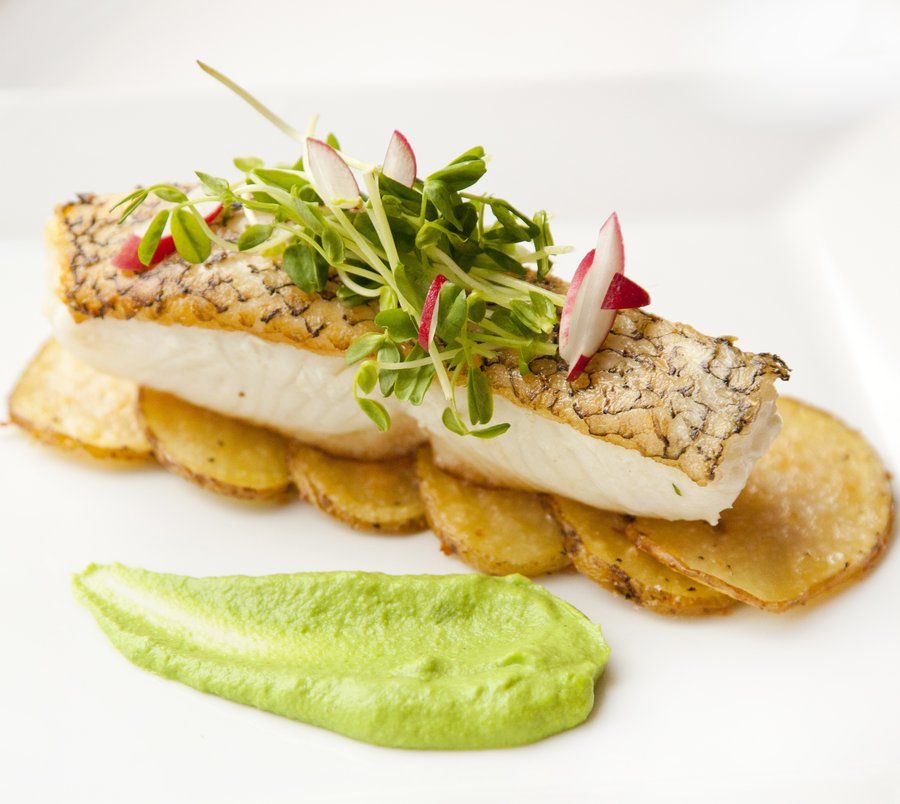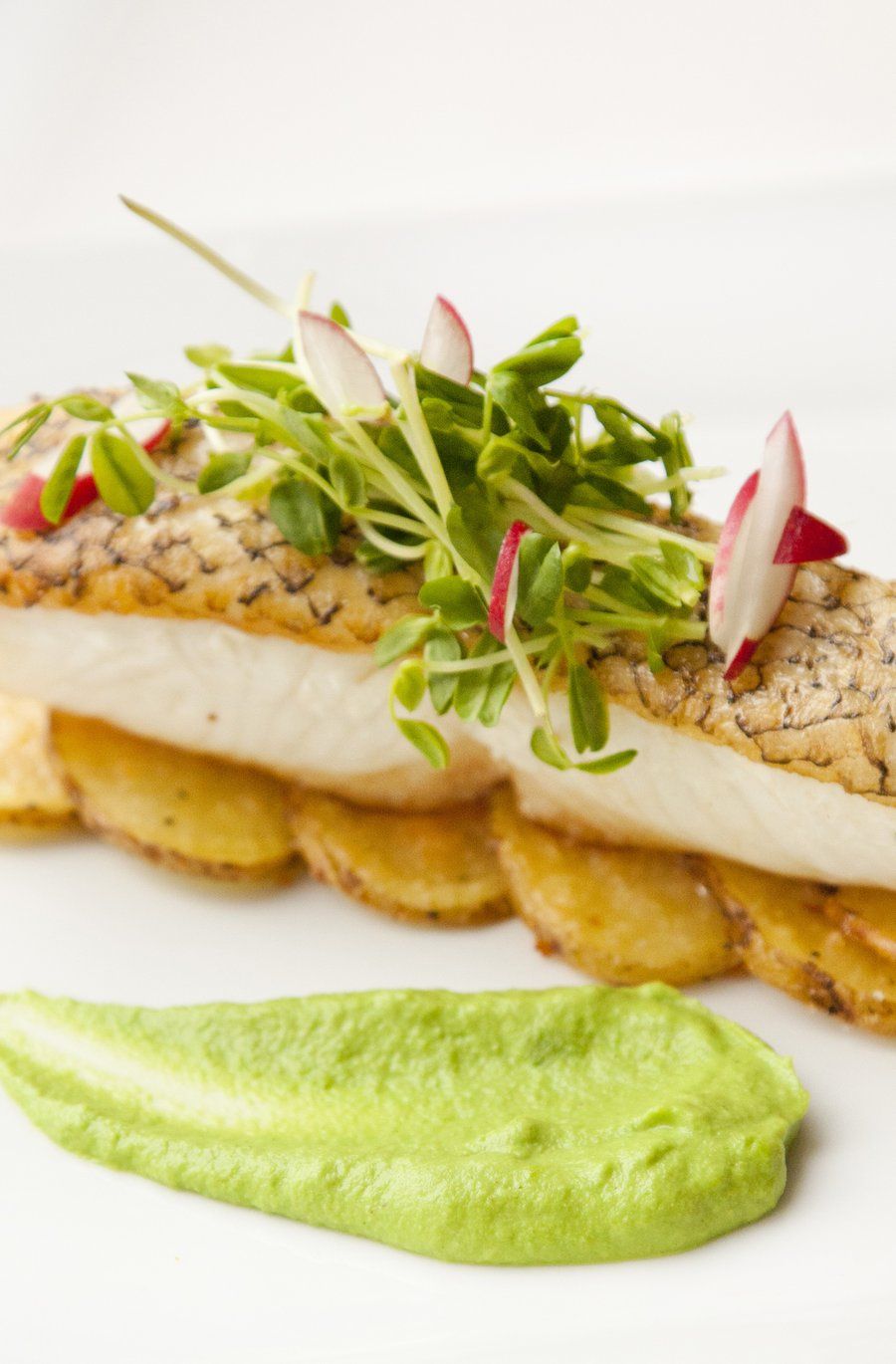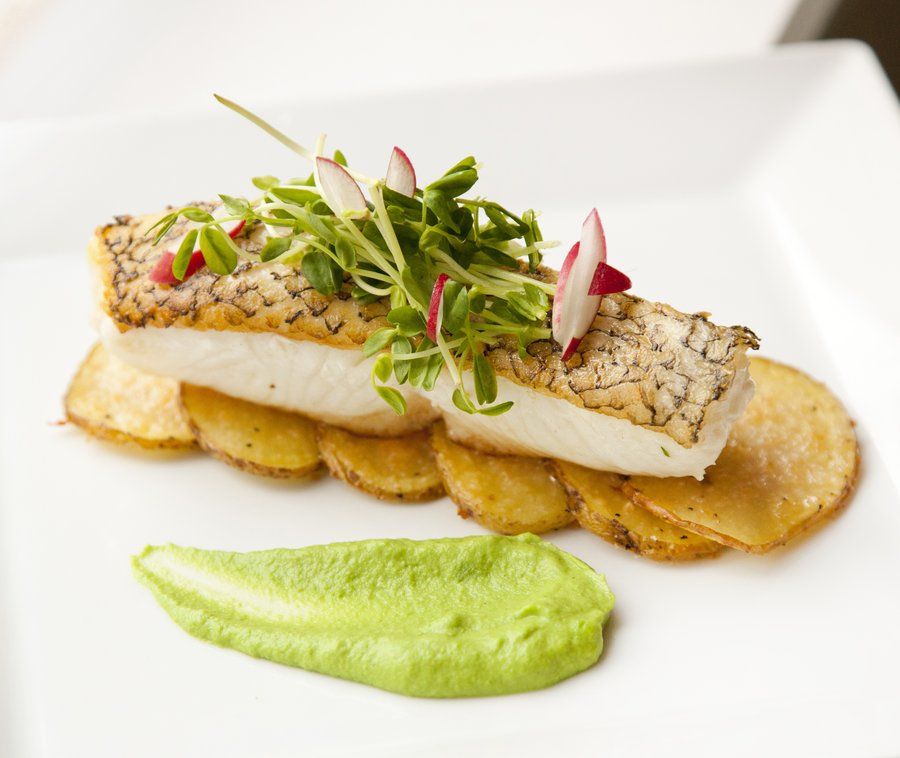 Chilean Sea Bass
Prep Time
---
3 Minutes

Cook Time
---
7 Minutes

Total Time
---
10 Minutes

Yield
---
Serves 4

Ingredients
2 lbs Chilean Sea Bass (cut into 4 equal fillets (skin on))
Salt
1 Tablespoon Butter
2 Sprigs Thyme
1 Tablespoon Lemon Juice (fresh)
---
Directions
Heat up a large heavy-bottomed skillet over a high heat. Don't use a non-stick pan - Add in enough canola oil to lightly coat the bottom of the pan. Once smoking hot, season your fish with salt on both sides , and place in the pan, skin side down. Once you can see that the fish has cooked halfway up the side of the fillet, flip it over (about 2-3 minutes).
At this point, add in your butter and thyme - baste the fish with a spoon. When you see the fish is almost completely done cooking (about 2-3 minutes), add in your lemon juice and cook another 10 seconds.. Remove the fish from the pan and serve with some of the sauce ladled over it.
Basil Pea Puree
Prep Time
---
10 Minutes

Cook Time
---
10 Minutes

Total Time
---
20 Minutes

Yield
---
Makes 1 cup

Ingredients
1/2 Cup Onion (sliced thin)
1 Garlic Clove (chopped roughly)
1 1/4 Cups Frozen Peas (thawed)
10 Parsley Leaves
3 Basil Leaves
3 T Heavy Cream
Salt
---
Directions
Heat up a teaspoon of Olive Oil in a medium sized saute pan. Add in your onions and cook for about 5 minuets over a medium heat. Add in your garlic and peas, and cook about 2-3 minutes stirring frequently so as not to burn the garlic. Remove from the heat and pour the contents into a vitamix/blender.
Add into the blender your basil, parsley, and heavy cream. Process for about 45 seconds or until extremely smooth. Taste and season with salt - process again.
Pour the contents of the blender through a fine mesh strainer in a bowl, to remove any solids - this creates a super light and fluffy puree. *tip: use a ladle to help force the puree through the strainer!
When you're ready to serve the puree - just re-heat in a small saucepan.
Parmesan Potato Crisps
Prep Time
---
5 Minutes

Cook Time
---
15 Minutes

Total Time
---
20 Minutes

Yield
---
About 25 Crisps

Ingredients
12 oz Yukon Gold Potatoes (sliced 1/4" thick)
1 Teaspoon Canola Oil
Salt and Pepper
1 Tablespoon Parmesan Cheese (grated)
---
Directions
Preheat your oven to 425 degrees. Slice your potatoes on a mandolin or with a knife about 1/4" thick. Toss the potatoes in a bowl with 1 teaspoon of canola oil, salt and pepper.
Lay the potatoes out on a sheet tray lined with a silpat, and top with the grated parmesan cheese.
Bake for about 15 minutes. Remove from oven, and allow to stand for 2 minutes before removing the potatoes from the pan.